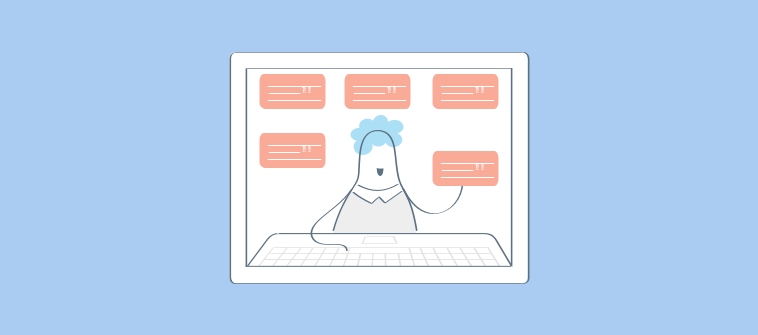 Have you personalized your marketing strategy? If you have not, then you're probably living under the rock.

I started to notice more and more personalized campaigns a few years ago, and back then personalization was a kind of a revolution in the marketing industry. Back then, I was working as a social media manager at a small company, and we were looking for a marketing strategy for small business that would have helped us shoot ahead.

So, marketing ideas that were based on personalization made me think: why have I not thought of this before? Now, personalization is no longer just a revolutionary idea. It's become a necessity.
Starting From the Bottom – Defining Marketing Strategy
Your goal is to build a personalized marketing strategy with which your target audience can relate.
So, your first step in this direction should be to define your marketing strategy and how do you plan to personalize it according to your audience.
Let's say you plan to combine all your marketing platforms into one detailed plan. Your marketing strategy should then focus on how the combination of all the marketing platforms can help you:
Reach where your customers are

Personalize the ideas of marketing by targeting their pain points
Personalization starts from creating a personalized client model, which is commonly known as 'buyer persona' or a 'target audience persona'.
A marketing campaign that is based on a vague buyer persona is already a failure. In fact, the more specific you are about describing the buyer persona, the more personalized client model you'll have.
Here's what stats say:
Email marketing campaigns

that use buyer persona have an open rate that is two times higher and a clickthrough rate that is five times higher

Website traffic

increased by 210% and website generated sales increases by 124% in campaigns that use personalized client models

Using a buyer persona contributes to a

900% increase

in the length of an average visit to your website
Thus, identify your buyer's personas to build a successful marketing campaign for small business.
The question is, what about the overall marketing strategy?
Every business plan has its own marketing strategy for achieving its KPIs. But if you adopt personalization as a part of your overall marketing strategy and incorporate it every time you create client models, that will be a huge contribution to achieve success.
But what does it take to create a personalized client model? What should you take into consideration?
Let's do a step by step guide:
Step #1 – Hypothesizing in Detail
The essential step to start with is all about taking a look at different aspects that describe your ideal personalized audience persona. So, this step consists of several sub-steps:
✓ Describing demographics – Give a detailed description of age, gender, social status, income job position, education, and marital status. Creating a personalized model starts here, so the more information you provide, the easier it will be to apply this audience persona to your marketing campaigns and the overall strategy.
✓ Describing goals and challenges – Let's say, you have an app that will help users spend less time online and improve concentration. Thus, the goals and challenges of your audience persona would be saving time online and spend more time undistracted (to either do their job, read a book or study).
✓ Describing your solution – Get into details, how your product will solve the challenges your audience persona has to face.
The easiest way to make an audience persona more personalized is to imagine this person in a situation, experiencing the challenges and their effect on their everyday life (described in the Demographics section). You can then bring a situation where their problems get solved with the help of your product. This helps you hypothesize about an audience persona but in a more personalized and detailed way.
Step #2 – Surveying
The best way to create a personalized client model is to ask your customers what personalized experiences they're expecting from your brand. That's where releasing a survey can be a fun and interactive way to communicate with them.
According to stats, 91% of consumers are more likely to shop with brands that offer personalized offers. And the fastest way to provide these personalized offers and collect important data is by surveying your customers.
Surveys can be carried out across different platforms such as emails, website, and social media. I often come across different surveys on Instagram, with brands asking questions, not only about who their followers are but also what products they prefer: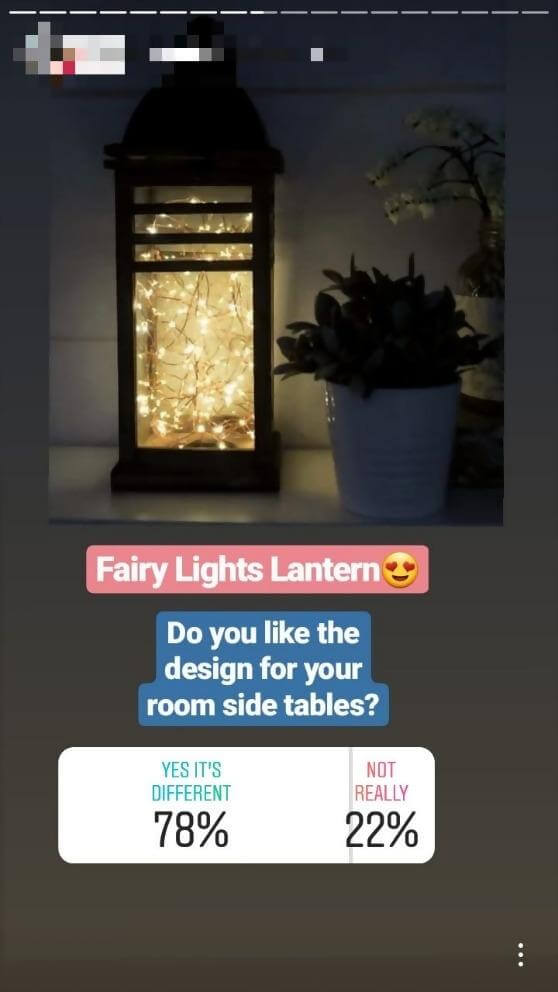 Image credit: Instagram
In fact, indirect way of surveying people like asking about a product and its features is a good way to collect valuable information for a personalized client model. Such questions show, which products your followers are really interested in, which ones they'd rather have in their life. This information can play an extremely important role in incorporating a personalized client model that will drive your business's marketing strategy.
Step #3 – A/B Testing
Now, it's time to put the data you've collected to the test, and A/B testing is an ideal way to successfully determine whether your personalized client model works for your marketing strategy or not.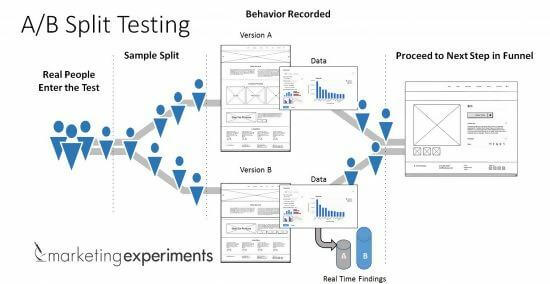 Image credit: Marketing Sherpa Blog
A/B testing overall is one of the most popular strategies in marketing, with call-to-action buttons being the most popular element of this test. Although A/B testing is used mostly for testing a product by splitting the audience into two sections to test variations of a campaign, you can do the same with testing your personalized client model.
For A/B testing, you'll need two variations of your personalized client model, with some differences between the two, and see how your audience performs. You can do it through a call-to-action button as well as A/B test emails or landing pages. The trick is to check both variations simultaneously to obtain relevant results.
Flatfy, an international real estate company, used A/B testing to determine that they need landing pages in different languages. Localization of a website is also a way to make your marketing strategy more personalized. As a result, Flatfy now has their website in many languages including English, Hungarian, Romanian, Russian and others.
Step #4 – Coming in Contact with a Customer

Your customers like to get in touch instantly. Why not use a live chat?
Use a live chat software to test a personalized client model and make necessary changes to your services to build a seamless communication channel.
Live chat is not just a lead generation tool. It helps your brand build new connections with the customers and boost brand loyalty.
Features like:
help your brand communicate in a personalized fashion and respond to questions faster.
Now the use of live chat software is not just limited to a brand's website. The same tool can be used at social media platforms like Facebook. This allows people to get in touch with a brand, ask questions related to their services, and get answers hassle-free.
Live chat tools like ProProfs Live Chat try to reduce response time and chat tickets by offering seamless integration with a knowledge base. This gives visitors and existing customers the opportunity to get answers way faster. At the same time, the brand also gets to collect important data on visitor behavior to further improve the support experience.
---
Recommended Reads: 5 Powerful Marketing Strategies That Maximize Customer Engagement
---
Step #5 – Putting it Together
The last step is, of course, putting together all the data you've obtained. Naturally, you might have a lot of data, but it's important to stick to the most recent and relevant information. Another thing that should be taken into account is that your final personalized client model should not only agree with your audience, but also with the values of your brand and what your product represents.
Bottom Line: Build a Personalized Marketing Strategy
Personalization leads every marketing campaign to success. But making it a part of your small business's marketing strategy requires a little bit more of your attention and time to do the analysis.
Hopefully, this brief guide gave you some general ideas on how to create a personalized client model. Personalization largely depends on what values your business represents as well, so keep it in mind when doing research on who your ideal buyer persona is.
---
Now that we've covered how to build a personalized marketing strategy, let's take a look at the frequently asked questions that a small business owner has in mind when building one for their newbie brand.
Q. What will be the most effective marketing strategy for my small business?
Make your brand omnipresent. Ensure that your business is available at all times to take up questions from your prospects. For this, you can use platforms live chat or social media to reach out and understand the growing needs of your customers.
Q. What are the common marketing strategies for small business owners?
Some common marketing strategies for small business owners are webinars, advertisements on Facebook, list your product on Google My Business, implement the use of Google Adwords, invest in content marketing, add a free live chat software, and the list can go on.
Q. How can I be successful at marketing my small business?
To be successful at marketing, you need to know your company inside-out, know your customers, understand what your competitors are doing, set attainable goals for your business, and most importantly keep a track of what's the latest marketing strategy to stay ahead of all in the market.
Q. How can I use live chat to market my products successfully?
With the best live chat software, you can market your products easily in the market. The tool supports a feature called announcements that help you market the latest offers, discounts, upcoming product and service updates, and much more hassle-free.
Do you want a free Live Chat software?
We have the #1 Online Live Chat Software for instant customer support 24x7