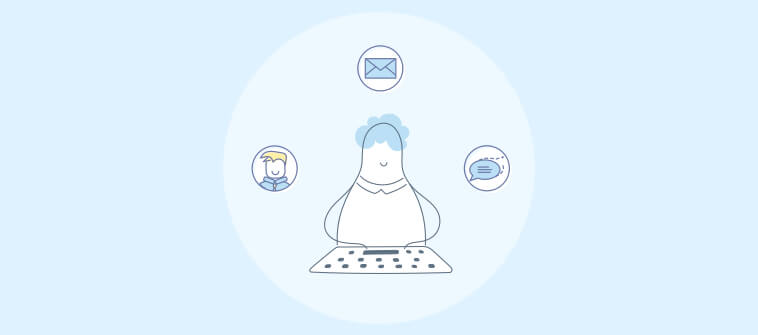 Giving your customers a top-notch service experience is essential if you want your business to grow. However, multiple challenges wait ahead of you that easily hamper both your customers and your experience. This makes it difficult to decide on what type of customer service we should offer to customers.
The types of customer service you choose will affect your relationships with your customers, so it's not a decision to be taken lightly. If you've been looking for ideas or inspiration for customer service methods, we've got you covered.
We came up with this guide to help you learn more about the options available and why you should consider them.
Challenges Faced by Different Types of Customer Service
Customer service isn't easy, and there are many difficulties you may experience with the types of customer services demanded by customers.
Here are some of the most common difficulties your support agents should expect to deal with:
Are customers able to contact your company 24×7?
How long must they wait before your team assists them with their problems or questions?
Does your team give customers the resources they need to resolve issues on their own?
Are you notifying customers of every update you roll out?
There are other challenges as well, and yours might be very unique, depending on your company.
Types of Customer Service
The meaning of customer service is to show your customers that they are valued and that your business will go above and beyond to ensure their satisfaction. Of course, this doesn't necessarily mean 'the customer is always right,' but the customer must always feel respected and appreciated.
In fact, many people are willing to pay more for a better experience. If your customer support team is lacking, your business is going to feel it.
So, let's get into the various customer service types.
1. Traditional Support
The first type we're looking at is one of the most common customer service models – face-to-face traditional support.
However, as the world evolves, so should companies if they want to remain active. Customers are more online than they've ever been, which means your approach must take that into account.
You need to find a way to connect customers' in-store and online visits to your company. One way you can do this is by offering 'click and collect' services.
This allows your customers to use your services online and physically spend time with your sales team and your customer support team if necessary.
2. Email Support
Email support is a popular avenue for many consumers, especially those who don't like to talk to support agents in person or on phone.
It is a good way to communicate and collect information about customer experience, receive feedback, and stay in touch with your customers.
Using personalized emails can go a long way in making a customer feel like their opinion matters.
Getting the right email to the right people at the right time can require a lot of complicated planning, so it's wise to use good autoresponder software that will help simplify the process.
Example of an email response to a customer's inquiry
Read More:  Live Chat Support vs. Email Support: Which is Better 
3. Live Chat Messaging
Live chat messaging is a convenient form of customer support that saves time and can help build good relationships with your customers. It has become one of the best customer support options in modern times because it's effective.
More than a quarter of customers prefer live chat software over self-service or social media options.
Live chat is quick, gets to the point, and feels personal. For these reasons alone, you really should consider adding it to your customer support repertoire if it's not already.
Your team can address customer pain points in real-time and resolve issues far quicker than emails could.
What's more, live chat customer service can help capture leads and convert them in real-time as well. Just make sure that your team uses high-quality live-chat software that will make it easy to benefit from this form of support.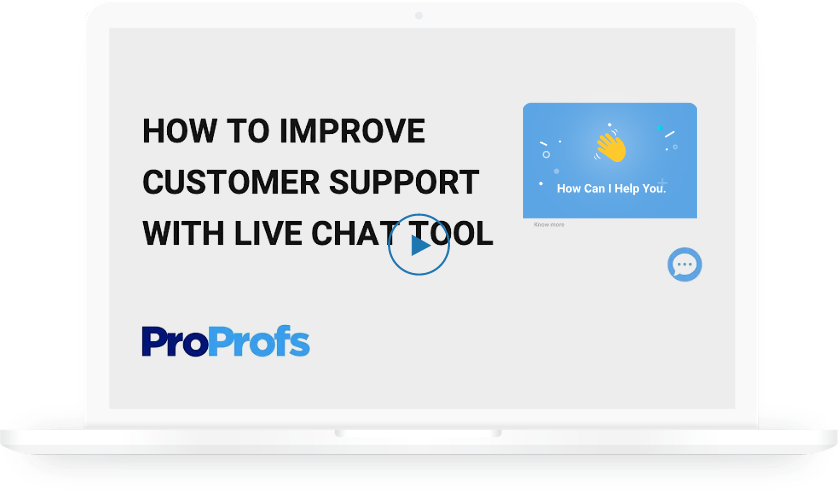 4. Phone Support
Phone support is also an excellent option, and not having a reliable call center is something that no business should be guilty of. There are some stellar business phone services available that will help your customer service team handle inquiries with ease.
Having a sub-par call center won't achieve anything good in the long run, so you need to do as much as possible to offer fantastic phone support to your customers. There are several metrics to focus on for the best results, such as response time and average handle time.
As long as your call center staff behave professionally and are trained to deal with difficult customers, this form of support will always work to benefit your business.
Depending on how your business is set up and how many locations you have, you might want to invest in a good geo call routing system. This could work wonders especially if you want to ensure that your customers are easily connected with an agent in their time zone and region.
Geo call routing also helps make sure that your global customer base always has their call routed to someone who speaks the same language and can help best for their specific situation. This will improve the caller or customer's experience and make sure your customers are satisfied, by combining the automation of geo call routing with agents, for a human touch.
5. Self-Service
It is a really good idea to make it possible for your customers to find solutions that they can use independently.
Reaching out to your customer support team may not always be feasible, and for those customers, resolving issues can become increasingly difficult.
Use the knowledge that your team learns from handling customer issues to create a database your customers can tap into.
Whether you want to offer self-service in the form of a community, customer service portal, or FAQ page, just make sure the information shared is always accurate and up-to-date.
6. Communities and Forums
This is not a type of customer service that your support agents offer directly. Instead, communities and forums are kept active and relevant by the users themselves.
Because they require almost no interference from staff, these two channels don't cost much. You just have to give your customers good platforms and ensure they're easy to use.
Add some moderators and incentives for your customers to use your forum(s), and your community will grow on its own. People like to come together and discuss mutual problems and solutions, especially online.
7. Social Media Support
If you're not using social media platforms to promote your business, you're missing out on many fantastic opportunities. In addition to being great marketing tools, social media sites are also really good for customer support.
Offering social media support helps businesses connect with the people they serve and provides them with a way to get easy feedback.
Customers want to be heard, and if someone can get that from a company using social media, they're very likely to become loyal customers.
Social media is also effective at quick and easy crisis management. People often say things about companies that aren't true. If you can address any 'bad press' on social media, it will help soothe a situation that could have caused damage to your company's reputation.
How to Choose the Best Types of Customer Service
The best type of customer service for your company will be determined by your goals and how you want to deal with customers.
You have to understand your customers (there are some excellent customer journey mapping tools to help with this) if you want to give them forms of customer support that they'll find the most useful.
It's also vital that you decide whether your customer support approach will be proactive or reactive.
Reactive is the standard and means your team responds to issues as they're reported. Proactive is more about finding and fixing issues before they become a problem.
You should also take into consideration an omni-channel experience. This means your company integrates all channels of support for improved customer experiences.
It's a highly recommended approach because your company will have all the benefits of the various kinds of customer support.
How ProProfs Can Help You With Your Customer Service Needs
ProProfs could offer exactly what you need in two different forms: ProProfs Chat and ProProfs Help Desk. These tools are aimed at improving how you deal with your customers and their problems.
This is a real-time chat software that you can use to connect to visitors of your website. It will help improve communication and increase the success of your lead capture strategies.
ProProfs Chat assists in handling product queries and addressing issues before they can affect their purchasing decisions.
It allows you to see what people are looking at on your website and what they type even before they hit that 'Send' button.
ProProfs Help Desk is an intuitive tool that will simplify how you manage your customers and any problems they experience.
Your support agents can filter support tickets and prioritize the most urgent issues. It works with Live Chat to enhance customers' experiences and improve your relationships with them.
Additionally, ProProfs Help Desk tracks all incoming customer requests, which means you'll have better reporting on what happens. The software also helps improve your customer service team's productivity by simplifying their work.
ProProfs Knowledge Base is a knowledge repository and management tool that helps businesses to equip their customers and employees with instant answers to frequently asked questions.
Your support agents can send links to these knowledge repositories to customers while having a conversation via chat or during an ongoing support ticket.
As users, you can restrict edit access or grant them to team members who are likely to update them regularly. Your self-help article editors can collaborate and improve the quality of the articles as per your content standards.
Choose Your Solutions and Nail Customer Service
The best customer service is much more than the channels you offer – it's about good communication and the ability to learn from experience. That's one of the reasons why we see businesses adopting multiple customer service strategies.
You can either use the traditional customer service strategy where you meet your customers in person or simply go digital by choosing email, live chat, self-service platforms and others. These different yet effective types of customer service platforms enable your business to overcome multiple challenges as well. From becoming a 24×7 support provider to assisting customers instantly, these customer service types help you do it all.
But if you're not using the proper channels, it's impossible to do this. So, choose the types of customer service you and your support team are most comfortable with and make it your own.
Do you want a free Live Chat software?
We have the #1 Online Live Chat Software for instant customer support 24x7