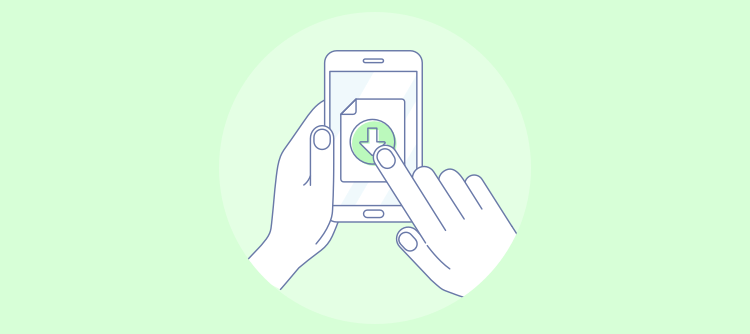 If you are on this page, chances are you have made up your mind to add live chat to your website as a customer support and lead generation platform.
And we must say, it's going to be the best business decision of your life!
Adding chat to your website can prove to be a game-changing strategy that helps your business flourish through improved customer satisfaction and higher sales.
However, if you go wrong with the implementation, your support and sales efforts can backfire in more ways than you can imagine!
But we won't let that happen!
In this blog, we have covered all the crucial steps you need to add chat to your website and the striking benefits it can bring to your business. We have also shed light on the top live chat tools you can adopt.
So, without further ado, let's cut to the chase!
Remarkable Benefits of Adding Chat to your Website
Adding live chat on a website can benefit you in more ways than one. It is a user-friendly, convenient, and cost-effective tool to provide stellar customer support and even boost your sales.
Let's break it down and explore the benefits of live chat in detail.
1. Delight Customers With Real-Time Support
Fast and convenient support is the ultimate ingredient of exceptional customer experiences. And therefore, businesses are competing with each other today to provide the best support to customers in less time.
Live chat can help you win this experience race. It helps your support team provide prompt answers using canned responses and even transfer chat immediately to the right agents, ensuring the wait time is a bare minimum.
For basic queries, operators can make the resolution process even faster by sharing self-help articles with customers.
2. Capture Quality Leads & Boost Sales
When browsing a website, people need someone to guide them through your products and services, so they can make a decision faster. That's where live chat helps.
With live chat, your operators can engage with customers proactively by sending personalized greetings and making them feel welcome. You can also use pre-chat forms to collect visitor details and push this information directly to your CRM for lead nurturing.
Additionally, live chat allows you to make product announcements and notify visitors about any discounts or promotions on your products. This is how live chat helps push prospects to the decision stage, boosting your conversions and sales.
Read More: How to Use Live Chat Software for Lead Generation
3. Monitor & Improve Customer Interactions
Employing live chat gives a sneak peek into how satisfied customers are with the support provided. You get elaborate visual reports on total site visits, missed chats, and average response time, that help you analyze customer engagement and satisfaction with your services.
Not just this, you can also track chat transcripts to analyze customer interactions and communication history. These insights help you identify reasons people visit your website, engage further or bounce off.
4. Keep a Close Eye on Operator Performance
Adding live chat to a website is also a great way to measure operator performance. With metrics such as average response time, total tickets resolved, and chat satisfaction level, you can quickly identify areas where your operators are missing the mark.
You can also launch post-chat surveys to identify the high and low points of interaction and find areas where your operators need to focus more. Using this data, you can devise the right training programs to improve your operator's performance.
5. Save Your Valuable Time & Money
As compared to traditional support channels like phones and emails, live chat is faster and requires minimum back and forth.
Using live chat on your website, a single agent can handle multiple conversations simultaneously using features like canned responses and automated chat routing. This means you don't necessarily have to add more operators to your team, even if your customer base enlarges.
The same reps will be sufficient to take up even double the support requests, leading to incredible time and cost savings for your business.
How to Add Live Chat to Website
Live chat is becoming the favorite support tool of businesses these days. In fact, if research is to be believed, the global live chat market is poised to reach a whopping $1.7 billion by 2030.
If you are also looking to join the bandwagon and employ live chat for customer support, you need to get your basics right.
Here is a step-by-step process of how you can embed live chat on your website and reap all the amazing benefits it has to offer.
1. Employ the Right Live Chat Software
The kind of live chat tool you bring on board will determine how the rest of your process will shape up.
When selecting a tool to add a chat to your website, think of all the elements you want, such as ease of use, competitive pricing, and third-party integrations. The software you choose should be simple to set up and not require specialized training to get started.
Based on your specific requirements, identify the features that you need the most and see if the tool has all those features.
Here are some of the top features you should look at:
Canned Responses – Create, save, and reuse canned responses to instantly answer commonly asked questions.
Automated Personalized Greetings – Delight customers with personalized welcome messages and set the right tone for the rest of the conversation.
Proactive Chat Invitations – Initiate conversations proactively based on visitor behavior and search patterns.
Built-in Reports – Gain useful insights into how your operators are performing and how satisfied customers are with the support experience.
Chat Routing – Set rules to automatically route chats to the right operators to achieve equal workload distribution and faster customer service.
Post-Chat Surveys – Track operator ratings and measure customer loyalty with post-chat surveys.
Chatbot – Automate customer service and grow leads with a 24×7 operational chatbot.
These are some of the top features that are indispensable for your live chat to meet your customer service and lead generation goals.
2. Install & Set Up Live Chat on Your Website
Once you have employed the right tool, installation, and setup should be a smooth sail.
The installation process generally involves copying a piece of live chat code and pasting it at the backend of your website. You can also assign this task to your development team, and they will do it for you.
Once you install live chat on your website, decide the area on your website where you would like to place the chat widget.
Which page do you want your live chat widget to appear? Blog section, website home page, or pricing page?
Do you want the widget to display on all pages with customized greetings?
Do you want the chat widget to be right there when someone lands on your website, or it should appear as a popup after the visitor has spent some time on your page?
These are some of the questions that will help you find a definite answer regarding the placement of your chat widget.
A little flexibility here would not harm. Based on the stage your visitors are in the buyer's journey, their behavior, and browsing patterns, your chat widget should display customized messaging that strikes the right chords.
3. Configure & Customize Live Chat to Reflect Your Branding
Once you have figured out the placement, the next step is to customize your chat widget.
Imagine if the widget is completely out of sync with your company's website. It has a completely different design, colors, and fonts that are loosely connected with your website's overall look and feel.
Such a widget is likely to give customers a feeling that something is off about the whole experience.
That's precisely why chat widget customization is vital.
Customization involves everything from tweaking the shape and color of the chat icon to changing the entire design of the widget. Features like CSS and white labeling enable you to give the chat widget an appearance that resonates well with your company's website.
You can also customize chat greetings based on visitors' behavior and hyper-target them at the right time with the right messaging.
Watch this video to learn more about live chat customization.
4. Add Chat Operators & Set Up Automatic Chat Routing
The next step is to add a team of chat operators who will be responsible for end-to-end management of customer conversations.
When you create operator groups, it gets easy to assign chats to the right agents who have the knowledge and skills to cater to a specific customer request.
You can set up a chat routing time, within which operators can either accept the request or let it transfer automatically to another operator who is more suitable for the task.
This brings two noticeable benefits:
No operator is overloaded with work as all chat requests are evenly distributed
Reduces operator burnout and maximizes their efficiency
Helps operators deliver delightful customer experiences
Automatic chat routing is also a great way to reduce resolution time, which further improves overall customer satisfaction.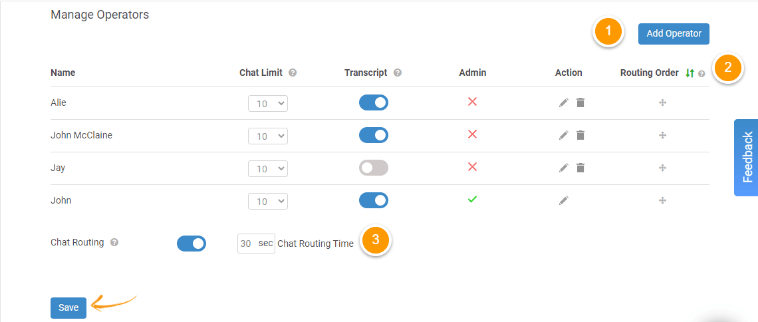 5. Make Your Live Chat Available Across Platforms
Your customers can be anywhere – website, mobile app, or even social media.
So how do you use live chat to connect with these customers spread across multiple channels?
By sharing it everywhere, your customers are.
For example, you can directly add live chat on your website by copy-pasting the live chat code as discussed in the first step. This live chat code allows you to embed a chat widget on your website that visitors can use to interact with your support team in real-time.
Additionally, you can share the live chat as a direct link with your customers over email and start chatting with them instantly.
What more? You can also add live chat to your Android and iOS apps using Chat SDK to help operators answer customer questions on the fly.
Operators can respond from within your chat dashboard for customer messages sent through social media. This saves them from the constant back and forth of switching between apps.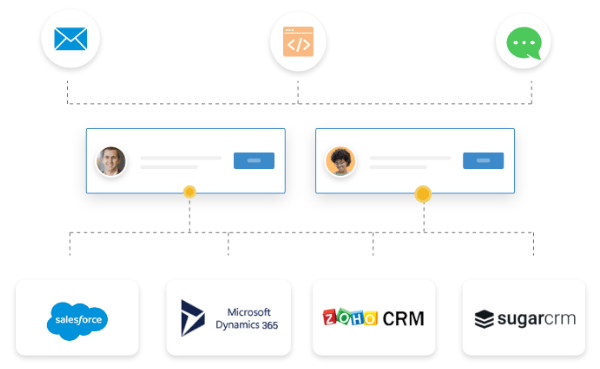 6. Provide Self-Help Support Within Your Chat Widget
While adding live chat function on your website, consider integrating self-help support in your chat widget.
A common question here can be – "If we are already providing live chat for real-time support, why is self-help so important?"
Well, because self-service support can make the customer experience far more seamless.
In fact, research shows that 81% of customers prefer addressing issues by themselves before connecting with a live representative.
You can satiate customers' craving for self-help by embedding it right in your chat widget.
When you integrate chat with knowledge base, the chat window will display the top 5 self-help articles. In the first instance, your website visitors will have the choice to refer to one of these articles or search your knowledge base for their query.
The goal of incorporating self-help service is to let customers find answers instantly on their own, without starting a chat or raising a ticket. This helps to reduce tickets and improve your CSAT.
If required, customers can connect with your operator if their questions aren't answered.
There is another important use case of this integration. Operators can also share relevant help articles in the middle of conversations and point customers toward the solutions they need in just a few seconds.
When you offer the best of both worlds – live chat and self-help support – customers are bound to be all delighted with the experience!
Watch this video to learn more about live chat and knowledge base integration.
How to Add Live Chat to Your CMS Website
If your website is built using CMS, you need to follow a slightly different process to add live chat support.
Whether you have built your website using WordPress, Wix, or a similar platform, you can easily add live chat using ProProfs.
Below are some of the tutorials that will guide you through the process of adding live chat to your CMS website:
Top 5 Live Chat Tools to Win Customers
The prospect of adding chat to your website is enticing, given the astounding benefits it can bring to your business.
However, the tough part is to decide which live chat tool to use for the purpose.
The market is awash with power-packed live chat software with features that look similar on the surface, which makes the decision-making process all the more challenging.
Worry not, as we have shortlisted the top 5 live chat tools along with their features to help you make the right choice.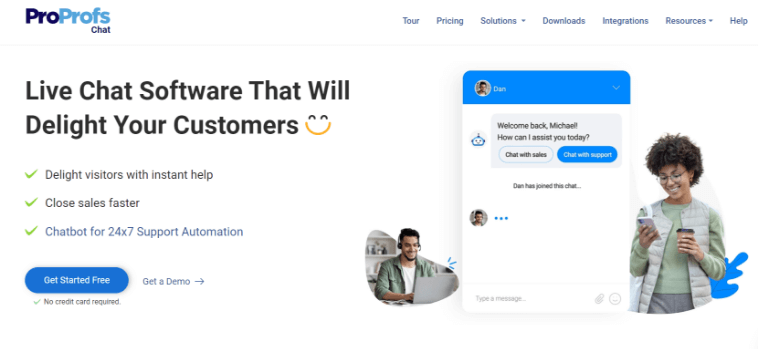 ProProfs Chat is a free live chat for website tool that lets you answer customer questions in real time. Using canned responses and intelligent routing, operators can cater to multiple requests simultaneously, keeping the response time to a minimum. You can add ProProfs Chat to your website, share it as a link with customers, or add it to your Android or iOS apps using Chat SDK.
Key Features
Send personalized greetings to initiate conversations on the right foot
Set intelligent rules to route chats to the right agents
Customize your chat widget to suit your company's branding
Monitor operator performance and customer satisfaction using reports
Pricing
Starts at $0 for a FREE Forever single operator (View pricing and compare plans).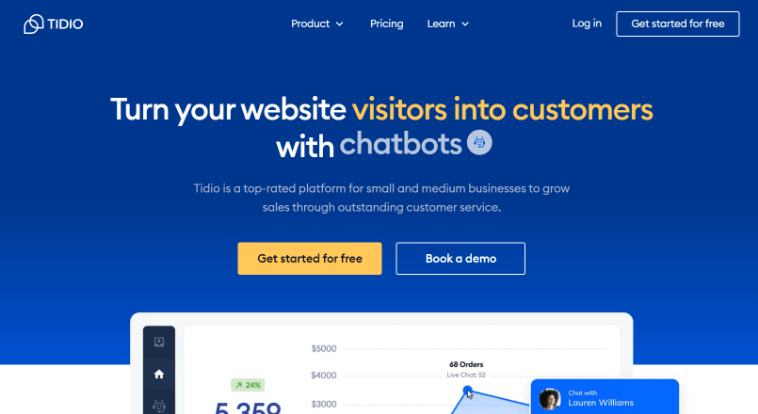 Tidio is one of the top-rated live chat tools that is designed for both small and medium-sized businesses. The tool helps you automate repetitive, repetitive answers so that your operators can focus on solving serious customer problems. With custom greetings, you can set a good tone for conversations, which helps improve your customer service as well as sales.
Key Features
Boost your team's performance and customer satisfaction with detailed analytics
Customize live chat to align it with your company's branding
Chat with your customers on the go with a user-friendly mobile app
Use pre-designed templates to build a chatbot for your business
Pricing
Starts from $15.83/operator/month
Read More: Tidio Live Chat Alternatives & Competitors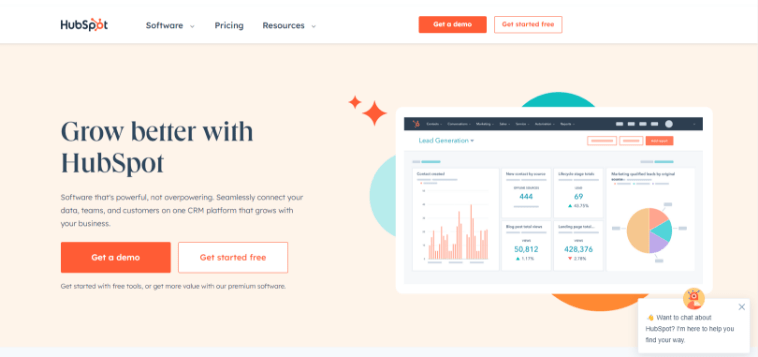 HubSpot is another popular customer service software that offers powerful tools to aid your support, marketing, and sales efforts. Its live chat tool helps you create chatbots that automate repetitive and time-consuming tasks like qualifying leads, booking meetings, etc. You can customize your chat widget and create targeted welcome messages to delight customers with a personalized experience.
Key Features
Store chat conversations in HubSpot's free CRM
Create tickets and schedule follow-ups from a centralized space
Get instant live chat notifications in Slack
Provide real-time, on-the-go support with a mobile app
Pricing
Starts from $450/month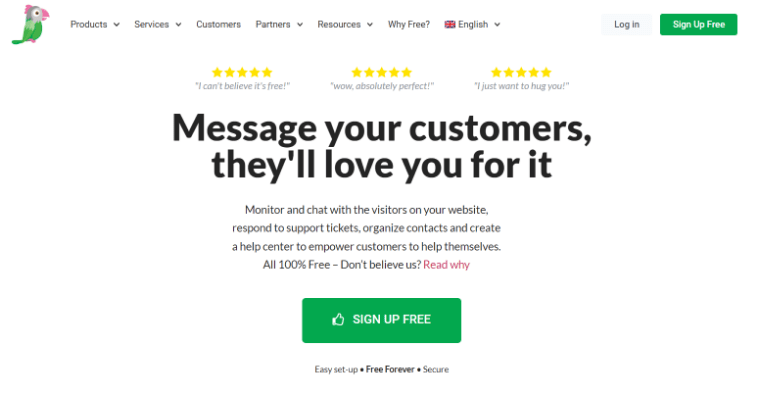 Tawk.to provides a complete customer support package including live chat, ticketing, and knowledge base. By deploying this tool, you get access to detailed analytics, language localization features, and a built-in knowledge base. Using its mobile app for Android and iOS, your operators can chat with customers and resolve their queries on the go.
Key Features
Translate chat messages in the language your customers speak
Save time by answering repetitive questions using canned responses
Monitor your website visitors and their journey with your brand
Integrate with third-party tools to boost performance
Pricing
Free tool
Read More: Best Tawk.to Live Chat Alternatives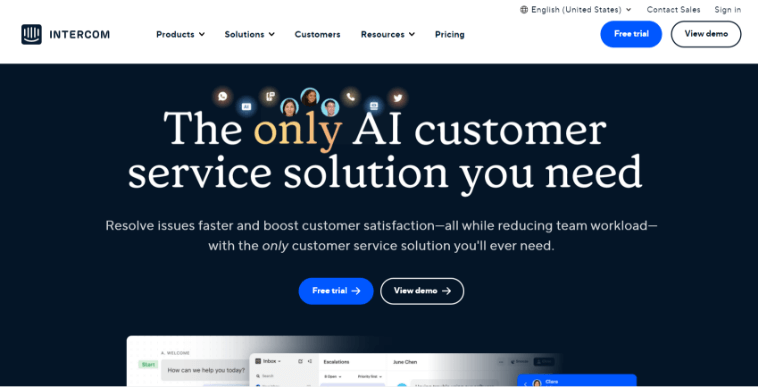 Intercom is robust tool ideal for delivering conversational support to your customers. The chat messenger is fully customizable to ensure customers receive immersive, brand-aligned experiences.
You can add the messenger to your website, product, or app and help customers reach you from anywhere they are. The best part is your customers can access self-help resources right within the chat widget and solve problems instantly.
Key Features
Create targeted announcements and drive customers to take actions
Onboard customers smoothly through checklists and task assignments
Provide contextually-relevant answers to customers and improve your CSAT
Support customers across email, whatsapp, SMS, and other platforms
Pricing
Starts from $74/month
Read More: Best Intercom Alternatives & Competitors 
Stay Ahead of the Game With Live Chat
"How to add live chat to your website" – this is a common question most businesses who are new to live chat have.
The steps given above will help you install and set up live chat, and put it to maximum use that's best for your business.
Once your live chat is up and running, you will witness positive results in customer satisfaction scores, leads coming in, and even sales figures.
What's even better about live chat is its cost-cutting capabilities. Even with a small team, you can handle multiple customer requests at once while keeping the resolution time to a minimum.
That's why we can it as a tool that creates a win-win scenario for your business as well as customers!
The steps given above can only be executed if powered by the right tool.
If you are in two heads about which live chat tool to adopt, our recommendation would be to go for ProProfs Chat. It has all the necessary features to build a delightful customer experience, grow leads, and improve your bottom line. Its simple user interface and competitive pricing act as the cherry on the cake!
Do you want a free Live Chat software?
We have the #1 Online Live Chat Software for instant customer support 24x7