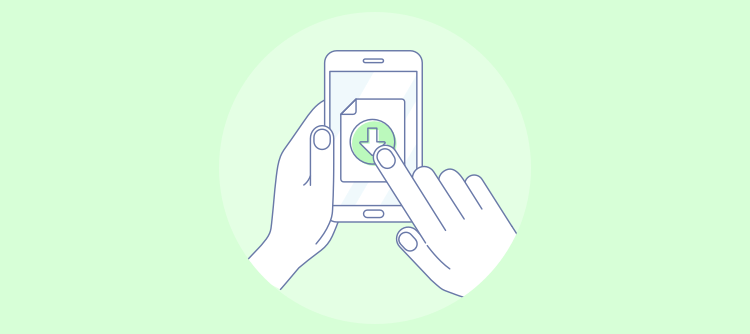 Did you know that 79% of customers prefer having a customer service conversation using live chat?
Your customers prefer using live chat because:
It connects them faster with you
It helps them get instant replies
It reassures them that a solution is on the way
While customers benefit from the use of live chat, so does your business. By enabling live chat on your website, you can monitor visitors, start proactive conversations, track operator productivity via reports, and do a lot more.
But you're definitely missing out on these benefits if you haven't added this to your support stack. Don't worry, adding a live chat is easy. To help you get started, we've built a quick guide on how to add a live chat to your website. Besides that, you will also learn how to customize it as per your needs.
What is Live Chat for Customer Support?
Live chat is a conversational tool that allows agents to resolve customer queries and engage with them in real-time. With this tool, businesses can also schedule callbacks to reduce inbound call volumes.
It includes features like canned responses, chatbots, and Push URLs to help your agents automate their support processes. With chat greetings, targeted messages, and announcements, you can improve customer engagement.
More customer engagement= More conversions, revenue, and brand loyalty
As mentioned when you add chat to your website, your bounce rate, and cart abandonment rates decrease. Since live chat has so many benefits, it will a great idea to integrate chat into your website.
In the subsequent sections, we will discuss how to add live chat to your website.
How to Add Live Chat to Your Website?
It is easy to add a live chat to your website. In three steps, this support tool can help you start answering incoming questions from visitors in real-time. Let's quickly look at these steps below.
Step 1: Once you sign-up for a new ProProfs Chat Account, click Install Live Chat. The option with help you land on a new page.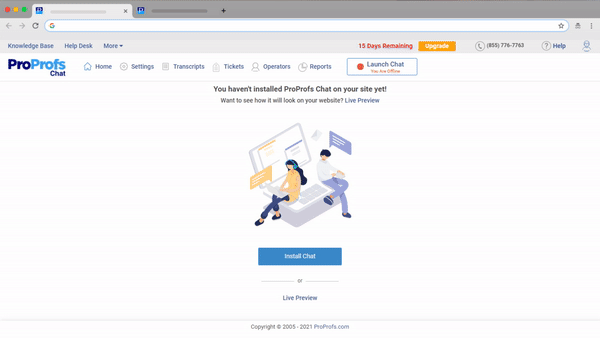 Step 2: You'll see the option Copy to Clipboard. Click the button to copy the code and go to your website's code.

Step 3: Now paste the code before the </body> tag on your web page.
In three easy steps, you can add ProProfs Chat to your website.
You can also send the code to your developers. Simply click on Send instructions to the developer.

All you have to do is enter the recipient name, subject, and instructions in the message box.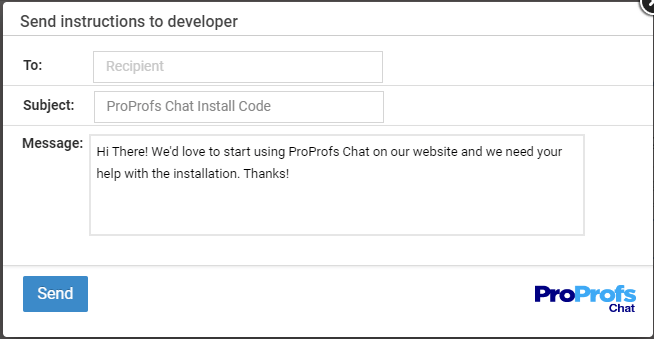 Now click Send and you will be done with the live chat installation process.
How to Customize Your Live Chat Post Installation?
Step 1: On your ProProfs Live Chat dashboard, click on Settings.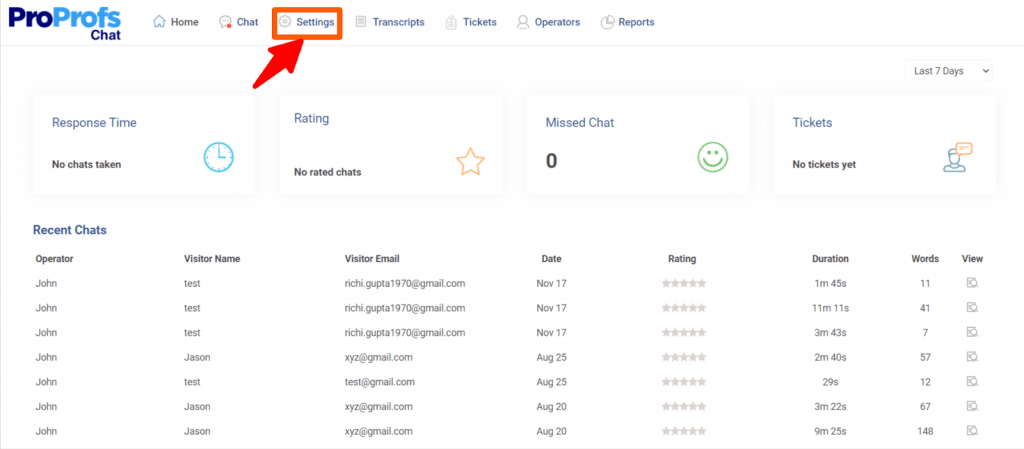 Step 2: You will automatically be routed to the Chat Window settings option on the left-hand side menu. Here you need to click on Theme to begin the chat widget customization process.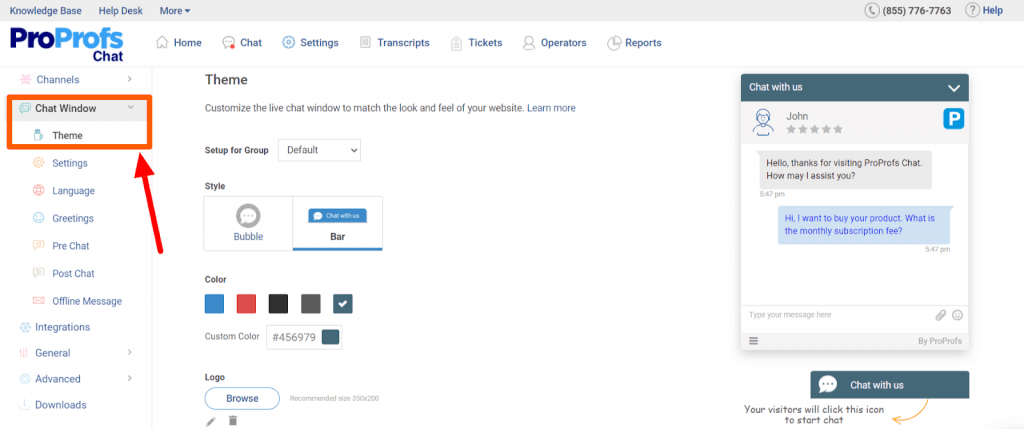 Here you will see options for customizing the style of your chat button, its color, and the chat operator logo.
Step 3: To customize further, click on Advanced to improve the look and feel of your chat widget.
Here you can customize the Visitor Text Color, Operator Text Color, Chatbox Position, and Chatbox Size.
What's more, you can also view the real-time preview of these changes on the preview chat window on the right.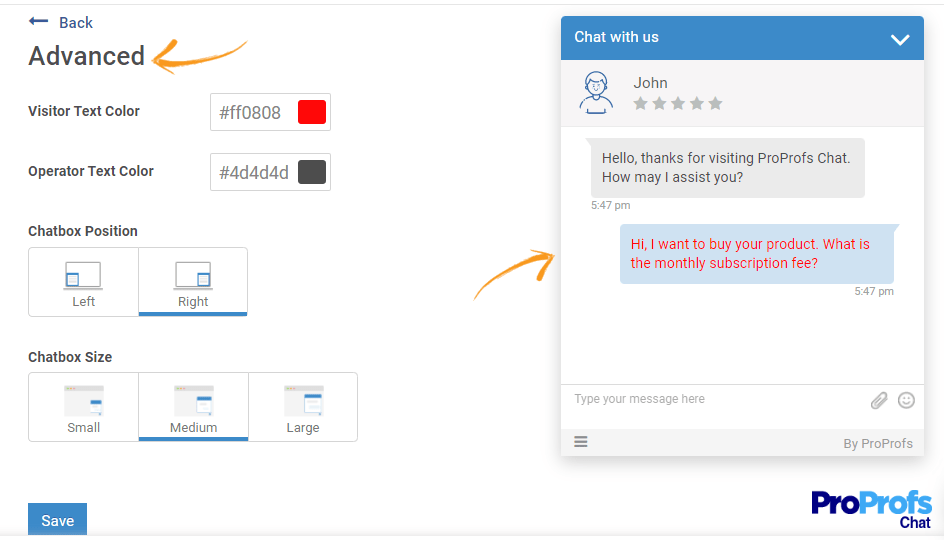 Step 4: Once you are done customizing, make sure to click 'Save' to finalize all the changes you've made.
In a matter of minutes, you can build a customized chat widget for your website.
While this is the primary way of adding live chat to your website. However, it would be wrong to assume that all of you have built your websites from scratch. Some may be running their business website on WordPress or selling products by building an online store on Shopify. Therefore, the process of adding a live chat to such websites may differ from the basic method.
In this case, we advise you to look into different live chat integration methods to add a live chat faster.
Here's a list of recommended reads for those specifically interested in adding a live chat to their eCommerce store.
If you have a CMS-based website, here's a list of recommended reads that will help you add live chat to your specific content management system.
For more articles on the integration of live chat with your preferred platform, visit our help section.
Boost Customer Satisfaction by Adding Live Chat on Your Website
From instant replies to reducing resolution time, live chat does it all. Once you add a live chat to your website, you can gain benefits like:
Increased operator productivity
And the benefits don't end here. But in case you haven't added a live chat to your website, you are clearly missing out on these benefits. That's why we've created a quick step-by-step guide to help you add a live chat to your website. You don't need any coding skills to add one.
FAQS
How much does a website chat cost?
There are numerous live chat options out there. Each has varying pricing options; some are more expensive than others like Zendesk Chat, LiveChat, Intercom, etc. While others are more affordable like JivoChat, HappyFox, and ProProfs Chat.
Let's discuss ProProfs Chat's pricing tiers:
Essentials: $10/month/agent
Premium: $15/month/agent
Enterprise: Contact the sales team to get a quote.
Can we add a chatbot to our chat window?
Yes, you can. With the help of ProProfs Chat, you can build professionally designed, easy-to-use, AI-powered chatbots that offer human-like interactions.
---
Read More: How to Build a Chatbot
---
Which live chat software is the best?
This is a tricky question. After all, there are live chat solutions at every price point that are both feature-rich and fast. If we speak for our product, ProProfs Chat has been recognized by SaaSworthy.com as the most highly rated and popular software of 2021.
How do I add Facebook live chat to my website?
We discussed in the article how to add online chat for a website. Well, ProProfs Chat can get seamlessly embedded on your Facebook page. It is just a matter of a few steps.
---
Read More: How to Embed Live Chat on Facebook
---
We hope this helps you out!
Do you want a free Live Chat software?
We have the #1 Online Live Chat Software for instant customer support 24x7