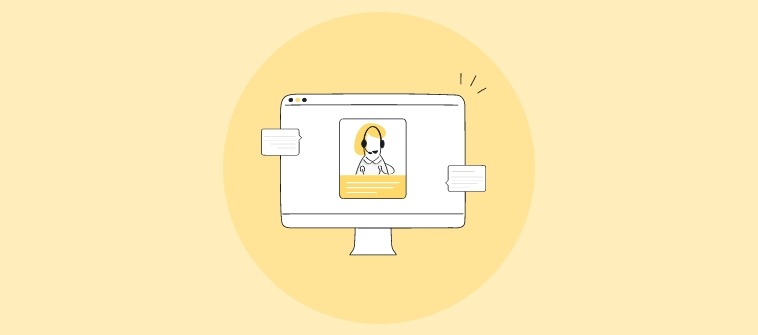 In today's digital age, providing excellent customer service is vital for any business to succeed. One of the most effective ways to do this is through live chat.
Here Are Our Top Live Chat Software Options From the Lot:
ProProfs Chat: The best live chat and lead generation software
Zendesk: Comprehensive customer service tool with powerful automation
Live Chat: Powerful tool with multichannel capabilities
Tidio: The best chatbot software for small businesses
Smartsupp: Live chat and video chat software with powerful features
Drift: Best tool for engaging website visitors with personalized conversations
Tawk.to: Powerful tool for interacting with customers in multiple languages.
It might be that is exactly your requirement – Great. But maybe you want to enlighten yourself with major details about Live Chat Software. You want to understand their benefits and features, or you might be interested to learn about the pros, cons, plan summaries, and reviews of each product. If you are here to make an educated decision, you should read on for sure.
What Is Live Chat Software?
Live chat software is an easy tool that allows businesses to communicate with website visitors in real-time. When prospects or existing customers are browsing your website, help center, or mobile app, they can strike up an instant conversation with your sales or service agents.
With the best live chat software, businesses can offer instant customer service. For example, you can use canned responses to share quick replies with customers waiting in line. In addition, live chat also offers marketing functions, allowing your team to make announcements, capture leads, and store lead information in your favorite CRM.
Top Features of a Live Chat Tool
With a detailed understanding of what the best live chat software looks like and how it can help your business, it is time we check out a list of must-have features.
1. Canned Responses help to Reduce typing efforts during an ongoing chat for frequently asked questions
2. Chat Routing (Automatic, Manual & Condition-based) helps prioritize customer chats and route them to the correct department.
3. Real-time Visitor Monitoring to find opportunities to connect with them proactively with live chat support apps.
4. Chat Forms inclusive of Pre-chat form, Offline message form, and Post-chat form.
5. In-depth Reports can help you track every operator's individual and average ratings, total chats accepted, missed chats, and more.
6. Chatbots will enable your business to automate the support process and ensure that customers looking for answers to frequently asked questions get them quickly.
7. Multiple Integrations should be considered. Ask them if they offer CRM, CMS, help desk, knowledge base, social media, analytics, eCommerce, email marketing, or other integration options.
8. Mobile Application with the ability to create an anytime, anywhere experience will help you boost customer satisfaction and encourage customers to reach out to your brand more frequently and confidently.
20 Best Live Chat Software for 2023
In this section, we won't introduce the tools to you but also highlight their top-rated features, pricing, what we liked about them and what could be improved in the future. This will help you understand your options better and make a decision faster.
1. ProProfs Chat – Best Live Chat Software for Marketing and Customer Service Automation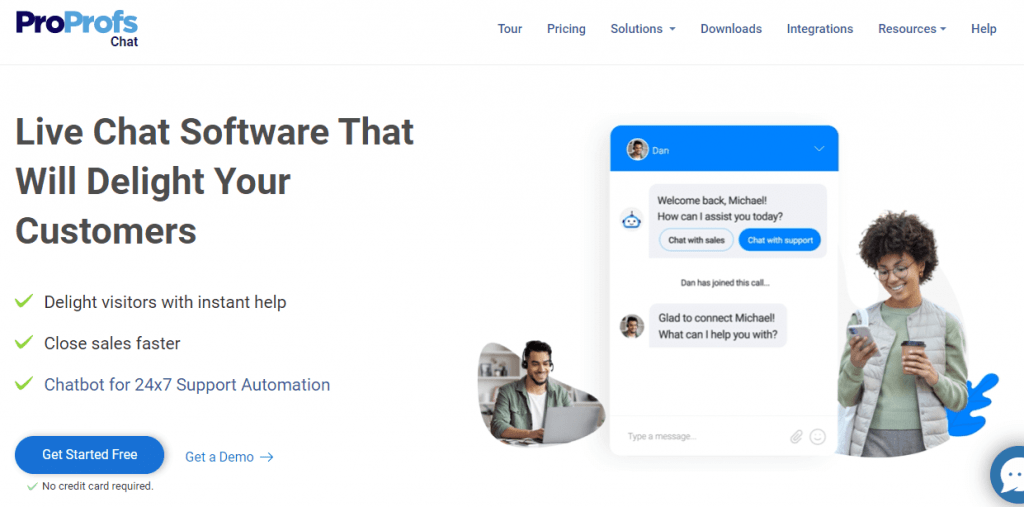 ProProfs Chat is one of the best live chat tool that helps you communicate with your customers and engage visitors while they browse your website. You can use this live chat solution for website visitors to handle their multiple chats using canned responses. Website visitors can also check out relevant help articles in the live chat widget.
As an online customer support tool, you can use it to drive conversions as you monitor which pages are leading with the most interactions. You can route your customers across teams to quickly resolve their issues. With lead-capturing forms, you can increase form submissions too.
You can store these leads on popular CRM platforms. These features make it one of the best live chat software for small businesses.
Key Features of ProProfs Chat:
Answer customers instantly with canned responses
Enhance the customer experience with intelligent chat routing
Automate chat support with rule-based chatbots
Offer self-help articles in the chat widget
Deliver product announcements to market your business
What we liked:
It has in-depth analytics that allows you to monitor operator performance and customer feedback.
The product announcements feature is helpful as it allows us to create marketing strategies centered around our live chat software.
What could be better:
The too comes with limited integration options. For example, you cannot integrate ProProfs Chat with the leading social media platforms yet.
More options should be provided for live chat widget customization.
Pricing:
Starts at $19.99/user/month
Proprofs Chat Plan Summary:
| | |
| --- | --- |
| | Annual Plan |
| Unlimited Domains | ✔ |
| Chat Routing | ✔ |
| Chatbot | ✔ |
| Voice Assistant | ✔ |
| 40+ Integrations | ✔ |
| Ratings & Surveys | ✔ |
| Visitor History & Tracking | ✔ |
Proprofs Chat Reviews
The fact this tool gives us a more in-depth report on how our operators performed while giving support to our customers helps us understand the knowledge gap and identify loopholes in the support process. – G2
We've seen a significant growth in our website engagement with the help of this live chat software and would highly recommend others to give it a try. – Capterra
It has to be the instant support that we are able to provide to our customers. The use of this software has helped our agents become more proactive and the customers are happy. – Financesonline
2. Zendesk – Best Suited for Enterprises and Multinational Companies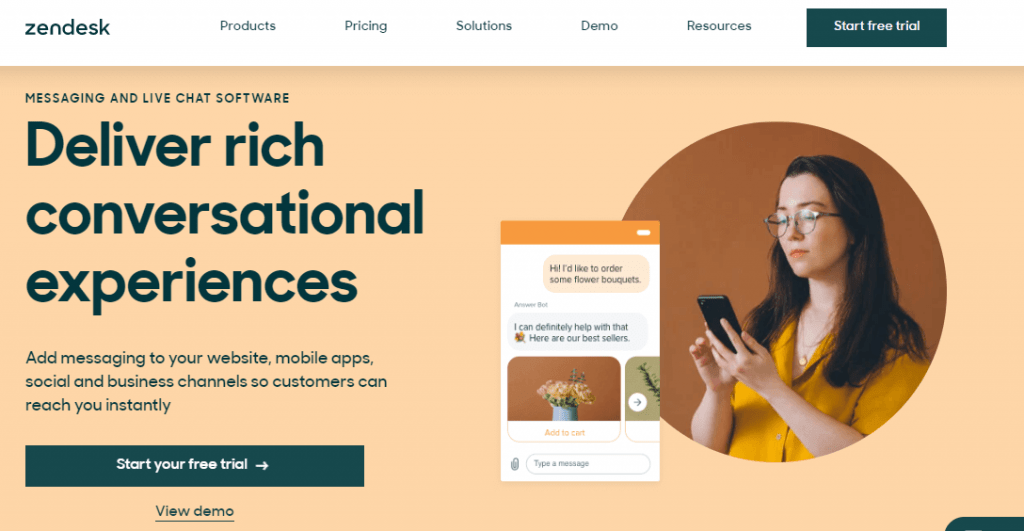 Zendesk Chat is known for its real-time messaging features that help your business to communicate better with customers. You can create conversational experiences that will improve customer retention by allowing you to solve their problems more effectively.
You can also receive offline messages and engage customers when your agents are busy with other chats. You can utilize emojis and GIFs to create an engaging conversation with each customer looking for help on your website.
Key Features of Zendesk Suite:
Brand your live chat widget with customization features
Offer quick answers to customer queries with automated responses
Direct the customer to the right department with chat routing
Access your chats anywhere at any time with a mobile chat app
Engage users with emojis and GIFs during the chat conversation
What we liked:
Zendesk chat offers a fluid interface to simplify communication with visitors and ensures a pleasant customer experience.
Customers can translate the chat into their native language to introduce flexibility to the chat process.
What could be better:
It lacks chat metrics that can offer insights into chat performance.
There is a lack of customization options for the live chat window.
Pricing:
Starts at $49/user/month
Zendesk Plan Summary:
| | | | |
| --- | --- | --- | --- |
| | Suite Team | Suite Growth | Suite Professional |
| Ticketing System | ✔ | ✔ | ✔ |
| Help Center | Single | Multiple | Multiple |
| AI-Powered Automated Answers | Up to 50 | Up to 100 | Up to 500 |
| Reporting & Analytics | Pre-built | Pre-built | Pre-built & Custom |
| Self-Service Customer Portal | ╳ | ✔ | ✔ |
| Integrated Community Forums | ╳ | ╳ | ✔ |
Zendesk Reviews
Once set up it's pretty easy to use as a ticketing system. And easy to take ownership and transfer ownership of tickets. – Financesonline
We're really happy with the integrated email and chat dashboard for our agents (Agent workspace) and the ability to mange useful reporting, automated responses, and Answer Bot resolutions. – G2
3. Live Chat – Best for Omnichannel Communications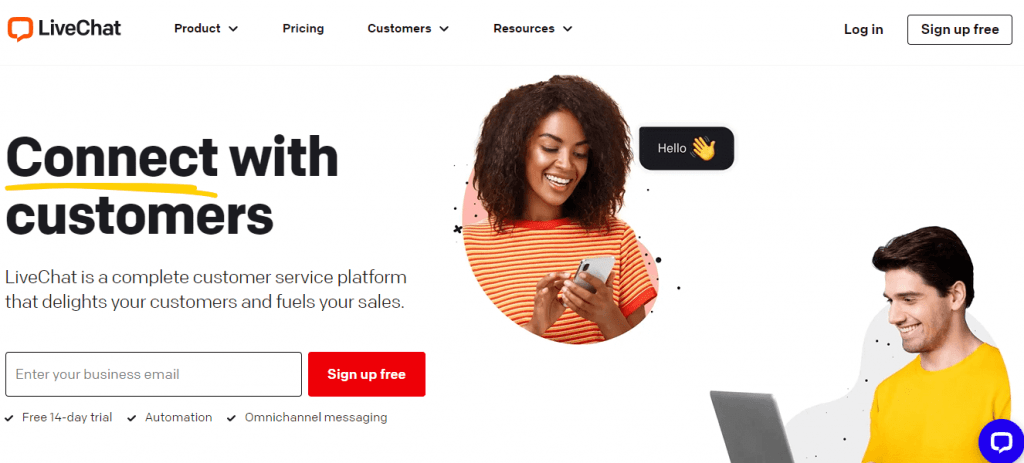 Live chat helps in upgrading the customer experience for businesses looking to service their prospects in better and more inventive ways. With lead-capturing forms, you can increase form submissions and improve lead generation.
You can boost engagement with visitors in real-time, and offer round-the-clock assistance with chatbots. Through proactive messaging, initiate chat conversations with prospects and anticipate their queries. Also, Live Chat offers an in-built ticketing system to convert chats into tickets.
Key Features of Live Chat:
Drive conversions through targeted messages
Assess your support team performance with post-chat ratings
Brand your live chat box with customization settings
Convert chats into tickets with an in-built ticketing system
Offer instant resources to customers with file sharing
What we liked:
It has numerous security features like encrypted connections, access restrictions, credit-card masking, visitor banning, log in with Google, compliance with various regulations, and much more.
It even offers excellent sales and eCommerce features such as product cards, sales and goal trackers, etc. These features make it perfect for both marketing and sales teams.
What could be better:
We were hoping for more work on the announcement feature to help shape their live chat solution as an all-rounder.
Should allow operators to connect with each other while they chat with customers.
Pricing:
Starts at $20/user/month
Livechat Plan Summary:
| | | | | |
| --- | --- | --- | --- | --- |
| | Starter | Team | Business | Enterprise |
| Ticketing System | ✔ | ✔ | ✔ | ✔ |
| Data Security | ✔ | ✔ | ✔ | ✔ |
| Chat History | 60-Day | Unlimited | Unlimited | Unlimited |
| Multiple Brandings | ╳ | ✔ | ✔ | ✔ |
| Work Scheduler | ╳ | ╳ | ✔ | ✔ |
| Single Sign-On | ╳ | ╳ | ╳ | ✔ |
LiveChat Reviews
Customers can communicate with businesses through live chat from any device with an internet connection, making it a convenient option for those who may not have access to a phone or who prefer to communicate digitally. – Capterra
Livechat has some of the best integration capabilities of any software I have used. With Livechat integrations , we have successfully introduced newer experiences into our overall Livechat use . – G2
4. Tidio – Best Live Chat Tool That Can Be Easily Set Up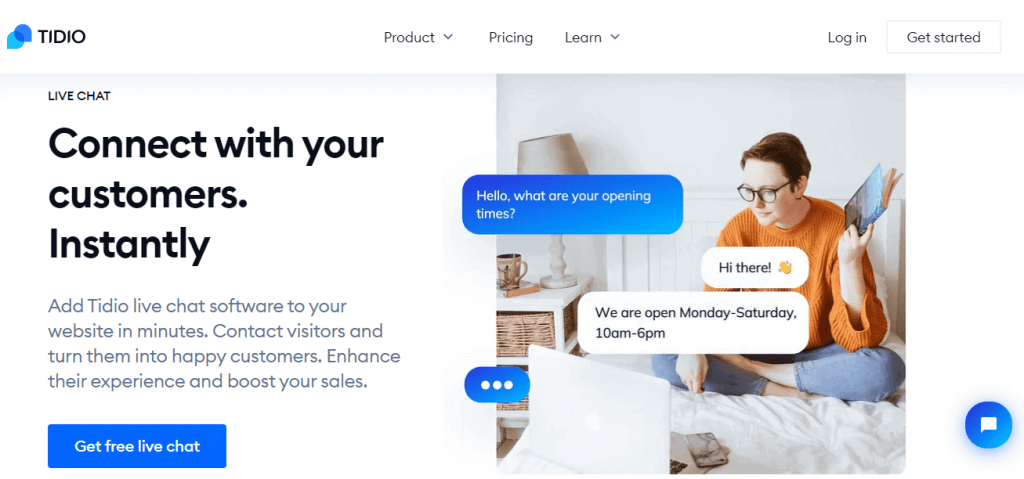 Tidio is a popular and well-trusted live chat tool that deserves to be on your list for all the right reasons. You can strike up a conversation with website visitors, answer all their questions and concerns, and grow your business revenue.
You can track who all are browsing your website and reach out to them proactively. In addition to this, Tidio offers 35+ pre-designed chatbot templates so your team can build multiple chatbots in a matter of minutes.
Integrate Tidio with multiple business applications
Chat with your customers using a dedicated mobile app
View what visitors are typing to get your answers ready
Save time and enhance productivity with canned responses
Send an automated reply when all your operators are busy
What we liked:
The best part about this tool is that it offers multiple integration options. For example, you can seamlessly connect Tidio with Shopify, Magento, Mailchimp, Instagram, and other tools.
You can easily get a 360-degree overview of all the active visitors on your website or e-commerce store.
What could be better:
The tool does not provide the knowledge base feature. This means that there is no way for you to encourage self-service and reduce chat ticket volume.
The company does not offer frequent product updates, making you stuck with the same features for years.
Pricing:
$12.66/user/month
Tidio Plan Summary:
| | | | | |
| --- | --- | --- | --- | --- |
| | Free | Communicator | Chatbots | Tidio+ |
| Chat Conversations | 50 Conversations | Unlimited Conversations | Unlimited Conversations | Unlimited Conversations |
| Mobile Apps | ✔ | ✔ | ✔ | ✔ |
| Internal Notes | ╳ | ✔ | ✔ | ✔ |
| Live Vistor List | ╳ | ✔ | ✔ | ✔ |
| 35+ Chatbot Templates | ╳ | ╳ | ✔ | ✔ |
| Email Marketing | ╳ | ╳ | ╳ | ✔ |
Tidio Reviews
I'm new to managing a chat function. So far, TIdio's responsiveness to my questions has been AWESOME. So far, nothing seems to difficult to manage or use. – G2
The support is excellent, the service is excellent and i loved it. – Capterra
5. Smartsupp – Best for Higher Conversion Rates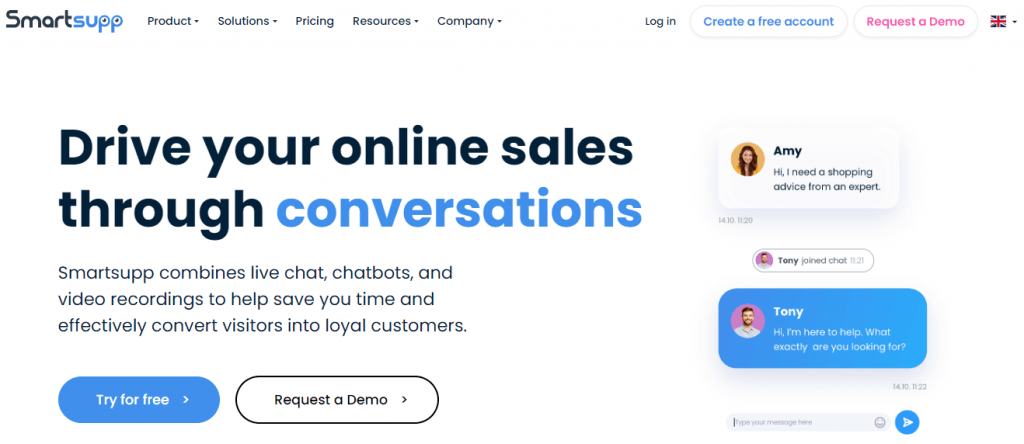 Smartsupp is a great option among live chats that works as an online shopping assistant which helps you convert visitors into customers. With access to previous customer data, it allows you to give a personal touch to your communications.
The brand has a mobile app that allows you to offer customer support from anywhere at any time. Smartsupp allows you to capture messages from live chat, emails, and Facebook messenger; it grants you complete visibility into customer issues from a single platform.
Key Features of Smartsupp:
Upgrade your chat widget's look with customization features
Get a complete overview of visitors with a centralized dashboard
Bring your work anywhere at any time with mobile apps for iOS and Android
Build engagement strategies with detailed statistics and insights
Receive audience insights and video tracking of customer activity
What we liked:
Smartsupp is easy to set up and use.
We liked its integrations with social media platforms.
What could be better:
There are some issues in marking the complaint as resolved.
There is some delay in receiving messages.
Pricing:
Starts at $19.5/month
Smartsupp Plan Summary:
| | | | | |
| --- | --- | --- | --- | --- |
| | Free | Standard | Pro | Ultimate |
| Agents | 1 | 3 | 3 | Custom |
| Conversations Volume | 100/month | Unlimited | Unlimited | Unlimited |
| Conversations History | 14-days | 1 year | 3 years | Unlimited |
| Chatbots | ╳ | ✔ | ✔ | ✔ |
| Data Exports | ╳ | ╳ | ✔ | ✔ |
| Customer Success Manager | ╳ | ╳ | ╳ | ✔ |
SmartSupp Reviews
Smartsupp is a very straightforward system to set up. It provided us with an immediate benefit to our business, providing customers with a direct and live way to communicate. – G2
I've been able to answer questions from potential clients even as I am on the go, thanks to Smartsupp's mobile version. It has been helpful in helping drive sales as well as maintaining support to my pool of clients. – Financesonline
6. Drift – Best for Highly Personalized Conversations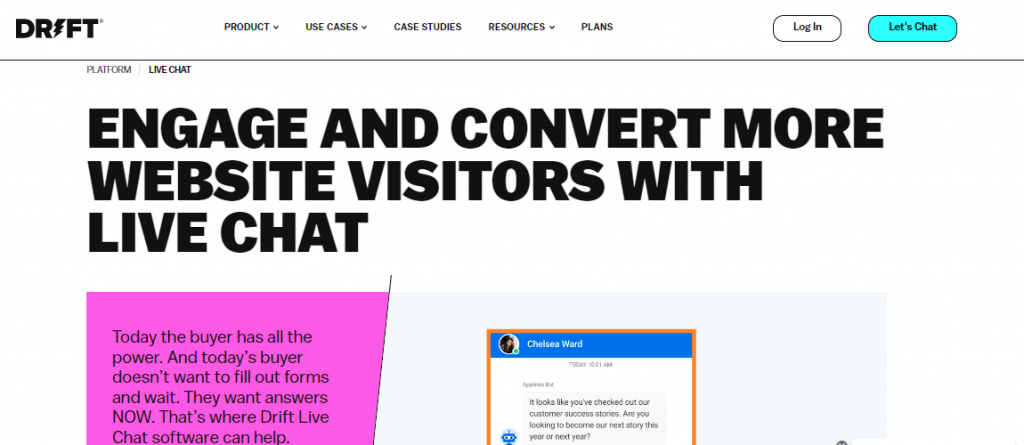 Drift is one of the best chat software for website marketing. It allows you to generate better sales growth too. The chatbot feature allows businesses to create a refined sales pipeline to capture qualified leads.
The method of keeping visitors engaged on your website allows you to drive more conversions. You get to connect with the visitor at key points and simplify your sales strategy by offering product suggestions that take into account your customer's actions.
Key Features of Drift:
Resolve your customers' issues quickly with chat routing across departments
Create private notes to boost in-team collaboration and productivity
Shape the experience for live chat agents with customization options
Read, search, and send conversation transcripts to figure out top issues
Offer round-the-clock assistance with an AI chatbot
What we liked:
Drift is a complete customer service chat software that offers sales and marketing capabilities. With it, you can find conversion opportunities and boost sales.
The chatbot's conversational interfaces can simulate human interactions, which makes it a highly conversational bot.
What could be better:
It would be better if we could access more visitor details to better gauge their intent and personalize their experience.
They need to work on offering self-service options, so that support volume can be managed.
Pricing:
Get in touch with the company for a quote.
Drift Plan Summary:
| | | | |
| --- | --- | --- | --- |
| | Premium | Advanced | Enterprise |
| Custom Chatbots | ✔ | ✔ | ✔ |
| Real-Time Notifications | ✔ | ✔ | ✔ |
| Advanced Routing | ╳ | ✔ | ✔ |
| A/B Testing | ╳ | ✔ | ✔ |
| Workspaces | ╳ | ╳ | ✔ |
| Flex Routing | ╳ | ╳ | ✔ |
Drift Reviews
My team can now focus on bigger tasks because Drift can automatically qualify leads for us, and provide basic Q&A for our customers. – Financesonline
When I was using Drift I though it was a great basic package and free was all I was needing at the time. Planning to subscribe to a plan at a later date …. not now. – G2
7. Tawk.to – Best for Interacting With Customers in Multiple Languages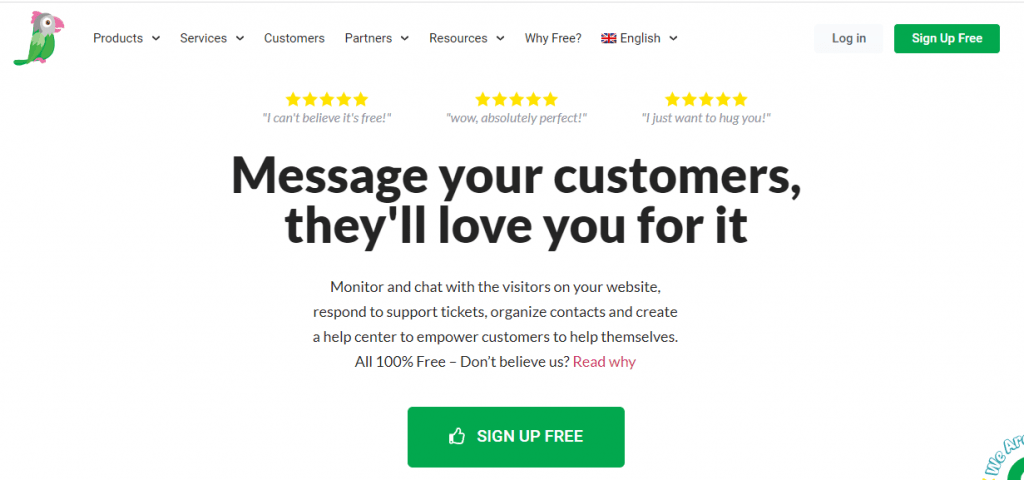 Tawk.to offers an intuitive live chat interface combined with the power of ticketing, CRM, and knowledge base. You can maintain a complete conversation history and view which agent responded last.
The tool allows you to monitor your website visitors in real-time. You can view which pages they are visiting, what they searching for on your knowledge base, and how often they visit your site from time to time.
Key Features of Tawk.to:
Tag and assign conversations to team members
Share knowledge base articles alongside chats
Review chat history and track your team's progress
Leverage mobile apps for both Android and iOS platforms
Offer consistent replies with the help of canned messages
What we liked:
Unlike many chat tools in the market, Tawk.to allows you to create an online help center to guide customers to self-service.
You can translate your chat conversations into 45+ languages. This will allow you to speak to visitors in their native language.
What could be better:
The user interface (UI) of Tawk.to seems outdated and needs massive improvements.
Customization options are quite limited.
Pricing:
Get in touch with the company for a quote.
Tawk.to Reviews
Tawk is amazing, it is the best free live chat solution for any business. I have been using it for over 6 months now, and I couldn't be happier. It is packed with features and integrates with many big eccomerce apps. – G2
Tawk.to is a user-friendly platform that can be accessed through the web or its mobile app. It is a great tool for customer support and it is available for free. – Financesonline
8. Chaport – Best for Managing Social Media Conversations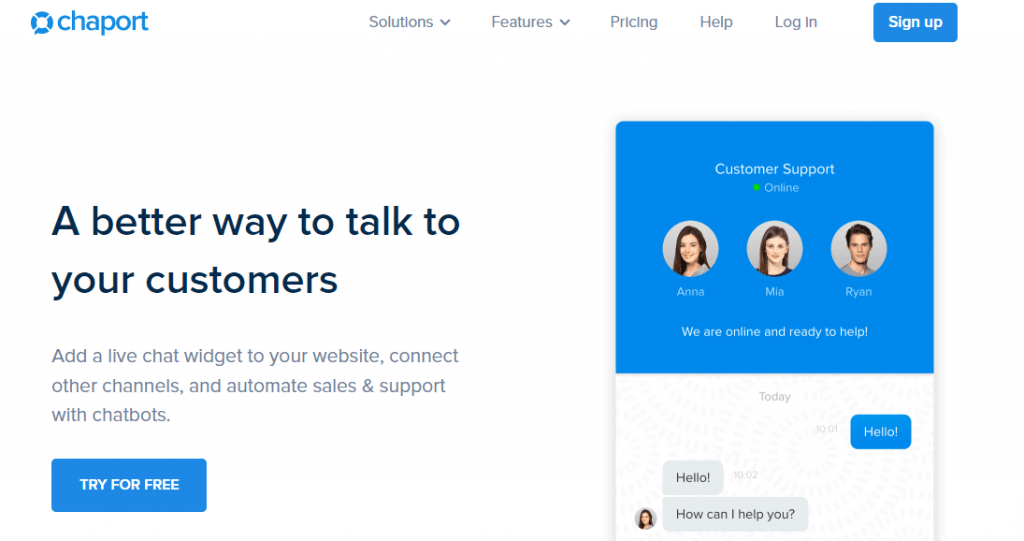 Chaport is one of the top-rated live chat system for sales and support teams. With a simple interface, it allows you to engage customers the moment they visit your website. Through timely engagement, you can solve customer issues and increase sales.
This live chat provider offers a robust chatbot solution that can help you qualify leads and capture customer feedback. Chaport allows you to connect with customers who are using Facebook, Telegram, or Viber.
Key Features of Chaport:
Attract customers to chat with auto-invitations
Speed up the resolution with typing insights to anticipate the queries of users
Connect with team members through group chats
Deliver pre-chat forms with customizable fields to capture leads
Store offline messages with Messenger Mode
What we liked:
We liked the after-sales support as it was prompt in responding to our queries.
It is easy to install and has a simple user interface.
What could be better:
The mobile app is not very responsive.
The triggers for auto-invitations are limited in their functionalities.
Pricing:
Starts at $19/month
Chaport Plan Summary:
| | | | |
| --- | --- | --- | --- |
| | Free | Pro | Unlimited |
| Chat History | 60 Days | Unlimited | Unlimited |
| Mobile Apps | ✔ | ✔ | ✔ |
| Social Media | ╳ | ✔ | ✔ |
| Chatbots | ╳ | ╳ | ✔ |
| Multi-Lingual Chat Widget | ✔ | ✔ | ✔ |
| Pre-Chat Forms | ╳ | ✔ | ✔ |
Chaport Reviews
The dashboard and customization options which allowed me to make the widget look like it's custom-built for our site. Another major reason for me writing this review is how awesome the support team is. They provided technical advice on how to best comply with GDPR rules, and they were super fast to respond. They have for sure gained a loyal customer. – G2
We are able to talk to customers right away, solving problems and sending leads to our team faster than if they had to find our site's contact form. – Capterra
9. HubSpot – Best for CRM Integration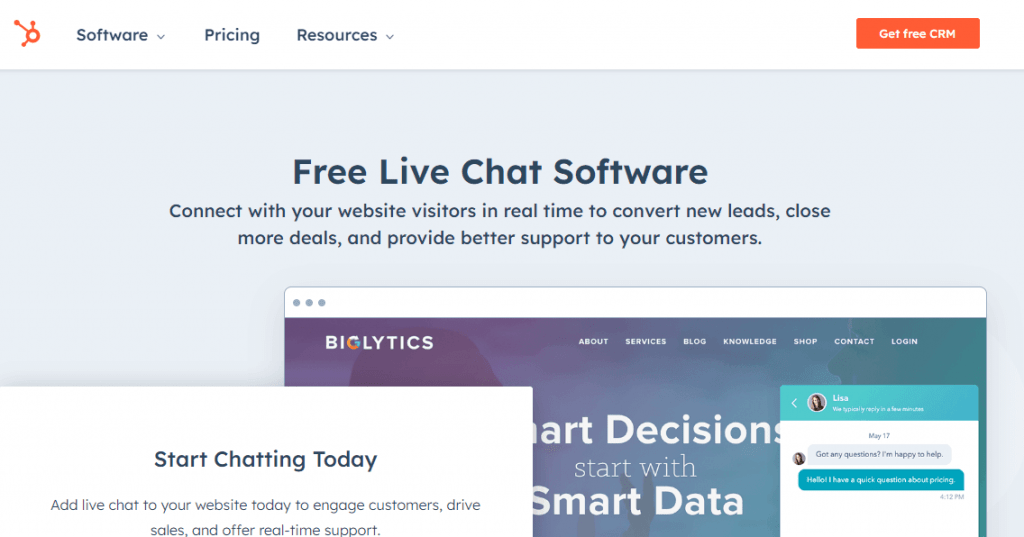 HubSpot is one of the top live chat providers on this list, and they have tools for marketing, sales, and service requirements. HubSpot Conversations allows customers to connect with the right members of your team. You can route inquiries to your support team and direct leads to your sales team for follow-ups.
With chatbots, you can qualify leads, answer common questions, and book appointments. Since the HubSpot chatbot builder is seamlessly integrated with the HubSpot CRM, you can deliver personalized messages based on customer data you already have.
Key Features of HubSpot:
Brand your live chat widget with customization settings
Deliver targeted welcome messages to visitors on different pages
Create chatbots to automate support and reduce agent workload
Receive, send, and forward chat transcripts
Integrate with Slack to get chat notifications or carry on the conversation on mobile
What we liked:
HubSpot Conversations has a great user interface that makes it easy to learn.
HubSpot has numerous integration options.
What could be better:
There is very little automation available apart from building a basic chatbot. But for the price, one expects an advanced chatbot.
You won't receive notifications when a bot has finished chatting with a customer.
Pricing:
Starts at $45/month
Hubspot Plan Summary:
| | | | |
| --- | --- | --- | --- |
| | Starter | Professional | Enterprise |
| Shared Inbox | ✔ | ✔ | ✔ |
| Conversational Bots | ✔ | ✔ | ✔ |
| Feedback Surveys | ╳ | ✔ | ✔ |
| Knowledge Base | ╳ | ✔ | ✔ |
| Single Sign-On | ╳ | ╳ | ✔ |
| CRM Integration | ╳ | ╳ | ✔ |
Hubspot Reviews
HubSpot has an extensive offering of different features and allows syncing with different marketing platforms. HubSpot has also addressed communication among team members. As a one-stop-shop for all our marketing needs, HubSpot eradicated our reliance on multiple software. – Financesonline
I love the workflows and granular data you can dig into with Hubspot. It makes marketing tasks very exciting and fun to design. – Capterra
10. Sendinblue – Best for Skill-based Chat Routing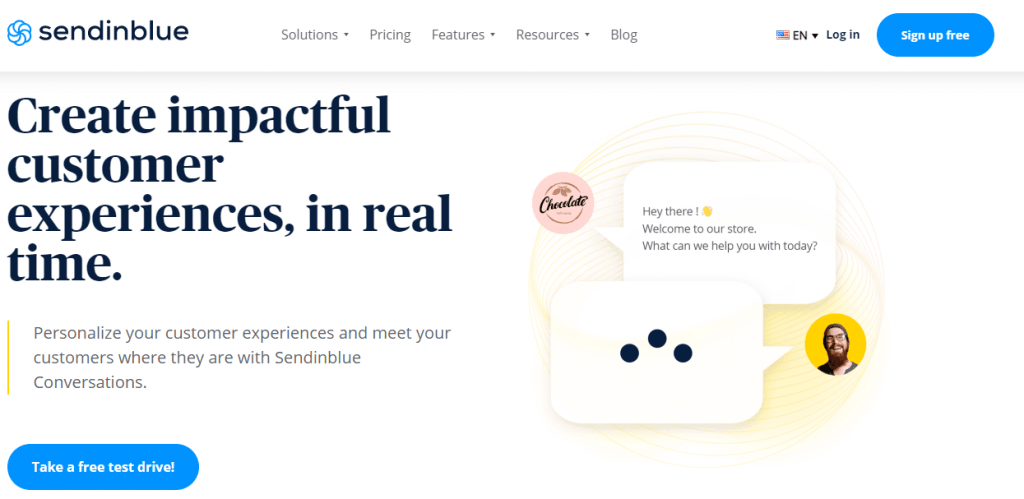 Sendinblue is a great option to choose from different live chat solutions to build the support side of your growing business. Sendinblue is a full-service digital platform that offers email marketing and CRM services.
Their live chat solution is really good too. It allows you to set up direct communication with other customer channels. You can personalize your chat experience with dedicated customization features. It is also really easy to set it up by simply copying a code snippet.
Key Features of Sendinblue:
Set up and get started with its easy installation
View user activity with real-time visitor tracking
Streamline your support processes with workflow creation
Brand your live chat with customization options for the live chat widget
Direct customers to the right team with chat routing
What we liked:
We like the customization features offered for the live chat window.
The reporting and analytics features are extensive and help understand customers' activities.
What could be better:
The free plan could have more functionalities which could simplify the purchase decision for premium plans.
It is simpler than other tools mentioned on this list.
Pricing:
Starts at $15/user/month
SendinBlue Plan Summary:
| | | | | |
| --- | --- | --- | --- | --- |
| | Free | Starter | Business | Enterprise |
| Email Templates | ✔ | ✔ | ✔ | ✔ |
| Page Tracking | ✔ | ✔ | ✔ | ✔ |
| Heat Map Reporting | ╳ | ╳ | ✔ | ✔ |
| Multi-User Access | ╳ | ╳ | Add-on | ✔ |
| Phone & Chat Support | ╳ | ╳ | ✔ | ✔ |
| Service Level Agreements | ╳ | ╳ | ╳ | ✔ |
Sendinblue Reviews
Fantastic contact management/filtering/segmentation. Modern web-tracking/lead-scoring capabilities. – Capterra
Automation and convenience are great with Sendinblue. It has a free subscription with more included features than other alternatives. It's easy to learn and doesn't cause trouble when sending newsletters right away. – Financesonline
11. Olark – Best for Sharing Automated Offers or Suggestions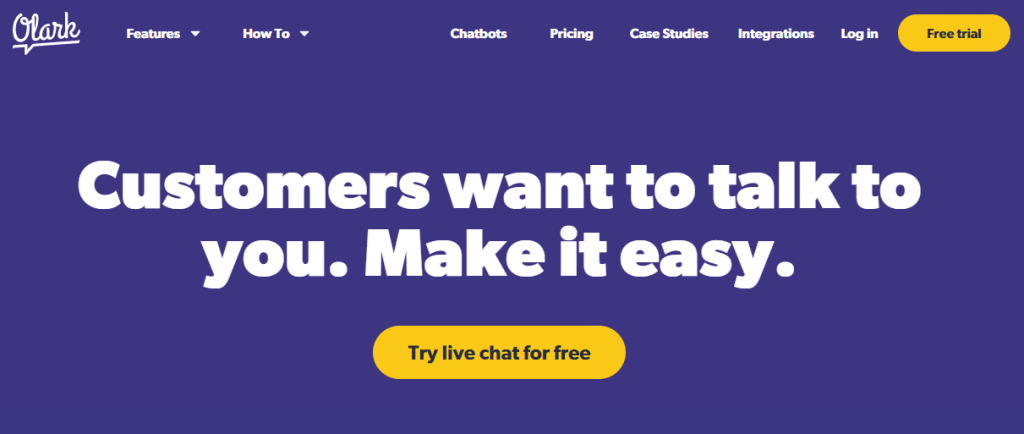 Olark is known for its website chat services that ensure a seamless experience for all your customers. With this live chat platform, you can satisfy customers and drive their return to your brand.
It allows you to engage with customers in real-time, collect data during the conversation, and use this data through analytics to improve the overall experience. If you are looking for live chat for websites, its features include pre-chat forms to capture market-qualified leads.
Key Features of Olark:
Improve the customer experience with in-depth chat analytics
Grow your leads with custom chatbox forms
Read and search through your chat transcripts
Boost your live chat functionalities with integrations with other platforms
Offer simple and efficient customer service with automated messaging
What we liked:
We liked how Olark simplified contextual support by allowing operators to view customer/lead data during the conversation.
With detailed email reports and centralized dashboards, it is easier to find opportunities to improve conversions and customer experience.
What could be better:
There should be more integration options to help build a complete support suite with Olark.
More customization options should be added.
Pricing:
Starts at $29/month
Olark Plan Summary:
| | | |
| --- | --- | --- |
| | Standard | Pro |
| Chat History | Unlimited | Unlimited |
| Agent Groups | ✔ | ✔ |
| Targeted Chat | ✔ | ✔ |
| Integrations | ✔ | ✔ |
| Priority Support | ╳ | ✔ |
| Training | ╳ | ✔ |
Olark Reviews
Olark is so simple and easy to set up. Because of it, we are now closer to our prospective customers and learners. It also doesn't take a lot in terms of money to find new leads and to convince them to sign up for courses before they close our site's window. This has given our sales team better peace of mind. – Financesonline
Some of our users have complained about the inability to completely close the chat tab. – Capterra
12. LiveAgent – Best for Live Chat Plus Ticketing Capabilities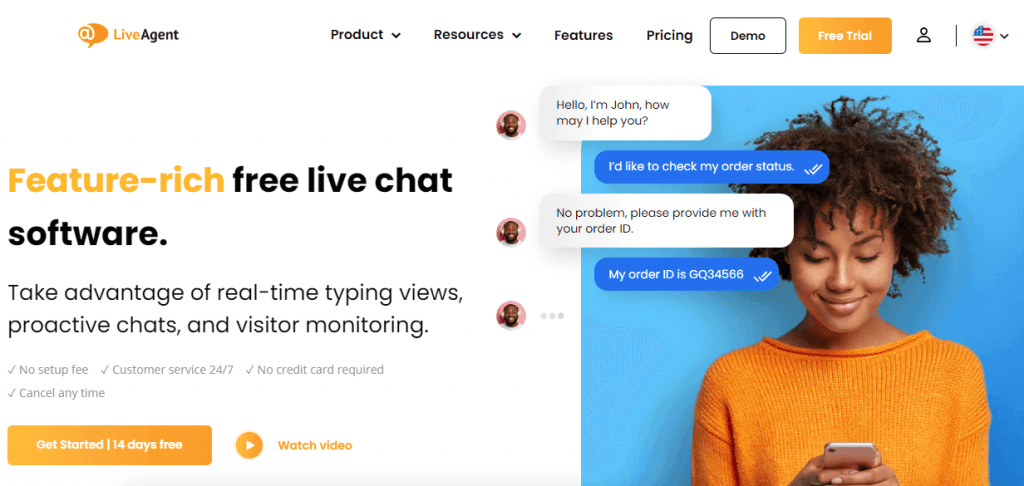 If you are looking for website live chat services that are recommended in most live chat system comparison articles, then LiveAgent is a great place to start. You can connect various communication channels and capture support requests from any platform.
With integrations to Gmail, Slack, Facebook, Twitter, etc., you can make the most of your support suite. You can also route chats across departments, allowing you to automate the support process.
Key Features of LiveAgent:
Upgrade your live chat experience with customization features
Entice customers to engage with you with chat invitations
Keep tabs on what your customers are looking at with visitor tracking
Create a more engaging experience for prospects with animations for chat buttons
Allow customers to browse the website with the chat window docked
What we liked:
We noted that we could add smart triggers to deliver messages and initiate conversations with customers. These messages are triggered by any set user action.
LiveAgent includes live chat along with the help desk service, thus, offering the complete support package.
What could be better:
They offer live chat separately from the help desk software. It would be better to create a plan that merges them.
More customization features would help make a better live chat experience.
Pricing:
Starts at $15/user/month
LiveAgent Plan Summary:
| | | | |
| --- | --- | --- | --- |
| | Ticket | Ticket + Chat | All Inclusive |
| Advanced Reporting | ✔ | ✔ | ✔ |
| Unlimited Chat Buttons | ╳ | ✔ | ✔ |
| Social Networks | ╳ | ✔ | ✔ |
| Satisfaction Surveys | ╳ | ✔ | ✔ |
| Video Call | ╳ | ╳ | ✔ |
| IVR | ╳ | ╳ | ✔ |
LiveAgent Reviews
LiveAgent offers a comprehensive suite of tools to support live chat services on your website. One of my favorite features is location reporting (showing where in the world the user is located) as well as the ability to push a chat invitation to the user as they browse your website. – G2
Indeed, I loved the fact that your software gives me a good overview of all my projects. It made it easy for me to get organized and to divide the tasks among my teammates. – Capterra
13. Pure Chat – Best for Managing Customer Chats Using Mobile Apps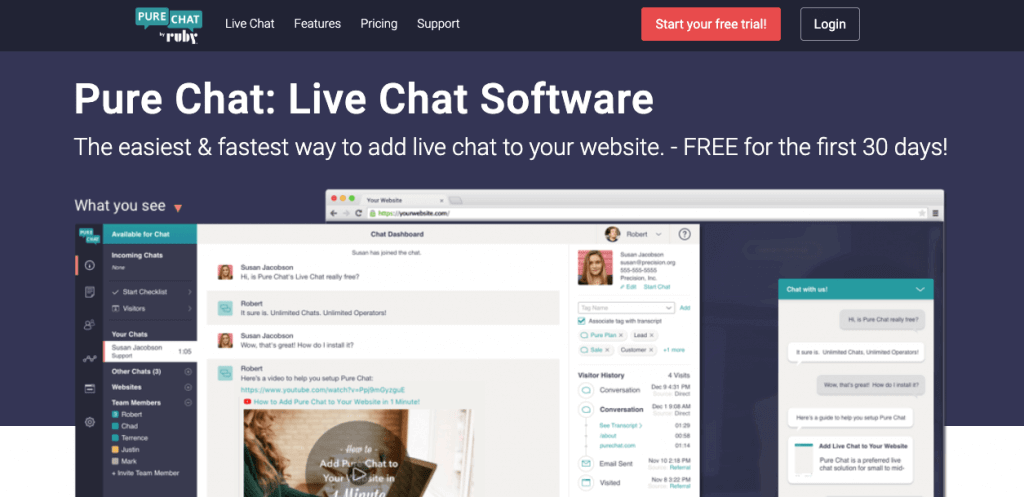 Pure Chat is said to be the fastest live chat solution in the market. What's more, it even offers unlimited chats, access to a dashboard with better insights, and native Android and iOS apps that make it easier for businesses to provide anytime and anywhere support.
It even gives its users the option to sign up for 30 days free trial. This helps their customers access all their premium features and decide which package would better meet their needs. The simple chat view also allows operators with no experience with live chat to maneuver through the product quickly.
Key Features of Pure Chat:
Track website visitors in real-time
Initiate conversations based on visitor actions
Leverage unlimited chat history and transcript storage
Assign security roles to team members for better accountability
Chat with customers on the move with dedicated mobile apps
What we liked:
The product's simplicity makes it easier for businesses to operate their support process and manage prospects in real-time.
Their detailed information on visitors as they browse the website helps you initiate chat sessions proactively.
What could be better:
They should look to offer a free plan for startups to get started with a live chat system.
More integration options can help you create a better sales and support suite for you business.
Pricing:
Starts at $39/month
Pure Chat Plan Summary:
| | | |
| --- | --- | --- |
| | Growth | Pro |
| Website Limit | 1 | Unlimited |
| Operators | 4 | 10 |
| Unlimited Chats | ✔ | ✔ |
| Canned Responses | ✔ | ✔ |
| Visitor Tracking | ✔ | ✔ |
| SMS Notifications | 10 | 100 |
PureChat Reviews
What I like most is the fact that I can engage my web site visitors with few clicks. The product is straightforward and simple with intuitive and clean design. It doesn't require too much training. It allows you to keep track of geographical locations of the prospects on your site and which page or link lead them to your site. – Finanecesonline
Pure chat is an awesome messenger site with more products you are able to use like wordpress which I use a lot. Capterra
14. Intercom – Best for Proactive Messaging and Lead Generation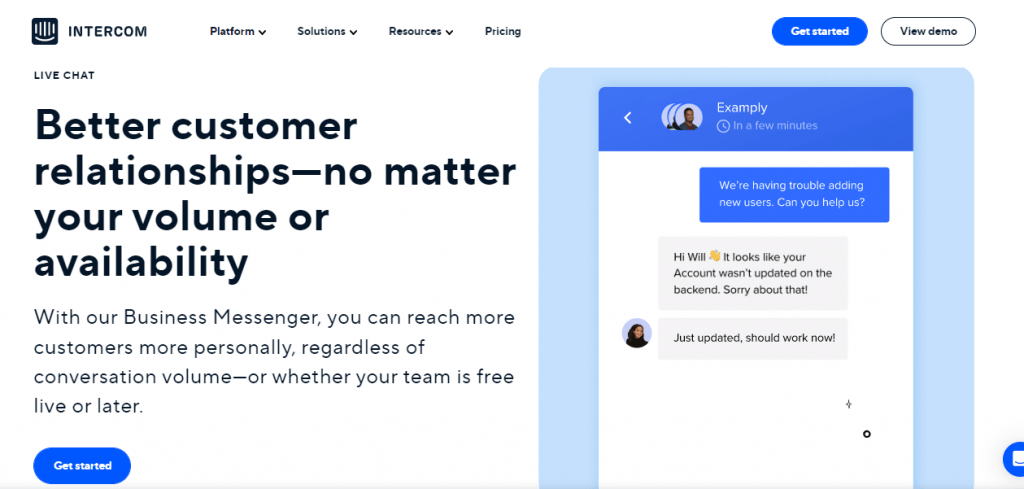 Intercom is one of the top online website chat programs out there. It believes in offering conversational experiences to customers that are engaging and valuable. It offers chatbots to automate support and adds that human touch with a holistic live chat solution.
With real-time insights, businesses can view visitor data and chat with browsing prospects. There is also a collaborative feature of a shared inbox which allows team members to communicate with each other to solve complex issues easily.
Key Features of Intercom:
Build an appealing live chat experience with a customizable chat widget
Deliver relevant help articles through the chat window
Solve complex issues and direct customers to the right department with chat routing
Boost functionalities of your live chat software with an app store with 200+ options
Work on improving customer satisfaction with in-depth team performance reports
What we liked:
Intercom is a holistic tool for businesses that want to offer omnichannel support to their customers. It's because you get chatbots, live chat, a help center, messenger-like features, and more.
You can view key funnel metrics to figure out where you lost a customer during their time on the website. Also, you can pinpoint the key interaction driving a conversion.
What could be better:
Intercoms pricing is quite expensive, which makes it an unsuitable option for startups or small businesses.
Basic features like automated greetings and chat routing need more work.
Pricing:
Get in touch with the company for a quote.
Intercom Plan Summary:
Not Available
Intercom Reviews
So I would say, I am glad we are using the system because it is definitely an excellent tool I can't imagine having without. – Capterra
I love the keyboard-only navigation on Intercom! It makes workflows much faster, and the Ctrl K menu!!! Amazing. Native Dark Mode, that's also great! I had to install a chrome extension to get dark mode. Now, night shifts are a breeze 🙂 Collapsible menus are also a great addition. But for the most part, it's the keyboard-only nav for me! – G2
15. Jivochat – Best Tool for Managing Conversations on Whatsapp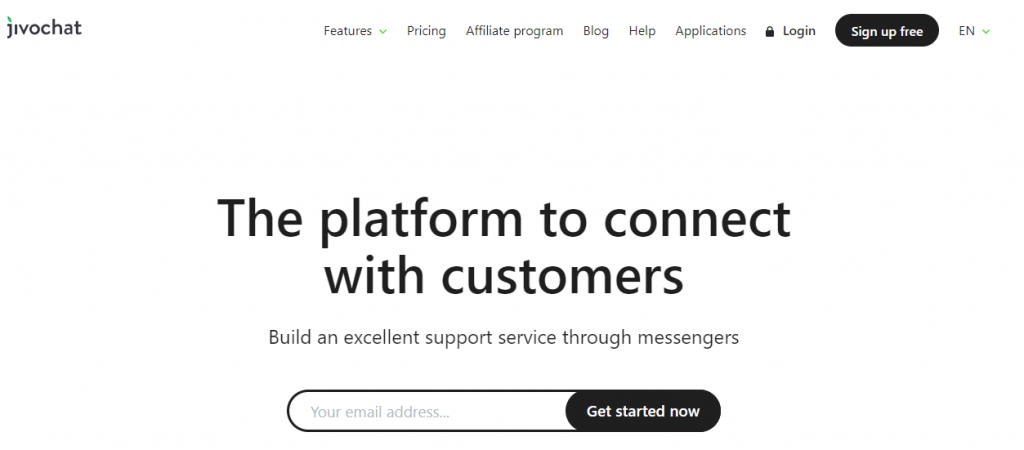 Jivochat is considered as one of the best live chat service providers. This support messenger allows your business to connect and engage with visitors on the website, and identify their browsing intent quickly.
You can bring all conversations from different messaging, social media, and calling platforms onto a single dashboard. It allows you to offer omnichannel support, and you can make sure you don't miss a single support request.
Key Features of Jivochat:
Collect conversations in a centralized dashboard to track each one
Offer instant answers to customers with canned responses
Organize your conversations with color-coded chats
Enable real-time tracking of visitor location and source
Deliver personalized messages triggered by user actions
What we liked:
We liked that we could identify the location of our visitors and track their activity in real-time.
New customer service or sales agents can be easily trained to use this tool.
What could be better:
The UI seems plain and dated, but it is easy to use.
There needs to be an advanced ticketing system.
Pricing:
Starts at $19/user/month
JivoChat Plan Summary:
| | | |
| --- | --- | --- |
| | Basic | Professional |
| Social Media | ✔ | ✔ |
| Multiple Departments | ╳ | ✔ |
| Chat History | 2 Months | Unlimited |
| Visitor Info | ╳ | ✔ |
| Customer Ratings | ╳ | ✔ |
| Contact Form | ✔ | ✔ |
JivoChat Reviews
My favorite thing about Jivo Chat is how easy it is to use both as an administrator and as a user. Training a new agent on using the platform is easy and doesn't take much time. Plus, I appreciate how easy it is to add new agents or remove old agents. – G2
I like being able to engage with our customers in real time — it's exactly what we need from a CRM system, regardless of location and timezone. The UI and design are modern and easy to customize and set up online too. – Financesonline
16. Acquire – Best for Screen Sharing and Co-browsing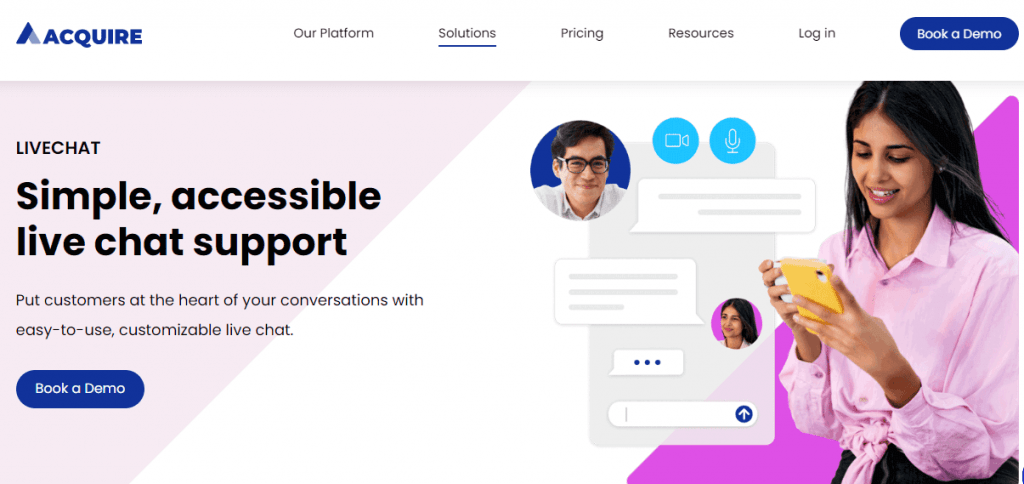 Acquire offers highly customizable live chat support software that you can mold as per your business needs. You can customize your chat widget to capture dynamic data, share important files, or encourage self-service.
Every chat conversation can be routed to the right agents and departments. For instance, you can automatically route chats to agents based on their location, device type, URL, or other crucial factors.
Key Features of Acquire:
Allow agents to troubleshoot problems with the co-browsing feature
Automatically route chats to specific agents
Handle multiple live chat conversations simultaneously
Develop powerful bots to answer FAQs easily
Launch video chat sessions from your mobile or desktop
What we liked:
You can use the live chat translation feature to speak to visitors in their own languages. This feature will help you easily interact with international customers.
You can pair live chat with chatbots and email to offer a 360-degree support experience.
What could be better:
The mobile app is relatively new and needs significant improvements.
Many users have complained online that they receive delayed chat notifications. This can hamper the service experience.
Pricing:
Get in touch with the company for a quote.
Acquire Plan Summary:
Pricing Not Available
Acquire Reviews
Everything a small businesses needs to connect via the website and enhance customer experience. – G2
Love this tool! that really allows Smooth video chat on the browser. Very simple to use and no installations required. Will be a perfect tool for customer service, along with their other features like co browsing. suggest everyone to try it out. – Capterra
17. Freshchat – Best for AI-powered Analytics and Insights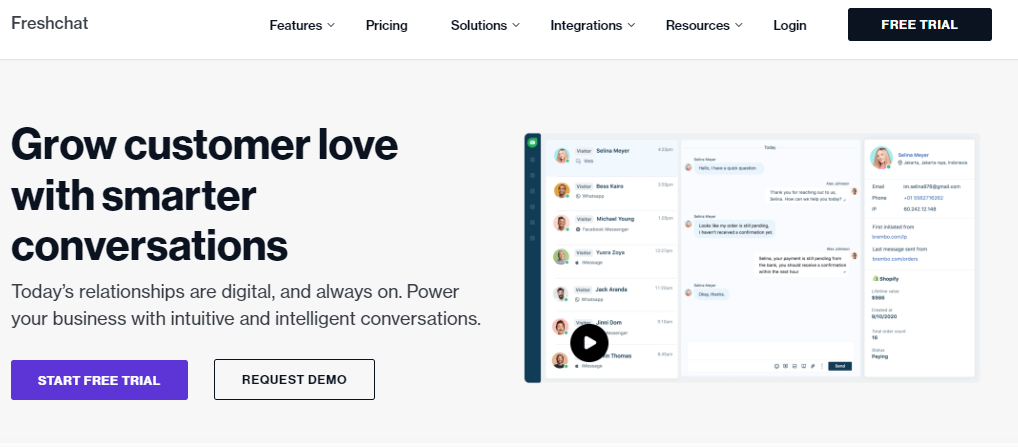 Freshchat is among the simple-to-use live chats that enable businesses to engage customers and create delightful customer experiences. Like many of the tools on the list, it offers multichannel support to its users, so that they can capture every support request.
With its AI-powered chatbot and proactive messages, its live chat services actively help its users to keep visitors engaged on the website. Their proactive approach also enables businesses to create more personalized experiences efficiently.
Key Features of Freshchat:
Automate customer service with powerful chatbots
Deliver multi-lingual support in 30+ languages
Engage customers with proactive campaigning
Create self-service options with FAQs to help customers
Perform bulk actions on conversations to edit and delete them
What we liked:
You can carry complete sales, marketing, and support functions with its numerous integrations.
The tool is quite simple to use. Your team can get started without any expensive training sessions.
What could be better:
There should be a live dashboard for all the chat operators to view their metrics.
The tool should offer an auto-correction feature to help users avoid spelling mistakes.
Pricing:
Starts at $15/user/month
FreshChat Plan Summary:
| | | | | |
| --- | --- | --- | --- | --- |
| | Free | Growth | Pro | Enterprise |
| Chatbots | ✔ | ✔ | ✔ | ✔ |
| Groups | ✔ | ✔ | ✔ | ✔ |
| Assignment Rules | ╳ | ✔ | ✔ | ✔ |
| Canned Responses | ╳ | ✔ | ✔ | ✔ |
| Live Translate | ╳ | ╳ | ✔ | ✔ |
| CSAT Survey | ╳ | ╳ | ✔ | ✔ |
Freshchat Reviews
FreshChat by FreshWorks is one of the most outstanding communications platforms that bridges companies with their customers. It's fast and user-friendly. I also like its reporting system and that we're able to customize bots and integrate various systems. – Financesonline
It chatbot journey builder is the best feature that enables us to build contextual messaging and chatbot interaction at touchpoints. We can map CRM fields and assign the chat to the agent at any point of time. The best thing is to fetch data with the help of webhooks to help users with the exact information that they are looking for like Order status, Invoice amount or any activity-based information that is recorded in the platform. – G2
18. Userlike – Best for Powerful Customer Service Chatbots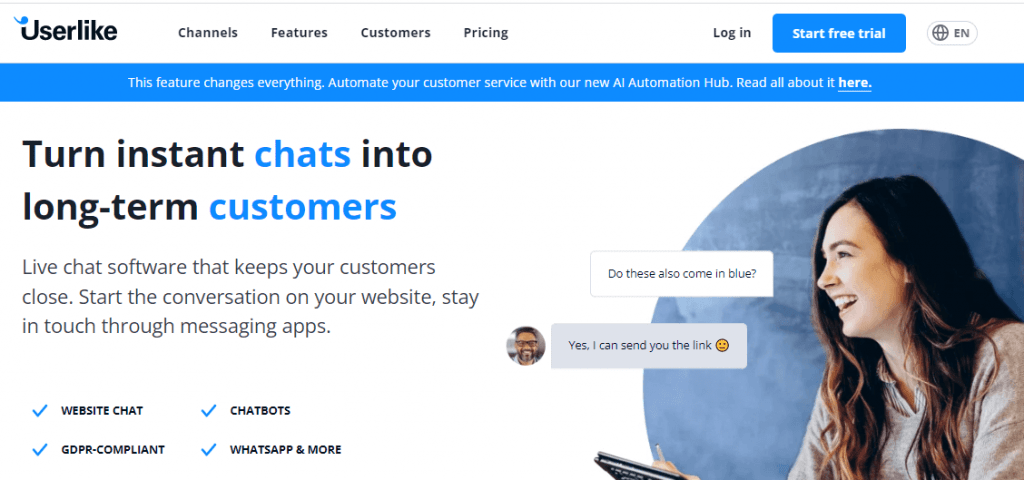 Userlike is one of the best live chat system for startups as it has a free plan. It brings automation and human support together. With a chatbot, answer frequently asked questions and direct prospects to the right product. You can also make product recommendations.
It is an affordable live chat service that allows you to become proactive at capturing customer feedback. With post-chat surveys, you can find out what your customers thought about the support experience.
Key Features of Userlike:
Build chatbots for automated support offered across time zones
Capture customer feedback with post-chat surveys
Answer instantly with canned responses
Identify key interactions with in-depth analytics
Send chat transcripts to your team members to improve the quality of service
What we liked:
It simplifies displaying product recommendations to prospects as they move through the buyer's journey.
Your team can get proactive alerts so theydon't miss out on any chats.
What could be better:
Userlike's pricing is quite expensive.
There should be a mobile app that integrates and syncs with the live chat solution.
Pricing:
Starts at $90/month
Userlike Plan Summary:
| | | | | |
| --- | --- | --- | --- | --- |
| | Free | Team | Corporate | Flex |
| Unlimited Conversations | ✔ | ✔ | ✔ | ✔ |
| Website Messenger | ✔ | ✔ | ✔ | ✔ |
| Live Translation | ╳ | ✔ | ✔ | ✔ |
| Chatbot | ╳ | ╳ | ✔ | ✔ |
| Video Calls | ╳ | ✔ | ✔ | ✔ |
| Advanced Routing | ╳ | ╳ | ╳ | ✔ |
Userlike Reviews
Until now, it was quite easy to use and everything is explained well. I use a chatbot for the first time and we tried a few different but userlike was the best one. – G2
Autoamted macro pop-ups that come out when you begin typing is quick. It's also an efficient approach in communicating with somebody. It's easy to use. Unearthing its useful functionality is a plus for our agents. – Financesonline
19. Hiver – Best for Interacting With Customers on Gmail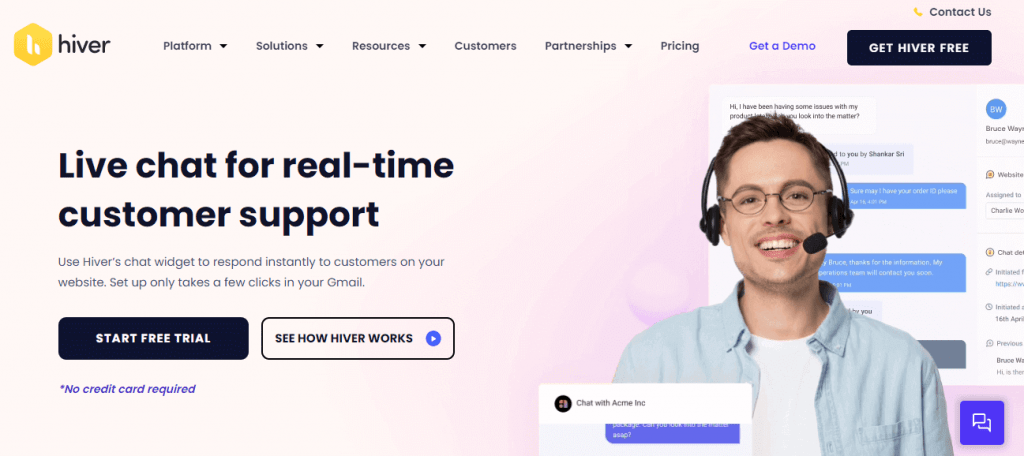 Hiver offers a simple live chat widget that can be set up in your Gmail account in easy steps. The tool makes it easier for your team to offer instant assistance, capture more leads, and escalate complex issues or inquiries.
Hiver's live chat tool makes it easier for your team to collaborate with other departments. For example, agents can easily share chat history transcripts with other team members to give them more context about the issue.
Key Features of Hiver:
Assign incoming chat messages to specific agents
Create and store custom chat templates for recurring issues
Share warning alerts with agents when they do not respond to a chat in time
Allow customers to raise issues via email or phone
Avoid duplicate responses with the agent collision detection feature
What we liked:
You can combine email and live chat right inside your Gmail account.
Easily capture email addresses of website visitors to increase sales.
What can be improved:
The tool is only designed for Gmail users. So if you use another email client, Hiver will not be the right option for your team.
Hiver's live chat does not offer the chatbot feature.
Pricing:
Starts at $12/user/month
Hiver Plan Summary:
| | | | |
| --- | --- | --- | --- |
| | Lite | Pro | Elite |
| Live Chat | ✔ | ✔ | ✔ |
| Collision Alerts | ✔ | ✔ | ✔ |
| CSAT Surveys | ╳ | ✔ | ✔ |
| SLA & Business Hours | ╳ | ✔ | ✔ |
| Custom Report | ╳ | ╳ | ✔ |
| Round Robin Assignment | ╳ | ╳ | ✔ |
Hiver Reviews
Now that we have Hiver, we are continually looking for ways to improve the way w do things in our department. My team and I gather together once a week to develop better ideas to solve recurring issues and reduce turn around time. I don't have to micro-manage my team because I can easily see their output through Hiver. – Financesonline
It is easy to administrate, very user friendly, and the support is phenomenal. I don't think I've ever waited more than a few seconds for a response from a member of their friendly and extremely competent support team. – Capterra
20. ClickDesk – Best for Voice and Video Chats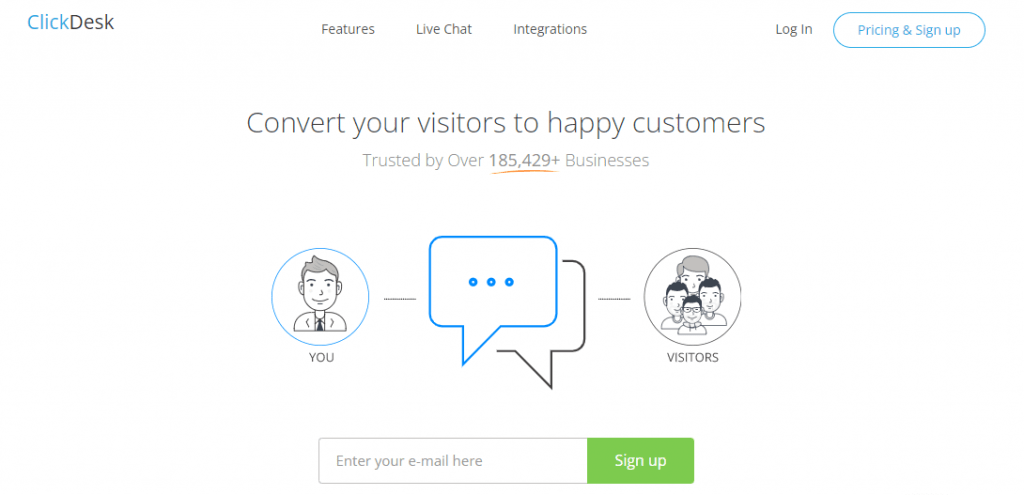 ClickDesk helps you understand your website visitors like no other tool. For example, you can share pre-chat surveys with visitors to better understand why they have landed on your site.
In addition to traditional text chat, ClickDesk helps you bring conversations to life with the help of audio and video chats. This allows your agents to listen to what customers have to say and offer them an improved support experience.
Key Features of ClickDesk:
Manage chats from your mobile device
Handle social media conversations from a centralized platform
Share important files and media while chatting
Track the number of missed, offline, and proactive chats in one place
Monitor your website visitors on a real-time traffic map
What we liked:
The tool comes with an intuitive mobile app that allows you to interact with visitors even when you are on the move.
Native help desk integration allows you to convert chat conversations into help desk tickets.
What could be better:
The basic plans do not offer the video chat feature. You will have to opt for a higher-priced plan to enjoy this feature.
ClickDesk's live chat software comes with an outdated user interface (UI) that lacks a modern appeal.
Pricing:
Starts at $14.99/month
ClickDesk Plan Summary:
| | | | | |
| --- | --- | --- | --- | --- |
| | Free | Lite | Pro | Enterprise |
| Chat Conversations | 30 | Unlimited | Unlimited | Unlimited |
| Chat Transfer | ╳ | ✔ | ✔ | ✔ |
| Widget Customization | ╳ | ✔ | ✔ | ✔ |
| CRM Integration | ╳ | ╳ | ✔ | ✔ |
| Video Chat | ╳ | ╳ | ✔ | ✔ |
| White Label | ╳ | ╳ | ╳ | ✔ |
ClickDesk Reviews
If you want a reliable and easy-setup live chat software, you have to give a chance to ClickDesk. It's a very good option in the market, and easy to adapt to your front-end theme. – Capterra
It allows us to communicate and interact with other users and possible clients for our company or on a personal level, communication and conversations are more fluid and direct with the help of this web chat. It is quite simple to use and for registration it is also done very simply. I liked it from the moment I started using it. Its graphics are quite fresh which gives users a more attractive appearance. – G2
What Are the Benefits of Live Chat Software?
Installing live chat on your website serves multiple purposes. Since it enables proactive communication between the customer and the company, it is integral to every business's marketing and customer service strategy.
Live chat can engage customers round-the-clock using proactive invites and announcements.
Live chat tool enables direct communication without any email signup.
Chatbots can be used to interact with website visitors 24×7.
It streamlines customer support processes without any friction.
The chat captures leads and reduces support costs and cart abandonment.
ROI is higher and provides a competitive edge.
It improves customer experience and the service team's efficiency.
It provides contextual support and enhances customer loyalty.
Frequently Asked Questions
Q1. How to add live chat to your website? 
Here are some steps you can take to install ProProfs Chat on your website:
Step 1: In your new ProProfs Chat Account, click ' Install Live Chat.' This will take you to a new page.
Step 2: Click 'Copy to Clipboard to copy the live chat code snippet. Now paste the code before the </body> tag on your web page.
Q2. What to consider when choosing the best live chat software?
Here are some important factors you can consider when choosing the best live chat tool for your team:
A simple interface so your team can get started quickly.
Automation features such as automated chat routing, canned responses, and chatbots.
Integrations with popular email marketing, help desk, and CRM tools.
High scalability to ensure the tool can easily meet your growing needs.
Q3. How can live chat increase the conversion rate for business? 
Live chat is a lead generation tool that can help your business communicate with website visitors in real time. This gives your team the opportunity to grab visitors' attention, share active promotions, and convert prospects into paying customers.
Q4. What type of integration does Proprofs Chat offer? 
ProProfs Chat can be easily integrated with multiple email marketing, CRM, ticketing, and survey tools. For example, you can connect ProProfs Chat with Salesforce, MS Dynamics, Magento, Shopify, Zendesk, MailChimp, ActiveCampaign, and more.
Finding the Best Web Chat Software for Your Website
The live chat software market is becoming diverse with time, making it difficult for new buyers to choose one that matches their unique needs and expectations.
When customers see that chat widget on your website, they expect instant connection, improved engagement, and reduced wait time. However, these are not the only benefits you should consider when deciding which live chat solution to pick for your website. Some popular features of include chat forms, visitor monitoring, proactive messages, announcements, chatbots, integrations, and more.
To help you make a wise decision, we've created this live chat software comparison blog. All the tools mentioned here have been carefully selected based on pricing, features, and hundreds of online reviews. We hope that our list of solutions helps you shortlist, select and implement the right fit for your business.
Do you want a free Live Chat software?
We have the #1 Online Live Chat Software for instant customer support 24x7