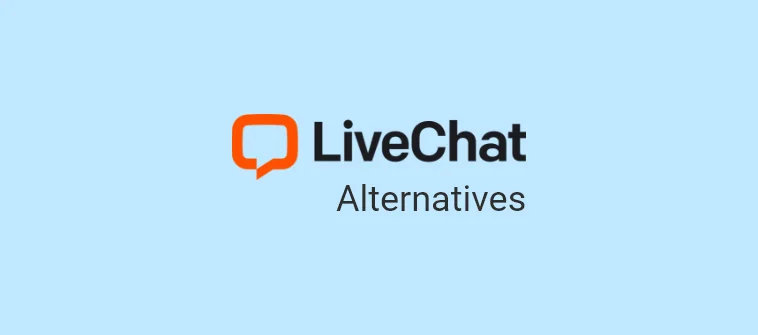 LiveChat is a popular live chat tool renowned for its customization and prediction features.
Its capability to automatically segment users based on their website behavior is truly remarkable. However, LiveChat falls short when it comes to automation, proactive support, and user-friendly navigation for new customers.
Fortunately, if you're in search of LiveChat alternatives that can match or surpass its performance while offering a unique customer experience, you're in luck.
There are many other live chat tools that can help you automate support, engage your customers proactively, and boost your conversions.
To assist you in finding the ideal live chat tool that aligns with your business requirements, we've curated a comprehensive list of the top 13 LiveChat alternatives.
But first, let's quickly review what LiveChat is and what it can do for you.
Let's begin!
Choosing the Right LiveChat Alternative for Your Business
What Is LiveChat?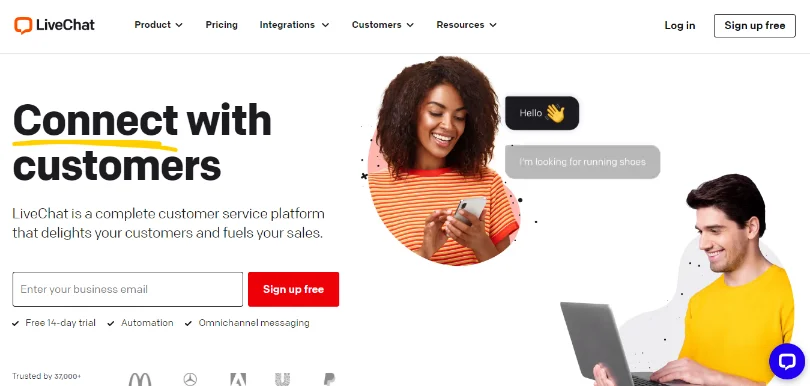 LiveChat is a popular customer support tool that offers an automated omnichannel platform to connect with customers instantly. Its colorful eye-catcher helps draw your visitor's attention to your chat window.
With LiveChat, you get access to features like automated greetings, ticket tagging, and automated follow-ups to streamline support processes in a hassle-free way.
The tool offers a message sneak-peek functionality that allows your agents to see what the website customers are typing in real time. Its interactive reports provide insightful data on the number of chats resolved and visitor satisfaction rate at your fingertips.
Moreover, the tool lets you integrate with over 200 applications, such as HubSpot, Calendly, and Salesforce.
Now let's look at the key features of LiveChat that you should look out for in its competitors too.
Exploring the Key LiveChat Features that Drive Customer Satisfaction
Here are some of the major features of LiveChat:
Canned responses: LiveChat lets you save frequently used responses as a shortcut. You can then use these responses to reply to commonly asked questions quickly and easily.
Widget customization: You can customize the live chat widget to suit your branding. Setting it up will be a breeze, taking you just about a minute.
Daily summary: Extract a daily summary of agents' activities and build a better understanding of how well they are conversing with customers.
Staffing prediction: Assess the optimal number of agents required to efficiently handle all customer chats.
Third-party integrations: Integrate with popular third-party CRM, help desk, and e-commerce applications seamlessly.
The Pros & Cons of Using LiveChat
Let's check out some of the prominent pros and cons of LiveChat platform.
Pros:
Qualify leads using custom forms and AI chatbot automation
Segment users automatically based on their website behavior
Route chats to the right department using AI
Integrate with 200+ tools like Google Ads, WhatsApp, and Twilio
Cons:
Expensive price plans
Steep learning curve
Lacks good customer service
Now that you're aware of LiveChat's pros and cons, let's explore its competitors and assess how they fair well in comparison to LiveChat.
13 Best LiveChat Alternatives You Can Consider in 2023
There are dozens of live chat tools that have the potential to make it to this list of the best LiveChat alternatives. Choosing one can be an uphill task, given the multitude of options available.
Therefore, we have curated this list of the top 13 alternatives to LiveChat to help you make the right decision.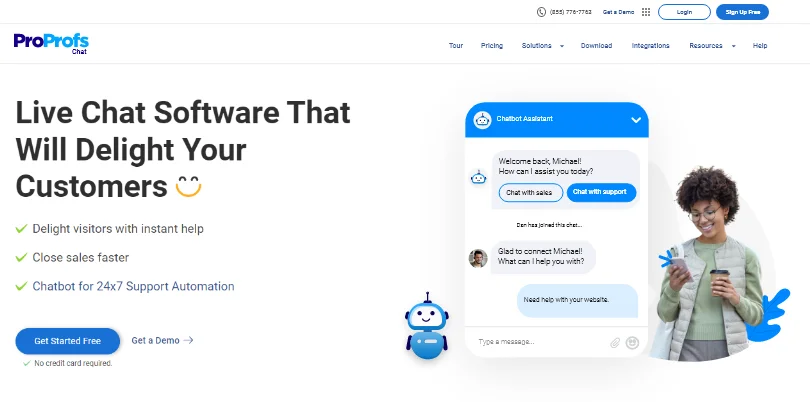 ProProfs Chat is a modern and comprehensive solution that you can set up in minutes to provide proactive support to customers in real-time.
The tool empowers chat operators to see what the visitor is typing, which helps them provide quicker responses. Also, operators can send personalized greetings and share product announcements with ease.
You can deploy pre-chat forms that enable you to derive contextual information about a customer and offer personalized support. The tool also lets you set chat routing rules so that website visitors are connected to the right department effortlessly. ProProfs stands out from LiveChat with its user-friendly design. The tool is intuitive and easy to master for your team's daily workflows.
Key Features:
Pricing: Starts at $19.99/operator/month.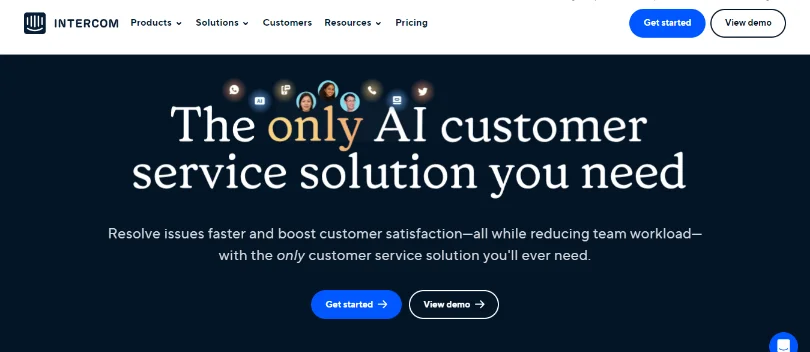 Intercom is a feature-packed platform that allows you to scale customer support with ease. Its chatbots involve no code and are easy to build from scratch, customized to your unique use cases.
Using this tool, you can get access to an AI-powered shared inbox that lets you create tickets, configure settings, trigger actions, manage teams, and support omnichannel conversations.
In terms of usability, Intercom outshines LiveChat as the clear winner. Its intuitive interface and seamless user experience make it a standout choice for businesses seeking a highly user-friendly communication platform.
Key Features:
Recommend helpful content via article suggestions
Access conversation follow-ups with automated workflows
Integrate your live chat with your favorite third-party apps
Leverage AI to answer repetitive questions and resolve customer issues
Pricing: Starts at $74/month.
Read More:  10 Best Intercom Alternatives & Competitors [REVIEWED] 
Zendesk, a popular customer support platform, allows you to connect with your customers in real time.
You can customize the live chat widget to complement your brand's tone and personality. The tool lets you reach out to your customers via web, mobile, and social media channels.
Moreover, its one-to-many interactions enable you to serve multiple customers simultaneously. Additionally, unlike LiveChat, this tool goes above and beyond by offering exceptional customer service to support you in case you encounter any difficulties while navigating its features.
Key Features:
Resolve issues quickly by providing self-serve options to customers
Offer 24/7 support using an AI-powered chatbot
Carry out repetitive actions faster using canned responses
Integrate with CRM, analytics, and help desk platforms seamlessly
Pricing: Starts at $19/user/month.
Read More:  10 Best Zendesk Chat Alternatives to Improve Customer Service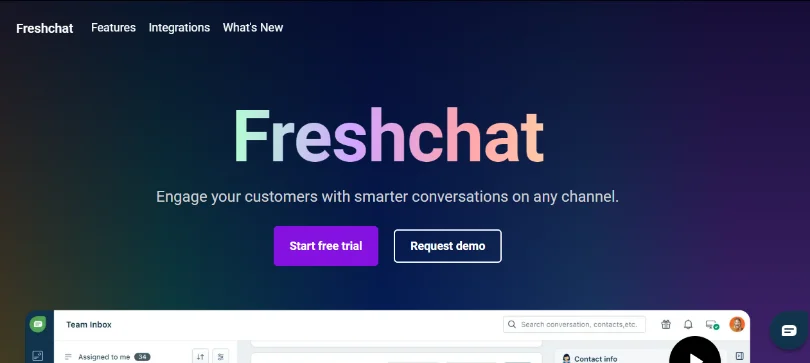 Freshchat allows you to solve customer queries, whether it's self-serve or agent-assisted, via messaging, live chat, emails, and more.
You can create and deploy a bot across your native apps, website, or other messaging channels. The platform offers agents key information like a customer's past purchases and open issues, enabling them to impart superior services with ease.
Furthermore, the tool offers budget-friendly plans, making it an ideal choice for those seeking a more cost-effective alternative to LiveChat.
Key Features:
Get rich insights into customer behavior and agent performance
Handle urgent queries via the Priority Inbox
Speed up processes with advanced automation for chat workflows
Jot down key customer information using private notes
Pricing: Starts at $12.08/agent/month.
Read More:  11 Best Freshchat Alternatives & Competitors Worth Considering in 2023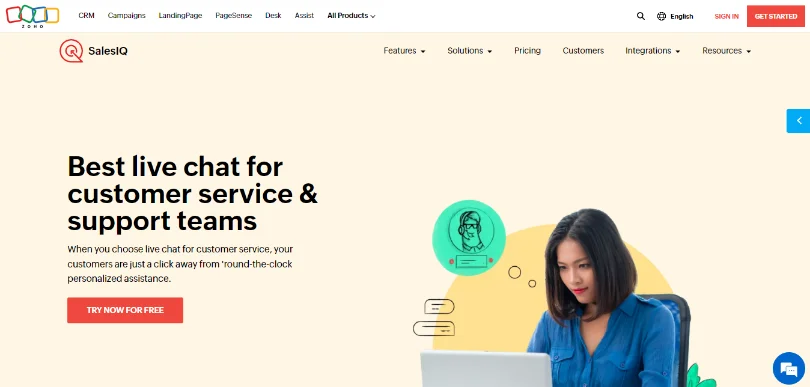 Zoho SalesIQ is another notable live chat alternative that lets your customers reach out to you on your website, product, mobile app, and social media.
The tool offers a voice note capability that enables customers and agents to communicate complex problems and solutions without the need to type long paragraphs. Also, you can optimize agents' time by configuring pre-defined responses to commonly asked questions.
Unlike LiveChat, SalesIQ empowers you to connect with your users through advanced features like audio calling and voice notes. This modern-day functionality sets SalesIQ apart, offering you a cutting-edge solution for more personalized and engaging interactions with your customers.
Key Features:
Enjoy built-in integration with Zoho CRM
Get crucial information on agent performance using custom reports
Lighten your team's workload by offering FAQs and help documentation
Preview customer questions in real time as they type
Pricing: Starts at $9.78/user/month.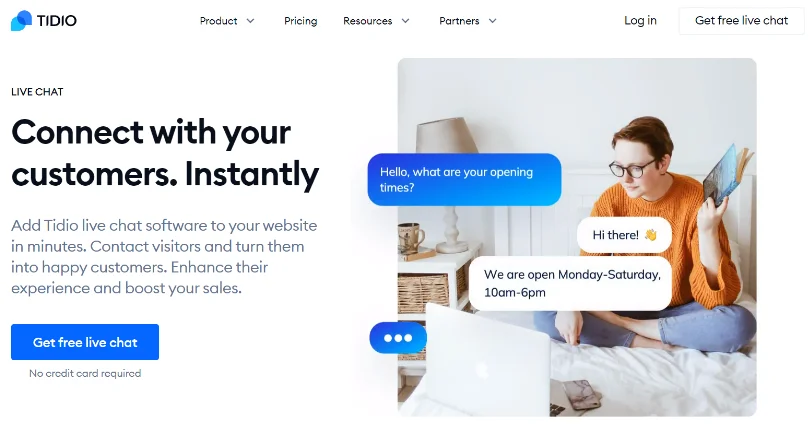 With Tidio, you can turn your prospects into customers with real-time engagement and prompt communication. Its visitor tracking capabilities allow you to check who has been on your website and which pages they have gone through.
This way, you have a 360° perspective of where your customers are coming from and what they are looking for on your website, facilitating improved support experiences.
Moreover, unlike LiveChat, Tidio excels in its ease of use for both seasoned live chat tool users and those new to the system. Its user-friendly interface guarantees effortless navigation, regardless of your prior experience with similar tools, ensuring a smooth and intuitive experience for all users.
Key Features:
Customize the live chat to complement your brand
Automate your chats and reduce the stress on agents via an AI-powered interface
Integrate with Shopify, Messenger, WordPress, and more
Get insights into response times, conversations, agent statistics, etc., through its rich Analytics
Pricing: Starts at $15.83/month.
Read More:  Top 11 Tidio Live Chat Alternatives & Competitors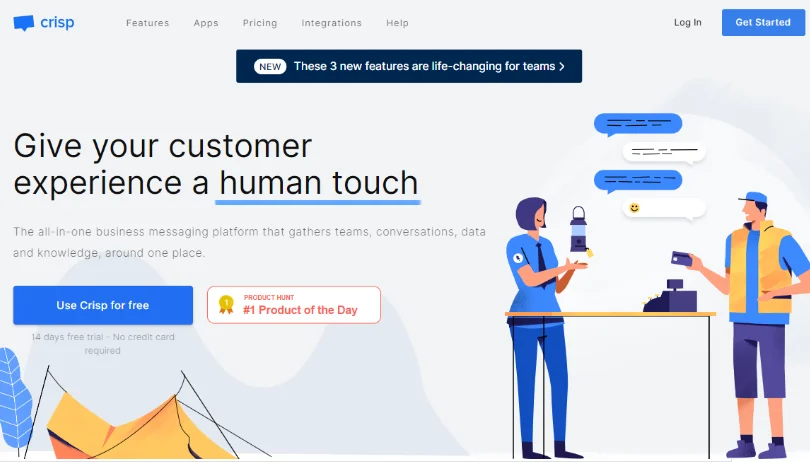 Crisp is one of the feature-rich LiveChat alternatives and probably one of the easiest to use on this list. You can engage with customers through video calling, co-browsing, and targeted messaging. The tool also lets your agents collaborate via its Shared Inbox.
The inbox helps centralize all conversations across emails, messenger, Instagram DM, etc., in one place. You can even set reminders for chats so that nothing slips through the cracks.
When it comes to tracking agent activity, Crisp emerges as the better choice over LiveChat. Crisp provides this valuable feature, allowing you to monitor and analyze the performance and productivity of your agents effectively.
Key Features:
Offer a richer customer experience using GIFs and videos
Automate customer onboarding with advanced chatbot scenarios
Provide instant, on-the-go support with the tool's mobile app
Switch to audio and video chats to cater to customer needs as desired
Pricing: Starts at $25/workspace/month.
Read More:  10 Crisp Chat Alternatives for Enhanced Customer Support in 2023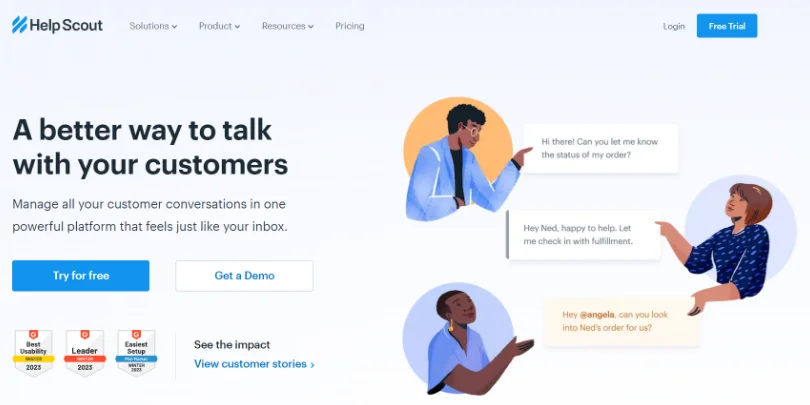 Help Scout is among the most popular LiveChat competitors in the market. The tool helps simplify everyday customer service operations by offering you a single platform for handling all customer conversations.
You can set up workflow rules to filter emails and automate actions. You can even use custom reports to track data across different channels. Also, view KPIs the way you like using custom report views.
The tool is renowned for its excellent customer support, a key feature that sets it apart from LiveChat. It goes the extra mile to provide proactive assistance, ensuring that your customers receive prompt support whenever they need it.
Key Features:
Automate repetitive tasks with a few clicks
Recommend articles based on the viewer's browsing history
Use in-app messaging to collaborate with agents
Assign conversations to a group of users easily
Pricing: Starts at $20/user/month.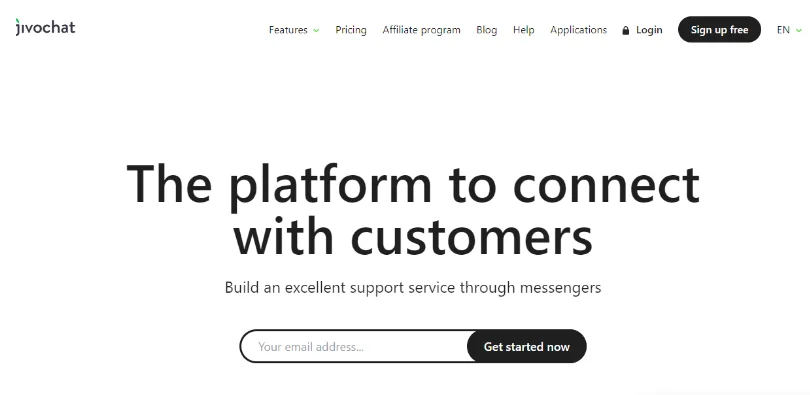 JivoChat is a user-friendly live chat solution. Using this tool, you can customize the chat widget to translate text into the local language that your agents understand.
The tool utilizes relevant data from your knowledge base to provide canned responses, accelerating resolution times for common customer issues. Also, JivoChat allows you to transfer a chat to a suitable agent to cater to customer needs quickly and ensure the resolution time is a bare minimum.
While LiveChat users frequently encounter bugs and technical issues, JivoChat has established a track record of delivering a superior user experience, making it a dependable choice for hassle-free communication.
Key Features:
Engage visitors on your website using proactive invitations
Organize incoming requests with color-coded chats
Get a sneak-peak of user messages on the dashboard
Supports every modern OS, browser, and mobile device
Pricing: Starts at $19/agent/month.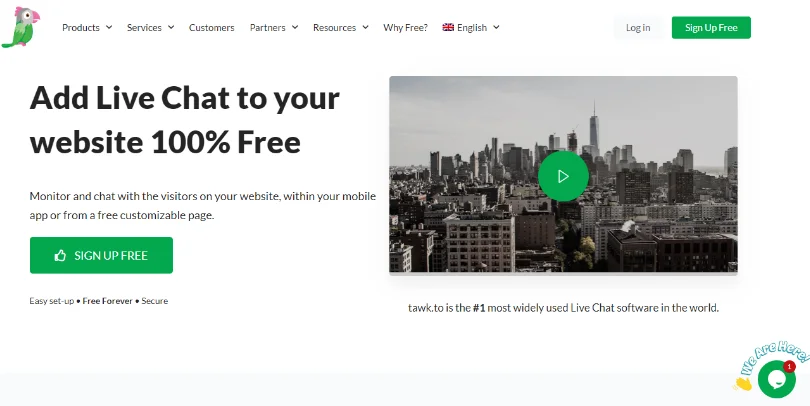 One of the free alternatives to LiveChat, tawk.to lets you set up a live chat widget within one minute, without any coding knowledge.
You can access the previous chat history of visitors and provide them with personalized support right from the tool's dashboard. With the entire customer journey on display, you can monitor how often people visit your site and what they are currently looking.
So if you're in search of a powerful free tool that won't strain your budget, tawk.to is the optimal choice for you. Unlike LiveChat, tawk.to provides a robust solution without any financial burdens, making it the best bet for those seeking both affordability and functionality.
Key Features:
Stay in touch with website visitors 24×7 with the tool's mobile app
Create chat shortcuts and start instant conversations with your visitors
Analyze agent performance using rich analytics
Receive chat notifications on the go
Pricing: Starts at $0.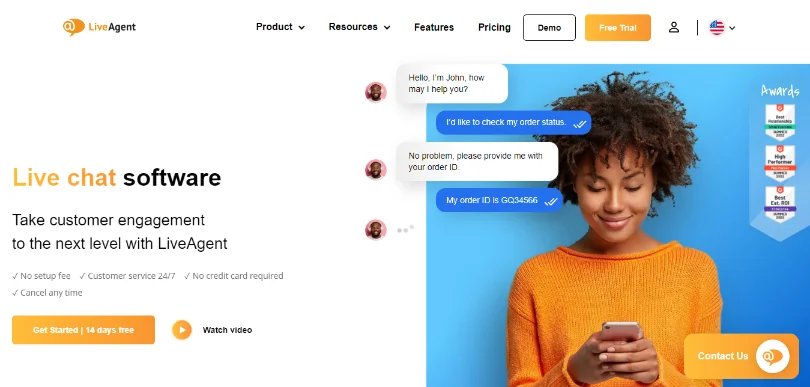 With LiveAgent, you get a fast live chat widget to instantly connect with customers. You can track visitors and proactively chat with them to drive conversions as well as engagements. This helps boost your conversational marketing and customer retention rate.
The tool's smart chat routing allows you to direct chats to the right department. Also, with chat analytics features, you can analyze and improve operator performance.
LiveAgent excels over LiveChat in terms of product direction support, a crucial aspect that users highly appreciate. The clear focus on guiding product development in response to user needs ensures that users receive the necessary support and enhancements to meet their evolving requirements.
Key Features:
Customize the chat widget to match your branding
Use powerful automation to offload repetitive tasks
Use proactive chat invitations to welcome visitors
Leverage smart chat routing for ticket delegation
Pricing: Starts at $9/agent.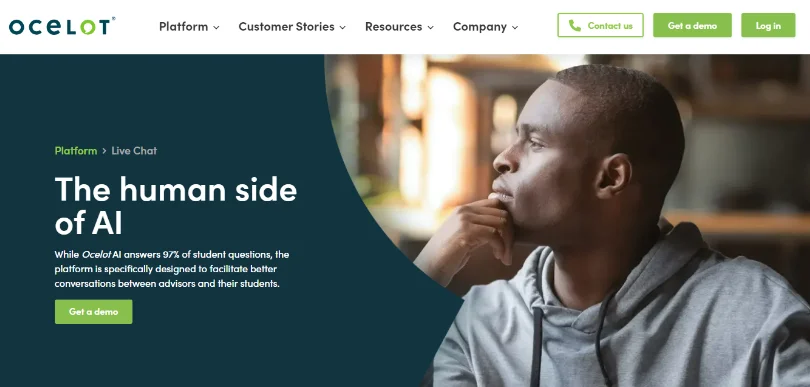 Ocelot is a student-centric live chat platform that helps provide 1:1 assistance for critical issues. Students can access personal, consistent, and impactful guidance and support when needed.
This user-friendly platform offers preloaded content that allows you to cater to students' queries before they're even asked. So, you can respond with text and video responses across 20+ departments.
When it comes to ease of implementation, Ocelot surpasses LiveChat. Ocelot offers a streamlined implementation process that minimizes complexity and ensures a seamless setup, making it an ideal choice for businesses seeking a hassle-free integration solution.
Key Features:
Proactively allocate budgets for students throughout their academic journey
Simplify customer support with AI conversational design experts
Get key insights into student behavior, responses, and preferences
Integrate with SIS, CRM, and other third-party platforms instantly
Pricing: Get in touch with the company for a quote.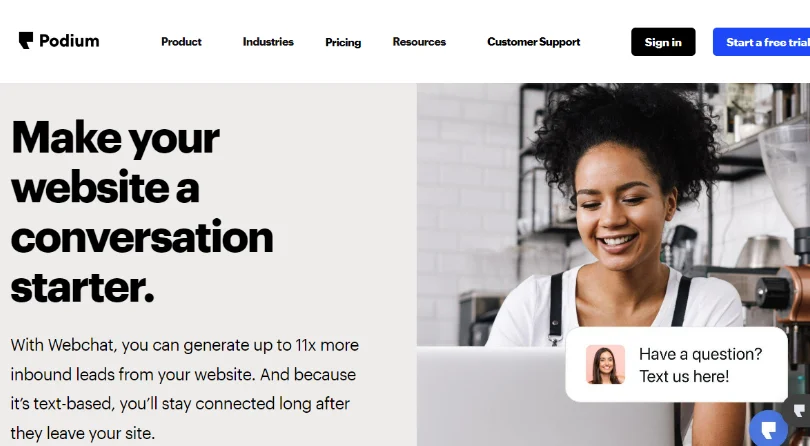 Podium is an intuitive live chat platform and is counted among the most worthwhile LiveChat competitors. Its automated workflows help you drive more leads by simplifying the way you communicate with customers.
With personalized setup and onboarding, you can quickly start a conversation and address customer requirements effectively. Also, the platform's reporting capabilities help you monitor customer behavior with ease.
Owing to its simplicity, Podium emerges as the preferred business partner over LiveChat.
Key Features:
Streamline everyday tasks with automation
Capture customer attention with automated review invitations
Transform your website with customized branding to enhance your brand identity
Deliver customized messages to customers for personalized communication
Pricing: Starts at $240/month.
Choosing the Right LiveChat Alternative for Your Business
LiveChat is a pretty solid live chat tool. But it may not be suitable for all businesses.
So if you're looking for LiveChat alternatives, this list of tools will help you zero in on the right one for your business.
To help you make a sound decision, here are our top 3 recommendations.
ProProfs Chat is a capable customer support software and a perfect alternative to LiveChat that aims to transform customer experiences with its simple yet powerful features.
Crisp is a great tool if you like offering customer support via audio and video calls. Also, Zendesk is an excellent tool if you're looking for self-help options while extending support to your customers.
It's best to try a tool's functionality using its trial versions. Most tools offer at least a 15-day trial version which is sufficient to get hands-on experience with their features and performance.
Do you want a free Live Chat software?
We have the #1 Online Live Chat Software for instant customer support 24x7