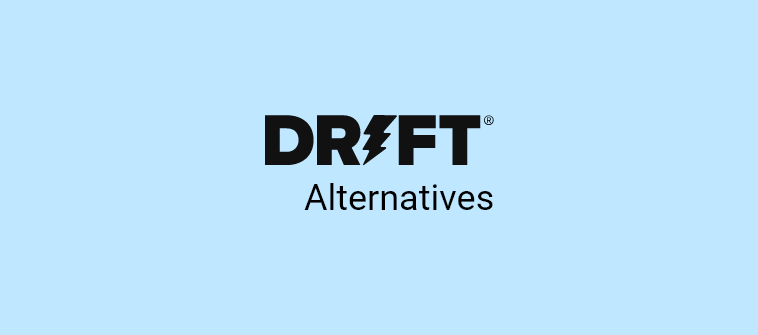 In the world of customer service, instant but valuable responses are the quickest route to customer delight.
Customers are obsessed with quick answers to their queries and instant resolution for their pain points. This makes live chat a superb tool to build a lasting positive impression on them.
Drift is a popular live chat solution that enables businesses to engage customers with conversations for marketing and sales. With this tool, you get extensive integrations and customizations to build a complete support package that can satisfy customers.
However, there is more to the tool than what meets the eye.
Drift has some shortcomings, such as not supporting enough languages. Businesses serving non-English speakers might face issues with this.
In this blog, we will resolve this issue by suggesting the features of the best Drift competitors and offer a list of 11 top-notch tools that fit those requirements. Walk with us through this article so that you can find the perfect solution for your booming business.
A Quick Look at Drift Alternatives
Tools
Features
Pricing

Canned responses
Intelligent chat routing
Intuitive chatbots
Personalized greetings
Diverse integrations

Trial Plan: $0/15 days
Essentials Plan: $20/user/mon
Premium Plan: $60/user/mon
Business Plan: Request a custom quote

Message sneak peek
Chat archives
Live editor
Customer reports
200+ integrations

Visitor tracking
Proactive invitations
Native mobile app
Callback requests
Integration abilities

Sunshine Conversation
Built-in help center
Canned responses
Build custom apps

Agent collision detection
Built-in contact forms
Ticket exporting
Email notifications
Send multimedia in tickets

Personalized messenger
Team inbox
Targeted messages
Built-in surveys
Customized bots

Create chatbots
Predefined shortcuts
Customer analytics
Contact forms
Native mobile app

Visitor analytics
Widget customization
Powerful dashboard
Native mobile applications

Personalized customer service
Monitor traffic
Proactive chat initiation
Widget projects

Abandon Cart bots
Custom chat widgets
Native mobile application
Quick responses

Automated messages
Direct customer feedback
SDK javascript
Chatbot scenarios
What is Drift Chat?
Drift is a popular cloud-based solution that adds live chat windows to websites to help businesses automate their sales processes and provide a better customer experience for improved loyalty. The tool is capable of communicating with website visitors in real-time to generate leads and bring in more sales opportunities.
Drift also comes with an AI-powered chatbot that automates marketing pipelines and also elevates the customer experience. In addition, you can also generate business-ready reports to help you make crucial business decisions and improve business performance.
Choose it for: Visitor intelligence, real-time personalization, and account engagement
3rd party integrations allowed: Yes
Suited for: Medium and large businesses
Why Look for a Drift Alternative?
Drift is without a doubt, a great tool that businesses all over the world use. However, just like any other tool in the market, Drift isn't perfect either. There are some evident shortcomings that make users look for Drift alternatives.
Let's look at some of those:
1. Pricing
One of the biggest downsides of Drift is the pricing model. The tool becomes expensive very quickly when you start to add on options that you would like. The pricing is not readily available for any of the plans, and you must get in touch with the Drift team for consultation and negotiation.
Also, if you want automation features like the Qualification bot and 24-hour support for seven days a week, you will have to negotiate on an enterprise level which tends to get very expensive. This is the reason why looking for an alternative to Drift makes a lot of sense.
2. Limited multiple team support
Unlike other Drift competitors, Drift does not allow you to use the tool for multiple teams unless you have the enterprise plan. If you have a large employee base and want to route leads and conversations to different platforms, you can easily make use of the enterprise plan. However, it's not the most suitable option for small or medium enterprises.
3. Bugs and glitches
Both the mobile app and the website app of Drift have some minor bugs and glitches, which increases the leading time for dashboards. Also, the chatbots have been reported to mix up the names and profiles of returning visitors with others.
4. Subpar chatbot builder
When it comes to chatbot builders, there are a lot of tools in the market that do it a lot better than Drift. Drift's native chatbot builder is quite complicated, does not have a lot of customization options, and is only available for the Pro plan or higher, making other Drift competitors a viable option.
5. No messaging solutions
Unlike some of the top Drift competitors in the market, Drift does not support SMS messaging, WhatsApp, Facebook Messenger, or any other messaging channel for that matter. For a marketing chatbot solution, support for such messaging channels is necessary to have.
The Features Drift Alternatives Must Have
There are definitely some notable drawbacks that Drift has, and now that we are familiar with them, let's quickly look at some of the features that Drift alternatives must have.
Canned responses to reduce response time and improve query resolution
Sharing chat with team members in real-time for collaborative opportunities
AI-powered chatbots to offer 24*7 support and generate leads
Monitoring ongoing chats and tracking chat history
A diverse range of integrations to supercharge your query resolution and workflow
These were some of the most important features that a Drift alternative or simply any live chat tool should have under all circumstances. But apart from these, there are some basic features that you should also consider when picking a Drift alternative. These are:
Easy to learn and use even for the new users
Friendly and intuitive UI
Competitive pricing plans
Good and reliable customer support
A simple and diverse range of customization options
A free trial is always a good add-on
Our Selection Criteria for Drift Alternatives
Picking up the right tool from a list of hundreds that are available in the market is just as tough as any other thing. There's a lot that you need to keep in mind while making sure that your favorite tool ticks all the boxes of your personal preferences.
We have made a small list of criteria based on which we have picked the tools in this list. These are as follows:
Pricing: A good tool should always be affordable for the masses and not just a select group of organizations. Flexible pricing is always a must to help you avoid heavy upfront investments and get the most out of your tool.
Customer reviews: Customer reviews help you get a full picture of the tool without even using it. This list of tools we included has a good set of both positive and negative reviews that will help you get a clear perspective of the tools.
Integrations: All live chat tools should be able to connect with third-party tools to help you seamlessly transfer and make the most of your user data. All tools in our list have a wide range of integrations to help you supercharge your workflow.
Customer support: Excellent customer support is one of the most important prerequisites of any web-based solution out there. You should be able to receive assistance 24×7 hours a day and 365 days a year because it's all part of the plan that you pay for.
What Are the Best Drift Chat Alternatives?
At this point, we already know that Drift isn't a tool for everyone because of all the limitations that it has. So let's just dive right into the best Drift chat alternatives.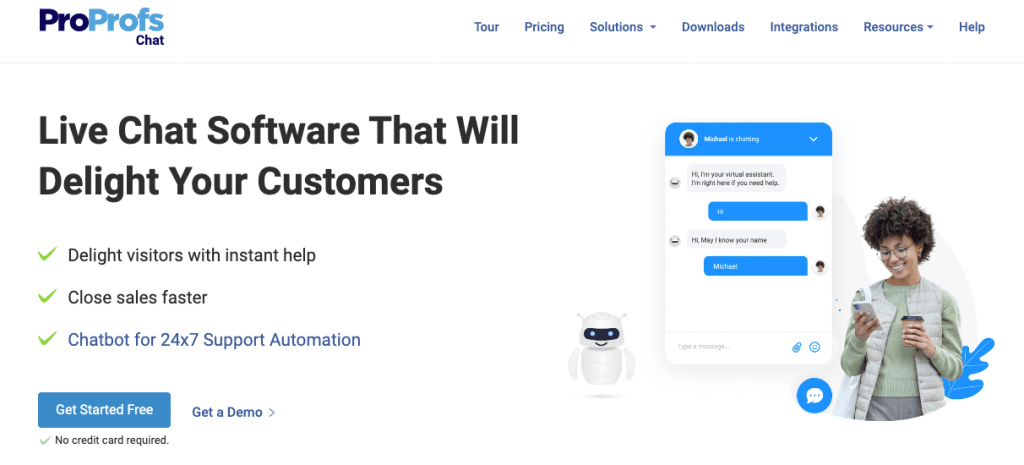 ProProfs Chat is a powerful customer service solution and one of the most promising Drift alternatives that you can use to initiate conversations with your customers and engage with them in real-time. The tool also provides you with canned responses that you can use to reduce wait time significantly.
With ProProfs Chat, you can simplify customer support for your agents by designing powerful and intuitive chatbots that take control of all customer interactions and resolve queries automatically.
The tool also comes packed with features like intelligent chat routing, detailed reports, and over 50 third-party integrations with CRM, social media, and help desk tools.
Features of ProProfs Chat:
Handle multiple chats at the same time with canned responses.
Route chats to the right department with intelligent chat routing.
Build intuitive chatbots and automate customer support.
Create personalized greetings and announce updates with chat announcements.
Provide self-help articles by integrating them with your knowledge base.
Pricing:
Trial Plan: $0/15 days
Essential: $20/month
Premium: $60/month
Business: Available on request
Choose it for: Visitor tracking, post-chat surveys, and proactive chat invitations
3rd party integrations allowed: Yes
Suited for: Small, medium, and large businesses
Pros:
Prompt customer service
Built-in chatbot templates
Reliable reports and robust analytics
Customers can play crispy bird while waiting
Cons:
Cannot mark the chats unread
Cannot capture tickets from Twitter and Instagram
Case Study
HorseSaddleShop, a family-owned and operated USA's top Saddler business, wanted to open a communication channel for their customers to improve satisfaction and make them happy. The company primarily wanted to respond to its customers as quickly as possible.
Using ProProfs Chat, the company was able to respond to their customers 24*7 who may or may not prefer using the phone. Communicating proactively with their customers also allowed HorseSaddleShop to boost their revenue and make their customers happy.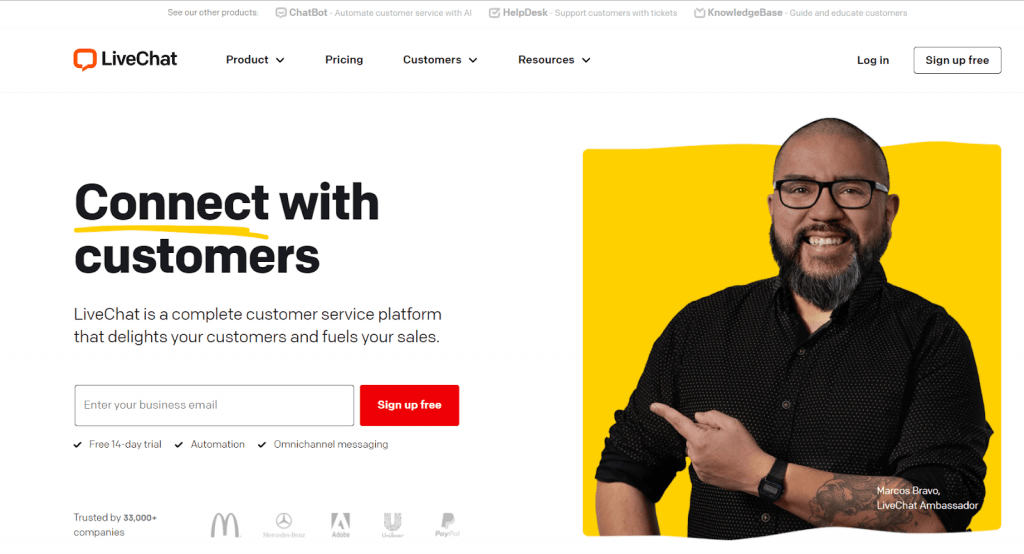 LiveChat is easily one of the most popular customer support tools that you can use to connect with your customers in real-time. With LiveChat, you can deploy features like eye-catchers, chat assignments, and targeted messages to improve the quality of customer communications.
In addition, you also get plenty of customization options like agent profiles that allow you to change the visual appearance of your chat widget. Also, there are tons of messaging channels supported by LiveChat, which allows you to connect with your customers no matter where they are.
Features of LiveChat:
See what your users are typing through message sneak-peek.
Access past chats by going through and filtering through the archives.
Keep your branding consistent with the live editor.
Identify customers who slip away using customer reports.
Improve your workflow by connecting LiveChat with over 200 integration options.
Pricing:
Starter: $16/month
Team: $33/month
Business: $50/month
Enterprise: Available on request
Choose it for: File sharing, agent reports, and pre-chat surveys
3rd party integrations allowed: Yes
Suited for: Small, medium, and large businesses
Pros:
Built-in chatbot templates
Easy reporting
45+ languages support
Cons:
Tricky to learn
Integrations can be complicated
Case Study
Sephora is the world's leading luxury goods group owned by LVMH. Sephora wanted to replicate its brilliant customer experience strategy and bring it to the online platform to make customers happy at all times.
Sephora implemented LiveChat, which helped them stay in touch with their customers no matter what. Their on-the-fence clients were able to consult makeup and skincare experts online, who also ensured that the customer care was identical to that in real life. As the majority of consultations resulted in sales, the company was able to increase its order value by 25%.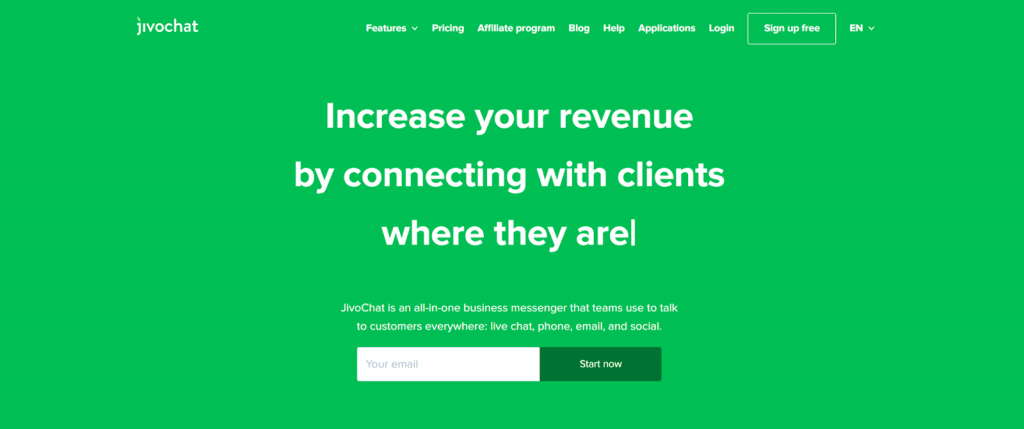 JivoChat is one of the best Drift alternatives and a customer messaging platform that is ideal for engaging with customers in real-time. Just like other alternatives in the list, you can send canned responses to speed up the query resolution and also customize the chat widget as per the requirements of your customers.
JivoChat also offers native Android and iOS applications to help you connect with your customers through your mobile phone from anywhere in the world. Also, you can keep your customers engaged at all times with proactive chat invitations.
Features of JivoChat:
Track visitors by receiving their demographic data.
Set custom messages and send proactive invitations.
Assist your customers anytime and anywhere using the mobile app.
Allow customers to request callbacks.
Integrate with third-party CRM, messaging, and business apps seamlessly.
Pricing:
Basic: $0/month
Professional: $19/month
Enterprise: Available on request
Choose it for: Multiple device support and widget API
3rd party integrations allowed: Yes
Suited for: Small, medium, and large businesses
Pros:
Easy to use for new users
Tons of custom APIs
Forever free plan available
Cons:
No auto messaging feature
UI needs more improvement
Case Study
Armyoriginal is an e-commerce business based in Slovakia. The company was started in 2010, and it aimed to provide excellent digital customer service and experience for all its customers.
In a team of 6 people, 4 use JivoChat to deliver high-quality customer service by assisting them in finding the right products in no time. The team also used the solution to send pictures and related information about relevant products to their customers to improve their buying experience.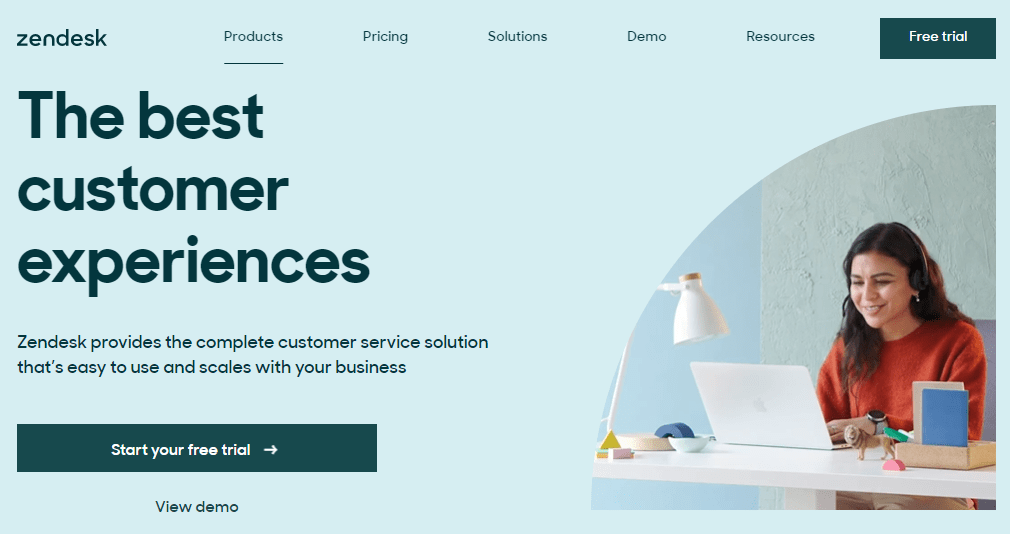 Zendesk is arguably the most popular help-desk software on this list which allows users to connect with their customers in real-time and offer personalized support and experiences. Your agents can access all the important information about your customers and build effortless customer experiences and relationships so that they are never on their own.
You also get an option to build chatbots using the Zendesk Suite, which you can use to easily capture lead information from your website visitors. The tool also supports social media integrations that can help you capture chats from WhatsApp and Facebook.
Features of Zendesk:
Create natural conversations using the Sunshine Conversation feature.
Regulate your support system by building a help center.
Send canned responses to resolve queries much faster.
Build custom apps for added functionality using the Zendesk apps framework.
Pricing:
Suite Team: $49/month
Suite Growth: $79/month
Suite Professional: $99/month
Suite Enterprises: $150/month
Choose it for: AI-powered bots and intelligent chat routing
3rd party integrations allowed: Yes
Suited for: Medium and large businesses
Pros:
Send bulk emails with ease
Diverse integrations
Cons:
Difficult to export data
Costly pricing plans
Case Study
Udemy is the world's largest online learning platform that allows any expert to create an online course and any student to take those courses. Udemy now has a student base of over 13 million, for which they need an enterprise-level support solution.
Using Zendesk, Udemy's support team was able to extend reactive, proactive, and preemptive support to their customer base. Their satisfaction ratings jumped from 90% to a staggering 97% just because of Zendesk's robust customer support solution.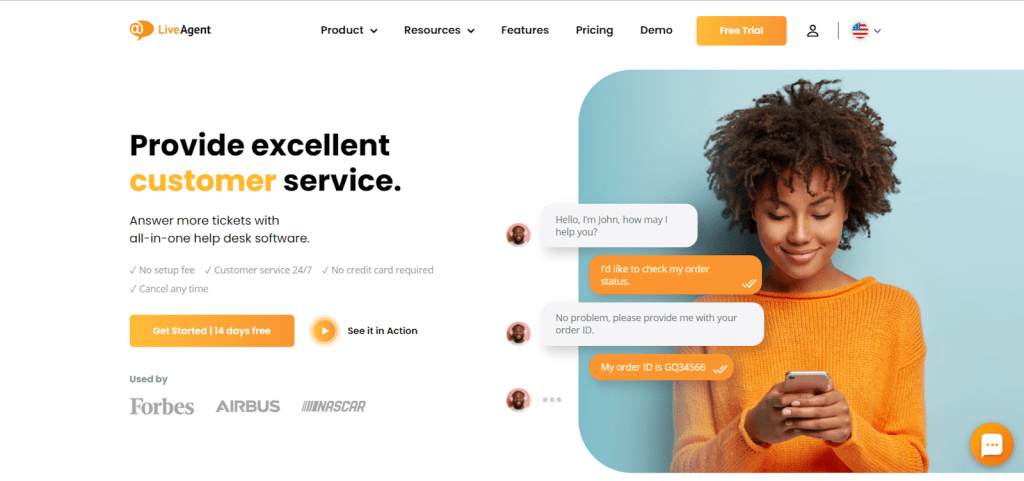 LiveAgent is one of the go-to alternatives for Drift that offers a highly intuitive chat widget that you can use to engage with customers, retain them and drive conversions at large.
The tool also offers features like intelligent chat routing, real-time typing view, visitor tracking, and chat invitations which directly contribute to improving the chat experience of customers.
Features of LiveAgent:
Prevent multiple agents from working on the same complaints.
Deploy built-in contact forms to make yourself easily accessible.
Export tickets into PDF and HTML format.
Receive automatic email notifications about new tickets.
Engage your customers by sending GIFs in tickets.
Pricing:
Free: $0/month
Ticket: $15/agent/month
Ticket+Chat: $29/agent/month
All-Inclusive: $49/agent/month
Choose it for: Chat distribution and website visitor tracking
3rd party integrations allowed: Yes
Suited for: Small, medium, and large businesses
Pros:
Customer can request call backs
Hybrid ticket stream for better management
Cons:
Android app needs more work
Spam filter is hit or miss
Case Study
Not available
Read More:  Top 10 LiveAgent Alternatives to Enhance Customer Support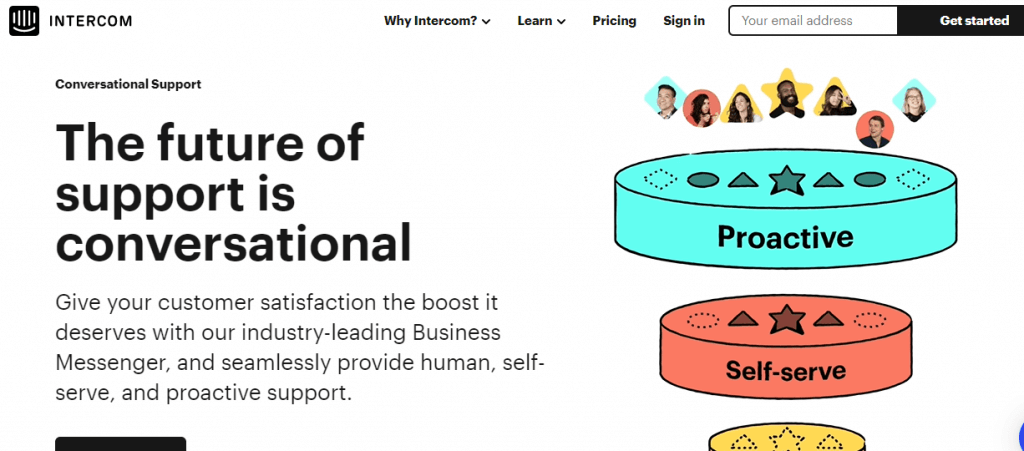 Intercom is a popular customer support solution and an alternative to Drift that allows you to automate your work and offer 24*7 proactive support to your customers through intelligent chatbots. You also get an option to target messages based on user behavior and send outbound messages to offer conversational support.
You can also offer product tours to your customers for better engagement and integrate Intercom with knowledge bases to provide a self-service option.
Features of Intercom:
Solve customer queries using personalized messenger.
Answer questions collaboratively through the team inbox.
Encourage customers to take action using targeted messages.
Capture customer feedback through surveys for better insights.
Create customized bots and generate more leads.
Pricing:
Starter: $74/month
Most Businesses: Available on request
Choose it for: 2-way SMS, product tours, and help center articles
3rd party integrations allowed: Yes
Suited for: Medium and large businesses
Pros:
Run A/B tests
Conduct feedback surveys
Cons:
Unreliable customer service
Inconsistent performance tracking
Case Study
Pitch is German-based presentation software that aims to bring ideas to life through beautiful and effective presentations. Since 2020, the customer base of Pitch has grown significantly, and they needed a communication solution to maintain a personal touch with their audience.
Using Intercom, the company was able to set up support intake channels, leverage detailed reporting, and create a reliable help center. Now, Pitch is able to generate a 100% CSAT rating using Intercom, and 70% of all their customers prefer messenger as their support channel.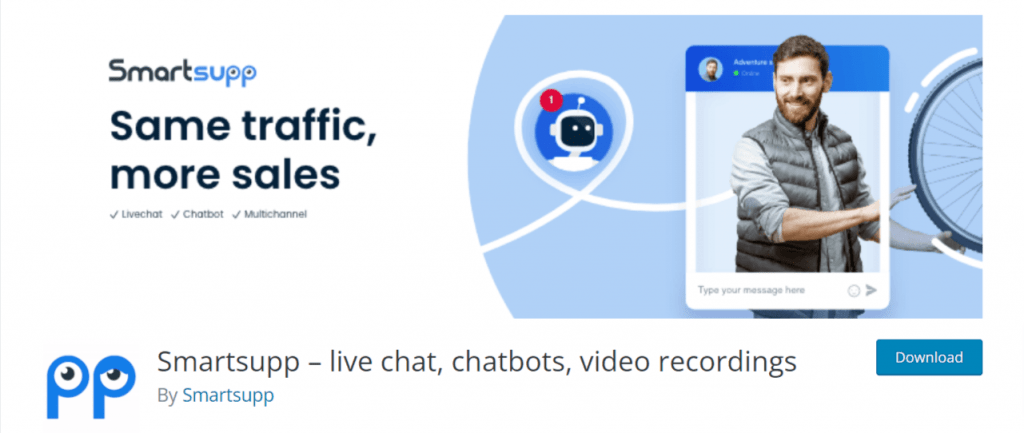 Unlike other traditional live chat solutions, Smartsupp offers online shopping assistance by combining live chat, chatbots, and video recording to enhance support and turn visitors into customers.
With Smartsupp, you can easily transfer files to your customers for faster communication. Also, your agents can get an overview of everyone who is browsing your website through the visitor's tab to easily identify and engage with them. So if you're looking for an alternative to Drift, Smartsupp should be on your list.
Features of Smartsupp:
Create chatbots to proactively engage with your customers.
Predefined shortcuts to send responses faster.
Make informed decisions using data and customer analytics.
Collect customer information using contact forms.
Always be available to your customers using the mobile app.
Pricing:
Free: $0/month
Standard: $19.5/month
Pro: $48/month
Ultimate: Available on request
Choose it for: Automatic messages, video recordings, and detailed statistics
3rd party integrations allowed: Yes
Suited for: Small, medium, and large businesses
Pros:
Easy to set up and use
Social media integrations
Cons:
Needs to have more endpoints
Offline mode does not work
Case Study
Schmiko is an on-demand mobile car detailing and mobile car wash booking platform based in Sydney, Australia. The company has a growing client base which is why it needed a diverse set of communication channels to stay connected with its customers.
Using Smartsupp, Schmiko was able to connect to those customers as well who preferred text messaging over emails and calls and were able to answer their inquiries during all parts of the day. As a result, now 20% of all the bookings received by Schmiko come from the Smartsupp live chat.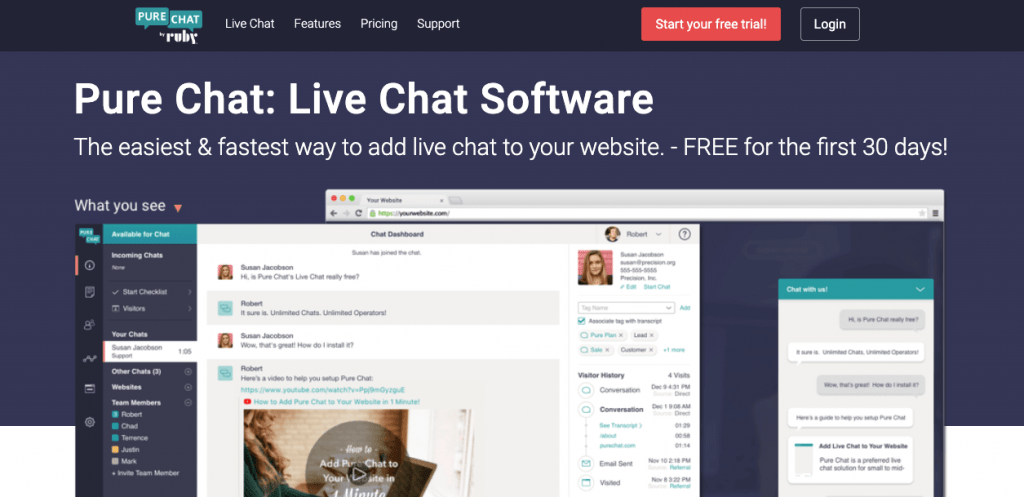 Pure Chat is a well-known alternative to Drift that allows you to track your visitors in real-time and connect with them. The tool gives plenty of amazing features like unlimited Chat, visitor data analysis, chat box customization, mobile device support, and much more.
With Pure Chat, you also get easy access to chat transcription, which you can easily access and search for specific topics to provide help in a better fashion. It also integrates with most of the major tools in the market to help you streamline your workflow.
Features of Pure Chat:
Have better conversations using visitor analytics and contact history
Customize your chat widget for added personalization.
Make data-driven decisions using powerful dashboards.
Access queries from anywhere in the world with the native iOS and Android applications.
Pricing:
Grow: $39/month
Pro: $79/month
Choose it for: Unlimited chats and unlimited chat history transcripts
3rd party integrations allowed: Yes
Suited for: Small, medium, and large businesses
Pros:
Wide range of integrations
Comprehensive account statistics and reports
Cons:
Screen layout can be more diverse
Customer service and support needs improvement
Case Study
Not available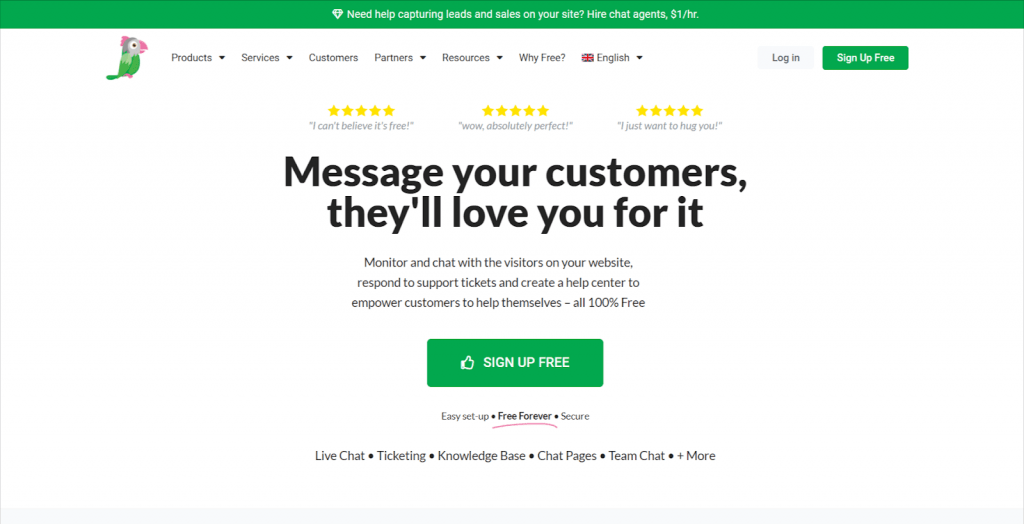 Tawk.to is the best free alternative to Drift chat that provides agents a secure line of communication to help customers in real-time. The tool allows you to track your visitors in real-time and give an accurate picture of their journey, all for free, which makes it one of the most desirable Drift alternatives in the market.
Tawk.to also supports over 45 different languages, and all you have to do is copy and paste a line of code into the HTML to get started.
Features of Tawk.to:
Deliver personalized customer service in real-time with ease.
Monitor traffic on your website to get an accurate picture of your visitors.
Initiate chat with your website visitors on a proactive basis.
Grab the attention of your visitors with widget projects.
Pricing:
Free to use
Choose it for: Domain restriction, mail notifications, and group messaging
3rd party integrations allowed: Yes
Suited for: Small, medium, and large businesses
Pros:
Secured encryption for data security
Automated translation for diverse customer support
Cons:
Can be a little tricky to learn for new users
Custom domains can get a bit pricey
Case Study
Not available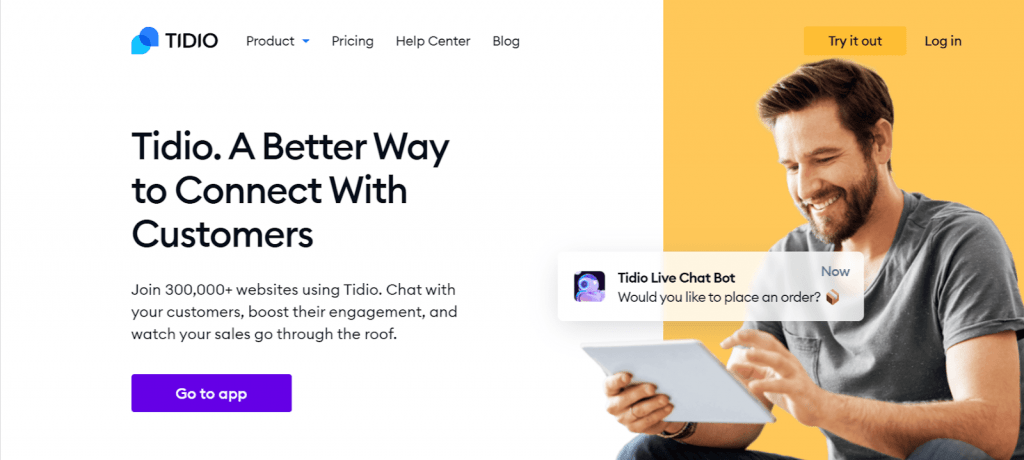 Tidio is another very popular customer communication software and a great Drift alternative. The tool offers features such as live typing and quick responses, which can help you reduce the query resolution time by engaging with them promptly.
With Tidio, your support agents can also see which pages your customers have viewed along with the information of your customers to easily get in touch with them.
Features of Tidio:
Deploy Abandon Cart bots to reduce cart abandonment.
Design custom chat widgets for added personalization.
Cater to your customers anytime and anywhere using the native mobile app.
Reduce response times by creating quick responses.
Pricing:
Free: $0/month
Chatbots: $39/month
Communicator: $19/month
Choose it for: Visitor live preview and shared team inboxes
3rd party integrations allowed: Yes
Suited for: Small, medium, and large businesses
Pros:
View customer messages as they are being typed
Reliable android application
Cons:
Reporting needs more work
Chatbot builder can use some more features
Case Study
Not available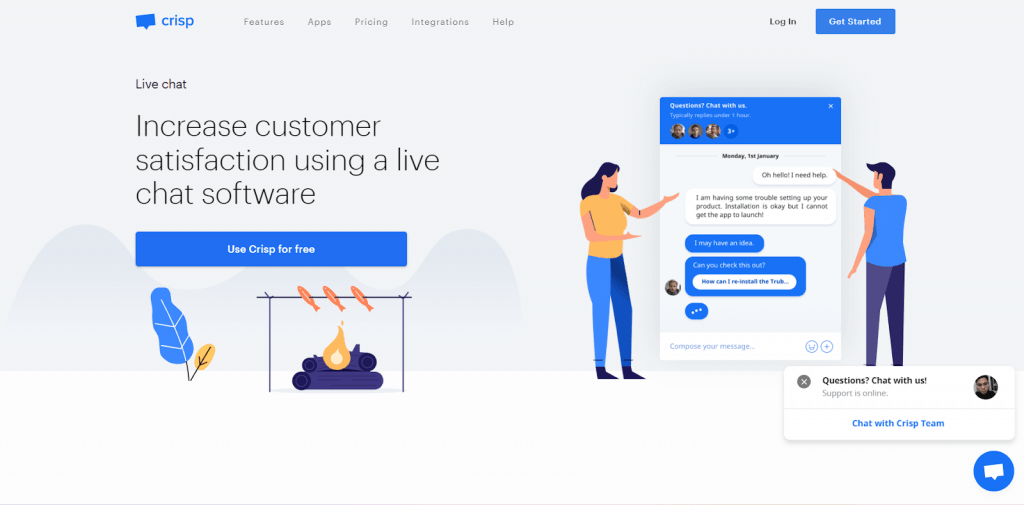 Crisp is one of the simplest and the most feature-packed Drift alternatives that can help you connect with your customers through targeted messaging, co-browsing, and video calling. It even offers various functions that can help you improve the overall engagement rates.
With Crisp, you can build highly sophisticated chatbots to streamline customer onboarding and integrate with messaging tools like Facebook Messenger, Email, and Instagram to diversify your communication channels.
Features of Pure Chat:
Send automated messages by targeting specific users.
Get chat feedback directly from the customers.
Use SDK javascript to improve customer knowledge.
Trigger chatbot scenario based on what users type.
Pricing:
Basic: $0/month
Pro: $25/month
Unlimited: $95/month
Choose it for: Social media integrations and precise targeting
3rd party integrations allowed: Yes
Suited for: Small, medium, and large businesses
Pros:
Prompt and reliable customer support
Customers can play minigames while waiting
Cons:
Cannot mark chats unread
Reviews left by customers are not assigned to operators
Case Study
Not available
Conclusion
Live chat is a game-changing tool that helps your team create deep customer relations, be productive, and generate leads. With Drift, you get dedicated features such as canned responses, A/B testing, and much more to help engage customers and build conversions.
You can try Tawk.to if you want a feature-rich tool free of cost. Also, Tidio is a great alternative to Drift if you are looking for a responsive chat widget that is highly customizable. ProProfs Chat, on the other hand, can help you generate sales growth by capturing and qualifying leads.
Do you want a free Live Chat software?
We have the #1 Online Live Chat Software for instant customer support 24x7