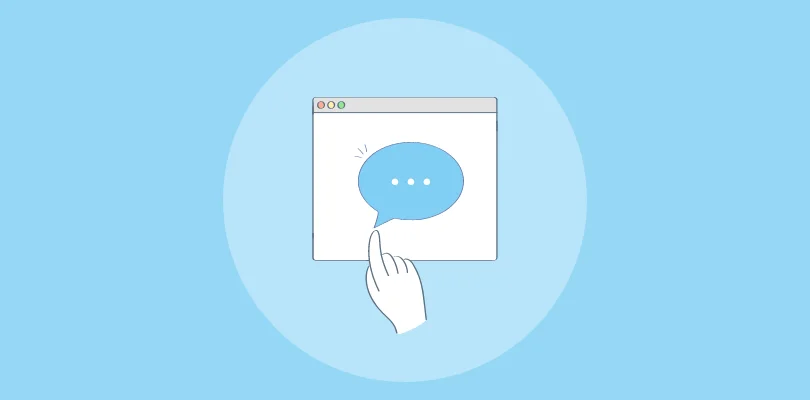 Have you ever had a customer complaint go unanswered for days because your support team was overwhelmed? Have you ever lost a potential sale when a customer wanted to make a purchase during off hours?
If so, you need not worry. We have compiled a list of the best chatbot software so that no customer complaint can go unnoticed and no sale is lost.
With chatbots, you can provide instant customer support, even outside of regular business hours. Well-designed bots can reduce response times, improve customer satisfaction, answer frequently asked questions, provide personalized recommendations, and even execute transactions.
This blog will explore the 21 best chatbot software out there and the key features you should look for when choosing one for your business. We'll also delve into the benefits that chatbots can provide for your business. How does that sound?
Let's dive in!
What is Chatbot Software?
Chatbot is a software program designed to simulate conversation with human users, usually through text-based or voice-based interactions. It is typically powered by artificial intelligence (AI) algorithms that allow it to interpret and respond to user inputs in natural language. The tool is commonly used in customer service, e-commerce, and other industries to automate simple tasks and provide 24/7 support to users.
Such tools use pre-built scripts and past interactions to craft contextually-relevant responses for customers. Queries that are out of a chatbot's capacity can be seamlessly moved to a live chat agent, ensuring that customer experience is not hampered at any cost.
How Can Chatbots Help Your Business?
Chatbots have become increasingly popular in recent years, and for a good reason. They can offer businesses a range of benefits, from cost savings to improved customer experiences. Some of the key benefits are listed below.
1. Provide 24/7 Customer Service
Chatbots can offer round-the-clock customer support, meaning customers can get their queries answered or issues resolved even when your business is closed. With a chatbot, customers no longer have to wait for the next business day to get the assistance they need, which can lead to increased satisfaction and loyalty.
2. Reduce Response Time
Chatbots can reduce response time by instantly providing pre-programmed responses to common queries. They can also direct users to relevant resources or customer service agents to help them resolve their questions.
Additionally, chatbots can quickly process and analyze large amounts of data. This enables them to provide accurate and personalized responses in a fraction of the time it would take a human agent.
3. Save Money on Customer Support Staff
According to Business Insiders, chatbot automation can save $23 billion just from annual salaries. That's how effective chatbots can be in saving you money. They can help you cut costs on customer support staff as they can handle a large volume of customer queries without human intervention.
By automating repetitive tasks with chatbots, you can reduce the number of live chat operatorsand focus on improving your core operations. They can be programmed to handle a variety of tasks, such as booking appointments, providing product information, resolving customer queries, and providing technical support.
4. Offer Personalized Recommendations
Chatbots can provide personalized recommendations to customers based on their purchase history and preferences. By analyzing customer data, chatbots can suggest products or services relevant to the customer's needs, increasing the chances of conversion.
They can be integrated with machine learning algorithms to analyze customer data and provide personalized product recommendations.
5. Collect Valuable Customer Data
Chatbots can collect valuable data about customer preferences, behavior, and interactions, which can be used to improve the customer experience and increase sales. By analyzing this data, you can gain insights into customer needs and preferences, which can help curate impeccable marketing, sales, and product development strategies.
Read More:  Top 15 Benefits of Chatbots for Your Business & Customers in 2023 
What to Look for in a Good Chatbot Software?
Chatbots have become increasingly popular in recent years, but not all are created equal. Here are some key features to consider when looking for good chatbot software.
1. Natural Language Processing (NLP)
One of the most important features to look for in chatbot software is advanced natural language processing capabilities. NLP allows the chatbot to understand natural language and respond accurately to user queries.
This is critical for providing a seamless user experience and ensuring that customers can easily get the information they need.
2. Knowledge Base Integration
A good chatbot software should be able to integrate with the knowledge base so that it's better equipped to help your customers with their questions. After integrating with the knowledge base, the chatbot can swiftly search your Knowledge Base for pertinent information. This helps it promptly present the relevant results to the user upon typing in a keyword.
This is how your bot responds to the visitor query in the chat window upon integration with your knowledge base.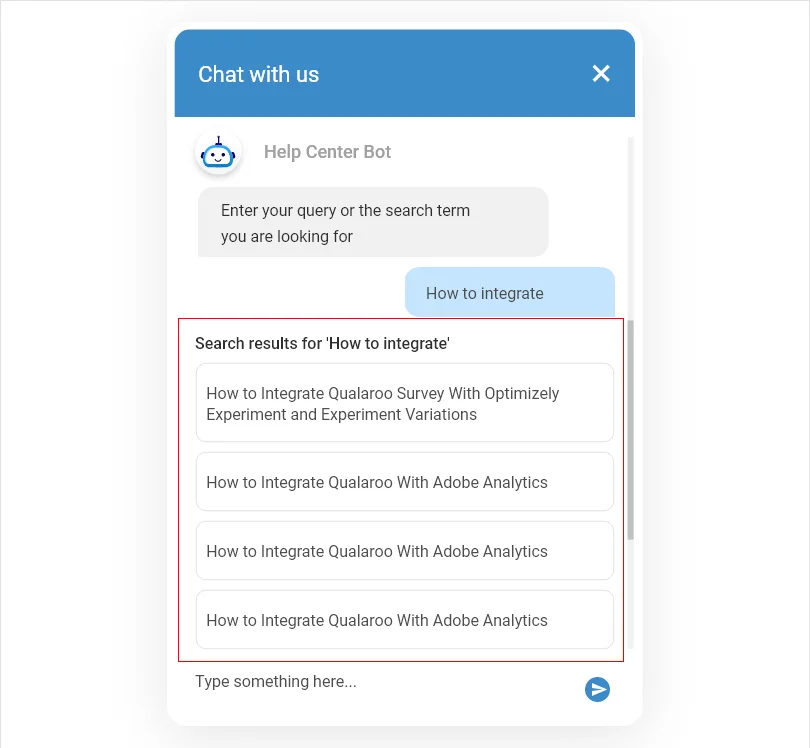 3. Personalization
A good chatbot should be able to personalize the user experience by learning from past interactions and adapting to user preferences. This means that the chatbot should be able to store chat transcripts and provide personalized recommendations or solutions based on the user's preferences and conversation history.
Gathering customer information through pre-chat forms and collecting post-chat feedback can also help in personalizing the customer experience.
4. Customization
Select a chatbot provider that offers extensive customization options to ensure a seamless brand experience for your customers. This includes options such as:
Interaction Name: It is preferable to give the first interaction panel a name like 'Welcome Message.'
Bot Response: This is the message that you want your visitors to see, like " Hi! I am your virtual assistant. How can I help you?"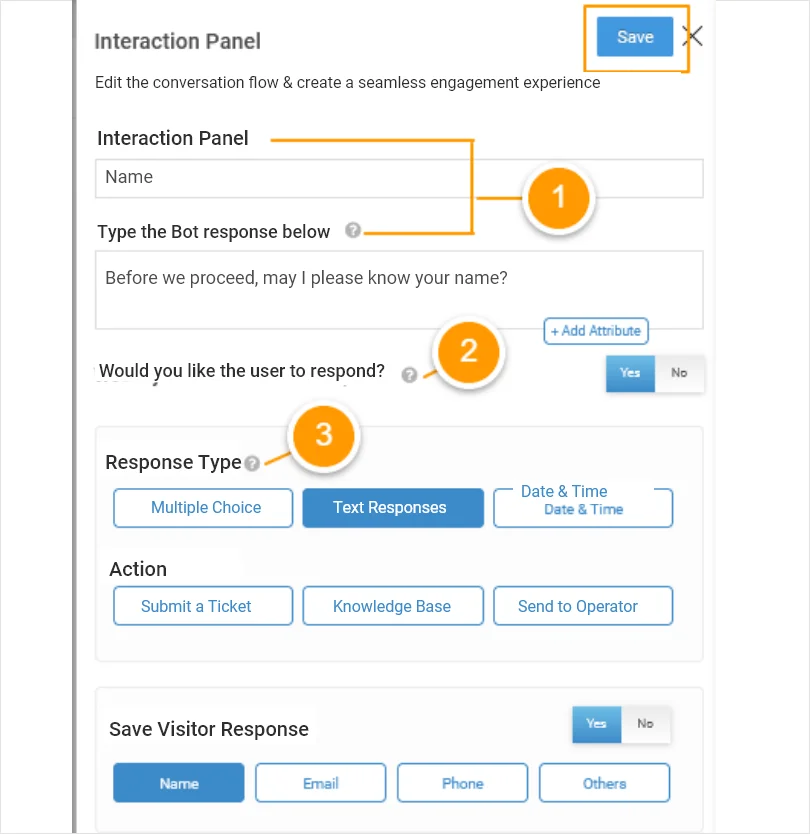 Thus, having extensive customization options within the tool can help you engage your customers more efficiently.
5. Bot Performance Report
A Bot performance report is an indispensable tool for evaluating the effectiveness of your chatbot. It enables you to monitor and assess the quality of interactions with your chatbot, highlighting areas for improvement.
It let's you compare each chatbot's performance to help you better understand their impact. Additionally, comparing your bot's performance to industry benchmarks can help you understand how your bot stacks up against the competition and fine-tune your strategy accordingly.

6. Multi-Lingual Support
Multi-lingual support is an essential chatbot feature, particularly for businesses operating in a global market. This feature ensures that a chatbot can communicate with customers in their native language, making it easier for them to engage with your brand and receive the support they need.
By providing support in multiple languages, you can increase customer satisfaction levels, build stronger customer relationships, and expand your customer base.
7. Round-the-Clock Availability
Ac hatbot can be available 24/7 to provide support to customers and enhance their overall experience. This ensures that users can get the information they need at any time of day, regardless of their location or time zone.
8. Security
When choosing chatbot software, it's essential to prioritize security. The software must have robust security protocols to safeguard user information and prevent unauthorized access. It's crucial to ensure that the chatbot software has advanced security features such as encryption, access control, and regular security updates to protect against threats.
By prioritizing security in your chatbot software selection, you can instill trust and confidence in your users and protect their valuable data from potential cyber-attacks.
9. Chat Routing
Chat routing is an important feature that you should consider when selecting chatbot software. This allows users to seamlessly transfer chats from the chatbot to a live chat operator if customers require further assistance. The chats can be transferred manually or automatically to specific operators or even departments.
Read More:  12 Essential Chatbot Features to Consider in 2023 
21 Best Chatbot Software for Your Website
With so many options on the market, choosing the right chatbot software for your website can be overwhelming. We've compiled a list of the 21 best chatbot software options, covering their key features, integrations, and pricing to help you make an informed decision for your business needs.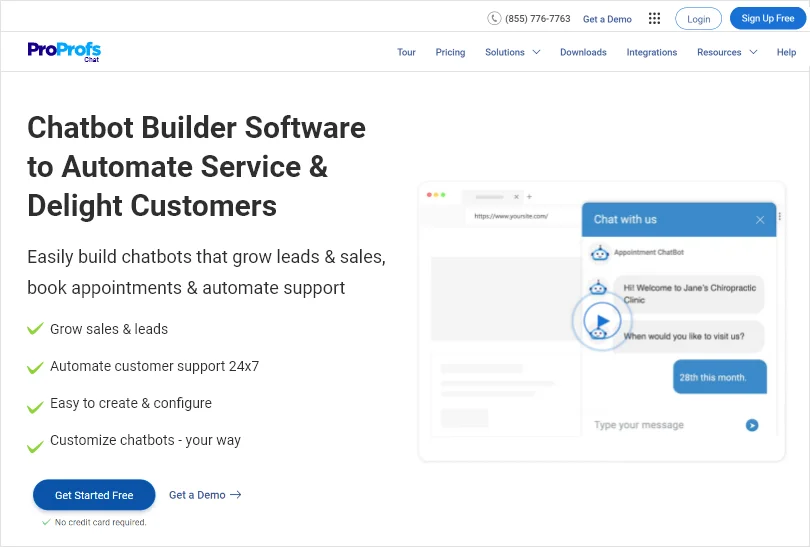 ProProfs Chat is well-equipped with the best-in-class features that help you build AI-powered chatbots with incredible ease. With a robust drag-and-drop editor, you can build conversation flows and even customize the chatbot to give it a brand-aligned look and feel.
What's really fascinating about this tool is that it requires no coding skills to get started and offers beautiful templates, so that you can launch your chatbot in minutes.
G2 Ratings: 4.5/5
Key Features:
Capture and qualify leads using pre-chat forms
Build engaging conversation flows with a drag-and-drop editor
Integrate with ProProfs Knowledge Base and Help Desk to offer 360° support
Generate insightful reports to measure chatbot performance
Integrations: ProProfs offers powerful integrations with some popular platforms like Salesforce, Shopify, and Microsoft Dynamics 365.
Pricing: Chat like a pro with a live chat free trial. ProProfs Chat offers a FOREVER-FREE plan for a single operator and a team plan for $19.99.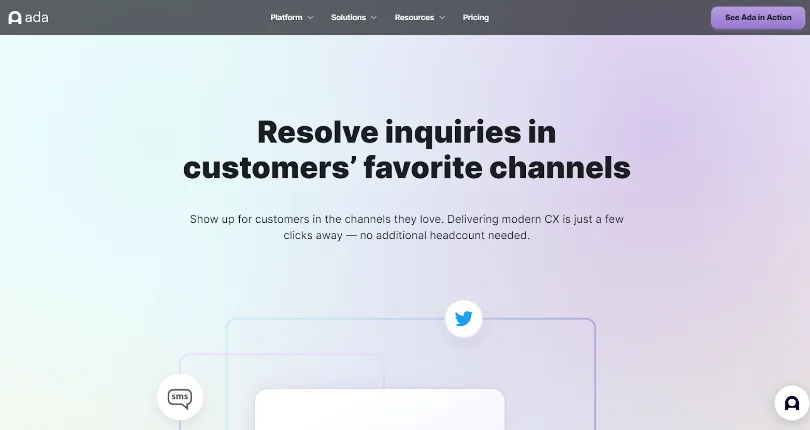 Ada is another best chatbot for website that ensures every customer gets VIP treatment and leaves your website with a big grin. Coding knowledge is not a necessity for using this tool, so you can get started right away.
Ada helps you provide customer support across channels and in over 100 languages, which means you can serve your global audience effortlessly. The tool syncs well with your live chat tool, making it easy to transfer conversations to live chat agents at the right moment.
G2 Ratings: 4.6/5
Key Features:
Integrate with live chat to prioritize high-value interactions
Deliver personalized experiences at scale over your website, SMS, and social channels
Give personalized recommendations based on customers' actions and history
Connect with CRM for customer data management
Integrations: Ada offers integrations with multiple platforms like Gorgias, Oracle, and Zendesk.
Pricing: Get in touch with the company for a quote.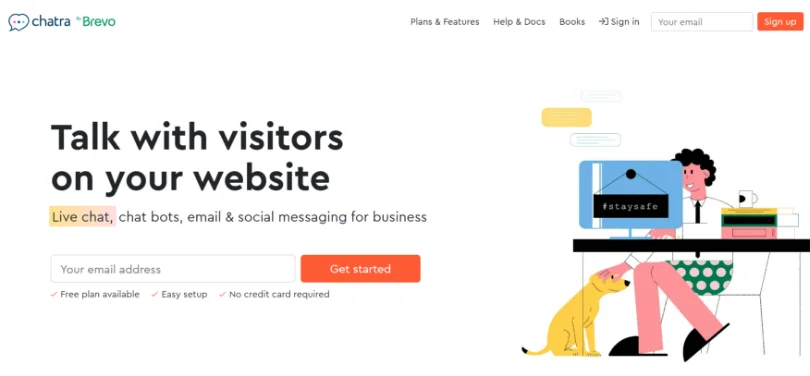 Chatra is a user-friendly and customizable chatbot that provides website visitors with real-time communication and support. With features like chat history, typing insights, and saved replies, Chatra enables businesses to streamline customer service and increase online sales.
Additionally, Chatra allows users to integrate with their favorite tools and services, making it a versatile solution for any website owner or online business.
G2 Ratings: 4.2/5
Key Features:
Customize the chatbot interface for consistent branding and user experience
Integrate with CRM systems to ensure seamless customer data management
Proactively reach your customers with personalized recommendations
Optimize advance natural language processing technology for accurate and contextual conversations with customers
Integrations: Chatra offers integrations with Helpscout, Webhooks, and WordPress among many others.
Pricing: Starts at $17/agent/month.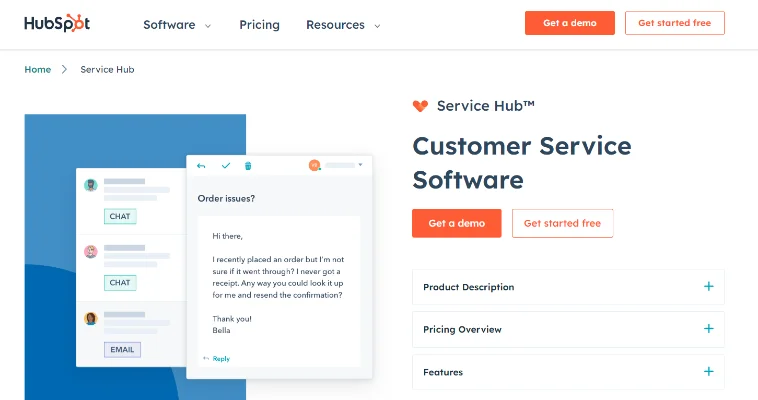 HubSpot's AI chatbot software is offered as part of its sales hub. The tool promises to help you at every stage, even if you have no prior experience in building chatbots. There are canned templates you can choose from and a visual editor to customize conversations.
Since this tool works seamlessly with HubSpot's contacts database, your chatbot will be well-positioned to deliver personalized experiences.
G2 Ratings: 4.4/5
Key Features:
Configure your chatbot to transfer chats to human agents
Capture leads, book meetings, and answer frequently asked questions
Customize conversations to match your brand's tone and voice
Build chatbots quickly using canned templates and a visual editor
Integrations: HubSpot offers multiple integrations through its HubSpot Marketplace other than native Salesforce integration.
Pricing: Starts at $0(with limited features).
Tidio is a powerful chatbot solution that offers several pre-designed templates to help you get off to a great start. The tool allows you to set actions, triggers, and conditions that govern what your chatbot can or cannot do.
The best part is you can also attach quick surveys to capture customer feedback and insights. Moreover, you can set up personalized messages for every scenario, such as giving discounts and sharing recommendations.
G2 Ratings: 4.7/5
Key Features:
Create conversation flows with a visual editor
Use ready-made templates to create and launch your chatbot
Leverage Zapier integration to save time on repetitive tasks
Notify operators when a customer wants to leave the chat or transfer to an agent
Integrations: Tidio offers integration with some popular platforms like Weebly, Drupal, and Wix.
Pricing: Starts at $15.83/month.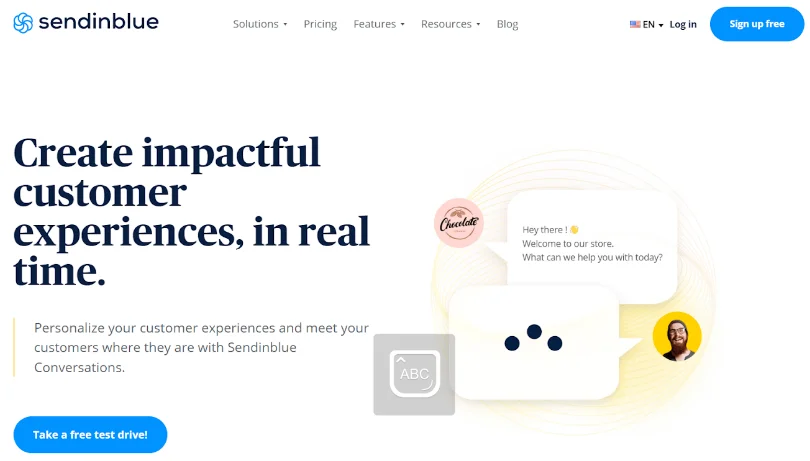 Sendinblue allows businesses to create custom conversational flows to answer common customer queries and provide assistance. It can be integrated with various channels like websites, social media, and messaging apps.
The chatbot uses artificial intelligence to understand and respond to customer inquiries, enabling businesses to save time and resources while improving customer satisfaction.
Additionally, it provides analytics and insights to help businesses improve their chatbot's performance.
G2 Ratings: 4.5/5
Key features:
Answer FAQs and common questions with pre-defined responses
Reach your customers instantly on both Android and iOS devices
Improve lead generation by collecting customer's information
Centralize your customer interactions to let your operators access them with ease
Integrations: The platform offers integrations with WordPress, WooCommerce, and Magento.
Pricing: Starts at $19.22/month.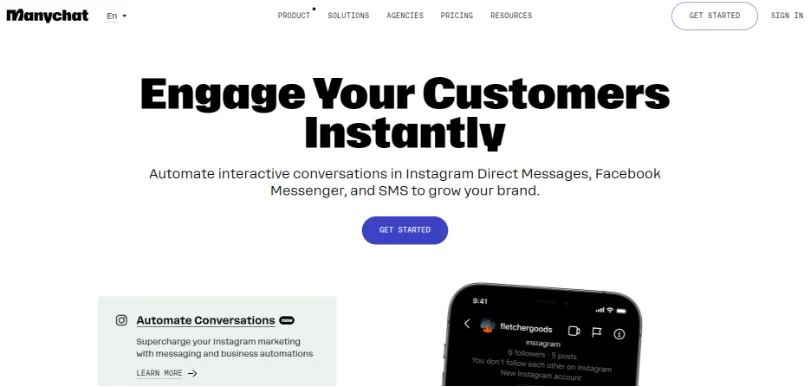 ManyChat is a popular chatbot platform that allows businesses to create and automate conversations with their customers on messaging platforms such as Facebook Messenger, WhatsApp, and SMS.
With ManyChat, businesses can set up chatbots to answer frequently asked questions, schedule appointments, send automated messages and broadcasts, and more. The platform offers a drag-and-drop builder, pre-built templates, and integrations with various tools to create and manage chatbots easily.
The tool also provides analytics to track engagement and performance metrics.
G2 Ratings: 4.6/5
Key Features:
Stay available round-the-clock for constant customer support
Automate responses to FB comments with Comments Growth Tool
Track user engagement and use analytics to optimize the chatbot's performance and effectiveness
Segment customers based on their behavior and preferences, and deliver personalized messages
Integrations: Manychat offers integrations with HubSpot, Shopify, and Zapier.
Pricing: Starts at $15/month.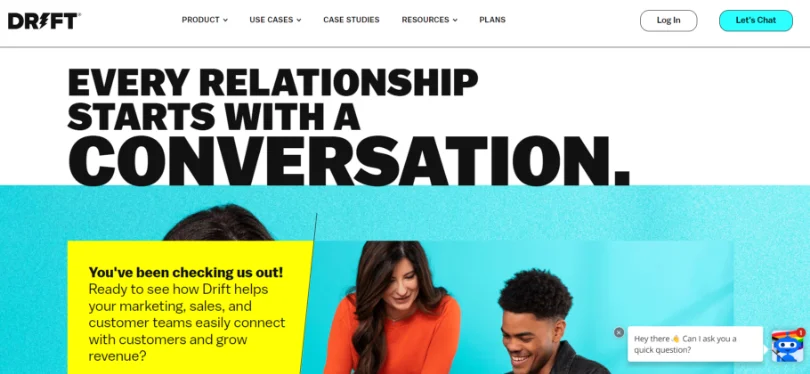 Ideal for sales and marketing teams, Drift is another powerful player in this list of chatbots. It helps you make personalized conversations with customers that build trust and ever-lasting relationships.
This chatbot makes buying super easy for visitors by surfacing the right questions that match their intent and gradually pushing them to further stages. Intelligent routing and real-time notifications further help drive sales.
G2 Ratings: 4.4/5
Key Features:
Fine-tune your sales campaigns using actionable analytics
Book meetings and quickly nurture the captured leads
Chat with target accounts using intelligent routing
Integrate with Salesforce and Zendesk to deliver self-help experiences
Integrations: Integrations include Marketo, Salesloft, and Drip among many others.
Pricing: Starts at $2500/month.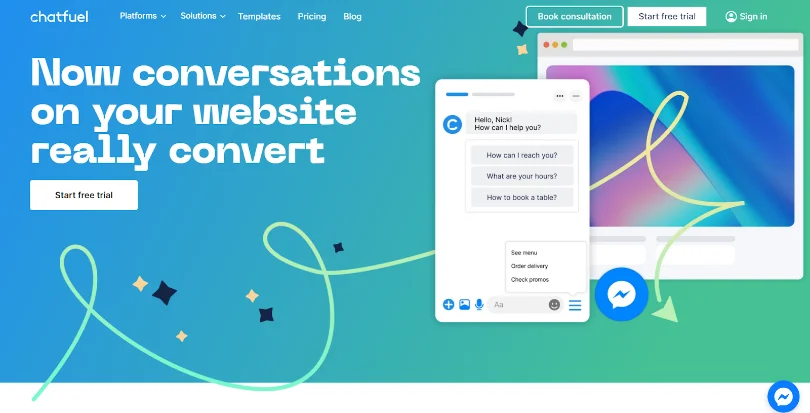 Chatfuel is a robust, no-code chatbot software that helps you cater to customers on social media sites like Facebook and Instagram. With a simple interface, you can effortlessly design conversation flows and automate support for the entire customer journey.
This is a great tool for small businesses that want to deliver impeccable support without deploying expensive technology.
G2 Ratings: 4.5/5
Key Features:
Share pre-designed answers for commonly asked questions
Gain rich analytics for common inquiries and boost your support process
Schedule reengagement sequences that can be easily designed and tweaked
Generate and qualify leads through comments and ads on autopilot
Integrations: Chatfuel offers integrations with some popular platforms like Stripe, Zapier, and ChatGPT.
Pricing: Starts at $14.99/month.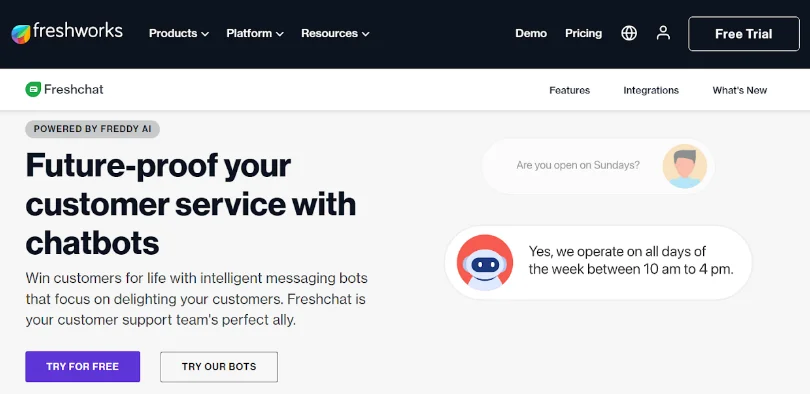 Freshchat is a chatbot software that enables businesses to communicate with their customers via various messaging platforms. It offers canned responses, smart plug-ins, and automated workflows to streamline customer support processes.
Freshchat's AI-powered chatbots can help answer common queries, while its automation workflows can assign tickets and escalate issues to human agents. It also integrates with other Freshworks products, such as Freshdesk, for a seamless customer support experience.
G2 Ratings: 4.4/5
Key features:
Reduce your response time with automated resolutions
Improve customer satisfaction(CSAT) with intelligent self-service automation
Extend customer service in multiple languages to provide personalized support
Provide 24×7 availability for constant customer support
Integrations: Freshchat offers integrations with multiple platforms, including Zendesk, Mailchimp, and Slack.
Pricing: Starts at $0(with limited integrations).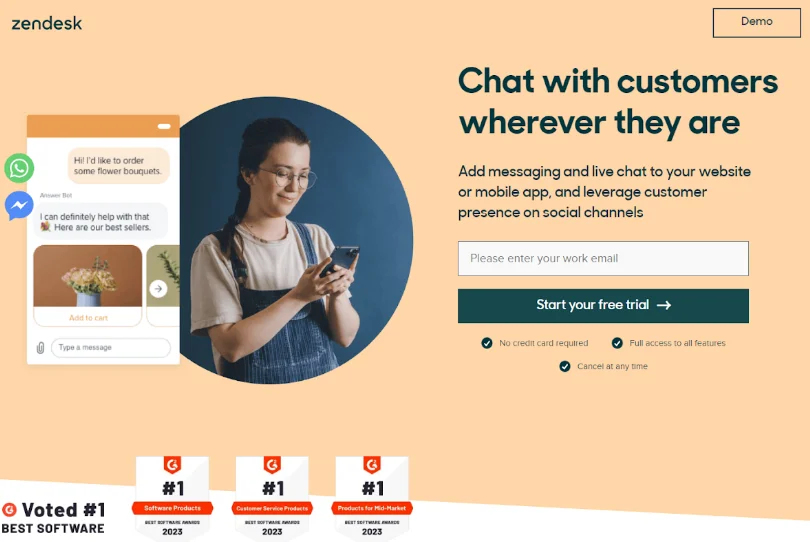 Zendesk is one of the leading tools that helps millions of businesses across the globe win at customer service. The tool encompasses robust messaging and chatbot capabilities that aid faster and more efficient customer support.
Its chatbot is popularly called "Answer Bot," which is diligently designed to automate interactions and deliver multilingual support to customers.
G2 Ratings: 4.3/5
Key Features:
Orchestrate conversations using a drag-and-drop flow builder
Leverage advanced AI to build smarter workflows and reduce manual sorting
Built-in self-service support to answer questions faster
Hand over chat to a live agent for quick resolution
Integrations: Zendesk offers some powerful integrations like Watson Assistant, Typeform, and Ticketflip among many others.
Pricing: Starts at $49/agent/month.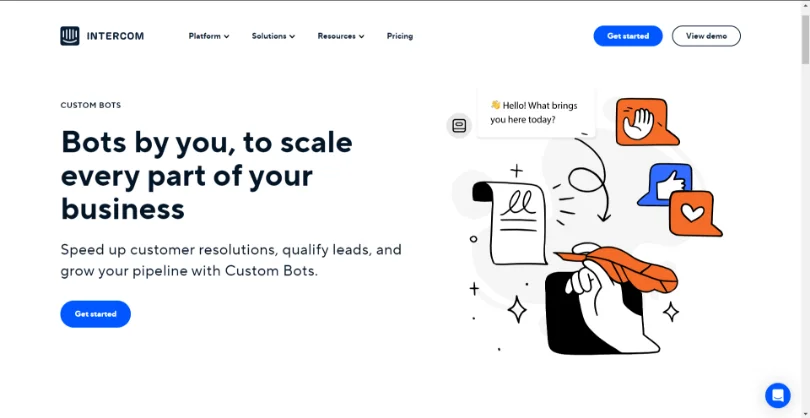 Intercom offers a chatbot builder to help you deliver personalized customer support at scale. You can automate conversations in over 38 languages, route leads to the right departments, and even capture customer information.
Using customer behavior insights, you can prioritize high-value conversations and ensure they are contextually relevant. Intercom lets you build custom bots as per your business needs for advanced customer targeting and faster issue resolution.
G2 Ratings: 4.4/5
Key Features:
Set rules to route conversations to relevant agents
Solve issues faster with integrated self-service
Serve a global audience by automating conversations in multiple languages
Customize the bot and deliver hyper-personalized experiences
Integrations: Intercom offers various integration, with the most prominent being Stripe, HubSpot, and Salesforce.
Pricing: Get in touch with the company for a quote.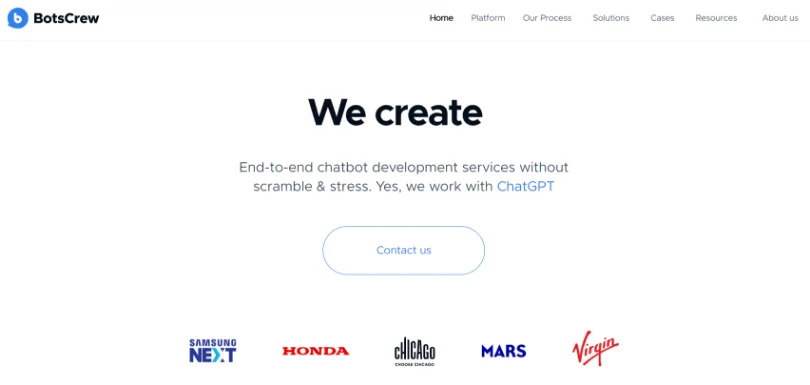 BotsCrew is a chatbot development platform that provides businesses with customizable chatbot solutions to improve customer engagement and automate customer support. Their chatbots use natural language processing and machine learning to understand customer queries and provide relevant responses.
BotsCrew's chatbots can be integrated with multiple messaging platforms, including Facebook Messenger, WhatsApp, and Telegram. This platform also offers analytics and reporting features to help businesses track and optimize their chatbot performance.
G2 Ratings: 4.0/5
Key features:
Optimize chatbots trained with ChatGPT for instant customer support
Offer omnichannel support to customers like Whatsapp, Instagram, and Facebook
Leverage a single unified inbox to access customer conversations across multiple channels
Engage customers efficiently with FAQs, canned responses, and small talks
Integrations: Integrations include Zapier, Zendesk, and Slack, among others.
Pricing: Get in contact with the company for a quote.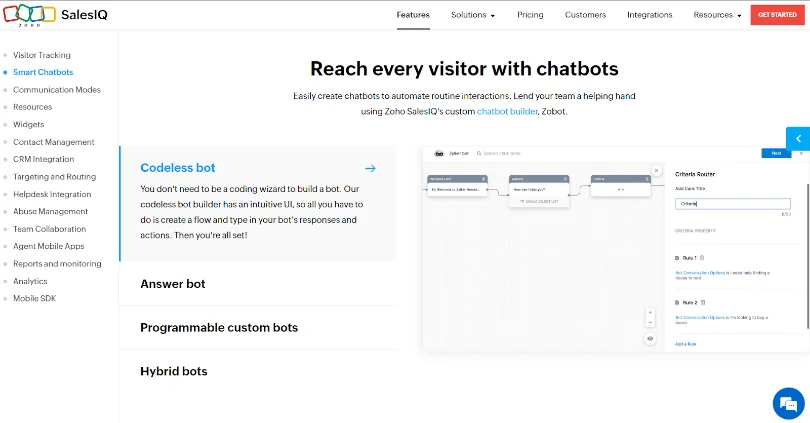 Zoho SalesIQ is a conversational AI tool that helps businesses engage with their website visitors and convert them into customers. It offers real-time chat and messaging, lead tracking, visitor insights, and customizable chatbots that can handle customer queries and automate sales processes.
With features like visitor tracking, canned responses, and personalized greetings, Zoho helps businesses improve customer engagement, increase conversions, and boost sales.
G2 Ratings: 4.4/5
Key features:
Automate customer support with a low-code chatbot builder
Extend customer support on mobile apps with Zoho's Mobilisten SDK
Transfer chat conversations to audio calls for more comprehensive support when needed
Monitor your support agents' performance with an easy-to-use dashboard
Integrations: The platform integrates with Zoho Desk, Zendesk, and ProProfs CMS, among many others.
Pricing: Starts at $4.27/month.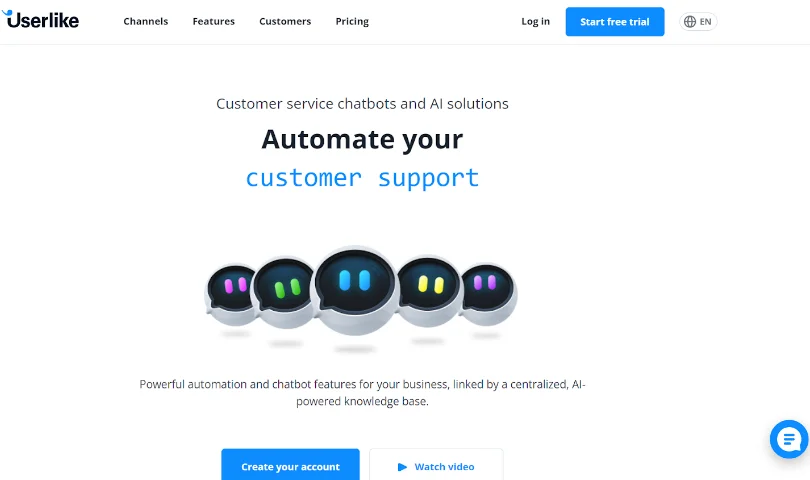 Userlike is an automated chatbot software that enables businesses to offer personalized customer service through a range of communication channels, including live chat, messaging, and email.
The tool offers automated responses, customizable chat flows, integration with popular messaging platforms, and data analytics to track and improve customer interactions. The platform also supports bot-to-human handovers, ensuring seamless transitions between automated and human support.
G2 Ratings: 4.4/5
Key features:
Recognize customer intentions with ML-powered digital assistant
Auto-complete user inputs and highlight trending topics for easy customer support
Suggest relevant answers based on what the user is typing
Offer multilingual support to cater to a global audience
Integrations: Userlike offers integrations with Whatsapp, Facebook, and Telegram.
Pricing: Chatbot plan starts at $290/month.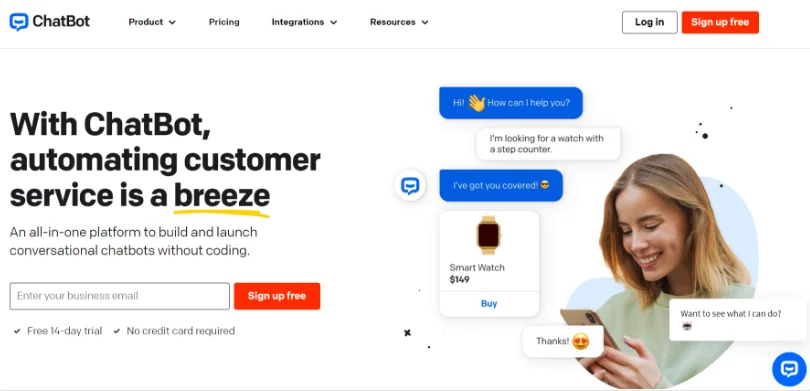 Chatbot.com is a chatbot solution for website that enables you to build conversational chatbots to drive your marketing, support, and sales endeavors. It is an AI-powered, customizable chatbot with ready-to-use templates that can be tweaked to fit your specific needs.
Using the tool's visual builder and drag-and-drop conversational elements, bringing your chatbot to life is incredibly easy.
G2 Ratings: 4.4/5
Key Features:
Test your chatbot to identify the elements that work best
Connect with customers on the platforms they prefer the most
Build and customize chatbots using ready-made templates
Drag and drop conversation blocks to create engaging experiences
Integrations: Integrations include Facebook Messenger, Slack, and Shopify among others.
Pricing: Starts at $52/month.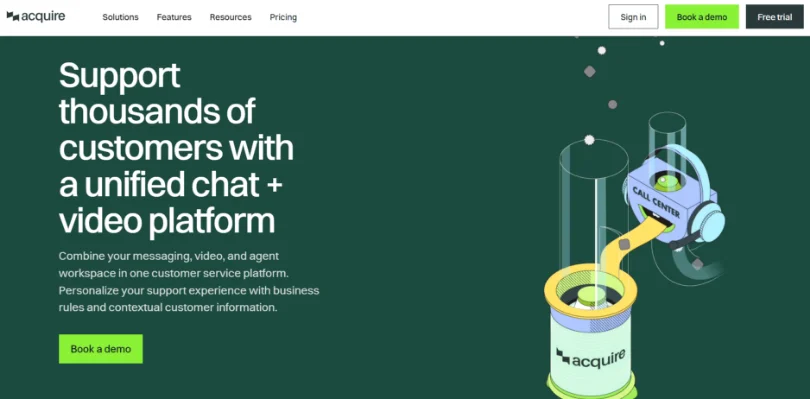 Acquire offers an easy way to build chatbots without coding. It is one of the best customer support chatbot platforms that lets you deliver contextual, 24×7 support to keep your customers coming back for more.
You can easily route visitors to the right departments and let a human agent carry on the conversation for enhanced support. Acquire also allows you to customize the appearance of your chatbot so that it perfectly blends with your brand.
G2 Ratings: 4.2/5
Key Features:
Set business rules to program bots to carry out contextual conversations
Instantly move the conversation to live chat, video, or co-browse
Create flow-based and AI-powered bots for a delightful experience
Get detailed analytics on chatbot conversations
Integrations: Integrations include Mailchimp, Jira, and Stripe, among many others.
Pricing: Self-Service Plan starts at $500/month( plus $25/agent/month).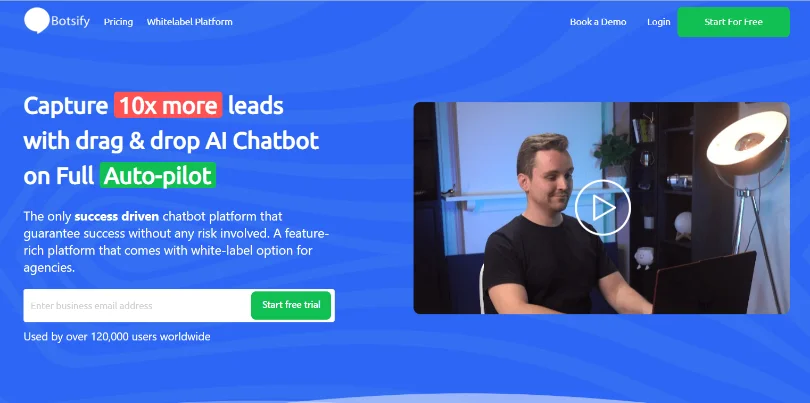 Botsify is a feature-packed chatbot solution for websites that can power up your marketing, fuel your customer support, and automate your sales process. Using this tool, you can provide automated, multilingual support to your global customers across any channel they prefer – website, Whatsapp, SMS, or Facebook.
With over 100 integrations, Botsify ensures your customers receive an exemplary experience.
G2 Ratings: 4.3/5
Key Features:
Translate chats into 100 languages in no time
Qualify leads and engage visitors using conversational forms
Communicate with customers across the channels they prefer
Expedite customer support by moving chats to a live agent
Integrations: Integrations include WordPress, Shopify, and Slack, among many others.
Pricing: Starts at $49/month.
Appy Pie is a user-friendly and intuitive platform that allows businesses to build custom chatbots without coding or programming knowledge. With Appy Pie, users can easily create chatbots that can respond to customer inquiries, automate tasks, and provide 24/7 customer support.
Appy Pie chatbot offers a drag-and-drop interface, AI-powered chatbots, multilingual support, and integration with popular messaging platforms like Facebook Messenger and Slack. The platform provides analytics and reporting tools to help businesses track the performance of their chatbots.
G2 Ratings: 4.7/5
Key features:
Create a flawless and responsive chatbot with a no-code chatbot builder
Integrate with third-party applications like Zoho, Zendesk, and Slack for a seamless experience
Optimize multiple chatbots for multiple functions for customized accessibility
Automate customer information collection to qualify leads
Integrations: Integrations include Weebly, Squarespace, and Wix, among many others.
Pricing: Starts at $6/bot/month.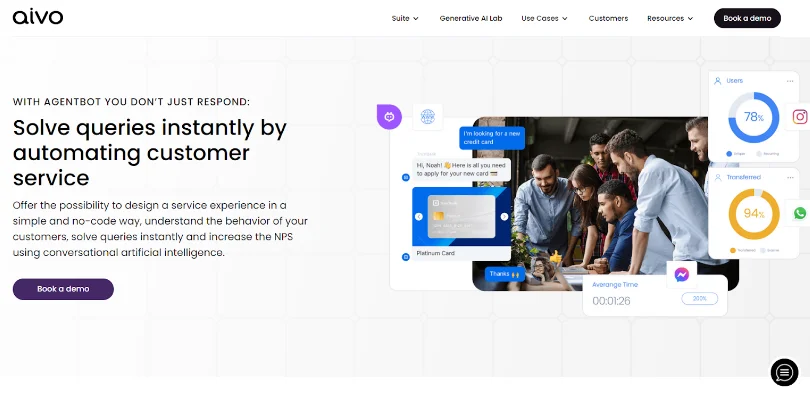 Aivo is an AI-powered chatbot platform that enables you to create automated paths for customer conversations. This chatbot software is designed to understand what your customers need and present instant, personalized solutions.
You also get comprehensive reports that help you gauge the impact of customer conversations in real time. Essentially, Aivo is an all-in-one chatbot builder to create stellar conversational journeys across channels.
G2 Ratings: 4.4/5
Key Features:
Make quick 24×7 conversations across channels
Transfer chat to a live agent to resolve complex queries
Show ads to attract prospects and boost conversions
Integrate with the tools you use to create a personalized work ecosystem
Integrations: Currently, Aivo offers integrations only with Genesys and Zendesk.
Pricing: Get in touch with the company for a quote.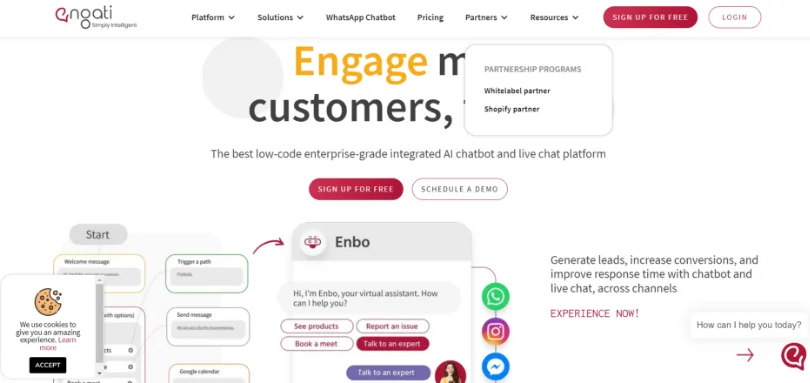 Engati is a cutting-edge chatbot platform that empowers businesses to create personalized, automated conversations with customers across multiple channels. With Engati, businesses can streamline customer support, sales, and marketing operations, while delivering seamless and engaging experiences.
Engati's powerful AI and NLP capabilities make it easy to design and deploy chatbots that learn and adapt to customer needs.
G2 Ratings: 4.1/5
Key features:
Create chatbots with minimum coding using a drag-and-drop conversational modeler
Deliver personalized customer experience with State-of-the-Art NLP Engine
Optimize Engati's OneView dashboard to analyze your support efforts
Offer round-the-clock automated support
Integrations: Integrations include Shopify, Salesforce, and Google Analytics, among many others.
Pricing: Starts at $5/day.
Best Chatbot Software: Comparison Table
| Software | Best for | Free plan | Paid plan starts at |
| --- | --- | --- | --- |
| 1. ProProfs Chat | Ecommerce, software, SaaS companies | Yes | $19.99/operator/month |
| 2. Ada | Fintech, SaaS, e-commerce | No | Pricing not available |
| 3. Chatra | Small businesses, e-commerce | Yes | $17/month |
| 4. HubSpot | Small to medium-sized businesses | Yes | $45/month |
| 5. Tidio | Small and mid-sized companies | Yes | $15.83/month |
| 6. Sendinblue | Small and medium-sized companies | Yes | $13.19/month |
| 7. ManyChat | Growing companies | Yes | $15/month |
| 8. Drift | Larger enterprises | No | $2500/month |
| 9. Chatfuel | Small businesses | Yes | $14.99/month |
| 10. FreshChat | Small and medium-sized companies | Yes | $12.22/month |
| 11. Zendesk Chat | Growing companies | No | $49/month |
| 12. Intercom | Businesses of all sizes | No | Pricing not available |
| 13. BotsCrew | Businesses of all sizes | No | $6.11/operator license/month |
| 14. Zoho Sales IQ | Small and medium-sized companies | Yes | $6.11/operator license/month |
| 15. Userlike | Mid-large sized companies | Yes | $290/month |
| 16. ChatBot.com | Growing companies | No | $52/month |
| 17. Acquire | Larger companies | No | $500/month |
| 18. Botsify | Growing companies | No | $52/month |
| 19. Appy Pie | Small-sized companies | No | $2.65/month |
| 20. Aivo | Small to medium-sized companies | No | Pricing available on-demand |
| 21. Engati | Growing companies | No | Pricing available on-demand |
Our Pick: The Best Chatbot Software
Chtabots are the present and the future of automated customer service and lead generation. However, getting your hands on the right chatbot tool is a daunting task, requiring considerable time and effort.
The list of chatbots mentioned above is carefully curated after browsing through hundreds of websites and review platforms. If you are still unsure about which tool to pick, we have some top-class recommendations.
Our first recommendation would be ProProfs Chatbot.
It is a great bet for businesses looking for a simple, code-free, and fuss-free tool that is equipped with all the necessary features required to roll out your chatbot. Its forever-free plan is an add-on that make its the best option available. However, if pricing is not a concern, you can also go for Aivo or Drift. Both are powerful tools but come at a higher price.
Do you want a free Live Chat software?
We have the #1 Online Live Chat Software for instant customer support 24x7