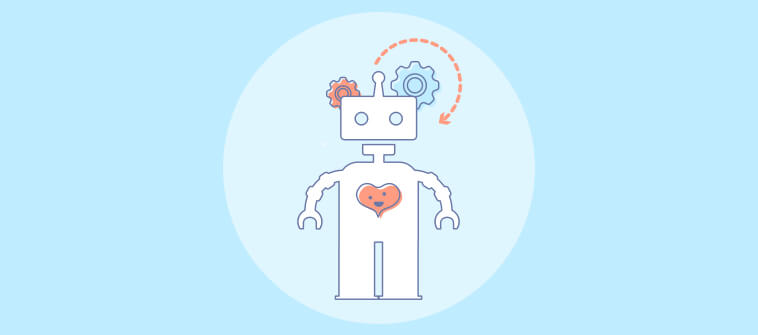 Did you know that in 2020 organizations reported a reduction of up to 70% in call, chat, and/or email inquiries after implementing a chatbot or virtual customer assistant?
This clearly indicates that chatbot software has taken the customer service and support industry by storm.
And why not?
With the help of chatbots, businesses have streamlined their support process, managed multiple incoming chats successfully, and increased their base of delighted customers.
Chatbot has helped businesses eliminate issues like long queues and created a seamless support experience for customers.
These benefits motivate other businesses to invest in the best chatbot software to attain the same results. However, as the trend for chatbot technology rises, we see more options emerging in the market, making it difficult for new prospects to pick one for their website.
To help you overcome this challenge, we've listed the 15 best online chatbot software in this blog. But first, let's take a look at what chatbot software is and why your business should invest in this technology.
What is Chatbot Software?
Chatbot software is a tool that supports a live chat-like interface where a customer can interact with a business via text messages. These text messages exchanged between your chatbots and customers simulate human-like interactions that help you engage visitors at the right time.
A web chatbot can help you conduct a conversation flow with the customer based on pre-built scripts or based on its capacity to learn from previous interactions. It is perfect for offering a response to customer's frequently asked questions and managing incoming chat queues.
But other than this, there must be other reasons why a business would need a chatbot in place. Let's explore them in the next section below.
---
Learn More: What is a Chatbot & How it Works
---
Why Does Your Business Need Chatbot Software?
Did you know that 60% of executives plan to implement conversational bots for after-sales and customer service?
Such numbers are a result of multiple reasons. Your customers find the use of chatbots quite beneficial for themselves. Your customers get to:
Connect with your business in real-time and get answers to their frequently asked questions
Avoid getting into support queues and save time when it comes to connecting with your brand instantly
Receive the assurance that a solution is coming their way, and they'll be connected with an agent in case they need more information
---
Learn More: What is chatbot Marketing
---
But more than a customer, businesses end up benefitting from the use of a smart chatbot. With the best AI chatbot on your website, you can:
Offer 24×7 customer support to customers without being online the entire time
Reduce multiple people-to-people interactions and make sure customers get direct answers
Help your agents focus on more urgent queries and improve their productivity
Target the right audience with the right welcome message via your chatbot and boost engagement
Save time, money, and even efforts at your operator's end to resolve some of the frequently asked questions
These benefits of chatbots make it easier for your brand to decide whether to get a chatbot platform onboard or not. But before you start looking for a chatbot, it is essential to understand the different chatbots available in the market.
Once you know what types of chatbot software are available in the marketplace, you'll know which one will be best suited for your business.
Top 6 Types of Chatbot You Should Know of
Learning about the various types of chatbots can help you understand which one matches the needs of your business's support process. To help you learn which one matches your support needs, here's a list of 6 types of chatbots below.
1. Social Messaging Bots
Social messaging chatbots are used for sending in product recommendations. You usually see them on eCommerce websites. After understanding a visitor's browsing pattern, this chatbot suggests product recommendations as they progress through the website.
2. Scripted Chatbots
A scripted chatbot is a type of chatbot where the interaction between the visitor and the bot takes place based on predefined knowledge. That means you can decide the flow of your chatbot's conversation and even add knowledge base articles that customers can read in case they come across a recurring product operation challenge.
3. Context Enabled Chatbots
Context-enabled chatbots help you develop a conversation with the customer based on the previous experience with other customers. This chatbot works on the rules and conditions of machine learning and artificial intelligence. With this technology in place, chatbots become more competent and can imitate human-like conversations with customers.
4. Natural Language Processing (NLP) Chatbots
Natural language processing bots are run on artificial intelligence that helps your business understand the conversation's intent. With an NLP chatbot, you can also make sure your customers feel they are discussing their challenges with a human.
5. Voice-Enabled Chatbots
Voice-enabled chatbots are perfect for managing your daily tasks and enable you to find information faster. They run on text-to-speech and even voice recognition APIs.
6. Service/Action Based Chatbots
Service/action chatbots help you present different options to customers in the chat widget that encourage them to take action. This way, you can build up the support conversation and find out what a customer came looking for when approaching your business.
---
Learn More: Essential Chatbot Features to Consider in 2022
---
List of 15 Best Chatbot Software
Now that you've understood about different types of chatbots in the market, it is time to check some of the best chatbots that you can consider for your business.
Our list of chatbots is based on what all brands offer this feature and help users provide the best customer experience in real-time.
Let's get started:
ProProfs Chatbot is the perfect solution to help your business automate the customer support process, qualify leads and convert them into customers. This chatbot software specializes in building human-like interactions that encourage leads to arrive at a decision faster.
You do not need any coding skills to get this chatbot working on your website. With an easy installation process, you can get this app up and running in minutes. It helps you design chatbot conversations with branching logic. This will enable you to keep customers on your website engaged with the brand.
Editing its workflow, look, and feel can be done in seconds. All you have to do is edit the existing chatbot templates offered by ProProfs Chat to create a workflow that matches your lead generation, sales, and customer support needs. This chatbot builder enables you to create interactions with the drag and drop feature, therefore making the configuration process simple.
ChatBot by LiveChat is also one of the best chatbot apps that you can consider for your online business. This chatbot can help you create a customer experience that sells and helps customers at every step of their journey with your brand.
You can set custom chatbot greetings for each website visitor, nurture leads by offering them the right deals and product recommendations during their browsing experience and convert them into sales. You can even send across qualified leads to your sales reps to shorten the sales cycle and convert leads into customers faster.
ChatBot also allows its users to build, test, and refine their chatbots with a visual builder. You get the option to drag and drop conversational elements for a chatbot just the way you want. What's more, you can integrate ChatBot to multiple platforms to help your business connect with customers messaging from different platforms.
ManyChat is known for being a sales and marketing solution built for businesses that would like to see more leads and sales coming through their pipeline. Their bot is easy to set up as they support the drag and drop interface.
You get access to multiple templates that help you get started with your chatbot-building process. That means no longer you have to spend more time building your chatbot from scratch. You can also connect it with other third-party platforms like Shopify, Google Sheets, ConvertKit, Zapier, and others hassle-free.
Freshchat also offers chatbot services to its users. Their chatbot runs on artificial intelligence technology. You get to send automated responses, digitize IVRs, help you scale your business, and make your agents more productive.
Besides this, Freshchat's chatbot also helps you offer real-time solutions to customers and reduce response time for your business, ultimately satisfying customers. You also get to set APIs that trigger your chat window and fetch necessary visitor data to store as leads.
You can also make your polyglot bot, where all you have to do is add bot conversation in any language. This way, your bot can speak to your website visitors in their preferred language.
Chatfuel is one of the leading chatbot providers in the marketplace. The brand stands for offering instant services to make sure their users can provide 24×7 support to customers. The chatbot helps users to qualify leads in real-time and send those details to your inbox directly.
This chatbot can also help you set cart reminders in your eCommerce store, capture leads, and nurture them by sending the product recommendations during their browsing experience and encourage them to make a purchase. The chatbot is easy to set up and use even if you have no coding skills.
Botsify is also one of the best chatbot platforms that you can explore. As an AI chatbot, Botsify offers a faster response rate that leads to more qualified leads and even boosts your customer retention rate.
You can do so by creating multiple chatbots and assigning them different tasks. That means you get to create a separate chatbot for your sales, support, and marketing teams efficiently. What's more, it gives users the flexibility to switch from bot to human support in seconds.
Botsify also helps you communicate with your customers in their native language as it can speak up to 190+ languages. Besides this, it can also be used as Whatsapp, Facebook messenger, and SMS messenger bot.
Mobile Monkey is yet another new name in the chatbot market known for being a multi-channel chatbot. It helps you connect with different platforms and capture customer queries in one place.
This way, you get to qualify more leads for your business, route visitors to the right place and capture the correct information that helps your business customize the customer experience on the website. What's more, this chatbot also gives you the option to jump into a real-time conversation or move them to email if the bot can't manage the customer's query right away.
BotsCrew, just like other competitors in the market, can connect to multiple platforms like Facebook, WhatsApp, website widget, SMS, and more. In a nutshell, it helps your business provide support across various platforms. This way, not only do you get to maintain customer satisfaction but also get to save time for your reps to manage critical support queries as well.
Unlike a few options in the market, this one learns from a conversation from each experience. What's more, to do this, you require zero technical skills. It even integrates with other platforms such as Slack, Zapier, WordPress, Zendesk, and others that enhance the experience of its users even further.
Aivo is AI-based customer service chatbot software that helps you humanize the support experience. This bot runs on a semantic engine that helps your business communicate with the customer in multiple languages. Besides this, it also uses emojis, autocorrect, voice messages, and much more.
As a 100% code-free platform, it enables your business to design a customer experience and suggest product recommendations as per visitor's browsing patterns. It even offers security and data privacy measures to help users and customers protect their data.
Drift is known for its chatbot services in the SaaS industry. It helps you stay in touch with your customers 24×7 and make sure that their frequently asked questions get answered in real-time. The tool allows you to simplify lead qualification and even improve sales productivity. You can easily qualify the interested leads and send them automatically to your favorite CRM platform.
Moreover, Drift also helps you streamline your customer support queue, giving your support team more time to focus on challenges that need more technical guidance. It even recognizes your returning customers and offers them instant recommendations based on their previous browsing experience.
Ada is an easy-to-use and set up chatbot platform that is made for CX professionals. This chatbot helps you automate much more than FAQs as it personalizes content in more than 100 languages. This chatbot works on technologies like machine learning that make it sufficient to learn from previous customer conversations and use more human-like expressions in future chats.
Their conversational AI understands visitors and sends out a message before they do for support queries. It even eliminates responses such as "do not understand" by offering the next best response to the customer or by connecting them right away to the correct department.
Tars is mainly recommended to marketing sales teams to reach website visitors and renew their sales pipeline successfully. With Tars, you can expect fewer drop-offs that'll help you see more opportunities for conversions. Since their chatbot is also masters at managing repetitive queries, you can quickly reduce the call center conversations.
This chatbot even comes with multiple templates for its users to kick start their online support process. You can see templates such as healthcare chatbot, travel chatbots, HR and recruitment chatbots, events chatbot, B2B service chatbots, and many more.
Pandorabots helps your business to become more professional at offering real-time support to customers on the website. It enables you to answer questions in multiple languages to customers, which means you can write AIML scripts in natural language. This chatbot is even content-aware. It understands what your visitors are expressing and learns from the conversations it has with them to provide better answers in the future.
The chatbot has speech-to-text capabilities as well, therefore helping its users' customers write their messages via speech as well. What's more, you also get the option to make the chatbot more flexible for your use as it allows integrating RESTful APIs with its system.
Zendesk Chat is one of the top live chat solutions in the market that offers chatbot functionalities to its users. Their AI-powered chatbot can help you automate your support process and enable your business to create better real-time experiences for customers. Its simplicity to customize, build and extend customer experience makes it a part of our best chatbot software list.
It helps you become quick at responding, proactive at addressing queries, and sound human-like during a conversation. Their APIs help your business scale your support services in real-time and make sure that customers receive support faster.
Intercom's chatbot is known for its extensive ability to connect and engage website visitors in real-time. It helps you offer faster resolutions and help operators prioritize more pressing issues at hand. It even provides code-free customization where you can easily personalize the workflows of the chatbot in a matter of a few minutes.
Like other chatbots in the list, it also helps you capture more leads by asking your visitors the right questions and gaining more information for your sales team to develop their efforts.
Which Chatbot Platform Should You Choose for Your Online Business?
It can be quite a challenge for you even now to choose one that matches your expectations with so many amazing options. But as discussed before, you must learn which chatbot technology will be best suited for your business. Only then will you be able to invest in the best chatbot software that's right for your business.
Once you're clear about the type of technology you'd like to implement on your website, your next step would be to choose one that works best in that particular field. For example, if you want a chatbot that works for your 24×7 and even supports the use of a live chat operator facility, then you can look into options like ProProfs ChatBot, Zendesk Chat, or even Intercom.
But if you are searching for pure chatbot software that works on machine learning, artificial intelligence technologies, then you can consider choosing apps like Botsify, Tars, or Pandorabots.
We hope this helps you settle with the best chatbot software for your business successfully!
Do you want a free Live Chat software?
We have the #1 Online Live Chat Software for instant customer support 24x7