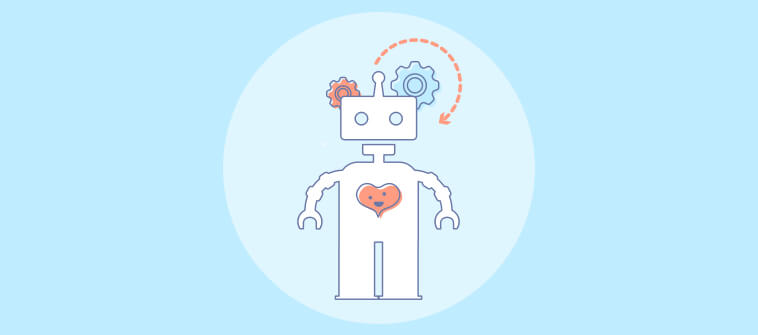 Chatbots are taking the world by storm, with the customer service industry being the most impacted.
Today, chatbots are helping tons of businesses achieve remarkable results in not just customer support but also sales and marketing functions. From automating customer support 24×7 and targeting leads at the right moment to performing simple yet important tasks like booking appointments – there is nothing under the sun that these AI-powered tools cannot accomplish!
The best thing about chatbots is – you don't have to be a coding expert to bring them to life.
All you need is the best chatbot software!
We understand how hectic it can be to comb through multiple websites and zero in on a single tool. That's why we are here to help!
After rigorous research, we have come up with a list of the top 20 chatbot tools that can help you delight customers with instant and frictionless, 24×7 services.
Let's go!
What Is Chatbot Software?
Chatbot software is a tool that enables you to stay connected with customers 24×7 and solve their problems in real-time. The interactions between your chatbot and customers simulate human-like conversations that boost engagement and help you deliver personalized experiences.
Such tools use pre-built scripts and previous interactions to craft contextually-relevant responses for customers. Queries that are out of a chatbot's capacity can be seamlessly moved to a live agent, ensuring that customer experience is not hampered at any cost.
Read More: A Quick Guide on What is a Chatbot & How it Works
What are the Key Features of Chatbots?
Let's now look at some of the salient features of a chatbot that makes it an incredible tool for levelling up your customer support.
1. Ready-to-Use Templates
The best chatbot software offers expert-designed templates that can save you an enormous amount of time and effort building chatbots. Every customer conversation is unique, which makes it all the more essential to use templates for different needs, such as ticket creation, appointment booking, etc.
2. Seamless Routing
Chatbots are super efficient for answering common questions and carrying out simple tasks. However, some things are better handled by humans. For queries that are too complex for a chatbot, such tools offer smart routing where the chat can be seamlessly moved to a live agent for faster resolution.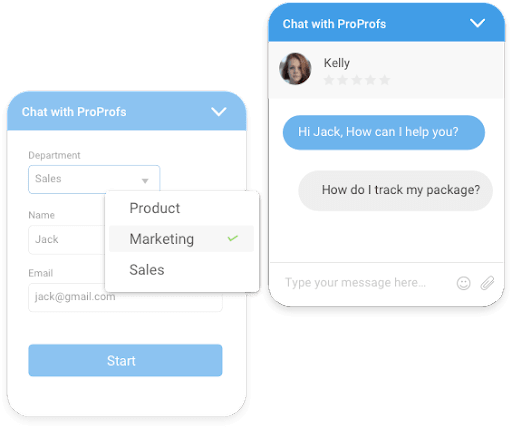 3. Customization
When creating a custom chatbot, it should resonate with your brand. That's where customization features come in. With these features, you can change the button style, add your company's logo, change the colors, and even the placement of the chatbot. Such elements add a dash of personalization to the chat widget that positively impacts the customer experience.
4. Third-Party Integrations
External integrations are essential as they help you put your chatbot to maximum use by integrating it with popular platforms like your CRM, CMS, and email marketing tools. Such integrations enhance the functionality of your chatbot and help you accomplish multiple tasks all at once.
For example, once your chatbot captures leads, they can be pushed to a centralized location with CRM integration. This way, you sales team can have all the context they need to nurture those leads and boost conversions.
5. In-Depth Reporting
Reports are critical for assessing a chatbot's performance. They give you access to metrics such as total chats, valid and invalid conversations, and engagement rate, tracking which will introduce you to useful insights into the overall performance of your chatbot. Harnessing these insights will help you make informed decisions to further improve the customer experience.
6. Simple Editor
Modern chatbot software offer a visual editor, using which you can design conversation flows for customers. You can define rules and apply specific conditions to exercise full control over how conversations should be carried out in different scenarios.
Read More: 12 Essential Chatbot Features to Consider in 2022
How We Collated the List of the Top 20 Chatbot Software
Getting your hands on the right chatbot software is a herculean task. With the market replete with hundreds of tools, you are bound to get confused and pick a tool that might not do justice to your requirements.
That's why we are here – to make your job a teeny-weeny bit easier!
We followed strict criteria to get you nothing but the best tools in this list. Let's have a look.
Ease of Use: The tools should be simple to set up and require no coding expertise for users to get started. With minimum training, users should be able to create, configure, and launch a chatbot.
Core Chat Features: The best chatbot software should be well-equipped with key live chat features such as canned responses, built-in self-help, chat routing, and insightful reports.
Listed on Top Review Sites: The tools should be listed on leading review websites like Capterra and G2.
User Reviews: Every tool must have received at least 10 reviews from genuine users. Real reviews from real users will help you analyze the tools' capabilities better.
20 Best Chatbot Software Worth Your Time & Money
Let's take a quick look at the 20 leading chatbot software, including their features and pricing, to help you make a well-informed decision.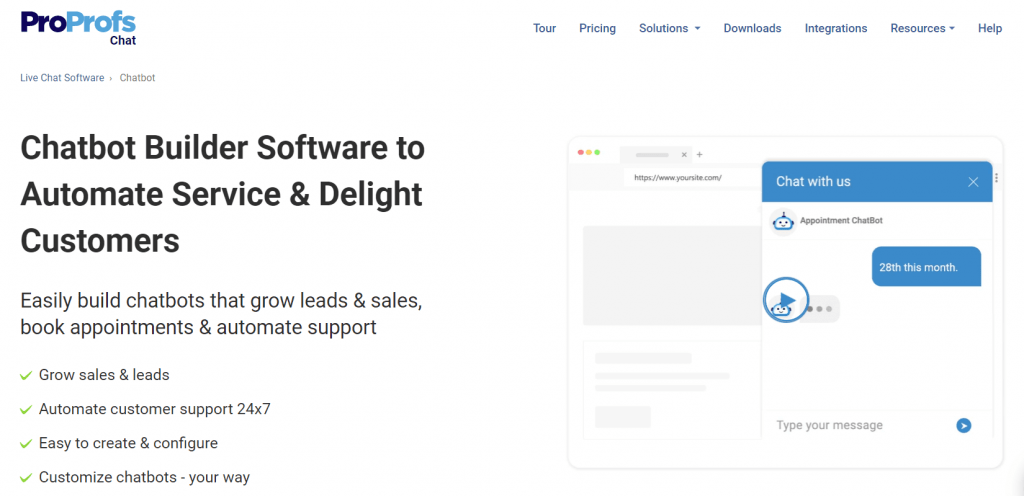 ProProfs Chatbot is well-equipped with the best-in-class features that help you build AI-powered chatbots with incredible ease. With a robust drag-and-drop editor, you can build conversation flows and even customize the chatbot to give it a brand-aligned look and feel. What's really fascinating about this tool is that it requires no coding skills to get started and offers beautiful templates, so you can launch your chatbot in minutes.
Key Features:
Capture and qualify leads using pre-chat forms
Build engaging conversation flows with a drag-and-drop editor
Integrate with ProProfs Knowledge Base and Help Desk for 360° support
Generate insightful reports to measure chatbot performance
Pros & Cons:
Pros:
Detailed reports to analyze chatbot performance
Cons:
Needs more chatbot templates
Pricing: Starts from $19.99/operator/month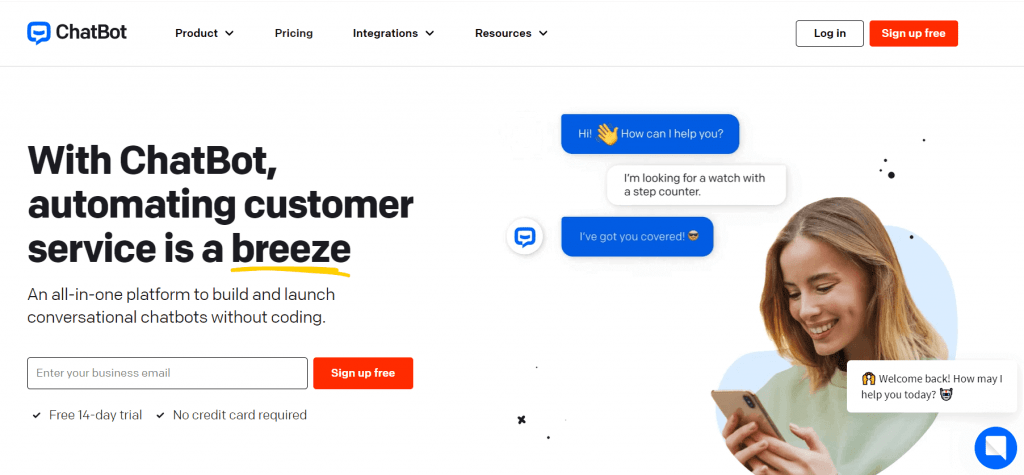 Chatbot.com is an all-inclusive platform that enables you to build conversational chatbots to drive your marketing, support, and sales endeavors. It is an AI-powered, customizable chatbot with ready-to-use templates that can be tweaked to fit your specific needs. Using the tool's visual builder and drag-and-drop conversational elements, bringing your chatbot to life is incredibly easy.
Key Features:
Test your chatbot to identify the elements that work best
Connect with customers on the platforms they prefer the most
Build and customize chatbots using ready-made templates
Drag and drop conversation blocks to create engaging experiences
Pros & Cons:
Pros:
Plays nicely with popular platforms like WordPress, Facebook Messenger, and Slack
Cons:
Doesn't offer integration with WhatsApp
Pricing: Starts from $52/month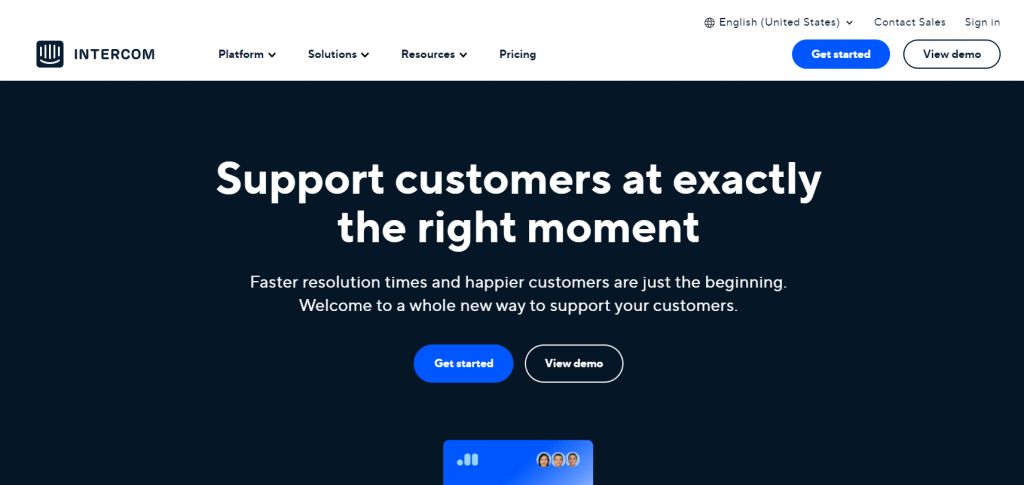 Intercom offers a chatbot builder to help you deliver personalized customer support at scale. You can automate conversations in over 38 languages, route leads to the right departments, and even capture customer information.
Using customer behavior insights, you can prioritize high-value conversations and ensure they are contextually relevant. Intercom lets you build custom bots as per your business needs for advanced customer targeting and quicker issue resolution.
Key Features:
Set rules to route conversations to relevant agents
Solve issues faster with integrated self-service
Serve a global audience by automating conversations in multiple languages
Customize the bot and deliver hyper-personalized experiences
Pros & Cons:
Pros:
300+ third-party integrations
Cons:
Customer service can be slow and unresponsive at times
Pricing: Contact the company for a quote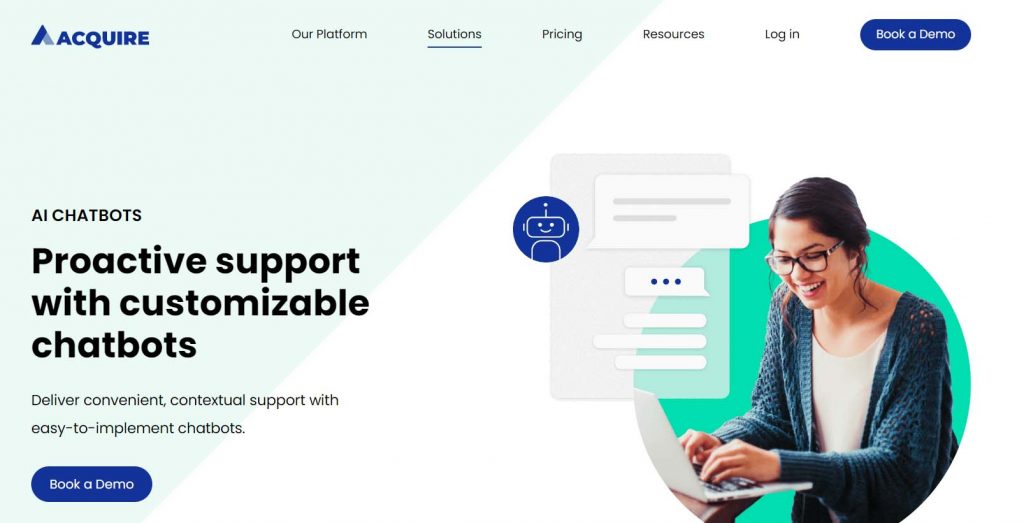 Acquire offers an easy way to build chatbots without coding. It is one of the best chatbot software that lets you deliver contextual, 24×7 support to keep your customers coming back for more. You can easily route visitors to the right departments and let a human agent carry on the conversation for enhanced support. Acquire also allows you to customize the appearance of your chatbot so that it perfectly blends with your brand.
Key Features:
Set business rules to program bots to carry out contextual conversations
Instantly move the conversation to live chat, video, or co-browse
Create flow-based and AI-powered bots for a delightful experience
Get detailed analytics on chatbot conversations
Pros & Cons:
Pros:
Video chat and voice call with co-browsing
Cons:
Lacks a mobile app for on-the-go support
Pricing: Contact the company for a quote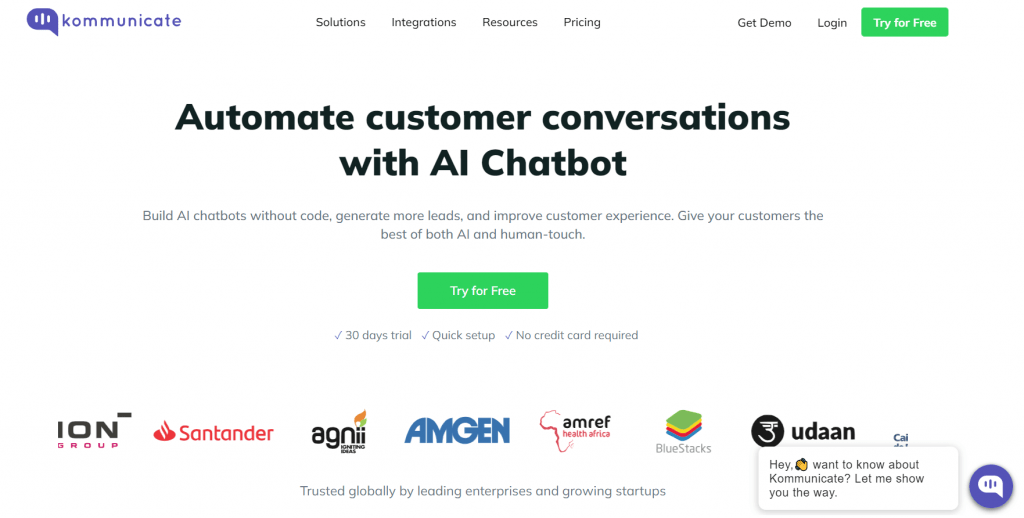 Kommunicate is another chatbot software that deserves to be on this list. With a simple and intuitive interface, you can build NLP-powered support bots even without any coding knowledge. You also get detailed insights and tons of customization options to bring meaningful improvements to your chatbot and deliver impeccable experiences.
Key Features:
Access AI-powered insights to analyze chatbot performance
Seamlessly hand off conversations to human agents
Carry out conversations in over 40 languages for your global customers
Customize the chatbot in sync with your brand guidelines
Pros & Cons:
Pros:
Cons:
Reports are not that comprehensive
Pricing: Starts from $40/month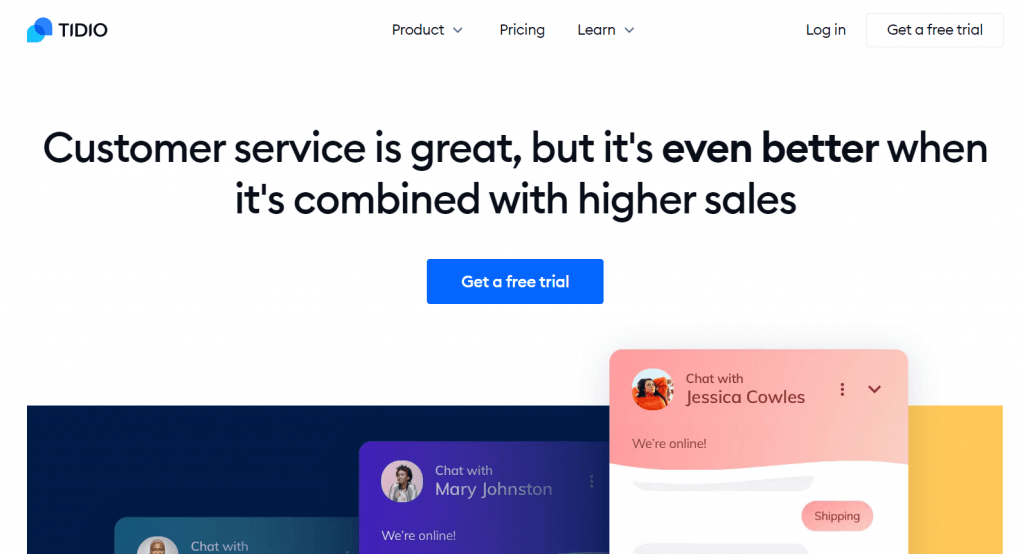 Tidio is a powerful chatbot solution that offers several pre-designed templates to help you get off to a great start. The tool allows you to set actions, triggers, and conditions that govern what your chatbot can or cannot do. You can set up personalized messages for every scenario, such as giving discounts and sharing recommendations. The best part is you can also attach quick surveys to capture customer feedback and insights.
Key Features:
Create conversation flows with a visual editor
Use ready-made templates to create and launch your chatbot
Leverage Zapier integration to save time on repetitive tasks
Notify operators when a customer wants to leave the chat or transfer to an agent
Pros & Cons:
Pros:
Integration with social media platforms like Instagram and Facebook Messenger
Cons:
Set up process can be hard and time consuming
Pricing: Starts from $32.50/month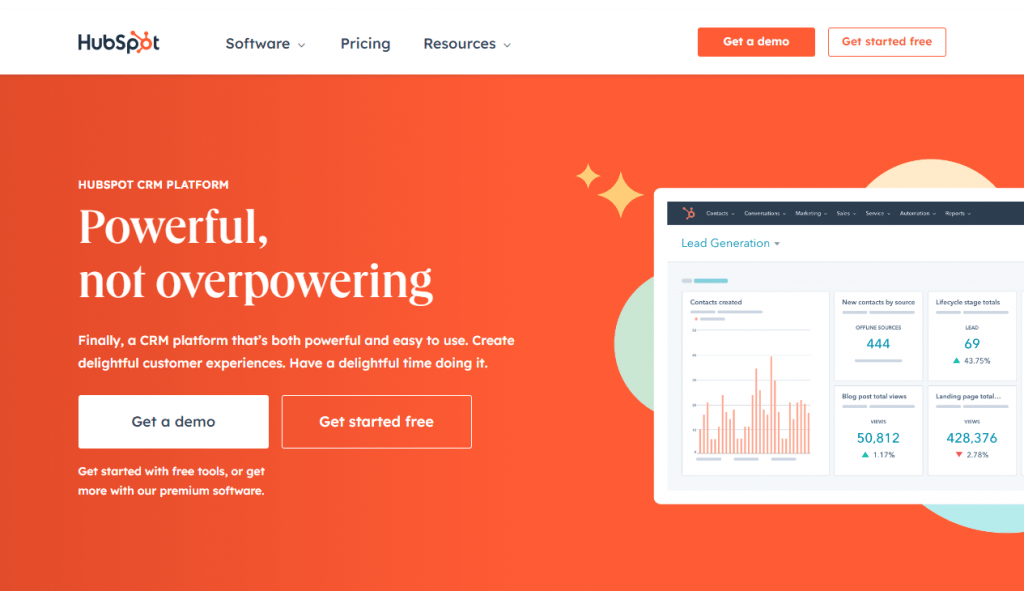 HubSpot's AI chatbot software is offered as part of its sales hub. The tool promises to help you at every stage, even if you have no prior experience in building chatbots. There are canned templates you can choose from and a visual editor to customize conversations. Since this tool works seamlessly with HubSpot's contacts database, your chatbot will be well-positioned to deliver personalized experiences.
Key Features:
Configure your chatbot to transfer chats to human agents
Capture leads, book meetings, and answer frequently asked questions
Customize conversations to match your brand's tone and voice
Build chatbots quickly using canned templates and a visual editor
Pros & Cons:
Pros:
Connect the chatbot software with HubSpot's CRM tool for personalized and contextual conversations
Cons:
Expensive subscription plans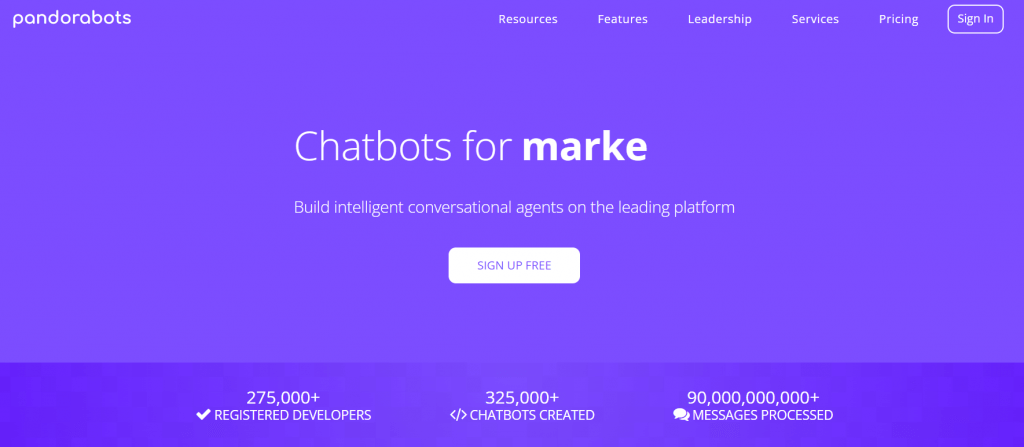 Pandorabots is another chatbot for websites that is worthy of your attention. While all other tools mentioned in this list require no coding knowledge, this one does. This tool helps you build conversational bots that can provide multilingual support to your globally dispersed customers. The tool can be hard to use for beginners, but for experienced users, it can prove highly smooth and flexible.
Key Features:
Access pre-built modules for fast deployment
Use conversational logs to enhance chatbot conversations
Offer anytime, anywhere support by deploying bots on Android and iOS devices
Leverage help documentation to build high-quality bots
Pros & Cons:
Pros:
Build bots easily with the tool's excellent GUI
Cons:
Pricing: Starts from $19/month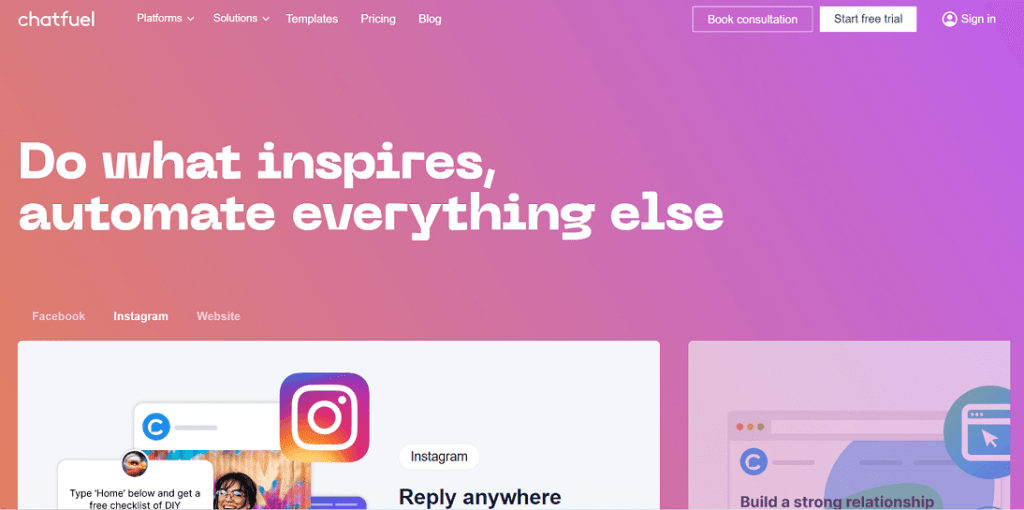 Chatfuel is a robust, no-code chatbot software that helps you cater to customers on social media sites like Facebook and Instagram. With a visual interface, you can effortlessly design conversation flows and automate support for the entire customer journey. This is a great tool for small businesses that want to deliver impeccable support without deploying expensive technology.
Key Features:
Share pre-designed answers for commonly asked questions
Gain rich analytics for common inquiries and boost your support process
Schedule reengagement sequences that can be easily designed and tweaked
Generate and qualify leads through comments and ads on autopilot
Pros & Cons:
Pros:
Easy setup process, no coding required
Cons:
Restricted only to a few social media sites
Pricing: Starts from $11.99/month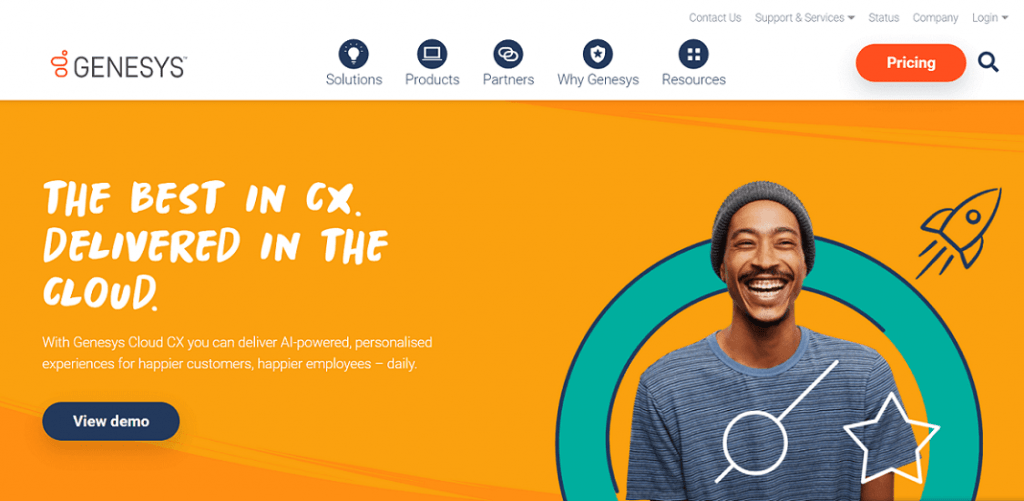 Genesys is a popular tool designed to help you deliver memorable and personalized customer experiences at scale. Creating a chatbot is super easy with this tool. It offers a drag-and-drop interface that lets you build conversation workflows with ease. You can also connect this tool to your chat software to ensure chats are transferred to the right departments for a quick resolution.
Key Features:
Add field-level validation for context-driven interactions
Build conversational bots and deploy them across multiple platforms
Create workflows using an intuitive drag-and-drop builder
Leverage customer information to deliver personalized experiences
Pros & Cons:
Pros:
Connect the bot to your CRM to ensure conversations are contextually-relevant
Cons:
Pricing: Starts from $75/month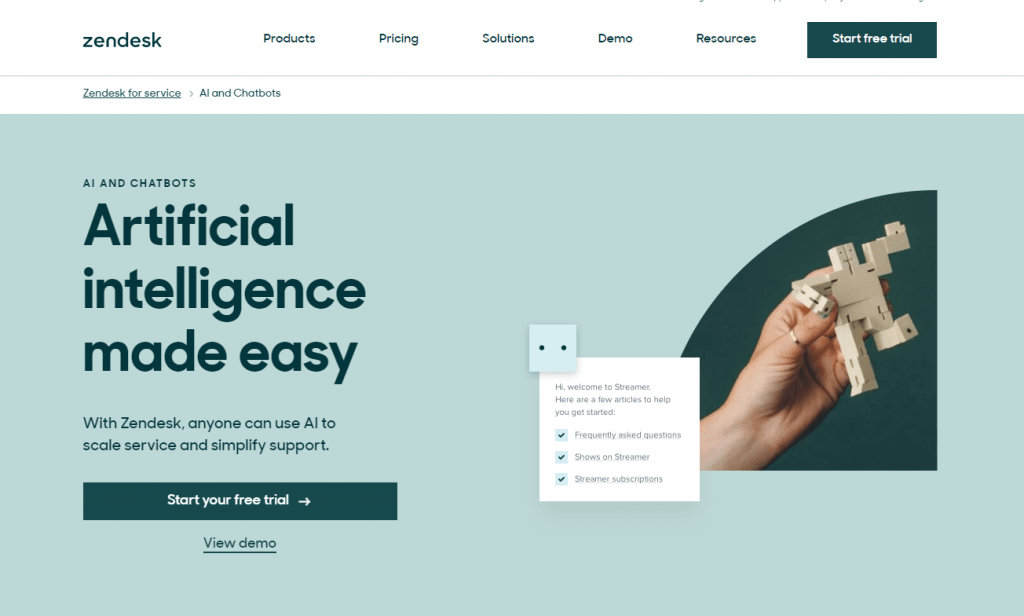 Zendesk is one of the leading tools that helps millions of businesses across the globe win at customer service. The tool encompasses robust messaging and chatbot capabilities that aid faster and more efficient customer support. Its chatbot is popularly called "Answer Bot," which is diligently designed to automate interactions and deliver multilingual support to customers.
Key Features:
Orchestrate conversations using a drag-and-drop flow builder
Leverage advanced AI to build smarter workflows and reduce manual sorting
Built-in self-service support to answer questions faster
Hand over chat to a live agent for quick resolution
Pros & Cons:
Pros:
Multiple chat interfaces to help you carry out multiple conversations simultaneously
Cons:
Expensive for small to mid-size businesses
Pricing: Starts from $49/agent/month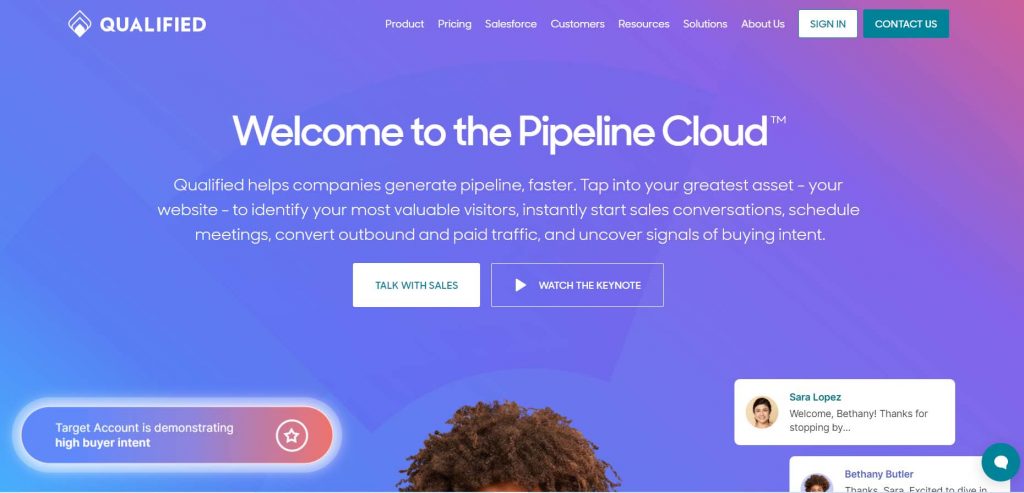 Qualified is another best chatbot for websites that helps you create custom chatbots without any coding experience. Built to maximize your sales, this chatbot software is easy to set up and helps you qualify inbound leads by asking questions that matter the most. Based on the answers received, chatbots connect your sales team with the hottest leads so they can be converted right away.
Key Features:
Route visitors to the right reps and never let a lead slip away
Send quick notifications on MS Teams, Slack, or email
Initiate personalized conversations based on visitors' behavior
Book sales meetings right from your website
Pros & Cons:
Pros:
The tool is highly configurable that helps to deliver optimized customer experiences
Cons:
Tedious onboarding and steep learning curve
Pricing: Starts from $3500/month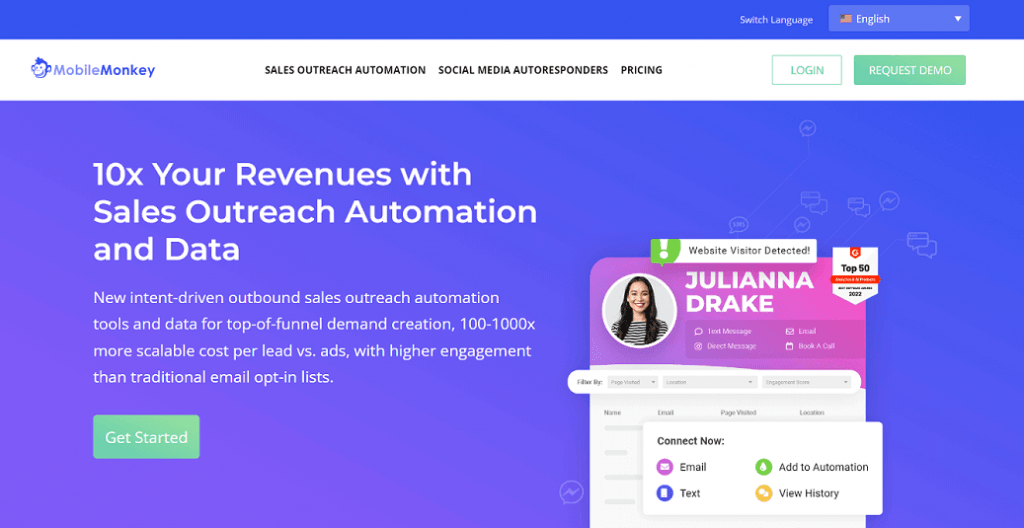 MobileMonkey is another popular name in the chatbot industry that's known for its multichannel capabilities. This bot works seamlessly across channels – web chat, messenger, and even in text messages. Moreover, external integrations with CRM and email marketing tools further ensure a stellar experience with MobileMonkey. You also get over 20 chatbot templates that can be customized just the way you want.
Key Features:
Deploy your chatbot across web chat, messenger, or text messages
Use images and GIFs to level-up customer engagement during conversations
Works beautifully across multiple devices
Collects leads from Facebook ads
Pros & Cons:
Pros:
Easy installation and multichannel functionality
Cons:
Reporting could use improvement
Pricing: Contact the company for a quote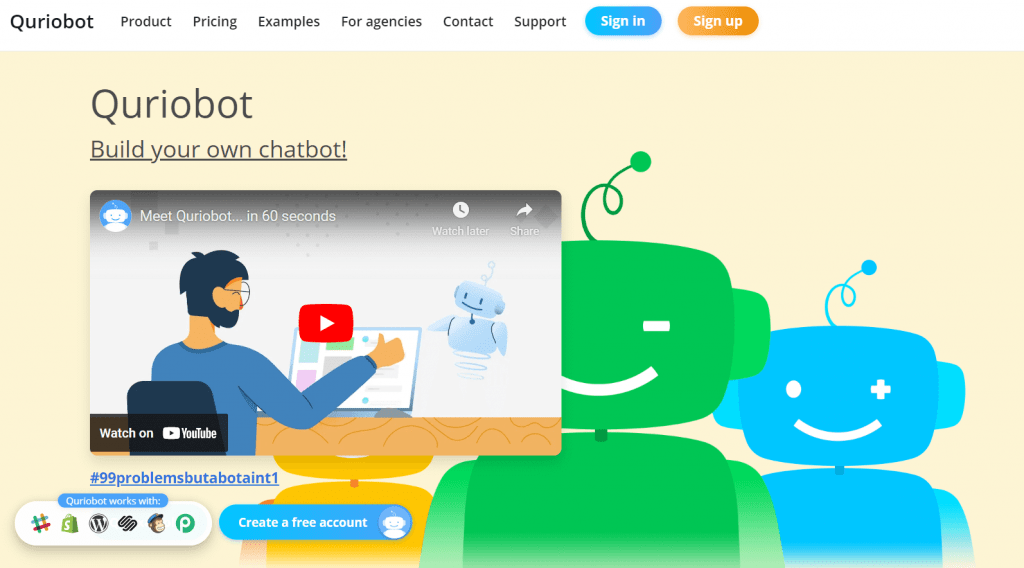 Quriobot is a super flexible chatbot platform designed for global enterprises at a price point that doesn't burn a hole in your pocket. There are ready-made templates and a drag-and-drop designer that help you kickstart the chatbot creation process with absolute ease. You can create conversations that match your brand's tone and voice and leverage pre-designed "step types" to ask the right questions from customers.
Key Features:
Build a relevant conversation flow using smart jumps
Use custom CSS to tailor Quoriobot to your company's branding
Conduct conversations across multiple channels, right where customers are
Leverage in-depth reporting to closely track customer interactions
Pros & Cons:
Pros:
Define Quoriobot's behavior by applying conditional rules
Cons:
Pricing: Starts from €13/1000 chats/month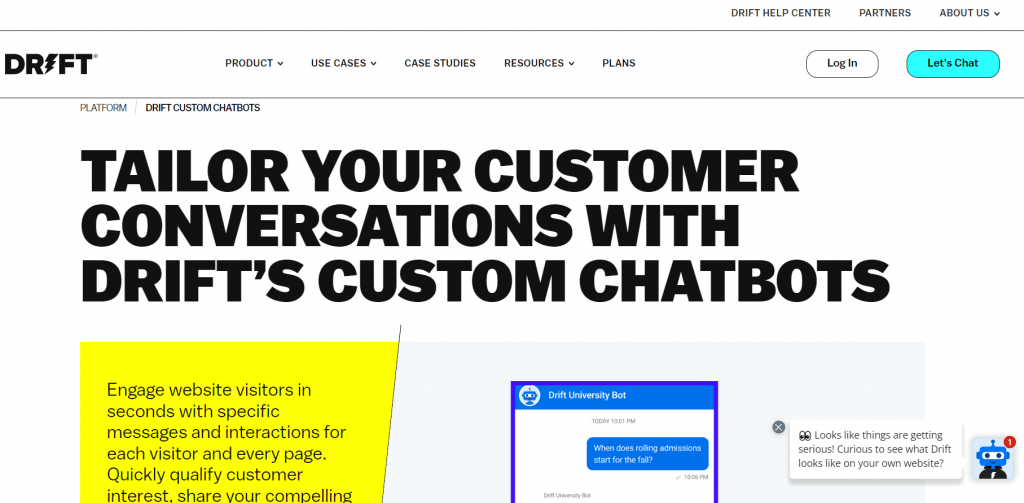 Ideal for sales and marketing teams, Drift is another powerful player in this list of chatbots. It helps you make personalized conversations with customers that build trust and ever-lasting relationships. This chatbot makes buying super easy for visitors by surfacing the right questions that match their intent and gradually pushing them to further stages. Intelligent routing and real-time notifications further help drive sales.
Key Features:
Fine-tune your sales campaigns using actionable analytics
Book meetings and quickly nurture the captured leads
Chat with target accounts using intelligent routing
Integrate with Salesforce and Zendesk to deliver self-help experiences
Pros & Cons:
Pros:
Tailor conversations to customers' needs and deliver differentiated experiences
Cons:
For multiple teams, you will have to subscribe to Drift's Enterprise plan
Pricing: Starts from $2500/month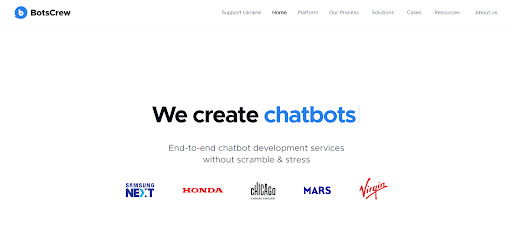 BotsCrew provides end-to-end chatbot development services, right from ideation to post-launch support. It gives you complete freedom and flexibility to build AI bots with custom features and integrate them with your favorite tools to experience the full potential of this platform. Like other tools, BotsCrew also allows you to connect to multiple channels such as WhatsApp, Instagram, Facebook, and many others.
Key Features:
Train your bot to make contextual customer conversations
Integrate with your favorite tools to experience additional benefits
Converse with customers in the language they speak
Deliver customer service across multiple channels
Pros & Cons:
Pros:
Easy to use and extremely customizable
Cons:
Doesn't provide a free trial or free plan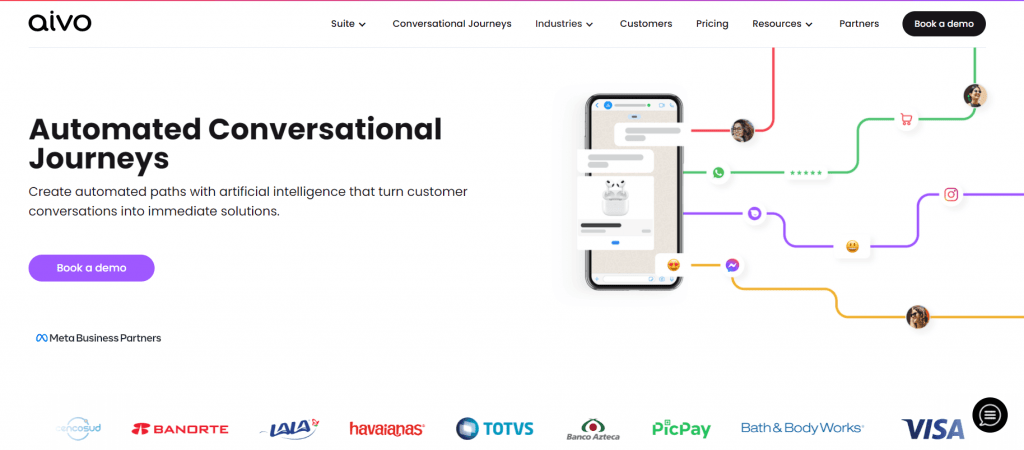 Aivo is an AI-powered chatbot platform that enables you to create automated paths for customer conversations. This chatbot software is designed to understand what your customers need and present instant, personalized solutions. You also get comprehensive reports that help you gauge the impact of customer conversations in real time. Essentially, Aivo is an all-in-one chatbot builder to create stellar conversational journeys across channels.
Key Features:
Make quick 24×7 conversations across channels
Transfer chat to a live agent to resolve complex queries
Show ads to attract prospects and boost conversions
Integrate with the tools you use to create a personalized work ecosystem
Pros & Cons:
Pros:
Intuitive, user-friendly interface
Cons:
Requires regular review and maintenance
Pricing: Starts from $90/month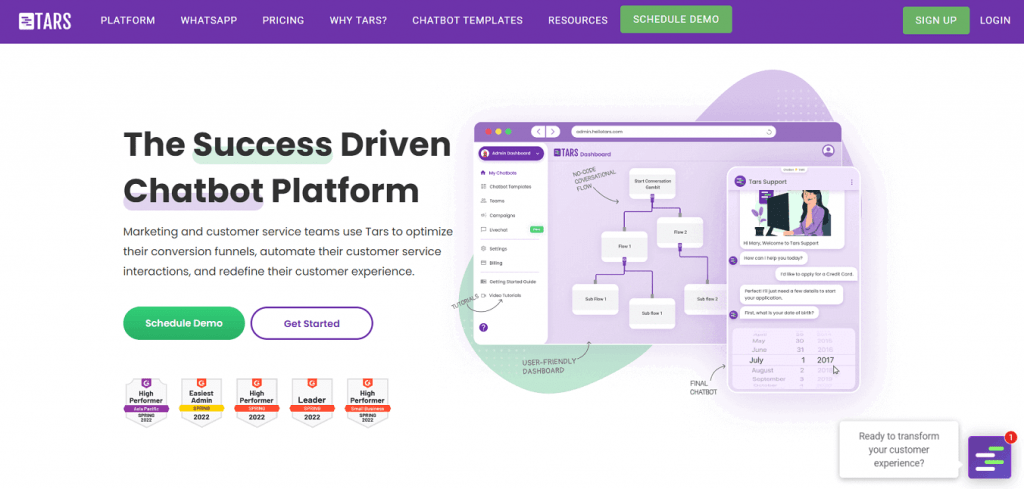 Tars is one of the best chatbot platforms designed to make the life of your marketing and customer support teams easier. Over 700 global brands trust Tars for elevating customer experiences and improving conversions. By automating most of the conversations, Tars ensures that the fort is held strong even when your agents are offline. Furthermore, using chatbot analytics, you can track KPIs and continuously boost performance.
Key Features:
Provide seamless support in over 100 languages
Kickstart chatbot creation using pre-designed templates
Build contextual conversation flows with a simple editor
Push customer data directly to your CRM for further nurturing
Pros & Cons:
Pros:
Extensive library of templates for all industries
Cons:
Small businesses can find this tool a over the budget
Pricing: Get in touch with the company for detailed pricing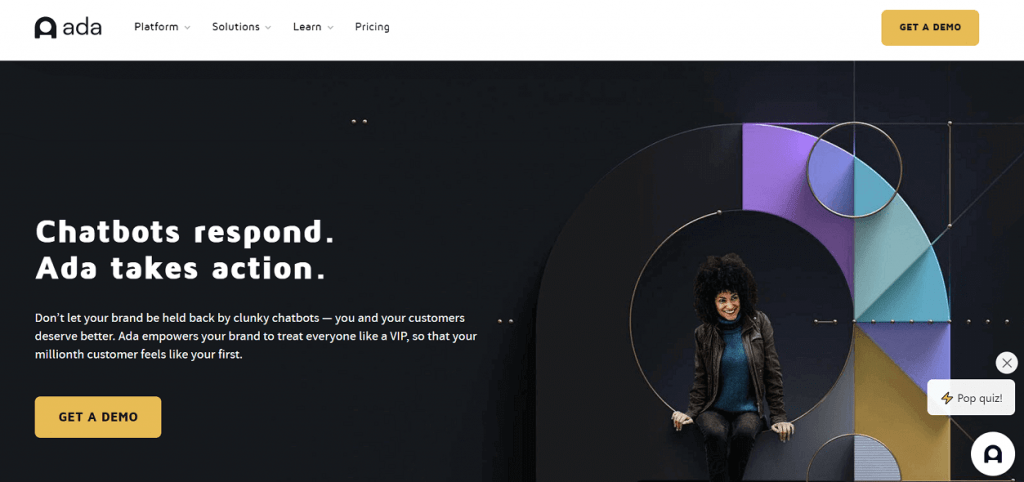 Ada is another best chatbot platform that ensures every customer gets VIP treatment and leaves your website with a big grin. Coding is not a necessity for using this tool, so you can get started right away. Ada helps you provide customer support across channels and in over 100 languages, which means you can serve your global audience effortlessly. The tool syncs well with your live chat, making it easy to transfer conversations to live agents at the right moment.
Key Features:
Integrate with live chat to prioritize high-value interactions
Deliver personalized experiences at scale over your website, SMS, and social channels
Give personalized recommendations based on customers' actions and history
Connect with CRM and ensure customers get right what they need
Pros & Cons:
Pros:
Continuous updates and feature roll-outs to boost customer experience
Cons:
Lacks customization for reports
Pricing: Contact the company for a quote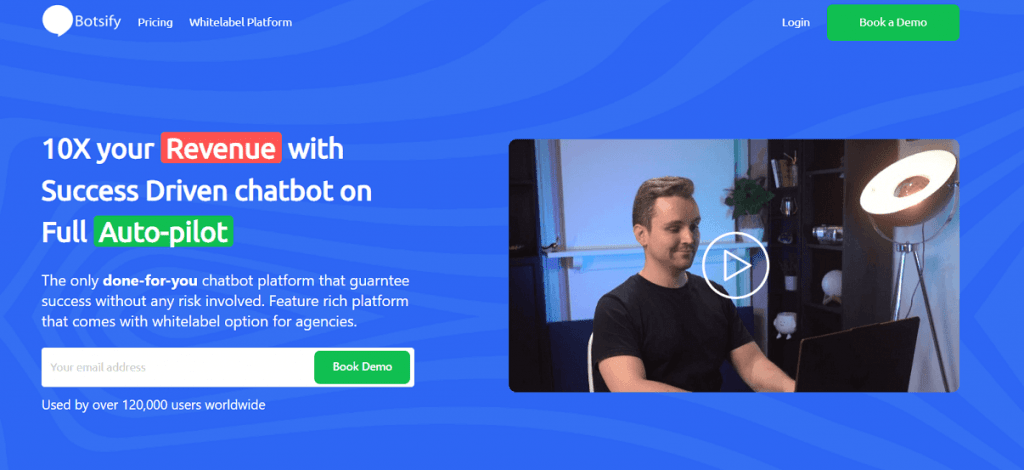 Botsify is a feature-packed chatbot program that can power up your marketing, fuel your customer support, and automate your sales process. Using this tool, you can provide automated, multilingual support to your global customers across any channel they prefer – website, Whatsapp, SMS, or Facebook. With over 100 integrations, Botsify ensures your customers receive an exemplary experience.
Key Features:
Translate into 100 native languages in no time
Qualify leads and engage visitors using conversational forms
Communicate with customers across the channels they prefer
Expedite customer support by moving chats to a live agent
Pros & Cons:
Pros:
Smart chatbot templates & power-packed integrations
Cons:
Some parts of the dashboard might feel clumsy to use
Pricing: Starts from $49/month
Which Chatbot Software Should You Choose?
Getting your hands on the right tool is a daunting task, requiring considerable time and effort.
The list of chatbots mentioned above is carefully curated after browsing through hundreds of websites and review platforms. However, if you are still over the fence about which tool to pick, we have some recommendations.
Our first recommendation would be ProProfs Chatbot.
It is a great bet for businesses looking for a simple, code-free, and fuss-free tool that is equipped with all the necessary features required to roll out your chatbot. Affordable pricing is another factor that makes it an attractive option for many.
However, if pricing is not a concern, you can go for Aivo or Drift. Both are decent tools but come at a higher price.
For more information on live chat or chatbots, you can subscribe to our YouTube channel. You can also stay connected with us on Twitter and LinkedIn for the latest updates.
Do you want a free Live Chat software?
We have the #1 Online Live Chat Software for instant customer support 24x7