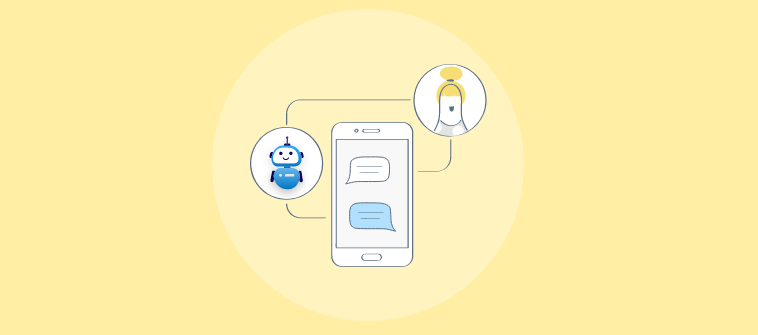 Are you looking for a way to improve customer service in your business? Does your business miss important customer messages when your support team isn't available? Do customers often complain about slow response times?
Well, if that's the case- a chatbot is the solution!
Chatbots have helped businesses automate customer service operations, reduce wait times, improve customer satisfaction, and free up resources to focus on other areas of their business.
But what exactly are chatbots, and what features do they offer?
In this article, we'll give you a detailed overview of chatbots and their key features. We will also provide you with a list of the 7 best customer service chatbots that can help you grow your business.
What Is a Customer Service Chatbot?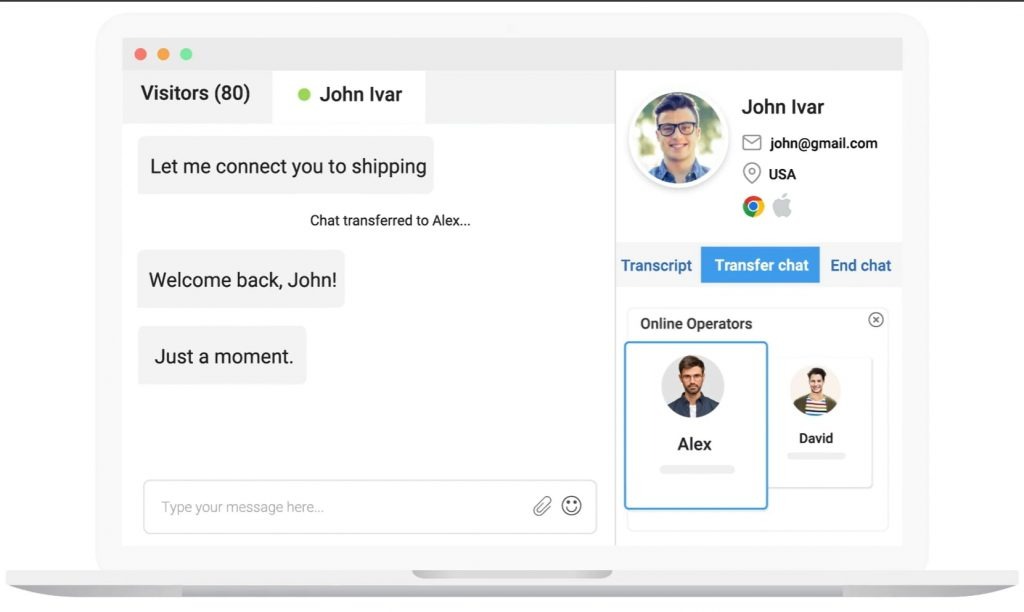 A chatbot is an AI-powered software program designed to automate customer support operations. It is programmed to respond to customer inquiries, provide support, and help customers troubleshoot problems. Chatbots are typically used in conjunction with a knowledge base, a database of information that the chatbot can use to answer customer queries.
By leveraging AI and machine learning, chatbots can provide customers with tailored responses in a fraction of the time it would take a human customer service representative based on their previous interactions. This allows businesses to provide customers with a more personalized experience, which can help them build customer loyalty and increase customer satisfaction.
Customer service chatbots are becoming increasingly popular as businesses strive to provide faster and more efficient customer support. Chatbots can handle a high volume of customer service requests and often provide quicker resolutions than human customer service agents.
If you're considering using a customer service chatbot for your business, you should keep a few things in mind, which are given below.
First, you'll want to ensure the chatbot is equipped with the right features for your business. Does it offer customer support? Can it handle a high volume of chats? Is it easy to use?
You'll also want to consider the chatbot's price. Some chatbots can be expensive, so you'll want to ensure you're getting good value for your money. Look into reviews of the chatbot before making your purchase.
Finally, you'll want to ensure the chatbot is compatible with your existing customer service platform.
Once the basics fit your bill, the next thing you would want to see are the features that a chatbot majorly comprises.
Read More: A Quick Guide on What is a Chatbot & How it Works
What are the important features of a customer service chatbot?
Chatbots foster customer loyalty by providing an efficient and reliable way of engaging customers. They allow businesses to replace inbound customer calls with a conversational support experience, thus increasing the efficiency of their support teams. But due to rising consumer expectations and service-on-tip demands, basic customer support is no longer sufficient.
Hence, it has become mandatory for businesses to offer advanced customer support that caters to the customers' needs. Chatbot support lets you offer this with a wide range of features that you can provide to your website visitors, some of which are listed below:
Chatbot Conversation Builder
Chatbot Conversation Builder lets you build a powerful chatbot for your website with zero-code knowledge. The drag-and-drop chatbot builder helps you build a bot and enables easy customization to match your chatbot with the brand style.
Widget Customization
Widget Customization lets you change the entire interface by allowing you to change the bot's style, tone, and visual appearance. Chat operators can customize the chatbot according to the branding.
Routing Chat to Other Support Agents
Chats can be automatically routed to agents handling the fewest chats at any given time, or they may be placed in a queue where agents may choose to pick them up. This ensures that the conversation effort is divided fairly among the operators so they can work as effectively as possible.
Chatbot Analytics
Chatbot analytics lets you keep an eye on the performance of your chat support personnel in real time. The Chatbot dashboard helps you track average chat ratings, chats accepted, missed total chat duration, and the average ticket response time.
Sentiment Analysis
This feature acts as a tool to analyze the feedback from the customers. It gives you an insight into whether the visitors actively and happily engage with the chatbot. Businesses can use this feature to measure their visitors' emotions and develop strategies to manage them better to grow sales.
Instant responses
One of the best things about chatbots is that they can respond instantly to customer queries. This is a huge benefit when you have customers who want quick responses.
Ability to handle multiple chats
Chatbots can handle multiple chats at the same time. This helps businesses to scale their support without hiring more operators.
These are just a few key features that a customer service chatbot can offer. If you're considering using a chatbot for your business, be sure to look for one that offers these essential features.
What Are the Benefits of Using a Customer Service Chatbot?
The benefits of customer service chatbots are many and varied. Chatbots can positively impact your business by reducing costs and increasing customer satisfaction. Better customer service experience is directly related to better returns for businesses. Customer service chatbots support customer-facing teams in concentrating on high-value tasks, enhancing the brand experience, and navigating the digital business environment with ease. This enables them to adjust to the constantly shifting needs of customers and the state of the market.
Let's take a look at some of the benefits of using chatbots::
24/7 Customer Support
Customers can get help from a chatbot at any time of day or night. This is especially helpful for businesses that operate globally, as customers in different time zones can still get assistance.
Improved Customer Experience
Chatbots are adept at handling repetitive and simple inquiries quickly. This allows your support agents to focus on more complex issues, resulting in improved customer satisfaction.
Allows Multilingual Support
Many chatbots are built with language detection capabilities, allowing them to understand and respond in multiple languages. This can greatly improve the customer experience, especially for businesses with a diverse customer base spread across different regions and countries.
Ensures Omni-Channel Presence
Many chatbots offer omni-channel support through multiple channels, such as messaging apps, websites, mobile apps, and voice assistants. This allows customers to choose the channel that works best for them and provides a seamless experience across all touchpoints.
Offers Proactive Chat Invitations
Chatbots enable your operators to observe the visitor's actions in real time, letting you offer personalized support. Chats can be initiated either automatically or manually, allowing operators to assist visitors quickly. This minimizes the risk of situations like shopping cart abandonment.
Overall, chatbots are a great way to improve customer service while reducing costs. If you're not using a chatbot for your customer service needs, you should consider doing so. And while doing so, the most crucial task lies in comparing different chatbots in order to choose one for your business. The following section will offer some important insights on comparing chatbots for customer service.
Read more: Top 15 Benefits of Chatbots for Your Business & Customers in 2023
How to Compare Chatbots for Customer Service?
To compare AI chatbots for customer service, look for ones that can handle customer problems with machine learning, provide quick responses, and have live chat options. The ideal chatbot should also have comprehensive resources and the ability to answer basic customer questions. This can help deliver a better customer experience, reduce the support team workload, and minimize call volume to the business.
Let's take a look at the main features that businesses can use as a go-to-option while comparing different customer service chatbots:
User Interface: For chatbots, both the agent-facing and the customer-facing user interfaces (UI) must be simple to use and up to date. Consider the features like user-friendliness, ease of setup, and overall usability. This also includes multi-lingual support, which can help offer accessible chatbot support.
Integrations: The wider the base for integrating the chatbot with modern social media platforms, the better the returns generated by the chatbot. A chatbot capable of integrating with other customer service tools, such as a CRM tool, can significantly improve the efficiency of your customer support tools.
Value For Money: How effective and practical the chatbot is can be determined by how the pricing is coordinated with the features, capabilities, and use cases offered. Consider set-up fees, training costs, and ongoing support while comparing chatbots. Look for how it can help you cut costs on additional customer support agents.
Functionality: The effectiveness of an AI Chatbot can be analyzed by looking at its functional features. They might include everything from quicker responses to the quality of the answers provided. Additionally, look for its ability to handle complex queries as well as the ability to route them to a support agent when needed.
To compare different AI chatbots for customer service, it is also essential to understand the features offered by some of the best chatbot providers. Thus, we have compiled a list of the 7 best customer service chatbots that can help you grow your business.
Which Are the 7 Best Customer Service Chatbots?
Customer support chatbots have completely dominated the market. The number of chatbot systems on the market has made it even more challenging to select the one that best suits your company's demands. Given below is a detailed list of the best customer service chatbots you can utilize for your business.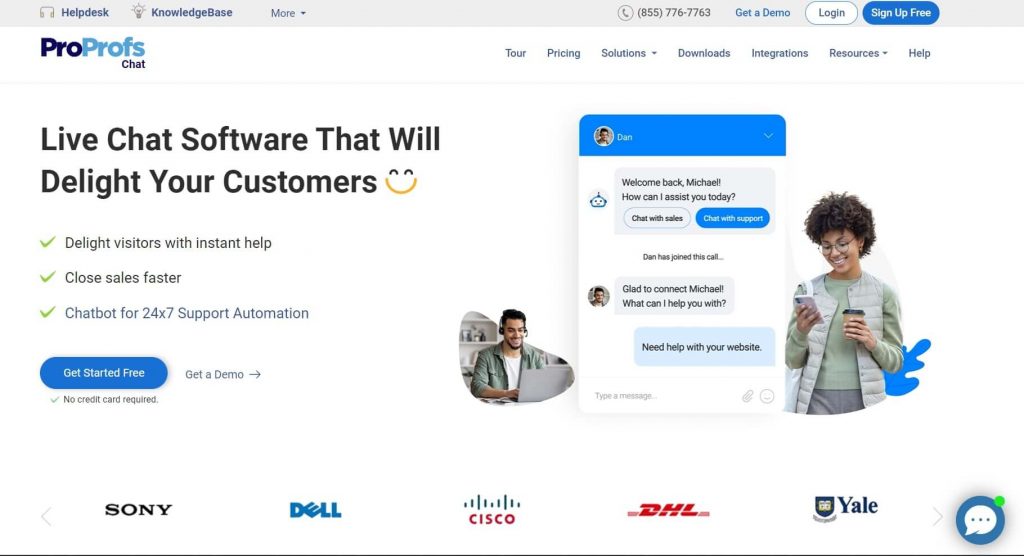 Proprofs Chatbot provides an automated, customizable & easy-to-use customer support chatbot. You can build your chatbots in minutes and answer all your customer questions with ease.
This interactive chatbot platform lets businesses build easy conversational flows using the drag-and-drop editor.
Businesses can automate ticket creation for issues that demand human intervention. ProProfs chatbot comes with a range of intelligent attributes that include reports & analytics, visitor tracking, and post-chat surveys, among many others.
Key Features of ProProfs Chat:
Personalized conversations using chat transcripts
Generate sales & leads with the help of CRM integration
Offers Intelligent routing for even workload management
Enables Advanced customization for more relevant chat support
Provides Round-the-clock availability for better customer support
Allows you to analyze overall customer satisfaction through Post-chat surveys
What we liked:
Integrating live chat with CRM software lets businesses analyze customer behavior to nurture and grow lead.
Intelligent routing feature offered by ProProfs increases the efficiency of the chatbot by allowing live agents to assist whenever needed.
Pricing: Starts from $19.9 per user per month.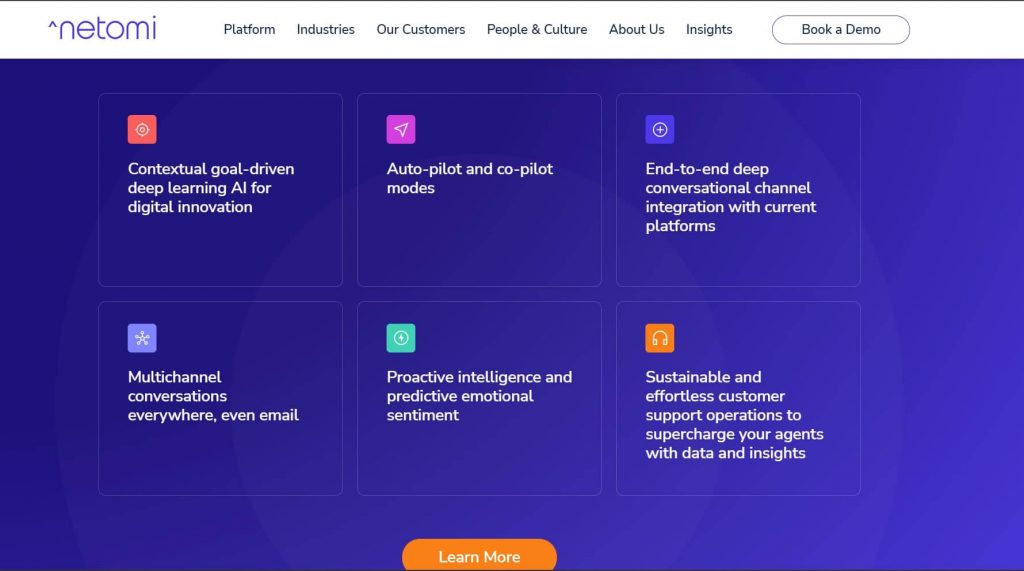 Netomi is known as one of the best conversational AI chatbot systems. It leverages intent and entity detection alongside knowledge search to deliver an integrated customer experience.
Netomi's chatbots help businesses resolve 80% of routine inquiries alongside decreasing support costs. Companies can leverage the power of Netomi's AI-powered chatbots to upscale their sales by providing a user-friendly customer experience.
Key Features of Netomi Chatbot:
Offers Auto-pilot and Co-pilot modes that come in handy both in cases of the automatic agent and the agent sidekick.
Generates Customer Satisfaction Scores(CSAT) using customer intents, historical contexts, and current sentiments.
Helps reduce response time for customer-generated questions.
Allows agents to focus on more complex queries rather than being occupied with mundane, repetitive tasks
Provides near-accurate conversations using one of the leading natural language engines
What we liked:
Netomi helps businesses achieve an automation rate of 90% when it comes to chatbot customer support. This helps customer support agents focus on more urgent tasks.
Integrating the Netomi chatbot can significantly reduce the latent time by enabling a 50-second response portal.
Pricing: Get in touch with the company for a detailed pricing prospectus.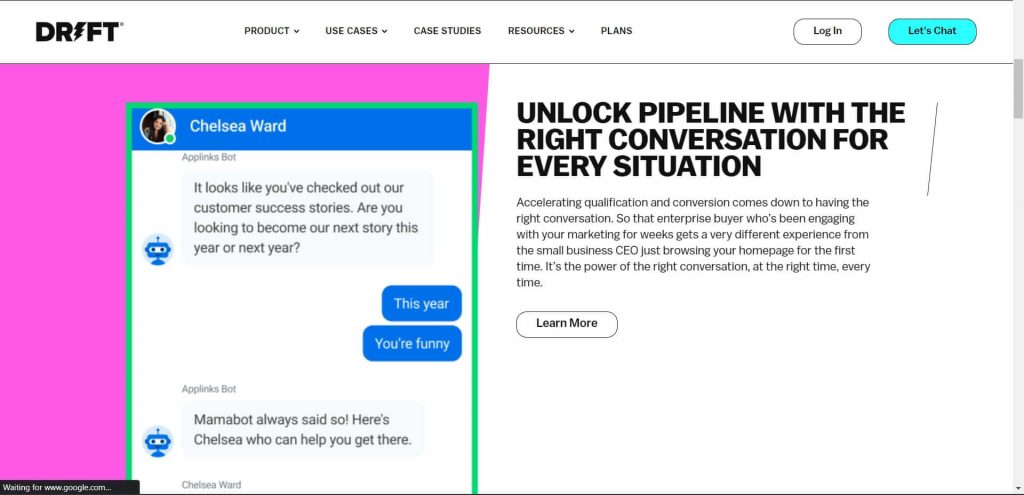 Drift chatbot helps businesses grow and nurture qualified leads with utmost ease. It is one of the leading chatbot systems that let you create VIP experiences for named accounts.
Drift lets you engage customers more efficiently by enabling an intelligent communication channel. It helps businesses resolve customer service inquiries and ease the workload of support agents.
Key Features of Drift Chatbot:
Allows smart answer delivery by enabling intelligent routing to the customer support agents
Helps enhance the overall customer service experience by providing easy customization options
Allows CSAT score evaluation for an enriched customer support experience
Helps capture quality leads using AI-powered chatbots
Offers round-the-clock availability for any customer inquiries
What we liked:
The conversational interface provided by Drift lets you deliver rich experiences to customers by simulating human-like conversations.
Drift helps nurture qualified leads and boost sales through intelligent routing.
Pricing: Starts at $2500/month for small businesses and enterprises.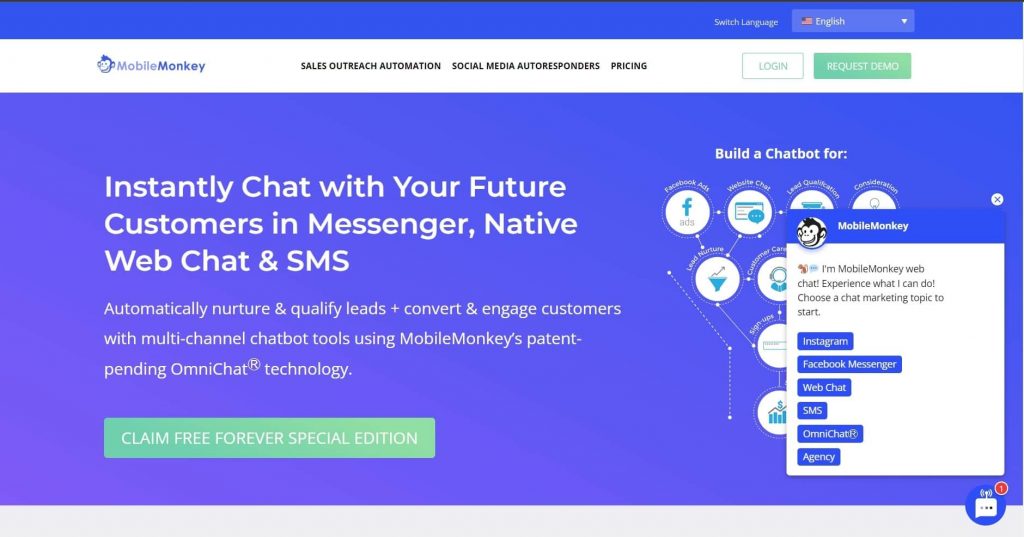 MobileMonkey OmniChat Bot is an all-in-one chatbot that supports SMS and social media platforms like Facebook and Web Chat. It lets you capture, qualify and nurture leads round-the-clock. Easy customization of chatbot lets businesses interact through various visually impressive features that help engage visitors and generate leads.
Key Features of MobileMonkey OmniChat Bot:
Offers omni-channel support for diverse social media platforms
Reduces response time for a consistent flow of communication with the customer
Enables mobile-friendly, cross-device optimization for a better user experience
Provided proactive support channel for growing sales leads
Lets you route chats to concerned agents whenever needed
What we liked:
MobileMonkey OmniChat's capability to integrate with most social media platforms makes it a business-friendly chatbot.
Follow-up messages to nurture leads are an efficient way of growing sales.
Pricing: Get in touch with the company for pricing details.

Botsify is one of the leading chatbot software systems that lets you automate your sales process alongside powering up your marketing. Using Botsify's AI-powered chatbot, businesses can fully automate their customer's journey and provide a better customer experience.
The proactive chat support provided by Botsify lets businesses raise conversion rates through effective engagement.
Key Features of Botsify Chatbot:
Offers multilingual customer support
Enables 100+ integration for the chatbot
Allows chat routing across departments to engage customers effectively
Helps multiply revenue with success-driven chatbots on fully auto-pilot mode
Helps smoothen customer journey with proactive contact with visitors
Offers 24/7 accessibility through chatbot-driven conversations
What we liked:
Botsify talks to website visitors in a friendly way, making filling out forms much more enjoyable. This leads to more business.
Pricing: Basic plan starts at $49/month for startups and goes up to $149/month for scalable businesses.

Intercom is one of the leading providers of conversational chatbots that helps businesses offer an overall enriching experience to their customers during chat support. The self-support system provided by Intercom accelerates the resolution time for the customers.
Intercom Resolution bots are intelligent enough to recognize similar conversations and respond effectively based on past interactions. This helps resolve queries much faster.
Key Features of Intercom Chatbot:
Lets you offer round-the-clock global support in over 38 languages
Enables advanced customization based on customer priority, engagement, and business type.
Provides Automated Resolution bot for intelligent answering based on chat history
Smartly uses reports and analytics to collect relevant data and boost sales
Offers self-servicing feature to reduce wait time for the customers
What we liked:
The omnichannel support capabilities can help you assist a global audience. .
Smart analytics allow businesses identify critical reasons customers lose interest during a chat. Conversely, companies can also figure out the driving points of a conversation.
Pricing: Get in touch with the company for plans.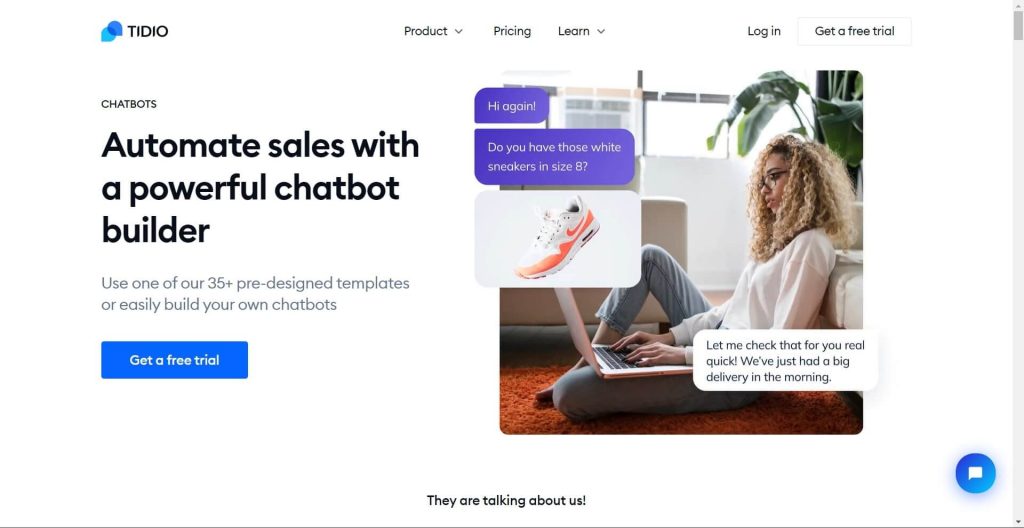 When you are looking for a chatbot system to enhance your business's customer experience, you can't miss out on Tidio. With over 35 pre-designed templates, Tidio offers an interactive channel for communication with customers.
Tidio's live chat integration with the chatbot helps generate a sensible interaction channel between the business and the customers. A lower wait time for the responses keeps the customer engaged, thereby growing potential leads.
Key Features of Tidio Chatbot:
Offers automated responses that enhance customer engagement along with reducing the burden on chat support personnel
Provides canned responses to help answer frequently asked queries as well as send automated greetings for the visitors
Lets you evaluate the usefulness of provided answers to generate better responses for future queries
Offers powerful AI chatbots that understand the context and intent of the customer
Enables 24/7 availability, even when the customer support agents are not available
What we liked:
Seamless integration across multiple channels is one of the best features of Tidio. The wide range of design templates offers a better visual experience for the customers, along with the option for custom designs
Pricing: Starts with $32.5/user/month.
Get Your Hands on the Best Customer Service Chatbot to Transform Your Business Today
It needs no more explanation about how vital a chatbot can be to an aspiring business. But choosing the best customer service chatbot is not easy..
From easy customization to user-friendly interaction, chatbots can upturn how businesses interact with their customers. The above-explained chatbots combine to form a list of some of the best customer service chatbots available for businesses today.
ProProfs Chatbot stands out with some exceptionally advanced features for customizing the visual interface of your customer support pipeline. Additionally, it provides personalized conversation using stored transcripts. If you are a business interested in providing a wide range of pre-designed templates, Tidio is also a good option.
Do you want a free Live Chat software?
We have the #1 Online Live Chat Software for instant customer support 24x7