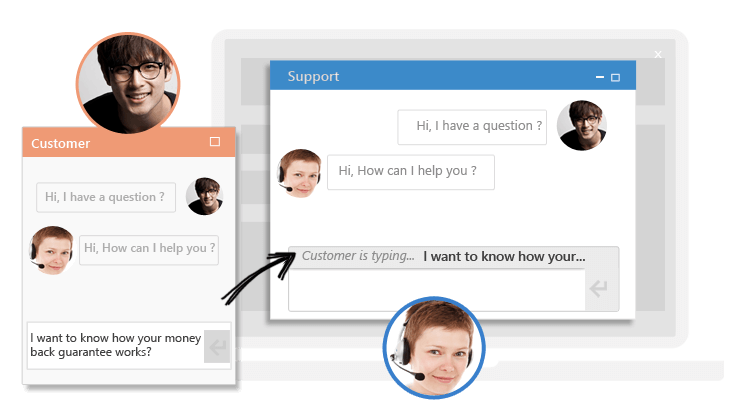 One of my favorite genre of movies is Sci-Fi, simply because it expands the horizon of one's imagination with the impeccable visuals and futuristic "stuff". And the most astonishing thing is that a lot of it is coming to life!
As a Sci-Fi nerd, I can proudly say that artificial intelligence is a reality now. Even though we, as a race, had discovered it more than two decades ago but now, it is in full fledged application at several industries. "Siri" (creation of Apple) is one of such artificial intelligence which most of the people know, but today, let me take you to the depths of this technology and how it is being applied in almost every sector of business and of course, the live chat industry.
By definition, AI (artificial intelligence) is referred as the theory and development of computer systems to perform tasks which require human intelligence, such as visual perception, speech recognition, decision-making and so on. But as this is a live chat blog, we'll only be covering the application of chatbots or chatterbots.
The rise of Chatbots
"Chatterbot" was coined by Michael Mauldin, who created the first prototype of Verbot (Verbal-Robot) named Julia in 1994. Since then, the evolution of bots have been radical. Chatbots now are being developed for specific tasks and the numbers are increasing every year.
The interest of people in chatbots, is a significant reason for its evolution and development. Thanks to Google, we can see the trend of chatbots on the search engine since the year 2004. The image below shows the consistent interest in chatbots through all these years:
Now, let's take a look at the present situation and how are chatbots being used in various fields. Some of them are live, while some may take few more months for you to have a conversation with them. However, I have added some GIFs for the ones I could find:
Use of live chat bots in industries
DoNotPay (Law)
DoNotPay is a chatbot which was created by Joshua Browder. This 19 year old student from Stanford University has done something, which you can only imagine in Sci-Fi movies. The live chat bot has turned over 160,000 parking tickets in London and New York.
The bot is based on a unique algorithm, because of which it can determine whether the parking ticket given to a person was unfairly issued or not! It asks a series of question to the person and on the basis of that it can determine the fairness of the parking ticket. The success rate of this futuristic bot is over an unbelievable 65%.
Sephora chatbot (Cosmetics)
Sephora is a French cosmetics company and it is really famous in their work field, I am sure ladies who are into cosmetics would know! Anyway, they are not all about cosmetics, Sephora has developed its own chatbot on the messaging app Kik.
What does it do? It tells you what suits you by learning your measurements, skin tone and type! Imagine a robot who knows what will suit you, how cool is that?
Tacobot (Food)
Tacobell is one of the companies who have joined chatbot venture. Even though their Tacobot is still under tests, it is expected soon to be taking orders for your favorite tacos. The company is working rigorously with Slack to come up with a bot which can take orders like an actual human being, it will also have some upselling skills!
Matilda (Consultancy)
Matilda is another chatbot developed by the consultancy firm Matter. Matilda's primary objective is to give advice on pensions. You can chat with the bot like you would chat with an advisor and it is designed to have conversations.
Luvo (Bank)
RBS has built the chatbot Luvo, which can tackle common issues like lost debit cards, locked PINs or how to order a new card. The two month trial was successful, (as per the press release on RBS website) so Luvo will soon be in action.
Leslie (Education)
Leslie is an english teacher bot which can define words, translate sentences into 30 languages, and talk about synonyms etc.
Pegg (Accounting)
Sage has developed a chatbot which lets users track their expenses and manage their finances. It is like chatting to an accountant about your finances!

It seems that almost every field is slowly adopting chatbots.
As per the examples mentioned above, you can clearly see that all the chatbots are coming from different industries with different purposes and algorithms. However, their primary goal is to make things easy for users as well the companies that are adopting or developing it.
So, the big question is, how can a chatbot help you?
Here are few things that a chatbot can do for your business:
1. Never miss leads!
You cannot work 24 hours a day nor can your live chat executives. So, what happens when you have a global business and your chat is offline? Chatbots! Chatbots can initiate conversations and try to answer general queries about your product or service. They can also capture leads for you, imagine coming in the morning for work and finding new leads everyday!
2. Chatbots can sell!
Tacobot (mentioned in the examples above) has great upselling skills for adding extra orders and as the technology is so new and advanced, a lot of the users may just order extra only because they are being asked by a robot! It is ironically cute! Just saying.
---
Read More: 15 Best Live Chatbot Software for your Business
---
3. Answer customer queries
Chatbots have more patience than your live chat reps, which is essentially required whiling answering questions of customers. It can save your live chat agents bandwidth as the rhetorical question can be answered by bots while the technical issues can be resolved by live chat reps.
4. Engage more people on social media
As Facebook is also joining the venture of chatbots and developing great possibilities of permanently adopting chatbot culture. Your chatbots can be a great thing to engage more people on social media.
5. Save money by keeping less staff
As the technology of chatbot progresses, it is getting clear that chatbots will eventually take over the boring repetitive tasks such as billing, answering questions and more. Instead of hiring call reps who escorts your customers to billing process, a chatbot can easily help to do that and you can save a lot of money for your business!
Concluding, it can easily be understood that chatbots are here to stay and with the above examples, you can comprehend the fact that they are going to grow in numbers! So, sitback and enjoy watching your world turn into a Sci-Fi movie!
Do you want a free Live Chat software?
We have the #1 Online Live Chat Software for instant customer support 24x7