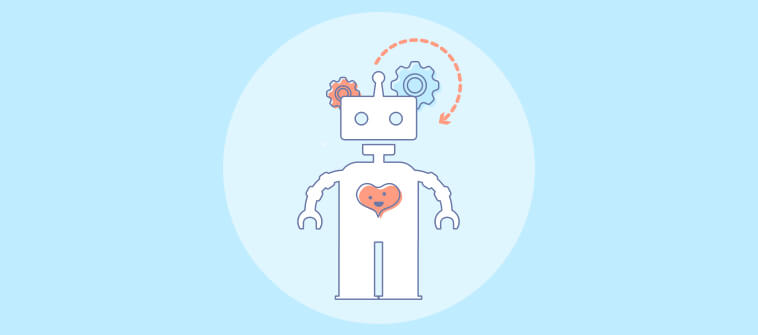 "If you've seen one, you've seen them all."
That might be one of the thoughts that pop into your mind when you think about implementing a chatbot for your business. You're worried that your chatbot may not sound any different compared to others online.
But studying the exemplary chatbot examples can help you overcome that fear. One of the best ways to start improving your chatbot implementation is to look at some of the best examples in the market.
If you've been on the search for the same, you won't be disappointed here.
In this blog, we plan to explore 15 brands that have set a good chatbot example for other businesses in the market. Here's a quick look at all the brands we plan to explore in our article.
15 Brands Killing it as Chatbot Examples
1. Dominos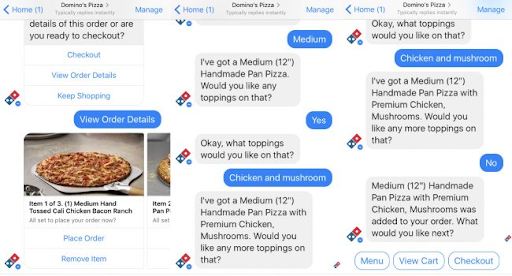 Are you craving a pizza? No need to call Dominos. Their chatbot is here to take your order.
Domino's Pizza has finally brought in a chatbot to simplify placing an order with them. This process may seem a little cumbersome compared to simply selecting your choice of pizza, but it does create an in-store experience. You would feel like you are giving your order in one of their stores.
You can find their chatbot in Facebook Messenger. That means, the moment you see a social media post about people having food, simply send a message to their Facebook Messenger bot to order a pizza.
What do you take away from Dominos?
Think about creating an in-store experience for your customers to ensure they don't leave the chat in the middle. As you can see, their chatbot asks questions around the order the same way an employee would at their counter. This way, you can add a human touch to your customer's experience.
Besides building a conversational experience, think about all options you'd like to show to your customers while they place their orders. If you're an eCommerce business, don't forget to add multiple options like add to cart, view cart, or checkout. They can help you cut down on a few stages of your sales funnel.
2. Sephora
Do you want an assistant who can tell you what type of lip shade would suit you better? In that case, Sephora's Reservation Assistant is your go-to option.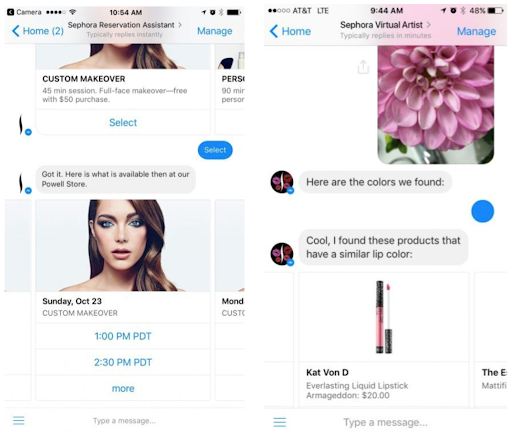 Sephora is also one of the best chatbot examples you can consider. This cosmetic giant takes its chatbot service to the next level for use for several use cases.
With Sephora's chatbot, their customers can:
Track orders
Get suggestions for cosmetics as per their skin tone and likes
Order suggested products they like from the chatbot widget
Schedule appointments for custom makeovers
This list doesn't end here. There are more things that customers can achieve from the use of Sephora's chatbot. But in a nutshell, Sephora aims to create a holistic experience through their chatbot, which results in more engaged customers.
What do you take away from Sephora?
Merely adding a human touch isn't enough to keep customers engaged and Sephora understood this long back. Your chatbot needs to be an assistant throughout the customer's purchasing journey.
Sephora also helps you learn to focus on customer needs during the conversation. Don't add multiple-choice options for customers based on what you'd like them to see. Show options that customers want to move forward with during the conversation.
3. Duolingo
Want to learn a new language and practice it with someone at the same time? In this case, Duolingo should be your go-to place.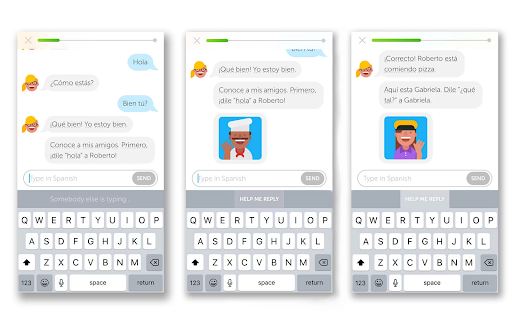 Duolingo is one of the renowned applications that helps its users learn new languages. However, they do have a chatbot in place that answers questions related to a certain language. What's more, Duolingo's chatbot helps its users practice the language they are learning by speaking with them in the same language.
Users can even ask how a specific question can be answered from the chatbot and understand common phrases of the language faster. Their interactive chat widget keeps users busy and engaged with the brand for a long time.
What do you take away from Duolingo?
One of the best highlights of Duolingo's chatbot is its conversation sequence. Building a conversation sequence to understand and answer customer pain points is what your primary aim should be. By doing this, you encourage your users to return more frequently for a conversation.
Duolingo is also known for its interactive interface. Their chatbot builds a different conversation experience for each user. It tries to avoid having the same conversation style every time. This shows how they make an effort to prevent repeated conversations for customers.
---
Read More: Essential Chatbot Features to Consider in 2022
---
4. CNN
News channels like CNN had already become a part of the digital realm years back. However, they've also incorporated a chatbot to build better experiences for their loyal readers.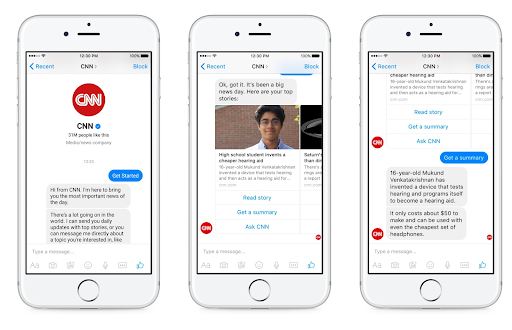 From helping you choose the suitable news feed for yourself every day to offering a summary for a news update on the go, CNN's chatbot does it all. It even allows you to connect with the CNN network to get detailed knowledge of a news piece. If that's not sufficient, their ability to show all the related news pieces based on your search will leave you more satisfied. In a nutshell, CNN has built a chatbot that allows its readers to access all the latest updates in no time.
What do you take away from CNN?
CNN's chatbot focuses on delivering a personalized experience for all its customers. That means they can get access to news headlines and related articles that they have an interest in. This effort to build a personalized experience is what you need to follow through when creating your chatbot.
Offering the correct information to readers is also one of the crucial functionalities of CNN's chatbot. They don't confuse their users and help them find all the details around a news in seconds.
5. KIA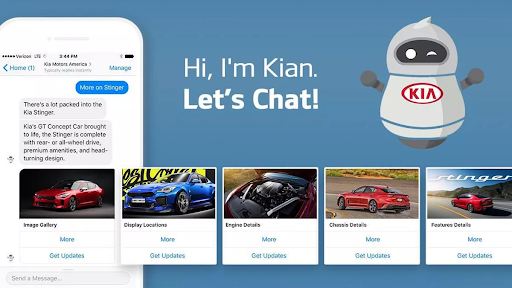 Want to know all about KIA cars? Get in touch with Kian!
Kian is KIA's chatbot that helps their prospects and customers learn more about their vehicles faster. That means prospects don't have to visit their showrooms in person to learn more about the making of their cars. They can get in touch with their chatbot, Kian, and learn about each of the vehicles they're interested within minutes.
What do you take away from KIA?
When you engage with Kian, you'll notice its customers' different questions during a conversation. This shows that it wants to confirm whether the prospect is interested in buying their vehicle or not. In addition to that, it helps the business categorize such people as qualified leads for the business.
Besides being a lead capture bot for the business, Kian is also trying its best to replicate and replace human interactions regarding frequently asked questions. This is another aspect of chatbot building that you should focus on when creating one for your business. This way, you can avoid operator burnouts and improve customers' experience further.
6. Bank of America (BOA)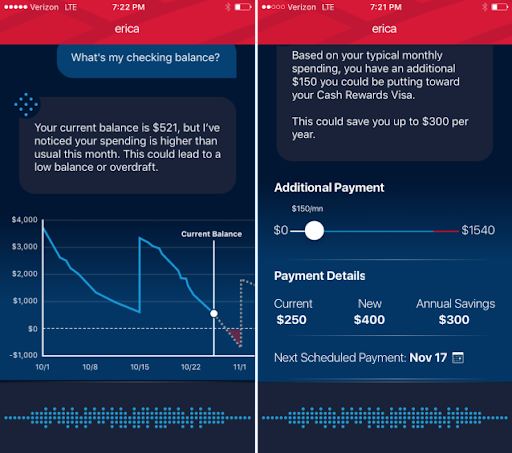 Erica by Bank of America is another chatbot example we'd like you to explore. This chatbot is capable of answering questions around:
Bank balance
How to pay bills
Transactions made in a particular period
Advice on investment
In short, Erica helps Bank of America customers to get answers around every aspect of banking in seconds. It even offers information on loans and how they can be paid at a particular time. Its response time is fast and encourages its customers to return more frequently.
What do you take away from Bank of America?
Just like BOA's Erica, your chatbot can also become an advisor. You can tell customers about specific packages you offer and help them choose one that best suits their needs.
Erica also shares articles that can help BOA customers invest in better schemes. If possible, try adopting the same practice. Share articles around how your product works to increase the possibilities of making new sales via chatbot.
7. World Health Organization COVID-19
It's best not to spread misinformation in times of panic. That's what World Health Organization, a.k.a. W.H.O., did once the pandemic broke out in 2020.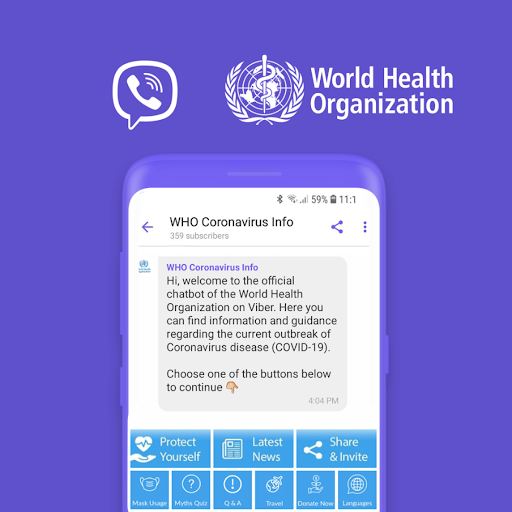 They introduced their chatbot on messaging platforms like Viber and WhatsApp to answer as many questions as possible around the coronavirus. As it developed further, its focus expanded too. People can now find the latest news on Covid-19 and identify different ways to protect themselves against the virus.
What do you take away from World Health Organization?
Become proactive like WHO's chatbot. As one of the best chatbot examples, W.H.O. helps you learn that you need to be prepared for every possible question your customers might come up with before or during the support process.
W.H.O's. chatbot also provides multilingual support. That means people can get help in their native language. If you have a business that operates in selected countries besides yours, it would be a good idea to offer support in their native language.
8. MongoDB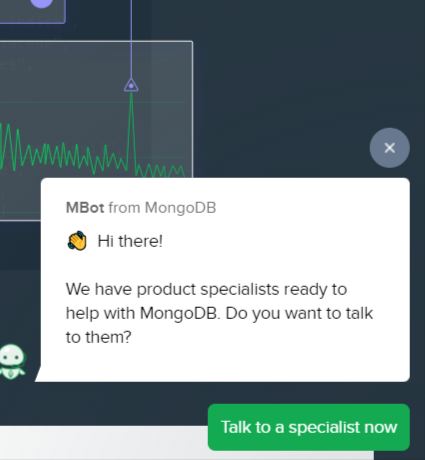 MBot by MongoDB is another chatbot example you can focus on while creating one for your self. This was initially designed and built to capture and qualify leads for their open-sourced business. Such efforts have helped them learn more about their prospects and enable their sales team to customize the onboarding process with the customers.
However, MongoDB's bot has improved ten folds from its initial design. Now qualifying leads isn't the only activity it performs. It has even helped them convert into customers by keeping them engaged in the conversation. It even allows them to switch from a bot to an operator.
What do you take away from MongoDB?
Don't restrict your chatbot to one functionality. You can instead create different chatbots for different pages of your website. This way, each chatbot will perform another activity and help you keep your customers engaged with the brand.
Be the first one to welcome your visitors on the website, whether they are new or returning. That's another take away you can learn from MongoDB's MBot. This chatbot will have different welcome messages based on the visitor's history with the brand. You can give it a try and surprise your visitors by letting them know you remember them.
9. TechCrunch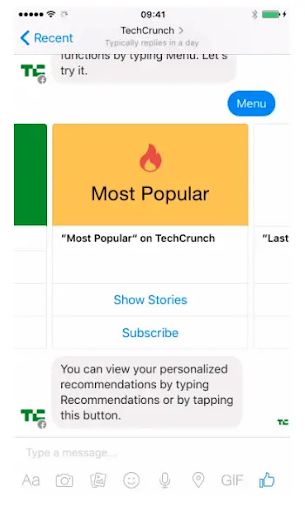 From recommending top stories to helping people sign up for stories they'd like to read every day, TechCrunch takes its chatbot game up a notch. It sends notifications for new content you'd like to see by keeping track of all the articles a reader reads or requests on their website. This data figures what pieces can be shown to a person during their next chat with the bot.
What do you take away from TechCrunch?
TechCrunch helps you understand how one can positively impact its customers and engage them more frequently. It creates a positive impact by helping their readers start a subscription of their news articles from the chatbot widget itself. Similarly, you can try signing up customers or prospects for newsletters or webinars for your business.
When they try to convince the readers about subscription sign up, they keep them informed about the frequency of the newsletters they'll send. This way, you can reassure your subscribers that you won't be taking too much space in their email and send them more relevant information according to their interests.
---
Read More: Chatbot Marketing: What it is & How to Implement it
---
10. Disney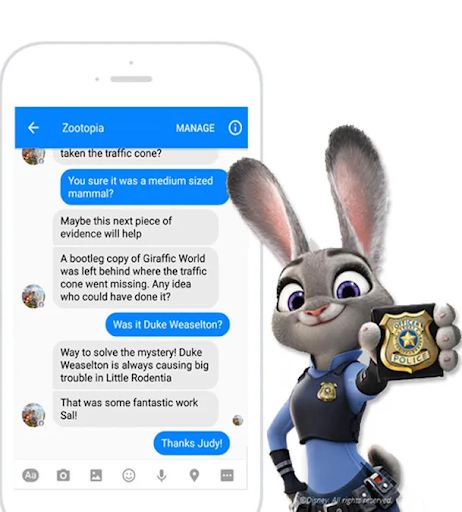 Help Judy Hopps solve her cases!
Well, at least that's one of the themes Disney came up with for its chatbot to keep visitors engaged on their website. Their 2016 hit Zootopia encouraged them to develop a chatbot that prompts people to engage and stay hooked to the brand. This strategy became a hit and helped Disney remain connected with people at all times. But that's not the only functionality their chatbots perform.
Disney's chatbots also help their viewers book tickets for their amusement park and keep them posted on all the upcoming activities. What's more, it speaks in different languages, therefore keeping people from across the globe entertained.
What do you take away from Disney?
Do have a solid storyline in place to keep visitors engaged with your brand for long. Disney used its famous characters from Zootopia to create a storyline for its chatbot that keeps people engrossed in their conversations for long. This is a great way to know your customers' likes and identify better ways to keep them hooked to your brand.
11. Slush
Those new to Slush should know this – it is one of the world's largest single venture capital gatherings that brings together 1,500+ investors. This event takes place once a year, where startups get to meet angel investors searching for the next big hit of the market.

Slush added a chatbot called Jenny, who single-handedly managed 68% of incoming questions for the event. It answered questions around:
Who all are attending the event?
What are the timings for the event?
When will a certain speaker be on stage?
And the list of frequently asked questions goes on. They've managed to tackle most of the frequently asked questions and help attendees stay on track with their schedule for the event.
What do you take away from Slush?
As Slush grew worldwide, they decided to increase their chatbot's capabilities of handling more queries simultaneously. In a nutshell, they scaled the usability of their chatbot based on the incoming questions they received every year before the event. That means you need to increase your chatbot's scale, and your business grows to attend more customers at the same time.
12. KLM Royal Dutch Airlines
KLM is one of the best chatbot examples one can come across in the market. They are pretty famous for their chatbot functionality as it dabbles in multiple questions related to flights and the booking processes.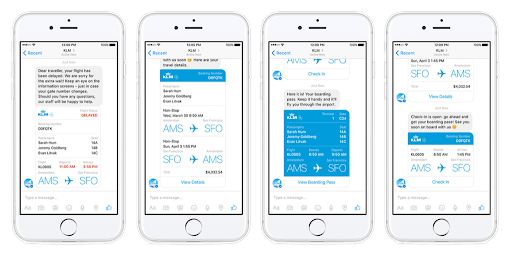 From informing you about the flight schedule to helping you book one right away, it does it all. KLM's chatbot is quite famous among their regular passengers for assisting them in identifying the best timings for a flight that matches their schedule and booking it for them. Through the chatbot's widget, customers can make payments for their next flight with KLM and get confirmation details immediately.
What do you take away from KLM Royal Dutch Airlines?
You need to develop a bot that answers queries for your customers and helps you make a sale right then and there. Customers do not like to switch from one window to another to complete the payment process. That's what KLM understood. Now, they offer the option to customers that they can book and see confirmation details for their flight within the chatbot widget.
This type of chatbot building helps your business and customers save time collectively. You can answer frequently asked questions, sure. But at the same time, you also get the option to convert them and help their customers save time during their sales cycle.
13. H&M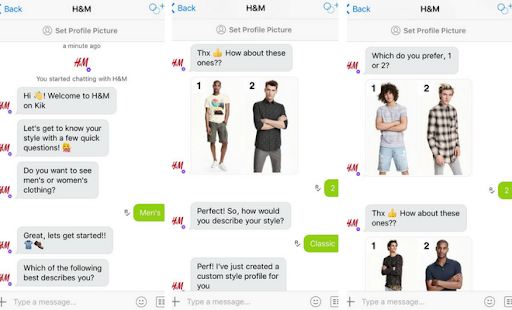 Clothing brands like H&M are also quite popular for their chatbot services among customers. The conversation style has a human touch that makes you feel that you are speaking to a human for support. Other than that, it offers style advice to its customers and helps them arrive at a decision faster.
Such a feature has helped them boost their online sales in the right direction. It offers product recommendations after having a good conversation with the buyer. If buyers don't like the suggestion, the chatbot provides more recommendations that simplify the decision-making process.
What do you take away from H&M?
Building a personal shopping experience is crucial for any business to skyrocket its sales online. That's what H&M focused on to create a delightful shopping experience for all its buyers. They engaged, got to know buyers, and personalized their shopping experience by recommending products from their clothes range to buyers.
14. Whole Foods
Whether it's your Thanksgiving or Christmas, get fresh meals with Whole Foods. This online delivery service not only delivers meals to your doorstep but also displays how their meals were prepared from scratch.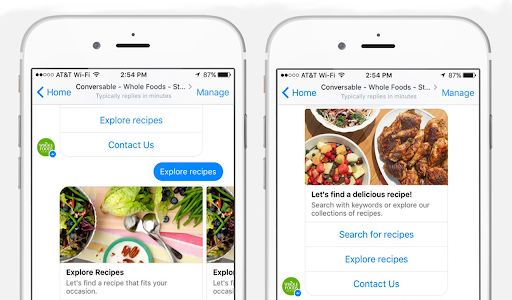 Besides these fantastic functionalities, Whole Foods also allows its users to track their online orders and how far they've reached. Their Facebook Messenger bot helps you find information faster and even recommends recipes that would be perfect for their buyers. Recommendations are offered based on their previous orders.
What do you take away from Whole Foods?
While their chatbot is integrated with Facebook messenger, it still encourages people to go check out their website by providing them recipes they can make at home. This strategy has helped them improve their traffic on the website and boost conversions eventually.
15. National Geographic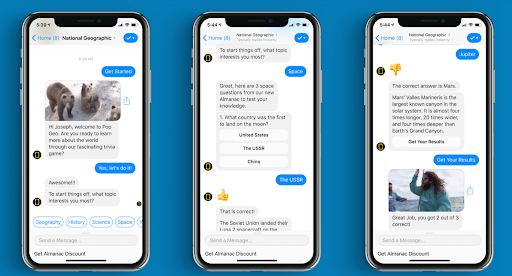 From offering scientific facts to starting a history trivia, National Geographic's chatbot does it all. It asks its viewers about the type of content they prefer reading while interacting with the chatbot. It asks small trivia questions in the middle of the conversation and offers more information around the same.
We can't say it simply answers frequently asked questions as it answers complex doubts from their viewers. They offer more information related to a topic to ensure their viewers are satisfied with the information provided.
What do we take away from National Geographic?
National Geographic is the perfect chatbot example after calculating all the possibilities where a customer may interrupt the conversation. And the moment the customer interrupts the conversation and asks another question that isn't relevant to the first topic, it jumps to the next question and offers detailed answers around it. This shows that you need to be prepared with a chatbot that can take up questions while they answer the first one.
Identify the Best Chatbot Functionalities & Build Yours Today!
Even with the best chatbot practices, it can be difficult to start building one for your business right away. You need to see the best chatbot examples that make a difference to get the right inspiration. And to help you find exemplary examples, we've listed a few.
These chatbot examples will help you understand how you can build one that:
Provides a personalized experience for its customers
Captures and qualifies leads for your business
Offers suitable recommendations that drive prospects into action
Has a human touch throughout the conversation
The checklist can go on. But before you dive right into these examples, it will be helpful for you to choose one of the best chatbots for your business first. You can refer to our list of 15 Best AI Chatbot Software in 2021.
We hope this helps you create the best chatbot for your business efficiently!
Do you want a free Live Chat software?
We have the #1 Online Live Chat Software for instant customer support 24x7