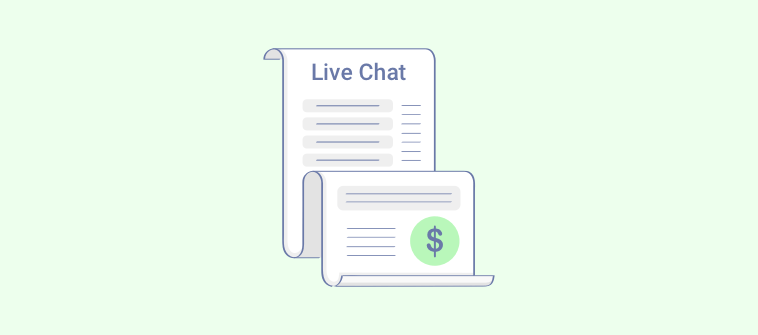 Being a customer service representative nowadays can be considered to be a blessing or a curse. Today, it is much easier to connect to customers at any time through various communication channels. But, these same customers expect the customer service to speak to them through various communication channels whenever they want to and throughout the entire process.
Nowadays, customers live in a real-time context and they expect to get real-time responses together with solutions to their problems. More and more companies increase their budgets for customer service and allow their customers to connect to them through standard means of support like phone and email, as well as live chat and social media. All off this has increased the expectations of the customers and if a business wants to succeed in this competitive market, online reputation development matters.
This is where live chat comes in, because it offers the highest satisfaction rate in customers, as high as 71% when compared with 61% for email and 44% for phone support. This shows that live chat is a preferred means of communication because it provides customers with instant attention when compared to phone calls and email. This is why top live chat tools are one of the most effective and convenient ways for interacting with customers.
The Evolution and Success of Live Chat Software
If a business wants to succeed and make their customers feel important for their business, then proper communication is key. Live chat software is nothing new in today's online world; this is something that is valuable to the customers, especially if a business aims for higher conversion rates. Live chat is something that is more personal and quicker than making a phone call or composing a long email, and if it is properly used, live chat can boost conversion rates by simply delivering customers fast access to live support.
As a matter of fact, live chat can boost conversions by 20% and customers who use it are three times more likely to make a purchase. Live chat also enriches the customer's satisfaction levels, because they get a satisfying and instant way to have their questions answered.
Live chat has come a long way from just being a simple text-based chat solution with a tiny tab at the bottom of the website screen. Within a short period of time live chat software has gained a huge popularity, and according to one survey, 62% of all online shoppers are more likely to finish a purchase if they have the option of a live chat.
Over the years live chat has evolved because of the competition and the expectations of the customers to receive their answers right away. For every online business, live chat is a necessity, mainly because customers who are doing their shopping online sometimes feel disconnected from the customer service or have doubts about the services or products. Live chat software offers many features that will provide any online business with the flexibility to connect with their customers in the best way possible.
The Future of Live Chat Software
Many businesses are already aware that they need to have good online presence if they want to reach today's customers. Live chat software is an essential tool for every business, especially the ones who want to have an influential online presence and improve their engagement with customers. Because more and more people are shopping online, live chat is now considered a necessary feature for talking to customers in real-time and assisting them with their shopping needs.
The most important reason behind live chat software, and the reason why it is considered the future of customer service, is that it has the ability to deliver support to the customers as soon as they land on a website. Customers do not prefer to navigate through the whole website so that they find the information they have been looking for, because that makes them impatient and irritated. In this situation, having live chat on your website is a must if you want to boost interaction and engagement with online customers.
When they are doing their shopping online, customers are more likely to purchase if their questions can be solved instantly. These questions are usually related to the information about the product, price and so forth, and live chat is the best way of solving these problems quickly. Live chat can even help the business expand its global reach by offering multi-lingual live chat options on the website. Not only will it deliver real-time assistance, but the multilingual part will give the customers the option to interact with the customer service representatives in their preferred language.
If a business wants to make their brand more approachable and warm, then live chat is something that is recommended for reaching prospects and customers. It helps in building customer loyalty and gives the business a personal touch, which can give customers encouragement and confidence for a long-lasting relationship. Many shoppers want to return to a website that has a live chat option, and the greater the return rate, the stronger the customer loyalty, which is what will affect the sales revenue.
With live chat, customers have the option of interacting with a real person who will recognize their issues and assist them with all their questions and needs. Live chat gives businesses a chance to understand what the demands and needs of the customers are, and customers have the option of providing valuable feedback to businesses, which will further help companies understand them and their needs.
See: How to Configure Your Live Chat Software
In the end we can say with certainty that live chat can be considered an indispensable tool for customer support and sales, because it can change the dynamic of how customers communicate with a business or a brand. Live chat is there to assist in shaping the online experience for the customers and try to replace the traditional and complex service process with an effective and easy solution.
Do you want a free Live Chat software?
We have the #1 Online Live Chat Software for instant customer support 24x7