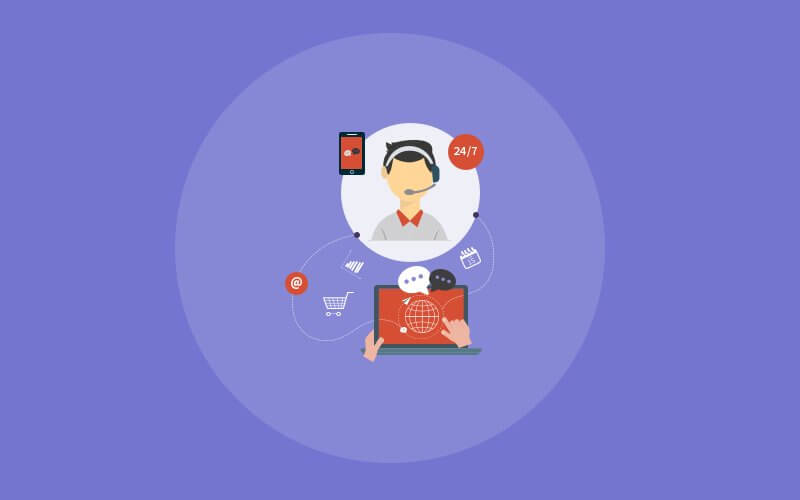 Customer acquisition and conversion strategies have been through remarkable rounds of innovations in the last few years.
Online businesses are constantly trying to leverage their sales and business by using social media platforms to their full potential. They are trying their best to get the right brand messaging across while connecting efficiently with every single customer.
But when it comes to acquiring new customers through their website, businesses opt for the same old website optimization and design strategies to achieve the goal. Not that we mean they aren't necessary, but you need something more to reach the ultimate goal. Your business needs an ultimate conversion tool like live chat to increase sales, engages your website visitors and helps them arrive at a decision faster.
While there are several support tools available out there, the one tool that can help you interact with your customers in real time is – live chat software for sales.
Live chat is one such conversion tool that can help you engage and acquire new customers for your online business. In this article, we are going to find out how you can increase sales using live chat for your business.
Does Live Chat Increase Sales?
Can your business increase sales using live chat? Well, numbers suggest that live chat helps your business boost conversions.
"Business owners can boost conversions with live chat by up to 45%"
Tweet this
While that sounds exciting for a business owner, you need to know why the use of live chat for sales can help you reap such benefits.
Understand that your customers are searching for a solution, something that helps them overcome a challenge. And nothing can delight customers more than instant response and resolution. Obviously, live chat can't help them out with this after all the customer has to discuss their problem first and see what solution can the operator offer to them.
What really speeds up the resolution, and convinces the customer to shop and visit the business again is the speed and accuracy of live chat as compared to other traditional support channels like phone and email.
Unlike email and call support, sales chat software helps your customers:
Connect easily with a brand
Get instant response from operators
Communicate their problem while multitasking between other personal tasks
Avoid wait time
In case the issue doesn't get resolved right away, the customer has the option to escalate the issue and track it once the ticket number arrives.
What's more, your business can gain a competitive edge over others in the market as you incorporate more support platforms for customers that makes you look more approachable. That means you can interact with customers in real-time as they progress through your live chat sales funnel.
Also, with sales chat software you get the ability to approach visitors and tap into their thought process by understanding their browsing behavior.
In short, you can increase sales using live chat. That's because it gives your customers the ability to remove any customer support hiccups that may delay things for them. It even enables your operators to offer a solution that helps customers arrive at a decision faster.
6 Ways to Increase Sales with Live Chat
We know by now how your business can boost sales using live chat, but it's time to take a look at the measures that actually make that happen.
1. Look for Convenient Option to Offer Fast Answers
Let's face it: live chat software makes it super convenient for prospects to find information in real time. When customers are looking for more information about a product or service, a live chat sales app is the most convenient way to offer assistance.
By merely integrating live chat with your support suite, you are opening your doors to a large number of satisfied prospects. It's convenient for most website visitors to just click on the little "chat with us" icon tucked neatly in the corner of the screen as opposed to looking for a helpline number, picking up the phone and waiting for someone to respond (not to mention the long wait times).
No wonder then, more than 79% of users prefer to use a live chat for sales because they get their questions answered immediately.
An interesting thing to note in the above report is that the second most important reason as to why people love using live chat is that they can multitask.
Needless to say, if you do not have a live chat software installed, you are going to lose a chunk of your sales to your competitors who have it!
2. Personalize Your Sales Chat for Better Conversations
A good live chat for sales software offers the ability to see the visitor history – the pages they viewed, the current page they are on and the time spent on every page (without capturing any personally identifiable information) with its real-time visitor monitoring feature.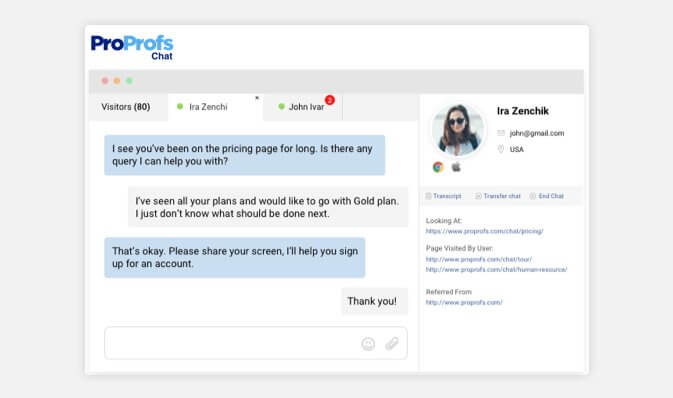 An excellent sales hack is to initiate a chat with the visitors based on their activity. The chat operators can watch out for any situation where the visitor may require assistance and step in to help them.
For example, you can greet a visitor who's been stuck on the pricing page for the product with a customized message. A good way to initiate a chat in this scenario might be to ask them if they need any help with finding the best plan based on their needs.

With personalized chat invitations, it's possible to provide a delightful experience for the visitors which helps to increase the chances of converting them.
An important thing to consider here is that you don't have to be overzealous with this approach. Some customers prefer immediate assistance, while others prefer to shop all by themselves. At any given period, your website audience will consist of people belonging to both types. And while a live chat can be initiated with either of these visitors, it's crucial that you understand when to be proactive, and when to lay low.
The best hack for maximum sales conversion using live chat requires you to carefully track visitor behavior and be attentive as they browse through the website. If you notice that a prospect is stuck on a webpage for a considerable period, it might be an excellent opportunity to initiate a conversation. If the potential customer appears to have all the information they need in their hands, leave the initiative to have a chat with them.
3. Capture Sales Qualified Leads Using Pre-Chat Forms
Most advanced live chat software applications include a pre-chat form used to collect the necessary information from website visitors and customize their experience.
A pre-chat form is used as a list building tool by gathering information, such as the visitor's name, email address, and the purpose of initiating a chat with the support.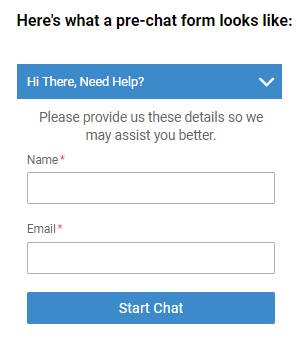 Once the prospect starts a chat after filling up a pre-chat form, all is not lost even if he/she chooses not to make the final decision right away. The information thus collected is still valuable and can be utilized to nurture leads.
Smartly designed pre-chat forms will not only be simple and quick to fill but will also help you to categorize your leads. This is a wonderful hack to increase sales using live chat with efficient personalized retargeting and lead nurturing campaigns.
And that's not all.
The best live chat software improves sales once you increase its power by allowing seamless integration with Google Analytics and Google AdWords for advanced analysis and campaign management. They also allow integrations with popular CRM systems (like Microsoft Dynamics, Salesforce, or Zoho) as well as a knowledge base making them an efficient lead generation tool.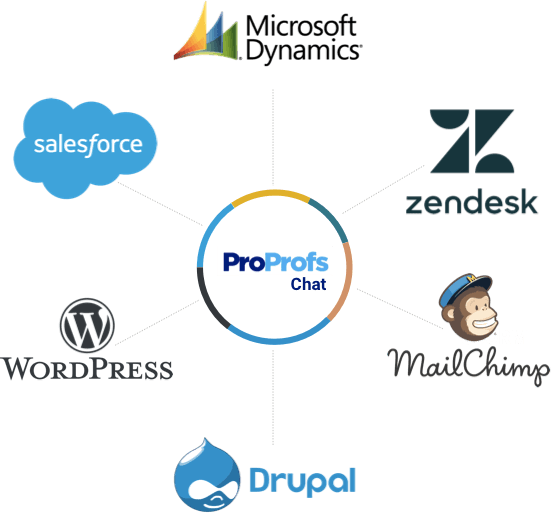 With these tools, the visitor's browsing history can be tracked and stored within the CRM's database and paired with a good email marketing tool (like MailChimp, or Active Campaign) to send highly personalized offers, and special discounts, and other retargeting incentives you might be employing.
4. Identify Upsell Opportunities & Boost Sales Value
Upselling is a popular sales strategy employed by many businesses that encourages a customer to purchase a higher priced tier or a more expensive unit from within the same product family or to sell more than one piece of software as a bundle with additional features (for example, a happy meal instead of a burger).
Now let's see this in retrospect with live chat for sales software.
Live chat helps you have personalized one-on-one conversations with customers and collect useful data that can prove to be priceless when it comes to cross-selling and upselling opportunities. You can store this data on your CRM platform and use it when the customer returns to your website.
This data can be inclusive of:
What sales deals attracted them
Which pages they browsed before making a purchase
How long were they on a page (helps you understand whether they were doubtful or not)
What conversation they had with your operator the last time they connected (if they did)
With this data at their disposal, operators can offer shopping cart suggestions during an ongoing chat to maximize sales. In short, you can improve sales with live chat for your business.
5. Get First-hand Feedback to Improve Sales Process
A great way to find out what customers think about your brand, products, and services, or about the quality of your customer service is by conducting a post-chat survey.
The post-chat survey is a feature supported by most modern live chat apps and is extremely simple to implement. In most cases, a set of default questions, or link to a survey form at the end of a chat is all you need to set it up.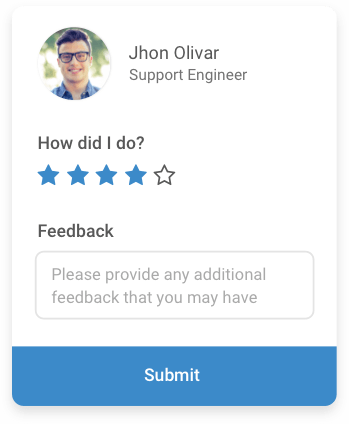 It can be customized as per departments, so, if you believe your customer may have problems with your billing process, you can ask this question in the survey.
These surveys provide some excellent insights into how well you are performing according to your customer's expectations. The learnings from these surveys can be used to improve your overall support and offer a much better experience to your visitors.
Understand that knowing your visitors and keeping them delighted with your services is the key to help your business generate more sales. This is one of the prime reasons why many companies these days are not just looking at live chat as just a support tool. They know they can improve sales with live chat.
6. Handle Multiple Chats to Offer Simultaneous Support to All
This is where a live chat solution excels over other traditional means of support like phone or email. While a live chat software is perfect for one-to-one customer communication, it can be used to chat with multiple website visitors at the same time.
Besides allowing chat operators to multitask, a benefit that neither phone or email support agents can boast of, a good live chat software allows high levels of automation as well.
One such automation feature that deserves a mention here is the canned responses feature that allows chat operators to type commonly used phrases at the click of a button. This helps to increase sales conversions using live chat and improve overall customer engagement.
Boost Online Sales Using Live Chat
If you thought "does live chat increase sales?", then the answer is a definitive yes.
Live chat support is a powerful tool for communicating with website visitors and resolving their issues in real-time to assist them to arrive at a decision faster, provided it's done the right way. The longer you sit on the fence, the more conversions you'll miss.
Live chat software has all the tools you need for optimizing your sales process, generating more leads and improving your sales value.
Getting your sales team a tool like ProProfs Chat can be a worthwhile investment. The software will eventually not just pay for itself, but help you get ten times more conversions, once you set it up correctly.
Now that we've seen how to increase online sales using live chat, let's take a look at some of the frequently asked questions below.
What is the best live chat solution for online sales?
If you're searching for a live chat to improve sales while helping your operators create the best possible experience for your customers, then give ProProfs Chat a try. It is fast, easy-to-use and enables both your support and sales team to offer the best possible experience for your customers. Check the list of best live chat software.
How much does a live chat increase sales?
Research suggests that live chat is responsible for increasing conversions by upto 20% for an online business. That's because it helps a brand reach out to decision makers in real-time and enables them to offer the kind of support that leads to conversions.
Does proactive chat help to increase sales?
It depends on case to case. How strategically you initiate a chat determines if your business will capture a sales opportunity or not. For example, if you initiate a chat in a strategic moment like checkout, then not only do you get to avoid cart abandonment but also get the opportunity to upsell your products and increase the cart value. Looking at this scenario, we can say that yes proactive chat can help your business increase sales.
Do you want a free Live Chat software?
We have the #1 Online Live Chat Software for instant customer support 24x7