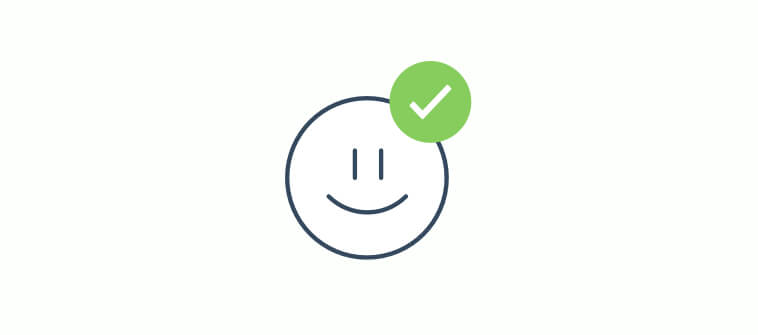 Earlier, online customer service process used to be terrible. Customers had less options to try then, so they had no choice but to stick to the chosen brands even if they treated their customers poorly. These days, however, with plenty of businesses selling the same products or services, the tables have turned. Thanks to the changing milieu of customer experience.
A few minutes or even seconds of delay in providing desired customer service can make your customers move on to your competitors. In fact, data from Forrester survey reveals that "55% of adults in the US shopping online are more likely to abandon their purchase if their questions aren't answered quickly."
If you want your business to succeed, keeping your customers happy is non-negotiable. And it all starts with an exceptional customer service.
Companies can choose among several methods, such as making first great impression, giving most relevant information about products or services, shortening response time and more, through which they can offer customer support. But these days, being available throughout the sales process (pre-sales, purchase,post-sales & customer service), from touchpoints to journeys is essential if you want to keep up your brand lit firmly in this windy competition.
One of the best tools that smart businesses have explored is live chat software. If you want to improve customer service experience, using live chat could be one of the best business decisions you can ever make.
Try ProProfs Chat and Delight Your Customers >>
How? Read on to find out the exact reasons why online chat support is a requisite for happy customers.
1. Live Chat Offers Real-Time Response
If you ever sent an email to a customer support team only to receive an automated response that you will receive an answer within 24 to 48 hours, how would you feel?
If you're like the majority, you'll feel frustrated, and you'll take your business elsewhere.
In this fast-paced world, no one wants to wait. Studies reveal that 79% of consumers who preferred live chat over other support methods said they do so because they are able to receive instant response to their queries.
This is especially true when your client is experiencing technical issues that couldn't be answered by your FAQ section. When you offer a live chat support, you can help your customer troubleshoot the problem in real-time rather than making them wait for your response.
Moreover, a live chat support allows your customer to communicate their problems while they're still fresh. You can prevent the buildup of frustration, because if something is not working, you get to fix the issue in minutes instead of days.
Related Article: Offering Real-time Help to Website Visitors using Live Chat
2. It's Easy and Convenient
Multitasking is a virtue! It's way too common for a customer to shop online while in the middle of their day-to-day tasks. In fact, many people shop online for convenience, and no one likes to drop whatever they're doing just to pick up the phone, be forced to go through long call menus and then listen to some irritating background music while waiting for someone on the other end.
Imagine putting potential customers on hold for indefinite seconds? They will surely run away.
Did you know findings from Accenture survey reveal that 90% of customers get frustrated after being put on hold?
Customers want to get the answers they seek with very minimal work. Whenever a chat operator pops up a window offering help, the customers are relieved of the burden of finding solutions on their own.
Using live support chat as your customer service medium not only makes it easy for your customers, but for your agents as well. It allows them to answer multiple queries at once, thereby increasing productivity.
3. It's the Most Comfortable Way to Communicate
Many people hate talking on the phone. Your customers can go on browsing your website, check out other blogs, or visit forums, if that's what it takes to avoid making a phone call.
With chat support, customers are saved from the awkwardness of making a phone conversation that involves explaining issues and queries perhaps more than once, being put on hold, call forwarding to different call operators, language barrier and more.
Chat offers quick or instant response that makes the customer feel more comfortable about expressing their concerns, anywhere, anytime.
4. There's Less Pressure on the Buyer
The best live chat software systems are designed to improve customer service, not only to push sales. The buyer is under no obligation to listen to a sales pitch after their problems are solved. Of course, customers can always ask for product/service suggestions best suiting their needs. This is something that benefits both the parties in the conversation.
Yet, f course, sales increase is one of the main benefits of customer satisfaction that you would want to reap. A live chat software allows you to give an already interested buyer a nudge without being too pushy.
5. It Offers Personalized Support
Just imagine entering a clothing store for the first time. You want to try some merchandize but there's no personnel around to tell you the right fit or color. What will you do?
You'll simply walk out. You will look for the next shop or further next until you finally end up buying clothes from the store having the most attentive, friendliest staff who is more than happy to assist you.
The same applies to online shoppers. They will lose confidence in your brand if your customer support team is nowhere to be found. Worse, they will seek out your competitors.
And data proves it. According to an Oracle study, 89% of consumers will do business with your competitor after a poor customer experience.
This number just shows how important customer service is to the happiness of your clients, and by offering the chat support, you give your clients that extra attention they deserve.
Having a personalized chat greeting through live chat support is almost as good as greeting your customers and opening the door for them. It adds a human element to your customer service efforts that cannot be easily surpassed using any other means.
Chat support systems provide your customers with tailored responses. You can either point them to pages they're looking for or provide specific solutions to their unique problems.
6. It Allows for Immediate Feedback
Chat support also offers a quick, easy, and cost-efficient way to know what your customers are thinking about your brand or service. It is a great opportunity to gauge how your agents perform and how your product truly works by asking your customers for a quick feedback after the chat session.
By encouraging your customers to share their suggestions about your brand, it makes them feel important and respected. Moreover, you make them feel that their opinions matter and they are vital to the success of your company. This makes your customers loyal, happy and satisfied since you are able to detect and solve the customer pain points instantly.
The chat solution offered by ProProfs allows you to pull up more in-depth reports from your live chat sessions, including operator login hours, chat requests, and chat ratings. You can also obtain a copy of the chat transcript to track the performance of your agents.
Best of all, you can track visits in real time.
3 Vital Customer Happiness Metrics
If you're wondering whether the results of your customer service efforts are in line with your goals, it's important to monitor key indicators that determine customer satisfaction. Here are the key customer happiness metrics that you need to start tracking.
1. Customer Review Sites
According to the 2012 Global Customer Service Report by American Express, "consumers are twice as likely to share their negative customer service experiences than their positive ones."
Thus, in order to monitor negative comments about your business, it only makes sense to pay attention to customer review/complaint sites.
However, Yelp and Google may contain manipulative reviews all of the time and it can be challenging to gauge your customer service performance using them solely. It is important to visit the less-traveled complaint sites such as My3Cents, Hissing Kitty, and ComplaintsBoard to ensure that you are not biasing the data.
It can take some time for a problem to brew, and if your customers end up ranting on a complaint site, it just means that something really went wrong. However, the presence of live chat support software on your website can prevent any miscommunication, and you may be able to stop them from possibly leaving a bad review of your business.
2. Post-Purchase Behavior
Many businesses tend to focus on acquiring new customers that they often neglect the importance of already existing ones.
Monitoring your customer's behavior post-conversion is just as important as it was when they were simply a lead. In fact, your existing customers are your greatest source of income. According to Gartner Group, as much as 80% of your company's future revenue will come from just 20% of your existing customers.
It's hard to ignore a statistic this powerful. Ideally, you'd want to see your existing clients continue to engage with your brand, be it at social media, through emails, or through your website.
3. Repeat Purchases and Subscriptions
Lastly, you can measure customer happiness simply by looking at how often they pull out their credit cards. When you offer a service, you can tell how happy your customers are if they remain a subscriber.
If you sell products or services, customer happiness is determined by their repeat purchases.
Not all of your customers will voice out their satisfaction or their frustration about your products or services. But if they continue buying, or remain subscribed, that's a quick way to determine that your customer service efforts are paying off well.
Read more about Important KPIs to Measure Customer Satisfaction.
Conclusion
In this growingly impatient society, it is critical to take your customer service to the next level if you want your brand to thrive in this highly competitive business world. If done correctly, live chat software can address customer concerns in real-time, exponentially increasing their happiness and trust with your brand.
Do you want a free Live Chat software?
We have the #1 Online Live Chat Software for instant customer support 24x7