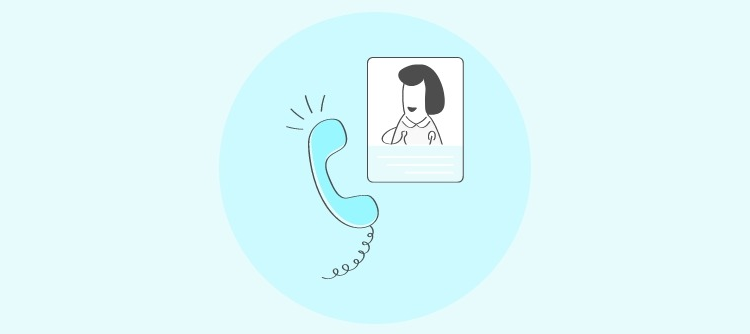 Facing high call volume can be pretty stressful for a customer support team. The response time suffers, and so does customer satisfaction. It is called a call surge. Without a structure in place, it can become a challenge to reduce inbound call volumes.
So, how to tackle call surges?
First of all, let us understand what a customer service surge is. It is when your call center receives more calls than it can handle. It is considered one of the biggest challenges for a customer service team.
These spikes are expected during the holidays. But they can also become a common issue that pops up after a successful promotional campaign.
How do you cope with unexpected spikes?
In this blog, we share some excellent strategies. Right from using customer support software to building an intensive knowledge base, we discuss how to decrease call volume.
What are the Key Reasons Behind High Call Volumes
Call surges are one of the dreaded challenges faced by customer service teams. It is characterized by high call volumes which your customer support team is ill-equipped to handle. It can effectively bring your retention rates down, leave customers unsatisfied, and send your team's morale plummeting.
Do you know the reason behind call surges?
A poor call flow for customer service is of course one of the issues that lead to such a situation. However, a complete dependency on phone support leads to call surges. To tackle this, you should have a customer journey mapped out to help identify the top customer grievances. Take care of those high-priority calls first.
Lastly, you might need to spread out your incoming calls across different timings. If someone calls at peak hour, they might have to hold. So, to tackle this, you can try virtual queueing to avoid putting customers on hold. With virtual queueing, customers can book calls with agents, and discuss their complaints at their convenience.
12 Ways to Reduce Inbound Call Volumes
The key to coping with a rise in call volumes is to have a proper plan and structure that relieves stress off your customer service agents. After all, during such time, your support teams might feel overwhelmed and unable to service customers in a timely manner. Here are 12 ways you can manage high call volumes:
1. Offer Self-Service Resources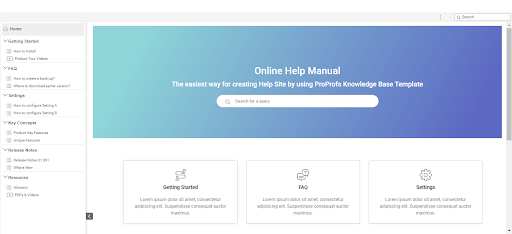 During a customer service surge, routine questions are asked repeatedly. When customers call to get such a query resolved, they find themselves being put on hold. Furthermore, 57% of customers suggested that waiting on hold was the most frustrating aspect of customer service.
Research suggests that people prefer to search for answers to their problems. About 81% of customers take care of their issues before reaching out to customer support. Therefore, having self-service resources like a knowledge base can enable customers to deal with their queries themselves.
Moreover, offering a knowledge base helps you provide round-the-clock assistance and reduce the cost per call. One of the key aspects of having a good knowledge base is allowing it to be indexed by search engines. When customers search a query on the web, they should easily find your help articles.
A high-volume caller warning can be averted when you direct such a caller to self-serve options. They can choose to read or browse through the knowledge base rather than bombard you with support calls and requests.
2. Focus on Omnichannel Support
Your customers prefer to connect with you on the channel that they are sure will have the quickest response time. However, other than phone support, there are many channels out there through which your customers can interact with you. If you focus on those channels, you can reduce call volume and keep customers happy.
Here are some tips you can keep in mind to help optimize support across all channels:
Try to reply to customer emails as promptly as possible. First, start by replying to them on the same day, then try to reduce the time taken to send a reply.
With the help of a social listening tool, keep track of mentions on social media platforms like Facebook, Instagram, LinkedIn, etc.
Offer great customer service through in-person meetings by engaging your customer even when they visit the store. Be proactive in helping them with their issues.
Promote each channel evenly so that customers know the various avenues for customer support available to them and assign KPIs to them.
Try to optimize each channel to direct every high-volume caller to it. For instance, chatbots can be one of the many high call volume options to choose from.
Each channel, such as email, social media, and live chat, has its own benefits. Customers can choose between each of these channels depending on the nature of their complaints. To improve availability for each channel, you need to work on ways to optimize communication across platforms.
Having a customer support software that offers omnichannel support helps. If a customer feels they cannot reach out to your business, it leads to a potential customer complaint.
3. Identify the Reasons Behind Calls
It is essential to map out the reasons why customers call you. It includes pinpointing the most common issues customers have with your product or service. Without having a detailed understanding of why customers call, you cannot train, coach, and guide support teams.
So, how can you map the customer journey?
Contact center managers can match self-service solutions with such queries by evaluating various customer pain points. Your agents have to listen carefully to the customer to identify these pain points. But listening is not enough either to deal with an increase in call volume.
With customer journey analytics, you can identify customer pain points and assess the service quality. Customer journey analytics helps agents map the customer journey. So they can screen unnecessary calls and avert situations where customer dissatisfaction may arise.
4. Enable Live Chat on Your Website
Live chat offers you instant connectivity with your clients, which allows you to resolve their issues then and there. Also, it is a quick way to identify customer pain points. It has become necessary to have live chat because it allows you to engage in real-time with customers.
Research suggests that live chat is becoming even more popular now, with over 41% of customers expecting businesses to engage with them through this medium. Therefore, if you don't have live chat enabled, you are essentially ignoring your customers.
Moreover, live chat has been found to be the leading digital contact method, with 42% of customers opting for it compared to 23% for email and 16% for social media. So, here's how live chat offers ways to manage call volumes:
You can offer support to customers having routine customer queries. It is a better idea than making customers wait for an agent to respond to their calls.
Chatbots can improve the availability of support services for your customers. If customers belong to different time zones, then you can offer 24×7 support with chatbots.
Unlike phone support, where agents can only respond to a single query at a time, live chat operators can manage multiple chats.
---
Want to grow sales or improve support 24×7 with live chat?
---
5. Automate Your Team's Workflow
Workflow automation helps simplify complex processes and eliminates human errors. It is perfect for managing repetitive tasks. Automation can streamline ticket routing, welcome emails, and other charges if your team is dealing with an overload of tickets and phone calls.
There are many tools available to automate the process workflow of your team. You can start with ticketing software that allows you to route tickets to different operators, and you can send automated emails if a customer doesn't follow up on their case.
Such email automation helps you keep customers engaged and boost your content marketing efforts. It enhances the efficiency and productivity of your agents, allowing them to resolve pressing issues and pending queries. You can also escalate tickets based on the severity of the issue.
Furthermore, ticketing software prevents you from making common mistakes made in customer service, for example, manually managing tickets, sharing duplicate responses, offering a single channel for customer support, etc. These issues can be resolved through workflow automation features in help desk software.
With automated ticketing, you can streamline your customer service by cataloging and monitoring customer requests. You can assign tickets to the most relevant agent and offer context to the interactions. These features allow agents to engage with customers effectively.
6. Take First Contact Resolution as a Priority
First Contact Resolution is a popular metric that determines how many customer issues got sorted out in the first interaction without the need for follow-ups. Here are best practices for improving your FCR:
Seek clarity around the customer's issue without guessing what the problem is. You need to be a great listener and focused on acting on their concerns.
Answer all questions asked by the customer, and if you are unable to respond to any of them, then ask for some extra time.
Offer holistic training to your agents so that they are more capable of dealing with customer issues. Equip them with in-depth product knowledge needed for offering excellent customer support.
Close the call properly by offering a summary of the issue and the solution. Lastly, end it by asking if they have any further doubts or queries.
7. Utilize Interactive Voice Systems
When customers call your support line, they should receive a quick, prompt response. While it means that your customers should be redirected to a customer service representative efficiently, it doesn't mean that it has to be a human agent.
IVR or Interactive Voice Response is a technology that uses DTMF or dual-tone multi-frequency tones transmitted via a keypad to route callers to the correct department. In addition to that, IVR allows callers to request a call-back if they don't want to wait in a queue.
Here are some ways you can use IVR for call volume reduction:
Use IVR to make announcements when your business runs into a major problem. Since you will expect a flood of queries, it is best to manage inbound calls with a quick reassurance that your team is resolving the issue.
With IVR, you can redirect customers to the correct department that specializes in solving their particular issue.
In case there are high volumes of calls, you can direct your customers to other channels such as live chat and help center.
With this technology, you can reduce the number of conversations your agents have on a daily basis. Also, you can optimize the number of transfers they have to make by directing customers to the correct department.
8. Predict Customer Behavior
To understand the future needs, purchases, and requirements, you need to look into past interactions and map out future ones. The most useful insights into customer behavior are:
Churn: This metric determines the probability a customer will stop renewing their product or cancel their subscription.
Retention: This involves keeping customers engaged with your product or service. To retain customers, you need to nurture them to the extent that they become brand loyal. Customer retention is more economical than acquiring a new customer every time.
Satisfaction: If a customer is satisfied with the customer service, they will be more likely to recommend you to others.
Engagement: This monitors the interactions between the customers and the company. You need to pinpoint the best way to engage your customers. You will find that prospects with similar attributes will respond well to the same engagement strategies.
Knowing these metrics will help you make improvements to your inbound call strategy. Research suggests that resolving a customer issue on the first interaction can reduce customer churn by 67%.
By understanding the trends in customer behavior, you can direct your support teams to solve important issues. If your business faces problems satisfying customers, you can keep track of customer ratings. If you can manage inbound calls, you can improve customer ratings too.
9. Make Ticket Submission Easy
When agents face an onslaught of support tickets, they become unable to resolve them effectively. The problem arises when they have to assign, route, and track tickets manually. It leads to human error, and customers are forced to call customer support repeatedly because their tickets haven't been resolved on the first submission.
Using help desk software can help you avert such a situation by sorting, prioritizing, and assigning tickets to different agents. Parent tickets can be split into child tickets which helps agents monitor the progress of the internal sub-tasks to resolve the issue.
Agents remain notified of the issue status of each ticket with the help of automated notifications. Also, collaborative tools allow team members to work on complex issues together. With ticket escalation, agents can focus on urgent support tickets.
These are some important features of help desk software that help you in reducing call volumes. By focusing on easy ticket submission and quick resolution, you are setting your customer support team for success.
10. Adopt a Proactive Approach
There are two kinds of approaches to customer service: reactive and proactive. Reactive customer service is when the customer comes to you with an issue, and you attempt to solve it on the spot. However, this approach can quickly lead to high-pressure situations as you act only after the customer has complained.
With a proactive approach, you can curb such situations and remain prepared for call surges. Here are some ways to go about it:
Manage customer expectations by releasing a statement during temporary crises. It will help customers remain calm and patient during such a time, thus removing the need for calling phone support.
Focus your efforts on self-service portals so that customers feel empowered to solve their own problems. Incorporate a knowledge base enriched with help articles indexed by various search engines.
Don't hesitate to offer a refund to customers when the issue takes too long to get resolved. They will thank you for not causing them any further hassles.
Pay close attention to what customers are saying about your brand on social media platforms. It will better equip your customer support team to handle potential complaints.
The key to a proactive approach is to think ahead and solve the customer's issue before they complain about the inconvenience caused. It will help you effectively reduce customer complaints.
11. Provide 24×7 Through Chatbots
To offer round-the-clock support to your customers, you should create chatbots. These tools have changed how we engage with customers. For instance, in the medical industry, they can offer an accurate medical diagnosis when a patient selects their symptoms.
How do they help reduce inbound call volumes?
Chatbots allow you to keep customers engaged with the website and generate leads in customer service. But their most important function is offering quick replies to routine inquiries. Therefore, if customers wish to register an appointment, they can do it through a chatbot.
Chatbots have enabled brands to communicate with customers across time zones. Technologies like AI, ML, and NLP can help build human-like interactions.
As a result, they can handle tier-1 interactions and can displace the pressure of live operators. Chatbots can do this without compromising on the customer experience. It is because of their 24×7 availability and easy-to-use interface that they are a popular self-service option.
12. Ask for Feedback and Take Action
A quick way of reducing inbound calls is to be receptive to customers' problems. By being receptive, you can improve your customer service by being aware of what your customers are thinking about your brand.
Keep an open mind and encourage your agents to work on customer feedback. Don't restrict your support surveys to how they feel about their experience with support. Expand it to include more questions such as:
Which topics should be covered in future help articles?
Which is your preferred customer service channel?
What are improvements we can make in our email and live chat support?
Would you prefer more like-minded individuals in the discussion forums?
Should we take a more proactive approach in bringing experts to forums?
Take a look at the survey results and make changes to the customer experience accordingly to your live survey. You will find important insights with such questions.
How ProProfs can help you reduce inbound call volumes
With ProProfs tools, you can automate various aspects of customer support to manage inbound call volumes. Here are some tools to help you get started:

ProProfs Chat is a great live chat solution that helps you engage customers in real time. You can prompt the customer with messages that are triggered by user actions. With canned responses, you can generate quick replies to routine questions.
This tool allows you to deliver chat announcements to help you convey important information to visitors. You can make efforts to reduce call surges by keeping track of the performance of your operators.
You can optimize live chat as a customer service channel with detailed reports, including metrics like chats opened, chat duration, and chats missed. Furthermore, you can create post-chat surveys which help you capture customer feedback.
Have real-time conversations with customers and direct them to phone support.
Handle multiple chats and remove the need for constant inbound calls.
Respond to routine queries with canned responses.
Convert important chats into tickets and send the transcript instantly.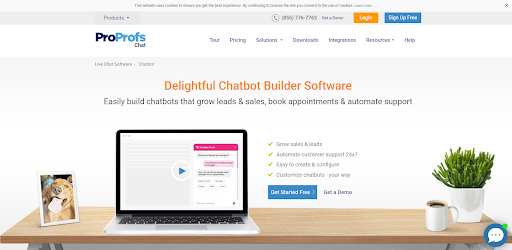 If you are looking for a chatbot to simplify customer support for you, then go for ProProfs Chatbot. It enables you to engage customers with human-like interactions. You can ask multiple-choice and open-response questions to qualify leads and grow your sales pipeline.
You can reduce the number of inbound calls by simplifying booking appointments, lead generation, and ticket creation. Now, prospects no longer have to call phone support to seek a resolution for their issues.
Book appointments with chatbots instead of over the phone.
Integrate with ProProfs Knowledge Base to serve help articles.
Automate ticket creation without the need for a phone call.
Easily build and implement chatbots with no coding skills.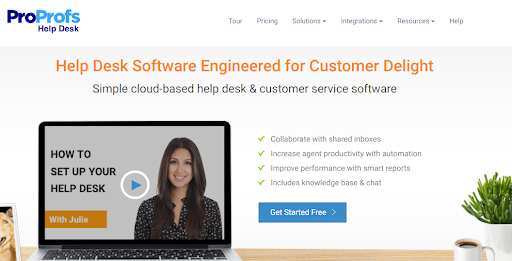 ProProfs Help Desk is a cloud-based help desk solution that allows your team members to collaborate on complex issues and helps you reduce desk calls. It has great features for ticket management, such as intelligent routing, automated alerts, workflow automation, and much more.
You can communicate with customers through email, web forms, and live chat. You can keep track of every complaint, inquiry, and issue. What's more, you can build a knowledge base dedicated to helping customers solve their own problems. As a result, you can reduce your support volume.
Simplify ticket creation and escalation to resolve issues efficiently.
Receive automated alerts and notifications on the progress of the ticket.
Offer context to your agents so that they quickly pick up on a customer's issue.
Drive collaboration across your team with the help of a shared inbox.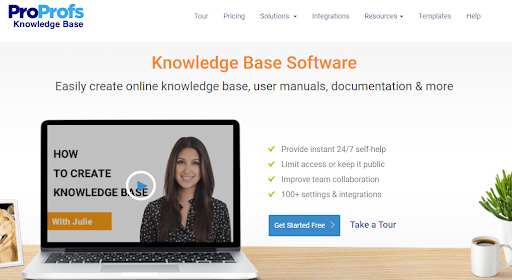 If you wish to offer self-service tools for your customers, you can start with ProProfs Knowledge Base. You can create a help center, manuals, and much more with it. It helps you reduce the ticket inflow by offering content that is available 24×7 to your customers.
You can create an internal knowledge base that your employees can use. Creating training manuals allows you to guide your employees to understand the product better so that they can serve customers better.
Reduce the number of support tickets with the help of a knowledge base.
Service customers better by training employees with an internal knowledge base.
Direct customers to help articles through live chat or chatbots.
Create FAQs to simplify the process of self-service for customers.
Reducing Inbound Call Volumes: The Need of The Hour?
Reducing inbound call volumes has many benefits for your business. It allows you to focus on the customer experience and reduce the stress on your customer service reps. With a structure in place, you can help your team cope with a surge in inbound calls.
We have discussed the various call center overflow solutions that you can use to cope with call surges. For instance, by being receptive to customer feedback, your team can become better at ticket resolution. Also, you can invest in customer support software to simplify ticket creation.
With self-service resources, you can manage support tickets and enable customers to solve their issues before reaching out to customer support. Furthermore, omnichannel support is the backbone of any business that prioritizes customer service.
You can resolve tickets from social media, live chat, email, etc. Through these strategies, you can move away from phone support. By enabling live chat on your website and prioritizing the service on other channels, your brand becomes more accessible.
In particular, enabling live chat helps customers get in touch with you quicker rather than waiting on the call. ProProfs Chat is a live chat solution that offers automation features like canned responses, chatbots, etc., that helps you reduce inbound call volumes.
Do you want a free Live Chat software?
We have the #1 Online Live Chat Software for instant customer support 24x7