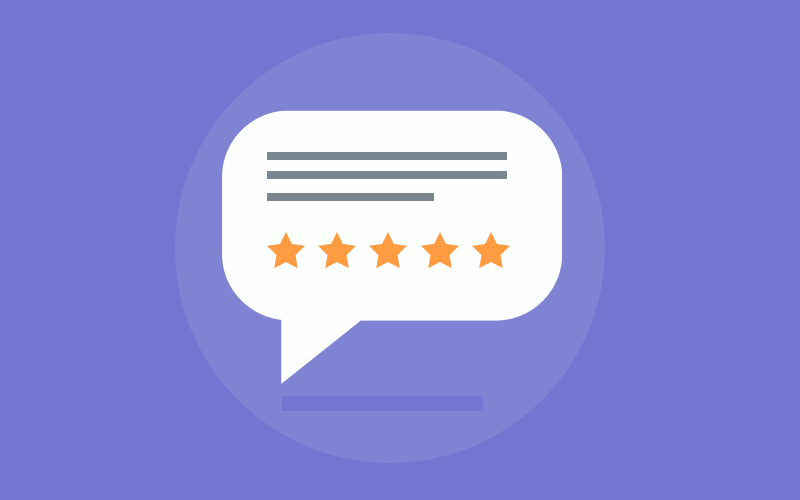 "Your Most Unhappy Customers are Your Greatest Source of Learning"
Bill Gates
The quality of customer service determines the future of any business, no matter the size. When customers are happy with your service, they become repeat buyers and join your "loyal" tribe. Angry and agitated customers, on the other hand, are unhappy customers who most likely expect an improvement in your service or won't hesitate in switching to a competitor product for better services.
In fact, a survey conducted by American Express suggests that 7 in 10 Americans won't mind spending more for a better customer service. That said, improving the level of customer service is crucial for getting new customers and retain existing ones. Whichever the case, improvement stems from an efficient feedback. Until you are aware of the strengths and weaknesses of your business, you can't inch forward for an improvement.
Most customer support teams these days are leveraging live chat to interact with customers in real-time and provide swift resolutions. Though live chat is an indispensable tool for improving customer support, chances are high that you aren't tapping its full potential. In customer service, you can still cover a lot of ground by using a handy feature called- Post Chat Survey. Using this option, you can remove the guesswork in improving customer service and spot the precise areas that need improvement. Helping you go ahead with the option, we discuss everything you need to know about chat ratings and surveys to streamline your customer service. Take a look.
What is a Post Chat Survey?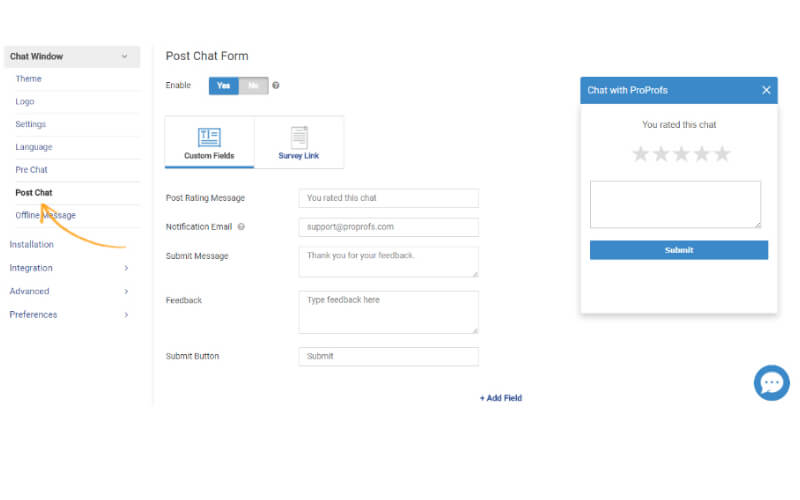 A post chat survey is an instrumental feature of any live chat software that allows visitors or customers to rate their overall experience after completing a chat session. Simply put, post chat surveys enable any business to record customer feedback and use that data for continual improvements in customer service.
A chat survey can be simple or detailed, depending on the product and the analytical data you are aiming to fetch. Most of them ask the customer to either hit the like/dislike button, rate the session on a scale of 5 or drop a detailed comment to describe their experience with the chat interaction. Apart from that, a chart survey can also be a short questionnaire that any customer can reply within seconds.
What are the Components of a Live Chat Survey?
Most webchat software offer cutting-edge customization for post chat surveys, thereby allowing you to provide a more personalized experience for your customers. Before you start tailoring post chat surveys to receive customer feedback, you have to understand the sections visible to your customers. More often than not, a simple, clutter-free and visually appealing post survey form is most likely to persuade customers to leave a feedback. Powerful messaging, an intuitive look and asking the right survey questions would ensure that maximum visitors fill out the form for you to derive actionable insights:
Post Rating Message
This section will be visible to your customers the moment they are done with the chat session. Asking questions is the key here as customers are unlikely to respond to the text that says, "Please Provide Feedback" or "Please Rate Us."
Instead of instructing them to fill up the survey, simply ask a question such as:
Did we make your day?
How happy are you with our service?
How are we doing?
Are we doing a good job?
Did we answer your question?
Are you satisfied with the level of customer service?
You Rated
Please rate the chat
Notification Email
In case the user opts to drop an offline message, the email address entered here would receive all offline messages.
Submit Message
The message displayed to the user after they hit the submit button.
Feedback
The message entered by the user or precisely, the feedback for the quality of chat or about your product.
Submit Button
The button visible to the user to forward the feedback they entered.
Why Does Your Business Website Need One?

Apart from aiding customer service improvement, adding a post-survey option to live chat also allows you to:
Monitor Operator Performance
Most businesses assess operator performance through the number of chats served, which should not be the case. Even if an operator is serving 100 chats a day, you need to factor their quality to assess performance and fill the gaps. Data collected through chat surveys can become the starting point in this case. You can analyze chat transcripts, ratings and comments to evaluate whether operators are performing up to par or not. Moreover, customer ratings can also come handy while appraising your chat operators.
Identify Strengths and Weaknesses
Until you identify the strengths and weaknesses of your chat operators, you can't go for any improvements. In this case, analyzing negative feedback is imperative. Positive feedback is an indication that your operators are doing a decent job for which they deserve a pat on the back. But, what about negative feedbacks that are stuffed with curse words? They are most likely to impact your business' bottom line as angry customers are most likely to leave. That said, chat surveys along with transcripts can help you identify the gaps in operator skills and ensure that you take necessary action to bridge them.
Recommended Read: Why Angry Customers are Important for a Successful Business
Enforce Your Team Positively and Negatively
The ratings that your operators get doesn't matter until you are using those ratings for their professional development. As operators attend multiple chats a day, expecting a positive rating for every chat session isn't feasible as angry, agitated customers can still leave a negative feedback even after getting the required assistance. That said, ratings have a direct relation to your operators' morale. When they get positive ratings, simply applaud them for the good job. But, when they face negative ratings; motivate them to use the feedback as negative enforcement to perform better in later chats.
Gather Customer Feedback
Post chat surveys help you capture minute details about customer preferences that otherwise can go unnoticed. When a customer leaves a negative feedback, it's not related to poor customer service every time. Rather, negative comments can be a sign that your customers are expecting improvements as their needs might have changed.
As Kim Collins quoted,
"Strive for continuous improvement, instead of perfection"
post chat surveys are an indispensable tool to understand customer behavior and improve the quality of service.
How to Design an Effective Post Chat Survey?
To gain any actionable insights from your post chat survey, what's the prerequisite? You need to make sure your customers fill out the survey after completing the chat. Though you can't be absolutely sure to get the survey completed, a few psychological hooks can certainly maximize the likelihood. When designing the post chat survey, you just need to follow these tips:
Keep Survey Short and To The Point
No customer likes filling lengthy surveys for multiple reasons. First, they hit the back button after terminating the chat. Second, long post chat forms may appear intimidating, thereby causing your customers to leave. Providing them with crisp, short and straightforward questions is the way to go. Try to include no more than 5 questions in a survey or else, you are least likely to get a response; forget about meaningful responses.
Provide a 5-Point Scale
Many businesses use a 10-point scale to assess operator performance, which isn't as effective as a 5-point scale for a reason. To give a rating from 1 to 10, a customer has to take a step back and think for a while, which takes time. Quite cumbersome, Right? The 5-point scale, on the other hand, is more effective as it contains fewer options. Naturally, any customer is most likely to drop a feedback in the 5-pointer system.
Limit Number of "Required Fields"
All too often, your customers would leave the chat straightaway after seeking clarifications or getting their questions answered. Now, your job is to persuade them to leave a feedback; which is challenging. After all, receiving less number of feedbacks is any day better than scoring a zero. So, what would you do? A good move is to keep the number of questions in the survey to a minimum which ensures that your customers don't find it daunting.
You can also use these 2 fields that promise a feedback:
Star Rating
Leave a Comment
The customer would simply rate the chat and drop a comment in this case that would help you get a healthy data to analyze later.
Ask Relevant Questions
Questions that only cover space on the survey window and add no value must be quickly eliminated. Your goal is to gather feedback that would serve as a ready reference for improving your customer service.
To start, you can include these in your post survey form:
What could have gone better during the chat?
Do you have any suggestions to help us serve you better?
What did you like or dislike about your recent chat session?
Apart from these questions, you can also brainstorm your own depending on your business model and customer service goals.
Start Improving Customer Service, One Step at a Time
Post chat survey is the last window visible to the customer before they leave your website. Coming up with a professional looking post chat window is instrumental or else, the likelihood of receiving a feedback decreases. Choose a live chat software that gives you the freedom to customize the post chat surveys. Experiment with colors,
Choose a live chat solution that gives you the freedom to customize the post chat surveys. Experiment with colors, texts, and logos; however, make sure they go along with background colors of your website. Choose a web chat software that allows you to record feedback via text, radio buttons,
Choose a live chat tool that allows you to record feedback via text, radio buttons, dropdowns and more as options for receiving feedback should not be limited. Before your post chat survey goes live, it's also essential to run A/B testing and get a fair idea about the results.
Send the survey links to your internal teams and check out their responses on the design and other essential factors. Once you receive suggestions, implement the essential and eliminate the rest and then, you are Good to Go!
Do you want a free Live Chat software?
We have the #1 Online Live Chat Software for instant customer support 24x7