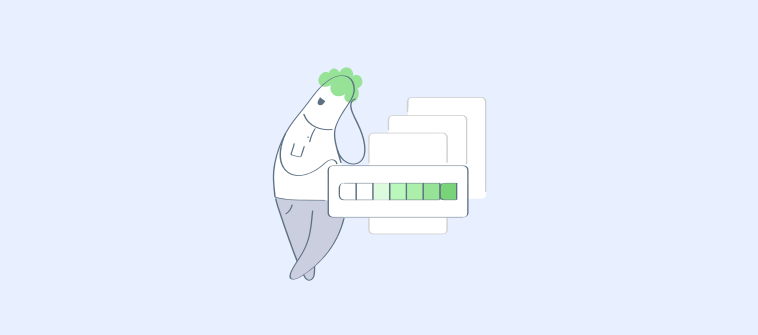 About 52% of consumers are willing to spend more money on quick and effective customer experience.
If you are a smart and proactive business owner, you will identify with this data and tweak your strategy to improve customer experience accordingly.
The Need of The Hour
Is your current customer service approach more convenient for you or your customers?
For example, if your present mode of customer connect is only through telephone during business hours on weekdays, then this is a convenient approach that benefits you alone.
So, what can you do to make this structure customer-friendly?
The step in the right direction would be to introduce 24/7 availability to your customers.
In case you think that you do not have resources for 24/7 availability, to start with, you can integrate a Help Desk Software that will generate tickets for the queries made during non-working hours and send email notifications to your customers.
But the entire exercise is going to cost you more money. But if your customers are willing to spend their hard-earned income on your brand for a better CX, you should not hesitate to do the same.
Expectations of the Modern-day Customer
Customers sitting on their throne want instant responses. This is even more important when they have needs, complaints, and issues. However, they also expect prompt responses for general queries too.
Other than that, your customers expect to interact with trained and knowledgeable operators. They also expect the option to reach them at any time and from any part of the world.
All of these key expectations of the modern-day customer can be easily addressed by using live chat to provide a better customer experience.
And those business owners who have not yet started making use of the live chat software to interact with their customers, they are way behind the times and need in their approach.
Ultimately, it will help you increase your sales revenue– Just the right motivation you need. Isn't it?
Customers Prefer Live Chat
By now, you have had the opportunity to assess the importance of live chat for customer experience in-depth. So, it is time to take this discussion up a notch.
Watch This Video To Know How to Ensure A Delightful Customer Support Experience.

Live chat has the potential to meet the requests and requirements of your customers. But are you 100 percent sure that this is what your customers want?
Of course, it is.
Data suggests that live chat has a consumer satisfaction rating of 83%. This is way higher than other means of communication like phone support, social media, and email. And you don't have to rely on ratings alone. When consumers were surveyed directly, they cited that their preferred method of customer service communication was live chat.
But live chat has been around for decades. Having said that, there has been a dramatic rise in its popularity and availability of more service providers to choose from.
Therefore, before your competition beats you to it, it is in your best interest to improve customer experience during a live chat.
Creating Customer Experience with Live Chat
Remember that consumers are likely to take their business to brands that offer their preferred method of communication. Failing to go with the trend could result in you losing customers and falling behind the competition.
Here's a table of content to give you a quick overview:
1. Make Your Live Chat Option Easily Accessible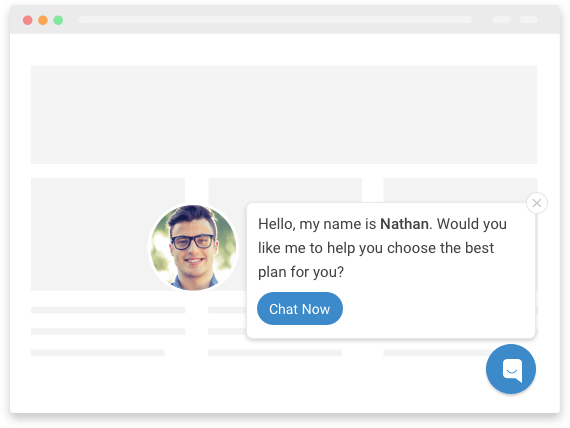 Imagine that your customer has a question for you or perhaps needs assistance with an issue. What should be the next move now?
Should they be spending a ton of time scrolling through your website to find a link to chat with an agent? Ideally not, and that's a navigation error that should be avoided altogether.
If you do not have your live chat plugin easily accessible, it will not make the impact that you've been hoping.
Your customers should be able to find the live chat option easily and speak with the agent in case he or she needs any assistance.
Just by being aware of live chat, customer service experience becomes so much more enhanced.
Tips:
Generally, experts recommend that you have a live chat as a pop-up in the corner of your web page. Make other communication options like phone number and email id visible too.

Your live chat is the first visual impression that the customer has of your interaction with your reps. So, try and customize the chat window to have the highest professional impact.
2. Know Your Product Inside – Out
Consider a scenario where a customer asks a product-related question on live chat, and your agent does not know the answer.
What a disaster!
Because live chat is the most active source to convert prospective leads into hardcore sales, so losing out on a valuable opportunity to engage them is just not acceptable.
When your operators are representing your business on live chat software, they must be aware of the ins and outs of your product. As a business, you need to be proactively involved in sharing information on new feature releases. Follow up on this with adequate training and invest in a period review of knowledge testing.
And not just for the product alone, it should include pretty much everything – company policy, products, discounts, rewards programs, and more.
Tips:
Have several experts work with your operators to share knowledge of the company and products. Incentives always work in motivating employees to outperform.

With access to updated information, operators will be able to share timely messages, driving the leads towards closure with sales.
3. Add the Human Touch to Your Live Chat Conversations
Have there been instances when you've had a bad customer experience? I am sure you have.
In most cases, it happens when you are on chat but have been kept on hold for a long time. And after a long wait, the customer probably leaves the conversation disappointed.
Thankfully, there are simple ways to correct and transform an impersonal chat like with a touch of humanization. There are a number of advantages to doing it.
When your buyers feel personally connected to the brand, the possibility of increased sales becomes more probable. Using emoticons can help your operators turn customer conversations more meaningful.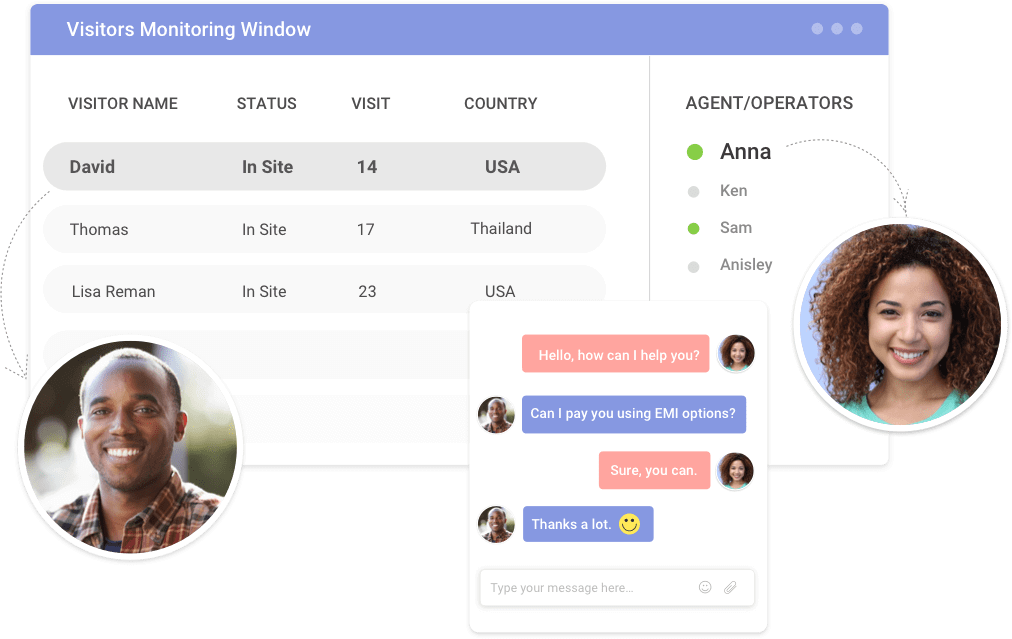 Use simple, precise language that sounds honest. Read your draft responses thoroughly for incorrect information, grammatical errors, etc. before clicking the send button.
Tips:
Adding a human touch to your live chat customer experience results in better brand recognition amongst your customers. They can recall the USPs, which sets you apart from the competitors.
Try using real pictures of your operators, allowing your customers to put a human face to their service personnel. This makes engagement far more personal.
4. Take Advantage of Direct Customer Connections
Unlike platforms like email, web, and social media, live chat software offers your business the unique opportunity to connect with customers in real-time.
But before that, when customers initiate a chat request, they should not have to hang around for long. That is possibly the most frustrating part and can put off the customer completely.
Once you have started chatting, observe the tone and sentiment of the customer. You can then adjust your style that befits the situation the best.
By tweaking or mirroring your style to match the customer, you can quickly gain the customer's trust. Indulge in some face-to-face, video-calling to build a rapport that lays the foundation of a strong relationship.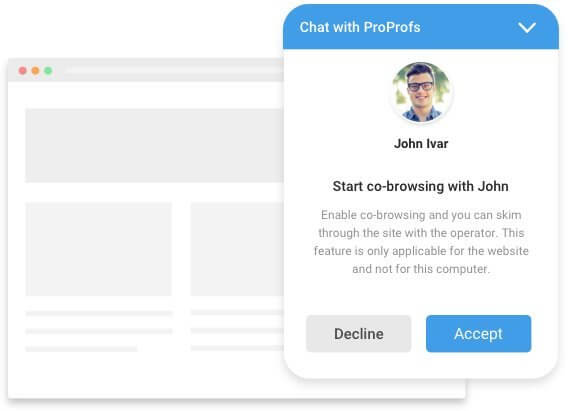 The experience also takes on a more interactive tone and becomes more personalized for the customer.
Tips:
Make use of live chat software as often as possible for customer interactions as the agent's personality becomes more visible in comparison to conventional customer service channels.

Prospects or existing clients are more inclined to trust the agent over live chat customer experiences. It also imbibes confidence and conviction towards the brand and develops loyalty in the process too.
5. Empathize with The Needs of Your Customer
If there is one skill that all customer service professionals must-have, then empathy would feature at the top of the list. Putting yourself in the customer's shoes and empathizing with the situation will result in a positive outcome in the majority of cases.
When you are handling multiple chats simultaneously, it is pretty easy to get muddled up and misinterpret a customer issue or query. To avoid that, make sure you read the customer concern twice to fully comprehend the kind of assistance that the customer seeks from you.
If you see that the customer requires responses to several queries, the best way to handle is to respond to it one by one.
You should steer clear of long sentences and complicated technical jargon. There is no reason to assume that your customers will be familiar with these terms.
The concept of empathy assists customers to concentrate on solving the issue rather than just placing a complaint. For the agent, it is important to understand the solution from the customer's perspective, and that will help in successfully resolving the issue.
Tips:
Answering the queries in a step by step manner will help you to fulfill customer needs. It also ensures that your customer leaves the chat satisfied.
By offering them with the best possible options, you will be able to meet their expectations successfully.
6. Remember That Language Matters
In most customer service conversations, how you say things matter more than what you say!
This needs focus, right from the time when you accept the chat request, you put all your other thoughts and worries at the door. You have to give your customers the attention that they are expecting.
Once you start chatting, the right way to initiate is to greet the customer professionally. This can be done with chat greetings which is a popular feature offered by a number of live chat software tools.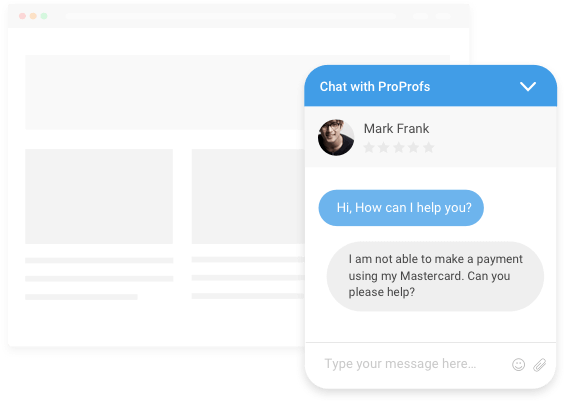 For operators, the use of positive language during their live chat sessions is an absolute must. They can pair it with simple and clear to understand sentences for a better impact.
Listen to what the customer is saying. Sounds simple, yet so hard to do.
Instances have shown that operators, in the haste of providing quick solutions do not often listen to exactly what the customer is saying.
You must approach the customer chat oozing confidence. And a cheerful mood always helps lift up the spirit. Remember that happy minds deliver happy customer experiences.
Tips:
Listen to the customer's needs before offering a solution. Ask questions to understand the exact problem. Reaffirmations about the problem ensure that the agent is on the right track and the solution is exactly what the customer needs.
Using positive language in your live chat communications highlights a sense of professionalism, especially in a customer service situation.
7. Offer A Detailed Solution
Offering a detailed solution to the customer query will help them understand and learn from the solution. So next time the customer faces the same issue, they will not be compelled to contact customer service over live chat instantly.
Moreover, the agent must use this opportunity to anticipate any future queries that the customer may have and cover them over the same chat session. This proactive attitude certainly helps in improving live chat customer experience.
Give a detailed explanation as to why you do not have an immediate solution to their concerns. While it is important to stay positive, you cannot say 'yes' to every customer request.
Learning the art of saying 'no' is equally important for a customer service professional.
Tips:
If you see that there are several channels to reach a solution, do offer them all to the client. You never know which solution method may appeal or suit their requirements.
Remember to share the chat transcript over email in case your customers need to refer to it in the future.
8. Focus on Resolving Queries on the First Contact
Every single time that consumers get in touch with the customer service department through live chat, they hope to find a quick solution to their question or query.
Through a combination of multi-tasking, canned responses, and integration with knowledge base, operators are able to deliver on the Average Response Rate to customer queries and issues.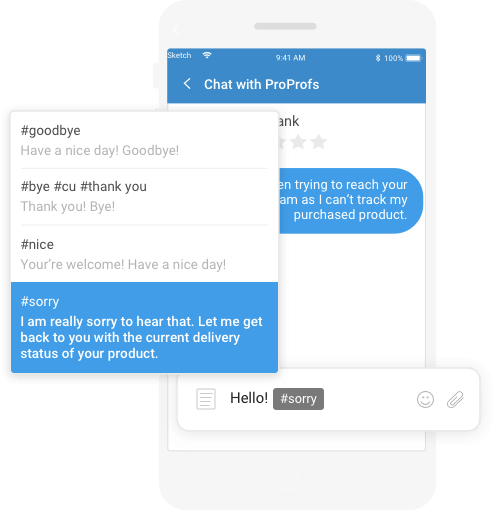 It is also essential to strike the right balance where the reps should not just hurry for the sake of it. If your customer leaves feeling frustrated as a result of quick chat wrap-ups, the purpose of delivering customer experience par excellence is defeated completely.
Tips:
The best way to offer outstanding live chat experience is to highlight your personality. Go easy on the canned responses. Too many of these may speed up conversation, but that may not always be the case.
The business can empower their operators further to provide your customers with the help that they seek by prioritizing first contact resolution. Customers will walk away with a more positive experience with the brand.
9. Stay on Topic
Providing amazing customer experience on live chat requires a balanced approach of concentration, examination, and execution before offering the solution. The operators have to ensure that they don't deviate from the topics during the conversation with the customer.
It starts with reading the chat subject carefully. This is because a lot of customers tend to outline their issues in the chat subject itself.
You can always probe deeper during the chat if the subject sounds unclear to you.
Asking questions is better than creating your assumptions. Assumptions can take the chat in the wrong direction, in which case the conversation will stretch unnecessarily. This can be frustrating for the agent as well as the customer.
If the customer's concern is still unclear, it is best to outline what you have understood from the conversation with the client before you progress towards offering any solutions.
Tips:
Refrain from sharing unnecessary information with the customer. This might end up complicating the issue further instead of solving it.

If you find the customer digressing from the issue, be courteous, and use your best tactics to bring them back on course. But as discreetly as possible.
10. Let the Customer Know If You Need Time to Research
There may be times when you might be helpless in offering an instant solution to your customer over chat.
In case the customer query needs more research, or you have to escalate it to a senior, make sure you let the customer know that the resolution will take more time. However, you should collect all relevant customer information so that whenever he or she checks in next, the agent on call has all the details of the investigation handy.
The objective is to improve customer experience with live chat software.
Therefore, under the circumstances, if you find yourself unable to offer a solution to specific customer queries, then a quick chat with a colleague or an experienced manager can help.
They will be able to offer you guidance or tips which may ease your problem.
However, if the customer issue is completely beyond your knowledge, then you should transfer it to the appropriate department or someone in the team who is better equipped to handle it.
Tips:
An internally linked Knowledge Base comes handy when the agent might need to dig in for more information to provide the desired solution to the customer.

It is best to keep the customer informed about the process and phases when you are escalating the issue to a senior or when you are connecting with other teams or database to provide the solution.
11. Lean on Web Links
Having to scroll through long emails is exhausting, and having to scroll through long live chat messages is even worse.
In fact, you want to dodge anything tedious and annoying because customer loyalty can be built only by minimizing customer effort.
That's why the integration of live chat and knowledge base is a crucial element of creating the perfect live chat customer experience.

With an in-depth knowledge base in place, customer operators can go over basic points and then share related links on the chat window that customers can go through at their convenience. Needless to say, that information on the web pages will be more in detail, possibly including video, screenshots, and guides to help.
Tips:
Sharing links to relevant pages encourages self-service. Hence, if the same problem crops next time, the customer will know where they can find immediate answers before contacting support.

If your set of instructions has more than three steps, share the web link on the live chat rather than emailing it to the client.
12. Promise A Resolution
It can get a little tricky if you do not have an immediate solution to customer issues.
So, what can you do in such situations?
Offer the closest possible solution and check if there are any alternatives available, which may be good enough for the time being to help the customer meet their needs.
Remember to handle such situations with a lot of care and attention as an angry customer can escalate the matter to higher authorities or even go as far as pouring it all out on social media.
When customers get a timely and right solution to their problem, it will make your company reliable for them. They won't even consider opting for your competitors.
Tips:
Customers expect a lot out of a live chat, so operators need to anticipate their needs and stay one step ahead in the game. Also, it's essential to convey a proactive attitude that instills confidence in the customer.

Ensure that all departments are in sync through cooperation and collaboration. That showcases the professionalism of the customer service department and contributes to your customer's live chat experience.
13. End the Chat on A High Note
Customer operators should do their utmost to end every chat session on a happy note. If the handling is weak, the last moments of a chat can create bitterness, that should be avoided at all costs.
Abrupt goodbyes are also not a good practice. Operators can always ask the customer if they need additional assistance with any other query.
Goodbyes should be said with the intent that the customer service is available at their fingertips if they should require any further help. Remember to ask if the customer is satisfied with the solution, and if they would like to go over any part of it in case it was not clear to them.
End on a note requesting their honest feedback or rating for the service that was provided.
Tips:
Do not leave the chat room before your customer logs out. Your customers may have a question on their way out, which will remain unanswered if you exit before.

You need to ask if your customer needs your assistance any further and then wish goodbye and close the chat room. This can be done in situations if the customer forgets to close the chat session.
14. Offer a Survey for Feedback on The Same Channel
As your chat ends, you hope that the customers leave satisfied. That can only happen if you have met their needs, which in turn can keep them loyal to the brand.
But you also need to know what your customer thinks about the brand. At the end of every exchange, always be sure to send a survey on the live chat channel. It is important to know the right time to ask for feedback from your customers using post chat survey.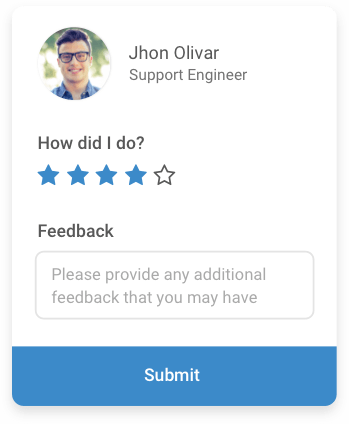 Feedback surveys work well here as these can be the medium to help identify gaps between the business and their customers. These can be used to enhance their overall customer experience.
Tips:
Keep the post-chat survey brief. Ask two to three questions at most. Also, inquire about the overall live chat experience.

Also, consider asking your consumers to rate the level of service that they have received from the customer service department.
15. Achieve High Satisfaction Through Customer Engagement
If you are able to offer high standards of customer experience, chances are quite high that the majority of your customers are satisfied. The number of returning customers is the right measure of customer success.
A lot of this has to do with how prominently you place best live chat plugin on your website. With ready availability, you will see an increase in interactions. Ideally, you should take advantage of this rise in engagements to make a positive impression.
Live chat is the medium where your customers are able to reach you instantly. People realize that they can seek assistance rather than ditching the product altogether.
The fact that they can have their answers almost immediately or know that a dedicated agent is working on their issue helps raise their satisfaction levels further.
Tips:
Implement a conversational chat style by adding an inviting feel. Your quality of support will also drive up customer retention numbers.

Provide better live chat customer satisfaction by utilizing customer engagement tools to make your chat conversations consequential.
Closing Thoughts
Customer experience does not require a complex strategy. All you need is to be open in your communication, offer personalized interactions, and collect feedback proactively.
Live chat gives you the leverage to achieve these efficiently and effectively.
When you are chatting with customers, it is worth looking into opportunities where you can go beyond standard responses. These do not have to be grand gestures to have an impact. By focussing on convenience, you can eliminate the chances of losing a customer without the opportunity to make things right.
Always remember that in the larger scheme of things, the best part of creating an excellent customer experience is making sure that each of your customers feels valued by your business.
FAQs
How can I improve my live chat service?
There are various ways to improve live chat experience for customers. Promptly respond to chat requests and empower your operators to enable them to grasp customer context and overall experience. Remember to show empathy and always look for opportunities to personalize the conversation. Educate the customer and involve them completely in the process via knowledge base.
How to handle multiple chats?
When your business offers live chat service, your operators must be prepared to handle multiple chats at the same time. To ensure that you handle several customer conversations professionally, smartly use canned responses to answer some of the most frequently asked questions. Support that with sharing links from self-service articles and FAQs section. Remember to stay focused and organized.
Why live chat is important for customer experience?
Live chat is an essential element that contributes significantly to the overall customer experience. Real-time responses from operators, reduced timelines for query resolutions through engaging and personalized conversations all add to this experience. Live chat is able to align the needs and expectations of the modern day customer to deliver an experience that is par excellence.
Do you want a free Live Chat software?
We have the #1 Online Live Chat Software for instant customer support 24x7