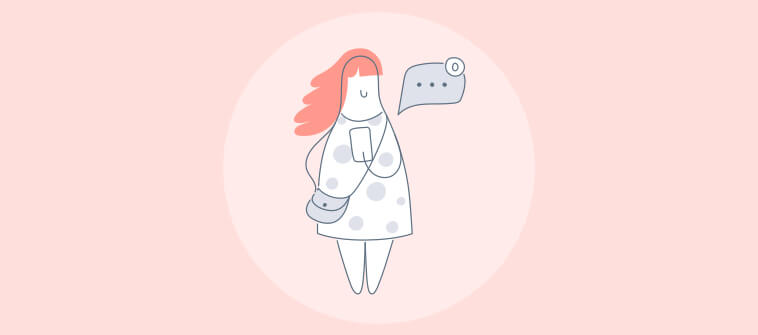 When was the last time you heard your customers, during an ongoing chat, saying, "Hey, that was pretty fast. Thank you for a quick turnaround." or "Wow, you guys were so quick to respond."?
If it's been long since a customer reacted that way, then perhaps you need to dig deeper into the quality and speed of your customer service, or even better, try outsourcing your customer service.
A lot of businesses have different reasons for live chat outsourcing, which include:
Finding ways to reduce in-house customer service cost
Worried if their company would make conversions or not
Finding it troublesome to maintain a big live chat support team in-house
The list goes on.
If you find yourself saying a BIG yes to either of these reasons, then it is okay to look into the live chat outsourcing option as well. To introduce you to this concept in detail, we've created a quick guide for you. This guide will cover the following sections:
What is Live Chat Outsourcing?
Live chat outsourcing is a strategic process where you hand over your live chat support process to a third-party vendor. This third-party vendor is responsible for answering your customer's questions instead of letting you manage them. Once your live chat services get outsourced to the vendor, they will answer incoming questions, manage multiple chats, and offer a solution from your end to the customers.
The service provider's primary aim is to answer queries faster and make your support process a seamless experience for customers. While these benefits of live chat outsourcing sound quite convincing, there are more that you need to know about. Let's dive into the next section to explore them better.
What are the Business Benefits to Outsource Live Chat Services
A business can have several reasons to outsource its live chat services. Some of the popular reasons, or let's say benefits, were discovered during research. The results suggested that:
59% of the businesses found outsourcing as a cost-cutting tool for them
57% of the businesses experienced that outsourcing enabled them to focus on their core business
Whereas 47% of the businesses outsourced their customer service process to solve capacity issues
The benefits these stats highlight may appeal to more businesses in the coming future. But then other advantages need to be acknowledged as well. Some of these benefits include:
Increases Conversion Opportunities for Your Business
Outsourced live chat operators guarantee a professional attitude while managing your incoming support requests. These requests can be coming from some of the most difficult customers as well. But they still tend to keep a balanced tone throughout all the live chat conversations and offer solutions to your customers that result in more conversions for your business.
Makes Your Support Team a 24×7 Reality
When you hear that a whopping 74% of support centers are not staffed 24×7, you are likely to have thoughts like, "If they can't offer round-the-clock services, then how will we achieve the same?".
While this may not be what everyone ends up thinking, it is one of the daunting concerns of many business owners today. But when you outsource your live chat support, you can make your support team a 24×7 reality and make sure no question goes unanswered, even at odd times.
Improves Customer Satisfaction Score with Experts in Place
Experienced support team members help your business tackle myriad situations. They can be order-related, product quality issues, account management challenges, and so on. With a team in place that's aware of most of the recurring issues taking place with your customers, you'll see positive growth in your customer satisfaction score and retain customers successfully.
When your business gets to enjoy such amazing benefits, there is no way that you can avoid outsourcing live chat operators for your business. However, you should have a thorough understanding of specific circumstances that will need your business to outsource live chat services.
When Should You Outsource Live Chat Service?
If you're missing out on the 'signs' that your business needs to outsource its live chat services to a vendor, then we've listed a few for you below. Read and find out your indicator now!
If Maintaining a 'BIG' Support Team is a Trouble
It's not easy for all businesses to manage the desired size of the support team in-house. That's why 47% of companies outsource their customer support process to resolve such capacity issues. While some may even have the budget to have a massive team in place, it's not necessary that they can manage them the right way. It can be due to a lack of customer service knowledge or having the right resources in place. But when you outsource live chat services, you can overcome these hurdles effectively.
If You Lack the Infrastructure
Another daunting challenge businesses can face is the lack of suitable infrastructure that helps you manage an in-house team hassle-free. You may lack the right space or technology to offer to your in-house support team. You may even lack the capital to invest in the best live chat software that yields better results for your business. These infrastructural challenges can encourage a company to invest in outsourced live chat services.
If Offering 24×7 Support Seems Unrealistic
Lacking a team that sits and offers 24×7 support to your customers is another reason businesses consider investing in live chat outsourcing for support purposes. When you outsource live chat services, professional teams tackle customers not just on the day shift but also during the night. That means you get to answer queries at odd hours and make sure no question goes unanswered.
If You Can't Afford to Train Support Teams Regularly
Your support teams should be trained regularly to tackle customer challenges and questions effectively. But if you can't afford to train your support teams regularly, they will likely fall behind support trends and may fail at handling challenging questions. In such a situation, outsourcing seems a good option. It helps you save capital and work with teams that manage support issues effectively as they are trained regularly.
If Your Sales or Support Teams Can't Grow Along with Your Business
When we say your support team isn't growing as your business scales, they cannot understand your business and its image in the market. If your support team and marketing team aren't on the same page, you are likely to see a conflict in how they work and portray your brand in the market.
However, the same isn't true when you outsource live chat support services for your business. The moment you get a team on board, they'll try to understand how your voice and tone are used with prospects and customers. They would even try to come to a consensus soon with the marketing team to create a seamless experience from the top of the funnel to the bottom of the funnel.
It is situations like these that encourage a business to invest in live chat outsourcing service providers. Now before you dive into finding the right live chat outsourcing team for your business, it would be great if we first look into the pros and cons of in-house vs. outsourced live chat service.
Pros & Cons of In-house vs. Outsourced Live Chat: What's Better
This section is strategically planned to help business owners understand what process works better for their companies. We'll briefly understand what both types of services mean and later check out their pros and cons.
In-house Live Chat Services
This is where you create a live chat support team and manage incoming conversations internally. All you have to do is get the right support team members who can manage multiple queries at the same time and the best live chat support tool to create a seamless experience for customers.
Pros & Cons of In-house Live Chat Services
| | |
| --- | --- |
| Pros | Cons |
| Your support team will be well-versed with the product knowledge and would easily connect with your development teams to discuss the best possible solution faster. | Setting up your in-house support team can be quite a challenge for businesses in terms of capital investment, finding the right operators, and more. |
| You get access to all the support operations in real-time. | Training your team regularly can be a challenge and that may impact their output while offering services to customers. |
| You can capture customer feedback in real-time and act upon it faster. | It can be a challenge to stay updated with the latest live chat best practices and trends that can hamper the performance of in-house live chat operators. |
Outsourced Live Chat Services
Outsourced live chat services, as discussed above, are where you connect with a third-party vendor to take over your real-time customer support process. Some of the pros and cons of this type of customer service are discussed below.
| | |
| --- | --- |
| Pros | Cons |
| Each aspect of live chat conversation is managed by a professional who knows how to keep customers engaged in a conversation. | You may face difficulties collaborating with the outsourced team right away and keeping them updated about the latest product upgrades. |
| Helps you offer 24×7 support to customers. | There are times you may face security risks. |
| Reduces infrastructure and employee costs. | Fails to help you collect real-time customer feedback. |
These pros and cons of both types of customer services help you understand what works better for your business. But even after reading the pros and cons of outsourced live chat services you feel it would work the best for your business, then this is how you can find the right vendor to help you offer the best service in the market.
How to Find the Right Live Chat Outsourcing Team for Your Business
In this section, we plan to touch upon a few factors and questions that will help your business find the right live chat outsourcing team for your business.
Please note: A vendor may not qualify through the entire checklist. But make sure it ticks off most of these requirements.
1. Strike Out the Right Cultural Balance With Vendor
Your brand stands for certain work and service culture. So no matter what, the same culture needs to be followed throughout all the processes. It should reflect in your marketing and brand messaging. That leads us to the first factor that you need to look into – striking the right cultural balance with the vendor.
You need to work with someone who accepts your work culture and supports your service requirements.
No doubt, the idea sounds like a lot of work.
But that's the only way you can maintain the same brand messaging and ensure that what you promised is being delivered throughout the customer's lifecycle. To strike off at the right footing with the vendor, you need to:
Get in touch with your preferred vendor first
Hear out what they believe in while offering support services to their clients and to the client's customers
Express your service concerns and what you feel won't match with your brand messaging
Once you are clear with these steps, it'll be easier for you to understand whether you'll be striking the right cultural balance with the vendor or not.
2. Question Yourself, "Can They Match Our Business Infrastructural Needs?"
Just because you are looking into a third-party vendor for outsourcing your live chat needs doesn't mean you don't get to set your infrastructural needs and expectations. But before you judge your live chat outsourcing options on the basis of infrastructure, it is important to identify your needs first.
Here's a quick checklist that you can use to see if the vendor matches the infrastructural needs or not.
Understand how much live chat data can the vendor store for your business on a daily, weekly, and monthly basis
If you are an enterprise business, then gauge whether they have a big team in place or not to manage bulk chats that come in at the same time
If you run a small business, then how many outsourced live chat operators will they assign to your company
Ask them whether their outsourced services will also be inclusive of automation of support requests or not (a great way to judge their service costs)
Check out if they will only assign you support team members or will they also offer sales experts in the same package
This checklist will help you identify your live chat service needs and also understand whether the vendor can match up to your infrastructural needs.
3. Find Out Their Industry Experience
Ask yourself, "Does the vendor have sufficient experience in outsourcing customer service for its customers or not?"
There is no doubt that experience cannot judge the expertise of a vendor. But seasoned vendors witness some of the toughest customer service complaints and edgy scenarios that they become experts at resolving. This is one of the reasons why you cannot avoid checking out the industry experience of the vendor and how many customers they are currently managing.
This gives you a good picture of what they're capable of managing and how they've helped their client's overcome some of the challenging customer service scenarios efficiently.
4. Understand Their Competence Through Reviews
Even if the vendor has years of experience, it is important to see what they've brought to the table for their customers over the years. Check out the online reviews to understand their competence and whether they've successfully managed to keep their customers happy.
However, not all online reviews are to be trusted.
When searching for online reviews, you can check out Glassdoor or Google reviews where some customers drop their feedback for the vendor. While that is one way to understand if the reviews of the vendor are in their favor or not, you can also give social media platforms a try.
A lot of service providers create their service and support pages on platforms like Facebook and Twitter to let their customers reach them through every possible means of communication. When you scroll through their support pages, you should look out for:
How fast was the company to address some of the pressing issues faced by their client?
Do they frequently reply to all the incoming tweets or Facebook complaining statuses?
Are they regularly updating sources for help and support or not?
If you see more positive comments of customers saying that the company resolved their issues, then you can definitely check out such vendors and get in touch with them.
5. Do They Share Your Brand Voice?
This is an important question every business should consider before investing in a live chat outsourcing vendor. As discussed in point 1, having a similar brand messaging throughout marketing and support processes helps you let the customers know that you stick with one thing during their entire lifecycle.
Basically, being consistent is important.
Similarly, it is essential to develop a voice with which your customers can relate every time they interact with your brand. The same voice should resonate during sales, support, and marketing activities as well.
To make that happen even when you hire a vendor for your support process, you need to get in touch with them and understand what type of voice they use when interacting with client's customers during live chat conversations.
This can help you gauge whether the service provider has a voice that matches yours or not. If that's not the case, you should ask them how flexible their operators will be to adapt to your company's voice. If they are flexible to make such changes in their support process, you can still consider them as a suitable vendor.
6. Should Be Open to Regular Feedback & Training
There is a reason why we keep hearing practice makes a man perfect. Well-trained support operators can help you notch up the support experience for customers and make sure they build a complete support experience successfully.
That's why you need to ask your outsourcing vendor whether they train live chat operators frequently or not. Regular customer service training sessions would help them stay ahead on all the latest customer support trends. Besides that, regular training sessions can help support operators to:
Stay updated on recurring issues and how to resolve them faster
Maneuver through the live chat tool faster and resolve incoming questions better
Become spontaneous and proactive at offering a solution to customers successfully
---
Read More: The Complete Customer Service Training Guide
---
7. Will they Cover Security Issues?
Will they keep our data safe?
Will our customers complete a transaction under their supervision safely?
Data safety encourages you to ask such questions and many more like them when trying to finalize your live chat outsourcing vendor. What's worse, similar questions on the same line may keep hampering you even when you settle with one vendor later on.
That's why your first approach in the data security sphere should be to track your existing legal obligations. Have you added any clauses while getting the customer on board regarding data security? Were any of these clauses added impromptu? What will happen if your customer's data gets compromised? What preventive measures should you take to avoid severe repercussions?
After figuring out answers to these questions, we'd say build a contract that legally binds the vendor. Let them learn about the collective impact both you and them will face if customer data gets compromised. This is one of the best ways to ensure customer data security.
8. Check Out Their Customer Support Tool & Its Performance
Finally, we'd recommend you to check out what type of live chat software the outsourcing company is using to manage real-time support requests from your website. With the perfect customer support tool added to your website, you can ensure a good experience for prospects.
It's fine if you've already got a live chat installed on your website and would like the outsourced live chat operators to manage its collected queries. But if you haven't installed a live chat support tool yet and are willing to go with the option your vendor plans to offer, then ask the following questions about the tool:
Will the cost of the tool be included in the base price of your package?
Will the tool be a combination of chatbot and live chat or will it work on an agent's manual efforts?
What's the data capacity of the live chat in use?
What type of metrics can we track with the live chat software?
While this may seem like a small list of questions, they will be enough to help gauge the performance of the live chat software the vendor plans to use on your website to manage real-time questions.
How Much Does Live Chat for Outsourcing Cost
Simply learning how to find the best live chat outsourcing company for your business isn't enough. You also need to learn how much live chat outsourcing services can cost your business. The cost can range from $25 and $65. However, the base price starts from $3.5/hour.
What's more, this base price can vary on the basis of cost per lead (ranges from $15-$35), pay per agent (ranges from $15-$60), free live-chat (that costs $0), and volume-based pricing (charged on the basis of conversations agents encounter online).
Top 20 Questions to Ask the Live Chat Outsourcing Company
We've covered a lot of aspects so far in this guide. But there's still one thing that a lot of guides online miss out on – primary questions to ask the live chat outsourcing company. We'll be covering some of the top questions you should ask once you get in touch with the outsourcing vendor.
What's your current industry experience and how many customers have you managed simultaneously with your current operator capacity?
Do you have a customized operator training process for each of your clients?
How fast are your operators at answering incoming live chat conversations?
What's your existing customer satisfaction rate?
Do you have a remote team or do all your operators work from one office space?
Which metrics do you use to measure the operator's performance?
What are your operator's key performance indicators?
At what intervals do you check your operator's performance?
Do you simply rely on the performance reports generated by live chat software or do you have a personal system in place?
Do you provide copies of all live chat interactions to your clients?
How many clients is your outsourcing company engaged with?
What's the first step your operators take if they don't know an answer to our customer's question?
Do you provide access to lead data in all of your packages?
How do your operators differentiate between incoming sales and support queries?
How frequently do we get access to all customer support reports?
Do you offer customized plans to your customers? If yes, how do you plan to create one according to our needs?
Do you walk your clients through the setup process of your service?
Once signed up with your company, what is your first plan of action with new clients?
Do your support operators get in touch with our development and marketing teams frequently in case of emergencies?
Do you offer 24×7 support to our customers? If yes, then is it included in existing plans or will it be an add-on cost?
These questions will give you a head start on what you should discuss first with live chat outsourcing vendors.
Experience the Power of Live Chat Outsourcing!
There is no doubt that your business today needs more than email or phone support teams at the workspace. You need a team that can get in touch with customers/prospects right away, understand their pain points, and offer them a solution during that chat itself. You basically need a live chat team in place.
Problem?
Well, not all businesses are equipped to create a live chat support team in-house. That's why they can look into live chat outsourcing as an option.
Live chat outsourcing is an amazing strategy for businesses that lack the infrastructure, capital, ability to hire the right people and offer 24×7 support to customers. They would enjoy the fact that outsourced live chat services help them focus on other tasks and become better service providers in the market. If this puts you in action to get your live chat outsourcing team and process in place, then our little guide will help you get started right away.
Do you want a free Live Chat software?
We have the #1 Online Live Chat Software for instant customer support 24x7