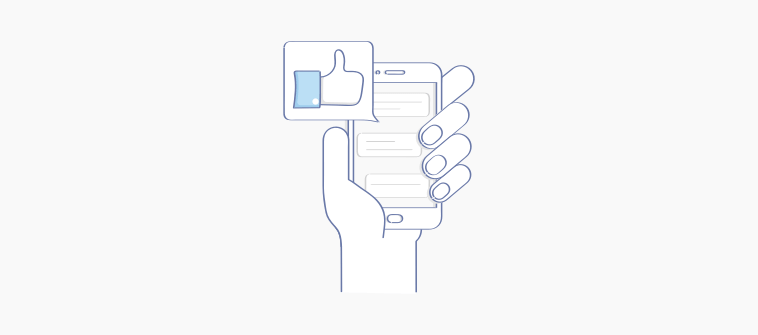 Imagine this: You own a clothing store that's known for selling unique designs. Your customers love these designs and keep coming back for more. But one fine day you come across an emergency and are left with no option but to leave a "closed" sign hanging at your entrance with your contact number on it.
But do you think that customers will prefer to discuss an issue encountered with a piece purchased from your store on a phone call? No – they'll rather prefer to meet you.
Now reading this example you may think, "it is no way connected to me". But trust me, the same can be applied to an eCommerce store. However, the situation can be different.
In an eCommerce store, your customers can encounter not only issues with your product but also with your service. You can't let them go without building a delightful experience for your customers. But in case you have a phone number or an email address on your contact us page, then there is a possibility that they'll approach the competitors.
Understand this, your customers seek help and that too instantly. So, making them wait on call or for a response to their email is surely not the right way to provide support. Further, we live in a time where Millennials hate making a call for support. So, what other options are there for you to provide instant help?
Well, let's make this simple. We have live chat that you can add to your website and provide support in seconds. You can:
Get connected to your customers in seconds

Reduce support queue
… and much more.
In short, live chat can help your business grow online.
Let's take a look at how does live chat work once you integrate it on your website.
What is Live Chat Support: How Does Live Chat Works
We are past the point where people ask, "what is live chat software?". The customer support tool is the perfect solution to help your customers find an instant resolution to their questions.
That's why it is time to seek an answer to a different question – how live chat works on the website?
But as important it is to learn how does live chat works on a website, you also need to learn how to implement live chat software on your website.
How to Implement Live Chat on Website
To learn how does live chat work on websites, it is essential to add live chat first.
In a matter of five minutes, get a live chat software up and running on your website along with the complete signup process.


Sign up for the live chat tool you'd like to add on your website. Just in case you'd like to add ProProfs Chat to your website, then watch the video above to see how to implement live chat on the website within 5 minutes.

Once signed in, you'll see the dashboard. Click on Settings in the navigation bar, and you'll see the Installation bar on the left side of your screen. The moment you click on the installation option, you will get to see a chat code that you need to copy.

Finally, paste the code to your website's code just before the </body> tag, and once you refresh your website you will see a chat icon on your website.
It seems simple, right? But using one on a daily basis is all the more simple. Now, let's see how does live chat app works.
How Does Live Chat Work
Once a live chat is added to your website, there will be two interfaces through which the customer-operator communication will take place.
Let's discuss each of them in detail.
Operator/Monitor Window
An operator window is an interface that allows support operators to track visitors on the website instantly.
The operator gets to see:
How many fellow operators are online?

How many chats is one operator managing at the same time?

Total chat limit of an individual operator

How long has one visitor been on the website?

Which page did they land on?
Other than that, as an admin, you can also join an ongoing chat and see whether the operators are performing well or not. Operators can also invite visitors to chat online if they've been on a page for far too long. This way, they can understand the visitor's intent to visit the website and provide a customized support experience.
Operators also get the liberty to view the conversations of the returning visitors and accordingly create a personalized experience, while keeping their previous conversation in mind.
Besides the previous chat transcripts and inviting customers for a chat, operators can also collaborate with other operators in case they need assistance during an ongoing chat. This operator-to-operator chat feature reduces the effort another operator has to make to understand the customer again in case the chat gets routed to him, and the customer gets an instant solution to its question.
That's how the operator/monitor window interface works. Now let's see how does the visitor interface work.
Visitor Window
A visitor window is an interface that is visible only to the visitor. Here the visitor can either initiate a chat or accept one in case an operator requests them manually.
In the chat window, a visitor can come across:
Pre-Chat Form
This appears before a chat. The form helps a business capture details on visitors like name, email address, number, and more. The pre-chat form helps operators personalize the chat once they get to know the visitor.
Offline Message Form
The form allows business owners to capture customer pain points even when the operators are offline. These offline messages convert into tickets that operators can resolve once they receive them.
Self-Help Articles
If your live chat service provider gives you the option to integrate with a knowledge base, then it becomes simple for you to show relevant articles that will allow your visitors to find answers instantly. Vendors like ProProfs Chat offer the integration between the knowledge base and live chat to help business owners reduce chat tickets up to 80%.
Other than this, a visitor can also come across an operator rating form and post-chat survey to analyze how their experience was and whether they were satisfied with the support process.
That's how a live chat works on both interfaces.
---
Read More: List of Best Live Chat Software Solutions
---
Now, let's take a look at some of the frequently asked questions about how does a live chat work below:
Why does my business need a live chat?
Adding a live chat is important as it helps you capture leads, boost sales, and increase brand loyalty. Plus, it is a cost-effective product as one operator can manage multiple chats at the same time, thus reducing the cost for hiring new support staff. Read our detailed blog on 7 Reasons Why You Should Add Live Chat To Your Business.
Will ProProfs Chat increase my sales?
Yes, it does. It helps you convert leads faster by providing them support in real-time. Moreover, it is a great platform to provide exceptional personalized support experience to customers as you get to capture their information during an ongoing chat and use it to further understand their pain points. To more about this you can read our detailed blog on How to Increase Your Business Sales & Conversions Upto 10X With ProProfs Chat.
How does proactive chat work in favor of my business?
Initiating a chat with a visitor or a regular customer makes them feel valued and gives them the impression that you care. Plus, proactive chats help you know how active and forthcoming your operators were when they found a visitor on a page for too long.
Which ProProfs Live Chat features help me boost sales?
Features like pre-chat form help you capture leads for your business. However, features like announcements, proactive chat, visitor monitoring, and chat routing help you boost sales effectively.
Do you want a free Live Chat software?
We have the #1 Online Live Chat Software for instant customer support 24x7