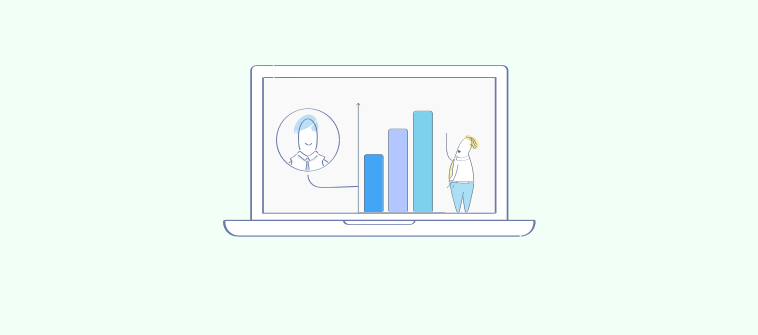 "Why do website visitors give low ratings to our live chat support?"
"What should I do to improve customers' experience on my website?"
"How can I get the most out of my live chat for customer support?"
These are only some of the questions business managers frequently ask to improve their business performance. And while answers to them depend on a diversity of factors, the ultimate key to support success is the adoption of live chat best practices.
But how can you know what practices actually yield the best results?
And, how are live chat best practices for customer support a positive activity if your website visitors give your live chat support such a low rating?
Well, you can either spend time and energy spying on your competition and trying to copy their live chat examples, or you can stay with us and get a direct insight into 17 best practices for live chat support that you can implement right away.
Use Live Chat Best Practices To Build Seamless Experience For Your Customers
To help you get a more profound image of best practices for live chat support, we're dividing our suggestion list into several main groups, each one dealing with a specific set of practices.
So, keep reading to find out everything you wanted to know about live chat for sales optimization–examples included!
Live Chat Best Practices For Live Chat Visibility And Availability
With a list of 17 live chat best practices, your business can really skyrocket its sales. Let's check them out below!
1. Place Live Chat Window in the Lower Right-Hand Corner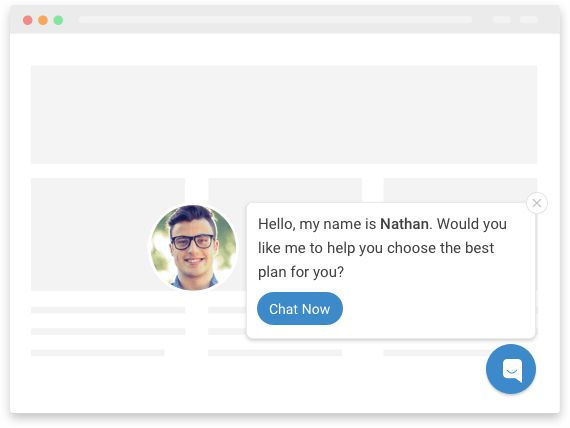 When navigating websites, visitors are pretty used to check out the right side of the screen first. And if they're looking for live chat support, they'll be pretty likely to search for it in the lower right-hand corner of a webpage.
This instinct is probably developed as an impression from the fact that diverse social media platforms, including Facebook, have their instant messaging centers precisely in this area. And if you're still not sure about it, just check out some real-life live chat examples.
If you visit any major business website that provides live chat support, you'll realize that the chat window placement remains pretty much the same on each of them. So, if you want your live chat to bring results, you definitely want to stick to this pattern, too.
2. Make Your Live Chat Window Easily Accessible
So, what you should do is make sure that your visitors can easily see your live chat button wherever on your website they are. Don't make the mistake of placing your live chat only on your homepage.
Use proactive chat invitations to boost customer support service.
The effortless accessibility of live chat is extremely important for your customer experience and retention since, in a large number of cases, your visitors won't land directly on your homepage. And, unless they are extremely interested, they won't bother to look for the live chat anywhere beyond their landing page. So, they'll probably give up on your website before even giving it a chance.
Apparently, this seemingly unsubstantial drawback in some cases may be a major cause of increased bounce rates. And this is especially true if your website is complex and requires significant effort for customers to take the next step. So, instead of neglecting your live chat, make sure to have it exposed on all your pages.
3. Feature a (Customized) Proactive Message in the Live Chat Window
If you want to go a step further and make sure that your customers won't miss your live chat, you can always make it more visible by activating proactive messages when your website page loads.
Apart from clearly showing your customers that they can rely on live chat, with a proactive greeting message you're additionally motivating them to engage with you. This way, you're increasing their interest and, therefore, their probability of converting. To level up your proactive support game, you can create a different message for each page on your website. To know more read this quick guide about proactive live chat setup
For example, you can use a customized proactive message to reach out to newly registered website visitors, like: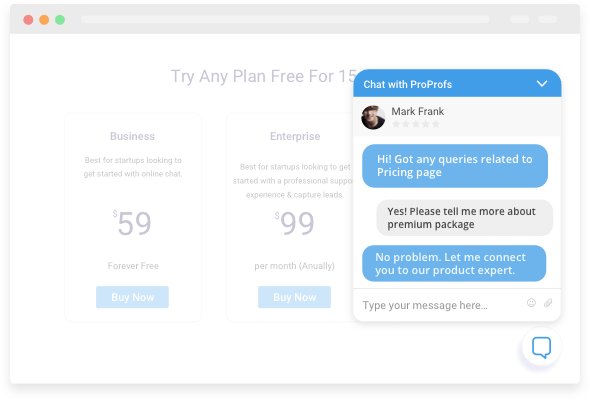 4. Specify Timing If Your Live Chat for Customer Support Is Not Available 24/7
If you cannot provide live chat support 24/7, you should clearly point out your support work hours. Practically speaking, you should make it easily visible to your customers even before they try to reach out to you.
Otherwise, if you let them write a lengthy message explaining their issue only to have them figure out that you are not available once they try to send it, you'll make them feel frustrated. And frustration is one of the top reasons for visitors to give up on your brand.
So, what should you do?
While you're out of the office and not providing live support, you can activate a proactive message explaining the situation. Besides, you can suggest they send an email to you to avoid not addressing their issue at all.
For example, you can reach out to them with a message like this:
Hello there. We're out of the office right now, but if you need our help or assistance, feel free to send us an email. We'll get back to you as soon as we check it out.
5. Feature the Estimation of Wait Time When Needed
Sometimes, your live chat support may not be able to handle all customers' requests at a time. And nobody loves wasting time on hold. Especially if they don't know how long it will last.
So, if you have to deal with an excessive number of customers' requests and chat sessions, make sure to at least reduce customers' frustrations by pointing out how long they'll have to wait before an agent replies to their request. This can be done easily by activating an automated message with a timer in your live chat for customer support.
For example, you can add a message like this:
We're sorry for the delay. One of our agents will be with you in (estimated wait time). Thank you for your patience.
Live Chat Best Practices For Increased Communication Efficiency
6. Use Pre-Made Messaging Templates
There's probably no more efficient way of speeding up communication without jeopardizing its quality than using pre-made messages.
These messages, also known as canned responses, may be activated in different ways, depending on the type of your live chat software. Some of them let you create a different shortcut for each automated reply, while some of them provide you with a drop-down menu that's activated automatically, once you start typing keywords that appear in a specific canned response.
For example, you can automate greetings or other types of generic messages that you frequently send. If you're frequently dealing with frustrated customers, you may want to have among your canned responses something like:
We're really sorry for this inconvenience.
Or, if you're usually asking visitors to rate your chat session once it's done, it could significantly save your time if you had a ready-made message to ask them for their opinion.
Here's how ProProfs does it: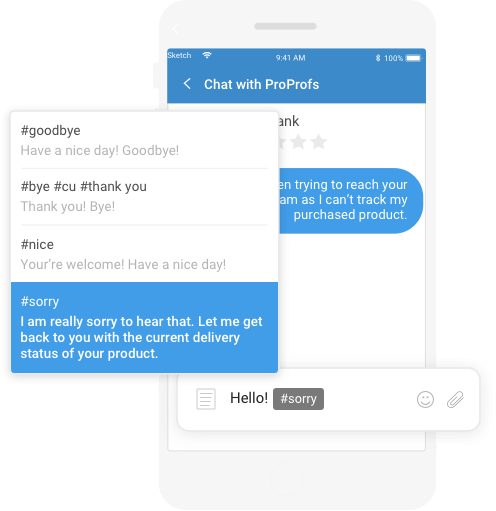 7. Enrich Text Messages With More Insightful Formats
Even though live chat is usually based on the exchange of textual messages, sometimes, the complexity of an issue requires the use of other types of content. In a large number of cases, customers will better understand agents' instructions if they are followed with visual examples, step by step videos, infographics, etc.
If you want to get the most out of live chat best practices, then use live chat software that supports this rich content exchange.
Not only will you make it easier for customers to overcome a certain issue, but you'll also save a lot of your agents' time, having in mind they can re-use the same multimedia content in different situations.
8. Use Pre-Chat Forms and Post-Chat Surveys
Pre-chat forms and post-chat surveys are also important elements of live chat best practices, as they shorten the interaction between an agent and a customer.
On the one hand, pre-chat forms are helpful as they let the agent get the key information about customers and their requests before providing feedback. This way, it takes less time for them to solve the issue.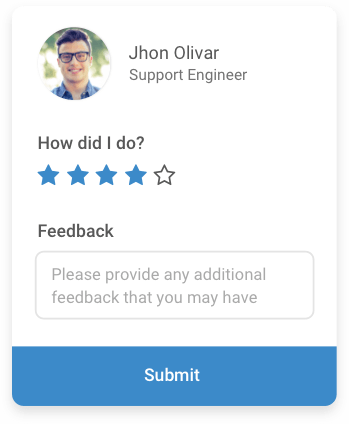 On the other hand, post-chat forms and surveys help collect customers' feedback on relevant products and services or different aspects of a specific live chat session.
Accordingly, they are highly convenient as they reduce the need for agents to spend extra-time asking the questions over and over again. They represent the most convenient solutions among numerous other live chat support best practices.
Live Chat Best Practices For Improved Communication Quality
9. Personalize Each Chat Session as Much as Possible
No matter whether you're talking to a new customer or someone with major purchase history, you should do your best to provide them a personalized experience.
---
The easiest way of developing at least a somewhat personalized session with a new customer is by making them fill in a short pre-chat form.
---
From this form, you can get some info that can help you customize and optimize your interaction, such as their name, location, type of issue they're experiencing, etc.
When it comes to live chat personalization for repeat customers, you can rely on their chat history and their previous interactions with your brand.
In other words, you may try addressing some of their previous issues and check if everything's fine now, or use their previous feedback on your chat support quality to provide them improved experience.
10. Show Customers That a Real, Empathetic Person Is Talking to Them
When activating live chat support, you should think about the impression you're making on your website visitors. To make them feel more comfortable interacting with your brand, let them know that they are communicating with a friendly, polite, and understanding person.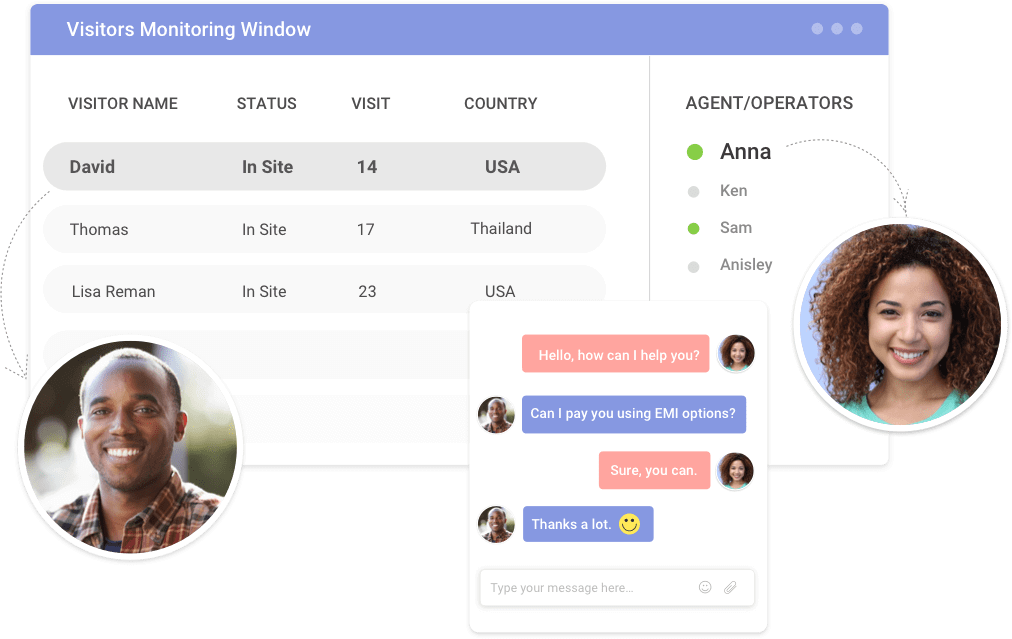 Avoid too formal or judgy approach, and don't hide your agents behind your brand logo. Instead, feel free to feature their professional image and name to help create a more personal bond between them and customers.
11. Adapt Your Language to Your Customers and Brand Identity
Adapting language to your customers, keeping your brand identity in mind is not only about knowing grammar rules.
Of course, it's incredibly important for you to have impeccable grammar and orthography to seem professional in the eyes of a potential customer. Still, you should also go beyond these two requirements, adjusting your style and register to the message your brand wants to spread.
So, make sure to fit your communication style to your business type.
For example, if your website is an online pharmacy, you should base your communication on a consistent, serious tone that instills trust. And if you have a creative gift shop, you should try to interact with a more playful tone, and even use emojis or memes.
12. Make Sure to Address Customers' Requests as Directly and Precisely as Possible
One of the major sources of frustration for a large number of customers is having their requests addressed vaguely. Apart from fast feedback, your customers expect you to approach their issues thoroughly and provide a reply considering all the information they previously provided.
So, if you want your customers to remain delightful, happy and loyal, make sure not to waste their time on answers that have nothing to do with their questions. Before providing feedback, give your best to understand their requests and ask additional questions if you're not sure that you understand their complaints.
Remember that it's always better to show interest and spend some extra time trying to realize what their specific issue is than to give a generic reply that's not as helpful as it should be.
Advanced Live Chat Practices for Conversion Rate Optimization
13. Improve Engagement on Your Website with Announcements
To capture your visitor's attention in one go can be a challenge for many online business owners. That's why we recommend you to make use of features like Announcements offered by ProProfs Chat to capture and engage your visitors on the website.
With Announcements, it's easy to update your visitors about upcoming events, sales, discounts, new product upgrades and more efficiently. Such announcements will help you engage visitors and even identify upsell opportunities for your business.
Here's an example of how Announcements would look on your website: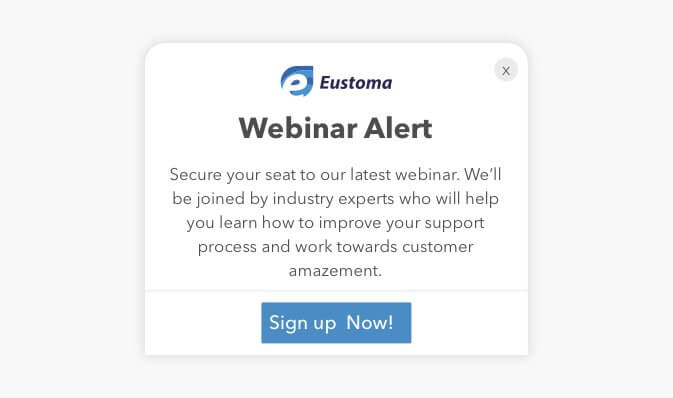 14. Use Live Chat Software Tags for the Request Categorization
Even though the message tagging feature is not the one that you'll get to hear about too much, it definitely can be very handy. Practically speaking, with this feature, agents get to categorize different chat sessions based on their topics or some other criteria.
This way, when a visitor reaches out to you with a request, and you know you had solved a similar problem before, you can easily check how it went and what you should do to increase efficiency and improve performance.
15. Integrate Live Chat for Sales With a Knowledge Base
The integration of your live chat for customer support with a well-developed knowledge base is another great option among live chat best practices.

It represents a great way of providing live support to your customers while at the same time motivating them to try to fix some simpler issues by navigating them towards existing relevant information.
In other words, live chat agents supported by a knowledge base can handle customers' requests with increased efficiency since they can simply link relevant articles in the session.
Of course, support staff should pay attention if the selected article from a knowledge base fully addresses customers' requests, to avoid unnecessary frustrations. Besides, the agents should always request that customers confirm if they managed to solve the issue on their own and suggest providing additional help if needed.
16. Keep Track of Key Performance Indicators
If you want to be sure that your live chat support is bringing you the results that you expect, you should not only monitor your agents' performance but also quantify it.
And to be able to do so, you have to determine your key performance indicators–the measures and parameters that can help you realize the impact of your live chat support on your business results.
Once you start to transform your descriptive customers' impressions into numbers, statistics, and reports, you'll be able to improve your understanding of your support performance.
Figuring out the crucial support aspects that negatively affect your conversions, you'll get a chance to analyze them more profoundly and think of ways to solve them efficiently.
17. Integrate a CRM Tool With Your Live Chat for Sales
Undoubtedly, the use of CRM tools is an important part of live chat best practices, as they make live chat support easier for both agents and customers.
These tools help agents handle customers' requests by creating their profiles and saving relevant information (names, emails, requirements, preferences, etc.). This way, every time an agent tries to help a customer, he can rely on the profiles CRM tool generated to provide improved customer experience.
On the other hand, with the help of these tools, if an agent leaves a chat session for some reason, customers don't have to explain everything from the start. The tool syncs the provided information in real-time, keeping everything available even after the session is interrupted.
Watch This Video To Know Benefits of Microsoft Dynamics CRM Integration With Live Chat.

Why Do You Need To Follow Live Chat Practices?
All of the above mentioned and analyzed practices have a substantial impact on your live chat performance. Not only do they affect the efficiency of your agents and interaction quality but they also shape your relationship with customers from the moment they reach out to you until you have their request resolved or your product sold.
Accordingly, it's not surprising that numerous businesses have their live chat for customer support rely on these pre-tested and highly useful support solutions.
Firstly, live chat support best practices may completely reshape the efficiency and quality of the communication between your agents and customers.
Secondly, these improvements in their interaction inevitably lead to an increased number of visitors converting into customers.
Besides, the fact you're providing a uniform, consistent support service in all phases of visitors' journey implies reductions in churn rate as well as an increase in the customers' loyalty.
Finally, as you can see, if implemented properly, live chat best practices for sales can only have a positive impact on your business performance. Enhancing the diversity of aspects of the communication established between your agents and customers, these practices create a solid base for the further improvements in your brand reputation and relationship with customers.
---
Now that we've seen some of the best live chat practices and why their implementation is essential for a business, let's take a look at some of the frequently asked questions below.
How can I improve my live chat service?
Reaching out to your customers before they do, providing instant help, never missing out on customer queries even when your operators are offline are some of the ways through which you can improve your live chat service.
How can I optimize live chat for personalized conversations?
To make sure you optimize live chat for personalized conversations, give access to your operators to visitor activities. This will help them understand their intent on the website and initiate a chat in strategic moments that creates a personalized experience for the visitors on the website.
How to use my live chat to build a seamless experience for customers?
With the best live chat software, you can understand the browsing patterns of your customers, help operators initiate a chat, increase internal collaboration with features like operator-to-operator chat and make sure that the responses are delivered faster.
What are the important qualities to provide good customer service?
There are a lot of qualities that your operators need to work on if they aim to provide good customer service during a live chat. Some of these can be read in our blog – How to Chat With Customers Online: 9 Effective Tips for Customer Support.
Do you want a free Live Chat software?
We have the #1 Online Live Chat Software for instant customer support 24x7