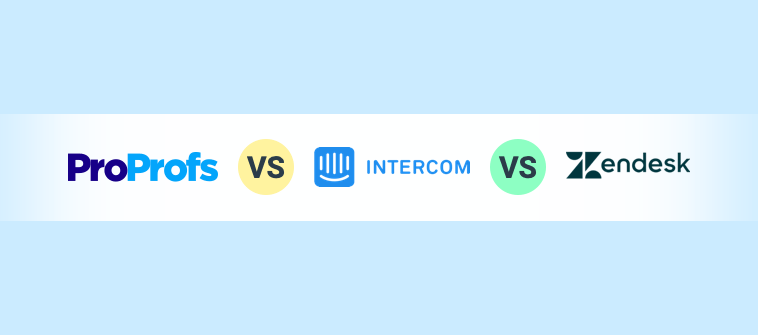 What's trending these days – Zendesk's popularity or Intercom's detailed features and services? What's going to be your next pick – Intercom or Zendesk?
Welcome to another blog post that helps you gauge which live chat solution is compatible with your customer support needs. And in this post, we will analyze two popular names in the SaaS industry – Intercom & Zendesk.
We see a Zendesk vs. Intercom battle because they are both popular brands and quite similar in their functionality. So when someone narrows Intercom and Zendesk as the final options, it can get tricky for them.
Don't worry; we've analyzed both the products thoroughly for you. After this live chat software comparison, you'll get a better picture of what's better for your business.
| Features | Intercom | Zendesk | ProProfs Chat |
| --- | --- | --- | --- |
| Free Trial | Not Available | 14-days | 15-days |
| Price | $79/mon | $49/mon | $10/mon |
| Announcements | Not Available | Not Available | Available |
| Chatbot | Available | Available | Available |
| Integrations | 300+ | 200+ | 50+ |
| Customer Feedback | Available | Available | Available |
| Ticketing | Available | Available | Available |
| Real-time Analytics | Available | Available | Available |
| Knowledge base | Available | Available | Available |
If you'd like a deeper analysis, then this is what you'll come across in our blog:
Introduction to Intercom & Zendesk
Here's a quick introduction to both the customer support tools.
Intercom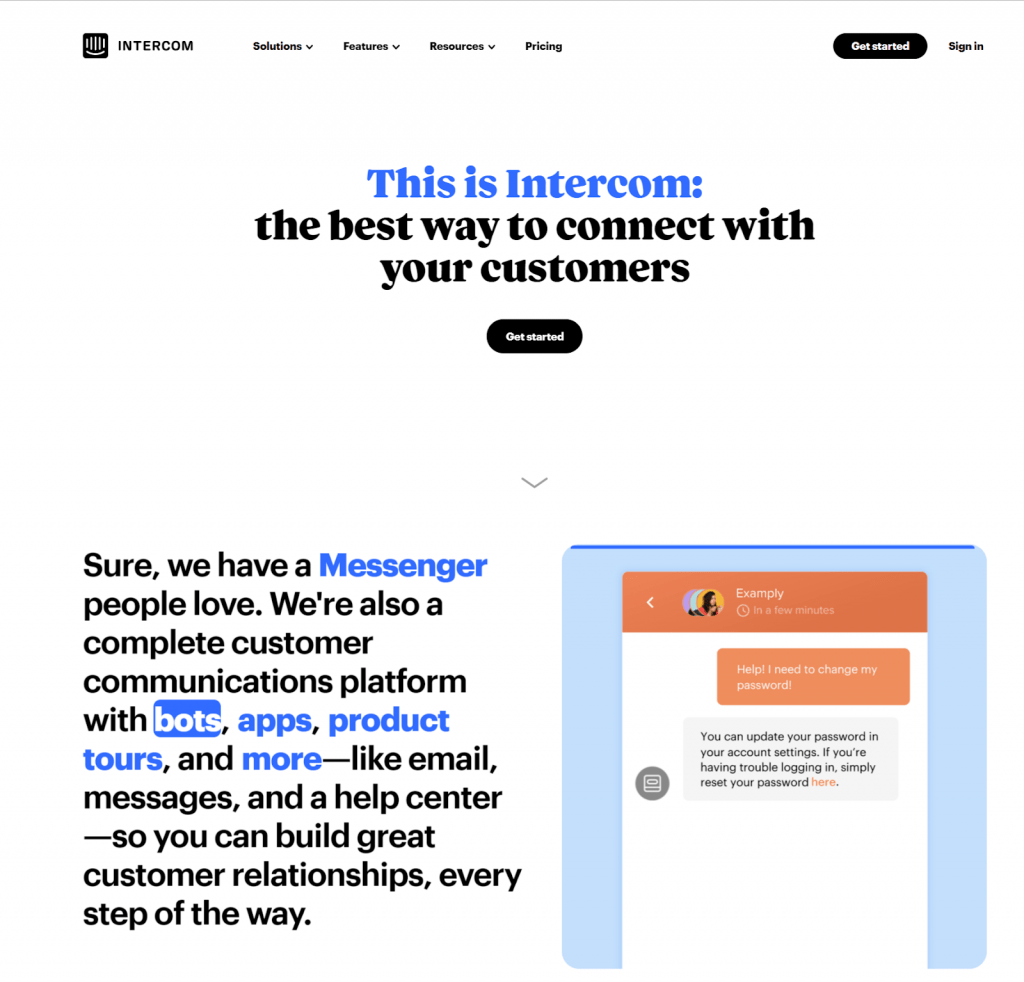 Intercom is a customer support messenger, bot, and live chat service provider that empowers its clients to provide instant support in real-time. This SaaS leader entered into the competition in 2011, intending to help its clients reach their target audiences and engage them in a conversation right away.
They offer an omnichannel live chat solution that integrates with multiple messaging platforms and marketing channels and even automates incoming support processes with bots. It is quite the all-rounder as it even has a help center and ticketing system that completes its omnichannel support cycle.
Also Read: 11 Best Intercom Alternatives & Competitors [REVIEWED]
Zendesk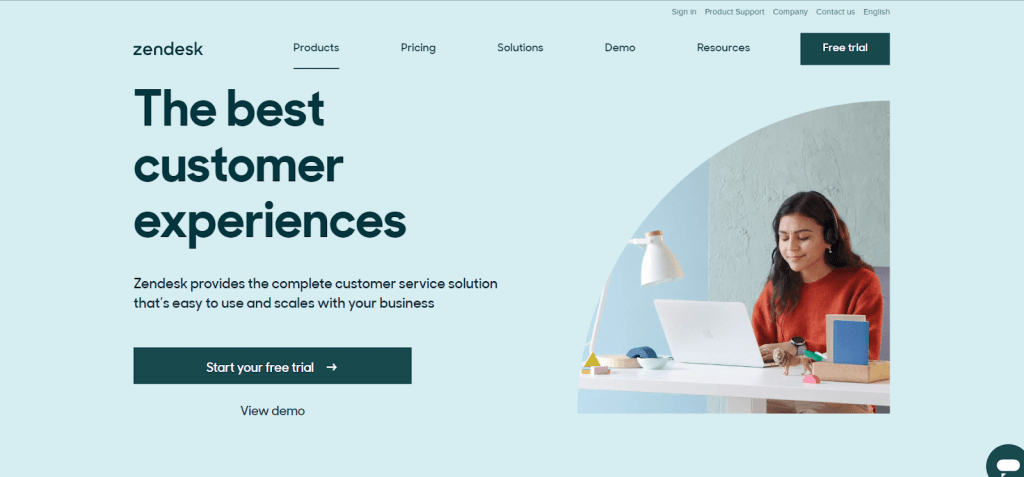 Zendesk is another popular customer service, support, and sales platform that enables clients to connect and engage with their customers in seconds. Just like Intercom, Zendesk can also integrate with multiple messaging platforms and ensure that your business never misses out on a support opportunity.
Zendesk has also introduced its chatbot to help its clients send automated answers to some frequently asked questions to stay ahead in the competitive marketplace. What's more, it helps its clients build an integrated community forum and help center to improve the support experience in real-time.
Different Criteria Used to Differentiate Zendesk & Intercom
Now that we know a little about both tools, it is time to make an in-depth analysis and identify which one of these will be perfect for your business. Here's a list of criteria we've used to differentiate the two for you.
Interface
Feature Analysis
Integration
Pricing
Support
User Review
Let's explore each of these criteria below.
Intercom VS. Zendesk: Interface
Intercom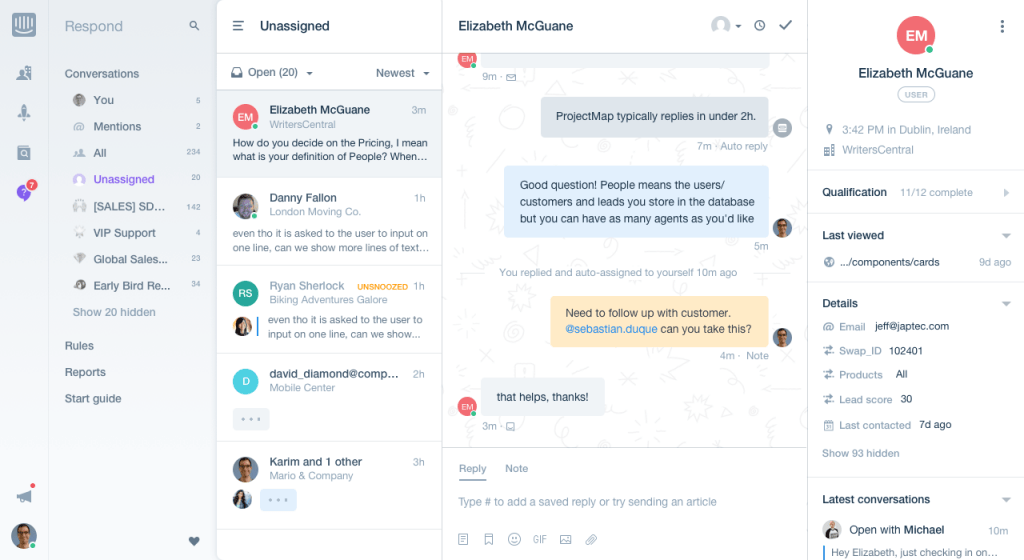 Intercom offers a simplistic dashboard with a detailed view of all customer details in one place. Operators will find its dashboard quite beneficial as it will take them seconds to find necessary features during an ongoing chat with the customers. Admins will also like the fact that they can see the progress of all their teams and who all are actively answering a customer's query in real-time.
Zendesk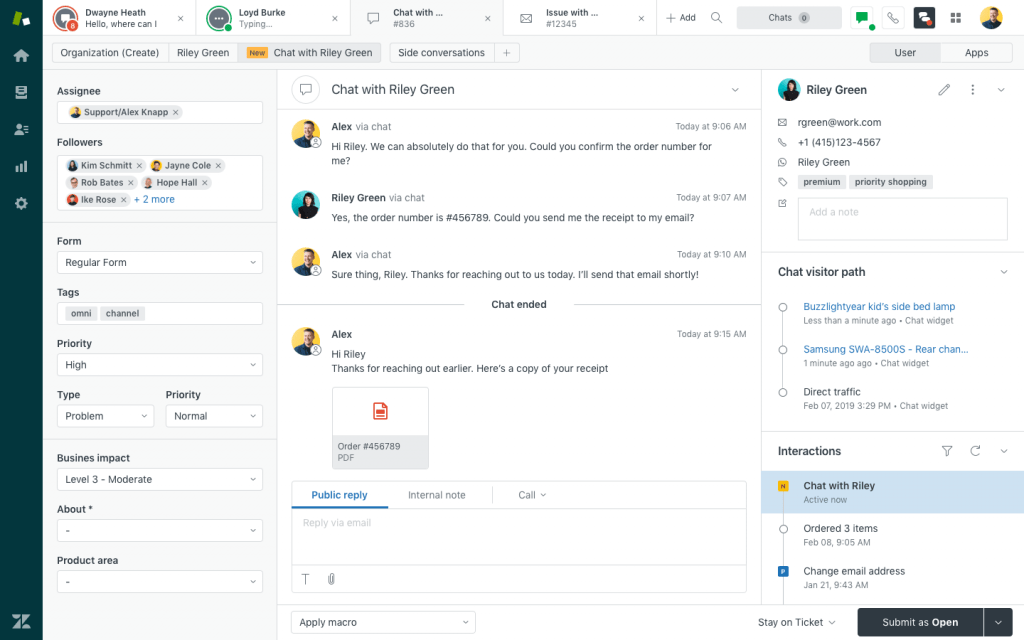 Zendesk also offers a straightforward interface to operators that helps them identify the entire interaction pathway with the customers. Compared to being detailed, Zendesk gives a tough competition to Intercom. Operators can easily switch from one conversation to another, therefore helping operators manage more interactions simultaneously.
If that's not detailed enough, then surely their visitor browsing details will leave you surprised. Zendesk maps out each activity a visitor performs on your website. This enables your operators to understand visitor intent faster and provide them with a personalized experience.
Intercom VS. Zendesk: Feature Analysis
1. Chatbots
Intercom
Intercom is known for its conversational support, marketing, and engagement bots. Their chatbot can display self-service articles to help customers find answers faster. The AI-powered chatbot can also recognize past conversations and identify patterns that it uses to improve future interactions.
Zendesk
If compared to Intercom's chatbot, Zendesk offers a relatively latest platform that makes support automation possible. So far, the chatbot can transfer chats to agents or resolve less complex queries in seconds. This chatbot requires no coding skills. That means all you have to do is add the code to your website and enable it right away.
2. Knowledge Base
Intercom
Intercom offers an integrated knowledge base functionality to its user base. Using the existing knowledge base functionality, they can display self-help articles in the chat window before the customer approaches your team for support. You can create these knowledge base articles in your target audience's native language as their software is multilingual.
Zendesk
Zendesk, just like its competitor, offers a knowledge base solution that is easy to customize. Their users can create a knowledge repository to create articles or edit existing ones as per the changes in the services or product. Zendesk, like Intercom, offers multilingual language functionality. However, the languages are restricted to 40. It also provides detailed reports on how each self-help article performs in your knowledge base and helps you identify how each piece can be improved further.
3. Help Desk
Intercom
Intercom has an inbox that helps its users track all customer conversations in one place. But it doesn't have a detailed help desk solution. They don't have a ticketing system that helps them manage customer emails in one place as tickets. Their inbox captures all customer communication from different channels like social media, messaging platforms, chatbots, and even live chat.
Zendesk
Zendesk is one of the reputed names when it comes to ticketing systems. It helps you track all your customer support and sales-related emails in one place in the form of tickets. Their ticketing solution can easily integrate with their live chat system. This would allow you to convert missed chats into tickets.
4. Reports & Analytics
Intercom
Intercom's live chat reports aren't just offering what your customers are doing or whether they are satisfied with your services. They offer more detailed insights like lead generation sources, a complete message report to track customer engagement, and detailed information on the support team's performance. A collection of these reports can enable your business to identify the right resources responsible for bringing engagement to your business.
Zendesk
Zendesk also offers detailed reports that can be shared with others and enable team members to collaborate on them simultaneously. You can either track your performance on a pre-built dashboard or customize and build one for yourself. This customized dashboard will help you see metrics that you'd like to focus on regularly.
5. Proactive Chat
Intercom
This live chat software provider also enables your business to send proactive chat messages to customers and engage effectively in real-time. This is one of the best ways to qualify high-quality leads for your business and improve your chances of closing a sale faster.
Zendesk
Zendesk also offers proactive chat functionality to its user base. It enables them to engage with visitors who are genuinely interested in their services. You get to engage with them further and get to know more about their expectations. This becomes the perfect opportunity to personalize the experience, offer assistance to prospects as per their needs, and convert them into customers.
Intercom Chat VS. Zendesk Chat: Integration
Intercom
With more than 300 integration options, Intercom certainly ensures that there isn't a single platform that they don't offer to their customers. They very well understand that their user base must have subscribed to other tools besides their own. By offering 300+ integrations, they ensure that their customers integrate the live chat with different tools and create an omnichannel experience.
Zendesk
Zendesk directly competes with Intercom when it comes to integrations. This live chat service provider offers 200+ integrations to its user base. With a mix of productivity, collaboration, eCommerce, CRM, analytics, email marketing, social media, and other tools, you get the option to create an omnichannel suite.
Zendesk VS. Intercom for Customer Support: Pricing
Intercom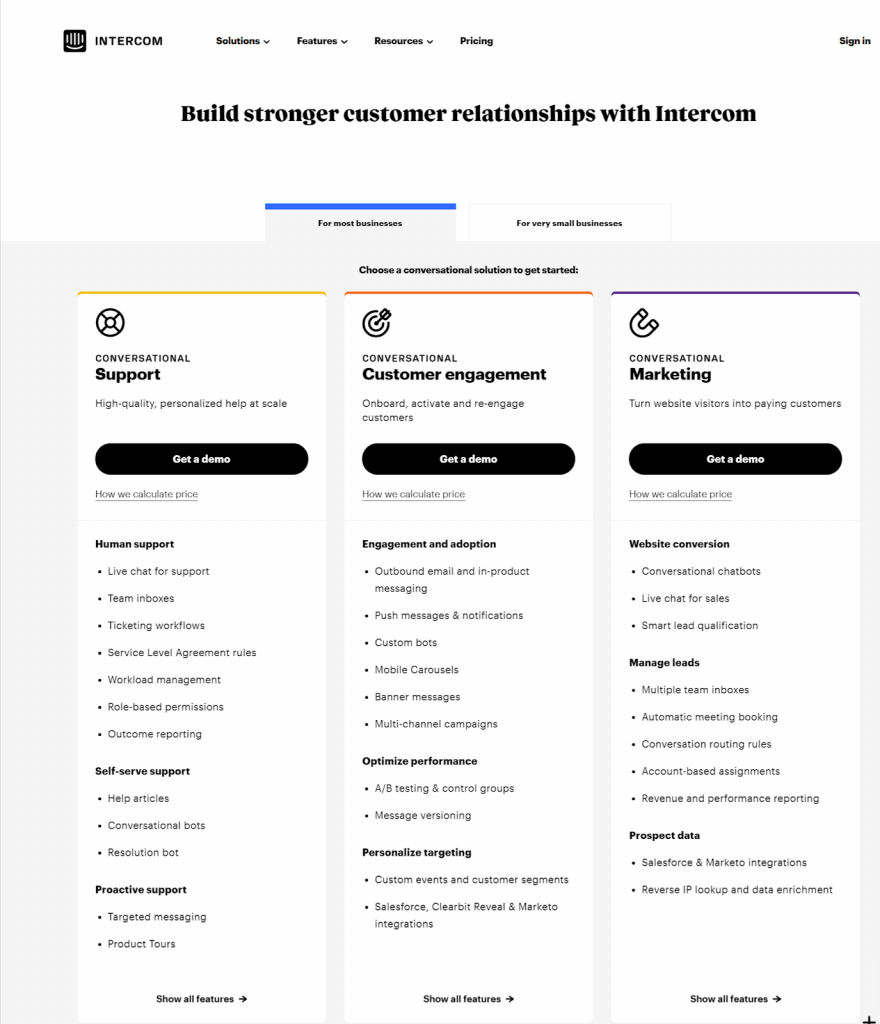 Starter: $79/month
Conversational Support: Get a quote
Conversational customer engagement: Get a quote
Conversational Marketing: Get a quote
When you see pricing plans starting for $79/month, you should get a clear understanding of how expensive other plans can become for your business. What's worse, Intercom doesn't offer a free trial to its prospect to help them test the product before onboarding with their services. Instead, they offer a product demo when prospects reach out to learn more about their pricing structure.
Zendesk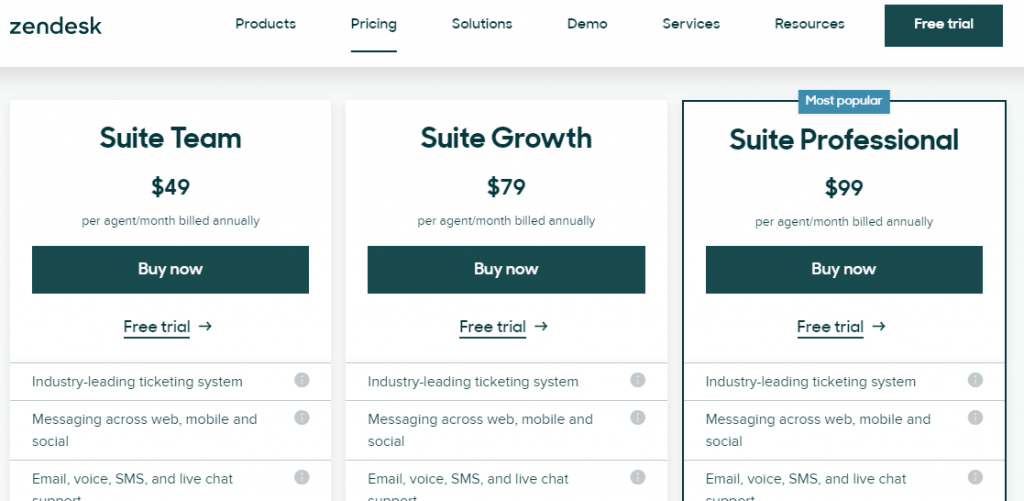 Suite Team: $49/agent/month
Suite Growth: $79/agent/month
Suite Professional: $99/agent/month
Suite Enterprise: $150/agent/month
Compared to Intercom, Zendesk's pricing starts at $49/month, which is still understandable but not meant for startups looking for affordable pricing plans. These plans are not inclusive of the add-ons or access to all integrations. Once you add them all to the picture, their existing plans can turn out to be quite expensive.
Intercom Versus Zendesk: Support
Intercom
One of the most significant downsides of Intercom is its customer support. Existing customers have complained consistently about how they aren't available at the right time to offer support to customers. There are even instances where customers don't receive the first response in more than seven days. That can be frustrating and encourage many to leave the brand.
Zendesk
Just like Intercom, Zendesk's customer service is quite disappointing. The only relief is that they do reach out to customers, but it gets too late. In terms of customer service, Zendesk fails to deliver an exceptional experience. This can be a bummer for many as they can always stumble upon an issue.
Intercom VS. Zendesk: User Review
1. Capterra
Intercom
On Capterra, Intercom has a rating of 4.5 given by 784 reviewers. While they like the ease of use this product offers its users, they've indeed rated them low in terms of services.
Zendesk
Zendesk has received a rating of 4.4 out of 5 from 2,693 reviewers. That's three times more when compared to Intercom. They've been rated as one of the easy live chat solutions with more integrated options.
2. G2.com
Intercom
Intercom is one of the highly-rated tools on G2. It has been reviewed by 1,857 customers so far. It has an average rating of 4.4 out of 5. Pop-up chat, in-app messaging, and notifications are some of the highly-rated features of this live chat software.
Zendesk
Again, Zendesk has surpassed the number of reviewers when compared to Intercom. On G2, it has a rating of 4.3 out of 5 from 3,374 reviewers. Some of the highly-rated features include ticket creation user experience, email to case, and live chat reporting.
Final Verdict: Which Live Chat is Compatible for Your Business?
After an in-depth analysis such as this, it can be pretty challenging for your business to settle with either option. That's why it would be better to review where both the options would be ideal to use. Let's take a look.
When Should You Choose Intercom?
If you are looking for more integration options and budget is not an issue, Intercom can be the perfect live chat solution for your business. It is also ideal for businesses who are searching for conversational chatbot functionality. Their AI-powered chatbot can enable your business to boost engagement and improve marketing efforts in real-time.
When Should You Choose Zendesk?
Zendesk would be a perfect option for businesses that are searching for a well-integrated support system. It offers a suite that compiles help desk, live chat, and knowledge base to their user base. This enables them to speed up the support process and build experiences that customers like.
Why ProProfs Chat is the Better Alternative to Zendesk & Intercom
Are you still feeling confused? How about looking into an alternative? ProProfs Chat is an alternative that can help you overcome the need for both Zendesk and Intercom. Here's how it can replace both of them:
Interface: ProProfs is known for helping its users find features faster. It is easy to navigate through the product and offers faster solutions to customers. If you explore the visitor window, you'll come across all the sources a visitor has examined after landing on your website. It even shows how much time the visitor has spent on each of these resources. Besides, it also helps them access functionalities like creating tickets, sharing help articles, and much more.
Features & Integrations: A combination of more than 100 features and 50 integrations can help ProProfs Chat users deliver the best-personalized experience to their customers. You can white-label, build a chat window of your likes, set groups, and implement group actions for each group you create in seconds.
Pricing: One of the compelling reasons to adopt a chat tool for any startup or medium-sized enterprise would be the pricing plans. Get your team on board and start chatting today with ProProfs Chat's affordable pricing plans: forever free for a single operator and $19.99 for teams. Explore our live chat pricing options now!
Knowledge Base & Help Desk: You can see ProProfs as an alternative to Zendesk and Intercom due to its help desk and knowledge base apps. The best part, live chat, knowledge base, and help desk can be taken up as a part of their support suite, therefore helping you create a holistic experience for your customers.
Chatbots: ProProfs Chat also offers a smart and intuitive Chatbot. You can automate your support process and avoid frequent operator burnouts.
We hope that this Intercom VS Zendesk comparison helps you choose one that matches your support, marketing, and sales needs. But in case you are in search of something beyond these two, then ProProfs Chat can be an option.
Do you want a free Live Chat software?
We have the #1 Online Live Chat Software for instant customer support 24x7