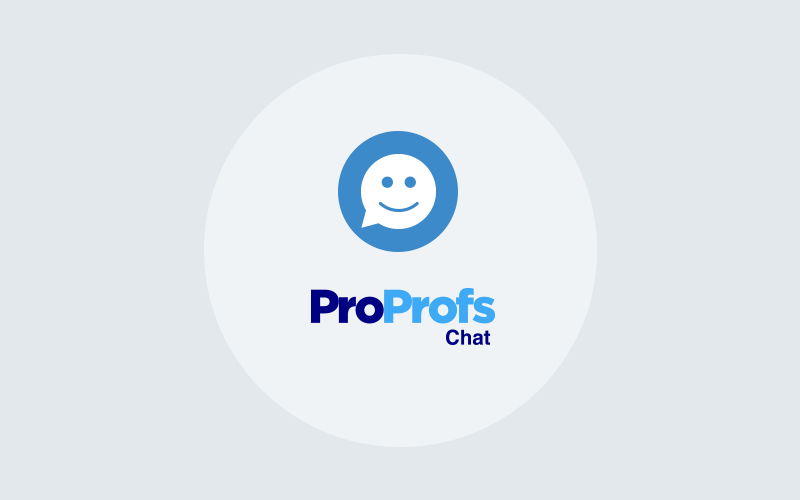 Live chat has become one of the most reliable tools that foster business growth. However, the tool's usefulness strongly depends on the user, so if you do not know how to adequately utilize your live chat, you won't end up with the expected results.
Here at ProProfs, we want to help our clients make the best use of our product, and to fully realize the potential of our live chat tool. Here, you are going to find some useful suggestions on how to create an engaging experience for your customers, and boost your sales using ProProfs Chat.
Quick Navigation – How to get The best out of ProProfs Chat
Real Time Monitoring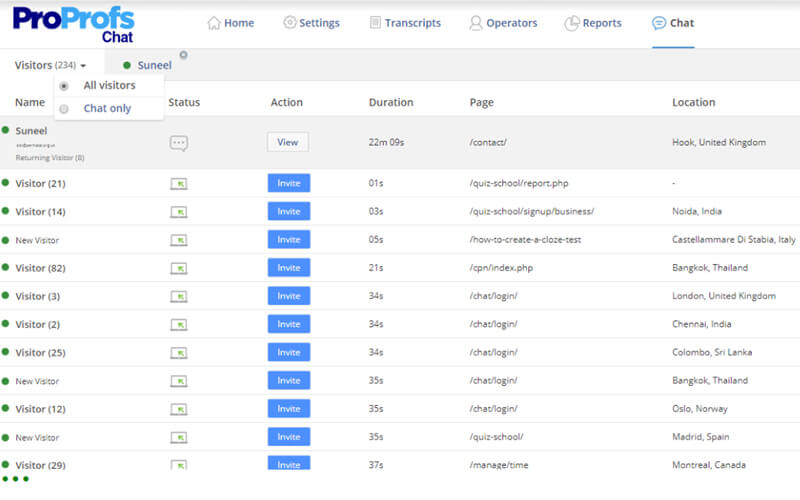 Live chat can help someone in an instant, and since we live in a time when quick response is highly praised, you need to put this ability to a good use. You can easily monitor user activity on your website and even ask them right up front if they are in need of assistance. Furthermore, simply having active live chat sends a signal that you are available, which gives off an impression of a reliable provider.
If you are able to address the buyer's questions instantly, you can significantly increase the speed of your sales process, also, by being able to resolve customer's issues quickly, you increase their satisfaction and boost your brand loyalty. So, the first tip would simply use live chat and be available.
Try ProProfs Chat to monitor your visitors >>
Proactive Engagements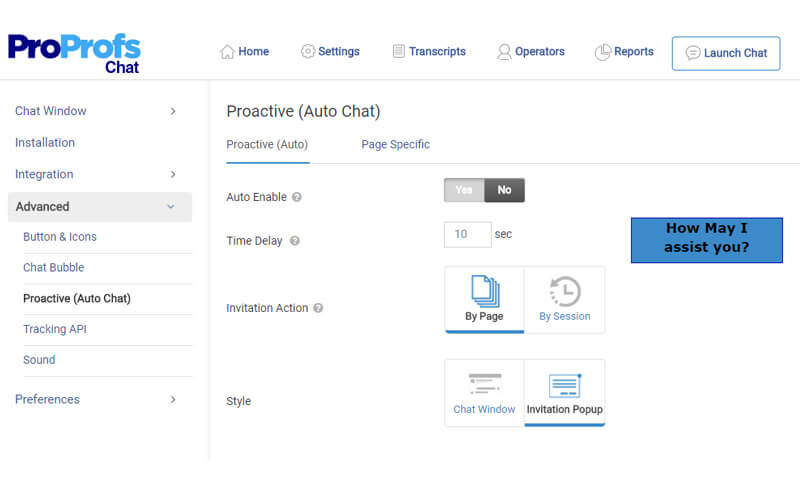 Your business can collect information from the entire website, which can help you gain a better understanding of what works in your favor, as well as what needs improvement. Using data collected from live chat transcripts, you can gain an insight into what customers like more, or even create personalized offers for each user to help you close the deals more efficiently.
Once you have gathered the relevant data, you can start to reach out to your visitors and offer help, or approach them with deals as they enter your website. There is called proactive chat feature that allows you to send invitations for a chat to website users.
Chat Routing
As mentioned, we live in a time where quick response and fast solutions are the core elements of success; in other words, waiting in long queues is going to result in lower conversion and a negative customer experience. Using chat routing, you can effectively reduce waiting queues and connect customers with the right operator who can resolve their problem.
Use Integration Features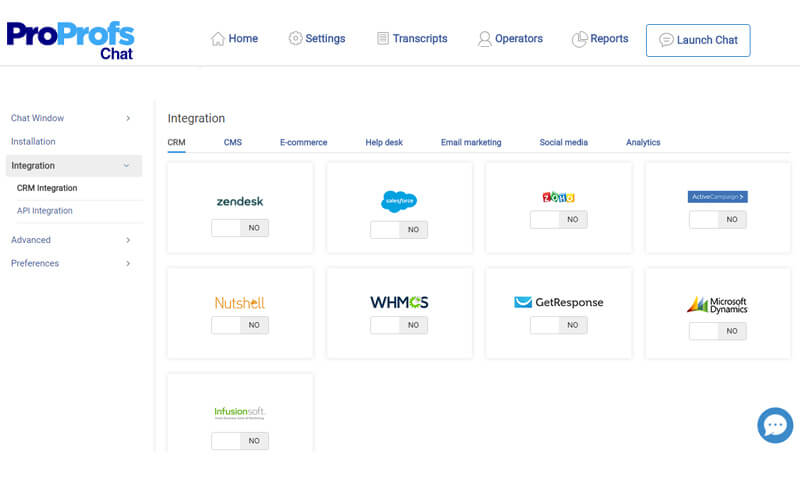 What makes a software truly versatile and flexible nowadays? The answer is simple: it's the ability to integrate with other applications. Our chat is designed to accommodate the needs of different businesses, by offering a wide range of integration options. So, if you use feature-packed tools like Salesforce, MailChimp, Zendesk, or if you rely on platforms like WordPress, Drupal, Magento, and Joomla, then ProProfs chat will be easily added to your tool arsenal.
You can have your data flow smoothly between different tools, which will save you a lot of time, and make everyone's job a lot easier. This will allow you to adjust your model and meet users' expectations a lot faster, once again allowing you to grow and expand more rapidly.
Monitor your Operators
Consistency in service quality is another trait of the successful business, and you need to know if your employees are able to keep up with your standards. In other words, you need to know who among your staff is doing a good job, and who needs to step up or change their approach. Live chat can help you with this analysis, as it allows you to monitor your chat operators and providers.
By relying on ProProfs Chat, you can find out how to improve your support team and identify the exact root of the problem. Thanks to the real time chat monitoring, you gain an insight in how each operator handles the situation, and whether it is their approach or the customer who is responsible for an unsuccessful transaction.
Get Analytics, Reports, and Customer Feedback

There is no need to take any shots in the dark or take leaps of faith when trying to figure out how to improve your service. You can obtain detailed reports and analytics and monitor key metrics to help you ascertain which direction you should take.
You can get visitor details, their average time spent using live chat, you can track conversion rates, an operator activates, and have access to each chat history. Sorting through this data might take time, but you are bound to find useful input.
Furthermore, you can also send small surveys to each of your users once the conversation on live chat is over. They will be able to rate the quality of your service, as well as the performance of your chat operator.
File Transfer
Even though the name suggests that ProProfs Chat should be used for online conversations, you should not overlook the ability to transfer files that can explain in a great deal how a certain problem can be resolved. You can use live chat to transfer images, videos, or sound files. In other words, if it gets too difficult to explain to the customer how to fix something, you can always find a video tutorial, or send a screenshot that could help them.
These were some of the best ways to use ProProfs chat in order to fully realize its potential. Hopefully, you will be able to provide a superior customer support service by relying on the suggestions mentioned in the article.
Do you want a free Live Chat software?
We have the #1 Online Live Chat Software for instant customer support 24x7