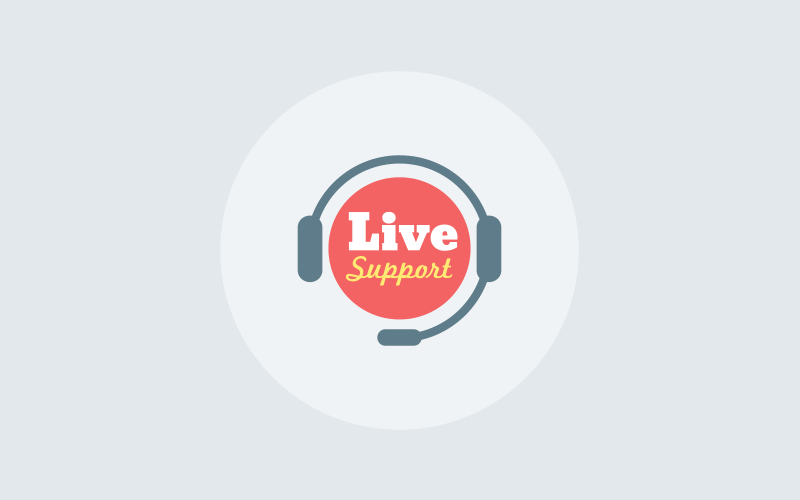 Do you know that around 54% of all consumers globally say they have higher customer service expectations than they did just one year ago?
Customers expect brands to build a smart, crisp, yet a delightful customer service journey.
But as the stat above suggests, customer's expectations tend to change every year. And, so does their preference for the customer service platform that helps them experience great support experience.
And recently, live chat for customer service is their top choice to receive a seamlessly support experience.
Most of the research done in this area shows that customers appreciate the fast and useful support. Live chat enjoys the highest satisfaction levels for any customer service channel, with 73%, compared with 61% for email and 44% for the phone.
Who are the Most Frequent Users of Live Chat
Besides shopping websites, an increasing number of online ventures are choosing live chat for customer service and support process to offer quick responses, strengthen sales and loyalty for the brand, and build delightful experience for customers. Here are a few industry verticals that use the live chat in their day-to-day activities –
IT solution providers
Real estate
Web hosting companies
Airlines
Every result-oriented online business aims to build a good reputation when it comes to the service they provide to their customers. They even search for answers to questions like "how to improve chat customer service" to ensure that customers feel encouraged to keep coming back to the brand.
There is a broad list of websites that use live chat for improving customer service. The below-mentioned ones use the tool to create a personalized approach when providing support.
Aid In Recovery is a counseling website focused on the people who are addicted. They used live chat integration in order to approach users instantly because a quick response is key in this field.
Ruffwear, an online business that focuses on the sale of pet accessories, also offers initiative support providing guidelines already in the welcome message. It directs customers quickly to the parts of the website they would prefer.

Canyon offers

customers the choice

of preferred language during a live chat while quickly connecting them to the most suitable member of their team.
Watch Video: Live Chat Best Practices – Tips for Customer Support Professionals
Five Effective Ways Live Chat Helps You Improve Customer Service
Live Chat software is increasingly becoming an essential platform for business owners to build a seamless experience for its customers. Let's take a look at five effective ways in which the use of live chat can help business owners improve the customer service process.


#1: Live Chat for Customer Service: Reduce Response Time
One of the reasons why customers prefer live chat over any other support platform is for instant support. The software allows a business to reduce response time, thus keeping their customers delighted anyday.
That's because there are a few features that allow operators to reduce response time and thus keep visitors delighted with the support process. Some of the features responsible for reducing response time include:
Canned messages help your operators to reduce response time. That's because, frequently asked questions can be answered with definitive answer templates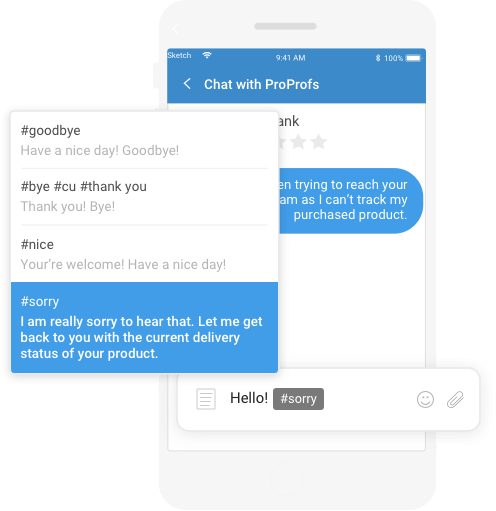 Plus, your operators can save common replies that will allow them to reduce their typing effort for the same question (when asked the next time).
Another feature that can help operators reduce response time is real-time visitor monitoring. You can monitor a visitor's action on your website to learn whether they came with a purchase intent or not. Once the picture is clear, operators will feel prepared to answer any question that pops-up their way.
#2: Live Chat for Customer Service: Provide Proactive Support
Do you know that 68% of consumers say that a brand's perception becomes positive when companies send proactive customer service notifications to them?
Another live support service strategy to help you improve customer service is proactive support.
ProProfs Live Chat allows operators to send proactive chat invites to visitors via Chat Greetings feature. Operators can initiate a chat as a visitor browses through the product or pricing page. This proactive approach helps operators to give proper guidance to customers so they can arrive at an informed decision.
This not only creates an ever-lasting impression on the customer but also encourages them to return to the brand for their next purchase.
#3: Live Chat for Customer Service: Increase Customer Engagement
Trust me, customer likes to be engaged with your website. Your constant engagement helps them learn more about the updates and upcoming sales of your brand. And this approach, helps you increase loyal customers for your brand. That itself becomes another reason to have customer support live chat software on your website to increase customer engagement.
Live chat for customer service supports features like:
Announcements


You can create announcements for your website using ProProfs Chat. You can inform the customers about upcoming sales, discounts, and product updates using this feature.

Chat Triggers
Use chat triggers on your website to engage with more site visitors efficiently. Based on visitor's browsing behavior, you can set rules and conditions for these triggers that make them pop up on your website. For example, if the visitor is about to exit the website, you can set conditions for such browsing behavior and make the chat pop up before they leave the site.
#4: Live Chat for Customer Service: Add a Human Touch to the Conversation
Unlike the use of chatbots, live chat helps you to understand customer pain points and provide a solution in real-time. At times, operators feel confident when talking to customers on phone. That's because they get to understand the tone of the customer. Based on that, operators decide what solution would be the best fit for the customers.
But the same is possible in case of a live support service. Even live chat allows operators to understand the tone of the customers. If anything, they can even assess how the customer's problem was perceived by another chat operator and what solution made their journey a delightful one.
All this is possible with the help of chat transcripts and history. You can check:
How many times has the customer visited the website

How many pages did they visit

What pages did they visit during their previous browsing experience

Which operator did they engage with

What conversation did they have (via transcripts)
All this can be used by the operator to understand how they need to handle the customer, personalize it according to the growing situation, and add a human touch that they seek during the support process.
---
Recommended Read: Live Chat vs Chatbots: What You Need to Know
---
#5: Live Chat for Customer Service: Improve Team Productivity
Well, there's another way to improve the customer service experience for your customers – improve team productivity.
You may ask how this is done.
Well, for starters, you need to assess the performance of your operators and how they've been doing with your customers during the support process. For that, you can check their reports and ratings that will be available in the live chat tool. You can even assess in which conversation did they perform well and which conversation did they disappointed the customers.
Based on that you can train your operators on how to handle different customers.
Once you're done with the training, decide how many chats would you like them to handle at the same time. That's because a good customer support live chat software allows you to manage multiple chats, thus keeping your support queue really short.
Here are some of the key benefits of live chat integration with CRM:
The customer/visitor information collected during live chat sessions gets directly posted to your Salesforce CRM.
The new leads, customer's information, and contact get automatically updated right at the start of a live chat session.
Chat transcripts collected via ProProfs will be added to Salesforce which the sales rep can refer to in future.
---
Now that we know the five ways that can help your business improve the customer service process, it is time to address a few frequently asked questions below.
Q. How should my operators chat with customers online?
Well, it all depends on the scenario they find themselves in. But if you want to reduce your 67% of customer churn, then read this blog to know how to chat with customers online.
Q. How does live chat work on the website? Is it a sales tool or a support tool?
Well, a live chat tool helps a business answer questions in real-time. That gives the impression that live chat is a support tool. However, its that real-time support that promotes people to complete a sale at your website. For more details on this, read our blog on how does live chat work.
Q. What all live chat features can help my eCommerce business improve customer service?
There are a lot of features of live chat software that can work together to help you improve customer service at your website hassle-free. You can take a look at them here.
Q. Does live chat help to increase website sales?
Yes, it does. It even helps you to increase lead generation for your business and boost customer loyalty. You can read all this in our blog "Live Chat for Sales: Increase Your Business Sales & Conversions Upto 10X With Live Chat".
Do you want a free Live Chat software?
We have the #1 Online Live Chat Software for instant customer support 24x7