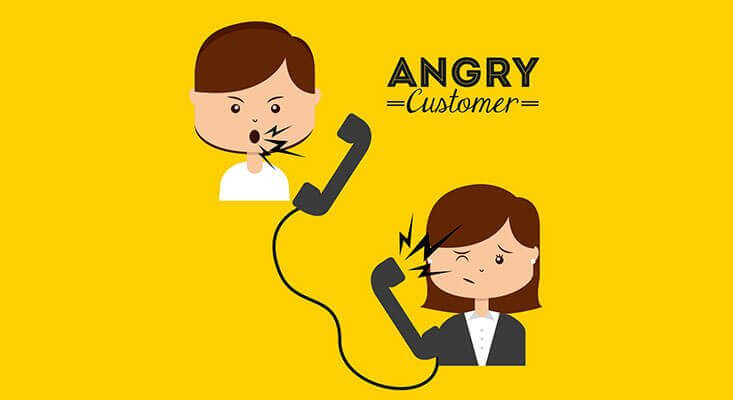 It is needless to say that customers are the most important aspect in any kind of business. Whether you are selling hotdogs on a sidewalk stall or dealing in heavy machinery online, customers are driving your business.
But how do you deal with an angry customer, who is yelling at your staff, spreading bad word about your business, be beneficial to your organization?
"Success is not built on success. It's built on failure. It's built on frustration. Sometimes it's built on catastrophe."
– Sumner Redstone
If the above quote by one of the most successful businessmen of our generation doesn't explain this, then here's why you must listen and learn how to handle angry customers to let your business succeed:
Gain an outsider's perspective
No matter how honest your staff is or how precise your analytics are, an outsider's perspective can always provide you with insights you may have been ignoring. The feedback you collect from dissatisfied customer is always the cold truth, which your employees or your business advisers may never say. The fact that an angry customer does not and will not sugarcoat any feedback can actually wake you up and help in avoiding many blunders which may cost a lot of revenue to your business.
"Your most unhappy customers are your greatest source of learning"
– Bill Gates
Customers are always on the other side of your operations which is why they have a clear view of the output of all your hard work and efforts. But a happy customer will never tell you areas to improve while angry, frustrated customers will let you know all about it even when you are trying to ignore. This is why, while you cannot ignore the benefits of customer satisfaction surveys, you also need to create a system to deal with angry customers.
Better your NPS score
It is not a mystery that NPS (Net Promoter Score) has become an important factor in calculating the customer loyalty and the success of a business. Most of the businesses focuses highly on NPS because it provides a clear view on how many detractors you have, the more detractors the greater the concern. Detractors are the people who tend to spread the bad word about your business and would never recommend your business to anybody.
And it is easy to say that most of the detractors are dissatisfied, frustrated or angry because of your organization. So, when you get an angry customer, it is an opportunity for you to reduce detractors from your business and improve your NPS score.
"Do what you do so well, that people can't resist telling others about you"
– Walt Disney
From the lot of customers you have, most of them may stop doing business with you without letting you know about their problems. So, when an angry customer contacts you, it is a boon and you should take advantage of that.
Market With a Human Touch
When it comes to angry customers, the outburst of letting you know of the wrongdoings they faced is driven by emotions and not logic. If a customer is taking time out and personally letting you know about the flaws in your business, then it is an opportunity for future promotions.
When you incorporate emotions in your marketing strategies, you are 10 steps ahead of your competition and 11 steps closer to your consumers. No matter which studies you follow or the books you read, the more real your marketing is, the more credible your business becomes in the eyes of a customer. The necessity and importance of customer service in business is not limited to only pleasing happy customers, it also includes dealing with angry customers.
"When dealing with people, remember you are not dealing with creatures of logic, but creatures of emotion."
– Dale Carnegie
Understand Customer Psychology Faster
There are many studies on customer psychology which are good but in a holistic way. When you have the feedback coming right out of your customers, it becomes much more precise and real. An honest frustrated customer can provide you great insights of how specifically your customers think and want from your organization.
These sorts of insights can and should be saved in CRMs to be used in the next marketing campaigns and other product launches. This directly helps your business to meet the customer needs and offer better quality service.
Create surveys specifically targeted at your angry customers, gather feedback and prepare contingency plans for scenarios featuring angry customers.
So, in a nutshell, an angry customer is not an enemy but a friend and nothing sums it up better than one of the most popular quotes:
"My best friend is the one who brings out the best in me."
– Henry Ford
Make Believers Out of Non Believers
When customers are dissatisfied, the chances of them returning to your business are very slim. However, it opens an opportunity for you to change their perspectives about your organization. If done right, you will end up with a set of loyal customers.
You can also make case studies out of such incidents and pitch it to the other detractors who have stopped doing business with you. Approaching them with a planned strategy can help a lot of your detractors give your business another try and by compensating them can lead to great promoters and long term customers.
"The difference between "try" and "triumph" is just a little "umph.""
– Bonnie Przybylski, Projects Manager W.R. Grace
Never Make the Same Mistake Again
There are times when you cannot undo an awful experience faced by a customer, however, you can learn from such situations and apply to all of your other clients. Learning why the customer was angry and ensuring that it does not happen in the future makes your organization more mature and humble.
With every encounter you would grow more mature as an organization. This whole iteration process helps your company to excel in better customer service. Hence it is important to never ignore such incidents and inspect in all the possible contexts.
Concluding, each passing experience whether it is bad or good, will teach you something new about your customers and a lot more about your own business. It comes down to how you look at things and how you act on them. An optimistic mind always finds silver lining in the worst situations, which is why an organization with positive attitude tends to excel than any other.
"Forget mistakes. Forget failure. Forget everything except what you're going to do now and do it. Today is your lucky day"
-William Durant
Do you want a free Live Chat software?
We have the #1 Online Live Chat Software for instant customer support 24x7