Did you know that buyers read an average of at least 40 online reviews before believing in a business's star rating?
That's not all. Buyers also post questions on different customer feedback channels like Quora or Reddit to know more about your services or in case they have doubts and want an unbiased response.
And they have valid reasons to take such measures.
Buyers want to know if you are offering what they need, if your existing customers are satisfied, and if you have a good and steady online reputation or not by asking customers for feedback. If your buyers take effort to understand your brand and your services, then the same approach needs to be taken at your end to understand what they expect from you collecting customer feedback.
Use different customer feedback channels to understand what's on their mind and you can modify and deliver products as per their expectations. If you ignore or fail to gather customer feedback, then it's like flying a plane on auto-pilot mode forever. You'd think that you're headed in the right direction, but you really can't be sure.
With access to timely customer feedback, you can make sure your business is always oriented towards your long-term destination – customer satisfaction.
Just in case you're wondering how to collect the most relevant feedback from your customers, then we are here to help. In this blog, we'll help you understand customer feedback, it's relevance, and the most effective ways to collect customer feedback.
What is Customer Feedback?
Customer feedback is a process where you capture accurate information, insights, challenges, and valuable inputs shared by your customers about their experiences with your brand, product, or services. The feedback captured helps your business to work on improving your existing products and services. With these efforts, you get to change the customer's experience with your brand as you identify areas that need immediate improvement.
Importance of Collecting Customer Feedback
If you're wondering why is customer feedback important for your business, then do not simply browse through this section.
Besides giving an upgrade to their products or services on the basis of the feedback captured, it is crucial for every business to understand what customers think about them and why they were approached in the first place. Once you get to know why your brand became the first choice for your customers, you get to work on:
Better strategies that help you improve customer retention
Using that feedback as a way to measure customer satisfaction
Ideas that help you upgrade your products and services as per the growing needs and expectations of the current customers
Come up with ideas that help you improve customer's experience in future interactions
Reduce negative word-of-mouth publicity for your brand in the market
Stay ahead in the competition
That's why it is important to collect feedback from customers.
12 Most Effective Customer Feedback Channels
Now that we understand why customer feedback is important for a business, it is time we move on to the next step – collecting feedback. In this section, we'll take a look at some of the most effective customer feedback channels that can help you do this right.
1. Net Promoter Score (NPS) Survey
One of the most effective ways to understand your customer's loyalty towards the brand and how likely they are to stick with you is through Net Promoter Score Survey.
An NPS survey software will help you gauge customer satisfaction and segment customers on the basis of their loyalty towards the brand easily. You can also uncover factors that drive loyalty towards your brand. And that's not all.
The use of NPS software helps you take control of your brand by giving you access to quantifiable results that enables you and your teams to understand what needs to be done to enhance customer experience further.
2. Surveys and Polls
Want to learn about more ways on how to get customer feedback for your business?
Another set of customer feedback tools for you can be surveys and polls. You can send their links to your customers for asking for feedback from clients for your business.
You can easily create customer satisfaction surveys that can be sent via email, shared via social media platforms and as a link during ongoing conversations to capture valuable feedback.
Survey tools like ProProfs Survey Maker also give you the option to embed survey links on your website. These can pop up when a customer is about to leave the website. It will help you understand whether your prospects found what they were looking for. You can also create polls or sidebar surveys to capture relevant information faster.
3. In-App Product Feedback
You can also ask for feedback via in-app surveys. These help you make customer-driven developments where you get to understand what to build and how on the basis of the user's experience with your app and their rating.
Tools like Qualaroo can also enable you to nudge a user on the app and ask the right questions at the right moment without hampering their experience. With its advanced targeting options, Qualaroo helps you understand:
Where your customers are on the app
Who they are (their details)
When do they visit the app and how frequently do they use it
This data helps you understand customer needs better and enables you to make changes that enhances the customer's experience with your brand in future.
4. Social Media
According to the American Express 2017 Customer Service Barometer, Americans (on average) tell 15 people about a poor service experience, but only tell 11 people about a good experience.
It's easy to see how this effect could be amplified on social media. An upset customer might post a message that reaches 15 friends, who in turn repost the message to their followers, kicking off a potentially viral process. Which is why it's always a good idea to conduct frequent searches for your brand name, your competitors, and any keywords that describe your business to keep track of what people are saying.
But it's not enough to know what's going on. You should also respond to positive and negative feedback and do your best to resolve issues in a calm, respectful manner – this is critical because your responses will be viewed by many other people who might be considering your products/services.
Some companies also use social media to initiate discussions and ask specific questions. Take Elon Musk for example. Say what you will about his use of Twitter in general, but he does a great job using the social network to get feedback from Tesla customers. The link below shows a conversation between Musk and a customer about a particular problem with getting vehicles serviced.
Elon Musk discussing supply chain issues in the UK. See the full conversation here.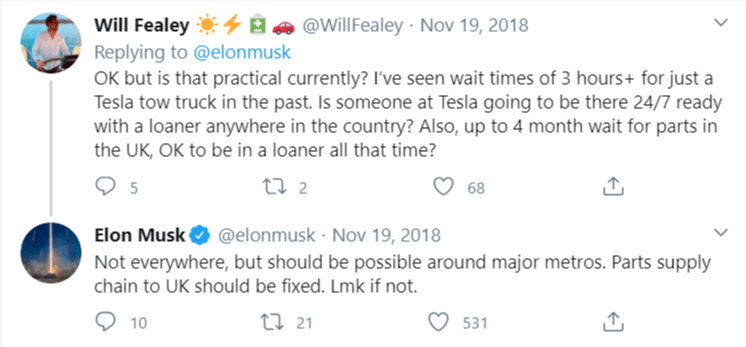 Some companies choose to ignore negative comments from people on Twitter. Perhaps they think that by ignoring the problem, it will just go away. But this could be a missed opportunity to demonstrate that your company really cares about great customer service.
You can catch most important comments just by frequently logging into your social media accounts. But you can also use social media monitoring tools to help.
5. Text (SMS) Messages
Text messages are often used for timely, location-specific promotions. But as one of the methods for collecting customer feedback they work great.
One reason to send text messages to customers is their high view rate. 90% of text messages are viewed within three minutes of receiving them, and the average response rate is 30%. It's also a great way to re-engage with existing customers and boost the odds that they'll turn into repeat customers. After all, the odds of selling to a new prospect are as low as 5%, while the odds of selling to an existing customer can be as high as 70%.
Just be careful not to send long messages via text otherwise your strategy to collect customer feedback may fail. Ideally, you would send each customer one or two questions they can respond to directly with a short text message. You could also include a link to a more in-depth (mobile-friendly) survey.
Finally, only text during normal business hours to avoid waking up your customers or interrupting something important like a family meal.
6. Email
Email feedback can be the most personal way of asking feedback from your customers. Unlike normal surveys, you can add more questions that help you understand your customers' expectations better.
While you formulate these email feedback forms, you need to make sure that you:
Explain how important the feedback is for your business to improve. You need to show your gratitude towards your customers for filling out the form. Reward them for such an action so they don't feel hesitant giving their feedback the next time.
You won't be sending emails for feedback to a single customer or two. There must be hundreds or thousands even who you'd like to hear from. That's why you need a system in place that helps you keep a track of all the captured feedback in one place.
7. Phone Feedback
There are many companies that use recorded phone conversations to train their customer service representatives today. These recorded conversations help you understand the types of customers representatives are likely to come across and how they should be managed in different scenarios.
However, make sure to record the customer's feedback to help other representatives understand whether they were satisfied with the solution and if they were happy with how the representative spoke to them during the call.
This practice helps you understand the knowledge gap that your representatives might have while offering support to customers and if you need to work on further enhancing their communication skills.
8. Live Chat
Another platform you can use as a customer feedback channel is live chat. If anything, the customer satisfaction rate with live chat usage stood at 83.1% in 2018 and is expected to only rise in future.
That's because your customers find live chat to be an easy platform to connect with your company and receive prompt solutions. By adding chat to your website, you can offer real-time support to your customers and solve their problems quickly. And as fast as this tool is to connect and engage with customers, so is it at collecting feedback from customers once a chat comes to an end.
Tools like ProProfs Chat help you capture customer feedback once a chat comes to an end. This helps your operators to reflect where they can improve when offering support to other customers in future.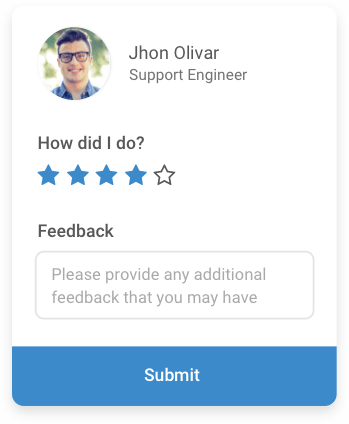 In case you'd like to get detailed feedback from your customers post the chat conversation, then customize the post-chat survey feedback form and add fields that will help you get more than a simple operator rating. This will help you capture in-depth feedback and understand how delighted your customers are with your services using live chat. Such methods are perfect to collect instant customer feedback.
9. Support Ticket Feedback
In case you have a help desk ticketing software in place, then you can use it's reports as a basis for improving your customer service and products as per growing customer expectations.
Not only do you get to see how active your agents are at offering support to your customers, but you can also see how you've performed as a brand and whether you matched their customer service expectations. You can even check out individual agent reports.
This will help you understand which agent needs to be trained further and who are your star performers.
10. Knowledge Base
If 77% of consumers claim to use a self-service support portal before reaching out to your customer service team, then you need to make the most out of this opportunity to understand whether the content published in your knowledge base is helpful to them or not.
Tools like ProProfs Knowledge Base help you capture customer/visitor feedback for the articles published in your repository. At the end of each article, you'll come across a feedback question saying, "Was this information helpful?"
Based on your response, you will see a separate feedback form opening for you asking if the information available can be made any better. With the help of this collected feedback, it'll be easier for you to publish more refined articles that are focused on answering frequently asked questions faster.
What's more, if you'd like an overview for the feedback received for all your articles in the knowledge base, then you can go to the reports section and check out the popular articles section. These are rated as per the feedback left the visitors who found them helpful.
This report helps you see the number of 'Up Votes', 'Down Votes', and 'Reads' each article has received from your customers or prospects. What's more, you can download this data and send it to the team who works on creating new and improving existing articles in your repository.
11. Usability Tests
A well-planned usability test can lead to more insights than any other customer feedback method. It could help you uncover problems or opportunities for improvement that you (or your customers) didn't even know existed.
The objective of a usability test is making sure customers enjoy a frictionless experience from signing up to making use of basic and advanced features.
74% of people are likely to leave your website and go to a competitor's if they find the purchasing process too hard.
Some of the most innovative companies in the world are constantly running usability tests. For example, Google develops new products using a rapid iteration strategy informed by frequent user feedback. They assign so much importance to these tests that they even reward users for participating.
Usability tests are not only for web-based products. Almost any business could run one. If you run a subscription-based business like a gym or a spa, for example, you could offer a free membership/subscription to customers in exchange for participating in live feedback sessions to share their experience with your products or services.
12. Customer Interview
If the mentioned customer feedback channels aren't enough, then we've got more for you.
You can also try asking for customer testimonials or interview your customers in real-time to understand what's lacking in your services and how you should improve further. But the question is how do you collect this type of feedback from customers?
Well, some of your customers willingly post their feedback for your services or products in the form of video testimonials. They'll either create a video and post it on YouTube or start a live video on their Instagram accounts. You can track them with a social listening tool and understand:
Why did your customers try out your product in the first place?
What was the main highlight of your product?
What aspects disappointed them?
What would they like to change in your product?
Such customer feedback methods give you more scope of improvement and help you make changes as per customer's expectations efficiently.
How to Ask for Feedback from Customers?
Well, your quest doesn't end at collecting valuable information through customer feedback channels. If anything, there is one step that you need to take care of before collecting feedback from customers. You need to master the art of asking for feedback from customers first.
And in case you are falling short of ideas on how to ask for feedback from customers, then we are here to help you out.
Here's what you can do to ask for feedback from customers.
1. Always Understand Why You're Asking for Feedback
There's always a motive behind performing an activity. That's why it is important you
understand why you need to collect feedback from customers in the first place. You need to ask yourself the following questions to understand the intent behind asking for feedback.
Am I looking for ways to improve our product range further?
What are the features my customers would likely see in the product?
Are my customers satisfied with my services and products?
2. Find Right Opportunities to Have Open Conversations
You need to find the right opportunity to not just collect feedback from customers but also have an open conversation with them. That's because an open conversation with customers can help you understand if you'll get free flowing responses from them or not. You can use the following statements to prompt customers to leave you a feedback easily.
"For example, when you ask"
"What could be better in the company?"
"Do you have any frustrations?"
3. Let them Know Their Feedback Matters
Another step you can take is to let your customers know that their feedback matters a lot to your business. But we'd say, rather than just saying it with words express it with a gesture. Offer them discount coupons or access to next members only sale to let them know what their feedback really means to your business.
Take Your First Step Towards Understanding Customers With Feedback
A robust customer feedback strategy could be the key to unlocking a new stage of growth for your business. It can help you improve your services and match up to existing customer expectations efficiently. And to achieve this stage, all you need is the right customer feedback channel to help you know what they're thinking and why they approached your brand first.
What's more, while collecting feedback you have to be more proactive and ask for it in the best way possible to capture accurate information that helps you improve your services hassle-free. With the channels mentioned in this article, you'll get to collect customer feedback and work upon ways to act on that feedback.
So what are you waiting for? Pick a channel and start experimenting to learn something new about your customers.
Now that we've understood what customer feedback channels are there and how to ask for feedback, let's take a look at some of the frequently asked questions below.
What is the fastest way to get customer feedback?
You can use live support chat software to gain instant feedback from your customers. You can use a feature like post-chat form to collect feedback once a chat comes to an end. Not only will it help you gauge your operators performance but also understand if your brand met your customer's expectations.
How to analyze customer feedback?
Before you organize your customer's feedback in different categories, it is important that you analyze it thoroughly to understand if the customers have given good or bad feedback to your brand. This you can do on the basis of ratings and comments for issues they've faced and how you were able to tackle them.
How to measure customer feedback?
This depends on two factors. The first factor is the channel you choose to collect customer feedback. And secondly, on the type of feedback you aim to receive. For example, you may choose to send out a Net Promoter Score survey to your customers through email. The survey maker tool you end up using should not only help you create one and send it to customers but also enable your business to capture feedback and organize them into the categories like promoters, detractors, and passives.
What to look for in your customer feedback system?
There are a few things you need to consider when looking for a customer feedback system for your business. You need to check out online reviews and ratings and social media comments about its performance. You can even give it a try to see if it offers a comprehensive solution to your business, engages your survey respondents, offers deep insights on the feedback collected and more.
Do you want a free Live Chat software?
We have the #1 Online Live Chat Software for instant customer support 24x7