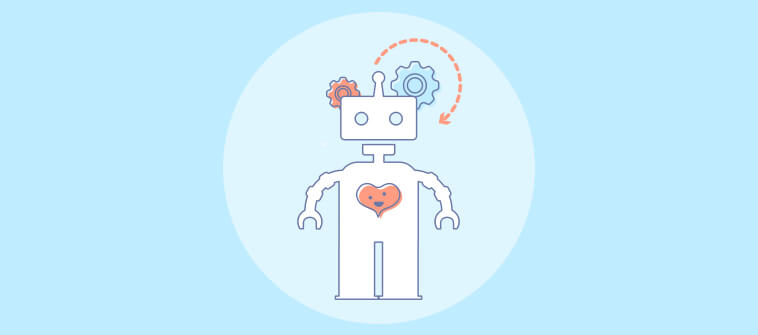 Are AI-powered chatbots here to stay? Will they change the market scene soon?
If these questions have bothered you before investing in chatbot technology, then our blog will surely uplift you.
We've covered some of the latest chatbot statistics and popular insights that help you decide whether your business is ready to invest in chatbot implementation or not. We've collected stats that discuss and explore chatbot usage and the future of chatbots.
These chatbot stats have been divided into the following categories.
Chatbot Statistics & Growing Trends in 2023
I. Statistics on Customer Preference for Chatbot
Our first category for chatbot statistics focuses on understanding customer's increasing use of chatbots. We've also covered why customers prefer using chatbot in the first place and how frequently they prefer to engage with businesses via this technology.
1. 67% of millennials in the US reported that they would likely purchase products and services from brands with chatbots. (Chatbot Magazine;Tweet this
2. 1 in 5 consumers would potentially buy goods and services from chatbots. (Ubisend;Tweet this
3. 67% of users prefer chatbot because they provide quick answers to simple questions. (Outgrow;Tweet this
4. 47% of users are open to buying items through a chatbot. (Outgrow;Tweet this
5. It's estimated that nearly a quarter of the world's population was using chatbots by the end of 2019. (SmallBizGenius.net;Tweet this
6. Interest in chatbots increased by 160% in 2018. (Gartner;Tweet this
7. Did you know that 67% of customers used chatbots in the past year? (SmallBizGenius.net;Tweet this
Takeaway: We can clearly see that the use of chatbot is only going to increase going forward. It gives us a broad picture of how customers are willing to use chatbot as it helps them get instant answers and responses.
II. Statistics on Customer Usage & Engagement with Chatbot
This category of chatbot stats focuses on understanding customer's use and engagement with the tool. What are the highs and lows of interacting with a chatbot that customers feel is what we plan to explore through the statistics below.
8. Salesforce recently found that 77% of customers say chatbots will transform their expectations of companies in the next five years. (Salesforce;Tweet this
9. 86% of customers believe there should be a human interaction option when talking to a chatbot. (Forbes;Tweet this
10. 74% of consumers say they use conversational assistants to research or buy products and services. (Capgemini;Tweet this
11. 70% of Millennials report having positive chatbot experiences. (Forbes;Tweet this
12. 62% of consumers say they are satisfied with chat assistants found on a company's website. (Capgemini;Tweet this
13. A disclosure of chatbot identity prior to the conversation reduces purchase rates by more than 79.7%. (Fox School of Business;Tweet this
14. 61% of people would find it more frustrating if a chatbot couldn't solve a problem compared to a human. (DigitasLBi Report;Tweet this
Takeaway: These statistics help us reflect on the fact that customers would like a combination of chatbot and human agents when approaching a business for support. No doubt they have positive experiences with chatbots. However, if customers get to know that they are interacting with a chatbot right at the beginning, they may feel hesitant to make a purchase.
III. Chatbot Stats Defining Multiple Challenges
Chatbots can offer multiple benefits. However, there are various reasons why businesses still hesitate to get a chatbot onboard. They feel reluctant as they think that there are certain activities a chatbot can't do or handle. The statistics below will help you grasp different situations a chatbot business owner faces with its customers.
15. 64% of businesses hesitate to get a chatbot onboard because their customers show reluctance to engage with the conversation bot. (Accenture;Tweet this
16. 51% of businesses explained that chatbots can't incorporate chat history with customers, which can be used later to build personalized experiences. (Accenture;Tweet this
17. 47% of businesses hesitate to add a chatbot to their customer service process because they fail to understand human inputs. (Accenture;Tweet this
18. 49% of bot supporters expect to face a lack of deployment cost, which is why they hesitate to implement a chatbot in their business. (Accenture;Tweet this
19. 65% of bot supporters expect to face a lack of skilled talent to develop and work with bots which makes them hesitant to adopt a chatbot for their business. (Accenture;Tweet this
20. 45% of businesses are uncertain about a chatbot's capabilities of adhering to new privacy policies and security concerns. (Accenture;Tweet this
Takeaway: From customers being reluctant to engage with a chatbot to lacking the ability to personalize the support experience, these are some of the concerns a chatbot business owner faces. Moreover, chatbots also fail to understand customer inputs and keep sending "Sorry, can you repeat this again?" messages to visitors during an ongoing chat. This can leave an overall negative impact on potential and existing customers.
IV. Statistics on Benefits of Using a Chatbot
When the above-mentioned challenges occur, you are bound to doubt the credibility of a chatbot. This section aims to explore statistics that can help you understand what benefits it brings to the table in the long run.
21. Chatbots can answer 80% of standard questions. (IBM;Tweet this
22. Chatbots bring a 30% decline in customer support service fees. (IBM;Tweet this
23. USD 8 billion could be saved by using chatbots. (IBM;Tweet this
24. Chatbots reduce per-query costs from USD 5–12 with human agents to just USD 1 with virtual agents. (IBM;Tweet this
25. 36% of businesses use a chatbot to generate more leads. (Outgrow;Tweet this
26. 34% of executives say that chatbots save time and allow them to focus on deep thinking and creating. (Outgrow;Tweet this
27. Business leaders claim that chatbots have helped them increase their sales by 67% on average. (Forbes;Tweet this
28. 57% of businesses claimed that chatbot delivers large ROI on minimal investment. (Accenture;Tweet this
29. 64% of businesses believe that chatbots will allow them to deliver a more customized customer support experience.(Statista;Tweet this
30. Chatbot automation can lead to $23 billion in savings from annual salaries. (Business Insider;Tweet this
31. 55% of customers find chatbots beneficial as they get instant answers and responses while searching for a solution. (Invespcro;Tweet this
32. Between 2018 and 2019, organizations that have deployed artificial intelligence (AI) grew from 4% to 14%, according to Gartner's 2019 CIO Agenda survey. (Gartner;Tweet this
Takeaway: A business can enjoy multiple benefits when using a chatbot for their support process. They can answer questions faster, reduce support costs and even identify more opportunities to boost sales.
V. Statistics on Chatbot's Impact on Customer Service
There are multiple reasons why chatbot has made an impact on the customer service industry. From quick answers to reducing support costs, customer service indeed has become the biggest beneficiary of chatbots. Let's take a look at some of the stats supporting this conjecture below.
33. 37% of people use a customer service bot to get a quick answer in an emergency. (SmallBizGenius.netTweet this
34. 77% of businesses have already implemented a chatbot to their after-sales and customer service process. (Accenture;Tweet this
35. 60% of businesses are planning to implement a chatbot in their after-sales and customer service within three years. (Accenture;Tweet this
36. 95% of consumers admitted that 'customer service' will be the major beneficiary of chatbots. (Ubisend;Tweet this
37. 40% of customers do not care if they are receiving support from a chatbot or a human as long as they receive the much-needed support. (SmallBizGenius.net;Tweet this
38. Chatbots can help businesses save 30% on their customer service costs as it speeds up the response times and answers up to 80% of routine questions. (IBM;Tweet this
39. According to Salesforce, around 64% of support agents who use an AI-driven chatbot spend most of their time resolving complex customer questions. (Salesforce;Tweet this
40. According to an April 2019 survey from Forrester Consulting, 89 percent of customer service decision-makers in North America believe chatbots and virtual agents are useful technologies for personalizing customer interactions. (LinkedIn;Tweet this
41. A Statista study demonstrates that over 64% of business respondents believe that chatbots allow them to provide a more personalized service experience for customers. (Statista;Tweet this
42. MIT Technology Review claims in a study that 90% of businesses report faster complaint resolution with chatbots. (Technology Review;Tweet this
43. 83% of consumers said they'd make messaging their primary means of contacting customer support if they could be guaranteed immediate response. (Help Shift;Tweet this
Takeaway: These stats indicate that chatbots have become a boon for customer service providers. These providers spend more time on complex queries because the chatbot efficiently takes care of all the common questions. Due to this, many businesses are prepared to invest or have already invested in the technology to ensure no customer leaves without an answer.
VI. Chatbot Statistics on its Contribution to eCommerce Businesses
We see that a lot of eCommerce websites have started using a chatbot on their website. They show product recommendations, inform about upcoming sales, update customers on order status, and much more. Let's take a look at some stats that give a better picture of chatbot and its impact on the eCommerce industry.
44. By 2023, chatbots are projected to drive eCommerce transactions worth $122bn. (Invozone.com;Tweet this
45. 53% of customers are more likely to buy from shops they can contact directly. (Campaign Live;Tweet this
46. Did you know that 35% of consumers have already bought items with a chatbot's help? (Ubisend;Tweet this
47. Did you know that 47% of consumers are open to buying items using a chatbot? (Ubisend;Tweet this
48. 49% of female online shoppers prefer to use online chat or chatbots to communicate with a business, versus 37% of men. (Leftronic;Tweet this
49. A global October 2019 survey of e-commerce decision-makers revealed that 24 percent of e-commerce companies worldwide planned on implementing AI chatbots on their sites in 2020. Additionally, 9 percent of respondents reported that their company had already implemented them, and 39 percent of companies did not have plans to implement AI chatbots in 2020. (Statista;Tweet this
50. Approximately 40% of people of all ages prefer to use chatbots when shopping online. (SmallBizGenius.net;Tweet this
Takeaway: We clearly get to see that chatbots are helping eCommerce companies to improve their sales. Customers are inclined towards chatbots and are open to making a purchase from them as well.
VII. Chatbot Statistics Proving Impact on Social Media & Messaging Apps
It is a quick section that helps us understand that chatbots are increasingly becoming a part of social media platforms like Messenger. This has helped companies offer instant support to their customers approaching for support via this platform.
51. According to a recent study by Venture Beat, there are more than 300,000 chatbots on Messenger. (Venture Beat;Tweet this
52. 63% of consumers believe businesses should be on Messenger. (Chatbots For Life;Tweet this
Takeaway: The fact that we see more than 300,000 chatbots on Messenger indicates that businesses rely heavily on them to answer multiple questions coming their way. What's more, it helps businesses save time, effort, and money that goes into answering multiple chats coming from different customers.
VIII. The Growing Future of Chatbot
Finally, let's take a look at what the future of chatbots looks like. In this section, we'll get to read statistics that explain the growing importance of chatbots, their impact in the coming years, and which sectors are likely to benefit from their use.
53. With a projected worldwide market size of more than $1.3 billion by 2024, chatbots will be a driving force for business communications. (Intellectyx;Tweet this
54. By 2024, the global chatbot market is projected to be over $994 million. (Outgrow;Tweet this
55. By 2022, 70% of white-collar workers will interact with conversational platforms on a daily basis. (Gartner;Tweet this
56. According to Business Insider, more than 70% of healthcare admin tasks will be automated by artificial intelligence. (Business Insider;Tweet this
57. It is predicted that by 2023, chatbots will help the healthcare, banking, and retail sectors save up to $11 billion annually. (Business Insider;Tweet this
58. Capgemini recently found that 70% of consumers will replace their visits to brick and mortar shops or banks with voice assistants in the coming three years. (Capgemini;Tweet this
59. Gartner predicts that by 2021, more than 50% of enterprises will spend more per annum on bots and chatbot creation than traditional mobile app development. (Gartner;Tweet this
60. By 2021, nearly one in six customer service interactions globally will be handled by AI. (Gartner;Tweet this
61. According to Lauren Foye, by 2022, banks can automate up to 90% of their customer interaction using chatbots. (Juniper Research;Tweet this
62. CNBC claims that $0.70 is the projected chatbot cost savings per customer interaction in 2022. (CNBC;Tweet this
63. The global Chatbots market is valued at 840 million USD in 2017 and is expected to reach 5310 million USD by the end of 2023, growing at a CAGR of 36.1% between 2017 and 2023. (Reuters;Tweet this
64. The Chatbots Market was worth USD 1274.428 million in 2018 and is projected to reach USD 7591.82 million by 2024, registering a CAGR of 34.75% over the period. (Research & Markets;Tweet this
65. By 2025, customer service organizations that embed AI in their multichannel customer engagement platform will elevate operational efficiency by 25%. (Gartner;Tweet this
Takeaway: From banking, healthcare, to retail sectors, each of them is predicted to benefit from the use of chatbots in the coming years. What's more, this technology will elevate the operational efficiency of customer engagement by 2025. There's a lot we need to look out for and examine the steady growth and adoption of chatbots in the market.
Chatbot Statistics: What do we Learn?
Chatbot isn't a new and upcoming technology, it was always in the making. However, the statistics indicate that it gained popularity in the recent 5-10 years and is here to grow further.
We got to see how customers don't mind whether they are getting a solution via a chatbot or a human agent as long as they are satisfied with the instant support. They also like interacting with chatbots because they respond faster compared to human agents. In contrast, businesses prefer using them on their business websites or Messenger accounts because they can handle multiple chats simultaneously.
However, these chatbot statistics have also indicated their drawbacks and how businesses to date hesitate to get one on board. That's because they haven't excelled at offering personalized support experience, getting a skilled team on board who can grow its features further, or understand complex inputs from humans in one go.
That said, chatbots are still quite popular among businesses as they help them reduce support costs and enable their support teams to focus more time on solving complex queries. This is one of the reasons why we companies are getting one for their website and even looking for ways to improve their efficiency in the coming years.
Do you want a free Live Chat software?
We have the #1 Online Live Chat Software for instant customer support 24x7