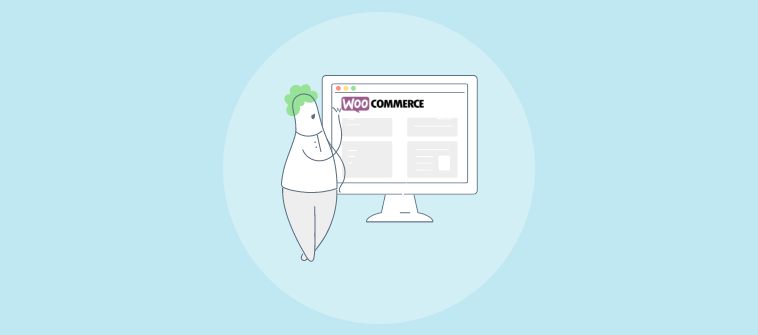 Picture this. You've established your online store using WooCommerce. Your products are ready to sell. You see visitors coming to your site regularly. But there's a hitch. Visitors are coming to your site and bouncing off after some time. Why is that?
Do they need help to find what they are looking for?
Do they have doubts regarding the shipping of products?
Do they need assistance with placing an order?
These questions might make you scratch your head. But don't worry. We're here to help.
Your online store needs a WooCommerce chatbot plugin. The right plugin can help you cater to customer needs and provide real-time support to boost online sales.
In this blog, we will look at what a WooCommerce chatbot is and the ten best chatbots you can consider deploying in 2023.
Let's get started!
What Is a WooCommerce Chatbot?
A WooCommerce chatbot is a customer service tool that can be integrated with the eCommerce platform. This enables you to add a chatbot to WooCommerce, extending 24/7 support to online shoppers.
The integration helps capture leads and qualify them faster. A chatbot uses canned responses to answer common customer queries, reducing the volume of tickets. It also helps transfer the chat to human support if need be. If agents are unavailable to chat, a chatbot can even book visitors' appointments.
A chatbot also lets you welcome visitors to the site with customized greetings and offers the latest discounts and deals. Adding chatbots to your eCommerce site can simplify customer support and enhance online shopping experiences.
So adding a chatbot to your eCommerce site helps:
Increase customer satisfaction
Increase efficiency
Reduce support costs
Lower human errors
10 Best WooCommerce Chatbots in 2023
Choosing one tool from among the hundreds available on the market can be mind-boggling. But don't worry. We have done all the heavy lifting by going through hundreds of tool websites to create this list of the best chatbot for WooCommerce.
So, without further ado, let's begin.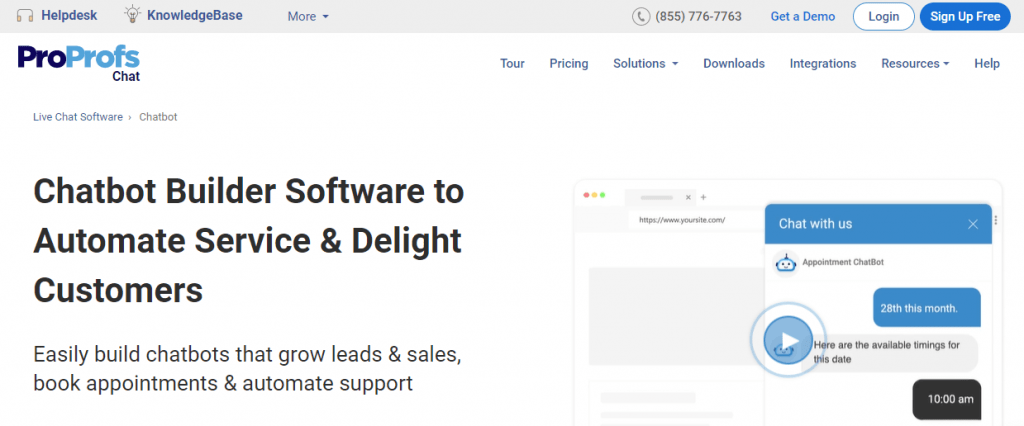 ProProfs Chat offers an intuitive chatbot for WooCommerce. The best part about this integration is that it seamlessly integrates with the online shopping platform to deliver human-like interaction and exceptional shopping experiences. Its chatbot helps route visitors to human staff for complex issues and also automates ticket creation when agents are offline. Moreover, the tool allows you to understand customer behavior and needs with real-time analytics, enabling improved customer engagement.
Key Features of ProProfs Chat:
Ask multiple choice and open-response questions
Integrate with the native knowledge base to present self-help articles within the chat widget
Design customer interactions with branching logic
Customize the look and feel of your chatbots on the fly
Respond faster with ready-to-use canned responses
Pricing:
Starts at $19.99/operator/month.
What we liked: You can build, optimize, and test your chatbot to capture attention and deliver unbeatable benefits.
What could be better: They should offer more templates for other use cases.

This chatbot plugin enables you to provide personalized support at scale. It helps provide faster and more consistent support to online visitors. Its Resolution Bot anticipates the visitor's questions and answers them in your preferred time and voice. Also, the bot answers questions based on customer spend, business type, location, etc. Besides this, its bot is easy to train for automation which equips it to recognize similar questions from past conversations and answer visitors with relevant context.
Key Features of Intercom:
Give multilingual support to visitors
Offer support via website, in-app, and social media
Offer self-serve support for common questions
Save chat history for easy reference in the future
Pricing:
Starts at $74/month.
What we liked: Its custom bots ask the right questions to automatically prioritize and route chats to the right department.
What could be better: The onboarding process is not very smooth.
Read Also: 10 Best Intercom Alternatives & Competitors [REVIEWED]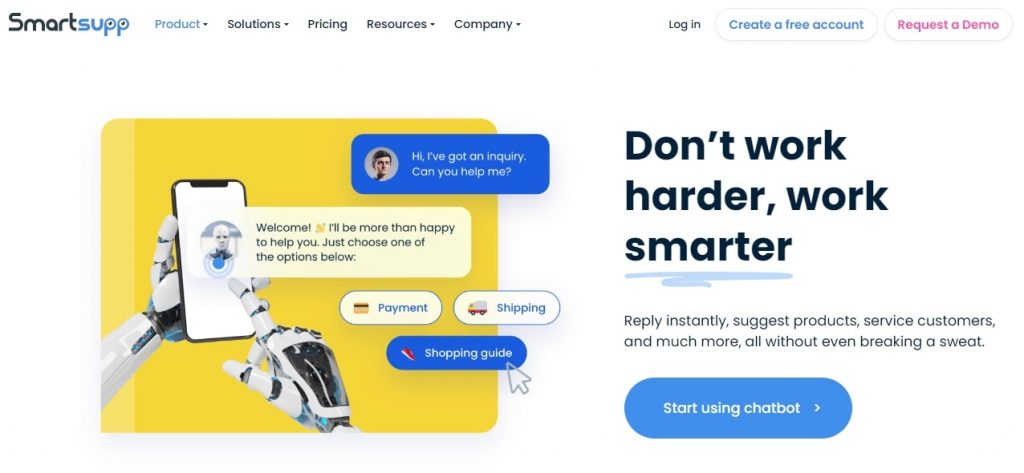 Smartsupp comes with some valuable features of a good WooCommerce chatbot. Its human-chatbot combination enables you to automate your sales and customer care processes. The chatbot greets the customer instantly and suggests products in line with what the customer is browsing on your site. It even offers option menus to your shoppers, helping them make informed purchase decisions.
Key Features of Smartsupp:
The chatbot takes care of FAQs
Record videos of what the customer is browsing and which products they have clicked on
Track average response times easily
Deliver 24/7 instant support
Pricing:
Starts at $0.
What we liked: The tool's chatbot is AI-powered to convert more leads and speed up the buying process.
What could be better: Users often face lagging issues while using its mobile application.

Chatfuel is a user-friendly WooCommerce chatbot. Once you add Chatfuel to your online store, it takes over to attract, interact, and bring back your visitors. It tracks relevant keywords from previous chats and answers visitors' queries aptly. Also, it deploys pre-made answers for questions that it receives daily via messages and comments. Overall, it focuses on automating more conversations with AI analytics.
Key Features of Chatfuel:
Collect key customer data for targeted messaging
Use templates for faster query response times
Segment audiences based on an internal CRM
Request new features you may need
Pricing:
Starts at $11/99/month.
What we liked: The chatbot sends reengage messages to stay in touch with the customers.
What could be better: The tool can be buggy at times.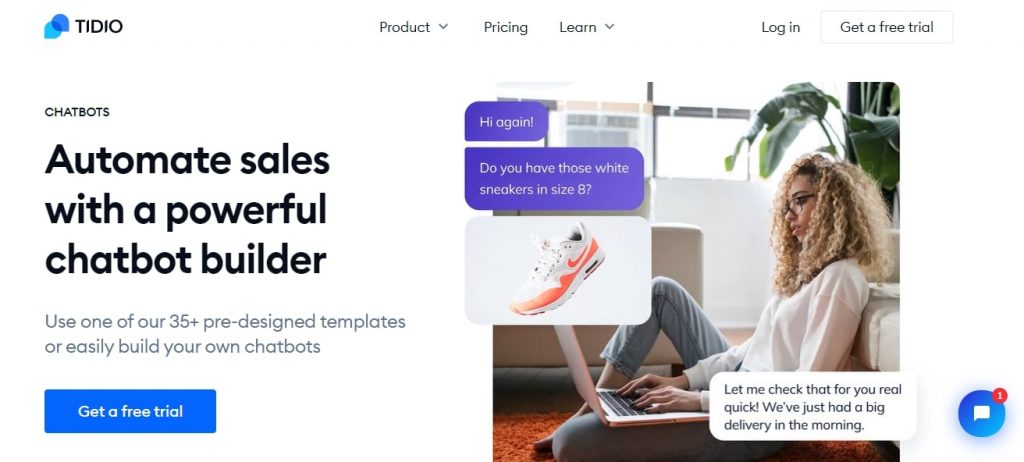 Check out Tidio as a chatbot plugin for your eCommerce website. It is a popular chatbot for WooCommerce, enabling you to capture leads and automate sales. It segments new and returning website visitors based on behavior and sends personalized messages offering them discounts and recommending hot deals. The tool also lets you attach surveys to goodbye messages to measure customer satisfaction.
Key Features of Tidio:
Get started with 35+ pre-designed templates
Place orders directly via the chat widget
Automate answers for checking order status and processing returns
Send automatic replies when agents are busy
Pricing:
Starts at $0.
What we liked: The chatbot captures visitor data and is equipped with personalizing messages to cross-sell products.
What could be better: The tool needs more customization options for greetings and surveys.
Read Also: Top 11 Tidio Live Chat Alternatives & Competitors

Drift offers a coding-free experience for setting up the chatbot for your eCommerce platform. Its chatbot offers tailored customer care to visitors. It also pre-qualifies leads and schedules a meeting with the sales team, ensuring that your sales reps get handed to potential customers that are most likely to convert. Moreover, its chatbot sends specific messages customized to each visitor and every page.
Key Features of Drift:
Optimize playbook content using bots
Customize the chatbots as you like
Receive real-time notifications when a target customer is on the website
Route site visitors to the right person quickly
Pricing:
Starts at $2500/month.
What we liked: You can test different bot playbook messages with A/B Testing capabilities.
What could be better: Drift can be slightly unaffordable for small businesses, especially long term.
Read Also: 11 Best Drift Alternatives for Your Business in 2022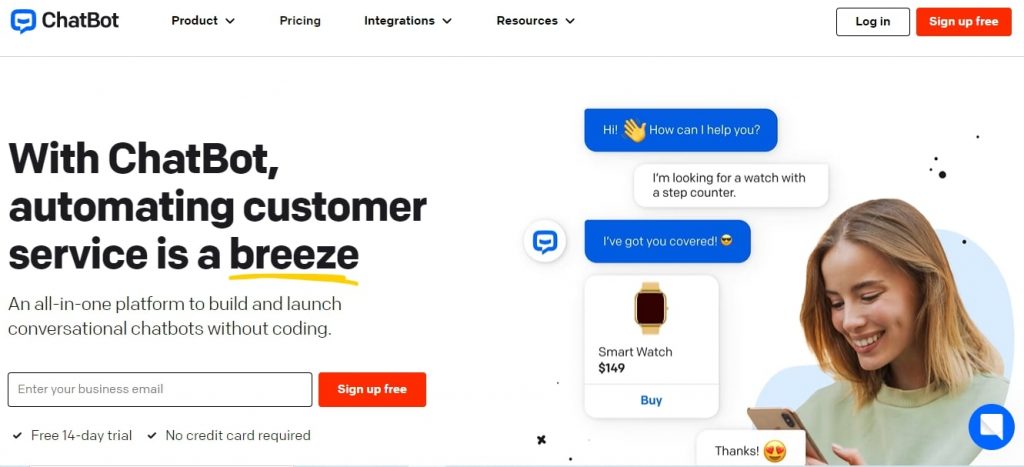 ChatBot's chatbot helps you gain a better understanding of your target customers. You can get started with templates and customize them to fit your business requirements. The chatbot transfers high-intent leads to the sales team faster, shortening the sales cycle. Besides this, the tool helps tag and categorize all chats in the archives, helping you organize customer conversations.
Key Features of ChatBot:
Welcome visitors with personalized greetings
Grab sales opportunities with tailored offerings
Drag and drop conversational elements to create your chatbot
Demonstrate complicated processes using videos
Pricing:
Starts at $52/month.
What we liked: Customers can purchase, order, and schedule meetings using the chatbot.
What could be better: It would be nice if the tool could handle more complex user queries.
Read Also: Intercom VS Drift: Which is Your Best Customer Support Option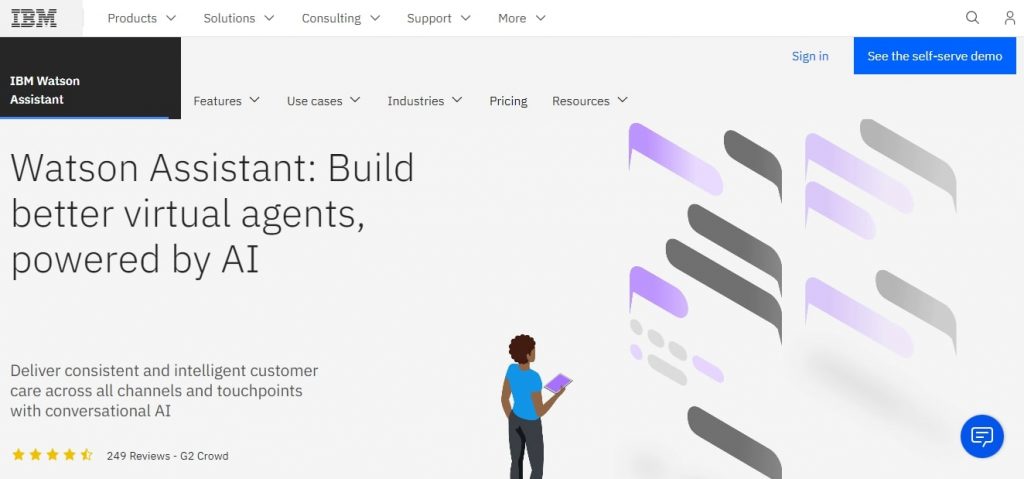 IBM Watson Assistant is a chatbot for WooCommerce that promises to deliver fast and friendly customer support. The chatbot plugin makes it easier to build custom chatbots effortlessly. Built on natural-language understanding and machine learning, it delves into who your visitors are and what they need. It also helps create engaging interactions with images and buttons.
Key Features of IBM Watson Assistant:
Leverage the low-code visual chatbot builder experience
Integrate with CRM and back-end systems seamlessly
Integrate with call centers, service desks, messaging channels, etc.
Offers ready-to-use templates and tutorials to get started
Pricing:
Starts at $0.
What we liked: Its chatbot continuously evolves to improve performance with data-driven analytics.
What could be better: It offers limited functionality in its Lite plan.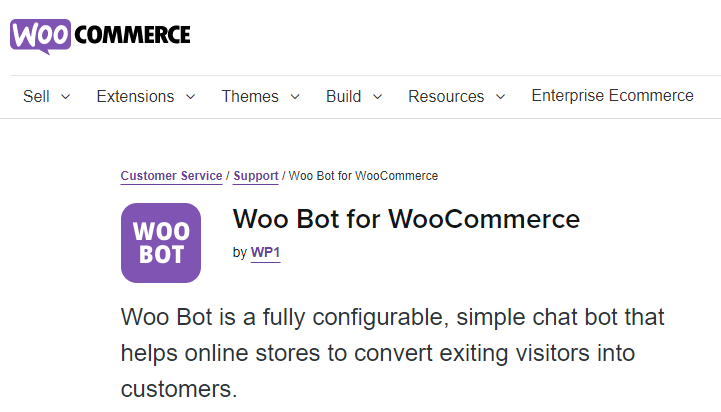 Woo Bot is another chatbot plugin your business can consider when looking for the best eCommerce plugin. Interestingly, this one is a native WooCommerce extension. It integrates beautifully with the platform, enabling perfectly tailored conversations from the get-go. And yes, you can configure chat icons to draw the user's attention and set up email notifications for incoming chats.
Key Features of Woo Bot:
Customize welcome messages
Display a chatbot when a customer exits the page
Send product thumbnail in chat with the link to its page
Configure the chatbot to suit your business needs
Pricing:
Starts at $29/month.
What we liked: Since Woo Bot is a native WooCommerce plugin, it provides seamless integration for smooth customer interactions.
What could be better: Its user interface can be enhanced for better usability.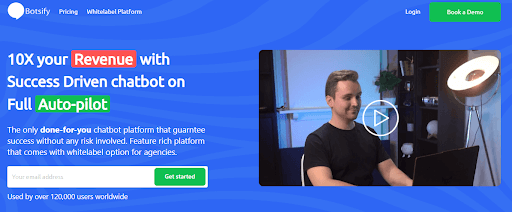 Botsify is one of the modern virtual agent platforms that help engage and convert visitors without breaking a sweat. It offers proactive support to customers and also helps qualify prospects automatically. On top of that, the Botsify chatbot also provides powerful message scheduling capabilities to ensure you never miss an opportunity with a potential customer.
Key Features of Botsify:
Schedule meetings and sales calls
24/7 support across multiple channels
Bring more high-quality leads with engagement campaigns
Provide multilingual support
Pricing:
Starts at $49/month.
What we liked: The tool is equipped with many features that help make customer support a breeze.
What could be better: Botsify lacks in-built chat analytics.
Support Online Shoppers with the Right WooCommerce Chatbot
By now, you probably have a good understanding of the benefits of WooCommerce chatbots. Also, you may have decided which plugin will work best for your online store.
But if you're still weighing options, here are our favorites.
ProProfs Chat is a top WooCommerce plugin that helps you engage with online visitors and provide them with quick and relevant support. Tidio is another WooCommerce plugin that helps cross-sell products with personalization. Also, IBM Watson Assistant is an excellent tool that provides rich analytics to improve chatbot performance.
So, get going and set up your WooCommerce plugin to woo your customers in real-time!
Do you want a free Live Chat software?
We have the #1 Online Live Chat Software for instant customer support 24x7