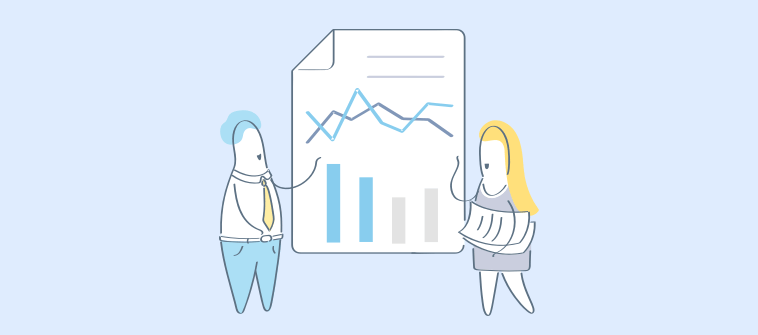 "Your most unhappy customers are your greatest source of learning." — Bill Gates
Elaborating on this maxim, I would also like to add that unhappy customers can ruin the brand value in minutes. It takes less than a minute for an angry customers to post their bitter experiences online.
Type, type, click, and the damage is done!
And we all know, what goes online, reaches everyone and hampers the brand image as well.
Well, that's exactly why you need to focus on engaging with your customers regularly.
With consistent engagement, you'll get to figure out:
Customer pain points

Customer expectations

Communication challenges

Impacts of consistent engagement

Customer loyalty
And, these, in turn, will help your company create strategies that will strengthen your customer engagement process even further.
In this blog, we aim to collate various customer engagement statistics in one place that will give you an idea about various aspects of engagement with customers.
Customer Engagement Statistics 2022 Explained
Our list of statistics is divided into 15 sections and under each section, you'll come across a set of statistics and their explanation to help readers understand how they can benefit or avoid challenges. Let's dive in!
Successful Customer Engagement
1. In the category of online entertainment, Netflix was the leading brand with a ranking of 89% in terms of how the brand met consumer expectations versus the consumer-generated, category-specific ideal.
(Source:

Statista

)

Tweet this
Active customer engagement is crucial for any business to become a success. And, meeting customer expectations is one of the ways to accomplish so effectively. Netflix took into account their subscriber's search history to understand what they really want to see at their platform. What's more, their customers feel too that they don't have to pitch in their ideas but gradually get to see their desired shows on the streaming platform.
2. More than 60% of failed customer support calls could have been solved with better access to data. (Source:

IBM

)

Tweet this
This customer engagement statistic indicates how getting access to data can help you establish successful customer engagement with your customers. That means making sure that every time your operators pick up a call from your customers, they are better equipped with product and service knowledge. This allows you to keep customers engaged with the brand and also boosts brand loyalty.
3. Extensive personalization using the next best action increases average revenue per user by 166%.

(Source:

IBM

)

Tweet this
This is one of the best customer engagement facts that no company should miss out on. By providing a personalized support experience, it becomes a hassle-free task for any business not only to increase customer engagement but revenues too.
4. 79% of consumers say being able to engage with knowledgeable store associates is "important" or "very important."

(Source:

Microsoft

)

Tweet this
To keep the customer engagement going, you need to make sure that not only your store associates but also your support operators hold a significant amount of knowledge on a process. That's because almost 80% of customers find it to be an essential quality. Such potent statistics on customer engagement help you realize that keeping your operators updated on product upgrades allow you to engage customers effectively actively.
Takeaway: The above-mentioned successful customer engagement statistics help us learn that keeping in mind the customer expectations, keeping operators updated on product knowledge and upgrades, and personalized support can result in active engagement with the brand.
Benefits of Customer Engagement
5. Successfully engaged customers represent an average 23% premium in share of wallet, profitability, revenue, and relationship growth compared to average customers.

(Source:

Gallup

)
To help your business grow its revenue successfully, do not miss out on such statistics on the benefits of customer engagement. If you successfully engage your customers, benefits such as better profits, increased revenue, and improved customer relationship growth are bound to reach your business.
6. Fully engaged customers belonging to the consumer electronics bring in 44% more revenue, and in the hospitality industry, it's 46% more.


(Source:

Cognizant

)

Tweet this
This clearly indicates how customer engagement is vital for any business to gain profitability. That is one reason why business owners should work upon strategies that allow them to develop dynamic relations with the customers naturally.
7. Retail banking customers who are fully engaged bring 37% more annual revenue to their primary bank than actively disengaged customers.


(Source:

Gallup

)

Tweet this
According to this customer engagement statistic, correct engagement strategies in the retail banking sector can also result in an increase in annual revenue.
8. Companies that successfully engage their B2B customers reported 63% lower customer attrition.

(Source:

Gallup

)

Tweet this
The benefits of customer engagement are not just restricted to B2C sectors. With successful customer engagement strategies, a B2B business can easily lower customer attrition.
9. Companies that successfully engage their B2B customers reported a 55% higher share of wallet.

(Source:

Gallup

)
This statistic about customer engagement totally proves how good strategies on engagement can allow a business to earn more profits – all the more reason to get in the best strategies for the business to prosper.
10. Companies that successfully engage their B2B customers reported 50% higher productivity.

(Source:

Gallup

)

Tweet this
If you thought that the benefits of customer engagement strategies are restricted to great revenues and profits, then think again. The statistic on customer engagement above is a clear example of how good engagement strategies also result in improved employee productivity.
Takeaway: The statistics on customer engagement stated in this section clearly suggest what all benefits a company can attain if they work upon their engagement strategies. Besides increasing the revenue, it helps a business boost profits and employee productivity.
Customer Engagement Challenges
11. 57% of a purchase decision is already complete by the time your customers actually engage with you. (Source: Oracle)

Tweet this
There are chances that your support team or sales team might not get the chance to actually interact and keep the customers engaged with the brand or its products. This is technically one of the most challenging aspects of a customer engagement strategy.
12. 62% of complaints were about staff attitudes and competencies, compared to just 34% of them were about the quality or reliability of goods and services. (Source: Deloitte)

Tweet this
Another challenge that this customer engagement stat discusses is the staff that fails to engage visitors actively on the website. Technically, make sure that your staff is trained regularly. This will increase the chances of not losing customers and create an awesome customer engagement equation.
13. Four in five (81%) respondents highlight that their main concern was getting their questions answered, and surprisingly only 19% want companies to know their mood and respond accordingly. (Source: Verint)

Tweet this
This customer engagement stat tends to establish that customers refrain from expressing their mood to companies 19% of the time during a support process.
14. 88% of consumers trust online reviews as much as personal recommendations. (Source: Verint)

Tweet this
This stat describes that if you've really worked on active engagement with your customers, they will leave awesome feedback for you. If not, then you'll probably find yourself amidst a lot of complaints online that can result in fewer visits on your website and lesser conversions.
15. Consumers' trust in retailers and manufacturers has declined by more than half since 2014. (Source: Deloitte)

Tweet this
With the customer trust level going down at this rate, it will become all the more essential for a business to interact with its customers actively.
Takeaway: The customer engagement statistics of 2022 definitely indicate that your business will have to work towards building stronger customer engagement strategies, especially when there are so many challenges along the way.
Customer Engagement Expectations
16. 91% of consumers said they would be more likely to shop with brands who recognize and provide relevant offers and recommendations, and 83% are willing to share their data to make this work.

(Source: Accenture)
Customer expectations are only predicted to grow in the coming years. That's why you need to make sure that you learn them before starting any sales process with them.
17. Web leads are 9X MORE LIKELY to convert if they're followed-up within under 5 minutes. (Source: Oracle)

Tweet this
Quick follow-ups are a part of customer engagement. And this being one of the customer engagement facts clearly helps you learn that you can only convert qualified leads if you learn to take quick follow-ups with them.
18. 95% of buyers choose the company that provides ample, relevant information to guide them through all stages of their buyer journey.


(Source:

Oracle

)

Tweet this
Another expectation that your business needs to stand true is providing knowledgeable inputs to customers while they enter the purchasing lifecycle. During this time, active engagement will allow your operators to bring more business to the company.
19. More than 60% of customers interact through multiple channels, and irrespective of time, place, device, or medium, they expect consistency.
(Source:

Deloitte

)

Tweet this
Consistency is the key to success – a saying that isn't just said because it's there. Make sure that when creating active engagement strategies, your team and you are open to using various mediums for interaction so that the customer realizes that your business is approachable and they can engage when they want.
Takeaway: Fulfilling customer expectations in terms of engagement is essential for every business today. And these stats are a testament to it. Make sure that you recognize your returning visitors, engage with qualified leads instantly, provide knowledgeable information that results in sales, and stay consistent via all communication platforms.
Mobile Customer Engagement
20. When interacting with a business for customer service and support, 78% of consumers use mobile devices. That number increases to 90% when working with millennials.

(Source:

Genesys

)

Tweet this
While creating customer engagement strategies for your business, make sure that you do include the mobile usage angle too. As everything is happening on the go, make sure that your team of support and sales operators get access to such tools that allow them to engage with customers no matter where they are. Do not restrict them to computer screens only.
21. Around 50% of consumers will use mobile messaging apps for customer service and support. (Source: Genesys)

Tweet this
This is definitely a part of the customer engagement trends that everybody is aware of. However, your strategies need to revolve around such trends and facts so that it becomes a lot easier for you to implement them for successful customer engagement.
22. 72% of millennials say a phone call is not the best way to resolve customer service issues. (Source: IBM)

Tweet this
These statistics on customer engagement clarify another customer pain point – phone support. These days we rarely come across customer complaint calls when they have mediums like live support tool, ticketing tool, and self-help centers. You can adopt them too. This will help you reduce response time and keep your customers delighted.
23. 83% of customer service teams offer tele support. (Source: Hiver)

Tweet this
Tele support is one of the most popular customer communication channels and it's easy to see why. It's almost second nature for us to pick up the phone and call customer support when we need help. It also gives customers the opportunity to interact with a real person on the other side. Therefore, it's not surprising to see that over 80% of support teams provide tele support.
Takeaway: Your customers enjoy the fact that they can connect with a business no matter where they are. But at the same time, if you provide this facility to your operators to provide prompt support services and engagement services to customers, you'll cover more customers in one go. Plus, you'll reduce the possibility of missing out on customer support queries.
Impact of Customer Engagement On Sales
24. Hotel guests who are fully engaged spend 46% more per year than actively disengaged guests.

(Source:

Gallup

)

Tweet this
If you invest in customer engagement strategies, you'll like to see your customers spending more on your services.
25. Digital buyers penetration worldwide states for 46.4% and will increase to 47.3% – this was estimated for 2018! (Source: Amasty)

Tweet this
This fact sheds light on how digital buyers are important to a business, and while you make strategies for engagement, you shouldn't be leaving out such buyers too. Find various platforms that they are comfortable with while approaching your business.
Takeaway: Statistics under this customer engagement section indicate that if you really invest in building smart strategies, you'll likely witness your sales increasing.
Personalized Customer Engagement
26. 45% of baby boomers (age 55 and over) value privacy over personalization.

(Source:

Genesys

)

Tweet this
So far, statistics about customer engagement have helped us understand how we need to know our customers better to engage with them actively and provide an awesome solution. Now learning about customers is essential, but we need to be mindful that privacy is not something they'll like to put at stake just to engage with a brand. Therefore, you need to make sure that no matter what live chat software or CRM platform you invest in, it secures the data on your customers properly.
27. Personalization remains as marketer's most popular choice, with 36% of company respondents and 40% of their agency counterparts, selecting 'Delivering personalized experiences in real-time' as their top priority.
(Source: Adobe)

Tweet this
Creating a personalized, engaging conversation with customers essential as they tend to appreciate the effort you take. But for this, make sure you have the best customer support tools in place.
28. Personalization influences 38% of all digital revenue.
(Source: Microsoft)

Tweet this
If you personalize conversations while engaging with customers, it will allow you to keep customers delighted with your services. And delighted customers are equivalent to more revenue for the business.
29. 70% of consumers say a company's understanding of their individual needs influences their loyalty, and 69% say the same of personalized customer care. (Source: Microsoft)

Tweet this
Operators need to be very mindful as they provide personalized support experience to your customers. It can easily influence the purchase decision and affect your revenues.
30. 51% of consumers feel it is important to get a personalized experience across all digital channels within a brand. (Source: Microsoft)

Tweet this
The use of multiple channels for support and sales process is a great idea to keep your customers engaged with the brand. But make sure you personalize it and maintain the same standard across all platforms.
Takeaway: In short, your operators need to think about a lot of factors that can influence the decision-making process of the customers. From keeping customer's information secure to making them realize their importance via personalized support process, these are just some of the things that your operators should think about when engaging with customers.
Impact of Customer Engagement
31. 18% of respondents stated that one of their top three priorities for the year ahead would be providing more personalized, targeted engagements and experiences for their customers.

(Source:

Statista

)

Tweet this
Factors like conversation personalization, constant engagement, and the overall experience should be your operator's focus when providing support to customers.
32. Companies with highly engaged employees outperform their competitors by 147%. (Source: Microsoft)

Tweet this
The statistic on customer engagement clearly indicates that you need to also invest in your employees. Only then can your business outshine in a competitive market.
33. 64% of consumers have avoided brands, including both physical and online retailers, because of a bad experience in the last year.
(Source: Microsoft)

Tweet this
Customer engagement is a positive experience. However, certain practices like irregular updates, not being available at a customer's preferred communication platform, and others tend to put off customers. And such bad experiences tend to stay with them for long.
34. 73% of companies with above-average customer experience perform better financially than their competitors. (Source: Temkin Group)

Tweet this
If you want your business to perform better in terms of revenue, just make sure that the customer experience your operators build is always above-average.
Takeaway: There are various impacts of customer engagement that you can come across via the above-mentioned stats. However, great revenues, happy employees, and competitive edge are some of the major highlights that you should concentrate on.
Future of Customer Engagement
35. The increasing engagement was a top objective for more than half of the marketing professionals in North America looking to enhance the customer experience.

(Source:

eMarketer

)

Tweet this
One of the future customer engagement trends is inclusive of how marketing professionals plan to focus majorly on enhancing the customer experience.
36. 50% of companies are implementing planning and forecasting technologies, with an additional 32% increase in investments by these companies in the next year. (Source: Microsoft)

Tweet this
Another customer engagement fact indicates how companies are also planning to invest in technologies that allow them to predict and forecast the engagement trends. This will allow companies to better prepare for upcoming communication challenges and understand customer needs better.
Takeaway: The future of customer engagement is definitely bright, especially when companies plan to invest in technologies that allow them to learn customer's purchasing patterns better. This will help them understand when they should engage and when they should let the customers be on their own.
Customer Engagement Through Social Media
37. More than 80% of millennials use Facebook Messenger, as compared to other social platforms.

(Source:

Genesys

)
As one of the customer engagement social media statistics, we get to take away that most millennials can easily be found on Facebook. That means you should definitely include this as one of the platforms where your brand can engage with customers effectively.
38. 75% expect a response from social-generated inquiries in under five minutes. (Source:

Oracle

)
Customer engagement can easily take place on social media platforms as most people spend a lot of time on them. But as you engage, make sure you also provide answers to their queries, or else they lose interest completely and can reach out to your competitors too.
39. Engagement rates on Thursdays and Fridays are 18% higher than any other day. (Source: Invespcro)

Tweet this
If you'd like to engage with your customers actively, then do find out the days or timings they'd like to spend surfing through social media platforms. This will help you capture more qualified leads and business.
40. Facebook posts with less than 250 characters get 60% more engagement. (Source: Invespcro)

Tweet this
Make sure to keep your posts crisp, clear, and short to engage more people on them. This way, they'll make a decision faster. This customer engagement social media statistic does leave a great takeaway and a strategy on how to engage with the target audience faster.
41. Brand engagement on Twitter decreases if your brand is tweeting more than 3 times in a day. (Source: Invespcro)

Tweet this
Engaging regularly with customers is great. But bugging them with too many social media posts in a day can put them off. And they'll probably be forced to silent notifications whenever your brand posts something new on the page.
Takeaway: The above-mentioned customer engagement social media statistics tend to leave an impression of how important it is for a brand to use their social media handles wisely.
Live Chat & Customer Engagement
42. For 41% of consumers in Europe, online chat, and live support is their preferred channel when it comes to engaging with companies digitally.
(Source:

Statista

)

Tweet this
When it comes to digital engagement, customers not just in Europe but across the globe prefer communicating via live chat software. It is fast and helps customers get a faster resolution to their doubts or questions.
43. 42% of consumers say that they prefer live chat functions because they don't have to wait on hold. (Source: Inc)

Tweet this
To wait or to be put on hold is one reason why customers prefer to avoid legacy customer support tools. And that's why live chat is gaining more relevance in the market.
Takeaway: Engagement is good. But it wouldn't lead to the same results as engaging faster to a customer may bring. And live chat helps you connect faster and provide instant solutions effectively.
Customer Engagement & Retention
44. Marketers in the United States and Europe must bring in 5 and 7 shoppers, respectively, to equal the revenue of 1 repeat purchaser.
(Source:

Adobe

)

Tweet this
This customer engagement statistic is a clear indicator of what we need to do to retain customers to our brand. As a brand, you'll have to make sure that you get more than 5 customers for one to return to your brand again.
45. 91% of consumers are more likely to shop with brands who recognize, remember, and provide relevant offers and recommendations.
(Source: Microsoft)

Tweet this
Help operators know when a customer is returning to your website by adding live chat software. The tool helps you see how many times they have been on your website and when was the last time they interacted with one of your operators.
Takeaway: Retaining customers is no rocket science. But it does require you to be attentive and mindful. Make sure that you do not treat your returning customers as new customers. This can offend them, and most probably, they'll reach out to another alternative in the market.
Customer Engagement & Loyalty
46. 61% of customers have been with their current provider (across each sector) for more than three years.

(Source:

Verint

)

Tweet this
One of the reasons why your customers stay loyal to your brand is because they like when you keep in touch with them, let them know about the upcoming offers, and keep them in the loop of a lot of factors.
47. 96% of customers say customer service is important in their choice of loyalty to a brand. (Source: Microsoft)

Tweet this
Since engagement is a pivotal aspect of customer service, make sure you create the best experience to keep them loyal to your brand.
48. Long-term loyalty is highest in France and Germany, where 72% and 66% of customers respectively have been with current providers for three years or more. (Source: Verint)

Tweet this
Loyalty isn't earned in a day or two. You need to make sure that you keep existing customers engaged with the brand as it progresses towards success. Do not create the feeling of missing out on updates among your customers.
49. In the US, 40% of revenue comes from returning or repeat purchasers, who represent only 8% of all visitors. (Source: Adobe)

Tweet this
To increase the count of returning or repeat purchasers, make sure that you create good engagement strategies. Until and unless you do not actively engage with your customers, they can't be convinced to return to your brand.
Takeaway: To convert your customers into loyal customers, you need to make sure that your business curates the best engagement strategies. Customer engagement doesn't only mean that you send an email about a product update or triggering a chat with them when they land on a crucial page. You need to personalize your engagement with the customers to actually make them brand loyals.
Customer Engagement & Service
50. 17% of centers can locate problems that negatively impact the customer experience.

(Source:

IBM

)

Tweet this
Customer service centers tend to locate issues that can impact a customer's experience. This way, your operators can dodge the issues that they may face during customer engagement.
51. 62% of retailers report that the use of information (including big data) and analytics is creating a competitive advantage for their organizations.
(Source: Microsoft)

Tweet this
With a good amount of data in hand, companies easily get to make changes to their marketing and customer engagement strategies instantly.
Takeaway: Customer engagement and service go hand-in-hand. That's why you need to make sure that when you think of creating changes to your customer service strategies, they'll probably have a spillover effect on your engagement strategies too.
Consumer Engagement & Experience
52. In 2018, 46.5% of organizations revealed that employee engagement in customer experience (CX) is reactive, driven by an organization-wide culture framework. During the survey, 29.3% of customers rated organizations' CX capability seven out of ten (7/10).

(Source:

Statista

)

Tweet this
Employee engagement and customer experience go hand-in-hand. As explained by Statista, 29.3% of customers agree that they would only engage with a company if they rate their customer experience capability equal to or above 7/10.
53. In the MEA region, employee engagement in CX is primarily reactive, with only 35.7% (42.4% globally) of organizations adopting a proactive approach where employees actively (some enthusiastically) live the brand as they deliver CX services. (Source: Dimension Data)

Tweet this
Basically, the stat above states that you need to be more proactive when working towards building experience for your customers. That means, when your operators engage with customers, suggest them to be proactive and not reactive. Sometimes it benefits not just the customer but also the company's revenues when you proactively reach out to your customers.
54. Over half of consumers say that the overall enjoyment of their experience is important in their decision to buy a product or service.
(Source: Deloitte)

Tweet this
Delightful customer experience is directly proportional to customer retention. So if you engage proactively and provide awesome support experience, you'll notice a hike in your sales and brand loyalty.
Takeaway: In a nutshell, this section focuses on how great customer engagement experience can help your organization build the feeling of brand loyalty among customers.
I hope that this extensive list of statistics on customer engagement helps you learn what to do and what not to do while interacting with your customers.
We're here to help if you need us. Give us a call at (855) 776-7763 (Toll-Free), and one of our team will be there to provide any support you require.
Do you want a free Live Chat software?
We have the #1 Online Live Chat Software for instant customer support 24x7