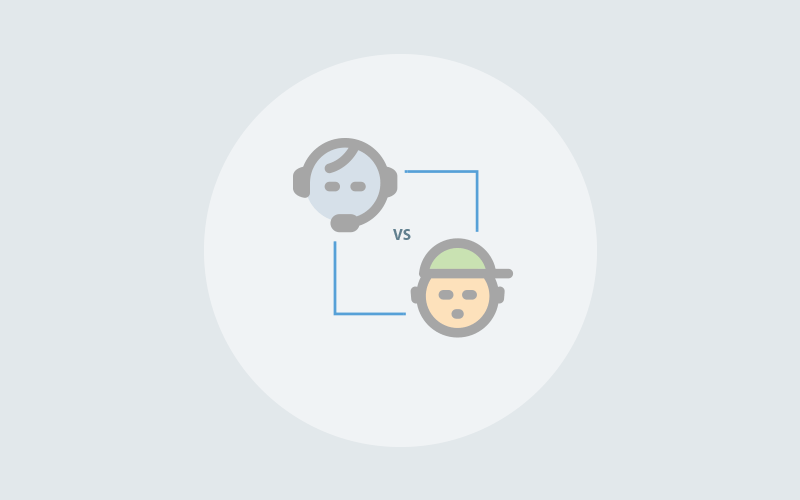 Did you know that 55% of customers are willing to pay more for a quality experience? Reduction of customer efforts is a crucial factor in customer loyalty, therefore it comes as no surprise that customer service over social media increased by 250% in the last two years.
However, what most people don't know is that there is a slight difference when it comes to who cares more. Though many believe the customer agent holds this title, the reality is that agents are simply employees trying to do their job of assisting the customers while support heroes sweep in to save the day.
In every business, workers have correctly divided responsibilities and clear duties to perform. So customer service agents are just a part of the company's branch and, like in every department, they have a leader to direct, support, and manage them accordingly.
What Does it Mean to be a Customer Service Agent?
Customer support agents are the first line of contact with consumers. Due to technology evolution and the corporation's desire to satisfy the customers, nowadays most customer service departments operate online. That is why we see the use of multiple customer support tools such as live chat or the frequent use of help desk software for customer support that helps a business provide an instant solution. This helps to build a connection between a happy client and the growing business, which results in higher conversion rates
That being said, eCommerce businesses constantly try to increase their revenue, hence they employ real-time customer support to help online visitors in different situations, such as reassuring the purchase and facilitating the purchase process.
Due to numerous studies, the industry safely concluded that at least 44% of customers are willing to proceed with online shopping only when they have live assistance and an agent as the intermediator.
One of the agent's main roles is to convert doubting clients into the paying customers.
The agents' basic function is to provide a friendly service and interaction to potential and existing clientele. On the other hand, the list of duties stretches a bit because they are the first line of business representation, meaning that the way they engage the audience has a direct impact on how the customers will perceive the brand. As a result, their job description also includes:
Making Bookings;
Processing Customer Orders;

People-Oriented

Individuals;
Positive Attitude;
Ability To Speak Different Languages;
Computer Skills;
Working under time constrictions;
What are the Responsibilities of a Customer Support Hero?
While customer agents make an effort to satisfy customers, customer support representatives work toward making both the customers and the company content. A customer support hero handles the main support communication between an organization and its customers.
What this means is that they provide relevant information about the company's product and services, as well as accessing the business computer system to handle and solve issues for difficult and regular clients. In addition, they have full responsibility for clients and while agents communicate with consumers similarly, service representatives are the ones carrying the heavy burden of customer mismanagement.
Those heroes act as a vital link, assisting with numerous duties like:
Undertaking and resolving customer complaints via social media, phone, mail or email;
Reaching out to customers for info and account verification;
Account upgrades or disclosure;
Greeting customers with care and compassion;
Give advice on the company's information and products/services;
Placing orders, exchanges or refunds;
Collecting payment info and other client's information such as addresses, emails, and phone numbers;
Dealing with orders cancellation;
Serving as the business gatekeeper;
Selling services and products;
Handling product recalls;
Suggesting product/service solutions in the case of a malfunction;
Persuading clients to stay with the business;
Informing consumers of promotions and new products/deals;
Utilizing technology to keep up with high call volume;
Working with the customer support manager to ensure the best customer service;
Gathering records on overall customer service satisfaction rate;
Opening and closing call records;
Using scripts to better engage customers;
Handles renewals and changes in the policy;
Not only does a customer support representative pay attention to all seemingly meaningless, yet essential customer details, but they also invest the same effort to keep the business afloat and prospering through a constant close connection with their superiors.
To be a customer support hero, one must possess strong listening skills and the highest reasoning skills to understand and implement what needs to be done. Likewise, they always have to be calm and polite during the customer interaction, thus exceptional writing and communicating skills are required.
Since customer representatives deal with so many different people, it is essential to find the best possible solution for each and every individual, especially for angry and irritated clients, in order to create positive relationships with customers and increase the company's client base. Putting it simply, they need to think on their feet and analyze every situation to make the most of it.
Recommended Read: Characteristics of Live Chat Agents
What they Both Mean to Businesses?
The customer service agents along with representative heroes have the important role of being there for customers to provide an efficient service. No business would be able to achieve success without satisfied consumers, so the primary concern is their well-being and positive emotions about the brand's service or products.
Although an agent's job is to communicate and address complaints, representatives are the ones who go above and beyond in resolving difficulties, and assuring that the problem is dealt with correctly and proficiently.
Customer service agents and representatives are here to support, but the support they offer differs. While agents deal with technicalities, heroes answer all questions and resolve problems. Additionally, it takes a hero to keep the communication lines open between a business and clients, so their main weapon is kindness supported with relevant knowledge, which builds trust among managers and, more importantly, customers.
Do you want a free Live Chat software?
We have the #1 Online Live Chat Software for instant customer support 24x7