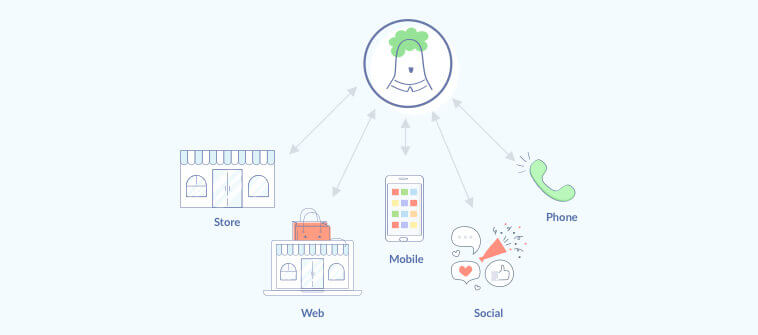 Do you think customers today will take the pain to stand in a queue to resolve a query or ask a question?
Obviously they won't.
The current digitally dominant world has reduced the wait time to seconds, and no one wants to resort to old school methods of communicating with their favorite brands.
When they can get everything they want in a jiffy, from wherever they are, the question of walking to a store or calling the support staff only to wait for hours, doesn't arise.
Most brands today are transforming by opting to go beyond the traditional call centers and embracing multi-channel customer service channels, to help customers reach out to them with convenience.
But, why is that so, and what exactly is multi-channel customer service?
All these questions and many more will be answered here.
Let's first start with the basics.
What Is Multi-Channel Customer Service?
Well, there was a time when companies relied on a single channel approach to connect and interact with customers. Thanks to the technological tornado, this scenario has changed.
It's multi-channel customer service that is becoming the new norm, given the scores of benefits it provides. The core element of the concept lies in the term 'multi.' What it means is that your clients can make use of more than one communication channel to reach out to your business with their questions or queries.
Multi-Channel Customer Service can be a combination of platforms including phone, email, live chat, social media, or self-service channels like FAQs, knowledge base, forums, online communities, or more.
But why does this multi-channel customer experience matter so much?
Simply because your customers are looking to reach you as easily and conveniently as possible. The fact remains that they like being connected with you on the channel of their preference. They expect service that is prompt, qualitative, and helps to address their needs and expectations, regardless of the channel of communication.
To them, it is all about a seamless and smooth experience irrespective of the communication channels used.
But who is at the forefront of this entire process? Your employees, of course.
For any business, its employees need to be closely connected to customers. Here, the concept of 'close' refers to clearly understanding and resolving customer problems.
The marketing and sales departments play a vital role here as it is their work to monitor customers closely and learn as much as possible from their interactions and engagements.
But before you jump on to offer your customers with multi-channel communication options, you need to answer some key questions.
Which channels should you be covering?

Which channels are most effective and compatible with your business type?

Are there specific channels that work well for customer support only?

Have you monitored the sort of interactions that are being generated by your present customer service channels?
If you can answer these questions with adequate logic and backed by data and insights, then that's great.
Having said that, the very concept of delivering service via multiple support channels is still relatively new. Therefore, businesses, along with their service divisions, are still strategizing on how best to use this idea to offer a wholesome customer experience across all touchpoints.
What drives an outstanding multi-channel customer service is a clear understanding of the concept. You need to grasp why it is crucial to offer this service in the current landscape. Similarly, you must also address any roadblocks or hurdles that come your way in successfully providing services across platforms.
Why Is Multi-Channel Customer Service Important for Your Business?
Your customer service is a reflection of your brand. In the long run, it can be a significant contributor to the success of your business. In spite of knowing this mantra, where do businesses go wrong in their approach?
Reports show that every year companies lose over $ 60 billion, all due to poor customer service.
What's worse is that customers who are victims of sub-standard CX are more inclined to discuss it within their individual circles.
Obviously, you have to do what you can to avert this situation and come up with a strategy to boost customer satisfaction. One way of doing this is by offering customers a multi-channel support system.
But you may not be completely sure why and how it can help. Perhaps these compelling reasons can help you determine the importance of multi-channel customer service for your business.
✔️ Convenient Access
Millennials today prefer to contact customer service through online channels compared to the baby boomers who may still prefer traditional ways. What this implies is that customers want convenient access to your support service through the channel of their choice, anytime they want, which is a good enough reason for you to opt for multi-channel support.
However, customers can have varying preferences depending on the severity of the issue at hand. For instance, they may be more comfortable with phone support for a complex issue as opposed to emailing the service department about it.
Here, the customer is looking for an immediate solution to the problem. In such scenarios, having a communication channel that offers easy accessibility is a definite value addition.
✔️ Service Efficiency
By embracing multiple support channels for communication, you can serve more customers across several platforms. Scalability is easy as your business can expand its reach to a wider customer base in a shorter time span. While this may increase the volume of customer inquiries, establishing contact with your business automatically becomes a smooth and seamless experience.
Additionally, if you opt to automate the process by integrating it with a help desk system, then responding to customer queries becomes all the more speedy and effective. A unified dashboard assists in compiling all incoming customer queries on a single platform.
✔️ Consistent Delivery of Support
Multi-channel communication can be extremely beneficial if providing consistent support is what your business focuses on. As you set up your multi-channel communication system, you must ensure that the experience you deliver is a collective effort and not an isolated one.
Imagine a situation where a customer sends a query over email to which the agent responds, saying that a rep will revert with a solution within a specified period. But when the rep gets in touch with the customer not knowing the details of the issue, it just shows a lack of care, effort, and the inconsistencies existing in your system.
For many customers, this can be a frustrating experience, and it does not leave them with a positive impression of the brand. To make sure that customers receive optimal service, you have to make your multi-channel support system function cohesively across platforms.
✔️ Customer Satisfaction is Paramount
Stats suggest that Live chat has the highest satisfaction level at 79%, compared with 61% for email and 44% for the phone.
This is where multi-channel customer service works wonders, as it helps you cater to help requests coming from various platforms, making sure that no customer query goes unaddressed.
Minus proper execution, this strategy has a high possibility of not being successful. You can get relevant review departments to evaluate chat logs, customer emails, and call center recordings.
This is the best way to identify gaps in your service across all the communication channels you work with. You can additionally improve upon this by sharing regular surveys with your clients to get meaningful feedback that can help you enhance the experiences you offer.
At the end of the day, the corrective measures you take will determine the relationship you share with your customers. Addressing their points of dissatisfaction will boost the experiences you offer them.
Remember that customer expectation is for 24/7, low-effort support on the channels of their choice. Businesses not implementing this today are at risk of losing loyal clients to their competitors.
Do not let the thought of using multiple support channels to serve your customers overwhelm your operations. You need to handle it cleverly to get benefits out of your multi-channel service strategy.
What Are the Various Channels for Providing Excellent Customer Service?
It is hard to pinpoint why customers have a preference for a specific communication channel. Is it because it is convenient for them, or is it because the remaining alternatives are terrible? Or worse, there are no other options?
As a business owner, you aim to deliver stellar service every single time. The solution lies in offering multiple channel options and making sure that the quality of service remains the same across all platforms.
Take a look at the list of communication channels that can help you offer support efficiently.
📞 Mobile Phone
Indisputably, the phone remains the oldest and one of the most preferred communication choices. This is simply because many still believe that voice support is the quickest way to get their problems solved, especially for issues relating to billing or personal data.
However, this dominance is witnessing a sharp decline with the changing expectations of millennials, who form the lion's share of customers today. More than anything else, they need instant gratification from brands.
But, despite this, the importance of phone support cannot be ignored. It might not be very efficient or relevant in today's scenario, but it surely helps to cater to a specific section of your audience.
As for many customers, phone support will be their number one choice if panic seizes them when circumstances are out of control. In such situations, connecting with a human voice is reassuring.
📧 Email
In spite of all the high-tech channels to access help, a huge chunk of clients still admits to using email as their first option of communication. And they have their reasons to support their selection.
Those looking for a frictionless experience, meaning, not holding the line for an agent to be available on the phone, etc., prefer using email. It is a convenient option for those not confident in communicating in a foreign language in real-time.
What's challenging here is that clients expect a response within 24 hours, failing which, be prepared to be hounded on other channels like social media, with complaints on your substandard service.
If you see that your email communication is becoming unmanageable due to the high volume of queries, you can look at integrating a help desk software. It automates the process of collating customer queries from all email sources and ensures that no ticket goes unattended.
💬 Live Chat
It is not surprising that chat support platforms are quickly becoming the most popular customer service channel for communication. That's because it is convenient, provides instant answers, irrespective of the device or location.
And it is not like you can chat with one customer only at a single time. Live Chat Software allows you to chat with multiple clients simultaneously. With the customer concerns getting resolved in record time, customer satisfaction levels are automatically boosted.
But the benefits of having live chat as part of your multi-channel customer service does not end here. You can make use of Chat on the website to proactively engage online visitors by triggering chat requests that are driven by a specific action from the prospect.
When you interact with visitors through live chat, the propensity of conversions increases. Hence, investing in a live chat tool is a game worth playing.
💻 Self-Service Tools
As a business, assisting customers every time they experience a problem, is one of your key priorities. But, it may not always be a possibility due to several reasons. Fortunately, not every customer issue requires the customer service department to intervene directly.
There are times when the concern or query can be handled by customers directly. All they need is access to relevant information to get answers to their questions quickly. This is probably the reason why American Express research states that 24% of customers in the U.S. prefer to use self-service channels for simple queries.
A comprehensive FAQ section or a knowledge base software that can be accessed by customers to resolve queries, dispel doubts, and solve minor problems is a vital component of offering multi-channel support. This also means that your support staff can concentrate on resolving more complex issues.
🌐 Social Media
Other than just plain social networking, sites like Facebook, Twitter, and LinkedIn have become important channels for assisting customers. For younger consumers who demand a high quality of customer support, these social media channels are extremely essential.
The expectations are high as those who contact brands on their social handles look for a response within a 24-hour timeline.
What you need to figure out is where your customers are because companies that ignore requests coming from social media experience a high churn rate.
Have a tracking system in place to monitor customer messages. Don't react, instead respond to customer queries quickly and reasonably so that they don't turn into a social storm.
It is not recommended that you try all types of multi-channel support options at the same time. And you probably shouldn't because there are too many channels and you may not have enough resources available to handle them round the clock.
Instead, let customer expectations around your response time and experience for a specific service channel be your guide. Access data reports and insights that can help you determine which channels are being used more frequently by your customers. You can then allocate your resources accordingly.
---
Read More: Do's and Don'ts of Excellent Customer Support on Social Media
---
What Does Effective Multi-Channel Customer Service Look Like to the Customer?
At the heart of multi-channel customer service is the ability to route issues to appropriate support teams using one or more channels to provide effective and timely solutions. Customers seek instant gratification, regardless of which channel they prefer, and as a business, that's what you need to prioritize on.
Adopting a multi-channel service approach can certainly be a game-changer for your business, but there's a catch. Don't rush. Take your time, evaluate your options, identify the channels that you can practically adopt, and then make a choice. And make sure that whatever you offer is best-in-class, because that's what customers seek.
One way of ensuring that the entire process of serving customers is effective is through the integration of software tools at critical touchpoints. This not only allows for support teams to access information and insights, but they can also monitor and track tickets, update them whenever necessary, and collaborate with the relevant departments to resolve issues quickly.
With the evolution of technology, business strategies are becoming more dependent on smart tools such as live chat, help desk, and knowledge base software to offer more enriching multi-channel experiences to clients.
With intelligent investments in this space, you will be in a better position to handle customer grievances, boost satisfaction, and reap the rewards in the long-term.
What Are the Challenges in Implementing Multi-Channel Customer Service?
Implementing multi-channel customer service comes with its own set of challenges. However, it is your responsibility to find ways to conquer them and ensure that customers get a seamless and consistent experience.
A primary challenge to handle customer expectations with multi-channel support is that you need to be present 24/7. Regardless of what time or day it is, customers want answers to their questions instantly, which can be difficult sometimes.
Besides, these channels cannot be managed in silos. While there may be several teams involved in handling queries received via phone, email, social media, or live chat, they have to work collectively to deliver consistent standards of service every single time.
What is most difficult to overcome is the sheer complexity of the entire process. The lack of overall strategy, resources, budget, and a broader outlook certainly hinders the execution.
Moreover, the shift to multi-channel communication also implies that your current support staff would be required to learn new skills. They should be prepared to undergo training and coaching and change their outlook towards customer service.
5 Things to Know About Multi-Channel Customer Service
Multi-channel customer support cannot be provided as a 'one size fits all' solution. Being a business owner, you have to respect customers' preferences and decide on a suitable approach accordingly.
But before that, here are a few essential things that you should keep in mind about multi-channel customer service.
1. Work as a Collaborative Unit
Irrespective of the number of communication channels that you offer for customer service, you must ensure that your departments and teams come together as a collaborative unit to resolve customer queries. This will not be possible if there is no system of exchanging and sharing information.
2. Only Offer Channels That You Can Handle Efficiently
While you have the option of offering every type of communication channel to your customers, it will not have a positive impact if you cannot handle the inquiries coming from them efficiently. Check the channels frequently used by your customers, start by allocating workforce there, and then slowly build up your offerings.
3. Review Chat Logs, Emails & Call Recordings
To identify lapses, you need to regularly monitor and review call recordings, emails, social media messages, and chat history. Additionally, this exercise can be beneficial in evaluating individual agent performance and helps you find patterns in the most common issues that customers have with your brand.
4. Rotate Agents From Channel to Channel
Doing the same workday in day out can be monotonous. It can also result in complacency. The best way to deal with this is to keep changing the channels allocated to agents from time to time. This will help your customer service reps in picking up skills of handling different support channels and also keeps the monotony at bay.
5. Look Beyond Customer Service
Multi-channel customer support has so much more potential because it is not just about the allocation of queries. It is also a platform for relationship building and influencing purchase decisions. A robust multi-channel customer service strategy is also instrumental in increasing sales, retaining customers, and driving long-term growth through customer loyalty.
Conclusion
Customer service is an ever-evolving space. In fact, in the digital era, it has become associated with the customer journey, making the experience far more relevant and compelling.
But there are expectations of receiving service that is quick and consistent. This will never go away, no matter which channels you support. Instead, what will make a difference the personal touch you offer. Never underestimate its power even though it may require a lot more effort and time from your end.
What you should always aim to achieve is customer experience systematically and sustainably by embracing a mix of channels that provide flexibility and convenience to customers.
Remember that customer service also allows you to build long term relationships. And what better way to achieve this than by serving customers across different channels, and making sure they get what they want.
What are the benefits of multi-channel customer service?
As the world is moving at breakneck speed, multi-channel customer support is the go-to strategy to stay relevant. To begin with, adopting this approach equips you with the capability to serve customers effectively and build long-lasting relationships with them. Multi-channel service allows customers to interact with your brand through various contact points. It is a great way to keep all your doors open and cater to customer requests coming from different channels.
What is the difference between Omnichannel and multi-channel?
An omnichannel customer service strategy offers customers with a unified experience right from the first touchpoint to the closure of the issue. Multi-channel service, on the other hand, refers to support that mainly concentrates on offering avenues of customer communication and interaction using several contact channels.
How does multi-channel customer service work?
Multi-channel customer service helps you to respond to customer queries efficiently, regardless of the channels they come from. The channels can be countless – social media, online tickets, live chat, etc. It gives customers the convenience to interact with your brand through a channel of their preference.
Do you want a free Live Chat software?
We have the #1 Online Live Chat Software for instant customer support 24x7