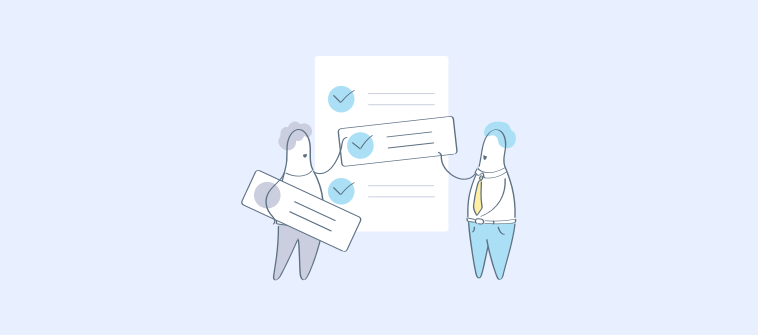 Are your customers young and rustic or toolbelt traditionalists?
Feeling lost as to why we are referring customers with such nicknames? Well, market research firms such as Claritas use these to divide customers into different segments. And why not, it helps you understand your customers even better.
Once you know how your customers are and what makes them tick, you can plan your marketing and sales strategies better. They become more targeted once you identify different customer segments your business caters to.
Such customer segmentation process also enables your business to cater more customers and expand further in the competitive market. So, just in case you wanted to understand how you really carry out this process correctly, then here's what you need – a quick guide to help you out.
This small guide will cover the concept of customer segmentation, types of customer segmentation, it's growing relevance and how to segment customers in five steps.
Let's get started!
What is Customer Segmentation?
Customer segmentation can be identified as the process of grouping customers together on the grounds of common characteristics they share. Such customer groups turn out to be beneficial for your company to create effective marketing campaigns, identify potentially profitable customers, rectify your services according to their needs and develop customer loyalty.
Customer segmentation also helps you build the right product, and understand and set product distribution and positioning in the market. While you are at it, you also get to refine your customer segments over time. That sums up the customer segmentation definition for us.
7 Common Types of Customer Segments
There are seven common types of customer segments that you should be aware of before starting segmenting your customers. Let's get to know all the different types of customer segments better below.
1. Demographic Segmentation
Demographic segmentation can be seen as a market segmentation strategy that helps your business categorize the total market on the basis of customer demographics. You can slice the market on demographic variables such as age of the customer, gender, income, family life cycle, educational qualification, socio-economic status, religion etc.
As one of the customer segmentation methods, it helps you create groups that exhibit a similar need or want, and can be targeted in a much better strategy. This process is quite simple and helps you overcome the hurdle of how to do customer segmentation easily.
2. Geographic Segmentation
Geographic segmentation can be defined as the market segmentation strategy where customers are divided on the basis of regions or geographies. You'll come across geographic parameters such as countries, states, cities, villages, urban/rural, climatic conditions, density of population and others.
Such customer segmentation models help you reach out to customers living in a similar region or area and have identical needs.
3. Behavioral Segmentation
Behavioral segmentation can be seen as a process of segmenting your customers into smaller homogeneous groups based on customer buying behavior. This segmentation process is done by companies on the basis of buying patterns of customers such as usage frequency, customer journey, customer satisfaction, brand loyalty, benefits needed, during any occasion, and more.
Such customer segmentation process is implemented to keep in mind the needs and wants of a customer based on the behavior that they show. In short, segmenting customers with this process helps you come up with marketing strategies that are focused on their buying behavior.
4. Psychographic Segmentation
Psychographic segmentation is yet another market segmentation strategy that helps you divide your customers on the basis of psychology, personality of people, characteristics, lifestyle, attitudes, and more. This segmentation enables your business to identify people based on the way they think & the kind of life they want to live.
In short, this customer segmentation strategy helps you focus on the psychology of the customer, which can refine the marketing activities of your company.
5. Technographic Segmentation
Technographic segmentation is one of the important types of customer segmentation method that helps a business differentiate people based on the technology they use. The reason for such a customer segmentation method is because technology is becoming an important aspect of everyone's life.
The kind of customer segmentation technology they use (like mobile-use, desktop-use, apps, and software) helps businesses understand what type of marketing platform will be more suited for their target audience. Technographic segmentation is perfect for B2B customer segmentation processes as they'll also know how to reach their target audience more effectively.
6. Value-based Segmentation
Another market segmentation that you should be aware of is value-based segmentation. This customer segmentation process helps a business differentiate its customers on the basis of their economic value. That means you segment customers of the same value level into individual segments that can be targeted differently.
This implies that you can create marketing strategies based on the economic value of one customer segment of your target audience through this process hassle-free.
7. Needs-based Segmentation
You can also come across needs-based segmentation as one of the different types of customer segments. Such customer segmentation models help you differentiate customers on the basis of particular factors that drive their needs in the first place. To spot the right factors, businesses must invest in market research that'll help them understand why segment customers and how to do it right on the basis of their needs from a brand or its services.
The above-mentioned types of customer segmentation analysis will help you understand which one works best for your business and which one should you opt for first.
Why Customer Segmentation is Important for Your Business
If questions like "why segment customers" have been on your mind for long, then do read ahead.
It's common to come across visitors who accidentally land on your website. But it is also an indicator of how your business is targeting the wrong audience. That means your marketing efforts aren't focusing on the right customer segment.
According to HBS professor Clayton Christensen, about 95 percent of new products fail as their creators are using an ineffective market segmentation mechanism.
Whoa! That's a lot of products failing to meet market expectations. While the right customer segmentation models can help you improve your product development strategies, its not the only benefit your business can attain from it.
You get to create more focused marketing strategies that help you create messaging that resonates with your target audience.
Enables your sales and support teams to improve their strategies for engagement and overall customer satisfaction.
You get to create more customized content and build more meaningful interactions that drives customer loyalty for your brand.
Helps you understand the preferred communication channel used by a specific customer segment.
You get to learn about your customers at a deeper level and helps you tailor your services as per their growing needs and expectations.
That's why it is important to learn and implement the customer segmentation process.
How to Segment Customers in 5 Steps
In this section, we aim to explore the step by step customer segmentation techniques that your business can implement to work around different customer segment examples. Let's get started.
1. Treat Your Customer Segmentation Process like a Project
To complete your customer segments business model within a fixed deadline, you need to make sure it is treated like a project.
Once you look at it from that perspective, your next step should be to get a clear understanding of a few things that will systematize the process even better.
i. Objective
If you are planning to treat the customer segmentation process as a project for your company, then you need to have a clear objective as to why you plan to do that. Also, identify what business goals will this project address and how will it align with your existing goals.
ii. Stakeholders
After understanding the objective of this project, your next step should be to identify who all will be affected by the outcomes of this project. It could be your marketing, sales, customer support and service, product management departments that will be affected by the outcomes of the customer segmentation process and even invest efficiently in its success.
iii. Scope
To decide the scope of the project, you need to make sure that you've got the right inputs and results.
By inputs we mean, the percentage of customer accounts you plan to analyze or the number of segmentation hypotheses you aim to test. Whereas by outputs we mean, the maximum number of segments you identify at the end of the project or the number of segments you end up analyzing.
Note: The project scope will also be inclusive of the amount of time and resources your company spends at each stage.
iv. Deliverables
Finally, you need to understand what outputs you plan to achieve with this customer segmentation project. If the output is clear since the onset of the project, it will be easier for different stakeholders to accept it and its impact in the longer run.
In case of customer segmentation, the output for stakeholders is to work towards building products and services for customers identified in the segmentation process.
Expert Advice: You can use a project management software to make sure your customer segmentation project is delivered on time. Tools like ProProfs Project can help you plan your work, add stakeholders, display ongoing results with an intuitive dashboard, and enable every person involved to collaborate in real-time.
2. Collect Customer Data
You can't rely on one source to collect customer data and complete the B2C customer segmentations process.
In fact, you need to identify various sources that not only help you collect data on your customers but also enable your teams to identify their characteristics better. This will help you classify customers on the basis of what attracts them to your brand and why do they wish to proceed with you.
Here's a list of resources you can use to collect customer data.
i. Recommendations from Your Team Members
Ask for inputs and recommendations from customer-facing teams like customer support and service, sales and marketing teams. They'll explain what all customer challenges they have to ward off or what marketing strategies work to attract the right customers for the business. Their inputs will be highly efficient for your business to begin the segmentation process.
ii. Use Feedback Software to Know What's Your Customer Thinking
Companies find it easier to collect customer data through feedback solutions as it enables them to assess the collected data faster. You can do this two ways.
One, you can add a feedback software on your website to understand if the visitor landing on your website was able to find a relevant solution or not. Tools like Qualaroo help you get unparalleled user feedback insights as it helps you categorize the data collected on the basis of sentiment analysis.
You can bookmark a few answers that help you understand what customer segment you shouldn't be targeting through your website. This will help you reach out to your target audience efficiently and encourage engagement with your brand.
Two, you can use surveys to collect customer data.
These can be in the form of sidebar forms, in-app or popup surveys. You can even create surveys and share them on social media platforms or via email to get varied responses that help you with your customer segmentation process better.
iii. Use Customer Support Tools to Know Your Target Customer Segment
Besides consulting with customer-facing teams and using feedback solutions to know more about your target audience, you can even use support tools to capture in-depth customer data.
Such customer segmentation solutions like live chat software can help you get access to data and analytics such as:
Which geographic location did the visitor belong to?
Which browser did the visitor use to explore the website?
Name and email address details
Which page did they land on?
What pages have they browsed after landing on the website?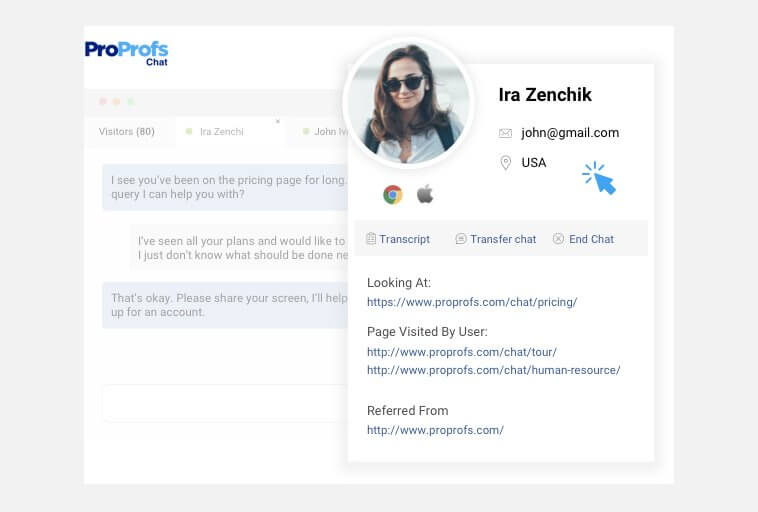 And if the visitor initiates a chat with your business, then you also get to understand their intent better and identify if they belong to the type of customer segment your business is supposed to target.
Another customer support tool you can use to collect data is knowledge base. There are many customers who end up using a self-service portal to find answers to their questions before approaching the customer support team. With the use of a knowledge base repository, you can help your customers and visitors accomplish this goal faster.
In fact, knowledge base solutions like ProProfs Knowledge Base help your customers find the right self-help articles easily.
The tool also provides you access to insights that help you understand:
What keywords did the visitor use to find the relevant information?
Which searches ended up with no result?
Which searches ended up with irrelevant articles?
With access to such insights, you'll know what customer segment has your company been targeting so far and whether you need to make changes to your efforts going forward.
Expert Advice: You can also collect data from tools like Google Analytics to understand if your business has been targeting the right customer segment or not. And if you think that the data collected from these sources isn't enough, then we'd say do give a shot to the data collected in your CRM platform. It will have data for leads, existing customers, prospects and more that will help you understand why customers were attracted to your services in the first place.
3. Analyze Captured Customer Data
Your next objective after collecting a good amount of data on your customers is to analyze it thoroughly.
For this, you first need to set a criteria to measure the attractiveness or value for each customer in your pool of existing customers. This will help you compare customers in different segments.
Besides this, you need to work on how your segmentation hypothesis will work. You can start by analyzing:
i. Existing Market Structure
Identify major market participants of your company's value chain. They can be your buyers, sellers, beneficiaries and even providers who may align with different product lines, use cases, special offerings and so on. Their analysis will help you recognize similar divisions of your company's customer base that align on the same lines.
ii. Market Information Available at Your Company
You also need to interview your customer-facing staff which is inclusive of sales, marketing, and customer support.
This effort will help you understand:
The key selling points that win an account
Reasons why customers generally cancel
Are your marketing efforts directed to the right audience?
Once the answers are found for the above-mentioned statements, it'll be easier to move ahead with the segmentation hypothesis process.
iii. Connect with Market Experts
You can also connect with market experts to discuss various factors they consider to segment the market. They can also help you define your market and understand what your competitors are doing differently to segment the customers.
Expert Advice: Besides these three approaches you can also opt for other approaches where you make use of competitive information available on the competitor's website such as sales content and marketing messaging to see who they are really targeting. You can even review and analyze industries that run on a similar organizational structure.
4. Analyze & Prioritize
After data analysis, your next step in the customer segmentation process is to validate the segmentation hypothesis your team and you have successfully identified. You can use the following methods for this purpose:
i. Lightweight Clustering Analysis
In case your business has a small customer base or a small list of segmentation hypotheses, then you can opt for lightweight clustering analysis. It will systematically review the customer ranking based on hypothesized factors mentioned below.
You can start by creating a table that lists all customer accounts you aim to analyze with their quality scores. You can also include the account's data fields as it corresponds with the segmentation hypothesis you have selected for testing.
Next, you need to sort the table by quality score. You will also have to systematically analyze the list of segmentation hypotheses to identify any correlation between the values in a segmentation hypothesis data field and the customer's quality score.
ii. Tree-based Clustering Analysis
This clustering method will begin by slicing your data into quartiles on the basis of account quality score that will later be illustrated in the form of different branches. The end result of this approach will be to get a list of attractive segments that can be analyzed further. What's more, you can enjoy several advantages like:
Narrow down your regression analysis to a few relevant variables.
Helps you communicate your conclusions to stakeholders better during the presentation phase of the project.
Recognize the cut-off points that regression analysis would not be able to properly capture.
5. Present & Incorporate Stakeholder Feedback
Your final step in the customer segmentation process is to work on the final presentation you aim to show to your stakeholders. You'll be discussing all the significant undertakings your team and you have identified during the process.
While presenting the data, you need to cover the following points:
What is the agenda of the presentation?
What all key findings you aim to show while discussing the summary during the presentation?
What all points do you aim to speak about when giving a recap of the original project goals and the main milestones that have been achieved in the project?
What all key insights were you able to capture after reviewing the segments you decided to prioritize?
Which research methodology was used by your team to arrive at the final results?
What are your next steps that will decide the impact of your customer segmentation project?
Once you address these questions and are done presenting data to all your stakeholders, they might pop up a question or two that would need immediate attention. That's why you need to be open to collecting their feedback on the spot and incorporate them to your process efficiently. This will refine your results and help you complete the customer segmentation process for your business.
Implement Customer Segmentation Process to Identify Right Audience
The need for customer segmentation is growing more than ever. But don't worry, we are here to help. Our purpose here is to help you map a detailed process that enables you and your team to identify, prioritize, and target the right customer segments who can connect with your products and sales pitch hassle-free.
As you proceed towards customer segmentation, make sure you have access to tools that help your teams understand customer intent efficiently. This will enable them to classify customers into different categories and identify which one should the company target going forward.
However, as you proceed further with the customer segmentation techniques you need to make sure you follow the right steps to complete the process. It'll help you implement the right sales, marketing, support and product management related strategies efficiently.
If you want to get started with the customer segmentation process, then this quick guide is for you. Do let us know in the comments section below if it helped you.
Now that we've understood how to segment customers & customer segmentation best practices, let's take a look at some of the frequently asked questions below.
How to grow your revenue by segmenting your customers?
With the correct implementation of the customer segmentation process, your business can create marketing strategies that addresses the concerns of your customers and can encourage them to approach you later. And if your marketing efforts help you gain more attraction, then the chances of acquiring more conversions for your business increase.
After segmenting customers and defining their target markets, what should businesses do next?
Once you segment your customers and define your target markets, it becomes easier for your business to work upon your marketing and customer service strategies effectively. It is important for you to get these two right as it would help you boost your sales.
Which factors are used in calculating the profitability of customer segmentation?
The major factor used to calculate the profitability of the customer segmentation process is customer account. And besides that you can also opt for the customer profitability account (CPA) which is a management accounting and a credit underwriting method. This process allows your business to determine the profitability of each customer segment and for that for each customer as well.
How customer segmentation helps your marketing goals?
To target the right niche of your brand, it is important to go through with the customer segmentation process. This way you can get the brand messaging across your target market and encourage them to make a purchase with your brand everytime they are in need of similar services like yours.
Do you want a free Live Chat software?
We have the #1 Online Live Chat Software for instant customer support 24x7