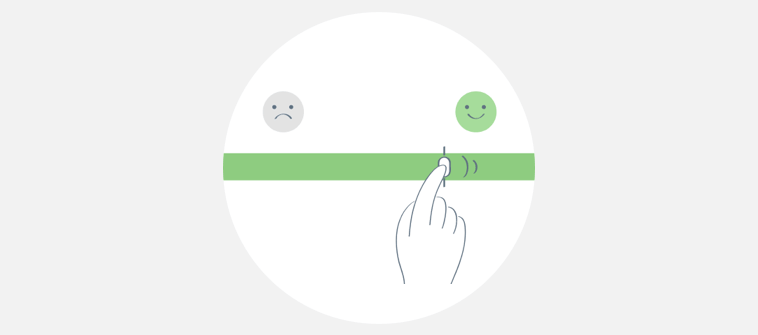 What's that one thing you'd like to change about your business?
If it's to avoid seeing customers leave your business, then you aren't alone in this. A lot of business owners want to reduce customer churn and retain as many as possible.
Honestly, it's not because of revenue all the time. There's a lot more to this.
Stable customer base results in higher referrals, improved upsell revenue and increased lifetime value (LTV) which further results in improved customer acquisition in future.
Needless to say, customer retention is the core value for the growth of any business.
However, there are a lot of reasons that prompt customers to leave a brand. That's why it is important to formulate customer churn prevention strategies at the earliest. If that's your hiccup, then we're here to help you out.
In this article, we'll help you:
What is customer churn and customer churn rate
Reasons why customer churn rate increases
Why does customer churn matter
Strategies to reduce customer churn rate
What is Customer Churn?
Customer churn can be defined as the number of customers who stop using your company's product or service during a certain period of time.
Lately, customer churn is turning out to be a vital performance indicator to help brands understand their performance better.
Here's how you can find out the customer churn rate for your business.
Churn Rate

=

Number of customers lost

/

Total number of customers
Top 5 Reasons for Customer Churn
To reduce customer churn, it is important to identify the reasons for it to happen and tackle them before they result in more losses.
And that's exactly what we aim to explore in this section.
1. Failing to Deliver as Per Customer Expectations
"90% of customers say that brands are failing to meet their expectations."
Tweet this
This sounds alarming!
What's worse is how 94% of marketers are in agreement with the customers about how brands are failing to meet customer expectations.
And what are these customer expectations?
Personalized customer service and support
Getting instant access to accurate information
Effortless website browsing experience
Instant assistance
These are basic customer expectations and in case you are failing to meet these, chances are that your business may witness increased customer churn rate.
2. Lack of a Great Customer Support
Did you know that 67% of customer churn is preventable if firms resolve issues the first time they occur?
But the worst part is that companies end up either giving incomplete solutions to the customer during the support process or the customers are forced to explain themselves to multiple support operators.
And if we fail to address this problem now, then we may end up failing at customer churn prevention.
3. Competitor-driven Churn
Market competition is fierce and stakes are all time high as more names are added to the list of competition.
And more companies in your domain gives customers more options to explore. That's exactly where you need to understand how one bad experience may convince your customer to make a switch to another brand.
In fact, 47% of consumers end up switching to a different brand due to bad customer service. Therefore, you are likely to face this competitor driven churn too.
4. Weak Strategies to Close a Deal
Closing a deal can be a challenge.
And things may go down easily for you if you fail to personalize the journey for the buyer persona's.
That's not a statement, but a fact. According to ITSMA, buyers are 48% more likely to consider solution providers that personalize their marketing to address their specific business issues.
So, if your content or sales strategy fails to address a problem for your buyers, then you are likely to witness customer churn during their journey or even after they convert.
5. Attracting the Wrong Customers to Your Business
Finally, one of the top five reasons for your customer churn rate going all time high is attracting the wrong customers. Yes, this could be the reality!
You must've noticed that the moment a few customers sign up for your services, they either leave or do not use the services offered to them at their full potential.
That's probably because they did not not understand your products and services or why they're useful to them.
If you do not ask the right questions while the customer is signing up or do not offer them the demo that helps them understand your services better, then you're likely to see this churn rate going high.
Why Does Churn Matter?
We need to understand that the primary reason why customer churn matters is because it directly impacts the profitability of your business.
If you calculate the customer churn rate on a regular basis, you'll get to understand:
Why is your customer acquisition cost increasing?
Where have your sales and marketing strategies failed to keep customers engaged with the brand?
Which loopholes have led to change in customer behavior?
Why is your revenue decreasing in general?
With regular monitoring, it'll be easier for your brand to come up with strategies that help you understand how to reduce customer churn.
How to Reduce Customer Churn?
Now that we've gone through top reasons that lead to customer churn, it is time to check out 15 helpful strategies that will help you nip the problem in the bud.
Let's dive in!
1. Analyze and Measure Your Churn
Reducing customer churn is impossible if you don't have access to the right insights to analyze and use as a benchmark. To put it bluntly, you can't improve what you don't measure.
Calculating the metrics is simple.
What you need to do is to look at the bigger picture and ask some tough questions.
How many customers are you losing on a monthly and quarterly basis?
How long did the customers stick with you before they decided to make an exit?
How many customers did you lose versus the number of customers gained within a given period of time?
You can use a CRM tool to help you get answers for these questions easily. What's more, you can integrate a live chat software such as ProProfs with your favorite CRM tool to capture data more accurately.
A CRM will help you see how many customers left or the number of new customers added. But the use of live chat gives you insights on why customers left the business.
For this, you can check out:
i. Post-chat survey feedback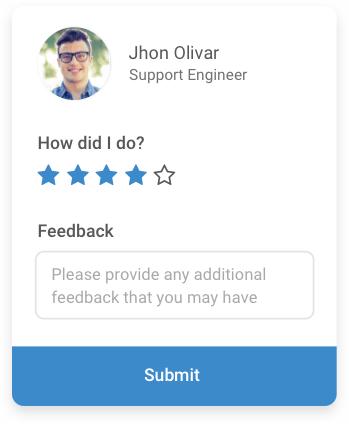 With post-chat survey feedback, you can understand customer mindset and what factors lead them to switch from your brand. It would set some basis for you to improve services and make them more customer appealing.
ii. Chat transcripts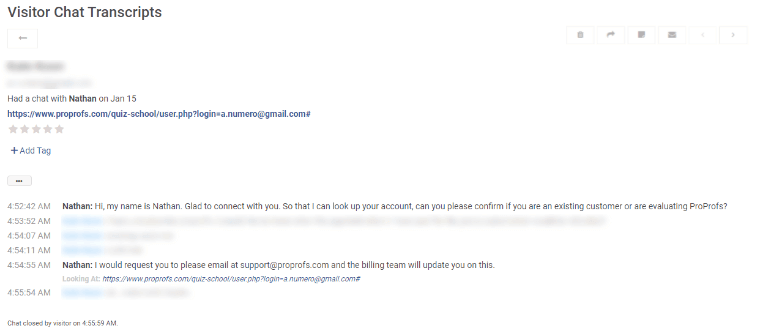 Chat transcripts can show you exactly where your services need to be improved. You can identify customer pain-points and come up with a solution that allows you to reduce customer churn efficiently.
But, what other methods can you use to collect insights on customer exit behavior?
How about adding an exit survey that pops up when a customer is about to abandon your website?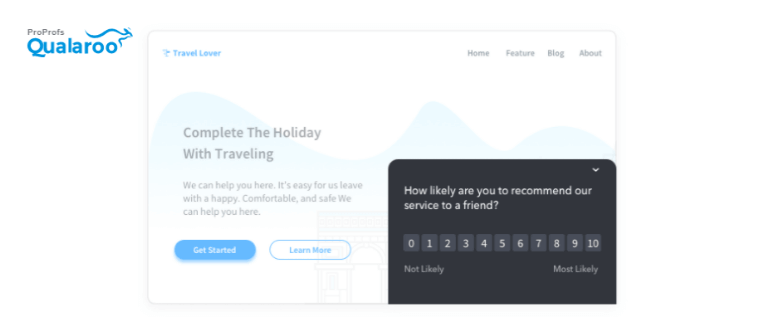 Adding a nudge is all you need to identify whether your customers found what they were looking for or not. And since the exit survey question would be small, understanding what went wrong would be a lot easier for your business too.
Besides these, you can also opt for channels like:
Phone
Email
Social media platforms
In short, these channels will help you learn why your customers leave and work towards a solution that prompts them to return to your brand.
2. Market to Current Customers and Prospects Alike
If your marketing initiatives are only meant to attract prospective customers, think again.
Retention of existing customers is as important as acquiring new ones.
If anything, increasing customer retention rates by 5% can boost profits by 25% to 95%.
This implies:
Never lose sight of your existing customers
Think about dividing the marketing budget towards both prospects and existing customers equally
Work on fostering a deeper connection with both new and existing customers
In a nutshell, you need strategies that help you market to current customers and prospects alike. You can achieve this through:
Emailers and newsletters that focus on your products
Latest news updates on developments
Incentives and discounts
First preview of a new feature
Feedback and suggestions
These strategies will help your customers feel special and reduce your churn rate efficiently.
3. Pursue the Right Audience
It is no surprise that some of your customers sign up for a product without understanding if it meets their needs.
Such sign ups or even product purchases later result in a high percentage of consumer defection. That's because they discover later how the investment made doesn't fit their requirements.
Understand this, closing in on the wrong target audience can result in customers who may juice your numbers in the short-term.
In case you have been facing this, it is time to revise your marketing strategies that attract the right engagement for your brand.
In short, design and position your marketing collaterals so that only the potential customers and clients find you. Your customer churn rate will automatically decrease.
4. Set Reasonable Expectations from Get Set Go
Failing to deliver to the tunes of the promises made is one of the most common reasons for high customer attrition. For reasons best known to businesses, it seems to be a common practice to over promise and under deliver. The tale of over-promising tends to start from the initial sales call.
There may be a number of reasons for this:
They do not wish to turn off the customer
They have a sales target to meet
They only want to tell the customer what they want to hear
In the long run, it does more damage than good when the reality comes to light.
You're setting big expectations, which in reality would be hard to meet. And when that happens, your customers may experience a decrease in dopamine production and, at the end, feel bitter and cheated about the entire episode.
The smart way ahead for all companies is to focus on committing themselves to what they are capable of. Of course, training your sales team accurately on what the company is capable of also is an important aspect of churn reduction strategy.
You can work on employee training through two approaches. They are:
i. Training Documentation
After you assess your capabilities, it is important to keep your sales team updated about it so they set realistic customer expectations from the start. For this, you can start with employee training documentation. It will help you create a repository that your sales team members can always refer to during a conversation with the customer.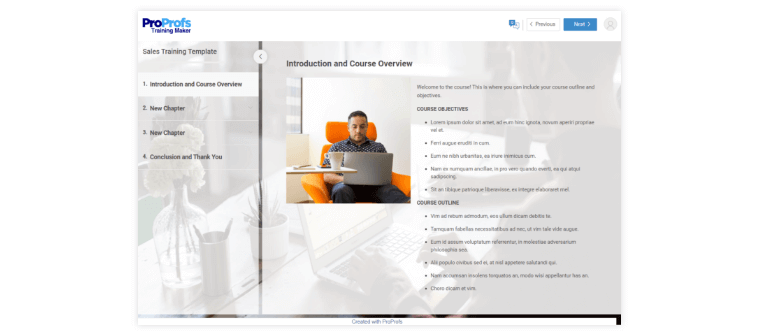 If you get the right training documentation software, then you are likely to learn what other terms your sales team members search for frequently. That way you can create documentation for commonly searched terms too.
ii. Online Training Course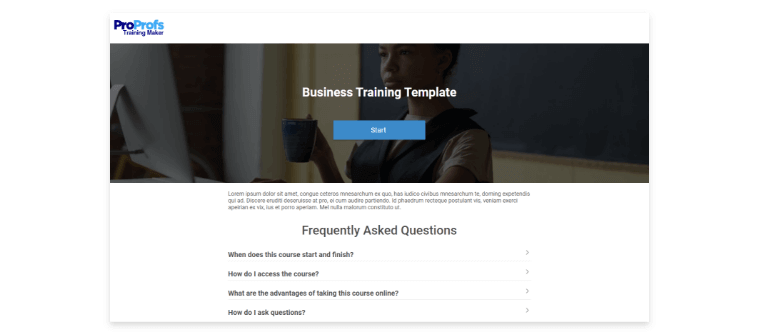 The online training course can be taken by both your existing employees and new sales team members. You can also an employee training software and add a quiz once they finish their training course to test if they've covered the knowledge gap and understood how to set realistic expectations for your customers since the beginning of their journey.
---
Read: How Online Training Can Lead Your Sales Team to Success
---
5. Nail the First Five Minutes
"With me, it's always about first impressions." – Billy Zane, Actor
Gotta agree that it's all about the first impression.
But what if you've got only five minutes to do that?
You will need an action plan that helps you make an impression in the first 5 minutes of the conversation. This action plan can include:
i. Be Proactive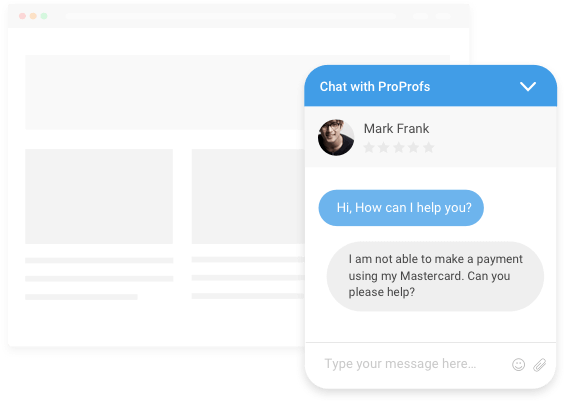 For this you can use a live chat software and initiate a conversation in strategic moments. However, we'd say do monitor the behavior of your visitor for a while before starting a conversation.
ii. Be Empathetic
Even if you do initiate a conversation, that does not mean you've won over your customers. The moment you start a conversation, try to gauge their tone.
Are they stressed? Are they angry or simply relieved to have found your services?
Jumping on to conclusions would be wrong and may upset your customers. Be thoughtful and see why they sought your services in the first place. From there onwards, you can continue the conversation.
Besides this, you can work on:
Setting the tone right
Finding out what product or service recommendation would work best for them
It's like working towards creating a 'wow' experience early on in the relationship. Concentrate on the strongest value points to ensure they remain committed to you.
The most important thing is to get them to love your product. If they believe in it, they will always stick to it.
And don't forget to combine reliable customer service with this. That is a sure shot recipe to get your customer churn rates down.
6. Constantly Remind Customers of Your Value
Why did your customers choose to sign up with your brand?
Maybe because you had something that none of your industry competitors did. Also, because they saw value in your offerings, which warranted their attention.
But with every passing day, your customers will forget about how the brand offerings have added value to their lives. And don't forget, your competition makes an effort to push their way at every available opportunity.
That's a challenge you can't avoid for long.
Remember that customers have little or no recollection of why they chose your brand in the first place.
To take the necessary steps to reduce customer churn, you need to put in continued efforts genuinely so that your customers are constantly reminded of your brand's value proposition. Being on top of their minds is absolutely important.
You can adopt the following methods:
Send regular emails that highlight the best features and benefits of your offerings
Communicate to your customers if the product or service has new features to offer
Enable free usage of new features for a limited time period
Share case studies regularly
Always create and distribute informative content like tutorials, infographics to highlight the value and usage of products
The goal is to continuously strike the right chord with your customers. This reinforces how your brand offerings are essential in their daily lives. By reinstating their faith in you, the customer defection can be largely restricted.
7. Build and Maintain Personal Relationships
72% of consumers consider it poor customer service if they had to explain their problem to multiple people.
By the time your customers speak to different operators explaining their problem, they're fatigued, irritated and ready to leave.
But what should you do to avoid the scenario?
Create a strong omnichannel strategy to build and maintain personal relationships with customers.
With an omnichannel communication strategy:
Customers won't have to repeat themselves every they come across a new support operator
Operators won't have to ask the same questions that may end up frustrating your customers
Operators would get more opportunities to create a personalized experience for customers based on their previous interactions
8. Get Your Pricing Structure Right
Customer retention depends a lot on how your products and services are priced, and their relationship to the value offered.
If your customers perceive your offerings as high end against the value generated, chances are they will switch to a competitor that offers a similar product or service at a lower price point. On the other hand, if you price your product at the lowest point, your customers may lose trust as your product seemingly appears to be cheap for the value offered.
Whichever way it goes, you do not want to be in either of these two situations, as both can trigger churns.
Is there a way to fix this? Yes, you can optimize your price for the value being offered.
Address the concerns of price-sensitive customers and ensure that you get your model right from the onset. Also, you need to showcase the value against the price being offered. This can be done by aligning your pricing with your value metrics.
Remember that you can only retain your customers in the long run if you can successfully match your pricing structure with their willingness to pay for it.
Charging more or less misaligned to your product offering and value, or not updating the structure to reflect overall economic inflation is a strategy that is not going to work. Your customer churn rate will continue to rise.
9. Flip Your Weaknesses Into Advantages
No business is perfect. They are bound to make mistakes at some point. What's important is how they tackle the aftermath. That goes on to define their character and personality, and at least how their customers perceive the brand.
Customers today are digital natives. Information is constantly being exchanged. But this exchange of information should not lead to mistakes just because you handled them poorly.
If you have missed a deadline or not solved your customer query effectively, the way forward is to own up to your mistakes. Definitely do not make excuses or try to scapegoat the customer.
If you've realized your mistake, make sure that you communicate that to your customers instantly. Tell them how you've figured out a solution to fix it.
Your customer loyalty will increase manifold when they see that you are 100% honest with them. In the process, you will reduce churn too.
When customer trust and loyalty are on the rise, they will be more than eager to forgive your mistakes, and churn will be unlikely.
Accept your weaknesses and work on improving them instead of ignoring them. It's all about transparency.
Start by listening to your customers, as that's the best way to identify your weaknesses. Surveys work well in this scenario.
You can create a NPS survey to help your business understand why your customers aren't coming back to your brand or why their loyalties have shifted to another brand.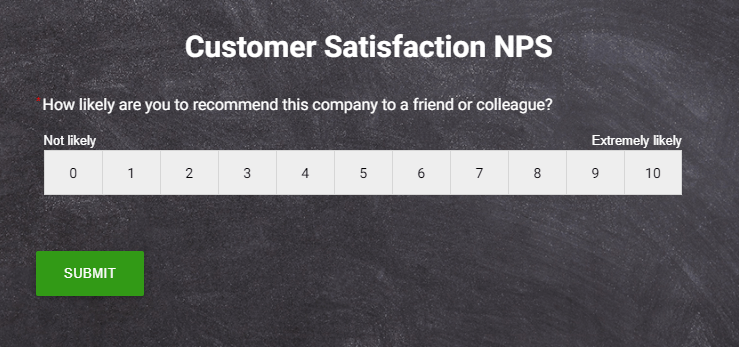 You can get the most valuable insights and how your customers perceive you as a brand via these surveys. Your relationship also becomes more personal when you explore this route to show that you care about customer opinions, understanding their needs and expectations.
10. Collect Feedback from Customers
To keep your customers from churning, this is probably the simplest yet powerful way to accomplish your objective.
Harvard Business Review published a new study that brought to light the fact that the act of asking for customer feedback on its own has the power to keep the customers satisfied and prevents churning. They will keep coming to you for more, even if they do not respond to the survey request.
A number of consumer psychology theories have all concluded that the simplest of feedback surveys satisfy the customers' yearning to be pampered. It also does a lot towards strengthening the progressive sentiments that have harbored for the brand and their offerings. In short, more sales in the future.
You can use a survey maker software to create and send customer satisfaction surveys.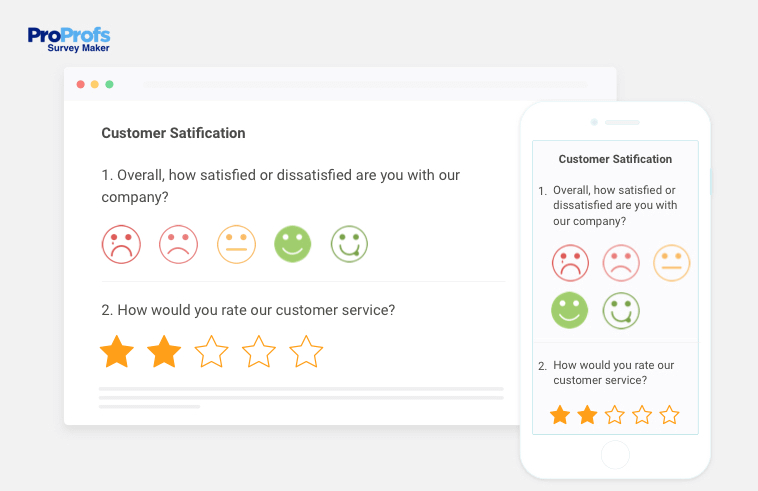 The use of this survey will help you:
Retain customers
Build relations with new customers
Reinforce delightful customer experience
Seeking opinions and asking questions drives towards judgment formation. This does not happen in silos. The fact that they love the brand and realize the emotion can only occur if you ask for feedback.
When your strategy is to reduce customer churn, gathering feedback goes a long way in developing personal relationships between the product and the customer. The end result is that there is a top of the mind recall as the product does not exist in their subconscious only.
With the bonds strengthened, it is enough to hold on to them and prevent poaching by your competition.
But don't stop here. Act on the feedback gathered and take actionable measures to make necessary changes. It tells your customers that their opinion truly matters. And the moment they realize it, the churn rate will minimize.
Even if you make mistakes in the future, your customers will be more lenient and willing to stand by you.
---
Read: 12 Channels for Collecting Customer Feedback
---
11. Reward the Most Loyal Customers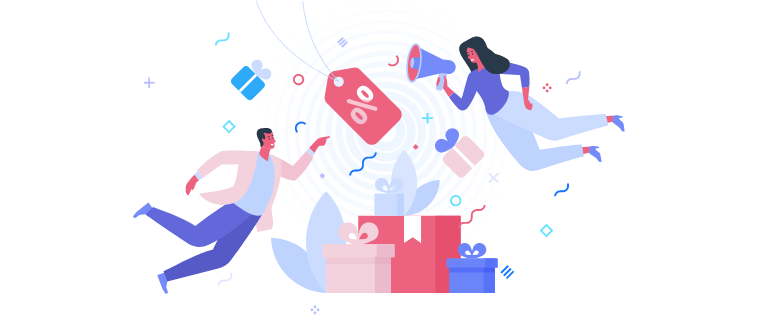 Everyone loves receiving gifts. Your customers are no different.
So, what should you do when you have a bunch of customers who have been standing by your brand loyalty for years? Reward them!
If anything, loyalty programs are soaring. Different incentives entice customers. Unlike last year, when the promise of deals most drove loyalty, customers today find financial rewards (61%) and programs highly tailored to their needs (58%) much more enticing.
It does not have to be expensive. But the thought of reward can be phenomenal.
You can do this in multiple ways.
Introduce a customer loyalty program. Look at how hotels and airlines keep their customers hooked onto them with their frequent flier emails and hospitality memberships. Customers keep coming back for more as the incentives are huge.
For any business to be successful, a loyalty program makes absolute sense. And it is also relevant as it offers more value add over and above your primary offerings.
Offer free access for a limited period of time to a premium product. Freebies always make the customer feel special and appreciated. And they are more inclined to stick with you.
Some loyalty program ideas for you to consider:
Celebrate customer milestones by appreciating the business that they've given you over the years with a small gift. Do not forget their anniversaries and birthdays. Make sure that it is something that they love, such as tickets to a movie or a gift voucher from Amazon.
Offer discounts on recurring subscriptions or extensions because resisting a good discount is hard.
12. Build Useful Resources for Customers
"An educated customer who understands your product and its benefits brings along better chances of loyalty."
Tweet this
When you have a bank of useful resources like videos, articles, and whitepapers, it can help in educating your customers about your products' potential benefits. Once they begin to realize its value, they would have found a solution to their problem.
This is undoubtedly a great customer churn prevention method.
The resource bank that you create can additionally help when your customers are in need of instant resolutions to their queries. The library offers customers to go the self-service route. In turn, it goes a long way in earning their loyalty.
13. Catch Customers Before They Churn
Can you predict when your customers are just about to leave your brand?
Think it is a difficult task? Not really.
All you need to do is to identify your "at-risk" customers.
This can be done by checking insights and data. Segregate those customers who are not using your product at the same frequency. Consciously or unconsciously, this happens when they are considering defecting from your brand.
What's the way out? Re-engage your customers.
The concept of segmentation essentially kicks into action at this point. Categorize your customers depending on their interests, their progress, their results, their actions, and so on.
Once you have the customers segmented, you can tailor your communication for re-engagement accordingly.
Targeted mailers and newsletters can be one of the ways for setting the tone. Catching them at this point can help prevent their churning aspirations.
Alternatively, go down the survey road and engage those customers who have been inactive for a while. While it is not a foolproof method of preventing churn, it can reduce it to a certain extent.
Find out their reasons for inactivity and abandoning you. You can identify the gaps and take appropriate measures to improve.
Your new and existing customers are less likely to churn if they see you taking their feedback on board to better your product and service.
14. Keep A Keen Eye on The Competition
This could be a nightmare turning into reality, when your customers think that your competition is better than you. That's why you need to constantly strive to do better and outperform your industry rivals.
What can you do to achieve this?
It is quite simple.
Benchmark your overall performance and customer satisfaction against your immediate competition. This is an ongoing process where you hit a high standard consistently.
The pertinent question here is – what aspects do you benchmark?
Here are the key drivers that determine customer satisfaction:
Speed and efficiency through response times
Accuracy and thoroughness via attention to details
Collaboration through the partnership levels between the business and customers
Willingness to help to get the job done
There are a number of intelligent AI-powered tools that can come in handy for businesses who are serious about setting and reaching the competitive benchmarking. These insights can assist you in making better-informed business decisions.
It also helps you to keep an eye on the competition. And that is the key to reducing customer churn.
---
Read: 7 Metrics to Measure Customer Satisfaction
---
15. Stay Abreast of Market Trends in Your Industry
Every sector performs on its own unique dynamics. As a business, you need to grasp these industry-specific trends that can help you to stay on top. It also gives you the opportunity to compare your progress against your immediate industry competition.
Have a strategy in place for competitive monitoring. This is absolutely vital for your business success.
Answer key questions:
What strategies are being used by your competition to attract new clients?
Are they offering incentives and bonuses to their existing client base?
What is their customer churn rate?
If you notice that you have a higher churn rate than the industry average, then it is time for you to take a back seat, reflect and assess your present situation.
Take stock. Re-evaluate. Adopt and implement new approaches.
The goal should be to focus on keeping your loyal customers happy and concentrate less on new customer acquisition.
Tackle With Customer Churn Now!
Unhappy customers = Higher churn rate
Higher churn rate = Reduced revenues and profits
It's an indication of getting up and doing something about reducing customer churn rates.
Work towards eliminating customer pain points and adding value to your products. With careful strategizing and data supported actions, you will reduce customer churn numbers and win back your teetering customers successfully.
Now that we've seen how to reduce customer churn, let's take a look at some of the frequently asked questions below.
What is Customer Attrition?
Customer attrition is the percentage or number of paying customers who do not give repeat business. This quantifiable rate change typically happens over a designated period of time.
Therefore, when calculating the customer attrition rate, you would divide the number of customers lost by the total number of customers at the start of the period.
What is Churn in Business?
Churn rate in business refers to the percentage of customers that stop doing business with the brand. Generally, it is in the form of paying customers not renewing their monthly or annual subscriptions within a specified time period.
What is Churn in Sales?
When a long paying customer stops doing business or ends the relationship with a company, it results in loss of sales or revenue. Being inactive or abandoning the brand at this point is known as churn in sales.
What is the Difference between Customer Churn and Revenue Churn?
When the number or percentage of customers discontinue a long term subscription, it is known as customer churn. On the other hand, revenue churn refers to the number of lost customers in terms of revenue.
What is a Negative Churn?
The concept of negative churn is defined by the additional revenue generated from your existing customer base every month. However, the overall revenue lost through cancellations and downgrades is outpacing it.
Do you want a free Live Chat software?
We have the #1 Live Chat software for delightful customer support starting at $0