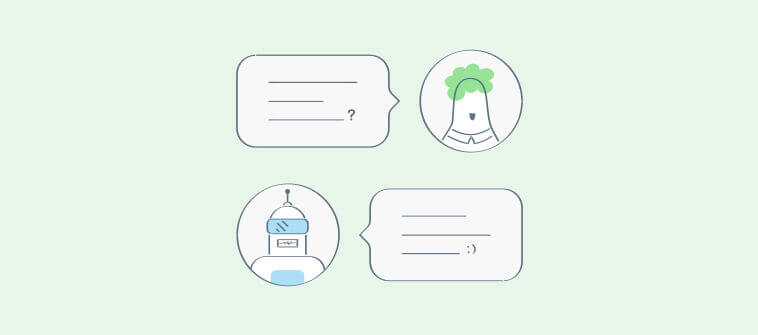 Implementation of automated customer service is no longer considered an innovative competitive advantage but an essential way of staying competitive.
Businesses without reliable customer support automation are less consistent while handling customers' requests but also spend way more time and money solving each of them. And, I bet you don't want that to keep happening to your business.
It was estimated that by 2020, 85% of customer service interactions will be automated. What's more, over 60% of US consumers prefer an automated self-service such as a website or mobile app for simple customer service tasks.
That's why in this article I plan to explore:
What is automated customer service,

what an automated customer service system represents,

what benefits it can bring to your business if used wisely,

how to set it up properly,

what you should (not) do when automating customer service,

and what tools should you rely on to provide impeccable customer support automation.
So, if you're considering increasing your support system efficiency and want to know more about customer service automation, don't miss this post.
In continuation, you'll learn how to implement the automation tools that you need and stay away from potential problematic situations as you take your customer support to an advanced level.
What Is Automated Customer Service?
If you say your customer service is automated, that means you can provide 24*7 support to your customers no matter where your operators may be located.
"Automated customer service is a process that
makes use of AI-based tools like
chatbots and others such as knowledge base,
live chat, help desk, and others to make
sure that no support question
goes unanswered."
Tweet this
In short, the use of these platforms helps you automate your customer service process and even reduce the cost spent on the support process.
What Is an Automated Customer Service System?
An automated customer service system relies on the use of intelligent technology, such as help centers or other artificial intelligence systems to increase the efficiency of different customer support processes.
Moreover, the increase of such efficiency is essential for the reduction of human factors in these processes. On the one hand, we're all aware of the fact that human workers can't be 100% reliable at all times, owing to a diversity of factors.
On the other hand, AI-based technology practically helps to eliminate the chances of making mistakes or poor predictions in different aspects of customer support. That's why AI solutions are becoming more and more popular.
So, in other words, an automated customer service system uses smart tools that can perform tasks without human involvement. And this convenience is why automation is becoming one of the essential aspects of providing high-quality customer service.
Starting from a knowledge base and advanced FAQ portals, which facilitate customers' self-help – all the way to canned responses and chatbots, that increase the efficiency of interaction; automation has been offering a diversity of convenient ways to handle support without the need for having big support crews.
Primary Benefits of Automated Customer Service
Now that we've explained what an automated customer service system actually represents, let's check some of the most important reasons why you should consider automating customer service.
#1: Customer Service Automation Skyrockets Your Communication Efficiency
Well-implemented automation in customer service may lead to stunning growth in efficiency and responsiveness. That's why 67% of consumers expect to use messaging apps when interacting with a business.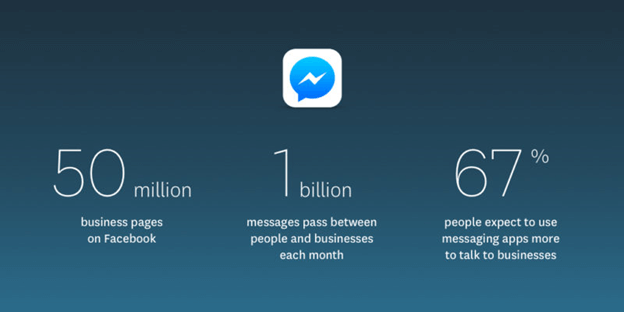 On the one hand, average human live chat agents can take care of several sessions at a time, which is not bad at all. However, there's a pretty realistic chance of a decrease in communication quality as new sessions keep popping up. Not to mention that it will take them more time to deal with each query as the number of requests grows.
On the other hand, an automated customer service tool may handle several hundred sessions at a time, if needed. And it doesn't need to freshen up, have a break, or put additional effort to focus or keep the communication quality at the same, standardized level.
#2: The Usefulness of Automated Customer Service System
Once it's activated, an automated customer service tool uses its algorithms to keep improving and gaining knowledge on different processes it's supposed to handle.
After a while, it becomes capable of noticing patterns and recognizing and handling critical situations. So, this way, you're making another step in analyzing your customer's current issue by fast-rewinding your entire relationship in just a couple of seconds. How impressive is that?
#3: Automate Customer Service for Proactive Support That Keeps Customers Happy
Did you know that 78% of millennials expect customer support agents to already know their contact and product information?
In other words, customer support automation lets you address your customers' issues even before they're aware an issue exists. How's this possible?
Simply put, an AI-based support tool has the option of scanning and monitoring an endless stream of customers' interactions with your website. This way, the system automatically reacts if it notices any deviation from usual visitors' behavior in website navigation.
Practically, it momentarily offers help to your visitors without waiting for them to reach out to you. And this proactive way of showing your customers that you care about them can only make them think even better about your brand.
#4: Reduce Support Cost With Automated Customer Service Tools
"For every second shaved off average handle times,
chatbots can save call centers up to $1 million
in annual costs by 2022"
says IBM.
Tweet this
An automated customer service solution doesn't only help increase time efficiency but also the money you have to invest in your support system. It positively impacts your costs in more than one way, as it saves you the money you'd have to:
spend on salaries of a large number of support operators;

spend on hiring even more support agents if your business starts to grow;

invest in the equipment that your large support crew would have to use;

invest in the training for each member of your support crew, their motivation programs, etc.
#5: Personalize Customers' Experience Without Human Touch
Even though personalization as a live chat feature is usually connected with the human factor, AI-based technology has a significant advantage, which can easily take CX to a higher level.
Truth be told, your agents simply cannot remember and review all of the previous sessions in a short notice even if they have them carefully classified. Automated customer service tools, however, practically 'remember' everything.
Every single detail from your archives, knowledge bases, and all other sources, is instantly accessed and used to create a personalized customer experience and provide a knowledgeable reply.
#6: Help Customers Rely on Self-help Automated Customer Support Tools
Imagine your customer having a pretty busy day but needing to have a certain problem fixed as soon as possible. They have no time to call the support center, not even to use live chat, as they have to be committed to the interaction with your agent until the problem is solved. Of course, this leads to increased frustrations.
Now, if you implement an automated customer service tool such as a chatbot or an interactive knowledgebase, you'll make it easier for customers to try to solve their problems without your direct assistance. And this may be a great way of handling an issue for both parties, in terms of their patience and your time.
#7: Reduce the Load on Your Support Agents Effectively
Capable of managing frequent requests that can be solved with similar patterns, automated customer service tools successfully reduce the pressure you usually tend to put on your agents.
In other words, not only are you decreasing your staff's workload, but you're also providing them with extra time for dealing with more complex issues, which automation tools may not be able to fix.
Potential Drawbacks of Customer Service Automation
As you can see, an automated customer service system can bring a large number of benefits at numerous different levels. However, if you're not careful enough when implementing the automation in your daily business routine, you may end up in a dead-end street. So, let's see the three most critical situations that you should avoid if you want your customer service automation to improve your business results.
#1: The Lack of Human Touch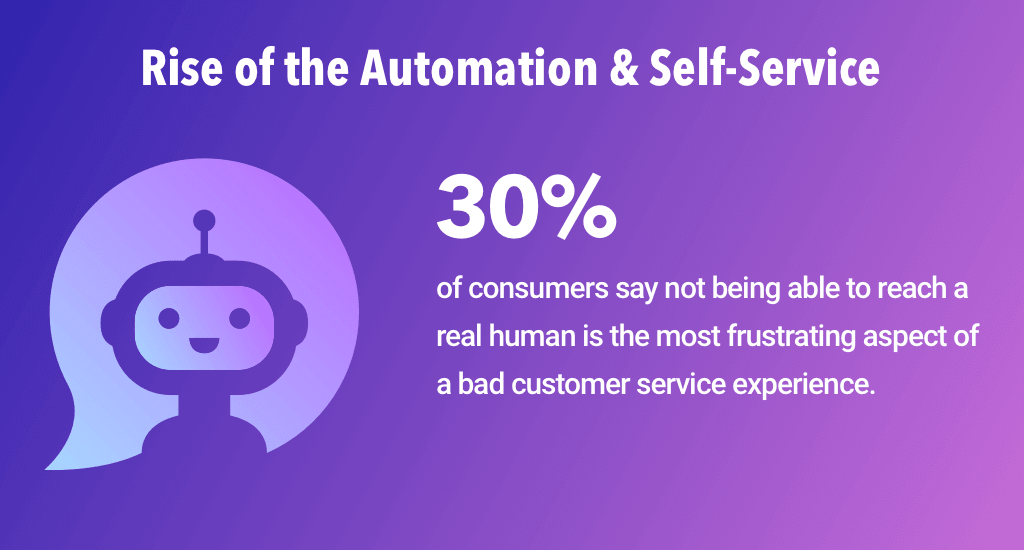 The automation of your processes may have an awesome impact on your business efficiency. However, you should not neglect the fact that excessive automation may be frustrating for your customers. This is especially easily noticeable when customers have questions that are too complex to be handled by an automated tool, such as a chatbot.
So, to prevent the annoying and unnecessary 'robotization' of your customer support and stay away from its negative sides, nurture the human connection that should exist between your support and your customers. And you can do so in different ways.
For instance, you can make them choose if they want to get support from a real agent or your automated knowledge base. Besides, you can also have them describe their problem (or choose the topic that their problem refers to), and then decide if you're going to connect them with a real operator or a chatbot, depending on the complexity of the initial query.
#2: The Use of Unreliable or Misconfigured Software
Your choice of automation software is something that will determine at least half of your future customer support performance. Businesses rushing in automation frequently end up with a solution that doesn't fit their needs and has a poor performance.
Unreliable software from untrusted providers may slow down your website, show false data, or simply come without the basic features, directly jeopardizing the quality of customer experience. Besides, it's highly important to configure the chosen tool properly. If you're not sure it works adequately right from the start, it's more than likely that, after a while, you'll be negatively surprised by its performance.
So, when implementing a new technological solution that should help you improve your support performance, make sure to double-check its provider, features, and previous customers' reviews. Also, have it installed and activated by someone who really knows how to do it.
#3: The Incapability of Addressing Complex Issues
With an automated customer service system, you get an easy, standardized, and reliable way of handling a diversity of planned or predictive situations. These tools can handle requests like purchases, product descriptions, and explanations, billing, etc.
However, while they may be a highly efficient, cost-reducing way of handling these types of requests, there are scenarios in which automation tools have no value at all. For instance, if a customer has an unusual request that wasn't made before, the automated system probably won't be able to understand it.
That's why it's incredibly important for your business to invest not only in the customer service automation but also in the workforce that should be trained and skilled enough to address those major, individual issues as soon as they appear.
Best Practices When Setting Up Automated Customer Service
To be able to introduce an automated customer service that brings real value to your support team, you should thoroughly consider all aspects of its implementation. It's a process that should be well-planned and backed up with research on your customers' experience and preferences, and your team's critical areas in terms of providing support.
So, to make sure you'll stay away from any potential drawbacks, we've prepared a list of the important practices you should consider to automate your customer service wisely.
#1: Recognize the Channels That Should be Automated
Even though it costs less than hiring twenty new employees, the automation still requires a serious financial investment if you want it done right. So, when deciding what communication channel you should automate, make sure to make the right choice. Try to analyze your channels' performance and determine the busiest ones. They should be your priority when introducing automation.
#2: Find Out What Tools You Actually Need
Once you've determined the critical channels and areas that you want to improve, you should pay special attention to the type of tools that you need. So, instead of randomly picking popular automated customer service tools, seriously consider those that can really help you improve your support performance.
Have in mind that there's a diversity of AI-based products that can completely change the way you provide support. So, before implementing any of them, make sure to inspect them in detail to avoid unpleasant surprises and underperformance.
#3: Take Your Time for Configuration
Practically speaking, if you don't configure your customer service automation system properly, you can't expect realistic data from it. And this will lead to a decrease in customer service quality and other major problems that may impact your overall business results.
Moreover, if your support system is corrupted from the very start, not only will it cause underperformance, but it will also make it way more difficult for you to deal with them. You will have to realize where the errors come from and how to go back and fix them without jeopardizing your support performance.
#4: Create the Synergy of Different Communication Channels
Even though your channels are automated, if they are not mutually connected, in practice, they may lead to an increase in customers' frustrations.
For instance, if your customers cannot solve their issue using one channel, and have to repeat themselves on diverse channels; not only will they feel stressed because of the issue they are experiencing but also because of the inefficiency of your support system.
So, whatever you do, don't isolate your automated communication channels, as that way, you'll only be limiting the positive effects that you can expect. Instead, integrate them to provide an improved information flow not just among your support employees but among your customers and operators as well.
#5: Collect Employees' Feedback on Your Automated System Performance
The fact that you rely on what's also known as smart technology doesn't mean that you shouldn't work on their improvement. So, once you implement your automated customer service system, make sure to stay on top of its performance.

Probably the best way of figuring out if your automation tools work properly is collecting your employees' feedback on their experience with these tools. Transparently talk about all the aspects that may need to be adjusted or completely reshaped to provide the optimal work conditions and satisfying customer experience.
Automating Customer Service: The To-Do List
Before you jump on to automating your customer service process, it is important for you to have a to-do list in-hand. The list will help you to perform actions that you must take to provide the best support possible.
✔️ Help Employees' Work With Your New Tools
We probably cannot stress enough how important for your business is to create a healthy work environment for your employees once you introduce the automation tools. But don't let your customers feel neglected or less important.
While it may seem crazy that they might feel jealous or less motivated once the automation is implemented, they definitely may have mixed feelings about their role in the support process.
So, instead of just focusing on your tool performance, make sure to train and encourage your employees to stay on top of the support processes. If you approach them the right way, they will soon get used to the automation tools. Besides, they'll also still feel like they are in charge. Consequently, they'll gladly let the tools do the monotonous and boring part of their job.
So, whatever you do, don't make your employees think that the software could take over their authority or, even worse, make them lose their jobs.
✔️ Use AI-based Tool to Create In-depth FAQ section
You can indeed build a decent one-page FAQ section even if you don't automate this part of your support. However, if you want to provide a remarkable experience for your customers, you may want to rely on a responsive knowledge base, a chatbot, or some other convenient automated solutions.

With an automated FAQ section, you may also offer some additional conveniences, depending on the solution you decide to use. For instance, a FAQ section based on the use of a chatbot will create the impression of interaction with a real person. Also, a responsive knowledge base can provide neatly classified and easily accessible information on all of your hottest support topics.
Finally, have in mind that smartly automating your FAQ section can help you decrease the pressure that your customer support operators normally experience at the workplace.
✔️ Use Automated Structures to Take Follow-ups
If you are trying to grow a serious and responsible business, then you must care about your customer satisfaction and their experience with your products or services. And to get to hear from them, you have to develop a stable follow-up system, which has become way easier with the help of the AI-based tools.
So, instead of wasting time manually sending hundreds and hundreds of emails, texts, or surveys, which may last for hours, or even days, simply automate your follow-up system. This way, you can have your message sent in just a couple of seconds after a customer has completed a target action.
With this automation, not only are you saving your employees' time for some more complex tasks, but you're also increasing the chances of having the customers leave the feedback. Have in mind that the majority of leads react to your follow-up requests only if they receive them instantly after the activity in question.
✔️ Try to Foresee Your Customers' Next Move
To have an automated customer service system means to have the chance of constantly monitoring your customers' behavior on your website. And that's what leads us to another must-do.
Based on the monitoring activities, you can give your customers what they need even before they reach out to ask you for it. So, anticipating problematic situations and customers' concerns, you get a chance to develop satisfying plans to handle them.
Practically speaking, you'll be solving their issues before you even hear about them. So try to get the most out of this feature whenever you can, as it may motivate major improvements in your relationship with customers.
✔️ Use Emotion AI to Understand Customer Pain-points
Thanks to its confidence scoring system, the smart technology automating your customer support are capable of assessing your customers' emotions and attitude while they use these tools.
In other words, you can always redirect your customers to a real agent if the system indicates that they aren't feeling good about the provided service.
✔️ Create Individual Knowledge Repository for All of Your Customers
Well-developed automated customer service is capable of keeping track of all of your customers' interactions with your representatives. So, don't neglect the importance of these pieces of information and put them all together.
This way, you will practically obtain a separate relevant database for every customer that you've ever interacted with. And the best part is that it can be updated automatically as soon as a new activity or interaction occurs.
Thanks to this possibility, you can get direct insight into your customer identity, location, purchase history, preferences, and anything else that you consider relevant for the future of your relationship and personalizations to come.
✔️ Monitor Customer Satisfaction With Your Automated Support System
When automating your support tasks, you have to act the same way you act when changing anything else in your business: check if your customers are happy with it. If their feedback shows that your freshly introduced system lacks anything they consider important, pay attention to it. Let them explain how they feel about it and what they think you should do differently.
Some businesses decide to first present the automated support to their most loyal customers and check their impressions. Once they agree that the service seems satisfying, the change is introduced to the general audience, as well. And this is a good way of introducing this change if you're afraid that you won't get the reaction you expect.
Automating Customer Service: The Not-To-Do List
There is no doubt about the fact that you need to know the dos of using automated customer service tools. But at the same time, you need to keep a track of the don'ts too. In this section, we aim to do just that. So, let's dive in.
❌ Do Not Exclude Human Touch
The automation of customer service shouldn't mean the elimination of the human factor.
Moreover, these two ways of providing support are meant to complement each other.
On the one hand, the automated tools still aren't capable of handling everything on their own. On the other hand, customer service representatives can't do everything themselves, either. So, what provides impeccable customer experience and remarkable business results is a wise synergy of these two sides.
❌ Avoid Complete Reliance on Single Channel
While it's okay for you to dedicate more time and attention to your priority support channel, that doesn't mean that you should neglect the other ones. This is especially true having in mind that customers may have different preferences and, therefore, need the possibility of choosing the channel they'll use.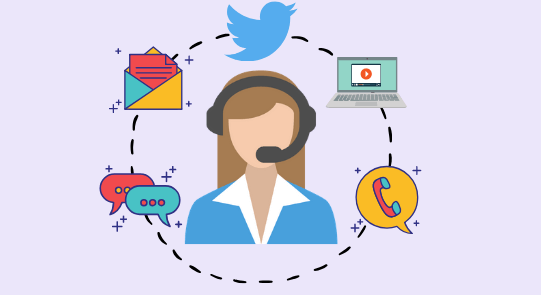 So, once you start thinking about automation, make sure to use it to benefit multiple channels. Create a system that can facilitate the information exchange among different channels and store the data collected via all the channels at a single place.
❌ Never Stop Working on Improving Your Automated System
Like many other things, automated systems require constant attention to be able to work properly. So, keep updating and maintaining it to make it perform impeccably at all times.
This way, not only will you ensure a high level of customer satisfaction and business efficiency, but you'll also prevent from dealing with unexpected issues caused by an outdated system.
❌ Don't Automate at all Costs
The question of customer service automation should not only be about your business preferences. In the first place, it should be about your customers' needs and their preferred ways of solving problems.
If you know that in the majority of cases they reach out to you so that you can help them get over some complex issues that cannot be solved or even understood by an automated support solution, then you may not want to automate that part of your support processes.
Also, if your customers are predominantly older people who are used to phone calls and interaction with real humans, then the automation probably won't pay off for your business.
The Essentials Of An Efficient Automated Customer Support System
To make sure that your customer service automation makes sense and is capable of providing improved results, you should consider relying on different types of automation. And in this section, to review some of the most useful strategies briefly.
#1: Set up an Automated Public Knowledge Base
"One of the best ways of helping your customers is by letting them help themselves."
Tweet this
In other words, if you provide them with the knowledge needed to fix the most frequent issues, you'll probably dramatically reduce the number of support tickets sent to your operators. And the beauty of this automation lies in the fact that you can always let them proceed to contact you if they don't manage to find the solution on their own.
#2: Automate the Way You Handle Email Requests
Having in mind that email is still one of the most popular ways for customers to reach out to you, you may want to take your email support game to a higher level. And this can be easily done if you get one of the tools that help you convert emails into tickets, like ProProfs Help Desk. With this automation, your customers won't have to make the effort of logging into a help desk each time they want to interact with you.
#3: Use Automated Notifications on Ticket Status
You're probably aware that handling support tickets manually sometimes leads to pushing them aside and neglecting them. Sometimes, it happens because they are low-priority, and in other cases, they may be too complex to be handled immediately. So they end up ignored.
With an automated system, you can get a notification for all the tickets that haven't been viewed, replied to, or updated. In other words, you can significantly reduce the chances of dealing with a frustrated, ignored customer.
#4: Use Automated Ticket Assigning System
If your support team still handles ticket assignments manually, you're certainly aware of how painstaking it can be. Luckily, with a convenient software solution, you get to have them organized automatically, and, therefore, effortlessly.
This advantage is owed to the fact that the automated customer service software is capable of watching for specific keywords that hint at the topic of a ticket. Once the topic is successfully identified, the ticket is passed to the operator in charge of that topic.
Top Automated Customer Service Tools to Consider
Now that we've discussed all of the benefits and other essential aspects of customer service automation let's check some of the most popular and useful tools that can help you create a perfectly automated support system.
#1: Live Chat Software

Live chat software has become a really popular business asset when it comes to customer support. They are frequently considered as a useful tool because your business can interact with your customers, guide them through different processes, and make their experience more satisfying while at the same time saving you from flooding inboxes.
Depending on your budget and the quality you can choose the best live chat software solution, and you can use it across numerous different platforms, including your website and integrate with multiple platforms to provide holistic support to customers.
#2: Knowledge Base
While regular knowledge bases may or may not improve your efficiency, a smart, AI-based knowledge management system definitely helps provide impeccable customer service.
On the one hand, it filters the most relevant articles for each of your customers based on their requests and specifications. On the other hand, it also notifies the support team about the sections or topics of the base that need to be updated.
Apparently, it can be highly convenient both when it comes to your team's internal knowledge and your customers' self-help queries.
#3: Automated Response Software
The role of this type of software is somewhere between a knowledge base and a chatbot. Implementing this solution, you're letting the AI offer relevant articles to your customers before they are connected with one of your operators. With this support strategy, the machine takes over a significant part of the support process, decreasing the number of requests that reach the agents.
#4: Complete Software Packages
If you don't want to invest in a single tool but get a diversity of assets that will help you automate a larger number of processes at once, you may consider some of the popular all-in-one software packages.
These packages are offered by many different providers and may include a large number of different tools. Some of them let you tailor your own system that includes only the tools you consider essential for your customer support. The features that frequently make part of these systems are AI-based knowledge bases, automated responses, chatbots, ad-hoc tools, intelligent routing, etc.
When Not To Rely On Automated Customer Service
Finally, to be able to use your automated customer service wisely and productively, you should have in mind the three most critical types of customers that should not catch you using automation during the interaction.
First of all, these are the customers who have recently bought your product or started a trial. If you approach them with a chatbot right from the start, they may feel like you don't care about them. And in these cases, it's completely irrelevant how helpful your chatbot is. The thing is, it will seem like you're not interested in their requests, and their overall experience will be worse than it could be if you welcomed them in a warmer, friendly manner.
The second group of customers you should be extremely careful with are those with highly sensitive types of requests. For instance, if your customers are considering a product upgrade or they want to cancel their subscriptions, you should not trigger their frustrations with the use of chatbots. No matter how well-implemented your automation is, you need to handle these situations by having them managed by a polite, compassionate, and considerate human operator.
Finally, the last but not least demanding group of critical customers are those who feel insecure when it comes to the use of your website or product, that is, those who need a real person to guide them and convince them that they've done everything right. Due to their insecurities, they are usually willing to spend some time waiting for your agent to become available rather than to deal with a non-human form of assistance. So, keep your chatbots or other forms of AI away from them.
Summing Up: Smart Use Of Automated Customer Service Reshapes Your CX
In conclusion, automated customer service tools can be a great help when it comes to increasing support efficiency while at the same time, saving both your money and agents' energy.
However, it's obvious that not all automation implementations bring amazing results. It's extremely important how you do it, what tool providers you choose, and how skilled your agents are to stay on top of the automated activities.
You should also keep in mind that automated tools require constant improvement, occasional upgrades, and frequent control checks to keep providing the optimal results.
Also, you must realize that there are certain types of processes that you should not automate. And this realization usually has to do with your customers' sensitivity and the complexity of their issues. So, if you don't make the selection and classification of received requests, you may end up increasing your customers' frustrations (and churn rates!), and all of your automation efforts will take you nowhere.
So, as you can see, the process of customer service automation is not just about activating a certain tool and then letting it do all the work. On the contrary, it's about paying attention to building an automated support system that entirely suits your business and customers' needs.
That is, you have to make a thorough investigation of available solutions and carefully decide which of them are the ones that can help address the issues that your support system experiences.
In accordance, before you get to the phase where the AI-based software does the magic for your support, make sure to do your research and choose reliable and relevant tools.
Now that we've seen how to use automated customer service, it is time we focus on some of the frequently asked questions below.
Q. How automated customer service can improve your support?
Automated customer service helps you to improve support as you get the opportunity to empower customers to help themselves. That's not all. You even end up improving your operator's productivity and reduce overall support costs.
Q. How do you know if your automated customer service is working?
To measure if your automated customer service solutions are working and producing the best results for your business, all you have to do is track support tickets. If they are reducing, then that's a great sign. Plus, you get to work towards intricate support opportunities.
Besides this, you see a reduction in bounce rate and session duration. The metrics are the best ways to know if your automated customer service solutions are actually working or not. More importantly, you can score the customer effort score too.
Q. How automated live chat support services can reduce your support cost?
Automated live chat support helps you to reduce the support cost-effectively as you can easily avoid the queued customers. Those who wish to find instant answers can easily do with the use of either a chatbot or knowledge base integration to live chat or request to chat with your operators. Plus, you can ensure that customers receive 24/7 support at all costs.
And that's not all. You even get to offer multiple language support effectively, along with the personalization of communication.
Q. When automated customer service isn't the right solution?
Automated customer service isn't the right solution when it fails to deliver personalized communication to customers. Your customers crave human touch and emotional intelligence from your operators when they approach for support. So, if your automated customer service fails to provide a personalized touch to the conversation, that means it isn't the right solution.
Do you want a free Live Chat software?
We have the #1 Live Chat software for delightful customer support starting at $0