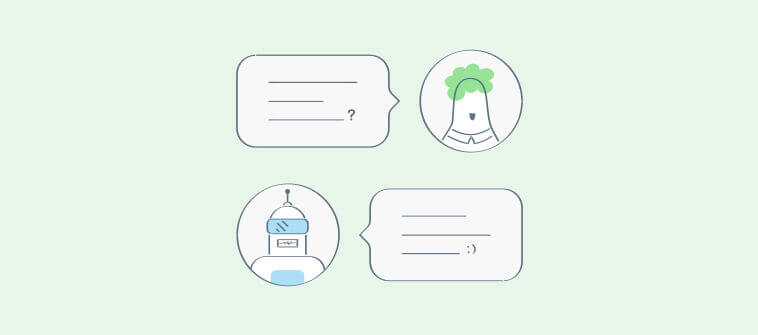 What's the best way possible to build automated customer service?
If this question has left you confused, we're here to help. Automated customer service is no rocket science. But getting the right head-start to build your customer service automation process can become challenging.
That's why our team has brought in a quick guide that helps you build your customer support automation process from scratch.
What Is Automated Customer Service?
Automated customer service is a process that requires less involvement from humans when it comes to offering support to interested customers.
You make use of automated technical services such as chatbots, interactive voice response, or other SaaS tools like a knowledge base and email automation platforms.
Incorporating automated tech support tools can enable your business to reduce support costs and dependence on human resources. Besides this, there are other benefits that one can gain from automating customer service that we'll explore in the next section
7 Convincing Benefits to Start Your Automated Customer Service
No doubt that customer service automation helps you reduce your support costs and dependence on human resources. But simultaneously, it offers other benefits that need your attention. Let's explore seven other advantages a business can gain when automating customer service.
1. Skyrockets Your Communication Efficiency
Well-implemented automation strategies and tools in customer service can lead to stunning growth in communication efficiency. 74% of your customers use conversational assistants to research or buy products and services.
Another study also claims that 55% of customers find chatbots beneficial as they get instant answers and responses while searching for a solution. The expectation of receiving an instant reply or finding better recommendations has compelled your customers to interact with support automation tools.
2. Improves Your Customer Service System
Automated customer service tools do it all, from answering standard questions to reducing the per-query cost to just USD 1. You aren't just speeding up the process to answer customers but also reducing the support cost. This could be the way for you to streamline your support process and make sure customers find the first point of contact faster.
3. Helps You Build Proactive Support Process
Did you know that 78% of millennials expect customer support agents to know their contact and product information already?
If you build a customer support automation process, you'll undoubtedly fulfill this expectation and help agents access necessary information before interacting with customers.
Understand that AI-based support tools scan and monitor an endless stream of interactions on your website. It offers help to your visitors without waiting for them to reach out to you. And this proactive way of showing your customers that you care about them can only make them think even better about your brand.
4. Reduces Support Cost Drastically
For every second shaved off average handle times, chatbots can save call centers up to $1 million in annual costs by 2022" says IBM.
An automated customer service solution doesn't only help increase time efficiency but also the money you have to invest in your support system. It positively impacts your costs in more than one way, as it saves you the money you'd have to:
spend on salaries of a large number of support operators;
spend on hiring even more support agents if your business starts to grow;
invest in the equipment that your large support crew would have to use;
invest in the training for each member of your support crew, their motivation programs, etc.
5. Personalizes Customer Experience in Seconds
Even though personalization as a live chat feature is usually connected with the human factor, AI-based technology has a significant advantage, quickly taking CX to a higher level.
Your agents simply cannot remember and review all previous sessions on short notice, even if they are carefully classified. Automated customer service tools, however, practically 'remember' everything.
Every detail from your archives, knowledge bases, and other sources is instantly accessed and used to create a personalized customer experience and provide a knowledgeable reply.
6. Brings Self-Help to Picture & Reduces Resolution Time
Imagine your customer having a pretty busy day but needing to have a specific problem fixed as soon as possible. They have no time to call the support center, not even to use live chat, as they have to be committed to the interaction with your agent until the problem is solved. Of course, this leads to increased frustrations.
Now, suppose you implement an automated customer service tool such as a chatbot or an interactive knowledgebase. In that case, you'll make it easier for customers to try to solve their problems without your direct assistance. It may be a great way of handling both parties' issues in terms of their patience and your time.
7. Reduces Operator Burnout Possibilities
Capable of managing frequent requests with similar patterns, automated customer service tools reduce the pressure you usually tend to put on your agents successfully.
In other words, not only are you decreasing your staff's workload, but you're also providing them with extra time for dealing with more complex issues, which automation tools may not be able to fix.
Potential Drawbacks of Customer Service Automation
As you can see, an automated customer service system can bring numerous benefits at numerous levels. However, if you're not careful enough when implementing automation in your daily business routine, you may end up in a dead-end street. So, let's see the three most critical situations that you should avoid if you want your customer service automation to improve your business results.
1. The Lack of Human Touch
The automation of your processes may have an awesome impact on your business efficiency. However, you should not neglect the fact that excessive automation may be frustrating for your customers. This is especially noticeable when customers have questions that are too complex to handle by an automated tool, such as a chatbot.
To prevent the annoying and unnecessary 'robotization' of your customer support and stay away from its negative sides, nurture the human connection. It should exist between your support team and customers. And you can do so in different ways.
For instance, you can make them choose if they want to get support from a real agent or your automated knowledge base. Besides, you can also have them describe their problem (or select the topic that their problem refers to) and then decide if you're going to connect them with an actual operator or a chatbot, depending on the complexity of the initial query.
2. The Use of Unreliable or Misconfigured Software
Your choice of automation software is something that will determine at least half of your future customer support performance. Businesses rushing into automation frequently end up with a solution that doesn't fit their needs and has a poor performance.
Unreliable software from untrusted providers may slow down your website, show false data, or simply come without the basic features, directly jeopardizing the quality of customer experience. Besides, it's essential to configure the chosen tool properly. If you're not sure it works adequately right from the start, it's more than likely that, after a while, you'll be negatively surprised by its performance.
Double-check its provider, features, and previous customers ' reviews when implementing a new technological solution that improves your support performance. Also, have it installed and activated by someone who knows how to do it.
3. The Incapability of Addressing Complex Issues
With an automated customer service system, you get an easy, standardized, and reliable handling of a diversity of planned or predictive situations. These tools can handle requests like purchases, product descriptions, and explanations, billing, etc.
However, while they may be a highly efficient, cost-reducing way of handling these types of requests, there are scenarios in which automation tools have no value at all. For instance, if a customer has an unusual request, the automated system probably won't understand it.
That's why your business needs to invest in customer service automation and the workforce. Make sure to train and sharpen their skills to help them address those major, individual issues as soon as they appear.
10 Ways to Implement Automation in Different Business Processes
Keeping in mind the potential drawbacks of the automation process, we've listed out all the possible ways in which you can implement automation successfully. Here's a list of ten possible ways for you!
1. Capture & Manage Leads for Improved Marketing Strategies
You can capture leads in multiple ways. However, automation tools certainly do the trick and help you save time to accumulate them for the business.
Tools like chatbots are perfect lead magnets for your business.
Brands like Barista use their bots to interact with customers and capture their order requests. The same data is used to personalize the order request upon the customer's next arrival.
Understand that they are capturing data on customers' preferences and making sure that they are proactive in recommending their next order. This helps them save time, convert buyers into customers on every visit, and improve their experience.
2. Build Strong Drip Campaigns to Keep Prospects Hooked
Nowadays, email marketing tools allow your business to stay connected with prospects. The moment a prospect signs up with your services, you can send them emails regularly that help them remain posted on your activities. But the best part about these drip campaigns is that you don't have to send emails manually after a few days to prospects.
Email marketing tools help you automate the process by setting the pattern for emails and deciding who will receive them by what time. Brands like Amazon have a great email drip campaign for prospects who have signed up for their services.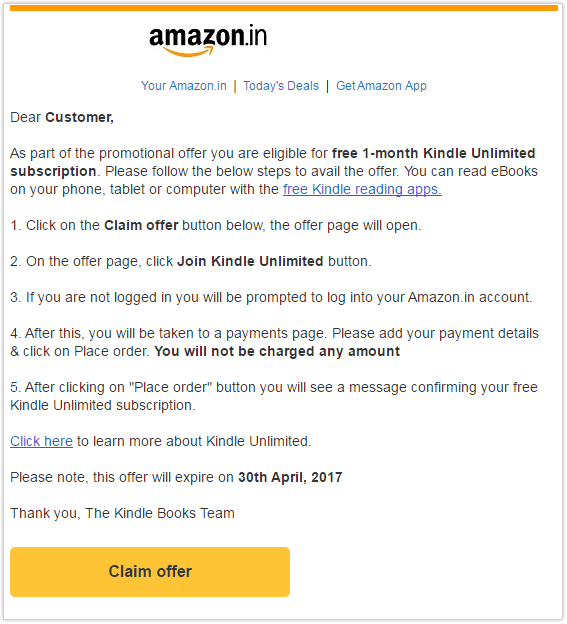 They send offer-related emails through their drip campaigns to keep their customers hooked and sign up for other Amazon services later in their brand journey.
3. Answer Standard Questions in Seconds
Your team can encounter common questions quite frequently. But answering the same questions multiple times can hamper their productivity. However, tools like a knowledge base can help your operators avoid answering the same question repeatedly.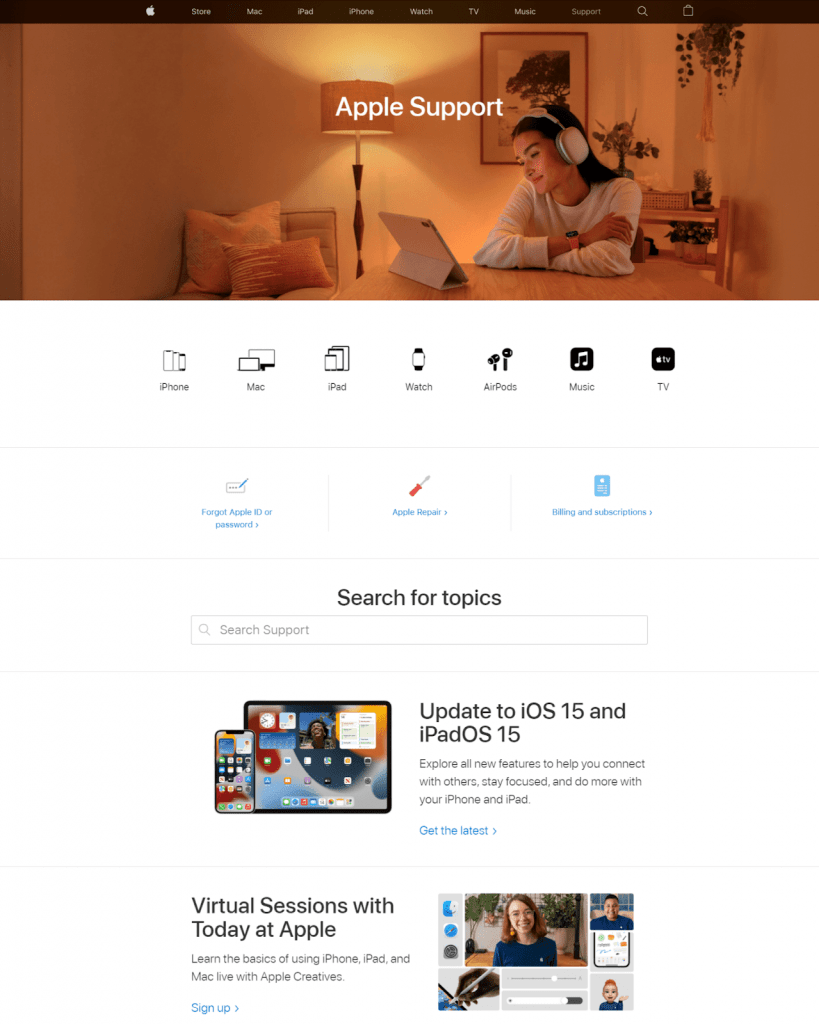 Apple has a separate support page that leads its prospects and customers to their knowledge base. Their customers can search for specific support topics in the search bar and answer frequently asked questions in seconds. This has helped the brand overcome multiple questions that can take up a lot of time from their operators and assist them to focus on more complex questions faster.
4. Track Crucial Sales Metrics in Real-Time
Customer service automation doesn't just end at support tools. You will also come across automation tools that help you get access to necessary metric data in seconds. From Google Analytics to Ahrefs, these platforms allow you to gather data on your leads and which web pages brought more conversions.
Access to this data helps you quickly identify areas where you need to change your lead generation and conversion strategies. What's more, you can also identify areas that have led to more sales and apply the same technique to other pages as well.
5. Set Welcome Emails for New Subscribers
You've got new customers onboard, great! But how do you welcome them to your brand?
Some companies take help from email marketing and automation tools to welcome new customers to the brand. They create engaging and visually appealing emails sent to customers once they sign up or make their first purchase from their website.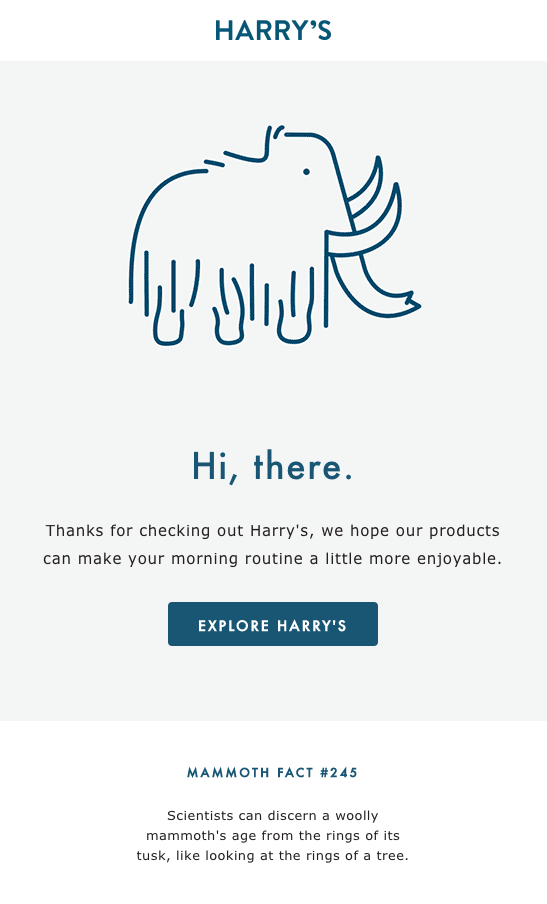 Harry's welcome email is an excellent example of how you can prepare your new customers about the brand and upcoming emails in the future. The brand recognizes that the customer has chosen their brand and wishes they have a great experience going forward with them. What's more, they add a little fun fact that catches the eyes of their customers.
This engaging email format can be created in an email automation tool and sent to new customers when they purchase or sign up with your brand.
6. Build FOMO for Abandoned Carts
"Your cart is in danger! Only a few left in stock."
When you see emails with such taglines, you feel compelled to go back to your cart and see what you are missing out. But no one sends them individually or makes a manual effort to remind customers that they've left something behind.
Email automation tools help you send reminder emails to customers who have left their carts without checking them out.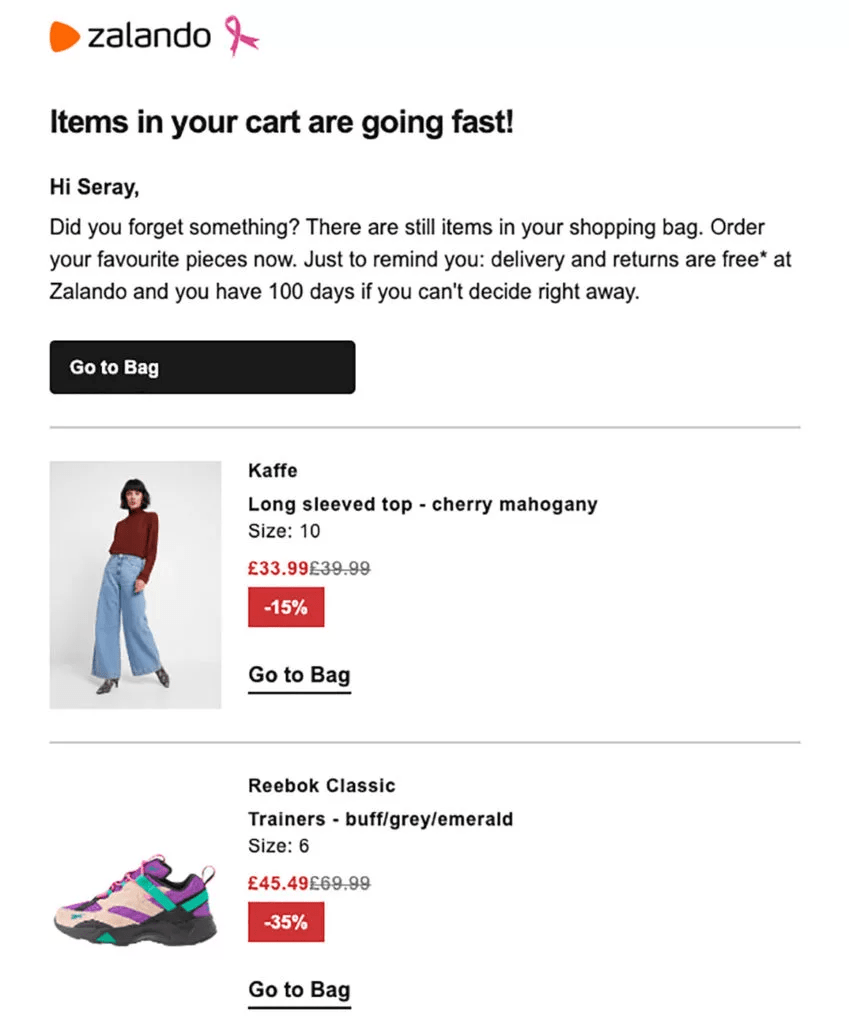 Zalando, an eCommerce company, sends a convincing reminder email to their customer that they've left something behind. It shows the items still left in the bag and even informs the customer that they can get free shipping for their favorite products if ordered now. This email creates a fear of missing out on your favorite products and encourages customers to rethink their decision and revisit their bags.
7. Show Product Recommendations to Grow Inquisitivity
Have you got sales or new products coming in next? Let your prospects and customers know about them the moment they land on your website. And chatbots can be a great ally to help you out with this.
Chatbots can talk about the latest upgrades or upcoming events that pique the interest of your customers. This can encourage customers to engage with the bot and know more about the updates.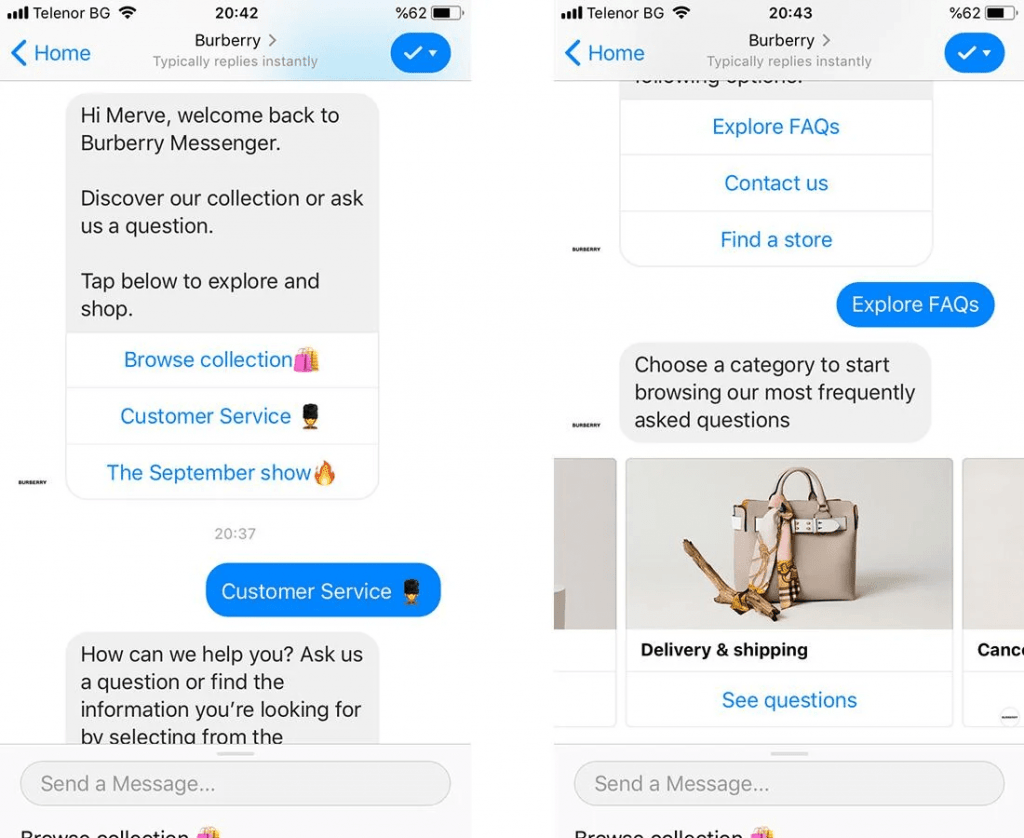 As you can see, Burberry uses its chatbot to help customers learn more about their upcoming show and explore their latest fall collection. While their chatbot is focused on making a sale, they haven't
8. Capture Feedback Every Time a Conversation Ends
"Did we match your expectations? Did we offer you a solution that matched your needs?"
We are sure that you wish to answer these questions the moment a conversation ends with the customer. Well, automation tools like a chatbot or even a regular live chat can help you do that. No more do your agents have to ask for feedback verbally. You can send your customers:
A post-chat form once a live chat ends
An email with a customer satisfaction survey
You can even add a customer satisfaction survey that your chleft out the support option for the customer. Just in case customers have questions, they can either connect with an agent or search the FAQs from the chatbot widget immediately. a chatbot will display once a conversation ends.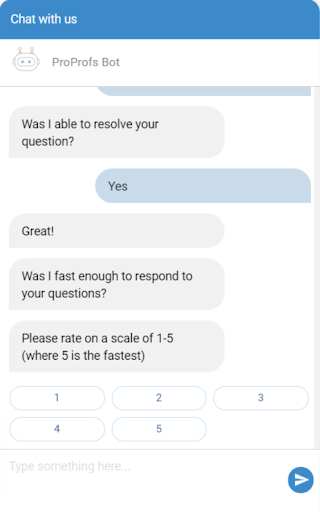 ProProfs ChatBot asks for its performance feedback once a chat comes to an end with the customer. This helps our team improve its performance further and ensure that customers enjoy having a conversation with the chatbot soon.
9. Create & Use Conversation Templates to Speed Up Conversations
Want to reply faster to your customers? Canned responses are one way to do it right.
Canned responses are an automation feature available in live chat or even a help desk system that helps your operators send a message during an ongoing conversation faster. The primary benefit of this automation feature is that it enables you to reduce response time and enables your agents to manage multiple chats simultaneously.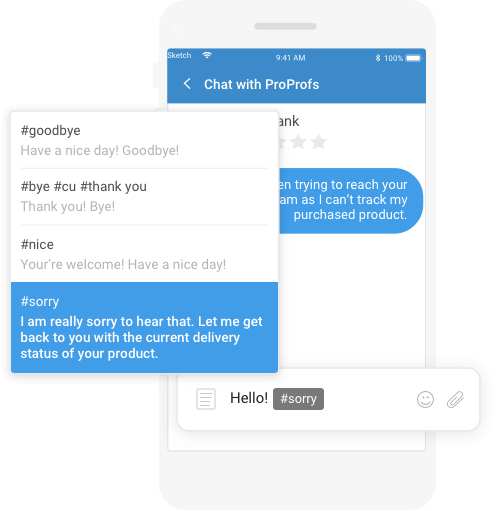 You have to create canned response templates for frequently asked questions or repeated conversation patterns. Once created, your operators can use them under different scenarios and respond faster to customers during a conversation.
---
Recommended Read: Live Chat Canned Responses Cheat Sheet for Business, Sales & Support
---
10. Send Re-engagement Emails to Long-Lost Customers
There are times when some of your customers don't return to your brand in a while. And if you don't have returning customers, you are likely losing out on more sales opportunities than you could have imagined.
Don't worry; this can be rectified if you use some effective re-engagement strategies like email marketing. You can use email automation tools that will help you target long-lost customers and encourage them to give your brand another shot.
Observe how Redproject does it.
This eCommerce brand uses its automation tool to target customers who have not been in touch with the brand even after sending in other offer emails. It informs the customer that they are being missed and on their return, they will receive a 10% discount. This re-engagement email strategy has helped them get the proper attention and connect with customers again.
Five Powerful Best Practices to Automate Customer Support
We've understood how automation tools can be implemented in different business processes. But there are a few practices that can help you improve their implementation further. This section aims to explore the best practices that will allow your business to automate customer support hassle-free.
1. Recognize the Channels That Should be Automated
Even though it costs less than hiring twenty new employees, automation still requires a serious financial investment if you want it done right. So, when deciding what communication channel you should automate, make sure to make the right choice. Try to analyze your channels' performance and determine the busiest ones. They should be your priority when introducing automation.
2. Find Out What Tools You Need
Once you've determined the critical channels and areas that you want to improve, you should pay special attention to the type of tools that you need. So, instead of randomly picking popular automated customer service tools, seriously consider those that can help you improve your support performance.
Keep in mind that a diversity of AI-based products can completely change how you provide support. So, before implementing any of them, make sure to inspect them in detail to avoid unpleasant surprises and underperformance.
3. Take Your Time for Configuration
Practically speaking, if you don't configure your customer service automation system correctly, you can't expect accurate data from it. And this will lead to a decrease in customer service quality and other significant problems that may impact your overall business results.
Moreover, if your support system is corrupted from the very start, not only will it cause underperformance, but it will also make it way more difficult for you to deal with them. You will have to realize where the errors come from and how to go back and fix them without jeopardizing your support performance.
4. Create the Synergy of Different Communication Channels
Even though your channels are automated, if they are not mutually connected, in practice, they may lead to an increase in customers' frustrations.
For instance, if your customers cannot solve their issue using one channel and repeat themselves on diverse media, they will feel stressed. That's because your support team isn't offering them a solution by explaining the problem once.
So, whatever you do, don't isolate your automated communication channels, as that way, you'll only be limiting the positive effects you can expect. Instead, integrate them to provide an improved information flow among your support employees and your customers and operators.
5. Collect Employees' Feedback on Your Automated System Performance
The fact that you rely on what's also known as innovative technology doesn't mean that you shouldn't work on their improvement. So, once you implement your automated customer service system, make sure to stay on top of its performance.

The best way to determine if your automation tools work correctly is to collect your employees' feedback on their experience with these tools. Transparently talk about all the aspects that may need to be adjusted or completely reshaped to provide the optimal work conditions and satisfying customer experience.
How ProProfs Helps You Automate Customer Service
Now that we've seen the best ways to automate your customer service process, it is time we look into a few tools from our ProProfs suite that will help you do the same.

ProProfs Chat is loaded with automation features that help you streamline your customer service and support process. This live chat software allows your operators to monitor a visitor and enables them to initiate a chat right away.
They can even use canned responses to speed up the response time and make sure your operators manage more than one customer at a time.
If that doesn't catch your attention, its chatbot certainly will. The chatbot is available as an add-on service for customers who wish to automate their support process further. You can choose from one of its templates and enable the feature to set it on your website.
This requires no coding efforts and hardly takes a few minutes for the complete setup. It even offers detailed reports that help you enhance the performance of your chatbot further.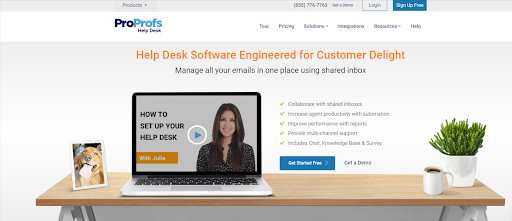 ProProfs Help Desk is a ticketing system that creates tickets for incoming support emails. All your tickets can be tracked, monitored, and resolved from a single dashboard view.
You can easily collaborate with other agents to track who is working on which ticket and set a deadline for each to improve resolution time.
This ticketing software also helps you enhance agent productivity as it automatically assigns incoming tickets equally with the round-robin functionality.
That's not all. You even get access to insightful reports that help you determine the performance of your agents and identify where they can improve further during the support process. You can also integrate it with native live chat, knowledge base, and survey applications.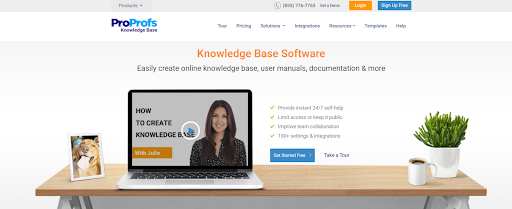 ProProfs Knowledge Base is also a pivotal aspect of our customer service automation suite. This software helps you build self-help articles that can be displayed in chat widow upon integration or on your website.
You can create a separate support section where customers can search articles using the right keywords and find answers faster.
Using a knowledge base on your website will enable your business to avoid answering common questions and help your operators save time and focus on complex questions. That's not all. You also reduce the resolution time and enable customers to move past their challenges faster.
Reshape Your CX with Automated Customer Service
Automated customer service tools can be a great help when it comes to increasing support efficiency while at the same time saving both your money and agents' energy.
However, it's evident that not all automation implementations bring amazing results. It's vital how you do it, what tool providers you choose, and how skilled your agents are to stay on top of the automated activities.
You should also keep in mind that automated tools require constant improvement, occasional upgrades, and frequent control checks to provide optimal results.
Customer service automation is not just about activating a specific tool and letting it do all the work. On the contrary, it's about paying attention to building an automated support system that entirely suits your business and customers' needs.
We hope this helps you recreate a better customer service automation process and improve the customer experience further!
Now that we've seen how to use automated customer service, it is time we focus on some of the frequently asked questions below.
Q. How automated customer service can improve your support?
Automated customer service helps you improve support as you can empower customers to help themselves. That's not all. You even end up improving your operator's productivity and reducing overall support costs.
Q. How do you know if your automated customer service is working?
To measure if your automated customer service solutions are working and producing the best results for your business, all you have to do is track support tickets. If they are reducing, then that's a great sign. Plus, you get to work towards intricate support opportunities.
Besides this, you see a reduction in bounce rate and session duration. The metrics are the best ways to know if your automated customer service solutions are actually working or not. More importantly, you can score the customer effort score too.
Q. How automated live chat support services can reduce your support cost?
Automated live chat support helps you to reduce the support cost-effectively as you can easily avoid queued customers. Those who wish to find instant answers can easily do with the use of either a chatbot or knowledge base integration to live chat or request to chat with your operators. Plus, you can ensure that customers receive 24/7 support at all costs.
And that's not all. You even get to offer multiple language support effectively, along with the personalization of communication.
Q. When automated customer service isn't the right solution?
Automated customer service isn't the right solution when it fails to deliver personalized communication to customers. Your customers crave human touch and emotional intelligence from your operators when they approach for support.
So, if your automated customer service fails to provide a personalized touch to the conversation, that means it isn't the right solution.
Do you want a free Live Chat software?
We have the #1 Online Live Chat Software for instant customer support 24x7