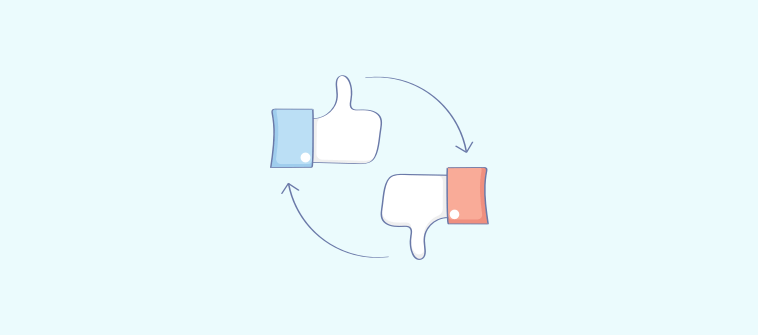 Long gone are the days when phone calls were the best way to deliver excellent customer support. Modern customers believe that social media is a new better way to interact with the brands when they have questions, problems, or concerns.
According to a Smart Insights report,
63% of people expect brands to offer customer service via their social media channels, and 90% of social media users have communicated with brands via these platforms.
Simply put, social media marketing is not only spreading a word about your company but also an alternative channel to connect with your customers and provide them with customer service. For a number of reasons, consumer behavior on social media is constantly changing. Thus, keeping up with the current customer service trends can help you understand their needs better. Especially, when it comes to social media customer support, it's important to know what works and what doesn't.
The Do's
#1. Reply to Brand Mentions
Social media mentions have become a powerful way for customers to share their views and thoughts about any product, service, or company. When people tag brands on social media, it's more likely they want to get companies' attention and direct them to their story. In other words, they want to be heard, and customers expect brands to respond to each mention individually.
When customers share their story, they're not just sharing pain points. They're actually teaching you how to make your product, service, and business better. – Kristin Smaby, Being Human is Good Business
Once a user tags your account, your business profile gets a notification, which is why it's easy to keep a track of brand mentions. When you reply to customers on social media, you prove to them you take care.
For example, Starbucks got a negative mention from one customer. Establishing communication with this person helps the company show sympathy for a customer who didn't get a good experience, solve their problem, and avoid committing the same mistake.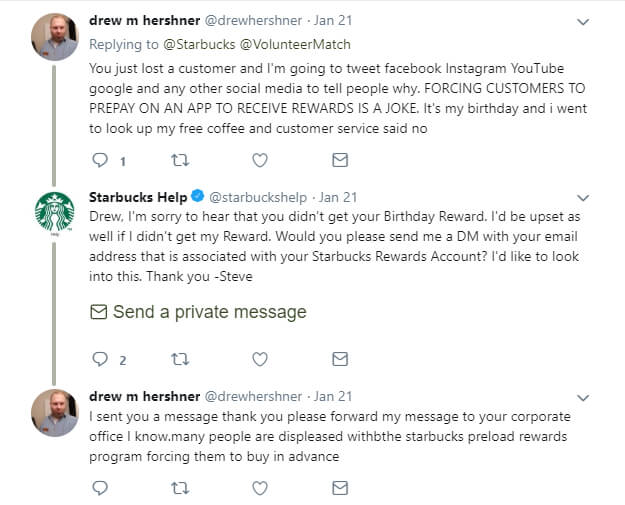 ---
Related Read: 6 Ways Brands Can Be More Authentic on Social Media
---
#2. Use Chatbots to Deliver Customer Support Fast
Modern customers value their time more than ever: 3 out of 4 online customers expect help within five minutes. Since it takes some time to make a phone call, write an email, and find an FAQ webpage, using an AI chatbot allows brands to automate their customer service. Since chatbots use AI to communicate with people, it's easy to program robots to understand common questions and provide answers 24/7.
For example, Michael Kors company has a Facebook chatbot that helps fans get answers to the most common inquiries. While it can't solve individual problems, it can improve customer service experience, when a person is looking for additional information about the brand, its products, or delivery. All in all, bots can meet customers' expectations of how customer service should operate. No wonder why 80% of businesses want chatbots by 2020.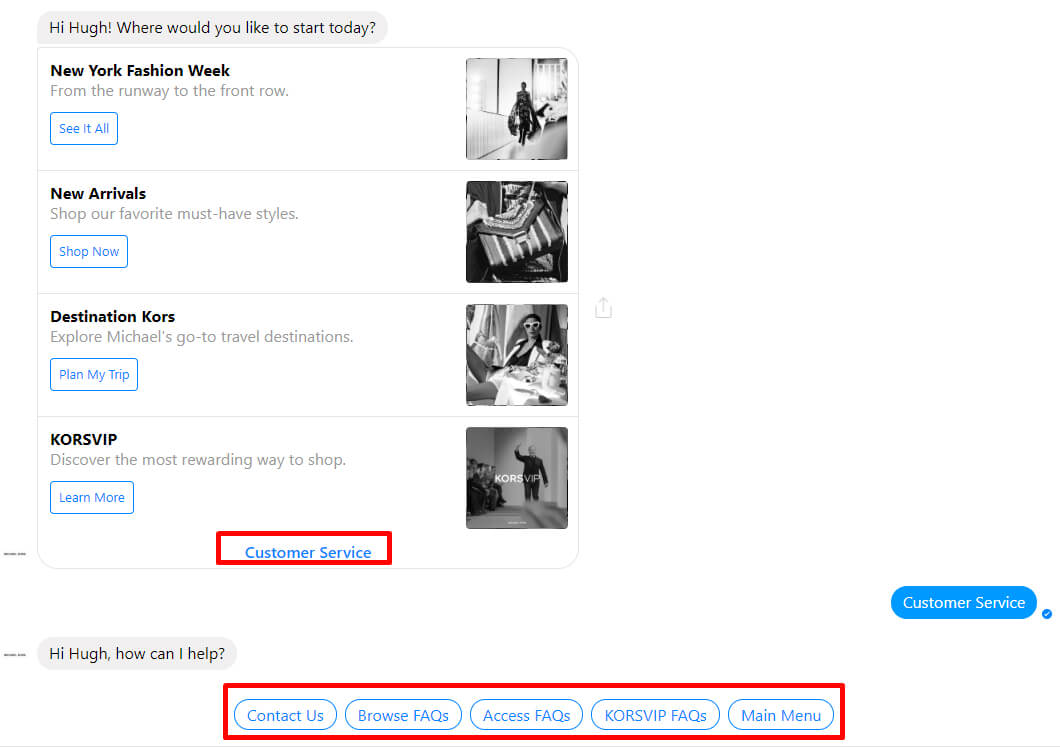 #3. Keep an Eye on "Message Request" Inbox
Do you know 80% of customer service inquiries go unanswered on social media?
When it comes to customer service on Instagram, it's easy to miss a question from your fan and end up offering poor customer service. The problem is messages appear as a request in your inbox if you don't follow a person who wants to connect with you via direct messages. In other words, your customers' requests can get buried in the inbox.
It is, thus, important to keep an eye on a secret inbox: requests will appear as a blue banner in the upper right-hand corner of Instagram Direct.
#4. Offer Customers Contact Alternatives
Not every social media platform allows you to solve all customer problems and tackle complaints.
For example, Instagram isn't the best place to write long-form text messages. Case in point: When ASOS got a request from an Instagram user on how to get a discount, the team invited the user to turn to Twitter as it was a better place to describe the process step-by-step. Since the customer didn't have a Twitter account, ASOS suggested using Facebook or the website to get quick assistance.
Excellent customer support is about resolving your clients' problems fast and also most conveniently. Offer contact alternatives to your customers. More the channels you use to help your customers, the better it is.
---
Related Read: How to Provide a Delightful Customer Service Experience
---
The Don'ts
#1. Insert Unclickable Links
There are innumerable competitors in the market, so customers will always choose a company that provides a seamless customer experience. Just answering their questions isn't enough to show your fans that you care for them. You need to provide them with information in the best way possible.
For example, when you add the URL in your Instagram comment, it won't be clickable. That's a bad idea if you want to help your customers save time.
Brands can slide into direct messages and send the link in the app. It will not only solve a customer's problem but also save time. All in all, it's about increasing customer satisfaction.
#2. Ignore Negative Feedback
Due to the rise of social media, it's easier for people to share their opinions and beliefs without interruption. More and more people share negative feedback on social media, as negativity influences the human brain more than the positive aspects of your product or service. Handling difficult customers can be daunting, but ignoring negative feedback isn't an option.
Nothing kills trust faster than ignoring your customers: 95% share bad experiences with their friends and 51% of customers will never do business with a company after one negative experience.
Living in the digital era, people always look for online reviews before making purchase decisions. This implies you can't afford to ignore negative feedback that can affect your brand reputation. Whether you can solve customers' problems or just deliver empathy, never ignore negative feedback if you want to have a loyal following.
---
Related Read: 5 Reasons Why You Should Respond to Online Reviews
---
#3. Focus on Nothing but Direct Messages and Mentions
More popular your company is, more people would speak about it online. What's more, the majority of them won't come directly into your inbox via private messages or tag them, as 96% of the people who discuss brands online don't follow them. Focusing on direct messages and mentions, you can miss important conversations about your company.
Obviously, it's harder to listen to your customers when you don't get notifications, but it's highly important for brand reputation as it shows you care about your clients. To understand what customers are saying about you, boost creativity and pay attention to brand hashtags, leadership names, company's nicknames, product names, and much more.
The Bottom Line
More and more people want to connect with brands on social media. The quality of the customer experience they get can make or mar your brand. It is, thus, indispensable to deliver unparalleled customer service on social media. The above mentioned do's and don'ts of customer service can help you improve your service and satisfy your customers' needs at the same time. If you're looking for more social media management advice, here is a quick read on social media fails you might be doing
Do you want a free Live Chat software?
We have the #1 Online Live Chat Software for instant customer support 24x7