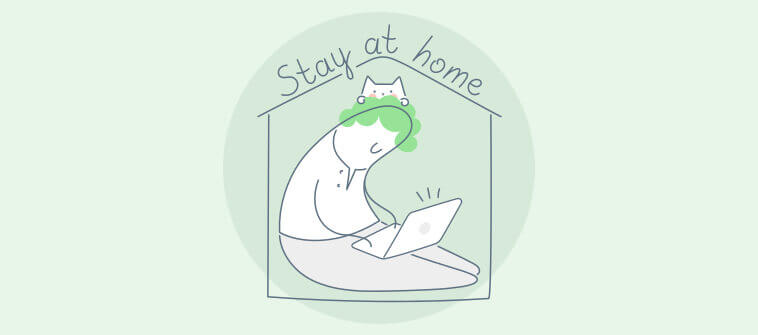 Along with the global economy, how businesses operate is also massively hit, with the spread of COVID-19.
This is forcing business owners to take major steps towards overhauling their existing workplace practices – work from home (WFH) is one of them – it has become mainstream in less than two weeks.
Happy to share that we at ProProfs kicked off our continuity plans well in time and are glad to share how we cracked the code and are able to keep the ball rolling while still keeping our teams safe and motivated.
Here's a list of tools that we use for time management, communication, collaboration, project management, training, and hiring, along with some motivational tips from our CEO's desk that keep us going during these tough times.
Time Management
This remote attendance tool has turned out to be really useful for our HR division. Besides, it helps our teams with efficient time management. We wanted to power our teams with a tool that gives them real-time insights into where their time is going. It instills ownership in a team and creates a responsible and transparent remote work environment.
Explore DeskTime here.
Project Management & Collaboration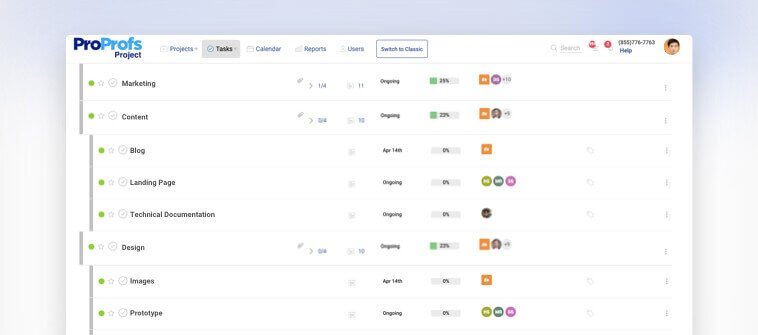 As a project management tool, ProProfs Project offers everything a company needs to collaborate in real-time and efficiently plan, track and execute projects. Constant engagement on a task by different teams helps us meet the deadlines that we defined well before the Corona crisis.
ProProfs Project starts at $0.
With Google Docs, we've successfully managed to keep all our work online completely. This way people involved in a task can easily track how far it has progressed and even leave comments for improvement that can be tracked in real-time.
Google products are free for individual users while businesses can buy the G Suite.
In case you are someone with lots of paper-work taking place, the best way to deal with document e-signing is with the help of Right Signature. You can send documents, sign them from no matter where you are, and at the same time integrate your workflow.
Signaturely is an alternative to Right Signature and provides you with a simple signature creator you can use for different use cases. For example, it allows your sales team to improve their proposal and signing process or your HR team to handle all documents and signatures in one place.
Seamless Cross-Team Communication

We are a globally distributed team and that's why staying in touch can sometimes be a challenge. However, WhatsApp helps us overcome that too. The app helps us stay connected by helping us make international calls (both voice and video).
Another real-time communication tool that has helped us so far stay connected is Google Meet. This video conferencing app enables us to conduct a face-to-face meeting, and even conduct interviews to hire people.
Join.me takes the communication game to the next level. It helps the team members share their screen during an ongoing video call to help you and your teams understand upcoming tasks hassle-free.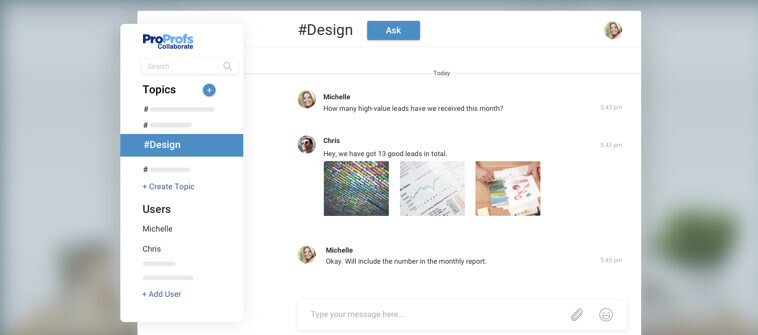 We've even made the most out of ProProfs Collaborate. Our teams can collaborate and exchange knowledge in an organized way. What's more, giving access to peer knowledge helps the team reduce mistakes, which means more productive and polished work turns out to be the final outcome.
The reason why we have Loom on the list of communication apps is that it helps us get the right message across the teams. It reduces our efforts to write an email as we get to capture our screen, what we want to highlight, and more hassle-free.
Well, we've successfully communicated essential points across teams with images. Awesome Screenshots support multiple editing options that allow us to focus on areas that need to be highlighted.
Customer Communication Tools
To make sure we have all the bases covered in our support process, we've got Dialpad in the mix too. Our operators have found this app to help them take their phone system wherever they go and effectively understand why customers are reaching our business with the help of native AI insights.
While most of our customers prefer to use chat support, some like to go the traditional way. To make sure that we cater to all customer communication channels, we've got Line2 in place. We get the option to set our toll free numbers and at the same time doesn't restrict the operators to their desks. They can take up support calls no matter where they are.
We have Calendly to help our operator's schedule product demos for our customers. This reduces the efforts of our customers and operators to manually confirm meetings via back-and-forth email conversations. All we have to do is share a link with the customer once the event is added to the calendar.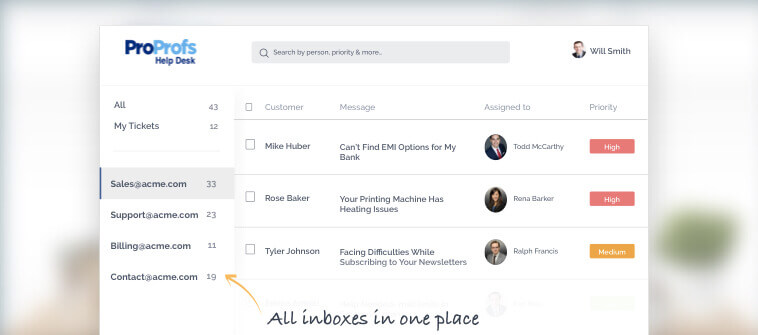 To make sure our support team never misses out on a single opportunity to cater to the needs of our customers, we've got ProProfs Help Desk in place. It helps us capture questions and technical issues through missed chats (via offline messages) and customer-facing emails that can easily be tracked via a shared inbox.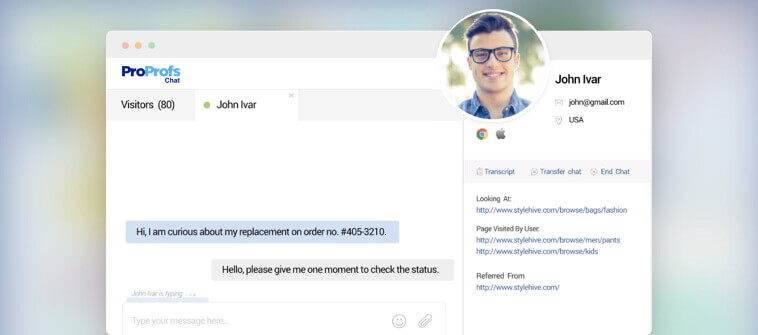 Finally, one of the best customer communication that we have in place is ProProfs Chat. It helps our support team connect instantly with customers only to provide them a resolution to their troubles faster.
ProProfs Chat Pricing Details
Trial Plan: $0/15 days
Essentials Plan: $20/mon
Premium Plan: $60/mon
Business Plan: Request a custom quote
Employee Training, Remote Hiring & Evaluation Tools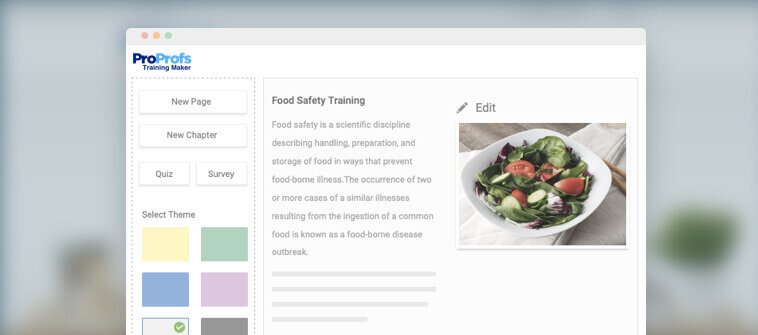 We are seeing a big uprise in our training product. This is a good time to support employee learning via online training courses as a constructive use of time and stress management. Training Maker supports self-paced training from anywhere, anytime. Employees can pause and resume their training and trainers, HR can track their learning progress in a single dashboard and easily meet compliance requirements.
Explore ProProfs Training Maker here.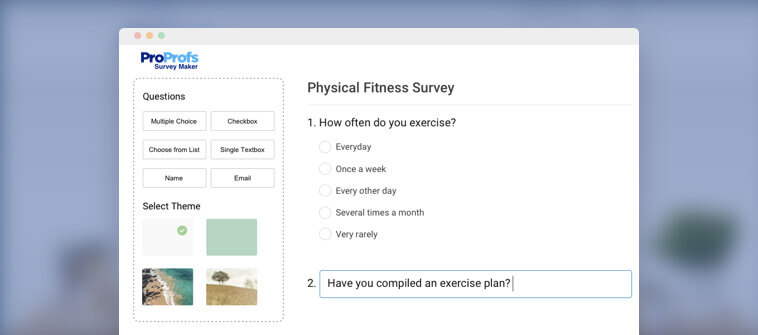 We've successfully managed to get new applications from prospects interested in working with us via ProProfs Survey Maker. The moment an applicant fills the form, we get notified. Then all we have to do is direct them towards an online test to assess their skills for the open position.
More about ProProfs Survey Maker here.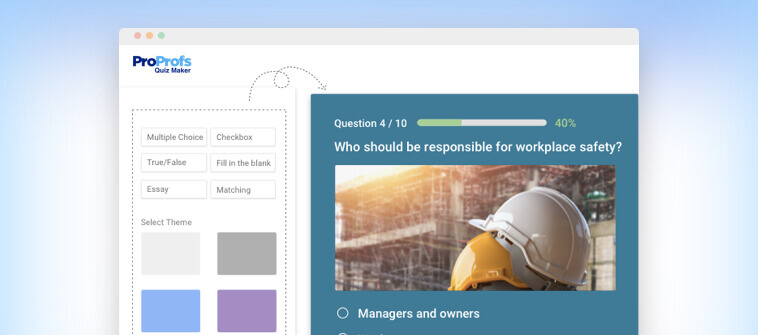 We are using ProProfs Quiz Maker for skill assessment tests. There are ready-to-use, professionally designed assessments to test and evaluate candidates. It helps us test the required skills of applicants. Once an applicant passes the test, we get to learn whether they should attend the next round, which is a Google Meet.
Quiz Maker starts at $0. Explore the tool here.
Internal Knowledge Base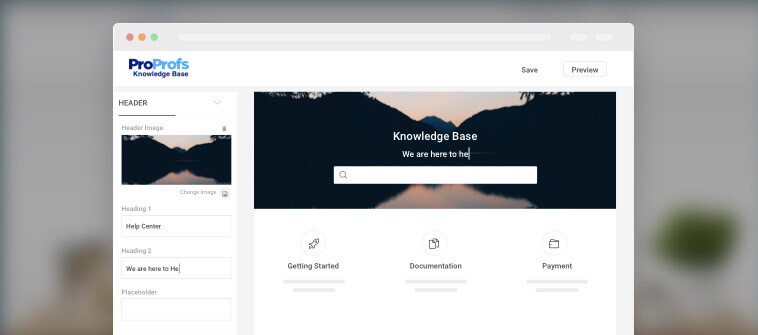 The most challenging part of working remotely is to handle questions from teams. To deal with that, we put every process documentation on the cloud using this Knowledge Base software. This helps all the stakeholders stay on the same page regarding policies and processes and get answers to the commonly asked questions instantly.
With these tools, we've successfully not just initiated but maintained our work from home culture as a pro company. And we are sure that you can too!
Other Favorite Tools
To help our creative team meet their deadlines faster, we've got Notism in place. It helps us add feedback to their work and effectively collaborate via videos. In short, reducing our efforts to send emails back-and-forth.
Another tool that constantly helps us produce error-free content is Grammarly. We even get to check whether the content is plagiarized or not and reduce efforts on thoroughly editing the content.
To top it all off, we've made extensive use of LastPass to remember passwords across all devices. So, all teams can securely connect to their work is in a matter of a few seconds.
WFH Tips From the CEO's Desk
What motivates ProProfs more than anything else are the wise words from our CEO, Sameer Bhatia. In his own words:

"I know that working from home is an adjustment, and I wanted to share a few tips that I've been using as we figure this out:
Wake up, start work, and end work on as much of a regular schedule as possible.

Dress up for work – no pajamas! It just sends a mental signal of "going to work."

Create a designated workspace: A desk, a corner, a room, a fixed seat on a large table – create your own version of the Home Office.

Have a good internet connection.

Create a schedule for your kids that keeps them busy when you are working.

Don't be afraid to talk to kids about your boundaries during work. While small kids have less control, older kids should be able to keep their voices down and not interrupt you during your work hours. For me, the initial challenge was with our younger daughter and not as much with the older one. It takes a while for things to find the new normal.

Break for lunch at a regular time each day.

I prefer not to take lunch while working – take a break!

Stay in communication with your team members frequently. Over-communication is better than less communication when working remotely.

Coordinate meeting times and care for kids with your partner. For example, Malini and I have set work shifts, and given that school is still on but remote, we divide who teaches which subjects.

Take advantage of the flexibility and quiet time. I schedule time late at night or early in the morning when my kids are asleep. Figure out what works for you and your family.

Use collaborative tools as needed. I like Useloom for screen videos. I use awesome screenshots (some companies use Joxi which is free) for screenshots. Google has Google Meet.

Don't multi-task while on the phone or video conference. Focus on just one thing at a time as if you were in the same room with the person you're speaking with.

Avoid checking the news or having non-work-related tabs open. Focus is key and working from home is distracting enough already!

Know where the mute button is and use it when there is background noise. I am trying to build a habit to keep myself mute on all calls unless I am speaking. This is especially important if you are doing a conference call with a bunch of people.

Video Chat: I use FaceTime and WhatsApp Video. Every evening I have a video chat with family and sometimes friends. It helps me beat the feeling of being just at home and stay connected. I am currently not actively using video for work calls but feel free to try that.

Exercise: There are plenty of things like push up, spot running, squats, etc that you can do for a quick at-home workout. Bodyweight works great! Many such workout routines are available for free on Youtube.

Stay positive. Read positive news & articles.
We would like to know what's working and what's not working for you with your WFH reality.
Feel free to drop in your suggestions in the comments section below. Who knows we are missing out on a tool that you found better than the ones mentioned in this blog.
Stay home, stay safe, stay productive!
Do you want a free Live Chat software?
We have the #1 Online Live Chat Software for instant customer support 24x7