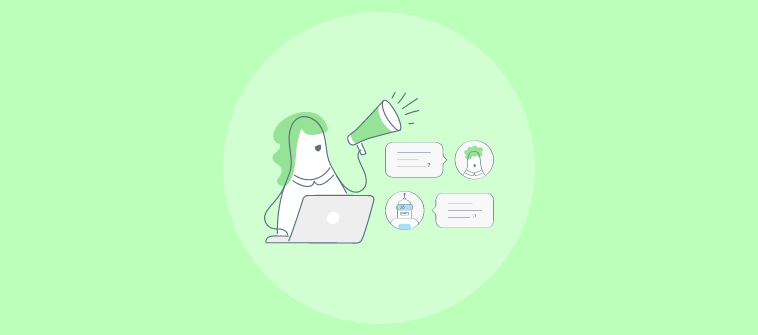 Your potential customers are waiting for quick answers and assistance to help them get what they're looking for. For this, you need a system that provides fast and personalized support with a bit of human touch. The human touch is what makes the experience relatable and compassionate.
But, the question is, how do you make this possible?
The undisputed answer is 'conversational marketing.'
Conversational marketing helps target the right customers with intelligent chatbots, enabling faster lead generation.
So, improve customer relationships with the modern customer support tactic – conversational marketing.
Here, we will dive deep and buckle down on what conversational marketing is. We will also look at the benefits and strategies you can use to take customer experience a notch higher with live chat.
Let's go!
What Is Conversational Marketing?
Conversational marketing refers to having meaningful interactions with your customers. It follows a dialogue-driven approach and caters to their queries in real time. You can engage with customers using live chat, enabling enhanced customer satisfaction. This further helps support them throughout their buying journey and provides personalized solutions.
Conversational Marketing vs. Inbound Marketing
Reading the conversational marketing definition, you must wonder whether it is the same as inbound marketing.
Well, conversational marketing is a part of inbound marketing.
Inbound marketing is used to draw a customer's attention to your brand. And conversational marketing is used to fully support the customer once they get interested in your brand. Thus, both forms of marketing are used together to target the right customers and lead them to engage with your brand in the long term.
---
Read Also: How to Add Live Chat to Your Website in 5 Easy Steps
---
Benefits of Conversational Marketing
Let's look at the benefits of conversational marketing to understand why you need to integrate it into your marketing strategy.
1. Create a More Humane Buying Experience
What do you think is the one thing that the online buying experience lacks? It most definitely is human-like assistance.
A humane buying experience helps build trust and leads to positive customer experiences and enhanced customer satisfaction.
When a customer reaches out for help and gets a considerate response, it paves the way for long-lasting customer loyalty and retention.
So, if you can provide that to your customers, they are more likely to continue using your products/services for future purchases and queries.
2. Generate & Convert More Leads
With conversational marketing, you can configure chat routing rules using a chatbot to provide the best assistance to your customers without delay. Customers just have to fill in the pre-chat form that will help capture their details. You can then direct visitors straight to representatives who can assist them better. This brings convenience to your customers and lets your business interact with customers with quick replies and relevant information.
Thus, conversational marketing lets you infer what your customers are looking for, helping you qualify leads faster. This further enables you to improve sales efficiency and convert more leads.
Also, using the live chat software, you can store potential leads to your favorite CRM tools such as Salesforce and Microsoft Dynamics.
3. Move Leads down the Sales Funnel Quickly
If a customer goes ahead and fills out a lead capture form, chances are, by the time your sales representative reaches out to them, the customer has lost interest in your service.
How can you prevent this? You can do this with 24/7 access to conversational marketing!
When you can instantly qualify leads using live chat's pre-chat form and direct them to sales representatives, this helps your customers get their queries answered in real time. This enables an enhanced customer experience and allows you to cross-sell and upsell your services. Sounds incredible, right?
---
Read Also: 10 Best Live Chat Extensions for Magento Website
---
4. Personalize Solutions for Site Visitors
Another benefit of leveraging conversational marketing for your business is to provide your customers with personalized recommendations.
And who doesn't like personalized solutions!
With conversational marketing, you can get a detailed background of where your customers are coming from and what they are looking for. Based on the information gathered via a chatbot, you can tailor the buying journey and lead customers to their final destination, which is indulging in your products and services!
5. Understand Your Customers
Marketing is all about understanding what your customers are seeking and offering them solutions for the same.
When you engage in conversation with your customers using live chat, you are better equipped to dig deeper into their pain points. This helps gain valuable insight into your targeted and potential customers.
With this data, you, as a business, can make better strategies that your customer support team members can incorporate for creating unique buyer personas and planning future customer interactions.
Conversational Marketing Strategies
You can transform customer experiences by adopting a conversational strategy while interacting with users via live chat. Here is where a conversational marketing software comes in handy.
Conversational marketing platforms, like ProProfs Chat, offer powerful chatbots that enable effortless bot marketing to attain the desired results.
These interactive chatbots offer a human-like interaction to capture qualified leads. You can live chat with existing and potential customers and instantly resolve their queries using these.
Some of the crucial features of an AI chatbot include:
Multiple-choice and open-response questions
Answers routine questions with canned responses
Transfers chat to a human for better assistance
Ample testing before going live
Professionally-designed templates
Customize and add your brand's touch to its interface
Edit, add, or delete interactions
Get actionable reports on the operator's performance, number of missed chats, etc.
Easy to adopt
Anytime, anywhere access
Getting back to proven strategies, here are a few strategies to integrate into your customer support services.
1. Establish the Channel of Interaction & Questions You Wish to Ask
Once you have successfully onboarded a chatbot platform for your website, you need to infer the pages on which you would like to reach out to your customers.
Do you wish to reach them via the landing page, the product page, or the FAQs page? The choice is yours and should be made after carefully considering user behavior.
Next, you must zero in on the questions you will initiate and continue the conversation. Remember, these must be relevant and lead customers to find the answers they are looking for. Based on this, you can curate canned responses using the chatbot and answer user questions instantly.
2. Personalize the Buyer's Journey
When you converse with a potential customer, it is essential to do your share of research on their search history on your website. What pages did they visit? Did they attempt to buy anything? Analyzing their search history will enable you to personalize their conversation and resolve their queries head-on. Thus, be ready to optimize your conversation-handling strategy and cater to the customer's immediate needs.
3. Ask for Feedback
Genuine feedback from the customer using live chat can minimize efforts to understand how to cater to the customer's needs. Their feedback will give you clear insight into what the customer wants and how you can improve your services.
So, ask the customer to spare a minute or two to provide feedback that can help you enhance customer satisfaction. The feedback may be anything from a more prominent chat widget on the screen and the appearance of the widget accompanied with a sound to accessing self-help articles on the chat widget and more personalization of the conversation. This will give you a better insight into areas that you can improve for excellent customer support in the future.
---
Read Also: 13 Best WordPress Live Chat Plugins for 2022
---
Conversational Marketing Examples
Here, we will look at some incredible marketing conversation examples to give you a better gist of how you can leverage conversational marketing into your business model. Go ahead and have a look at them to analyze how you can configure your chatbot or live chat settings for maximum benefits.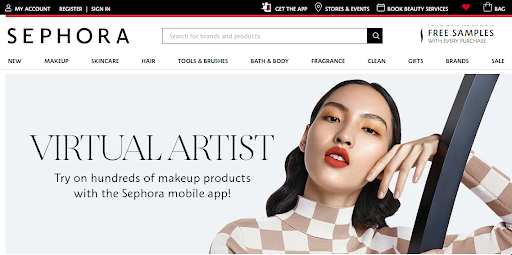 Sephora, a French multinational chain of beauty care products, offers its customers a chatbot that lets them try on products before purchasing. All the user has to do is browse through a library of different products. Then, go to a product you wish to try, click on 'Try This Shade', and let the app scan your face. The chatbot allows the user to see how the product will look on them to enable an informed purchase with zero regrets!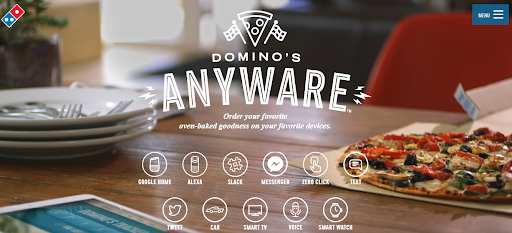 Craving a pizza? Order from AnyWare!
Domino's AnyWare chatbot lets you order a pizza no matter which device you are on. Google Home, Alexa, Slack, Messenger, car, smart Tv, or smartwatch, you can instantly place an Easy Order for pizza from any of them.

eBay, an eCommerce platform, offers you a Google Assistant app that allows you to browse hundreds of products on its site using voice commands. So, you have to say, "Ok Google, ask eBay to show me options for waterproof cameras." And your voice assistant chatbot will show you several deals you can choose from. You can use this Google Assistant app via Google Home or any Android phone.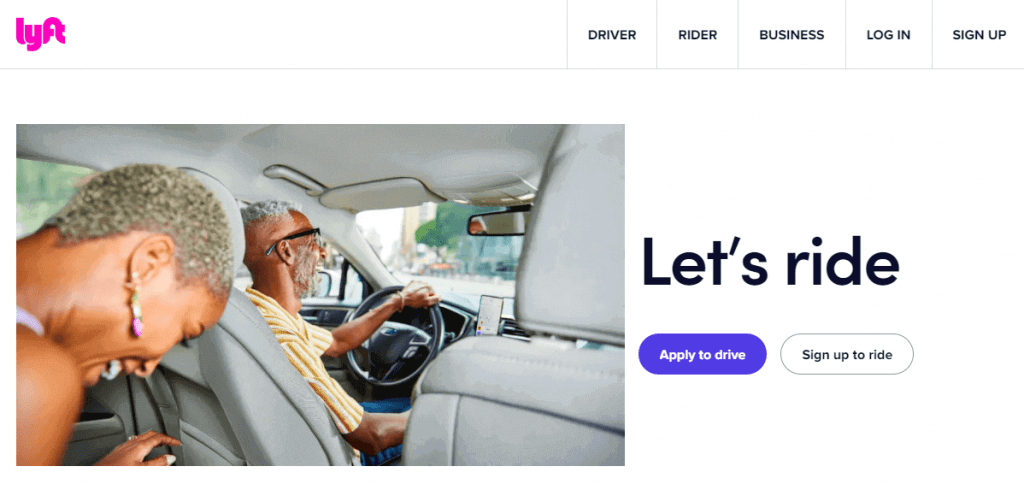 Lyft is a ride-hailing, car renting, and bicycle-sharing platform. Its customer service chatbot allows you to request a service using voice commands. Its chatbot is available on Slack, Messenger, and Amazon Echo. What's interesting is that using these, you need to type in/lyft in any channel, and it will show you a list of Lyft-related keywords that you can select to book a service! You will then be able to easily avail estimated time of arrival, fares, and vehicle numbers.
So, these were a few conversational marketing examples of leveraging the power of live chat or a chatbot for your business. It's time to get inspired and bring an excellent, consistent user experience to your customers!
---
Read Also: How to Leverage Live Chat for Marketing
---
Drive Positive Customer Interactions with Conversational Marketing
By now, you just have a fair idea of what conversational marketing is, looking at various conversational strategies and some conversational marketing examples.
The takeaway is that you can marginally increase lead generation and scale your business with customer-centric messaging using live chat.
So, start engaging with your customer with two-way conversational marketing to give them personalized experiences right from the start.
Do you want a free Live Chat software?
We have the #1 Online Live Chat Software for instant customer support 24x7