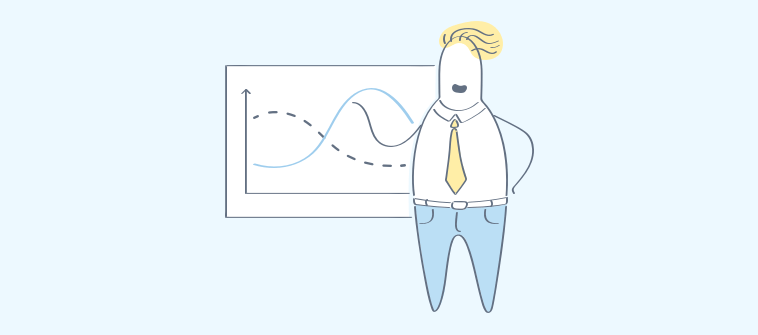 "Always do more than is required of you." — George S. Patton
This is exactly what customers expect from a brand when they approach them for support. Customer expectations are growing every day and because they form a strong foundation of every business.
The growing expectations are inclusive of:
24*7 support

Quick response

Instant solutions

Empathy

More convenience
And keeping these expectations in mind, many business owners have integrated a live chat software on their website. While some feel hesitant about adopting a new support strategy, others tend to prefer it on their website for the following reasons.
Improved Lead Generation

Improved Sales

Better Market Reach

More Competitive Edge

Boosts Customer Service & Loyalty
While these reasons are sufficient to convince people about the use of live chat software, some still seek validation. They'll even read white papers and live chat statistics to understand the current trends of the customer support industry.
But to help such readers, we have compiled a list of 40+ statistics on having a live chat. These statistics of live chat on the website will help you learn its relevance for your business and how its use can help your support team manage customer expectations.
Live Chat Statistics 2023: 40+ Live Chat Facts
Our list of live chat statistics is strategically divided in 12 sections. Each section has relevant statistics on having live chat and a final takeaway for readers. Let's browse them below.
Live Chat Adoption Statistics
1. Forrester claims a rise of 24% in chat usage. (Source: Forrester)

Tweet this
Research companies like Forrester have found that they've witnessed a hike in live chat users. That's because every company today understands that customers would only return if their experience with the brand has been delightful.
2. 16% of customers prefer to use live chat software as customer support and service channel than self-service and social media platforms. (Source: Microsoft)
Due to the increasing need for instant support, customers across the globe prefer to use live chat software to contact a business directly. That's because other support channels like social media platforms, call support, and emails increase the waiting time with which the customers aren't that comfortable.
3. 38% of Leading CX experts are currently using a live chat to deliver instant support, while 26% are planning to use one.

(Source: Aberdeen)

Tweet this
Understanding the increasing demand for real-time solutions, even customer experience experts have started using a live chat to make sure that no query goes unanswered. And, that's not all. Others have started thinking of using one on their website too.
Takeaway: For instant support and answers, customers prefer to use live chat rather than other support channels.
Live Chat VS Phone Support Statistics
4. In the U.S., customer service interactions via legacy channels like phone and email fell by 7% over the course of 2016 and 2017.

(Source: Business Insider)

Tweet this
Phone support was seen to be one of the best mediums for businesses to get in touch with their customers. However, long queues didn't settle well with customers. That's why studies noticed a drop in the use of call support.
5. Voice increasingly evolves as an escalation — not a primary service — channel. Phone use for customer service has steadily decreased over the past six years, and Forrester predicts that it will dip even further as customers increasingly adopt digital channels like web chat.

(Source: Forrester)

Tweet this
Out of many live chat statistics, this one proves that phone support is no more the primary go-to option for customers. If anything, phone support has just become one of the options that business owners use when an issue gets escalated and a customer demands to speak with support operator. And, the use of this support channel is predicted to take a dip in the coming years.
6. Live chat is the favored customer service channel for shoppers aged 18 to 49, followed by phone calls.

(Source:

Gartner)

Tweet this
Shoppers also seek live chat assistance rather than being put on hold for several minutes. That's why it is becoming one of their preferred channels for support.
7. Primary reasons for customers to use live chat over the phone support are convenience (26.9%) and no wait times (34%).

(Source:

SoftwareAdvice)

Tweet this
No wait time and convenience are the two major factors that prompt customers to use live chat over phone support. Customers like that they can privately engage with a brand, express their concerns and get immediate solutions.
Takeaway: Shoppers aged between 18-49 prefer to use live chat to get support from brands in real-time in comparison to call support.
Implementing Live Chat on Website Statistics
8. 91% of customers on a global level found co-browsing, feature quite helpful as it assists them in getting a step-by-step guide on completing a process.

(Source:

Microsoft)

Tweet this
Trends in live chat implementation suggest that customers love it when they get real-time assistance. Moreover, it becomes all the more interesting with features like co-browsing, where they can get virtual tutorials on how to complete a process.
9. 21% of customers prefer to use live chat so they can shop while they work.

(Source:

Inc)

Tweet this
Statistics on live chat suggests that customers prefer using live chat because they can conduct various activities at the same time. For example, they can shop for the product while receiving help from the support operator for the same.
10. 51% of customers prefer to use live chat support for multitasking purposes.

(Source:

Inc)

Tweet this
The ability to multi-task is one of the best things a customer and an operator could ask for during an ongoing support session. The use of live chat allows both customers and operators to switch between screens, keep working on their ongoing task, and never lose sight of how the support operator is providing a solution to every question asked by the customer.
Takeaway: According to the live chat statistics above, customers get to multitask when they are having a live session with an online support tool. Other than that, they find features like co-browsing as they get a step-by-step guide quickly.
Live Chat Messaging Customer Satisfaction Statistics
11. In 2018, the customer satisfaction rate with live chat usage stood at 83.1 percent, up from 80.68 percent.

(Source:

Statista)

Tweet this
Year after year, customers find the use of live chat software way more convenient, and studies conducted by Statista are proof of ist growing trend in the market. The satisfaction rate is only increasing, showing how customers find the customer support tool dependent when approaching a brand.
12. 42% of consumers say that they prefer live chat functions because they don't have to wait on hold.

(Source:

Inc)

Tweet this
To wait or to be put on hold is one reason why customers prefer to avoid legacy customer support tools. And that's why live chat is gaining more relevance in the market.
13. 83% was the average customer satisfaction rate of live chat interactions in 2018 and is likely to grow in the coming years.

(Source:

G2)

Tweet this
The live chat statistic confirms that the use of the customer support tool is going to increase in the market. While it has made a significant mark in the support industry, sales and marketing find this tool beneficial for their strategies too.
14. 44% of online consumers say that having questions answered by a live person while in the middle of an online purchase is one of the most important features a website can offer.

(Source:

Forrester)

Tweet this
As a purchase process takes place, it becomes a lot simpler for customers if they have a live operator to chat with. This way, a lot of their doubts get cleared, and customers can finally arrive at an informed decision.
Takeaway: As per the live chat stats on customer satisfaction, customers are happy with the fact that their questions get answered instantly, and there is no wait time for them in comparison to other support platforms.
Live Chat Conversion Statistics
15. Live chat increases conversions by 20%. Live chat helps answer customer questions and remove buying objections and results in a more confident consumer.

(Source:

Spechy)

Tweet this
The use of live chat instills confidence among customers that the decision they are making related to a product purchasing process is right or wrong. That's why many companies who use live chat tend to see an increase in their conversions.
16. Customers who chat are 3x more likely to buy. Live chat provides a method for more direct and personal interaction with customers, increasing in the likelihood that they will make the purchase.

(Source:

Spechy)

Tweet this
Personal interactions with customers can help your operators increase sales three-folds. That's why features like proactive chat help you encourage customers to engage with your brand easily.
17. 305% ROI from sales chat with a payback period of 6 months (when using paid chat services).

(Source:

Spechy)

Tweet this
If you have a live chat on your website, you'll notice a hike in your ROI, and probably in a short period. That's because with live chat, you can make sure that no customer question goes unanswered and get instant feedback that helps your organization improve services as per customer expectations.
18. For customers who chat before making a purchase, there is a 10% increase in average order value, a 48% increase in revenue per chat hour, and a 40% conversion rate.

(Source:

ICMI)

Tweet this
You can identify upsell and cross-sell opportunities when using a live chat on your website. Such live chat stats show how you can inform customers about relevant products as they are about to check out and complete the purchase cycle.
Takeaway: The above-mentioned live chat facts suggest that the support tool helps business owners to boost their sales. That's because customers prefer to purchase from a brand that offers live chat during the product purchasing process.
Live Chat Customer Loyalty Statistics
19. 42% of customers would stop using a brand if the company didn't have a real-time customer support line.

(Source:

Fundera)

Tweet this
Every customer seeks instant solution when they reach out to a brand. And, this live chat statistics is an outcome of a scenario where customers stop reaching out to a brand if they fail to offer real-time support.
20. More than 80% of customers seek immediate response for sales or marketing question. But this number tends to rise up to 90% when their question is solely about sales.

(Source:

Business2Community)

Tweet this
While purchasing a product, customers want some sort of support to make sure that nothing goes wrong while they are shopping. And the need for support increases when it is purely about sales. If customers receive instant support when needed, they will likely start trusting the brand that will ultimately result in loyalty.
21. In one live chat study, a business called Rescue Spa achieved a 30% increase in conversion rates using live chat.

(Source:

Marketing Sherpa)

Tweet this
Owners of the rescue Spa found live chat a convenient way to keep interested visitors engaged with the product line "Biologique Recherche". Kim Zimmerman claims that she got a good amount of clients via live chat conversations. That's because some visitors came in with quick questions; others wanted real-time instant solution. And, live chat served them well in both scenarios.
22. 48% would be more likely to return to a website with chat support, and 41% trust the brand more when this option is available.

(Source:

MarTech)

Tweet this
Loyalty increases when brands perform activities that instill trust among customers. And, live chat is becoming the perfect platform for brands to gain trust that ultimately results in returning customers and brand loyalty.
Takeaway: Loyalty starts with awesome support. However, if a brand fails to deliver instant support to customers, they'll likely lose interest in their services going forward. Hence, the brand doesn't get the opportunity to build trust and loyalty with customers.
Live Chat Customer Service Statistics
23. 120% ROI from customer service chat with a payback period of 6 months (when using paid chat services).

(Source:

Spechy)

Tweet this
Customer service tools like live chat help your brand experience a hike in ROI and that too in a short period. Merely adding the live chat tool won't help a brand garner these results. They'll have to make sure that provide instant yet delightful customer experience every time with its use.
24. 46 percent of respondents report using live chat at least once to get a question answered through a company's website. Over one-third (37 percent) say they have used it more than once for good customer service experience.

(Source:

SoftwareAdvice)

Tweet this
Such live chat facts are a clear indicator of how customers use this platform to get in touch with a company instantly rather than waiting on a call for several minutes. Plus, customers believe that the use of live chat will offer them a good customer service experience.
25. 38% got converted into customers after having a session with a support operator through live chat.

(Source:

eMarketer)

Tweet this
Live chat statistics also confirm that businesses have successfully converted site visitors into customers with real-time conversations with the use of the tool. All the more reason to put live chat software to use.
26. Of those who prefer live chat, 79% said they did so because they get their questions answered quickly, 51% did so because they could multitask, and 46% agreed it was the most efficient communication method.

(Source:

ICMI)

Tweet this
Customers who prefer live chat believe that it assists them to receive instant answers, multitask during a live session, and is the most efficient form of communication they find in comparison to other platforms.
27. 83% of consumers report that if companies could provide customers with better live or in-person customer service, it would have impacted their decision to switch providers.

(Source:

Accenture)

Tweet this
Customers expect a brand to create an awesome experience when they approach them. Great experience can impact a customer's decision on whether they'd continue with the same brand or not.
Takeaway: Live chat statistics above show how the customer support tool has simplified the customer service process for businesses. It even indicates how customers prefer brands that offer the tool at their websites.
Live Chat by Industry Statistics
28. Retail and e-commerce are the fastest growing segments for live chat software.

(Source:

BusinessWire)

Tweet this
The use of live chat seems to be growing in various industries. However, it's use has been more prominent in retail and eCommerce websites.
29. Live chat has helped to increase travel and hospitality company's revenue by $16 million, 2019.

(Source:

Nuance)

Tweet this
While the use of live chat is flourishing in the retail industry, its positive impacts have also reached the travel and hospitality sector. Apparently, live chat has assisted companies in this sector to grow their revenue way faster than was expected from the legacy support channels.
30. Live chat has helped an insurance company save $1 million in 90 days from call deflection, 2019.

(Source:

Nuance)

Tweet this
After the retail and hospitality sectors, live chat has also made a significant mark in the insurance sector. According to the study, the use of live chat has helped an insurance company save a million just by call deflection.
Takeaway: While studies show these three sectors have made profits from the use of live chat software on their website, there might be others in the market who have gained sure-shot benefits from the use of the customer support tool.
Live Chat Forecasts & Growth Statistics
31. "Live Chat Takes Center Stage in Best-in-Class Deployments of Sales and Marketing Rich Media Solutions," affirms that live chat is better at enabling a more compelling conversation between the enterprise and its prospects/customers, which ultimately yields stronger overall performance.

(Source:

Spechy)

Tweet this
Originally confirmed by Aberdeen, Spechy also confirms that live chat will become the center for sales, support, and marketing niche. That's because brands get the perfect opportunity with its use to start compelling conversations with their prospective customers.
32. The global live chat software market is expected to reach USD 819.2 million by 2020, growing at a CAGR of almost 8%.

(Source:

BusinessWire)

Tweet this
Among many live chat statistics for 2020, one that catches the eye is how the use of the customer support tool will spread globally. The time isn't far when its use will become prominent among all the sectors.
33. The popularity of live chat is undeniable: two-thirds of brands have adopted the feature.

(Source:

Gartner)

Tweet this
Gartner claims that the increasing popularity of the live chat tool is encouraging brands across all sectors to adopt its use. And apparently, two-thirds if brands have already got a live chat on board to tackle customer queries faster.
34. 85% of all customer support activities will happen without a human agent by 2020.

(Source:

IBM)

Tweet this
While live chat is becoming a growing reality of the customer support market, this statistic can also not be denied. There will be a time when human agents won't be needed. However, 2020 seems too close for this fact to actually take place. But there would be a day when customers might not need agents to help them find solutions to their problems.
35. The global live chat software market size is projected to reach $987.3 million by 2023.

(Source:

KBV Research)

Tweet this
The growing demand from customers to use live chat as a customer support tool has lead to the increasing size of the global live chat software in the market.
Takeaway: These live chat support trends establish the fact that the customer support tool is here to stay. And will end up helping business owners boost their sales and profits in the coming years.
User Experience Live Chat Statistics
36. 63% of millennials prefer to have their basic customer support questions answered by chat versus traditional channels.

(Source:

SoftwareAdvice)

Tweet this
Live chat has magnified the user experience and compels them to choose instant support over traditional channels.
37. Over 50% of consumers who start their customer journey with AI are transferred to a live agent, highlighting the importance of human interactions.

(Source:

ITProPortal)

Tweet this
Live chat statistics such as this help us understand how we can optimize the human-machine relationships to enhance customer and employee experiences effectively.
38. Millennials are 20% more likely than baby boomers to prefer live chat, citing convenience and limited hold time as their top reasons for using live chat.

(Source:

SoftwareAdvice)

Tweet this
Millennials prefer text support that is fast and delivers prompt solutions. That's probably because they do not like to be put on hold like it is very much possible with traditional support platforms.
Takeaway: Live chat has elevated the standards for good user experience. That's why customers have higher expectations from brands when approaching for support.
Live Chat Response Time/Wait Time Statistics
39. In 2018, customers spent an average of 713 seconds (or 11 minutes and 53 seconds) on live chats.

(Source:

Statista)

Tweet this
Customers spent almost 12 minutes on live chat willingly when receiving support from a brand. This is inclusive of customers explaining their problems, operators searching for a solution and providing it to the customer the moment they found one.
40. In 2018, the customer wait time when using live chat in the transportation industry stood at 43 seconds.

(Source:

Statista)

Tweet this
Customers had to wait for 43 seconds when seeking assistance for transportation related queries. Unlike email or call support, live chat turns out to be a way better platform for customers to receive solution for their troubles.
Takeaway: Live chat has only helped customers and organizations with its instant support approach. While organizations find it convenient to get connected with customers and resolve their queries before they arise, customers feel happy when they don't have to wait for hours or even days to get a solution. In short, it has reduced the wait time during the support process.
Live Chat on Mobile Statistics
41. Nearly 52% of chat queries were initiated from a mobile device in 2018, an increase of around 8% from 2017.

(Source:

G2)

Tweet this
Customers are more likely to initiate a live chat via their mobile devices it offers them convenience to approach a brand no matter where they are.
42. 62% of customers expect live chat to be available on mobile devices, and if possible, 82% would use it.

(Source:

ICMI)

Tweet this
The need for live chat has increased to the point where customers expect to have live chat feature for mobile devices too. And if companies do offer live chat support via mobile app, then customers would surely opt for it.
43. In 2017, 43.78% of customers accessed live chat from mobile devices.

(Source:

Medium)

Tweet this
The need for convenience has driven customers to the level where they'd rather chat online with support operators than to wait for several minutes for their call getting answered.
Takeaway: The use of live chat on mobile devices is a clear indication of customer expectations and how they see the support process to evolve in the coming years.
The Need for Live Chat Statistics
Our list of 40+ live chat statistics can help business owners who are still contemplating whether they should get a chat software onboard or not. These have been collected from popular studies conducted by Statista, Gartner, IBM, Accenture and others.
With the best live chat software on your website, you can easily improve support, sales and marketing processes effectively. And if these live chat stats have convinced you to get one for your website, then I'd recommend you give ProProfs Chat a try.
Do you want a free Live Chat software?
We have the #1 Online Live Chat Software for instant customer support 24x7