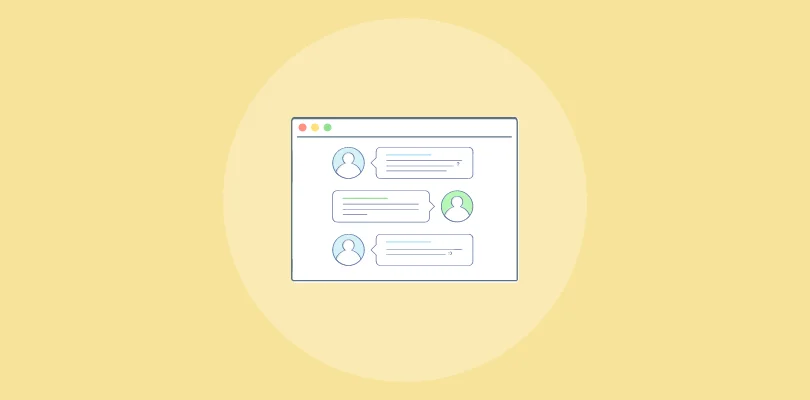 Like a busy marketplace, the internet is full of potential customers who are looking to buy what you sell. But how can you effectively grab their attention amidst the noise? This is where live chat comes in, allowing you to answer questions at the right time and grow your bottom line.
But there is a problem!
Not all businesses have the resources to invest in expensive live chat software. They either have to depend solely on email or settle for a cheaper live chat alternative.
If you are sailing in the same boat, ProProfs free live chat software is here to save the day. With this powerful tool at your disposal, you can engage with customers in real-time, resolve their issues, and build long-lasting relationships.
Whether you're a small business owner or a large corporation, ProProfs Chat can help eliminate any monetary barriers that stand in the way of delightful customer service. So why wait?
Let's dive in!
ProProfs Chat Launches Forever Free Plan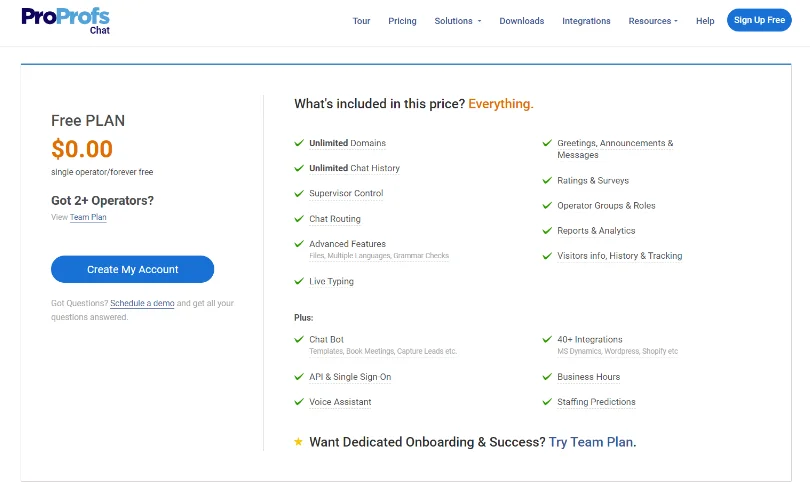 ProProfs Chat has introduced a forever free plan for freelancers, startups, small businesses, and enterprises. This plan offers all premium features – unlimited chats, customizable chat widgets, canned responses, pre-chat forms, file sharing, and chatbots to improve customer interactions and support.
The forever-free plan eliminates the financial barrier for small businesses to adopt live chat software and helps them improve response times, customer satisfaction, and sales without any upfront investment.
The plan also ensures businesses provide the best possible support and eliminates problems such as delayed responses, missed leads, and poor customer experiences. ProProfs Chat's forever free Plan is a game-changer for businesses seeking to enhance the customer support experience.
Live Chat Software for Free: Why Do You Need It?
Live chat software is essential for businesses that want to provide fast and convenient customer support. Customers expect immediate assistance when encountering problems or having questions about a product or service. Live chat software enables businesses to meet those expectations by providing real-time communication.
Free live chat software can be especially beneficial for small businesses and startups that may not have the budget to invest in expensive customer service solutions. By using a free tool, these businesses can still provide high-quality customer support without having to spend a lot of money.
Moreover, live chat software often includes a range of features such as canned responses, chat history, and real-time visitor monitoring. These features can help businesses streamline their customer support process, improve response times, and increase customer satisfaction.
Additionally, free live chat software can be used by businesses of any size and industry, from e-commerce stores to healthcare providers. It enables businesses to offer personalized customer support and build long-term relationships with them, ultimately leading to increased sales and customer loyalty.
What is Included in the Free ProProfs Chat Plan?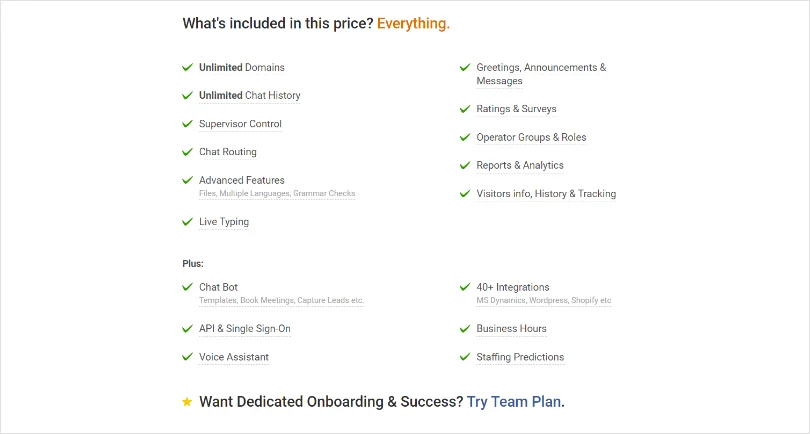 Following are some of the key features that ProProfs Chat's free plan offers:–
1. Unlimited chats
The free ProProfs Chat plan offers unlimited chats with your website visitors, prospects, and customers. This means you can connect with as many people as you want without restrictions on the number of chats or chat duration. This feature is particularly useful for small businesses or startups looking to engage with their customers without incurring additional costs.
2. Operator
The forever-free plan allows only a single operator or agent to handle chats. The operator is responsible for communicating with visitors and answering their questions. Even with the free plan, your operator can handle multiple chats simultaneously. You can upgrade to a paid plan to add more operators to handle chats.
3. Customization
ProProfs Chat offers customization options to modify your chat widget's color and text according to your website's visual aesthetics. Moreover, you can even customize the welcome message to make it more personalized. This helps with brand consistency and provides a professional look and feel to your chat widget.
4. Pre-Chat Form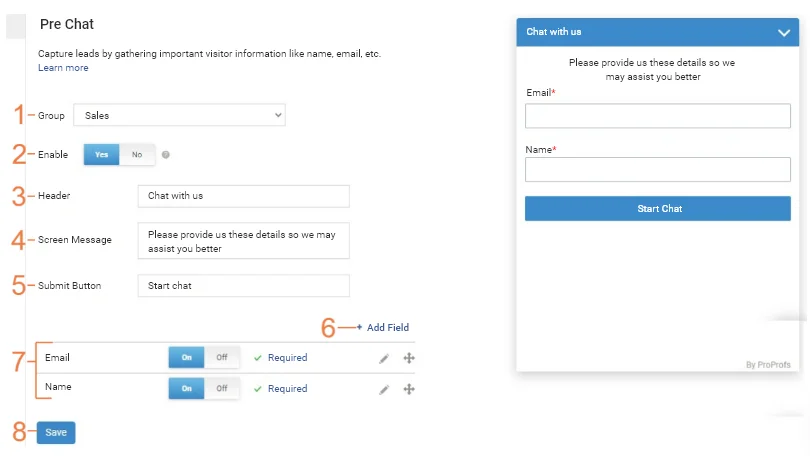 Pre-chat forms allow you to ask visitors to fill out a form before they start a chat session. You can customize the pre-chat form to ask any specific questions that you want to know about your visitors, such as their name, email address, and reason for contacting you. This can help you collect important information and provide more personalized customer support.
5. Canned Responses
Canned responses are pre-written messages that you can use to answer common questions quickly. With ProProfs Chat's free plan, you can save canned responses to send error-free replies and build customer confidence. This feature also helps you save standard responses as templates to save your operators' time and manage multiple chats simultaneously.
6. Chat Transcripts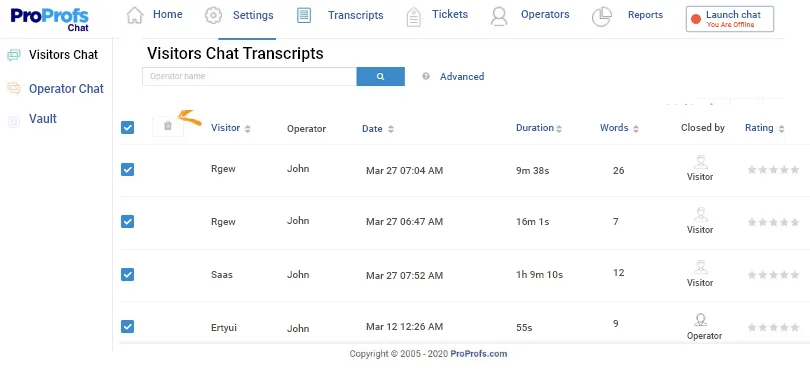 Chat transcripts let you access previous customer conversations. With the free plan, you can access chat history for up to 30 days. This feature can help you keep track of previous interactions and provide better support to your customers, as you can quickly refer to past conversations to understand their needs.
7. Chat Ratings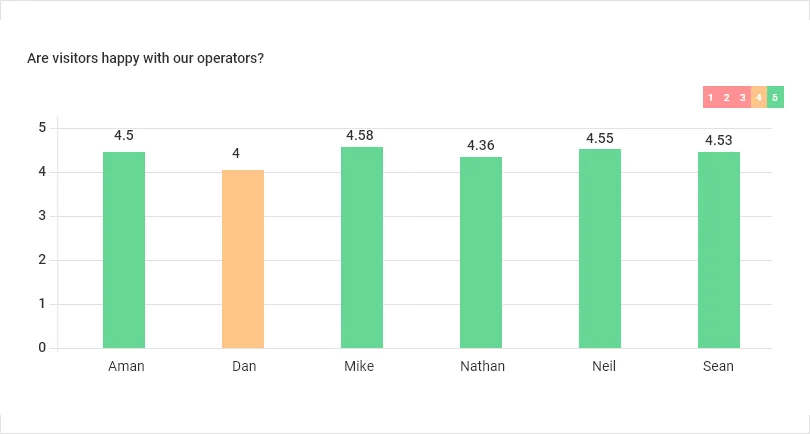 The chat rating feature allows you to collect customer feedback using an automated survey. After a chat session ends, customers can rate the quality of the chat interaction on a scale of 1-5. This helps you understand how well your operators are performing and identify areas for improvement in your customer support.
8. Integration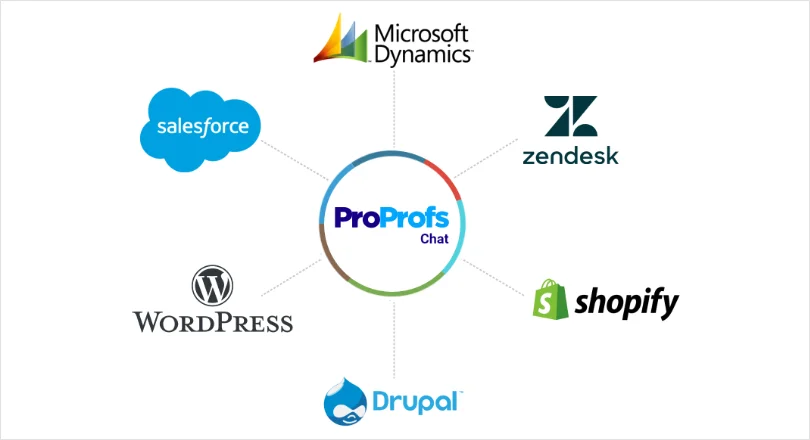 ProProfs Chat offers over 40 integrations with various other tools, including Google Analytics, Salesforce, and more. You can integrate up to 2 other tools with the free plan. Integrations allow you to track chat metrics and provide a better customer experience by syncing your chat data with other business tools.
How to Add Proprofs Free Live Chat Software to Your Website
You can add live chat to your website using ProProfs Chat in simple steps. Adding live chat can help you offer quick responses, engage customers proactively, and boost lead generation.
ProProfs Chat can be added in two ways:
Using Code Snippet
Using Google Tag Manager
How to Install Live Chat Using Code Snippet
Step 1: Go to your ProProfs Chat Account and navigate Settings > Channels > Website. Copy and paste the code snippet before the tag on your web page editor.

Step 2: If you prefer, you can choose to send instructions to your developers by selecting the option "Mail Instructions".
Step 3: Type the recipient's name, subject, and instructions in the message box. Hit Send when your message is ready.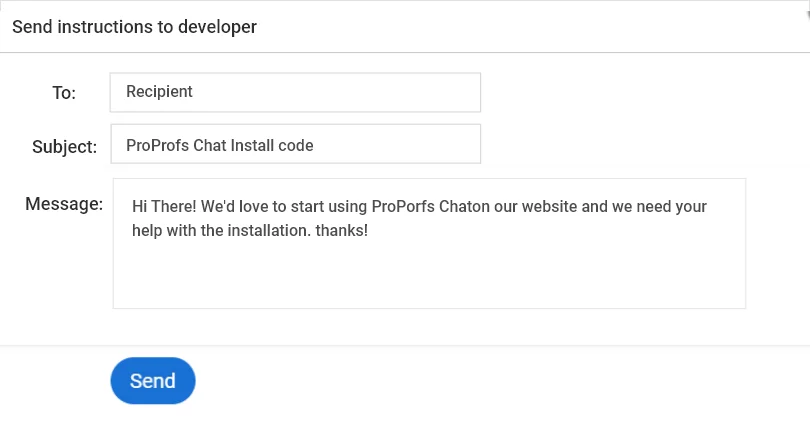 How to Install Live Chat via Google Tag Manager
Step 1: Click 'Install Chat' on the dashboard or go to Settings >> Channels >> Website.
Step 2: Select Install via Google Tag Manager.
Step 3: A Google Sign-In popup opens. Fill in the details of your Google Tag Manager (GTM) account.
Step 4: You will get an 'Installed' message upon finishing.
That's all about installing Live Chat on your website.
Get Your Hands on This Forever-Free Software Now!
If you're looking to enhance your customer support experience, ProProfs Chat's forever-free plan is an excellent option to kickstart your journey. The plan offers a full suite of features, including unlimited chats at no cost.
You can use ProProfs Chat to streamline your support workflows, reduce response times, and increase customer satisfaction, without any upfront investment.
Additionally, ProProfs Chat's paid plans offer advanced features that can help you take your customer support to the next level. From visitor tracking to multiple integrations with popular CRMs and Help Desks, ProProfs Chat has everything you need to provide the best possible experience to your customers.
So why not give ProProfs Chat a try? Get started today!
FAQs on Free Live Chat Software
Do you want a free Live Chat software?
We have the #1 Online Live Chat Software for instant customer support 24x7