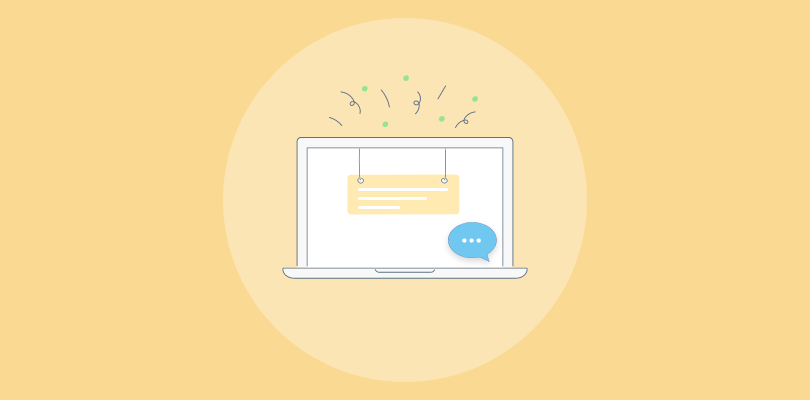 Did you know that 79% of customers prefer live chat for its instant support?
But here's the catch: the success of live chat doesn't just depend on its speed; it hinges on that very first message that pops up on your customer's screen.
In the bustling world of online business, first impressions are everything. A well-crafted live chat welcome message can make a difference between a visitor staying or leaving, converting or bouncing, becoming a loyal customer, or a lost opportunity.
In this blog post, we will show you 40 examples of effective live chat welcome messages for different scenarios and industries.
What is a Live Chat Welcome Message?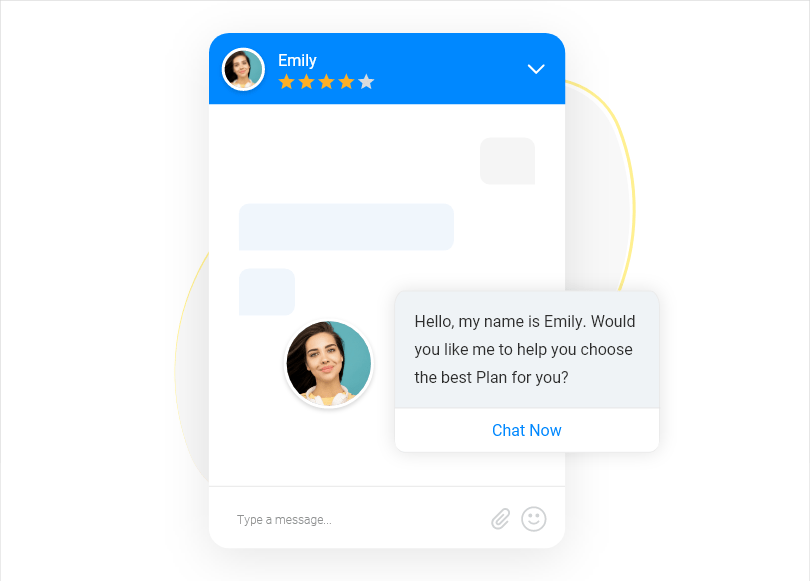 A live chat welcome message is an automated or pre-written greeting that appears when a website visitor initiates a conversation or enters a live chat session with a company or service provider.
It is the first message the visitor sees upon entering the chat interface, and its purpose is to greet the user and establish a friendly and welcoming tone for the conversation.
But what difference can a welcome message make?
Picture this: you've landed on a website, and suddenly, a friendly message pops up on your screen. It's not just some boring, automated text; it's the digital equivalent of a big smile and a firm handshake.
So, without any further ado, let's get down to business.
40 Examples of Innovative Live Chat Welcome Messages
Here are the 40 best website welcome message examples for your reference. You can customize these greetings based on your specific needs and be on the way to delighting visitors as soon as they come to your business.
Live Chat Greetings for General Purposes
Hi <visitor's name>! Thank you for visiting our website. How can I assist you today?
<Product Demo>
<Billing>
<Support>
We are delighted to see you here. Please let us know what we can do to make your experience even better.
<Product Demo>
<Billing>
<Support>
Hi! Happy to see you here. Would you be interested in finding out more about [company name/product]?
Hi! Waiting for your order to arrive? Let us know your order number, and we'll provide you with real-time shipping updates.
Hello! We noticed you left something behind. Don't worry; we've saved your cart for you. Come back and check out before the items run out of stock.
Hello! Want to hear about real-life success stories from our satisfied customers? We're happy to share some inspiring tales with you.
Live Chat Greetings for Lead Generation
Hi! Looking for the best hotels for your trip🛫🏨? We're here to help. Leave your email address and phone number below, and we'll reach out with the best deals!
Welcome! We'd love to connect with you and share our latest updates. Drop your email, and let's get started.
Hello there! If you require any information, kindly drop us a message along with your name and email. Our dedicated support team will be in touch with you shortly🙂.
📚🔥 Hi! Discover more captivating content! You're halfway through our article on [Current Article Category], and we've got even more insights to share. 🚀 Subscribe to our newsletter for an exclusive dose of articles to keep you engaged from start to finish! 💌📰
Live Chat Greetings for Targeting
Hi! We saw you browsing our pricing page. Do you need assistance with choosing a suitable pricing plan? Feel free to ask any questions.
We're happy that you're back! 🙂 Can we help you with any specific information?
Back for more awesomeness🙋? We're excited to have you return to [Your Website Name]😁. If there's anything you're curious about, just let us know.
Hello again! We're thrilled that you've returned. Is there anything specific you'd like to know more about this time?
Greetings from [company name]! We're thrilled to have customers from all around the world. How can we assist you today?
Live Chat Greeting for Special Offers
Hey! You just got lucky. Get a 20% discount on your next purchase. Use the code [code]. Don't miss out!
Welcome! We have a surprise offer waiting for you. Shop now and get a complimentary gift with your purchase.
Hey! The season of giving is here, and we have the perfect deals for you. Take a look at our seasonal promotions and spread some cheer.
Celebrate the changing seasons with our exclusive promotions and deals🎉🥳. Make the most of this time with us!
Live Chat Greetings for the Unavailability
Hi there! We are currently experiencing high chat volume😥, but we'll do our best to get back to you as soon as possible😊. In the meantime, feel free to explore our FAQs for quick answers.
Greetings! We apologize for the wait. Our team is working hard to attend to all inquiries. Your chat will be picked up shortly.
Hi there! We apologize for the inconvenience🥲. Our team is currently unavailable. Please leave your question or concern, and we'll respond when we're back online.
Live Chat Greetings for First-Time Visitors
Hello! Thank you for stopping by😁. Let us know how we can make your first visit with us a memorable one.
Welcome! Exploring our website for the first time? Let us be your guide to discovering everything we have to offer.
Greetings! 🌼 You've found your way to us. How can we be of service today?
Live Chat Greetings for Scheduling Appointment & Demos
Hi! Are you looking to book an appointment with us today? Pick a date from the calendar below, and we will schedule your visit at your convenience.
Hello. Welcome to [Your business name]. We would be delighted to help you learn more about our products. <Talk to Us> <Book a Demo> Let us know your preferred time, and we'll arrange a personalized demo.
Good day! We're here to help you find the most convenient appointment slot. What's your preferred date?
Hi there! Would you like to see our product in action? Schedule a live demo, and we'll showcase all its amazing features.
Hello! Curious about how our product works? We'd love to walk you through a live demonstration to show you its capabilities. Let's schedule your demo!
Live Chat Greetings for Product Comparisons
Hi! Considering different options? We can help! Let us know which products you're interested in, and we'll provide a detailed comparison to assist you in making the right choice.
Hello! Unsure which product best suits your needs? We're here to help you compare features and benefits to find the perfect fit.
Live Chat Greetings for Personalized Recommendations
Hey [Visitor's Name]! We understand your taste. Here are some items that match your previous selections. Have a look!
Hi [Visitor's Name]! Want to discover new products tailored to your interests? Check out these personalized recommendations just for you🙌😘.
Hi [Visitor's Name]! Looking for something new? We have some amazing products that you might like. Check out our curated list of recommendations based on your preferences.
Hello[Visitor's Name]! Need some inspiration🤔? We have some great suggestions for you. Browse our collection of best-selling products and discover what others love.
Hi traveler! Planning your trip? Let us assist you in finding the perfect hotel! 🏨✈️ Simply provide your contact details, and we'll offer personalized deals!
Live Chat Greetings for Upcoming Events
Hi there! Get ready for an unforgettable experience. Reserve your seat for our upcoming event today.
Greetings! Our events are a highlight you don't want to miss. Secure your spot, and let's make memories together.
📣 Welcome, welcome! [Event Name] is live now. Prepare to connect, engage, and enjoy every moment with us.
5 Live Chat Strategies for a Good Customer Experience [With Bonus Tips]
Now that you've seen examples of effective live chat welcome messages, let's look at some strategies for responding to incoming chats from your visitors.
1. Set up Automated Greetings Using a Chatbot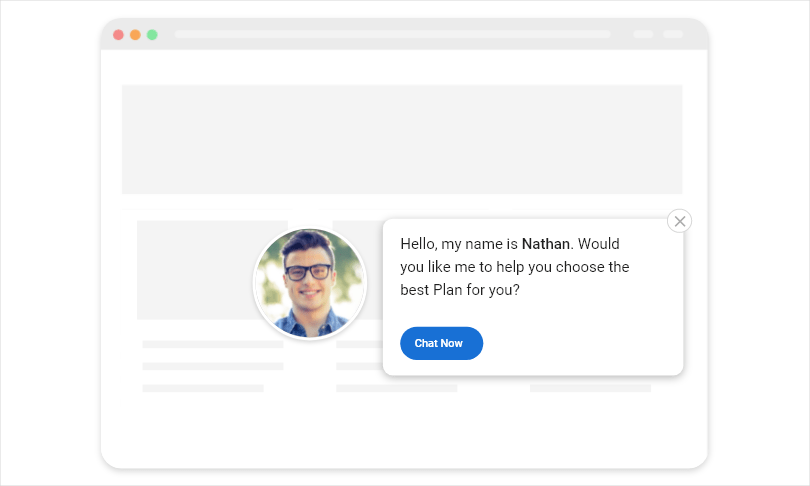 During office hours, you can employ automated greetings on your website to instantly respond to customers. These greetings can offer a warm welcome, provide information about ongoing promotions, and direct customers to relevant sections.
With chat automation, you can enhance customer experience, reduce your first-response time, streamline inquiries, and ensure proactive support.
Besides the support during office hours, Chatbots can help you provide 24/7 support to your visitors and reduce the workload of your live chat agents.
You can use chatbots to answer simple and repetitive questions, provide website demos, collect feedback, schedule appointments, etc. You can also use chatbots to escalate complex or urgent issues to human agents when available.
2. Use Canned Responses to Reduce Agent Workload
Canned responses are pre-written messages you can use to answer common questions or requests from your visitors. These responses help you save time and effort and ensure consistency and accuracy in your responses.
You can create canned responses for different scenarios and categories, such as greetings, FAQs, product information, pricing details, etc. You can easily personalize these responses by adding variables, such as the visitor's name, location, browser, etc.
3. Chat Routing to Direct Problems to Subject-Matter Experts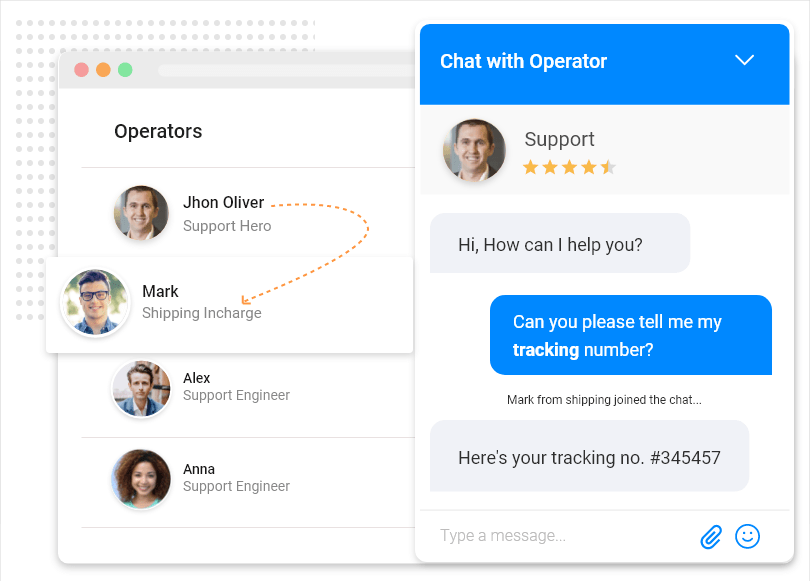 Chat routing allows you to transfer a chat session to another agent or department that can better handle the visitor's query. It can help you improve customer satisfaction and resolution rates by providing the best possible service to your visitors.
You can use chat transfer when you are busy, unavailable, or unable to answer a question or solve a problem. You should always inform your visitor before transferring the chat and introduce them to the department taking over.
4. Leverage Pre-Chat Forms for Post-Business-Hour Support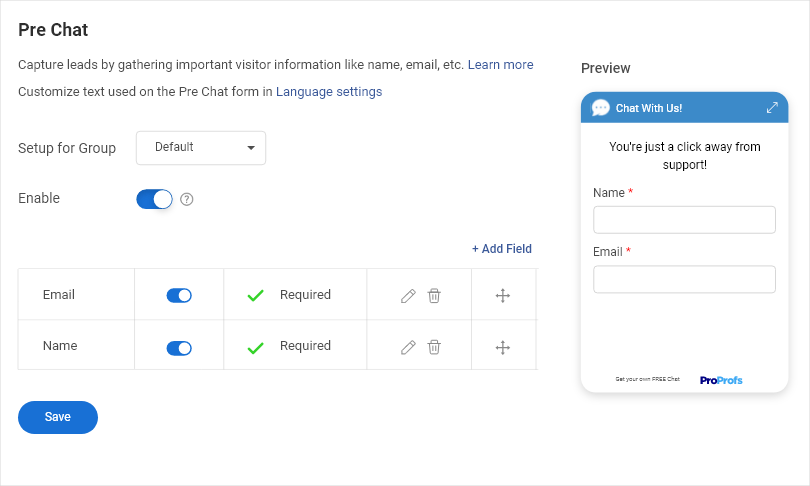 A pre-chat form assists in addressing customers' inquiries even after office hours. These forms enable efficient follow-up once the team is back online by capturing essential details such as contact information and the nature of their query.
5. Send Follow-Ups Through Emails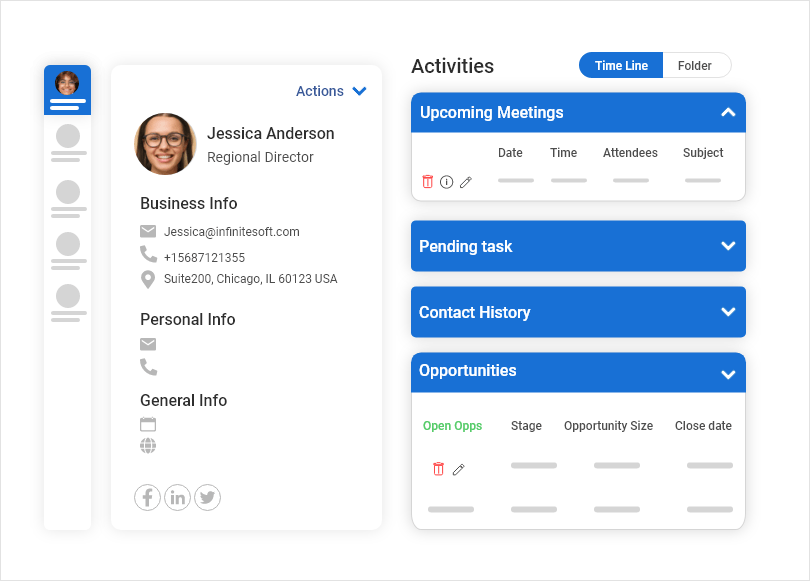 You can send emails to follow up when a visitor leaves a message on your offline form or chatbot. These emails keep you updated on incoming chats so you can respond to them immediately. You can also use CRM software like BIGContacts to send automated emails to your visitors.
Here are some more tips to keep in mind: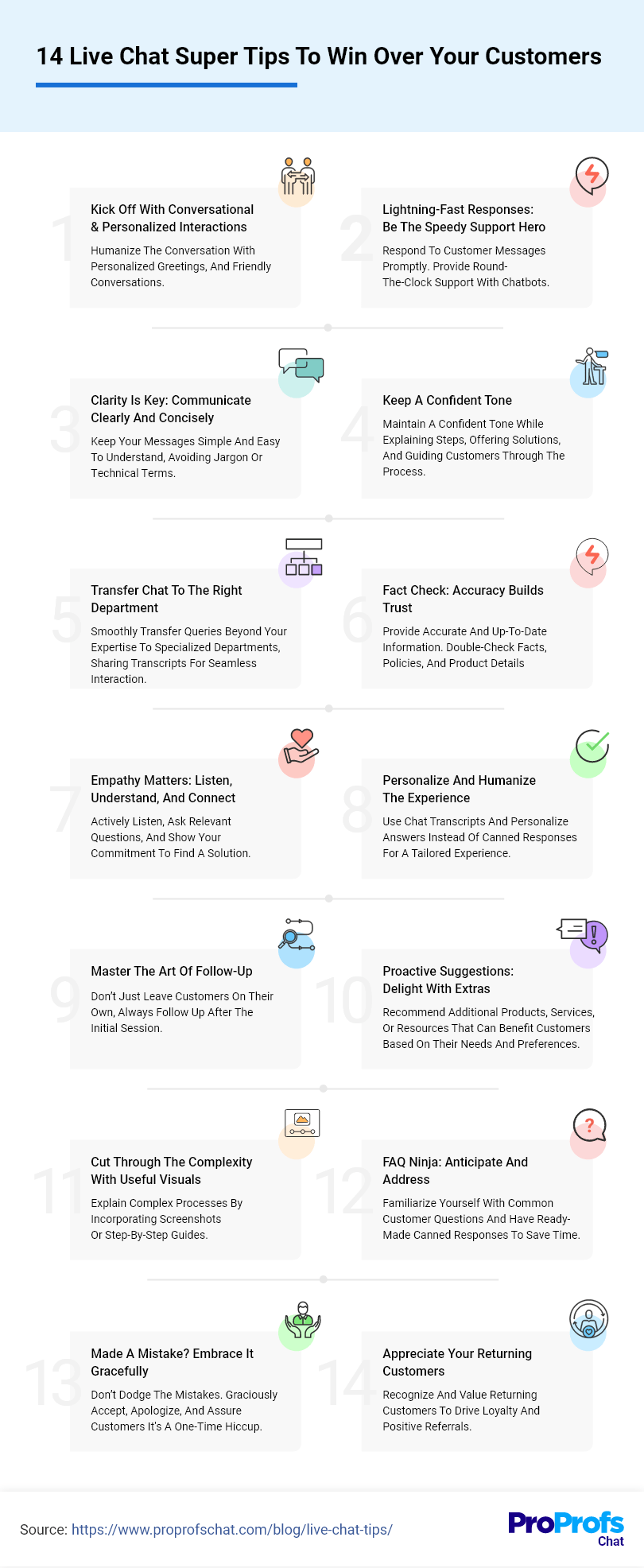 If you wish to learn about these live chat tips in detail, read our detailed blog on 14 effective live chat tips.
How to Customize Live Chat Welcome Messages in ProProfs Chat
An effective live chat software can help you customize your welcome message. You can easily enable and customize live chat greetings in ProProfs Live Chat. The tool lets you create greetings, choose from pre-designed templates, set up their frequency, and customize the greetings.
It allows you to welcome visitors based on their preferences and behavior. Setting up a live chat with an automated greeting can also reduce time and effort, allowing your support executives to focus on more critical tickets.
This live chat solution also lets you:
Choose a chat status for launching greetings
Enable sound notifications
Define triggers for greetings to pop up
Tailor the language and tone of your greetings
These and several other settings from ProProfs Chat help you craft perfect messages that capture visitors' attention.
Watch this video to learn more about customizing your live chat window using ProProfs Live Chat: How to Customize Your Live Chat Window
Win Customers' Hearts From the Beginning
The quality of your first customer interaction sets the foundation for your relationship with them. So, strike a conversation that yields positive business outcomes by employing these 40 impressive live chat greetings.
You can choose a greeting that suits your purpose and customize it according to your target audience and business needs. Another trick is to A/B test message variations to find the greetings that work with your audience.
Once you have a live chat welcome message ready, deploy it using a powerful live chat software. It will help you nudge your visitors in the right direction and boost your sales.
Frequently Asked Questions (FAQs)
1. What is the Difference Between Proactive and Reactive Live Chat Messages?
You initiate proactive live chat messages without waiting for visitors to start the conversation. These messages are usually sent based on specific triggers or rules that indicate the behavior or intent of your visitors.
For example, you can send a proactive chat message when a visitor views a specific page, abandons their cart, or shows signs of confusion or frustration.
Reactive live chat messages are initiated by visitors who request a real-time chat with you or your agents. These live chat messages are usually sent in response to your visitors' queries or issues.
For example, you can send a reactive chat message when a visitor asks a question, reports a problem, or requests more information.
2. What Are the Key Elements of a High-Converting Welcome Message?
These are some of the key elements of a high-converting welcome message:
Timing: Send the welcome message immediately upon a user's arrival.
Clarity: Use simple language and a clear value proposition.
Visual Appeal: Include eye-catching design and relevant visuals.
Personalization: Address users by name and tailor the message to their interests.
Strategic CTAs: Include compelling call-to-action to encourage further engagement.
3. How a Well-Crafted Welcome Message Can Positively Impact Customer Engagement and Conversion Rates?
A well-crafted welcome message can boost customer engagement by making a positive first impression, increasing the likelihood of user interaction and retention. Additionally, it can enhance conversion rates by guiding users towards desired actions and showcasing the value of your product or service.
4. How Can I Analyze the Performance of My Live Chat Welcome Messages?
Monitor metrics like response time, engagement rates, conversion rates, and customer feedback to assess the performance of live chat welcome messages. Analyzing these data points will help you identify strengths and areas for improvement.
5. What Is the Difference Between Targeted Messages and Welcome Messages?
Targeted messages are triggered by specific conditions or events that indicate the interest or intent of your visitors.
The purpose of targeted messages is to provide relevant and personalized information, offers, or recommendations that match the needs and preferences of your visitors.
Welcome messages are displayed when a visitor lands on your website for the first time or after a certain period of inactivity.
The purpose of welcome messages is to greet your visitors, introduce your brand and value proposition, and invite them to take general action, such as exploring your website, subscribing to your newsletter, or starting a chat.
Do you want a free Live Chat software?
We have the #1 Online Live Chat Software for instant customer support 24x7