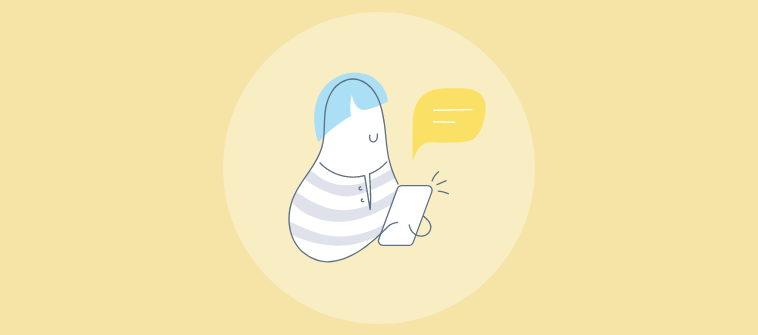 "You never get a second chance to make a first impression." – Will Rogers
Do your support executives find it difficult to break the ice with customers?
It's a pretty common issue, so you're not alone in this.
A fundamental objective of installing a live chat tool is to be ever-ready to deliver support solutions and improve customer experience. So undoubtedly, this experience has to be optimized from the get-go.
But how do you accomplish this? Simple- by improving your live chat welcome message.
Personalized chat invitations can do a lot for your business- from delivering more satisfactory visitor experiences to contributing to an improvement in your business's bottom line.
We bring to you 18 chat greeting examples that can be used on your live chat system. Pick the most suitable out of these and drive more meaningful conversations.
What Is a Live Chat Welcome Message?
A live chat welcome message is the first point of interaction between your business and your website or app visitors. These automated greetings are a means of directly communicating with the incoming prospects and engaging in a successful conversation with them.
Simply put, live chat welcome message is the first message that visitors see when they open your chat window. However, they are more than just a way to say hello to your customers. These greetings also let you form a long-lasting impression on visitors that can translate into highly productive business outcomes.
Live chat greetings could either be delivered as soon as the visitors reach your website or app, after a stipulated amount of time, or only when they initiate a conversation.
How Can Live Chat Welcome Messages Benefit Your Business
The global live chat software market is expected to grow to $987.3 million by 2023.
The reason behind such widespread popularity of live chat is the ability to engage with customers instantly. This makes for more satisfactory interactions and helps you gain customer trust and loyalty.
Put yourself in the client's shoes and compare two businesses- one that promptly welcomes the visitor to the website and offers them assistance while the other makes no such endeavor.
Which one are you more likely to trust?
Undoubtedly, the first one. And rightfully so!
A first-time visitor only has so much time and a limited attention span to form an impression of your business. And this impression is bound to stick with them for time to come. This is why you must provide them with a reliable chat experience right from the get-go.
---
Read More: 7 Welcome Email Templates to Nurture New Clients
---
Here are some significant benefits of optimizing your live chat welcome messages:
Enhance Visitor Experience
Live chat greetings provide you with an opportunity to make visitors feel valued. By personalizing the initial interaction with visitors, you can pave the way for a long and profitable business relationship.
A business welcome message can help you generate leads and nudge them in the right direction to grow your conversions. Automated live chat messages can facilitate better conversations with visitors, thereby increasing your probability of converting them.
Encourage Visitors to Engage
Greetings are the perfect way to elicit the right response from the visitor and engage in a meaningful conversation. They let you take a proactive approach to customer engagement and create more satisfactory experiences for visitors.
You can automate the live chat greeting to ensure that your customers are welcomed to your website, even if you are out of the office. This ensures that the visitors do not feel ignored when they visit your website.
Live chat greetings can be altered according to the audience that you wish to target. You can define triggers such as time spent on the page, scroll percentage, URL, repeat visits, etc., to deliver custom online greetings.
Why Should You Improve the Live Chat Welcome Message
Before we get into more details about welcome messages for websites, let's get one thing out of the way-
Why is it important to optimize your welcome message?
As a business, you do everything in your power to stand out. And your initial interactions are a cornerstone of this experience. They can act as a differentiating element for your business, helping enhance the user experience on your website or app.
Wondering how to do this?
Here are some tips to help perfect your live chat welcome messages:
Avoid vague and ambiguous information. Be specific and offer clarity to the visitors.
Use a human-like tone in your messages. Make sure that the visitors do not feel that they are engaging with an automated system.
Add a personal touch to your welcome greeting message. This can help evoke emotions and increase your chances of getting a favorable response.
Offer suggested answers to your questions.
Make the message actionable and include CTAs. Use phrases such as "Discover," "Get in touch," etc.
---
Read More: How to Chat With Customers Online: 9 Effective Tips for Customer Support
---
Proactive vs. Reactive Greetings
Another critical factor when considering how to greet someone in chat is picking the right time.
Being too quick may not give your visitor enough time to explore your website or app. Wait for too long when greeting customers, and you may end up losing them.
Therefore, you must identify the appropriate time when the visitor is ready to engage with you. To understand this better, let's take a look at the two types of greetings that you can set up based on the time when they are delivered.
These include-
1. Proactive messages
2. Reactive messages
As evident from their names, proactive welcome greetings are delivered before a visitor interacts with you, while reactive greetings are delivered after the visitor initiates the conversation.
Proactive messages help businesses let visitors know that support agents are willing and available to help them if required. Reactive messages, on the other hand, can be delivered based on triggers, assuring the visitors that their query is being looked into.
You can choose between proactive and reactive greetings based on the user's needs and the scope of your live chat solution. In the next section, we list examples of both proactive and reactive live chat greetings.
---
Read More: A Quick Guide to Set Up Proactive Live Chat
---
18 Best Live Chat Welcome Message Examples
Here are 18 best website welcome message examples for your reference. You can customize these greetings based on your specific needs and be on the way to delighting visitors as soon as they come to your business.
Live chat greetings for general purpose
Demonstrate your willingness to help the visitors with these general greetings.
Hi there! Thank you for visiting our website. How can I help you today?
Happy to see you here. Would you be interested in finding out more about [company name/product]?
We are delighted to see you here. Please let us know what we can do to make your experience more comfortable. <Product Demo> <Billing> <Support>
Live chat greetings for lead generation
Convert incoming visitors into leads using these welcome messages.
Hello there. We're glad to have you with us. Please provide us with your email address, and one of our representatives will connect with you.
Hi! Looking for the best product for your needs? We're here to help. Leave your email address and phone number below to receive personalized recommendations.
Live chat greetings for targeting
Offer personalized support to your clients with these greetings.
Hi! Are you looking to improve your performance as a marketing professional? Check out our handbook on the best marketing strategies. Get a copy now!
We saw you browsing our pricing page. Do you need assistance with choosing a suitable pricing plan?
Live chat greeting for offers
Enhance engagement with exciting offers and discounts.
Hey! You just got lucky. Get a 20% off on your next purchase. Use the code [code].
We appreciate you choosing us. Here's a free [product] with your next purchase. Order now.
Live chat greetings for support
Guide your customers to relevant help resources with these greetings.
Hi, thank you for your message. Our support team will review your request and get back to you within 24 hours.
Hello, thank you for showing interest in improving our services. Our support team will connect you with soon.
Interested in what you see here? There's a lot more where this comes from. Check out our help section for more information.
Live chat greetings for unavailability
Use these greetings when you are out of the office or dealing with a surge in chat volume.
Thank you for reaching out to us. You are currently at [X] in the queue. Please wait for one of our support champions to become available.
Hi there! We are currently closed and will respond to your query within 24 hours. Till then, feel free to check out our website.
Live chat greetings for repeat visitors
Welcome users who are revisiting your website.
Glad to have you back. Do you need help with something specific?
Welcome back! How can we assist you today?
Live chat greetings for appointment scheduling
Cut down the time it takes for clients to schedule an appointment with your business.
Hi! Are you looking to book an appointment with us today? Pick a date from the calendar below, and we will schedule your visit.
Hello. Welcome to [business name]. We would be delighted to help you learn more about our products. <Talk to Us> <Book a Demo>
How to Customize Live Chat Welcome Messages in ProProfs Chat
Now that you have looked at the best live chat welcome message examples, let's focus on how you can deliver these greetings to your customers.
An effective live chat software can help you customize your welcome message. Setting up a live chat with an automated greeting can reduce a significant amount of time and effort, helping your support executives focus on more important tickets.
You can easily enable and customize live chat greetings in ProProfs Live Chat. The tool lets you create greetings, choose from pre-designed templates, set up the frequency, and change the appearance of the greetings. This allows you to welcome visitors based on their preferences and behavior.

This live chat solution also lets you:
Choose a chat status for launching greetings
Enable sound notifications
Define triggers for greetings to pop up
These and several other settings that ProProfs Live Chat offers can help you craft the perfect message that captures the attention of visitors and empowers you to engage in a promising conversation with them.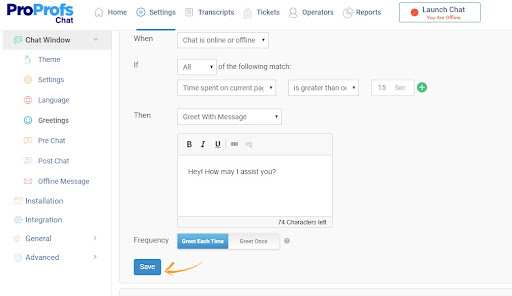 Watch this video to learn more about customizing your live chat window using ProProfs Live Chat:
Engage the Right Way From the Beginning
The quality of your first interaction with customers sets the foundation for the relationship you will have with them.
Strike a conversation that yields positive business outcomes by choosing from the 18 impressive live chat greetings mentioned above. Choose a greeting that suits your purpose and customize it according to your target audience and business needs. You can also A/B test variations of the message to find the most suitable greeting.
Once you have a live chat welcome message ready, deploy it using powerful live chat software. This will help you nudge your visitors in the right direction and boost your sales.
Do you want a free Live Chat software?
We have the #1 Online Live Chat Software for instant customer support 24x7