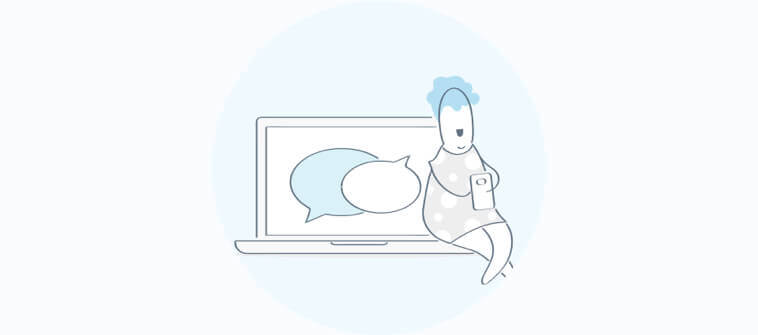 Imagine being in your customers' shoes.
You've landed on the website due to a certain search query and find the product you need. You add it to the cart and are ready to check out. But the moment you reach the checkout page, you realize that you don't have an account and are requested to sign up now.
As you click on the sign up process, you realize that the form is quite a journey in itself. It's asking for too much information and that's making you impatient.
This prompts you to start looking for support. You want someone to help you answer the sign up process questions faster and leave with the desired product. Unfortunately, you don't find help for a few minutes and ultimately leave the website.
That my friend is a tale of bad customer experience.
As a business owner, understand that customers don't just wish to buy a product and leave. They want a good experience too.
"67% of customers expressed how good customer experience encourages them to stay longer or spend more money."
Shep Hyken
Tweet this
And if you fail to engage your customers during their time on your website, then there is a possibility that they won't return either.
In the situation above, I'd say you can initiate an instant conversation that:
Engage customers
Answer their questions
Enable yourself to complete their journey with your brand
And one tool that helps you conduct consistent communication and simplify customer journey is live chat.
Let's find out different areas where live chat can help your business optimize customer journey efficiently.
5 Ways to Optimize Customer Journeys Using Live Chat
1. Monitor Visitors & Personalize Conversations
Having insights into how customers initiated their journey with your brand is a great starting point to personalize conversations. Monitoring their user behavior on the website is the best way to achieve this.
While Google Analytics can help you access such data once collected over a certain time period, live chat gives you insight on real-time customer behavior.
You can check out all the pages a visitor browsed on your website and the time they spent on each page.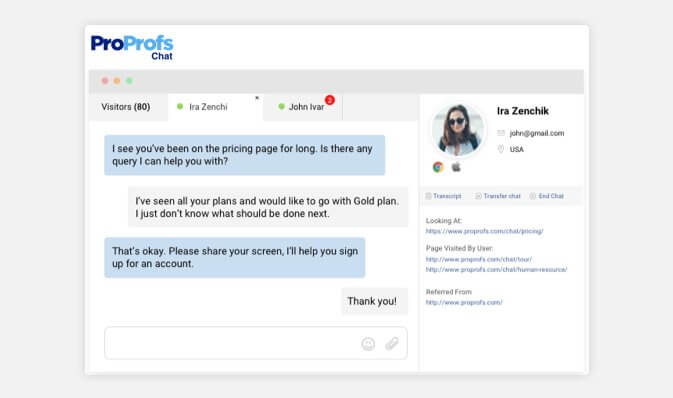 Visitor monitoring window will give operators two perspectives to base a conversation with the customers:
Is the visitor a potential lead for the business?
Have they found what they were looking for?
These questions will help your operators to decide whether they should initiate a conversation with a visitor or not.
More than 80% of customers seek immediate response for sales or marketing questions. But this number rises up to 90% when their question is solely about sales.
While not all customers may respond to a proactive chat message, some may show the willingness to get an answer for their ongoing dilemma.
That's when the use of live chat software can help your operators direct visitors in the right direction.
With the use of proactive chat greetings, you can:
Enable your operators to initiate a conversation and engage customers with personalized messages/greetings
Create a virtual in-store experience for your visitors and ask them if they need any assistance when browsing your website
Extend empathy towards your visitors who may feel lost on your website and let them know that you are there to help them at every step of the way
Capture qualified leads that are sure to convert into customers
Find more opportunities to increase conversions on your website
Takeaway:
Monitor visitor behavior and identify strategic moments to initiate a proactive conversation with them. It would help you get more opportunities for lead generation or even conversions.
2. Real-time Chat Sessions for Active Engagement
Do you know that over 50% of consumers who start their customer journey with AI are transferred to a live agent?
The statistics indicate how customers expect human touch along with instant, proactive buying experience.
One of the Hyken's blogs suggested that
"Once users become acquainted with chatting, they feel comfortable engaging with a brand using a live chat agent on its website."
Tweet this
In other words, customers would prefer interacting with a human who can offer empathy and solution over a bot.
That's because a conversation with chatbot would look something like this:
Do you notice how robotic the conversation reads?
That's certainly not the kind of conversation customers would like to have with your brand.
Takeaway:
Your customers do not prefer to have a real-time conversation with your online business just to get a solution instantly. They also seek empathy (one of the six pillars of customer experience excellence). They expect your business to understand their circumstances and work towards providing a solution in real-time. Thus, giving you all the more reason to optimize the customer journey using live chat.
3. 24X7 Support Services for Instant Resolutions
A very solid reason to use live chat for customer journey optimization is – 24X7 services.
Your customers can have an issue any time. That means you need to be prepared to answer their questions even if your operators aren't sitting online.
There are two ways to help you answer questions 24X7 for your customers using live chat on your website.
A. Integrate a Knowledge Base With Your Live Chat
It isn't necessary for your customers to have a conversation with your live chat operators every time they need help.
However, this doesn't imply that they should leave without a solution, especially those which do not require technical knowledge.
In that case, integrating your live chat with a knowledge base system could be a great solution.
There are various benefits you can enjoy once you integrate the two platforms:
Reducing chat tickets by up to 80% by showcasing relevant article links for the existing page in the chat widget
Answering frequently asked questions
Offering a self-service option to visitors who seek instant answers to their question
Watch: Benefits of Live Chat Integration With Knowledge Base 🙂
B. Add Offline Message Form
A customer's issues may arise irrespective of your business hours. However, make sure that they still get to share the issues that hamper their experience.
To ensure that your customers know that they can approach your business at any hour, it is crucial to add offline messages to your chat widget.
Offline Messages enable your customers to send you messages even when your chat is offline. These messages convert into tickets that your support team can reply to once they are back online. That means you never miss out a support opportunity.
Learn: How to Customize Offline Messages Window
C. Use Live Chat Mobile App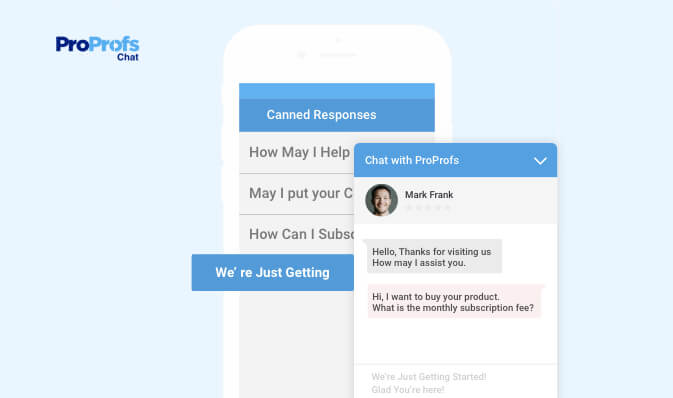 Another way to ensure your customers get timely responses for their questions is to make use of a live chat mobile app.
That means, operators won't be restricted to their work stations at all hours. They can answer questions anytime, anywhere.
Takeaway:
By taking these measures you ensure that your customers get round the clock services. It would help your business meet their expectation of instant response with human touch effectively.
Download ProProfs Live Chat Mobile App Here!
Read More: Delighting Your Customers On The Go Using Live Chat Mobile App
4. Live Chat Analytics to Better Understand Prospective Buyers
To know what your prospective buyers really think, you need a tool that helps you capture their feedback efficiently. For that, we do have some effective user experience software solutions like Qualaroo. They help you understand whether the information provided on the website was helpful for the visitors or not.
While user feedback can help you understand the current expectations of your customers, live chat reports would offer insights on prospective buyers and how to conduct future conversations with them (in case they return).
After working with the live chat tool myself, I realized that it can help businesses understand the prospective buyer and their intentions for the future. With live chat analytics reports, you get an insight on buyers intent, their likes and dislikes, their opinion on how the support process was for them, and more.
Besides getting feedback through chat ratings helps you improve your services for future support processes, you also learn to identify user behavior on the website.
You get access to user browsing patterns. These will help your business plan better strategies on keeping your customers engaged with the brand online. That means you can work on converting most customer journeys into successful conversions with the use of live chat software.
Takeaway:
To better understand your prospective customers, it is important to look into their feedback, their browsing patterns, and ratings first. These live chat analytics will enable you to improve upcoming customer journeys with your brand.
5. Seamless Customer Onboarding Experience
So far we've understood that live chat:
Increases brand awareness
Increases brand loyalty
But a lot of businesses have noticed that live chat can help to onboard customers. Your operators can answer questions related to:
Product purchase
Subscription upgrades
Resolve basic workflow problems
Answering these questions fast will help them get more customers onboard with your services and brand. However, they need to make sure that onboarding with live chat is only possible if they use it to:
Intervene at the right time
Identify the problem your customer is facing
Search for a convenient solution and ensure it is delivered at the same time
Educate other team members on how they too can opt for the same approach to get more customers onboard
Takeaway:
Customer onboarding may seem like a challenge. But as you start providing live chat support across the entire customer journey, you'll realize that operators can come across various opportunities to complete a customer onboarding process successfully.
Sign Me Up for Free ProProfs Live Chat Account!
5 Scenarios to Implement Live Chat Throughout Customer Journey
In the previous section, we covered how you can optimize customer journey using live chat. Now, let's take a look at some of the common scenarios where you can implement live chat throughout the customer journey that ultimately results in conversions and delighted customers.
1. Webinar Registrations
A customer's journey not only accounts for their investment towards your tools or services but also after it. Their journey also comprises ways through which they can make the most out of your services or products.
To help them drive towards success with your tools, you can initiate a webinar and draw their attention towards educational content.
Use the Announcement feature to inform customers that you've scheduled a webinar for them. Give a brief on what the webinar is about and what they'll get as an outcome. Do add the sign up button so they are redirected to the webinar registration page. You can also use the live chat to outline the benefits of attending the particular webinar and help customers secure a registration.
2. Win-back Customers
You can also win back your customers using live chat software!
There could be various occasions when operators come across lapsed customers. Well, live chat does make it easier for them to identify such customers in real-time. It also helps them to see their history with the brand and how far they've come with the brand.
That's when they can see how long it has been for the customer to have made a purchase in a while. If the customer hasn't made a purchase or it's been a while, the operator could make use of live chat software to give special discounts to returning customers.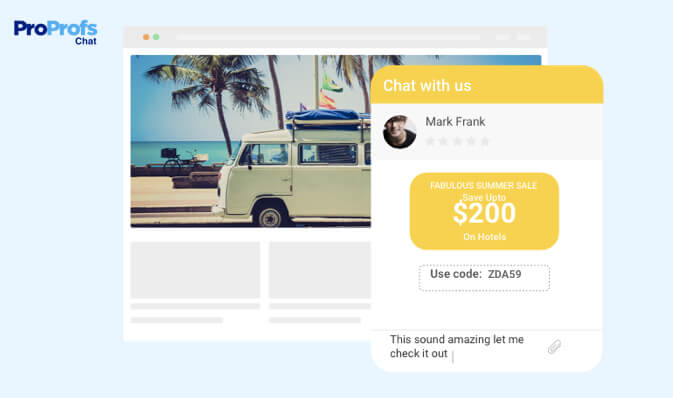 This will help the operator spark a new interest for the customer towards your brand again and eventually help you win back the customer.
3. Book a Demo
There's no doubt that constant real-time interaction can bring conversions. It helps to answer customer questions and remove buying objections. And, this results in a more confident purchase, this is proven by the fact that live chat increases conversions by 20%.
To help your confident customer build trust towards your brand, make sure you are always there to help and assist them. Ask your operators to schedule a demo of the product or service when having a conversation with the customer. This will highlight your willingness to help them find a solution and whether it meets their expectations.
4. Newsletter Subscriptions
Not all visitors can convert on your website.
But that doesn't stop you trying.
If a visitor cannot settle with your services, how about creating a chance for them to subscribe to your newsletter?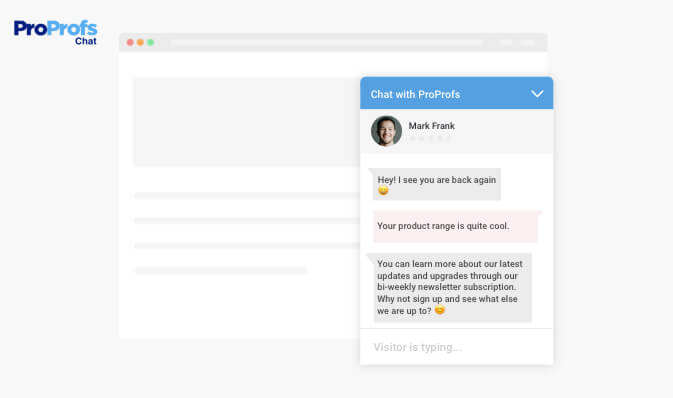 Although this is relevant in case of returning customers who keep viewing your content but do not take action. During their chat, operators can suggest such returning visitors the option to subscribe to the newsletter instead. Let them know that they can stay updated with all the latest upgrades, sales and discounts too.
This is a way to nurture your leads who are bound to convert later.
5. Direct Visitors to High-converting Pages
More information is what your prospects seek when they want to explore more about your services. That's when your operators can use live chat for customer journey optimization.
Just create conversion opportunities with live chat. You can send in a quick link that leads your prospects to high-converting pages (and a better chance at conversion). That means you also help your prospects to make information-driven decisions. And that's something they'll appreciate in the longer run.
Optimize Customer Journey Using Live Chat
Live chat can be seen as one of the factors that may help your business customize the customer journey. But, it is only possible when operators successfully engage them via the tool and even the customer is willing to do so.
Keeping this in mind, operators should ensure that when they get an opportunity to interact with your visitors/customers via live chat, they make the most out of it.
In case you're looking for a live chat solution that helps your operators do all that, then do give ProProfs Chat a shot.
And if you'd like to add more information on how live chat optimizes the customer journey, do write to us in the comment section below.
---
Now that we've seen how to use live chat for customer journey, here are a few relevant frequently asked questions you'll find useful to create a perfect journey for your customers.
Do customers like live chat?
Yes, at least that's what the numbers suggest. As suggested by 42% of consumers, live chat is their primary communication channel because they don't have to wait on hold. Whereas 48% would be more likely to return to a website with chat support, and 41% trust the brand more when this option is available.
What are the benefits of a live chat for the customer journey?
In general, the use of live chat can bring in a lot of benefits for a business online. But some of the main benefits that it brings to enhance the customer journey are as follows:
To monitor customer journey in real-time and see the different touchpoints that shape the decision-making process
Check previous customer conversations to improve the upcoming interactions
Identify upsell and cross-sell opportunities and help customers navigate those options to arrive at a purchasing decision
Is live chat helpful for B2B customer journeys?
Just like B2C businesses, B2B companies can use live chat to optimize customer journeys and experiences. We can use live chat to nurture customer relationships. Operators can analyze customer sentiments and on those bases provide solutions to the customer. Not only will this help you boost conversions but also improve customer loyalty.
Do you want a free Live Chat software?
We have the #1 Online Live Chat Software for instant customer support 24x7