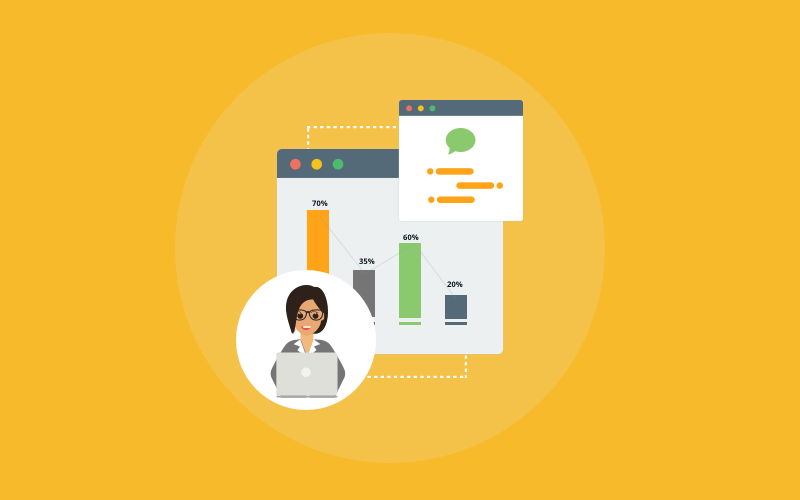 Customer service
is no less than a battleground these days, owing to the rise in customer expectations.
Going on the lines of "You Miss, I hit", competitors can steal your customers in seconds, even if their product is not as promising as yours. In fact, 7 out of 10 Americans won't mind switching services for better customer service as the American Express report suggests.
Now, poor customer service doesn't essentially mean that your agents are not resolving consumer concerns or that they are taking you for a ride. More often than not, customers can still rate your customer service as poor as their expectations are on a constant rise, even when your customer service leaves no stone unturned in addressing their requirements.
A leading Forrester study also suggests that 77 percent customers expect the customer support to save their time while maintaining the standards of customer service.
Even though many businesses have started using live chat to streamline customer service, a lot of ground still needs to be covered when it comes to understanding their expectations and pain areas. When your customers want you to read their mind, simply introducing live chat to your business can't help much.
You need to exploit the features to get into the head of your customers. And with real-time visitor tracking your operators can easily make an intelligent guess about customer's expectations and serve them better.
With the use of this feature, you track, understand, be proactive and boost website engagement hassle-free. In this blog post, we discuss what is real-time visitor monitoring, different aspects it allows you to track, and the different benefits your business can achieve from its use. Take a look.
What is Real-Time Visitor Monitoring in Live Chat?
Live chat monitoring, as the name suggests, is a feature that allows you to monitor essential information about visitors on your webpage in real-time.
This can be personally identifiable information such as name, email, region, and country or details about the relationship with your business such as purchase history or the last visit date.
Visitor monitoring helps you to get into your customer's' shoes and learn about their preferences, that might influence their purchase behavior. You may be wondering what good can visitor tracking do to your business? Just imagine:
How do you feel when someone understands your needs or preferences without saying a word?
Feels Good. Right?
Live chat visitor monitoring works on similar lines, a practice in which a business tracks critical metrics to understand customer behavior, followed by coming up with a personalized engagement strategy.
In other words, it's all about deep diving into the customer needs and making them realize that your business values their association.
The Result:
More engagement, that skyrockets customer satisfaction and even, Sales.
Here's what a live chat tracking window looks like: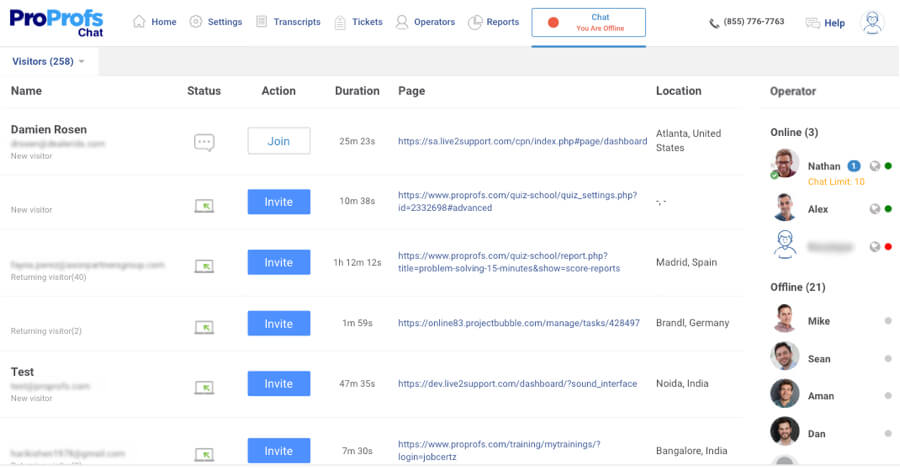 Essential Information to Track With Real-Time Visitor Monitoring
Key Pages
Every page on your website enjoys a different level of engagement. Your visitors spend more time on some pages as compared to the others. Now, your job is to find a reason for this difference in engagement.
Until you identify the high and low performing pages on your website, you can't go for improvements. Real-time visitor monitoring allows you to track visitor footprints as they move from a page to the other.
As you get a real-time view of the navigation behavior, you can easily identify pages with lesser user engagement and devise a strategy to counteract the issue.
Demographics
In a global business, your customers can be located elsewhere. To get more sales, you need to identify the most promising regions for your business around the globe.
For that to happen, knowing customer demographics is quintessential. Live chat tracking allows you to identify where your website visitors are located so that you can tailor your communication to suit specific requirements.
ProProfs Chat Software allows you to monitor demographical information such as:
Country
Email
Region
IP Address
Browser
Tracking demographics of your website visitors is instrumental to business success. Interacting with customers in the US, for instance, wouldn't be identical to someone from the UK as they have different buying behaviors, owing to their preferences.
Once you learn about "hot" customer locations, you can plan for more effective communication and induct your customer support teams accordingly.
Entry Point
Every business leverages multi-channel marketing strategies to attract visitors to their web pages and grow sales. It can be pretty much anything ranging from content posted on social platforms to a PPC campaign or search engine referrals.
Until you identify the marketing channel reaping the maximum results, providing a gratifying customer experience remains far from reality.
Real-Time Visitor Monitoring with Live Chat shows you the precise doorways from where visitors gain entry to your website. After learning about the "entry points", you get to know about your most promising channels along with the ones that require improvement.
Interaction History
As a business, your primary goal must be to convert "visitors" into "paying customers."
For that to happen, the first step is to differentiate repeated visitors from first-time users. Though first-time visitors can also be converted into buyers, someone visiting your website more than once has a stronger likelihood of becoming a customer.
Real-time tracking shows whether a website visitor is new or recurrent so that you can tweak your interaction strategy. Agents can then, simply initiate proactive chats to throw an offer or put in efforts to persuade them into buying your products or services.
Advantages of Real-Time Visitor Tracking in Live Chat
Proactive Engagement
Customers appreciate a business if their needs are sensed and addressed without elaborating or saying much.
Real-Time Visitor Monitoring with Live Chat helps you to get real-time notifications about visitors entering a web page, providing room for sending personalized notifications on the spot.
Doing this can help your business leave a "flabbergasting impact" on your customers, thereby improving your brand image.
Shorter Interactions
Your visitors deserve a rewarding customer experience; however, you also need to take care of operator burn out. Visitor tracking can help you achieve both the objectives.
When operators have first-hand information about visitors, it helps them address their concerns in a timely fashion. As operators spend lesser time talking to a customer, they can attend more customer questions that reflect as reduced customer support costs.
On the other hand, your business enjoys a higher rate of customer satisfaction, boosting overall customer retention.
Actionable Insights
By integrating live chat software with analytics tools such as Adwords, you can also derive insights about the efficiency of your marketing efforts.
As visitor monitoring reveals details ranging from URL performance to average time spent on a webpage, you can easily identify gaps and cover them accordingly.
Now, you must be thinking that any analytics tool can track these metrics, so what's the point of using live chat.
Here's an answer:
There is a multiplication of efforts when you use analytics and tracking separately. But, when you integrate them into one window; deriving insights and taking action becomes a breeze.
Streamlined Customer Support
Talking to a first time visitor or a repeat visitor is not the same as their expectations differ. Real-Time Visitor Monitoring with Live Chat provides first-hand information such as browsing history, past purchases and time spent with your business; your operators can provide more qualified assistance.
Visitor tracking also minimizes the chances of any miscommunication that may hurt the brand image as operators have a documented record.
Efficient Lead Scoring
Live chat tracking also allows you to separate "hot" leads from "cold" so that you can channelize your energy into converting the prospects into paying customers.
Learn About Customer Preferences with Real-Time Visitor Monitoring
If you are yet to think about customer preferences, it's time to act now.
Though there are multiple ways to learn about customer expectations ranging from conducting surveys to monitoring social media pages, real-time visitor monitoring with live chat is indispensable for many reasons:
One, you don't need to be actively involved in monitoring as the setup works on autopilot. All you need to do is keep chatting to your customer, while essential details are displayed on the console. Simply drop the code on a webpage and start getting real-time information about your visitors.
Two, you can leverage powerful integrations with CRM or other analytics software to eliminate the guesswork from customer service.
Do you want a free Live Chat software?
We have the #1 Online Live Chat Software for instant customer support 24x7