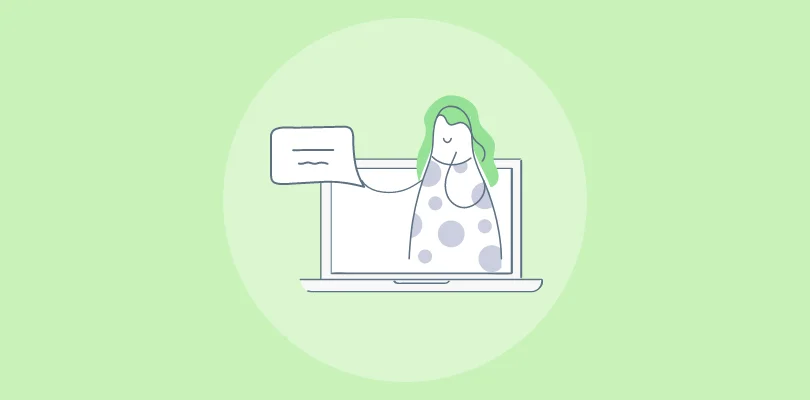 Are you tired of losing potential customers because they couldn't find the needed information on your website? Or perhaps you're frustrated with the endless stream of emails and phone calls from customers who need help with their orders?
These are just a few of the common problems that businesses face when it comes to customer support.
But fear not! Live chat is here to save the day. With the best live chat plugin for WordPress, you can provide real-time support to your customers, answer their questions, and address their concerns quickly and efficiently. Not only does this improve customer satisfaction, but it can also lead to increased sales and a better overall customer experience.
In this blog, we'll take a deep dive into the top live chat plugins available for WordPress and explore their features, pricing, and usability. We'll cover everything from basic chat functionalities to advanced features that can help you save time and increase customer satisfaction.
Let's get started.
What is WordPress Live Chat?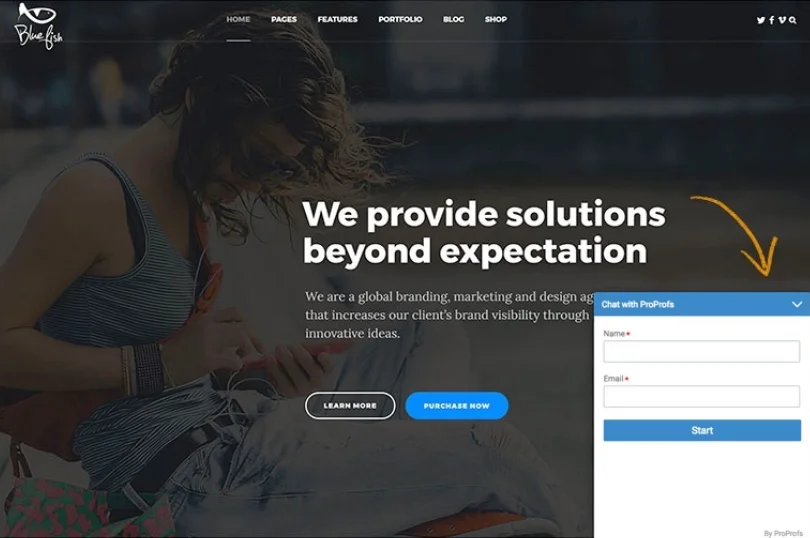 WordPress live chat is a real-time messaging tool that allows WordPress website owners to communicate directly with their visitors. It can be integrated with WordPress websites through plugins to offer instant customer support. The tool offers a way for website visitors to ask questions and get instant assistance with their issues.
With WordPress live chat, website owners can provide personalized support, build better relationships with visitors, and increase customer satisfaction. Live chat also offers a way to collect feedback from visitors and improve website performance.
WordPress chat plugins typically offer a range of features, such as chatbots, canned responses, file sharing, and chat analytics. These features help website owners streamline their support process, save time, and provide a better experience for their visitors.
Get Started With ProProfs Live Chat Software For Free
How to Use Live Chat in WordPress?
Incorporating live chat functionality into your website can be a daunting task, especially if you are not familiar with coding. Fortunately, there are live chat plugins available for WordPress that make it easy to add live chat to your website without coding. ProProfs Chat is one such plugin.
To install ProProfs Chat, you simply need to install the plugin on WordPress. This can be done by taking the following steps:
Go to your WordPress dashboard,
Select "Plugins"
Click on "Add New"
And search for "ProProfs Chat."
Once you have installed the plugin, you can customize your live chat settings according to your preferences. You can choose where you want the chat widget to appear on your website, what messages you want to display, and even set up automated chatbots to answer common customer questions.
Why Do You Need a WordPress Live Chat Plugin?
Did you know that more than 70% of customers find live chat to be the most satisfying way of receiving customer support? It's true!
We will help you understand how chat plugins for WordPress can help you engage customers and communicate with them in real-time. Let's look at some of the benefits of WP chat plugins:
1. Boost your lead generation
A WordPress live chat plugin allows you to create chatbots for your website which can help perform key marketing functions. You can capture leads, qualify them, and nurture them. Read on to know how it works.
With a lead generation chatbot strategy, you can capture the information of website visitors from the get-go with the help of pre-chat forms. A pre-chat form is a form that visitors have to fill out before the chat session. Simple, right? So, before your prospects even begin chatting, they become leads.
2. Improve brand loyalty
Live chat is a great way to connect with existing customers and offer them tailored conversational experiences. For this purpose, you can integrate your WordPress live chat plugin with your CRM.
So, when a repeat visitor comes to your WordPress site again, you can view important information like previous chat transcripts and purchase history. Based on these insights, you can tailor your conversations with customers.
3. Reduce cart abandonment
Cart abandonment is surprisingly common, with the average rate being around 70%. When customers reach your product page and make a purchase, there are a host of reasons why they might choose to drop off. But it takes a good engagement strategy to avert such an issue.
Live chat offers targeted messaging that allows you to send a discount code or product giveaway to customers who are about to drop off from the checkout process. You can even integrate Purchase Progress Indicator to show how many steps are left to make the purchase. The fewer the steps, the more your customers will likely finish it.
Read More:  How Live Chat on Your Website Can Maximize Conversion?
17 Best Live Chat Plugins for WordPress
Here are our top 17 picks for the WordPress live chat plugins available on the market.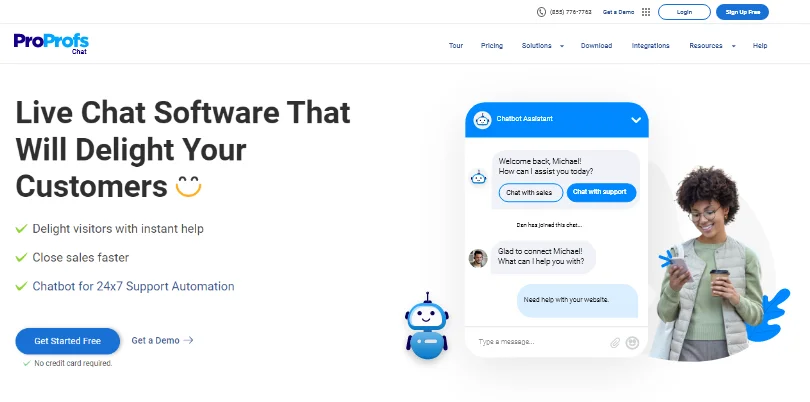 Since you are looking for the best live chat software for WordPress, ProProfs Chat is your best bet. You can start with its free trial to explore features like visitor monitoring, chat routing, canned responses, and more. You can even explore advanced features like chatbots with its new forever-free plan.
The best part about this live chat plugin for a WordPress website is its detailed reports that show specific KPIs for measuring operator performance. With integrations to email marketing tools, social media, and CRM, you can offer complete omnichannel support.
Key Features:
Announce product features and the latest deals.
Route chats to the appropriate departments.
Use proactive messaging to initiate conversations with your visitors.
Receive detailed reports on operator performance.
Automate support with ProProfs Chatbot.
Pricing: Chat like a pro with a live chat free trial. ProProfs Chat offers a FOREVER-FREE plan for a single operator and a team plan for $19.99.
Olark is another option that you can consider when searching for a WordPress live chat plugin. This is one of the best website chat plugins when it comes to customization options for your live chat widget. You can change colors and add an avatar for a more personalized experience.
You can automate support with the chatbot feature to offer complete availability to your customers. Olark gives insight into best practices with its analytics to help your business retain customers. Also, you can deliver targeted messages triggered by specific user interactions.
Key Features:
Store chat transcripts in your CRM or Olark.
Create custom pre-chat forms to capture customer details.
Offer proactive support to customers.
Improve operator performance with the help of their reports.
Integrate with your favorite tools in seconds.
Pricing: Starts at $29/month.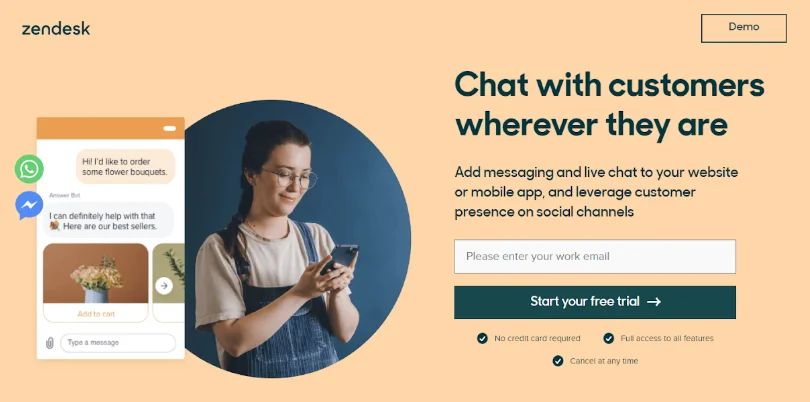 Zendesk Chat is one of the best WordPress live chat plugins because of its seamless integration with a smart knowledge base. It helps your operators connect faster with website visitors and learn their pain points. This equips your operators with valid solutions and helps them grow sales instantly.
Besides this, it even offers you in-depth reports on your operator's performance in real-time so that you can make improvements to their approach. You can even automate the chatbot's support experience and regulate the chat volume.
Key Features:
Create conversation flows with provisions for routing.
Create a rich media experience with emojis and GIFs.
Manage incoming chats anytime, anywhere with a mobile app feature.
Customize the chat widget as per your branding.
Offer 24×7 support with chatbots.
Pricing: Starts at $49/agent/month.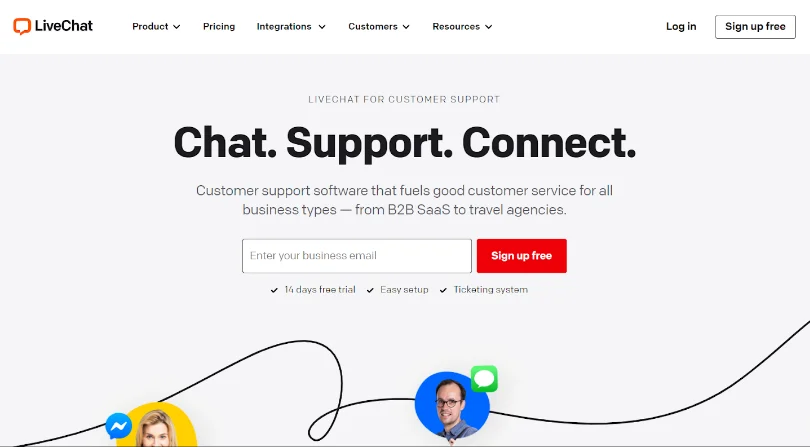 LiveChat is almost as good as being termed as one of the best WordPress chat plugins, and it tops our list for its simple user interface and useful features. This live chat plugin can help your operators send targeted messages to drive conversions, simplify chat routing, and do much more.
LiveChat also offers settings such as team management, where you can decide the roles and responsibilities of your operators. This live chat tool also allows you to send chat transcripts to track the quality of conversations. It captures chats from various social media platforms like Facebook, Twitter, etc.
Key Features:
Track your marketing efforts with the goals and sales tracker.
Convert missed chats into tickets with a ticketing system.
Integrate with 200+ apps.
Ensure GDPR compliance and get single sign-on options.
Customize agent profiles for a personalized experience.
Pricing: Starts at $20/agent/month.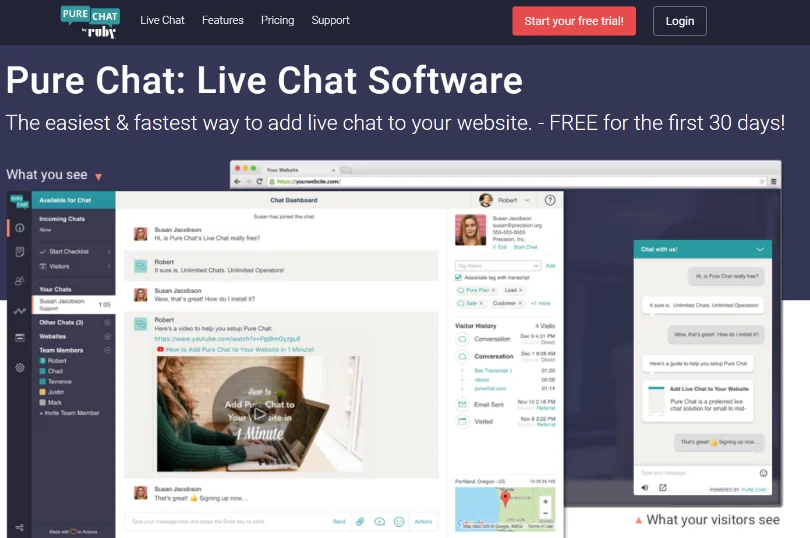 Pure Chat is yet another awesome solution you'll come across while discussing the top live chat WordPress plugins. This easy-to-install and straightforward plugin has a simple user interface that makes it easy to learn. You can communicate with customers effectively, thanks to its 1000+ integrations made available when you use it with Zapier.
The tool offers great personalization options that allow immense flexibility when you brand your chat widget. It helps you get a complete view of what your operators are doing and how they are engaging with customers.
Key Features:
View real-time analytics to improve customer engagement.
Integrate with InfusionSoft, Google Analytics, and HubSpot.
Customize your live chat widget and match your website's theme.
Create automation workflows with Zapier.
Offer support on your mobile devices.
Pricing: Starts at $49/month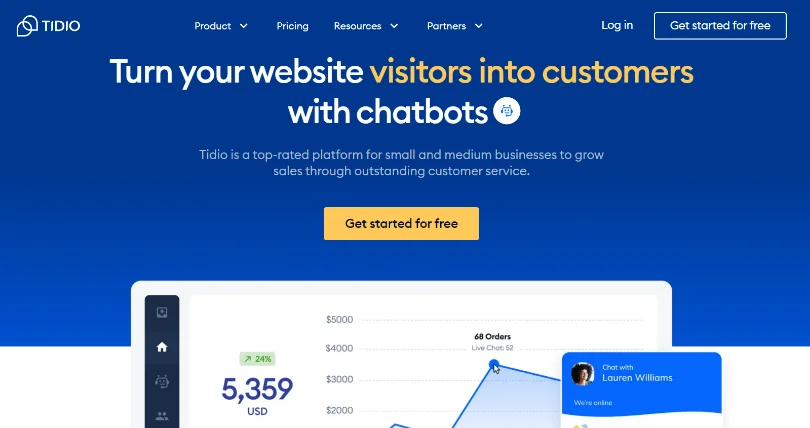 Tidio makes our list of the best chat plugins for WordPress because of its chatbot-building capabilities. This live chat tool helps you slash response time with canned responses and intelligent chat routing.
The tool helps your operators keep the customers engaged during the conversation through targeted messaging on key pages. It even enables your operators to review visitor activity on your website to simplify proactive support. You can also schedule automated email campaigns with it and reach your target audience without any hassle.
Key Features:
Create chatbots with a visual editor, such as the cart abandonment bot.
Match your live chat widget with your website's theme.
Integrate with the top platforms to boost the functionality of your plugin.
Manage incoming chats on the go with the mobile app.
Incentivize customers to make purchases with personalized discounts.
Pricing: Starts at $15.83/month.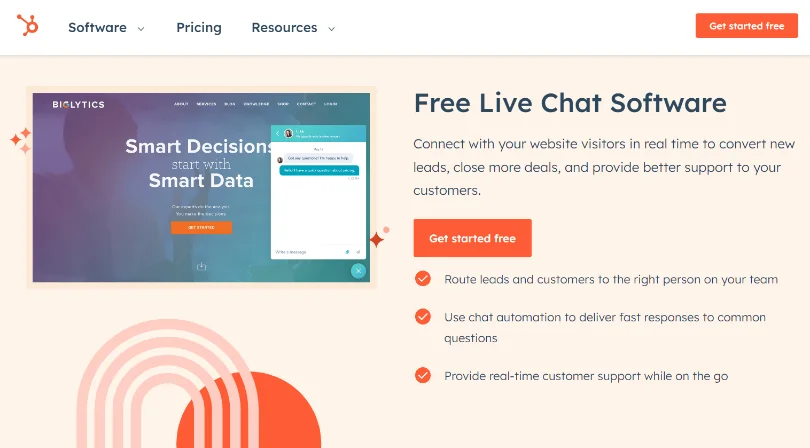 HubSpot is a popular platform renowned for its excellent live chat support. With this tool in hand, your operators can route chats to the right department to efficiently resolve customer inquiries. And when it comes to saving time, you can use automated responses to answer frequently asked questions.
The platform lets you customize your chat widget to match its look and feel to your brand. HubSpot also offers a universal inbox on its free CRM software to store each conversation automatically.
Key Features:
Create targeted messages for your propects and customers.
Automate chats to deliver faster responses.
Route chats to the right department for query resolution.
Respond directly with Slack or HubSpot mobile app, even when away from the system.
Set up email captures to follow up on missed chats.
Pricing: Starts at $0(with limited features).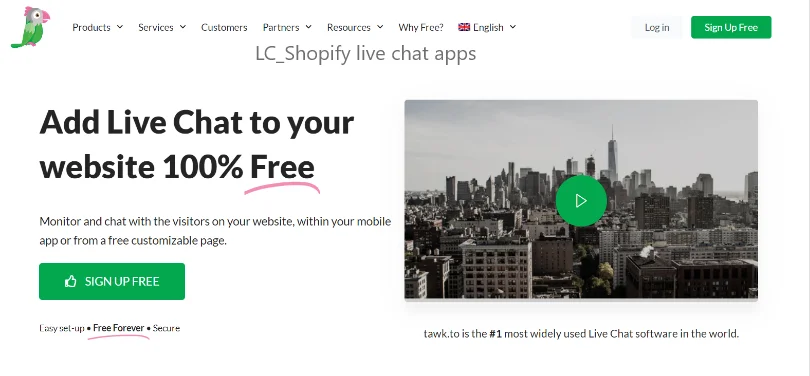 Tawk.to is one of the top live chat plugins for WordPress that offers premium live chat features at no cost! This free live chat plugin helps you monitor chats in real-time and levels up your customer support. It even allows you to send proactive messages to customers and capture incoming leads successfully.
You successfully get the opportunity to get close with leads, engage with them in real time and convert them into sales. For this, you can meet customers, collaborate with operators, assign them incoming chats, and easily share knowledge for a better support experience.
Key Features:
View visitor activity on your WordPress website in real time.
Offers support in 45+ languages to communicate with your global customers.
Answer incoming chats from your mobile devices with their app.
Use canned responses to reduce your response time.
Track customer sentiment and identify their pain points easily.
Pricing: Starts at $0 (free forever).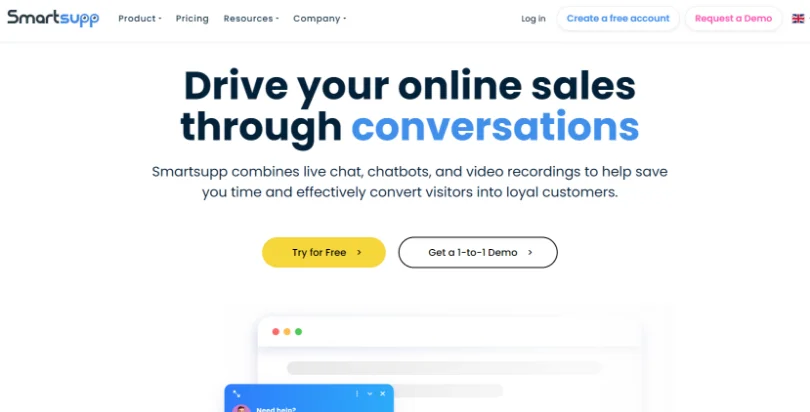 SmartsUpp offers a comprehensive solution for enhancing customer engagement by combining live chat with a chatbot. This helps retain automation while ensuring human touch to the conversations. This platform lets you provide multichannel support on a single dashboard.
The tool offers robust integrations with messaging platforms like Facebook to engage your customers wherever they are. And when your customers are done with their query resolutions, it lets you gather their feedback with its comprehensive post-chat forms.
Key Features:
Access conversations from multiple channelson a single dashboard.
Customize your chat widget for a visually appealing customer experience.
Optimize visitors' browsing data to get insights into their preferences.
Monitor your team's performance with Google Analytics.
Send automated greetings with a chatbot to engage customers.
Pricing: Starts at $0/month (limited features with no chatbots or routing).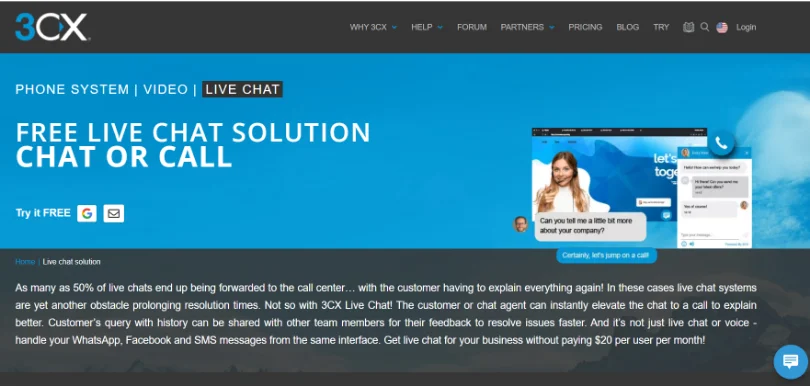 If you are looking for a free live chat plugin, then 3CX is a great choice. It allows you to connect with your website visitors and help your agents find relevant information instantly. You can use this live chat solution to upsell and cross-sell effectively.
You can assign as many agents as you wish to your group chats without incurring higher costs. Also, it is a fully customizable live chat plugin with video conferencing options. You can chat with your operators or directly call them from the widget.
Key Features:
Create predefined responses for live chat.
Access missed chats and resolve them on your own time.
Store messages while your agents are offline.
Bar visitors from initiating a chat session based on IP address.
Add your logo to your chat window and customize it as you want.
Pricing: Starts at $0.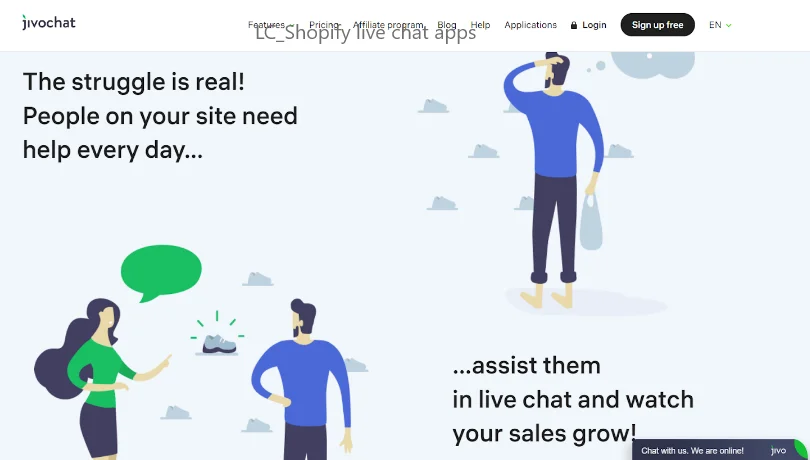 Jivochat is another live chat plugin that you can consider for your WordPress website. Just like the other tools in the list, it can be installed on WordPress websites in minutes. It helps you connect with your customers and prospects across different channels.
Customer messages sent via callback, email, Apple Business Chat, WhatsApp, Facebook, Telegram, and others are converted into chats that your support agents can manage in real-time. Jivochat also helps your agents to correspond with customers at a lightning-fast speed.
Key Features:
Create and save quick phrases that can be used during a conversation.
Offer support in 90+ languages.
Use productivity features like color-coded chats, hot-keys, message peek, etc.
Share chat transcripts to customers via email.
Share files with customers for better support.
Pricing: Starts at $0/month (limited features with no pre-chat buttons)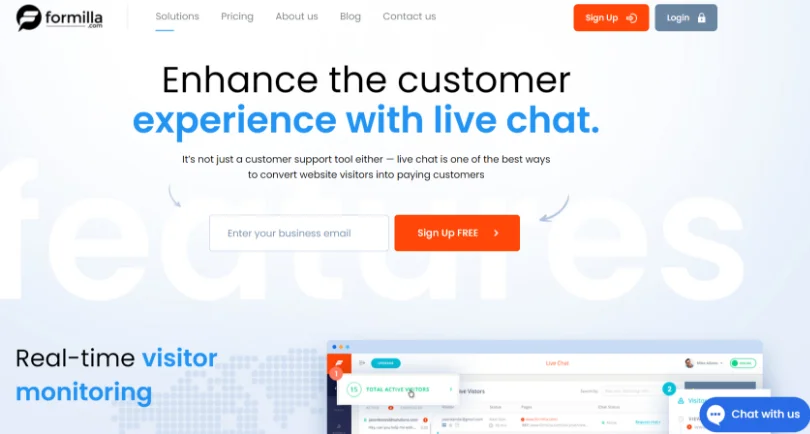 There are numerous live chat plugins for WordPress, but Formilla sets itself apart with real-time visitor monitoring. It lets you view your visitors' browsed web pages and the time spent on them. This live chat plugin allows you to collect leads 24*7, even outside your regular working hours.
The tool offers multi-device functionality to hold onto customers both on Android and iOS devices. You can also send custom messages to target your website visitors automatically. And if that's not enough, you can even transfer a chat to your team member when needed, that too, with a private note.
Key Features:
Get insights into your customer's information like device used and geolocation.
Use hashtag shortcuts to respond faster.
Transfer chats to your teammates for quick resolution of inquiries.
Optimize chatbots to engage customers even when your live agent is unavailable.
Offer 24*7 support to your customers.
Pricing: Starts at $0 (without canned messages).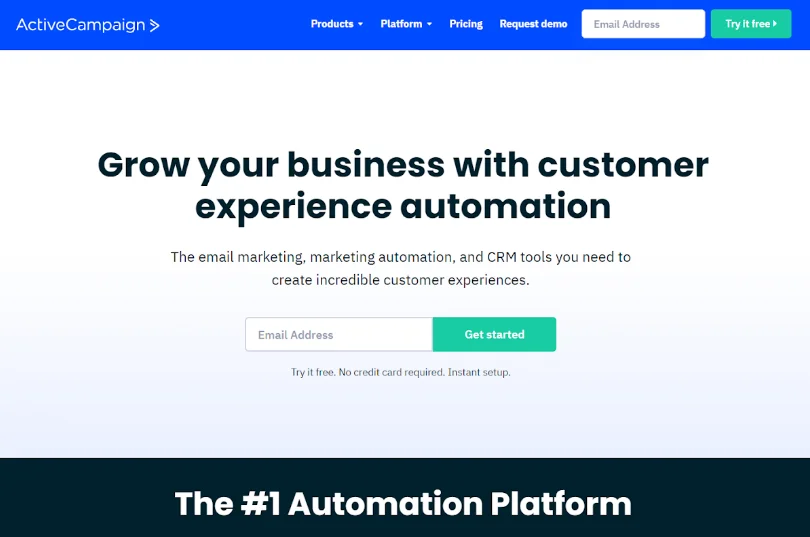 If you have a WordPress website, ActiveCampaign is a tool you should try your hands on. This versatile tool can help you drive traffic with its live chat plugin that lets you answer your customer queries right with a click. The tool allows your customers to add them easily to your contact list.
With a unified inbox, you can get access to all your customer conversations in a single place without needing to throw yourself into any hustle. And when your customers leave, this tool lets you follow up with your contacts using newsletters, autoresponders, and more.
Key Features:
Provide round-the-clock support to your customers with live chat support.
Leverage a unified inbox to access all customer conversations in a single place.
Customize your chat window to reflect your brand's tone and style.
Use detailed reports and analytics to get insights into your customer's purchasing behavior.
Integrate with ActiveCampaign CRM to manage your leads.
Pricing: Starts at $29/user/month.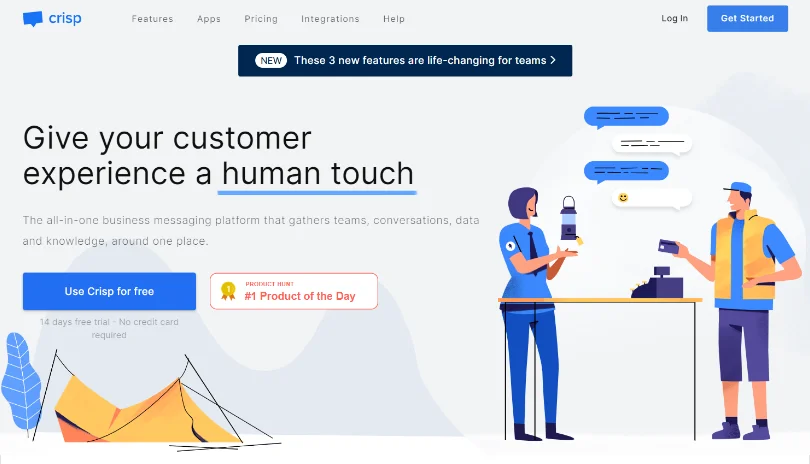 Crisp is originally seen to be an all-in-one multichannel that brings together chat, a help desk, and a knowledge base. Its live chat plugin is full of features and is easy to use. You can guide customers through an issue with video calling and co-browsing.
With Crisp, you can create an engaging experience with visitors during an ongoing chat by using features like GIFs or even video previews. This will keep customers engaged with the brand and allow you to build relationships with them.
Moreover, it can integrate with messaging channels like Facebook Messenger, email, Instagram, etc.
Key Features
Allows you to translate messages in real time.
Offers integration with your knowledge base.
Helps you share files with customers.
Communicate with customers through video chat.
Helps you co-browse with visitors.
Pricing: Starts at $0 (without chatbots and Messenger integration).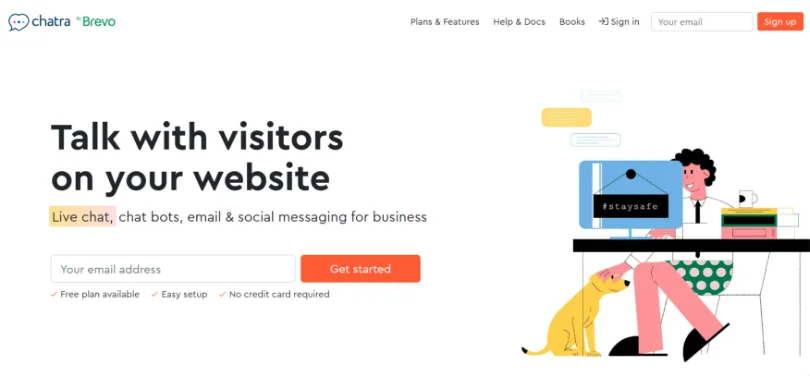 Chatra is an all-in-one communication platform that enables you to engage with your customers efficiently. Its intuitive and user-friendly chat interface provides a seamless experience for customers to communicate their queries and concerns. With its advanced co-browsing and screen-sharing feature, you can easily guide customers through complex issues.
The tool's extensive customization options allow you to tailor the chat widget to match your brand's identity. Additionally, it can integrate with popular platforms like Helpscout, Zapier, and Slack.
Key Features:
Monitor the browsing behavior of your customers in real time.
Use chatbots to answer FAQs and routine inquiries.
Optimize Chatra mobile apps to offer easy accessibility.
Leverage a multichannel dashboard to manage all your conversations.
Offer integrations with popular messaging platforms like Facebook.
Pricing: Starts at $17/agent/month.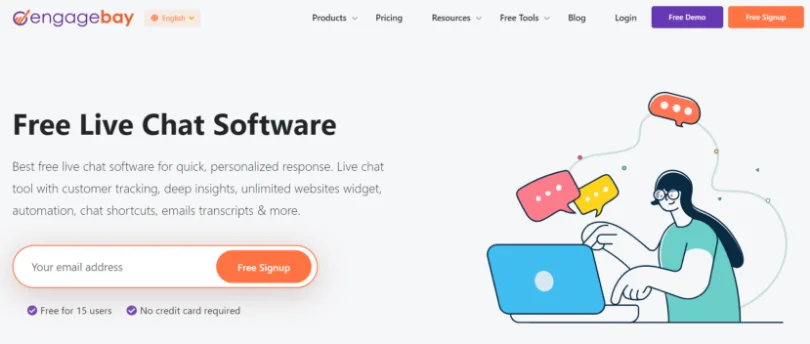 This easy-to-set-up live chat plugin for WordPress lets you offer quick resolutions to your customer inquiries. With EngageBay, you can quickly and easily add live chat support to your WordPress website.
The tool lets you offer personalized support to your website visitors. Your customers can optimize chat shortcuts to get in touch with your team instantly. With automated responses, you can support your prospects even when your team is unavailable.
Key Features:
Offer personalized support by tracking customer behavior.
Use chat shortcuts for a faster response time.
Provide 24*7 assistance to your customers.
Send proactive messages to invite your customers to live chat.
Collect customer feedback after each conversation to improve your support efforts.
Pricing: Starts at $0 (limited features).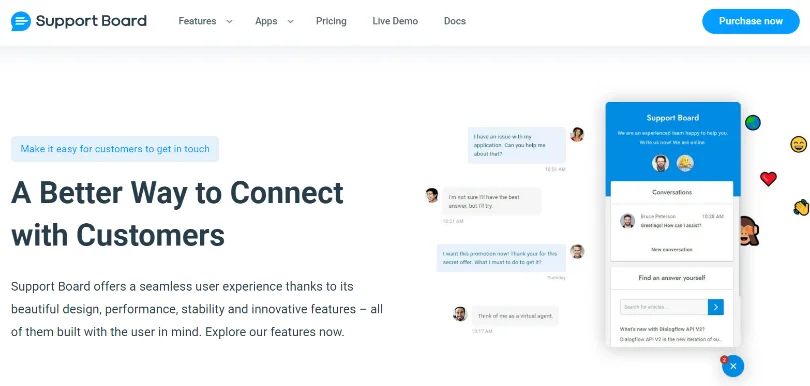 Support Board is a messaging platform that offers live chat plugins for WordPress websites to increase customer engagement and lead generation. With 8+ rich message types, you can use this tool to engage your customers more efficiently.
This platform offers multilingual functionality with over 19+ languages to cater to a wider audience. Support Board lets you integrate seamlessly with the knowledge base software to reduce the number of queries that your support agents need to resolve. You can even create a help center area that is easily accessible from within the chat.
Key Features:
Offer custom-rich messages for an engaging customer experience.
Provide multilingual support in 19+ languages.
Integrate with the knowledge base to provide self-help within the chat.
Let your website visitors register and login directly from the chat.
Offer 24*7 support to help your customers whenever needed.
Pricing: One-time payment of $59.
Read More:  22 Best Live Chat Software & Services for Website Customer Support in 2023 
How to Choose the Best Live Chat Plugin for WordPress?
Choosing the best live chat plugin for your WordPress website can be daunting, given the plethora of options available in the market. However, there are certain factors that you can consider to make an informed decision:
1. Features
A good plugin should provide customizable chat windows that match your website's design, chat transcripts for future reference, and canned responses to save time. The plugin should offer offline messaging to capture leads even when you're away and file sharing to exchange documents and images.
Additionally, other features, such as chatbots and analytics, can further enhance your customer support experience. Prioritizing your requirements and selecting a plugin that meets most of them can help you improve your website's engagement and conversion rates.
2. Integrations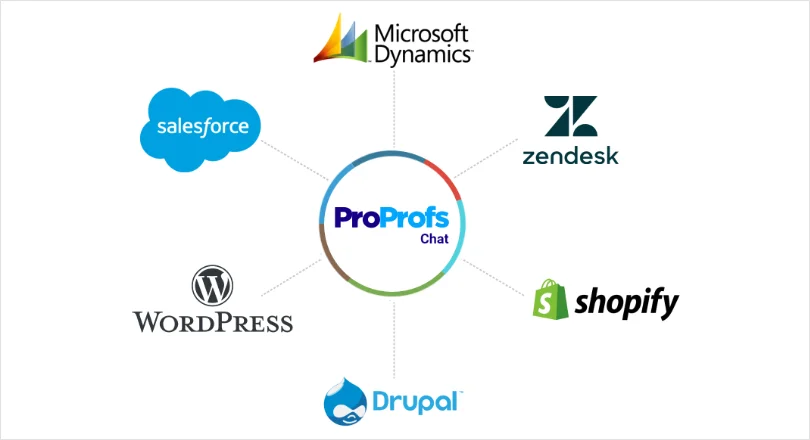 Integrations play a vital role in maximizing the effectiveness of your live chat plugin. Integration with email marketing software, CRM, or social media platforms can save time and effort by automating certain tasks and providing a more seamless workflow.
For example, integration with a CRM can allow you to access customer information and previous interactions during live chat sessions, providing a better customer experience. This will also help you save time and effort, as you won't need to switch between different software and platforms to complete tasks.
In addition, integrations can help you to gain a more comprehensive understanding of your customers by providing a complete picture of their behavior across different platforms.
3. Customization
Select a WordPress live chat plugin that offers customization options to ensure a seamless brand experience for your customers. This enables you to personalize the chat widget to match your brand's look and feel.
With easy customization, you can add your brand's logo and choose colors, fonts, and layout options that seamlessly integrate the chat window with your website's design. This creates a consistent and cohesive brand image that will help to enhance your customers' experience.
4. Pricing
While some plugins offer a free version with basic features, others may require a monthly or annual subscription fee for access to more advanced functionalities. It's important to consider not only the upfront cost but also the long-term affordability of the plugin.
It would be best if you also looked for plugins that offer flexible pricing options and the ability to upgrade or downgrade as needed. Ultimately, finding a live chat plugin that fits your budget can help you provide better customer support while keeping your expenses in check.
5. Support
It's important to consider the support options provided by a plugin before installing it on your website. Look for plugins that offer various support channels like email, chat, or voice support. It's also crucial to ensure that the support is reliable and timely, so you can quickly resolve any issues. Remember, reliable support can save you a lot of time and effort in the long run.
6. Reviews and Ratings
When choosing a live chat plugin for your website, it's important to read reviews and ratings from other users. This will help you gauge the reliability and effectiveness of the plugin. Look for feedback on the plugin's ease of use, customer support, and overall performance. Consider other website owners' reviews mentioning any issues or bugs users have encountered.
By reading reviews and ratings, you can make an informed decision and choose a live chat plugin that meets your needs and delivers a positive user experience.
Overall, choosing the best live chat plugin for WordPress requires careful consideration of your requirements and a thorough evaluation of the available options. By considering these factors, you can select a plugin that meets your needs and helps you improve your customer support and engagement.
Get Your Hands on the Best Live Chat Plugin for WordPress
As a website owner, you know how important it is to engage your customers and provide them with exceptional support. And what better way to do that than with a live chat solution?
However, with so many options, finding the right live chat plugin for your WordPress website can take time and effort. Fortunately, we've done the legwork for you and narrowed down the field to 17 top-notch options.
If you're looking for the best live chat plugin, we recommend ProProfs Chat. The platform offers an affordable and feature-rich live chat solution that is hard to beat. And with the recent launch of their forever-free plan, there's never been a better time to try this tool.
So why wait? Get your hands on the best live chat plugin for WordPress today and start engaging with your customers like never before!
FAQs
Do you want a free Live Chat software?
We have the #1 Online Live Chat Software for instant customer support 24x7