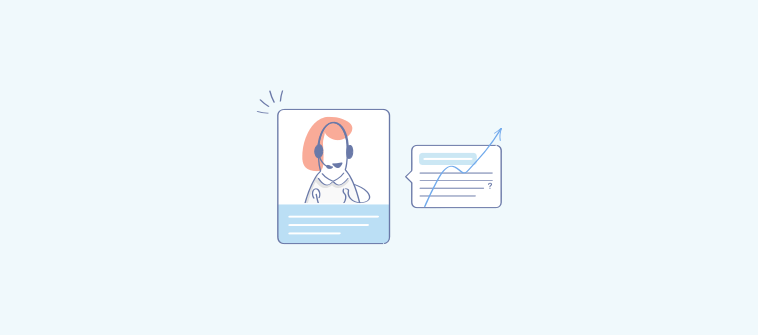 It's true that managing a website is not just about updating content every single day; rather it is all about improving its performance by optimizing quite a few variables like conversion rate, visitor count, search engine ranking, bounce rate etc.
There is no denying that luring the attention of your audience through all the noise and innumerable distractions isn't easy at all. And, once you have a person's attention, it is tough to keep up. Experts vouch for a collaboration of a visually enticing website, great content, and responsive platform to lure and convert prospects into visitors.
It has been observed that higher bounce rate is a common problem for many and a sure sign that your website needs urgent attention. Since traffic and rankings don't matter when the prospects fail to turn into customers, one can't ignore the 'bounce rates' as it helps to understand if a brand resonates with the visitors or not. But before we hit the live chat notch, it is important to understand what is bounce rate in the first place.
What is Bounce Rate?
Have you noticed the bounce rate section in your Google Analytics account? Well, if you see that metric increasing, then it is a problem.
When the bounce rate increases at your website, it means that people leaving your website after viewing one page. So, basically you get to view the percentage of online visitors who decide to leave without viewing your website or do not engage with your web page that reaps results for your business.
However, we need to make a note when tracking the bounce rate of a website – It is not a measurement of how long a user stays on one of your pages. So, it is not the time but the visits that the Google Analytics calculate.
It indicates that your website failed to:
Engage people

Provide relevant content

Provide instant help

Meet user expectation
*Note: Increased bounce rate can also indicate that you may not be attracting the right audience to your website.
Tricks to Reduce Bounce Rate
There are a few tricks in the bag that can help you to reduce bounce rate effectively. Let's browse through some of them in this section.
#1: Content Readability
Avoid adding chunks of content on your website. This may put your visitors in a bad mood and prompts them to leave their website. So, whether it is your blog, landing page or an informational page where you accumulate all the FAQs, try not adding too much content.
#2: User Experience
Another thing that website builders should avoid is adding irrelevant popups to their pages. Well, there was a point where popups made a lot of difference to the marketing strategies and brought in potential leads for a business, but not anymore.
What's more, visitors may find your idea of pushing other products to them as a marketing gimmick. You clearly need to stay away from it. Build smart and delightful user experience for your visitors so they feel compelled to make a purchase.
Even if you plan to add popups to your website, make sure they:
Aren't flashy

Reflect the voice of a specific landing page

Consists of relevant content

Have a CTA button that makes the visitor jump into action
---
Recommendation Read: How to Provide a Delightful Customer Service Experience
---
#3: Mobile Support
Although mobile support is very much a part of the user experience, still it is counted as one of the effective individual tricks that help businesses avoid bounce rate and also boost conversion.
Make sure that you build a mobile app for your target audience. It will help them reach to you faster. Plus, the app should be fast and avoid as many glitches as possible to build a smooth experience for users.
#4: Support
Another aspect that you should work on is instant support.
Imagine this: one of your visitors have landed upon a 404 page. Now they don't know whether the product page they've found during their search actually exists or not. Problem here is you do not get to redirect them to the right page that can help you complete the sales process. Plus, you had no means to approach them proactively and let them know where they can find the product.
This situation leads to only one outcome, a potential customer leaving your website because they couldn't find the required product for their use. Such situations too increase your website bounce rate.
Solution? Add a live chat for website conversion.
With a live chat software on your website, you can help visitors reach the right page in case they come across a 404 page error.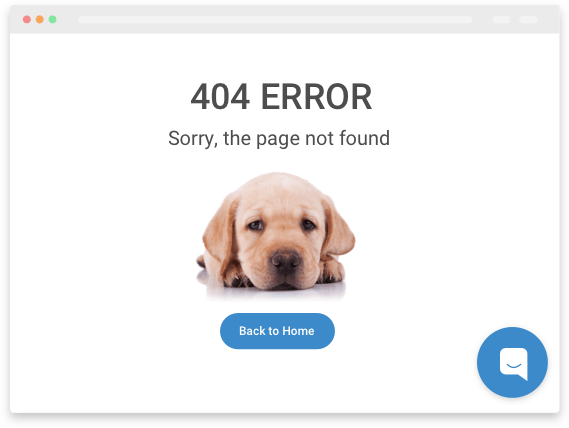 Just add a chat trigger to an error page. Set a condition that in case a visitor stays on the 404 error page for long, a chat window should pop up asking the visitor if they were looking for the following product URL.
Doing so allows you to:
Lead your visitors to the right page

Reduce bounce rate

Boost your conversions
How Can Live Chat Further Reduce Bounce Rate for Your Website
Your website gets to see too many visitors in a day. And, many of them leave your website without browsing it further. There can be various issues which may compel them to leave your site. However, you have one tool to stop them from exiting your website – live chat.
There are various situations where live chat can help you stop visitors and prompt them to engage with your brand further, besides the 404 error page. Let's take a look at them
Lack of Information

Sometimes when visitors view your web pages, they feel as if the information they came looking for is missing. This is one of the reasons why people switch to another URL, because they cannot get access to the information they need.

That's where a live chat can help you out. You can monitor the visitor's behavior on the website, understand in case they may exit your website, and initiate a proactive chat to help them find what they were looking for.

Struggling Visitors

Struggling visitors is a category of people who may not be clear with what they want, where to find it, and should they buy what they've found. Your operator's skills are challenged to the limit that they may find it confusing as to how to manage such a customer.

But this is where using the best live chat tool can help you out.

Once you get a live chat onboard, make sure you integrate it with tools like customer relationship management (CRM) software. With such a powerful integration, you can capture visitor details, store their previous chat transcripts, and understand their next purchase intent. Such information helps your operators to understand the visitor better and what may be the best solution to put forward when trying to pitch the idea of a product that the customer may buy.

Note: Visitors shouldn't get the impression that an idea is being sold to them. Operator should learn how to stem an idea in the minds of the visitors that it was their intent to buy a product and they haven't fallen for a marketing approach.

Lack of Help on Every Page

One sign of relief for every visitor is to see a live chat button on the website. However, adding it to just one page or specific landing pages that help you boost conversions isn't the right approach.

Make sure help is available on all the live pages of your website. You customers can easily lost track of why they even landed on a website page. Instant interaction using a live chat is the perfect way to ensure visitors that no matter which page they land, help is always on the way.

Adding help on every page can help you reduce bounce rate on your website. However, you need to make sure that for specific pages you set rules for your chat tool. Where you know the customer may browse for long, add proactive chat support. Such a chat will be initiated based on the visitor's behavior and how long they stay on a page.

You can also set chat triggers on your website pages. Here you need to set a rule that the window will pop up in case a visitor has spent a specific amount of time on a page. Both proactive chat and chat triggers tend to provide instant support to visitors and keep them engaged with a brand.
We've seen how the use of live chat helps your website reduce bounce rate. Now, let's take a look at how it can help you boost conversions for your business.
How to Boost Conversions With Live Chat Support Tool
Over the years, we have seen various strategies that help a business boost their conversion rate effectively. But lately, live chat has caught up with all of them. And if anything, live chat is proving to be more effective than the strategies previously used.
No wonder, almost 79% of businesses prefer to use live chat for their website.
In short, the use of live chat software has outranked other sources of communication. That's because people like getting access to an ability that allows them to get their questions resolved instantly.
Also, one of the important factors that help your business boost conversion rate by up to 45%!
Study also reveals that the use of live chat for conversion helps a business to increase its leads by an average of 40%. And do note, it is just an average figure.
Understand this, live chat for website allows a business to support the prospects and customers in the right way. In fact, industry insiders are of the view that live chat for customer support is a better choice as it allows you to learn what the target audience wants, and increase sales.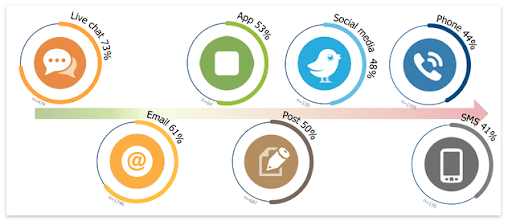 Source: neilpatel.com
Now, let's see what features of a live chat help you boost your website conversion rate by up to 45% in the first place.
1. Chat Box Icon
Okay, there is no doubt that chat boxes on all the websites look pretty much the same. But what really sets them apart, is the kind of message they offer to people who come across them.
For instance, ever noticed the chat box icon by Facebook messenger?
The chat project shows a small thunder sign that signifies speed. That means, people using the chat option will be able to connect with others faster than other options of communication.
Other than that, you also must have noticed that some websites do not have a chat project, but a box with a personal message. Such aspects prompt people visiting your website to initiate a conversation, your business gets the opportunity to engage people in real time.
What's more, when a website has a face attached to it, customers feel guided as their queries are taken care of and ensure that they stay. So make sure that the moment your visitor starts a chat, they get to see who they are having a conversation with in the first place.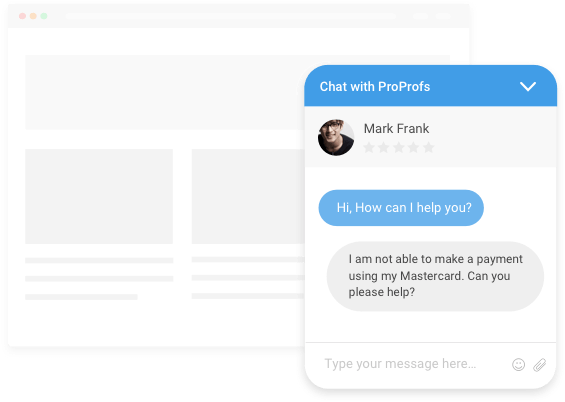 2. Chat Protocol
Having a live chat at your website is not the only thing you need to do to see a boost in conversions. If you plan to use a live chat on your website, work on building a protocol that is applicable for all your operators. It is important to have a chat protocol. It will allow your operators to provide similar support experience to all visitors and customers.
So, what all you need to do when building a chat protocol for your support team?
Set personalized greetings



Set greeting messages for all your operators to help them build a personal rapport with visitors and customers. With a personal message pop up, operators can easily catch a visitor's attention. Visitors will also get the impression that the brand cares and was capable to reach them with a proactive approach. This will put the visitor's mind in to gear and prompt them to stay engaged with the brand, thus helping a business convert visitors into customers.

Create message templates

By message template I mean, canned responses. No doubt, customers tend to ask some questions frequently. So, why not create message templates for such customers?



By creating such templates, you help your operators give prompt answers, maintain answer quality, and keep visitors engaged with the brand.

Set response time limit



For visitors to convert at your website, you need to make sure that your operators send responses fast and without fail instantly. So, set a time limit for them to provide answers to visitors in the first place. This will allow you to maintain your average response time and at the same time delight your visitors with your prompt service.
3. Chat Routing
There is a possibility that visitors at times reach the wrong department with their questions. This can result in:
Providing late resolution

Lack of quality resolution

Agitated customers

Less engaged visitors
Clearly, you shouldn't miss out on prospective customers just because they ended up reaching the wrong department. But this is how you need to use live chat to maintain your conversion rate and keep visitors delighted with your service.
4. Automatic Routing
Automatic routing isn't that difficult. All you have to do is make use of the pre-chat form feature correctly. Add more fields like which department would they like to get in touch with. It will help visitors get instant answer, better resolution, and better support experience.
5. Manual Routing
Manual routing is possible in case you haven't set more fields in your pre-chat form. However, manual routing is also true in case a visitor had one question from the support team and one from the accounts team. So once the support team resolves the issue for the visitor, they can route them manually to the accounts department so they can receive instant resolution.
Understand this, routing is an important aspect of the conversion cycle when using a live chat. If you do not route your visitors to the right department at the right time, your operators will lose the opportunity to convert them into sales.
Live Chat: The Best Conversion Tool For Your Website
Live chat for website should be treated as an important link in the customer service chain that allows a business to connect with clients and goes beyond just resolving queries or answering questions. If used strategically, live chat can enact the role of a promotional channel that strengthens loyalty.
Other than that, live chat can boost conversion on a website by constantly engaging people on the website. At the same time, it will lower the existing bounce rate, thus giving your business the opportunity to reach the target audience effectively.
---
Now, let's take a look at some of the frequently asked questions that people ask when they view live chat as a conversion tool.
Q. How can live chat help me stop visitors leaving the website in case they land on 404 page?
You can simply add a chat trigger on that page. Just add a condition that if a visitor stay on a 404 page for more than 5 seconds, the chat should popup asking them if this is the URL they are searching for. This is a great way to redirect them to the right page and complete a sale.
Q. How can live chat help me boost lead generation?
Simply add a pre-chat form to your chat window. So once a visitor initiates a chat on your website, they will have to complete the form, fill in their details. That way you can create a potential lead for your business.
Q. How can I boost conversions with live chat when offline?
When you are offline, you can let your visitors find answers through live chat by integrating it with a platform like knowledge base software. All the articles related to the page can be found in the chat window once you integrate your live chat with knowledge base.
Q. How can I learn whether I am getting quality leads for my business?
It is crucial for a business to know whether they are getting quality leads or not. Live chat not only allows you to collect leads and convert them into sales opportunity, but also helps your operators to filter them as possible customers. Just integrate your live chat with a powerful CRM platform and you can automatically send quality leads to the system that your business can approach later.
Do you want a free Live Chat software?
We have the #1 Online Live Chat Software for instant customer support 24x7