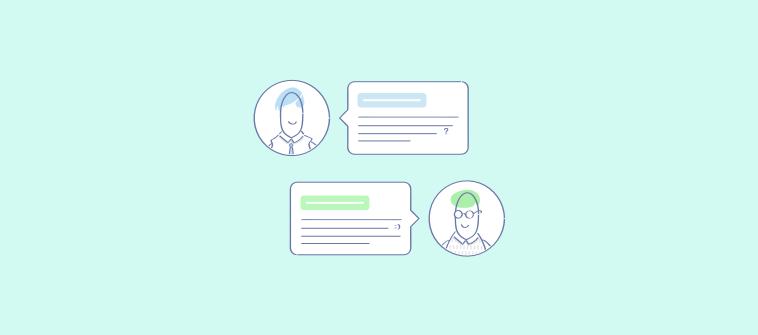 Customer expectations are on the rise.
Now, how updated are you in meeting their expectations at all times?
No doubt, instant help is their top priority, and live chat is the solution.
Except, it's just the first step.
Your customer support operators need to know how to chat with customers online to keep them hooked with your brand.
In this post, we aim to cover nine amazing online chat tips to help your business reduce 67% of customer churn and increase acquisition.
9 Amazing Tips on How to Chat With Customers Online
Did you know that 12% of Americans rate their number one frustration with customer service as "lack of speed"?
It reflects that your brand is:
Not prepared with the correct solution

Not prepared to answer promptly

Not aware of customer pain points
However, if you try to answer the questions too fast, there may be a chance that your resolution lacks effectiveness. Either way, you may end up building a poor customer service experience that may push customers to leave your brand immediately. And, this is not just theory. 4 out of 10 customers will ask their friends and family not to make a purchase from a brand that was responsible for building a poor experience.
Watch: Live Chat Best Practices for Customer Support 🙂
Question is, how can you avoid such a situation, get more customers, and keep your existing ones happy with live chat?
Let's understand all the nine amazing customer support chat tips to help you get an answer.
1. Initiate Conversational Chat
No operator is always equipped with chat handling skills. It is something they acquire with experience. Initiating a conversational chat with customers is also a part of the skill set that operators acquire over a period of time.
Even when using a live chat software, you need to ensure that your tone during the conversation doesn't sound robotic to customers. It will put them off, and ultimately approach your competitors.
So, operators need to take a step back and work upon bringing in the solution with a humble conversational tone.
This is the kind of conversation you should avoid:
Hi Miranda. How are you today?
Do you need help?/ How can I help you?
Initiating a conversation such as this can easily put your customers off. Not only that, this approach makes it really hard for your customer to connect with your brand.
Therefore, it is better to take a conversational approach and start conversations with your customers using a personal approach, something in the lines of:
Hi Miranda, I hope you are having a great day!
I see you have been scrolling through this webpage for a while now, can I assist you with something?
This way, you gain your customer's trust and they feel valued.
2. Ask for More Information, Show Empathy

Empathy by itself is just more than a feeling towards an individual. It is a process of understanding, sharing and acting on customer's problems.
Customers usually like to help themselves out. But they are not averse to asking for help when needed. Be empathetic towards your customers and their needs. Follow these tips when you interact with a customer about their issues:
Paraphrase the complaint to be sure that you're on the same page as your customer.

Share your feelings with customers. If they are frustrated or annoyed by the situation at hand, let them know that if you were in their shoes you would be annoyed too.

Offer your customers some options to choose from. Further, explain to them the benefits of each option and the reason why you are proposing it.
3. Never Say "I Don't Know"
The reason why a customer seeks out for live chat support is to get a solution.
If a customer comes to you with a query and you simply reply with a bland "I don't know" or "I don't have a solution to solve your problem right now." it would really annoy your customer.
It is always important to listen to your customers' problem and understand what needs to be done. If you can't resolve the issue, it is best to inform the customer that you will get back to them soon.
This makes your customer understand that the issue isn't open-ended and will reach a reasonable solution.

4. Transfer Chat to Right Department
As a chat operator, you can't be expected to be able to solve every problem related to every product and service offered by your company. Don't feel ashamed if you have to transfer the chat to another expert specializing in that particular field.

It is not wrong to admit that you do not have the required level of expertise to deal with the problem at hand. Use intelligent chat routing to transfer the conversation to the specialist in the field along with the transcripts to the existing conversation.
Getting the right person at the right time to handle the customer goes a long way in providing a delightful customer experience.
5. No Harm in Admitting Your Fault
One mistake many customer support operators make is trying to dodge their faults.
There is nothing wrong in admitting your fault!
More than knowing who is at fault, customers simply need a solution to their problem. So, if you are in such a situation, you can take forward the conversation as:
"I have looked into your problem and I regret to inform you that we were at fault for the delay (or any other issue your customer is facing).
But, the bright side is that we have made the corrections and now you won't be having the same issue again!
We apologize for the inconvenience caused."
Taking this approach makes customers gain your trust and increase brand value in the long run.
6. Learn to Take Follow-Ups
The rise of e-commerce and the digital age has led to an increase in one key area: impulse buying. Even though impulse buying is on the rise, additional contact is still required. Here is where following up with the customer helps.

The buyer is already interested in your products, so you don't have to start from scratch in the follow-up. You're not trying to capture the customers' interest, you just have to maintain it. Following up with your customer helps to keep that interest alive without having to put in much effort.
Keep these things in mind when following up with your customers:
Let them know who you are and the company you are associated with

Refer to previous conversations so that they can identify you

Let them know that you're contacting them to help

In your follow-up email, summarize your previous conversation with them
7. Don't Make Customers Wait – Continuity is the Key
Every customer wants to get instant support. A delay can not only lead to customer churn, but could also affect your brand name.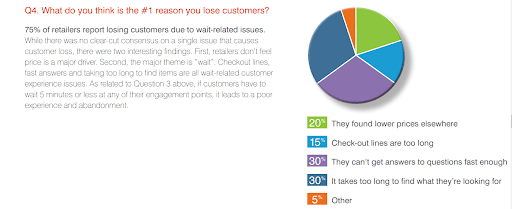 Source: timetrade.com
According to a survey, businesses reported losing 75% of their customers due to prolonged waiting time. So, make sure you resolve all customer queries instantly or at least within 48 hours.
In case there is a situation where an issue cannot be resolved in 48 hours, it is important to inform the customer and make sure you contact them within the given timeframe.
8. Recognize Your Returning Customers
To focus on gaining new customers is important, but what's more crucial in retaining your current customer base. 68% of customers leave your business because they believe you are indifferent to them.
That's a big number!
So, how do you make sure your returning customers stay with you?
Treat them like you'd treat first-time visitors/customers.
Making your customers feel at home is the best way to retain them and spread the word about your customer support.
Read More:  Here Are 4 Ways to Retain Customers
9. Attentiveness is All They Seek
82% of consumers in the US reported they stopped doing business with one company due to one instance of poor customer support. Just one poor customer experience can make all the difference in the world.
Instead of not putting in your time and efforts to resolving your customers' problems, make sure you prioritize issues and deal with them with at most attention.
Bonus Customer Support Chat Tips
If you thought that I'm leaving you only with nine awesome online chat tips, then you're wrong.
I have some bonus customer support chat tips for you in store. They are surely going to help you train your operators for complete customer success. Let's take a look at them below.
1. Let Customers Know if The Solution on the Way
Once a customer connects with your brand via live chat, they feel assured that the solution is on its way.
But is the solution really on its way?
Certain technical issues need instant support, but that doesn't mean they can be resolved quickly. Operators may give away the solution to the problem right away, but their implementation may take minutes, hours or even days.
In a situation such as this, what do you do?
Well, you humbly let your customers know that the technical team has found the solution to their problem and inform them how much time will it take for your team to implement it.
Understand this, while you inform the customer about the solution, they may presume that you are already working on it or have resolved their problem. So, make sure that you clear the air, inform them about the current status, and give them a tentative timeline on when can they expect the solution to be implemented.
2. Avoid Using Canned Responses (Personalize for Human Touch)
Automating the entire chat with your customers leaves them flustered.
"Hi, Mary, how can I help you?"
"Is this how you wish to proceed further?"
"Why don't you try doing the process again and see if it works"
"We're sorry, we don't understand your query."
…and so on.
Yes, canned responses help you provide instant replies to your customers, but when a customer needs a solution, such messages won't help them at all.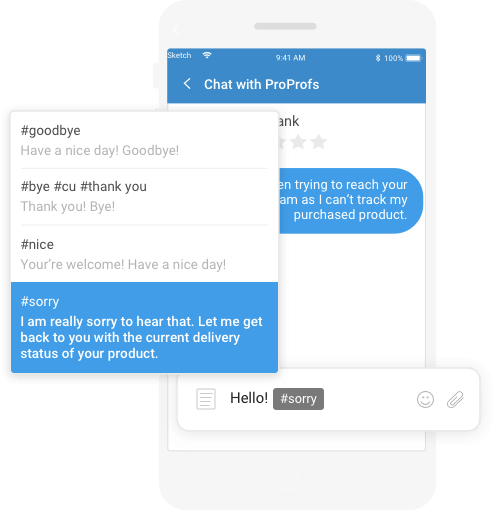 Use canned responses, but learn to restrict your use for them. Enter a conversation, tackle the question posed by a customer head on, and solve it instantly to boost customer delight rate.
3. Keep a Confident Tone
Confidence is the key to helping customers and providing them the perfect customer support experience.
Saying things like:
"I think this is how you should tackle this situation."
"Let me see why this is happening and let me get back to you in a while."
"I don't think you are understanding what I am saying."
All these examples simply say that you aren't confident enough to give a solution. Even if you did, the customer would be apprehensive in taking your advice.
And, that's not what you want. So, be confident. The right way to say the above phrases to your customers is:
"This situation needs to be tackled like this…."
"This is why you are facing this issue and this is the solution…"
"I am explaining you the process of how to go about this problem…."
This way, you not only sound confident but also gain your customers' trust and ensure they know the solution they get will be reliable and absolute.
Read More:  Top 10 Live Chat Etiquettes to Boost Customer Satisfaction 
Implement Online Chat Tips for a Successful Customer Experience

Live chat has simplified the road to communication for both customers and companies. Customers get to connect with a brand in real-time, irrespective of their time zone. What's more, customers expect the brand to be more prompt, forthcoming and provide a resolution that they came looking for.
And, while these and other live chat benefits help brands build a successful customer journey, their job doesn't really end at adding the chat tool to their website. It's your operators who make use of the tool to provide instant resolution to your customers. So, it is important to train them towards being more humble, empathetic, and understanding towards your customers while they communicate with them via live chat.
---
Keeping this in mind, we've made sure to cover some of the best customer support chat tips in this piece. We welcome your suggestions for more tips in the comment section below. Now, let's take a look at some of the frequently asked questions to help you follow live chat best practices easily.
Frequently Asked Questions
Do you want a free Live Chat software?
We have the #1 Online Live Chat Software for instant customer support 24x7