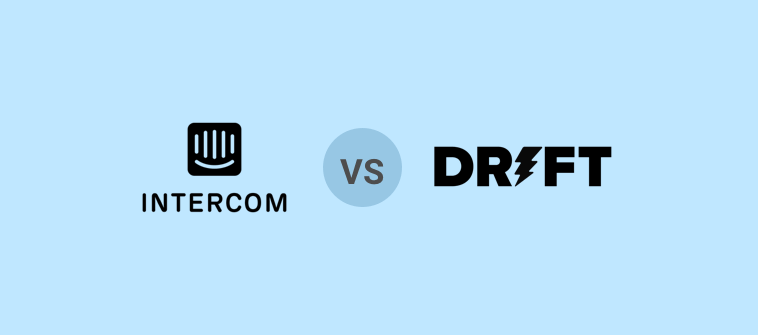 It's time to settle this once and for all; Intercom vs. Drift – what's a better pick?
Drift vs. Intercom is a long-standing debate because they are heavy-duty live chat solutions with the same functionalities yet pit against each other. But let's not forget that they both are popular live chat solutions that need no introduction.
If you've landed on our blog, you're trying to settle for one of these solutions. The question is – would you choose Intercom's conversational chatbot or Drift's intuitive design?
Tough choice, it seems. Considering your Drift vs. Intercom confusion, we've thoroughly analyzed the two tools based on their pricing and features.
Here's what we found out.
| Features | Intercom | Drift | ProProfs Chat |
| --- | --- | --- | --- |
| Free Trial | Not Available | Not Available | 15-days |
| Price | $79/mon | Not Available | $20/mon |
| Announcements | Not Available | Not Available | Available |
| Chatbot | Available | Available | Available |
| Integrations | 300+ | 50+ | 50+ |
| Customer Feedback | Available | Not Available | Available |
| Ticketing | Available | Not Available | Available |
| Real-time Analytics | Available | Available | Available |
| Knowledge base | Available | Not Available | Available |
If you'd like a deeper analysis, then this is what you'll come across in our blog:
Introduction to Intercom & Drift Chat Solutions
Intercom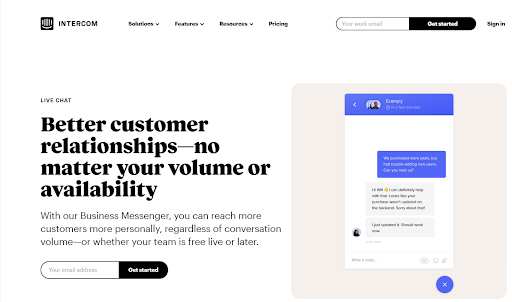 Want to build conversational support, marketing & sales experience for your customers? In that case, Intercom is your go-to tool. It claims to have partnered with more than 25k businesses. However, lately, Intercom has been known for its messaging and chatbot functionalities more than live chat. It's one of their efforts to show their customer base that they have entered the customer support automation industry.
Drift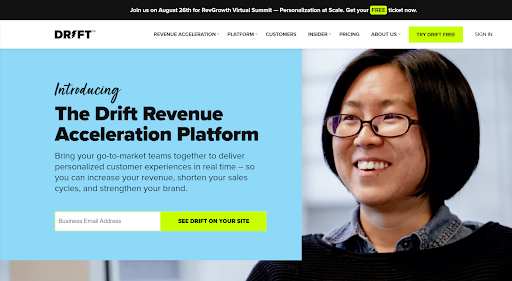 Drift, known as the revenue acceleration platform, is another live chat solution that you can't miss. This brand claims to be used by 50,000+ businesses who have accelerated their revenue using their customer support tool. Like Intercom, Drift primarily promotes itself as a chatbot service provider that captures leads and accelerates sales for its customers.
Different Criteria for Comparing Two Giants
While Intercom and Drift market themselves to be messaging and chatbot service providers, other aspects set these competitors apart.
To help you better understand, we've compared these two companies based on their features, pricing, and other factors. Here's a list of criteria we plan to use to compare these two tools.
Interface
Feature Comparison
Integrations
Pricing Plans
User Review
Drift vs. Intercom Chat for Customer Support: Interface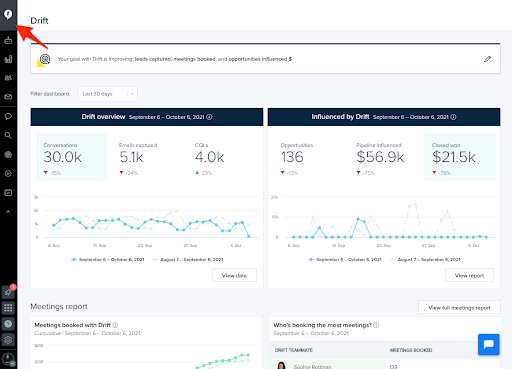 In the first impression, Drift's user interface looks quite simplistic. But finding features can delay your agent's response to a customer's question in real-time.
If you are an admin, finding all the features won't be a hassle. But suppose you are not an admin or from the team who was involved in the setup process. In that case, you will find it problematic to access the necessary features that can elevate the service experience for customers. What's worse, if you switch to a different CMS platform, you'll notice a lag in their backend system's performance.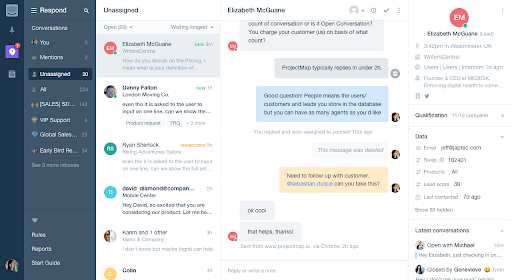 Unlike Drift, Intercom is known for its straightforward user interface. It helps your agents find all customer data in one place. All they have to do is click on a customer's name, and the agents will find the entire conversation history and details captured from a previous interaction. You can even track their feedback from previous experience and help your agents improvise or personalize future experiences accordingly.
Intercom vs. Drift: Feature Comparison
1. Chatbot
One of the first features that both Drift and intercom should be compared on is a chatbot. They both actively promote themselves to be chatbot providers. However, Drift is primarily a chatbot service provider that focuses on helping clients identify and accelerate revenue opportunities.
That's not all. Drift's AI-powered chatbot helps its clients build personalized experiences without human intervention, making its performance more intuitive than other counterparts in the market. What's more, it offers detailed analytics reports on all the chatbots added to your website. This way, you get to learn how many people engaged with your chatbot and to what extent.
Chatbots are one of the most selling features of Intercom. They are easy to configure and install on your website. However, Intercom is not just a chatbot service provider like Drift. They were initially built to help your agents focus on complex problem resolution.
Intercom understands that it can be draining and time-consuming for agents to keep repeating frequently asked questions. That's why they brought in the chatbot functionality. However, they've diversified their chatbot as a conversational sales, support, and marketing channel. This is one of the reasons why chatbot functionality is in direct competition with Drift.
2. Pre-Chat & Offline Forms
Drift depends not only on its chatbot but also on pre-chat and offline message forms to capture leads. While the feature may not seem to be exemplary but it does improve the lead generation process.
One of the drawbacks of Intercom is that it doesn't offer offline message forms. That means if your agents are offline, it won't allow filling in an offline message form. While this may not look big in the presence of chatbots, but those who would like to connect with agents directly rather than going through chatbots would miss this feature for sure.
3. Human Handover
Even after being a chatbot service provider, Drift ensures that human handover takes place seamlessly. It's not a chatbot routing a chat to a specific department, but an agent taking over an active chatbot conversation to make sure the customer receives a solution faster. Thankfully, this functionality has helped Drift users help customers avoid repeating themselves and improve the resolution rate further.
Human handover is another basic functionality that Intercom misses out on in its feature list. This feature may not look like a big miss when it helps you route the right conversations to the right department. But that also means that your agents can't intervene if they can't see the chatbots offering a solution to the customer. The agents will have to wait for the chatbot to route the chat to them and then chat with customers.
4. Works Across All Mobile Devices
Drift already offers a SaaS-based solution that's perfect for desktop users. In addition to this, it also provides a mobile app for Android and iPhone users. However, it fails to create an iPad or tablet-optimized application for its users.
On the other hand, Intercom hasn't left a single mobile divide while developing its cloud-based solution for customers. You can find Android, iOS apps for all their mobile devices. That means if you wish to offer support to customers on the go via your favorite mobile device is possible with Intercom.
5. Feedback Collection
With Drift, you can manage taking surveys and polls with your customers during an ongoing chat. However, it fails to offer feedback collection functionality to its user base. That means, once a chat comes to an end, you won't know whether your customers were satisfied with your services or not.
The same is not true in the case of Intercom. This live chat service provider offers feedback collection functionality to its users. You can collect feedback once a chat comes to an end. This will help you understand two things clearly. One, you will understand whether your services have matched your customer's expectations or not. Two, you will get the opportunity to gauge your operator's performance at length.
Intercom vs. Drift: Integrations
Drift is known to integrate with a variety of platforms that range from marketing to analytics tools. However, when compared to its contemporaries, it offers not more than 50 integrations. You can integrate with popular platforms such as Slack, Zoom, Zapier, Full Story, Piesync, Zendesk, Salesforce, and more.
Intercom offers a wide range of integrations to its users. From Stripe, Hubspot, Salesforce, Jira Cloud to messaging platforms like WhatsApp, Tribe, and Tolstoy, more than 300 platform options are available for your team to integrate with Intercom.
Intercom vs. Drift: Pricing Plans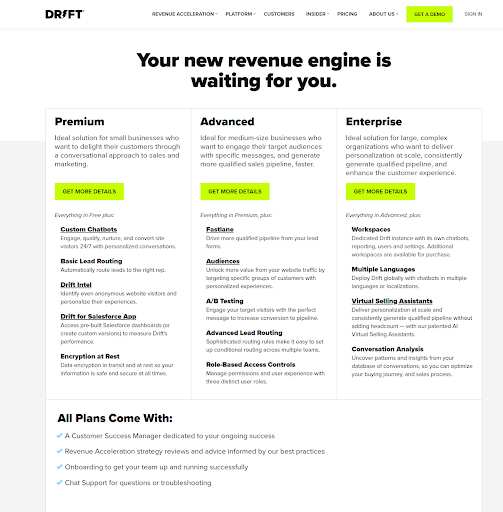 Premium: Request a quote
Advanced: Request a quote
Enterprise: Request a quote
To know about Drift's pricing in detail, you will either have to sign up for the product or request a quote to offer a demo for the product. Also, if you see their premium plan, you'll know that they say that "everything is free, plus." It is not clear whether they have a free trial or free plan for small and medium enterprises or not.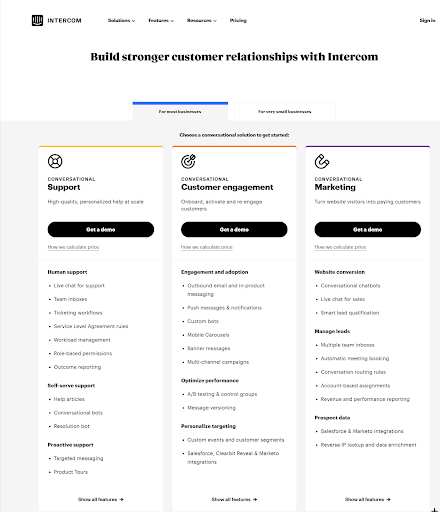 Starter: $79/month
Conversational Support: Get a Demo
Conversational Customer Engagement: Get a Demo
Conversational Marketing: Get a Demo
Intercom's cost starts from $79/month. That itself gives us a demo of how expensive they can get as you go up in their plans. Please note that $79/month includes per agent's seat, which is $19/month and $50/1,000 reached. That's not all. They even offer their advanced features to clients for an additional cost of $65/month.
Also, if you look at their conversational plans, their feature list changes based on the use case. If you take up their conversational support plan, you will access self-serve, proactive, and human support. However, the same features won't be available in a conversational customer engagement plan. The same is true for the conversational marketing plan as well.
Drift vs. Intercom: User Review
1. Capterra
Drift has a rating of 4.5 stars out of 5 based on the existing 157 reviews posted by their clients on Capterra. Out of these 157 clients, 75.5% are ready to recommend Drift as a customer support chat solution to other businesses.
Intercom has a similar rating as Drift. However, its 4.5 stars rating is based on 784 reviews posted by their clients. What may seem a little off is the probability of clients recommending to others is 74.4%, which is less when compared to Drift.
2. G2.com
Drift has a rating of 4.5 stars out of 5, even on G2 with 532 reviews from clients. What's more, this rating is an average of ratings on different product functionalities like customization, drip sequence, human routing, personalization, and more.
The same goes for Intercom. This live chat software is also rated 4.5 stars out of 5. However, it has ratings from more clients when compared to Drift. You will see that 1,848 reviews have been registered on G2 since the product was listed and have gained 64.8% of reviews from small business owners.
Verdict: What's the Best Live Chat Solution?
After a deep analysis between Drift and Intercom, choosing one in this epic battle is getting hard. That's because both are the best live chat solutions in their own right. What we can do is identify when and where will either of these live chat solutions be applicable.
When Should You Choose Drift?
If you don't feel the need to integrate with multiple platforms simultaneously, Drift would be a compatible solution for your business. Not every business needs access to numerous or, for that matter, 100s of integrations.
Even with limited integrations, you get access to more advanced features. These include, but are not limited to, drip campaigns, AI-powered chatbots, and other functionalities. They become more crucial for building better support experiences and maintaining a reasonable customer satisfaction rate.
However, you will end up missing out on essential features like feedback collection, mobile compatibility, and others.
When Should You Choose Intercom?
Intercom is an enterprise-level live chat solution not because of its features but mainly due to pricing. This tool starts at $79/month, showing that the pricing will only grow further from here on. But if pricing isn't a problem for your business, Intercom could become a well-integrated solution for your support team.
It comes with more than 300 integration options and with a chatbot that can personalize each customer interaction. However, you can end up dealing with a non-responsive support team if you get stuck with their chat interface and would like to get help.
ProProfs Chat as an Alternative to Drift & Intercom
Suppose you can't afford an expensive option like Intercom or still have your doubts about Drift's intuitive chatbot functionality. In that case, we'd recommend you ProProfs Chat as the perfect alternative to both of them.
ProProfs Chat is known for its simple interface, spontaneous updates on incoming chats, and detailed operator and chatbot performance reports.
Let's see why ProProfs Chat is the perfect alternative to both Intercom and Drift solutions:
Clear User Interface: ProProfs Chat has a user-friendly interface where finding features doesn't seem like a hassle. It has a steady learning curve, which means your operators won't have to spend days or weeks learning about how the product works.
Chatbots: This live chat solution is also known for offering a chatbot functionality that requires no coding skills at your end. It supports a simple chatbot builder that helps you curate a conversational chatbot dialogue in minutes. You can make one from scratch or edit one of the existing chatbot templates to get started.
Detailed Reports: From understanding how satisfied your customers are to how productive your operators were, ProProfs Chat helps you get a quick glance at all support aspects. In case you've been looking for a chat solution that allows you to do just that, this live chat solution has got to be your pick. It showcases results from all the feedback collected in seconds and enables you to gauge your performance as a brand faster.
Available 24×7: When it comes to customer support, ProProfs Chat is undeniably one of the most approachable teams in the SaaS market. They are available round-the-clock, ensuring that your needs are met or the product experience is customized as per your expectations.
Announcements & Greetings: When you have access to features like Announcements and greetings, your dependence on marketing tools will likely reduce a bit. While Announcements help your business share upcoming product updates, sales, discounts, or event details, greetings help you initiate a proactive chat in seconds. This has allowed various business owners to improve engagement and gain access to more leads and sales.
Price: Chat like a pro with our affordable live chat pricing. Get started today and discover ProProfs Chat's FOREVER-FREE plan for a single operator and a team plan at USD 19.99.
We hope that this Intercom vs. Drift comparison helps you choose one that matches your needs and expectations from a live chat solution.
But just in case you wish to look out for an alternative that's accessible and affordable, ProProfs Chat is your calling. So sit down and start discussing with your support and sales teams to decide which is the best for your business.
Do you want a free Live Chat software?
We have the #1 Online Live Chat Software for instant customer support 24x7