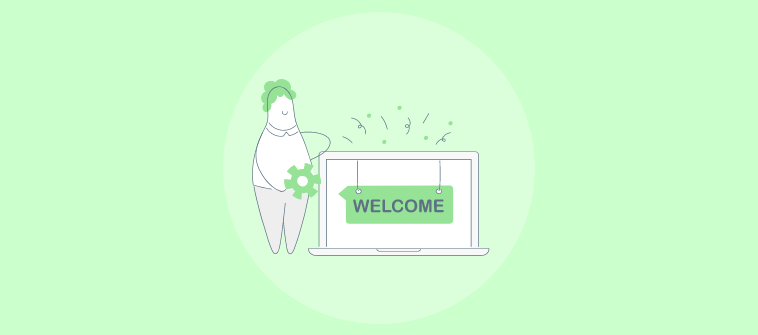 We all know the standard welcome message: "Hello, how are you? Welcome to our website." But what if your website had a chatbot that could engage with visitors more interestingly?
Your chatbot welcome message is an opportunity that holds power to set the flow of the conversation. It is a customer's first impression of your brand or company; if not done right, it can be a deal-breaker.
It offers human-like interactions, assisting visitors with everything from placing and tracking orders to getting information about a product and personalized recommendations.
This blog will delve into what a welcome chatbot message is, its purpose, best practices, and how you can customize it for positive chatbot experiences.
Let's get started.
What Is a Chatbot Welcome Message & What Is Its Purpose?
Chatbot welcome messages are the first point of contact between potential customers and your business. With these messages, companies can show off their unique personality and create a memorable customer experience. By conveying tone and setting expectations on what customers can expect during the conversation, chatbots present an exciting opportunity to build relationships in an automated way.
Their purpose is twofold; to inform and to engage. These messages can give your customer essential information about your services, products, or any relevant promotions you might be running.
How to Craft an Engaging Welcome Message
Crafting an engaging welcome message for chatbot users is key to setting the tone for the rest of the conversation. Make sure you create an interesting yet inviting chatbot greeting that makes people feel welcome and at ease with interacting with your chatbot. Introduce the chatbot with an intriguing description, enabling it to ask curious questions that lead to further conversation or provide helpful resources or advice to help chatbot users along their journey. Crafting a creative, efficient, and effective welcome message is an excellent start to getting users excited about using your chatbot.
A chatbot greeting is also the perfect opportunity to highlight your unique offerings and any new features your company may have. Additionally, use emotional triggers such as humor or incentives to keep users engaged and motivated to talk with your chatbot system. With these tips in mind, you can create welcoming chatbot messages that will encourage customers to use your chatbot again in the future!
Read More: Chatbots & Virtual Assistant- Which One Should You Choose?
Best Practices for Chatbot Welcome Message
Creating the perfect welcome message for chatbots can be tricky. What if your message sounds too robotic? Or runs into three-four paragraphs? This is bound to turn the visitor away.
Explore these proven best practices for crafting the right welcome message.
1. Keep Your Messaging Clear & Precise
Welcome greetings via chat support must be simple and precise. Users who interact with a chatbot are looking for a quick, to-the-point solution. So ensure that you start your conversation with customers on the right note.
Your chatbot greeting should be warm, friendly, and interesting for positive first impressions.
Also, it's essential to proofread your messages for grammatical errors and spelling mistakes. Even the slightest error can hamper brand identity.
Lastly, if you have a slightly longer welcome message, do not send the entire message in one message. Break down your message into separate messages for better readability.
2. Humanize the support
Yes, your visitors know that they're interacting with a chatbot, but still, it helps to humanize the support.
Give your chatbot a persona. For this, create your chatbot greetings to reflect your brand personality.
To do this, you can name your chatbot. You can even enable chatbots with emoticons to make the conversation more engaging for your website visitors.
Offering humorous statements or fun facts are great ways to keep people engaged and make them feel more relaxed.
Read More: 10 Best Sales Chatbot to Use in 2022
3. Include a CTA
When you're messaging your visitors, include a CTA. This informs the visitor of the next best action. For example, don't leave your welcome message with a "Hello, I'm here to assist you today." You can message them with more information and context. For example, "Hello, I'm here to assist you today. Which of our products are you looking to know more about?" The second message will instantly trigger them to write back to you with their choice of product that they want more information on.
If a visitor comes to your website with complex issues, they must have the option to switch to a live chat with human support. Thus, your chatbot capabilities must also allow users to switch.
Also, suppose your business offers different capabilities. In that case, you can display all the services right at the beginning and allow the visitor to choose which service they intend to ask queries about. This helps expedite the query resolution process.
4. Add User's Commonly Asked Questions
Sometimes customers want to get straight to the point. They want quick answers to their questions without the initial "Hello! How are you doing today?" messages.
Thus, your online greetings can take a backseat, and instead, your welcome message can jump to the commonly asked questions. These FAQs may include "What is the status of my order?" or "How can I upgrade my subscription plan?"
Read More: How to Create Chatbot for a Website (Step-by-Step Guide)
5. Personalize the Message
By crafting a message that resonates with your target audience and meets their unique needs, you can make sure that conversations get off to a great start. It's essential to consider the tone of voice you want to achieve when writing the message and what kind of information might be helpful for visitors immediately.
For this, it is crucial to know and define your audience. Understanding the audience's intent will equip you to create the right message that will cater to their needs.
Also, if you're interacting with a returning customer, you must send messages like "Hey! So good to have you back. How can I help you today?" This makes the customer feel a sense of belonging with the company and brand, building greater brand loyalty.
Read More: 12 Chatbot Mistakes That Can Be Fatal for Your Business
How You Can Customize Chatbot Messages in ProProfs Chat
Creating a customized chatbot message is quick and effortless using a simple live chat tool like ProProfs Chat. Let's see how you can personalize your welcome message and target your visitors better with ProProfs.
Go to your ProProfs live chat
dashboard and click on Settings.

Click Greetings under the Chat Window. Then click the +Create Greeting button.

On clicking it, you'll see all the greeting settings.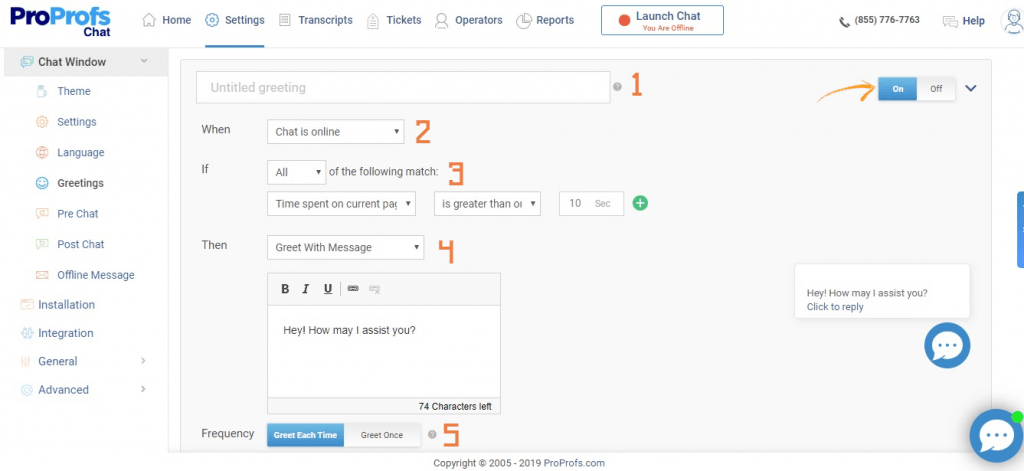 These settings are:
Name the greeting
Choose the desired chat status – Chat is online, Chat is offline, and Chat is online or offline.
Choose the condition when you want to trigger the greeting. These conditions are – Time spent on the current page, Time spent on the website, The user visited at least, Returning visitor, and URL.
Choose Greet With Message to enter your custom welcome message.
Choose how often you'd like your greeting to pop up.
Also, ensure that you enable the setting by clicking On at the top right corner of the dashboard. Lastly, click Save when you've edited all the settings.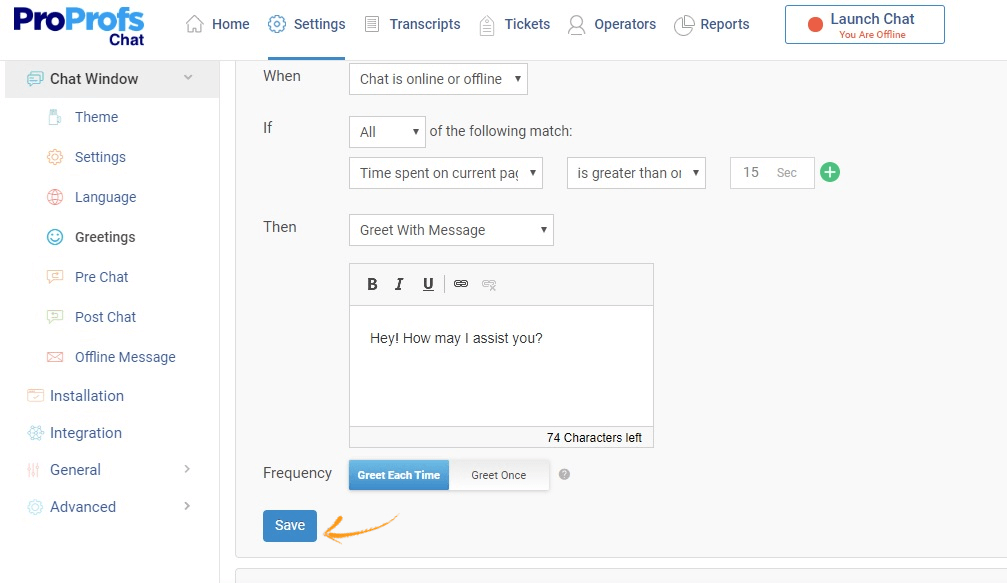 And that's how you customize chatbot messages! So if your visitor has spent a reasonable amount of time on your site scrolling through different pages, you can send a personalized message asking, "Would you like me to schedule a demo to understand our tool's features better?" You can even proactively chat with them with a simple, "Good noon! Let me know if you need anything."
Read More: Benefits of Chatbots for Your Business & Customers in 2022
Delight Customers with the Right Welcome Messages
While chatbots have been around for years, they've recently become more popular as businesses look for ways to automate customer interactions and save money.
Ensure that your chatbot welcome messages are well-put for an everlasting first impression. So when crafting your message, remember that shorter is better, use emojis and images to add personality, and include a call-to-action. Following these best practices will help ensure that your chatbot's welcome message is engaging and exciting for users!
So get off on the right foot with attention-grabbing chatbot welcome messages and win your customers right from the start!
Do you want a free Live Chat software?
We have the #1 Online Live Chat Software for instant customer support 24x7