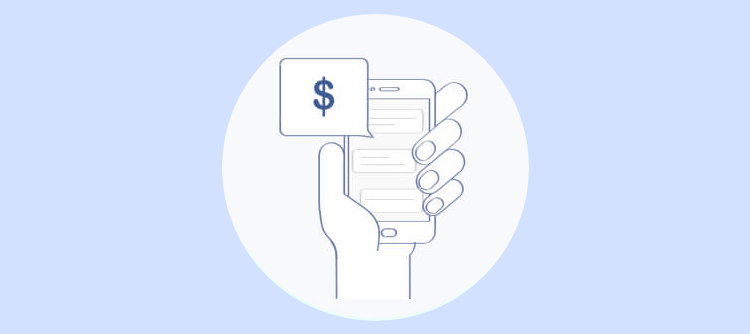 47% of users are open to buying products via a chatbot, while 67% prefer using them to get faster responses and answers.
Such numbers give a quick glimpse of what a chatbot is capable of doing for a business. But, chatbot use cases aren't limited to answering frequently asked questions. Now and then, you'll see chatbots performing several roles and taking care of multiple functionalities that'll help your business create a delightful experience for prospects and existing customers.
To help you understand how chatbots are used, we've listed down 20 popular ways a business can use them. Here's a glance at the popular chatbot use cases.
Before we dive into chatbot uses, let's understand the types of chatbots first.
6 Types of Chatbots You Should Know of
Businesses come across multiple types of chatbots that they can use on their website for various purposes. This section aims to cover some of the prominent types of chatbots that you should know of before getting a chatbot tool for your business.
1. Context Enabled or Conversational Chatbots
They function on machine learning and artificial intelligence technologies to create a conversational experience for every visitor they interact with. These chatbots end up learning from previous conversation experiences with customers. An excellent example of these chatbots has got to be Google Assistant or Siri.
2. Natural Language Processing (NLP) Chatbots
These chatbots use artificial intelligence to understand the user intent during a conversation. With clarity of the context, NLP chatbots use language parsing to create an answer for the customer. Such chatbots help your business build a personalized conversational flow that doesn't give the customer the impression that they are speaking to a bot.
3. Social Messaging Chatbots
You'll see these chatbots, not on a website but on social media or messaging channels like Facebook, WhatsApp, or even Telegram. They are basically integrated into these messaging platforms. Businesses who wish to monitor incoming customer messages on messaging platforms like these can use such chatbots and answer queries hassle-free.
4. Scripted Chatbots
Knowledge of such chatbots is limited. That's because users have to feed the entire conversation flow with the help of the branching logic feature. You can create the whole conversation flow. To change the current flow, you will have to make changes manually.
5. Service Chatbots
Another type of chatbot that your business can gain benefits from is service chatbots. These chatbots ask questions from visitors to understand their requirements and offer them suggestions based on the keywords identified during the chat.
6. Voice-Enabled Chatbots
These digital assistant chatbots work on voice recognition APIs along with text-to-speech platforms. They recognize your voice and help you find services or products online that match user needs. Alexa and Siri are some of the few yet popular examples of voice-enabled chatbots.
---
Recommended Read: A Complete Guide to Chatbots
---
Now that we've identified different types of chatbots, let's look at how they can be implemented for your business.
20 Top Chatbot Use Cases to Look Out For
In this section, we plan to explore some of the popular chatbot use cases to help you understand the functionality of this automation tool.
Please note: You'll also see where each use case is more applicable and what type of chatbot would be suitable for each chatbot usage. Further, we've divided chatbot use cases under support, marketing, and sales categories.
Chatbot Uses Cases for Support
There are multiple areas in the support process where a chatbot can prove to be useful for a business. In this section, we will cover some of those common chatbot use cases in the support process.
1. Answer Common Questions
Perfect for Industries: Travel, eCommerce, B2B, B2C, Healthcare, Automotive, & others.
Type of Chatbot: Scripted Chatbots
One of the first chatbot use cases that need your attention is their capability of answering common questions. We know they are quick to respond, but if you've designed an intelligent conversational flow with your scripted chatbots, then you'll answer common questions faster as well.
Chatbots can answer common questions in two ways. They will either show common queries at the beginning of the conversation like this: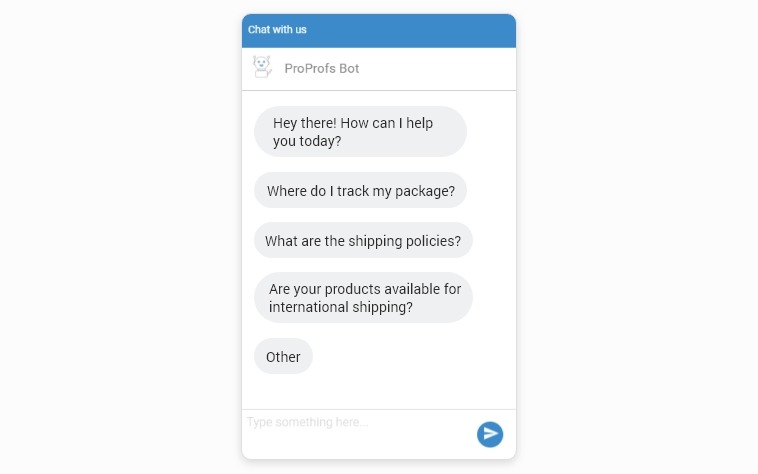 Or, the chatbot will show articles for frequently asked questions to help the customer find a solution faster as it does in the image below.
However, your chatbot must have the ability to integrate with a knowledge base solution so it can fetch the correct answers and reduce resolution time.
2. Show Product Inventory
Perfect for Industries: eCommerce, Travel, Entertainment, & Automobile.
Type of Chatbot: NLP Chatbots
Some of the best chatbot apps also help their users show product availability to customers. This allows the customer to save time and complete their product purchase faster. For this to happen, you need to connect your inventory data to your NLP chatbots. This will help them identify the right products based on the keywords added by the customer during the chat.
3. Process Return Requests
Perfect for Industries: eCommerce and Entertainment.
Type of Chatbot: NLP Chatbots
When a customer isn't satisfied with a product, they exchange or return it to your business. You may have a return request form, but customers often approach the support team if the form isn't visible to them. That's when you can switch your agent with a chatbot.
Your chatbots can help your customers submit the return request and create a ticket that gives regular updates on the return process. This not only saves your agents some time but also allows them to focus on other pressing issues.
4. Track Orders & Shipments
Perfect for Industries: eCommerce and other B2C businesses.
Type of Chatbot: NLP Chatbots
From offering order confirmations to tracking them in real-time, chatbots are capable of more than you think. They will help you understand how close your orders are to you or by what time they'll reach your doorstep.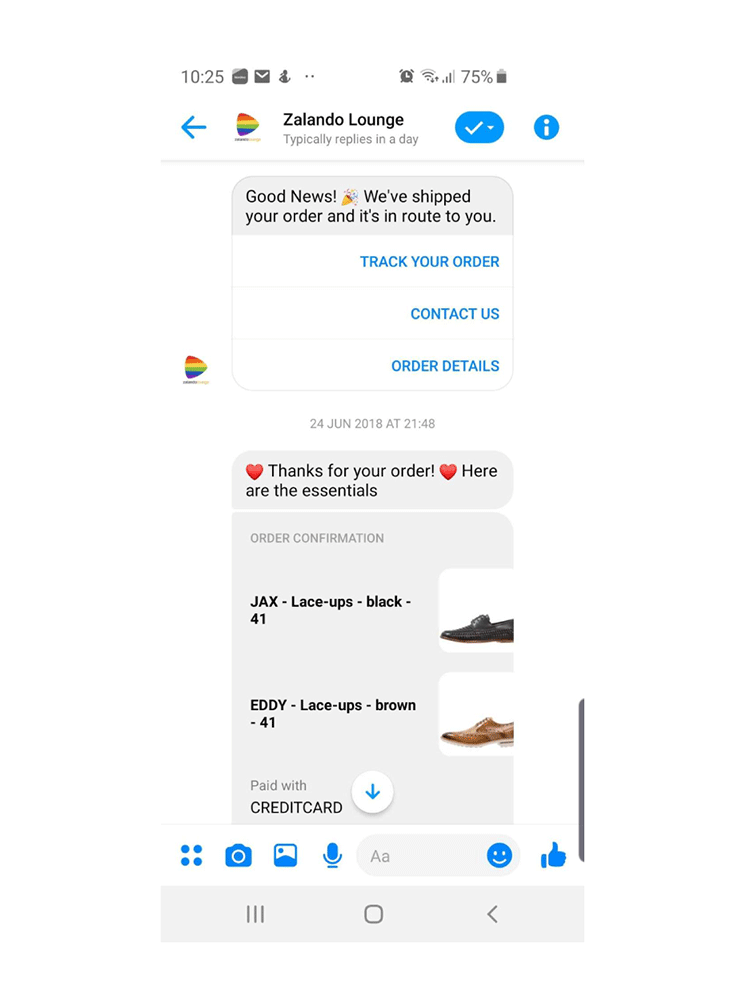 As you can see, Zalando's chatbot informs the customer about their order being shipped. It even allows tracking the shipment in real-time and provides access to complete order details like payment history and products purchased.
5. Capture Customer Feedback
Perfect for Industries: Applicable for all industries.
Type of Chatbot: Scripted Chatbots
Another popular chatbot usage is its ability to capture customer feedback once a chat ends. They can ask open-ended questions or share a feedback form in the chat widget. This helps you understand if the customers were happy with your chatbot's performance.
Advice: In case the customers weren't happy with the service, make sure to give them the option to switch from chatbot to agents right away.
6. Direct Visitors to the Right Product
Perfect for Industries: eCommerce, B2B, Travel, and Automobile.
Type of Chatbot: Context-Enabled Chatbots
Context-enabled chatbots can send visitors to the right product pages as well. After understanding what the visitor came looking for, your chatbot can share links to the right product pages to reduce visitor efforts.
7. Schedule Callbacks for Onboarding
Perfect for Industries: B2B, Travel, and Automobile.
Type of Chatbot: NLP Chatbots
Did you know that chatbots are also capable of scheduling callbacks for your customer's onboarding process?
If that's a use case you hear for the first time, then we're glad to be of help. Sometimes, customers like to switch to a human agent to clarify product onboarding or how it can help them. Sometimes, merely routing them to live chat agents is not enough. Your chatbot can show options for either chatting with an available operator or scheduling a callback where an agent would get back soon to the customer.
8. Cancel Orders & Subscriptions
Perfect for Industries: eCommerce and B2B.
Type of Chatbot: NLP Chatbots
Want to cancel your orders or discontinue your subscriptions? Chatbots can make that possible as well. As you can see in the image above, the food delivery platform has a chatbot in place that helps its customer cancel the order. That's not all. It even gives additional information on the refund process.
9. Work as a Therapy Bot
Perfect for Industries: Healthcare
Type of Chatbot: NLP Chatbots
You can also see chatbots working as therapists. One of the prominent examples of this use case is Wysa.
Wysa was created to help people speak to someone when they had anxiety or depression relapse. This chatbot helps people evaluate their reasons for being depressed and creates session rooms where people can talk about their problems openly. The chatbot recommends different meditation and relaxation techniques to help people overcome anxiety episodes based on the session.
10. Route Chats to the Right Department
Perfect for Industries: Every business.
Type of Chatbot: Context-Enabled Chatbots
You can call this a benefit, but it's also a use case when it comes to chatbots. If they cannot answer a complex question, chatbots can route the chat to a relevant department in seconds. This functionality also helps agents to learn more about the customers before they start the conversation.
Chatbot Use Cases for Marketing
Chatbots use cases aren't just limited to the support process. They help you market your products on the website as well. That's why we'll cover some of the common chatbot use cases for the marketing process here.
11. Show Product Recommendations
Perfect for Industries: eCommerce, B2B, Automobile, & Travel.
Type of Chatbot: Service/Action Chatbots
You can increase your sales if your prospects or existing customers have access to the right recommendation. Thankfully, chatbots help you show product recommendations before and during an ongoing chat. Service chatbots have become popular among eCommerce business owners for this sole reason.
These chatbots understand visitors' browsing behavior or ask questions at the beginning of the conversation to understand what they came looking for on the website. What's more, providing product recommendations help you identify upsell and cross-selling opportunities as well.
12. Update Customers About Upcoming Products
Perfect for Industries: eCommerce, B2B, and Automobile.
Type of Chatbot: Applicable for all types of chatbot
You can also use chatbots to build awareness among visitors about your upcoming products. You can implement this in two ways.
Create welcome messages for all website visitors that updates them about the upcoming product your platform plans to add to the range
Find the perfect opportunity to recommend the product's upcoming launch during the conversation
13. Welcome New & Returning Website Visitors
Perfect for Industries: eCommerce, B2B, and Healthcare.
Type of Chatbot: NLP and Context-Enabled Chatbots
With chatbots, you can also create custom welcome messages. They can be targeted towards your new visitors or returning customers.
When you have new visitors, you can always let them know what they can try or what's the latest offer they can give a try. This is one of the ways to pull them right into the conversation and make sure they interact further to get to know your offerings better.
Your chatbot can fetch previous data and address them by their names when it comes to your returning customers. This will let the customer know that the business remembers them and offer recommendations that prompt them to make a purchase.
Chatbot Use Cases for Sales
Chatbots have also proven to be useful for the sales teams as well. Those who wish to automate their sales process partially will find the following chatbot use cases quite useful.
14. Book Shows & Events
Perfect for Industries: Entertainment, B2B, and Travel.
Type of Chatbot: Context-Enabled Chatbot
From booking a movie to helping you buy tickets to the next concert, a chatbot can help you do all that in no time. These chatbots can help you manage heavy traffic on the website if there is an anticipated event that thousands of people are likely to attend.
Using a context-enabled chatbot, you can maintain a human-like conversational flow for the customers and book their preferred event tickets.
15. Gathers & Qualifies Leads
Perfect for Industries: Every business.
Type of Chatbot: Applicable for all types of chatbot
Chatbots also help your business capture leads. They'll capture essential details like name, contact number and email id, and the query that led prospects to your business. What's more, it even adds them as a contact to your CRM platform. By adding them as prospects in your CRM, you help your sales team connect with them later.
16. Build Your Contact List
Perfect for Industries: Every business.
Type of Chatbot: Applicable for all types of chatbot
As suggested in the previous use case, you can capture leads and add them to your CRM as contacts. The same is possible with email marketing platforms as well. You can use chatbots to encourage people to sign up for your subscriptions. Those who sign up for the subscription can be later added to the email marketing contact list. You'll get the opportunity to customize each newsletter as well based on the interest they've shown.
17. Offer Pricing Details & Packages
Perfect for Industries: B2B and Travel.
Type of Chatbot: Applicable for all types of chatbot
Have you connected with multiple prospects who have questions about your pricing details? If it's a big yes, then chatbots can help you take over such prospects and resolve their doubts about your pricing details. You can update prospects about your latest packages, explain their details, and how much it would cost.
18. Quiz Your Customers to Personalize their Experience
Perfect for Industries: Every business.
Type of Chatbot: Context-Enabled Chatbots
You can also personalize the purchasing experience for your visitors with a chatbot. They can ask questions that can help them develop the conversation further and provide better product and service recommendations.
You can use multiple-choice questions that offer more options for visitors to choose from or ask open-ended questions. Irrespective of the nature of the questions, you need to focus on creating the right questions to understand their pain points and possible product recommendations to overcome their challenges.
19. Become a Shopping Assistant
Perfect for Industries: eCommerce and Automobile.
Type of Chatbot: NLP Chatbots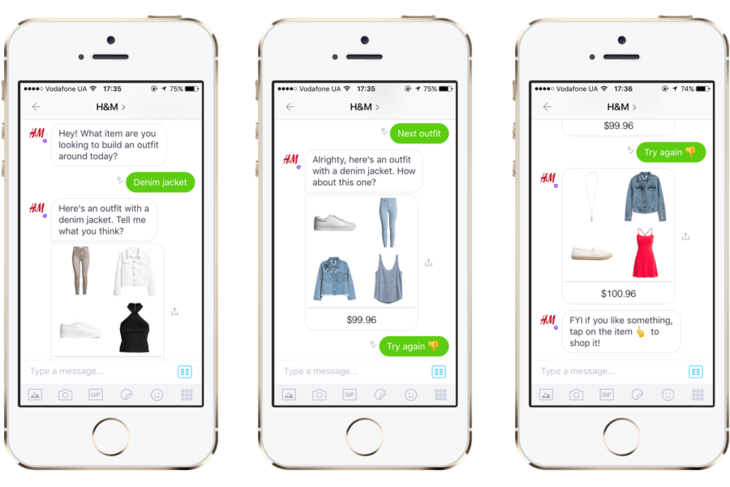 Brands like H&M use their chatbots as personal shopping assistants. They will keep recommending products until the shopper is satisfied with the combinations they suggest. What's more, they offer the option to add their suggested products in the cart from the chatbot interface itself.
20. Book an Appointment
Perfect for Industries: Healthcare and Real Estate.
Type of Chatbot: Context-Enabled and Scripted Chatbots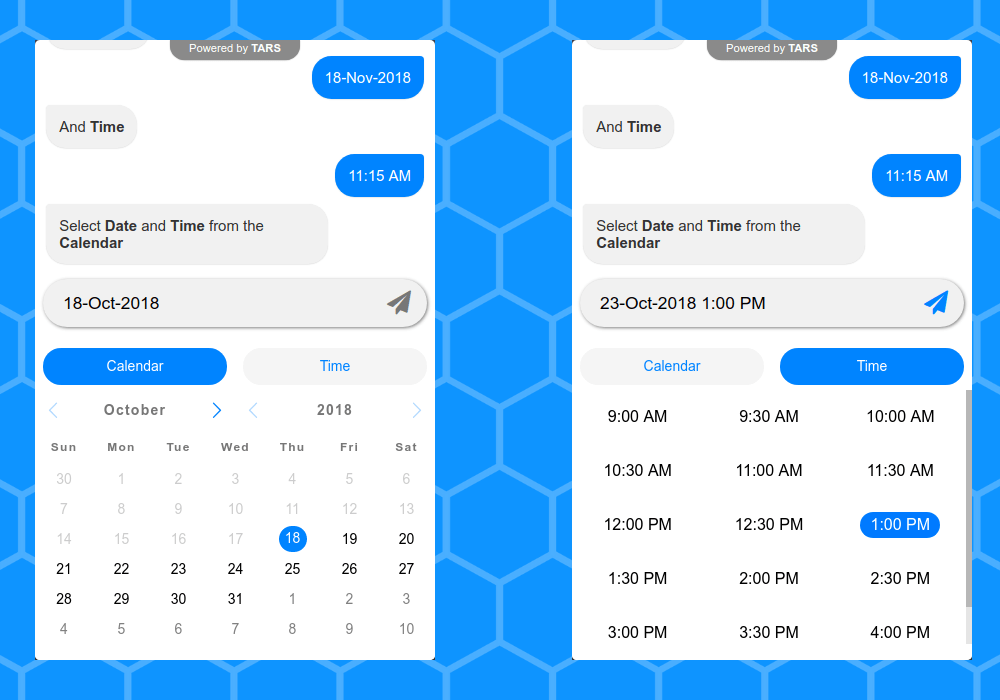 Want to help your customers book an appointment faster? Opt for a chatbot. They will be faster and help your customers avoid the long call queues to call and check schedules for face-to-face appointments.
Identify Your Chatbot Use Case Today!
So far, we've understood that chatbot usage is varied across different industries. Some may use it to tackle frequently asked questions, while others may use them to track orders. The chatbot use case depends on what type of industry the business belongs to.
That's why it is essential to understand your chatbot use case as well before getting it onboard. To help you get started, we've listed the six types of chatbots that one can come across in the market. Other than that, we've listed 20 popular chatbot use cases to help you identify yours and implement the customer support tool the right way. Although, we do recommend you start searching for the best chatbot software for your business to match your use case.
Do you want a free Live Chat software?
We have the #1 Online Live Chat Software for instant customer support 24x7