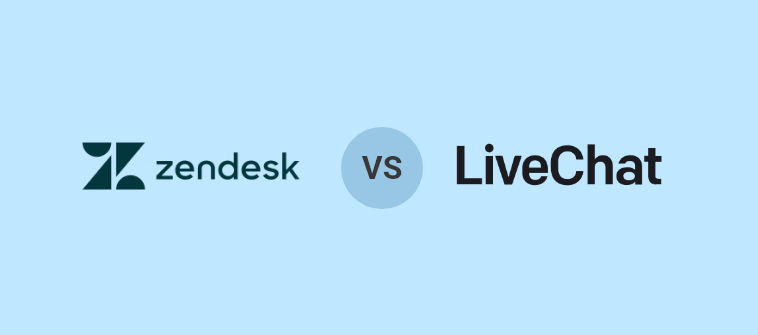 Customer engagement is already the top priority when scaling your business. Businesses often use chat support tools like Zendesk and LiveChat to offer the maximum impulse in customer interaction. But the most challenging part is to choose between both. While we understand your dilemma, a feature-by-feature comparison is hard to find. Thus, this article will take you through a detailed comparison between Zendesk and Live Chat, helping you pick the best tool for your business.
Zendesk vs. LiveChat : A Detailed Comparative Analysis
| Features | LiveChat | Zendesk | ProProfs Chat |
| --- | --- | --- | --- |
| Free Trial | 14-days | 14-days | 15-days |
| Price | $24/mon | $49/mon | $10/mon |
| Announcements | Available | Not Available | Available |
| Chatbot | Available | Available | Available |
| Integrations | 300+ | 200+ | 50+ |
| Customer Feedback | Available | Available | Available |
| Ticketing | Available | Available | Available |
| Real-time Analytics | Available | Available | Available |
| Knowledge base | Available | Available | Available |
Zendesk vs LiveChat: Type of Users
The user base is an essential aspect of comparing Zendesk Vs. LiveChat to realize the potential and impact of both the software. Whichever is better for your business's needs will become more apparent after you know the types of customers who utilize both.
Zendesk offers an on-demand customer help desk that can be used by most businesses. Zendesk can be one of the best options when a business is looking for a well-integrated support system. It offers flexibility and customizability as the primary features and is primarily classified as a "Helpdesk" tool.
LiveChat offers a customer support tool that is more relevant for large businesses. It offers a wide range of features from canned responses to transcripts. LiveChat focuses on providing user-friendly, simple and the ability to integrate with multiple software.
Zendesk vs LiveChat: Interface
Zendesk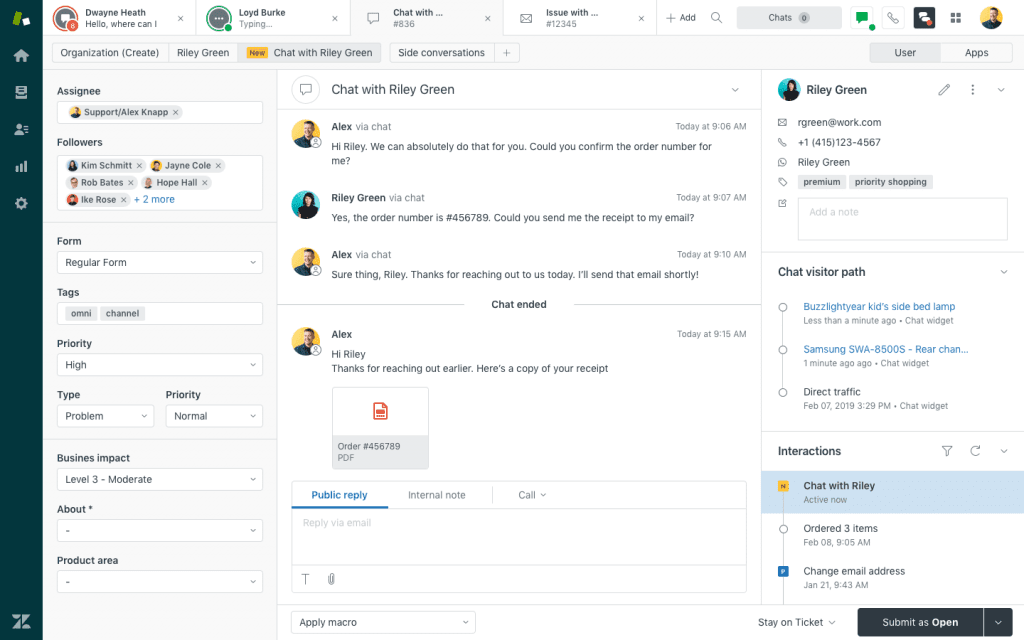 Operators can identify the whole engagement trail with clients using the simple interface that Zendesk provides. LiveChat faces stiff competition from Zendesk when it comes to detail. Operators can manage multiple conversations simultaneously because they can easily switch from one chat to another.
Their visitor browsing information will surprise you. Zendesk maps out each action a visitor takes while on your website. This makes it possible for your operators to recognize visitor intent more quickly and offer them a customized experience.
LiveChat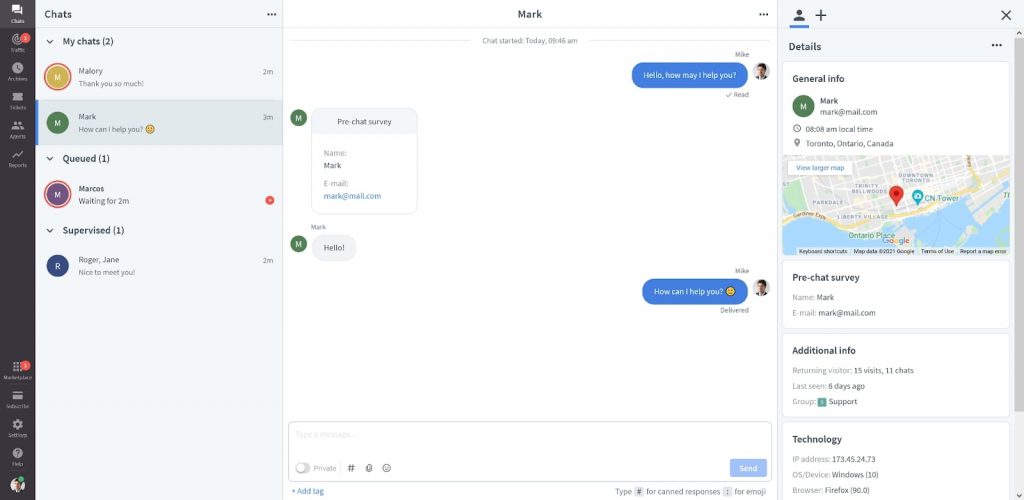 LiveChat offers a complete customer service interface that delights customers and fuels their sales. It provides an automated omnichannel platform that lets businesses engage with customers and generate leads. The round-the-clock chatbot interface allows companies to answer their prospects' queries and create tickets. From targeted messages to chat transcripts, LiveChat offers a wholesome experience to its customers.
Zendesk vs LiveChat: Features
1. Live Chat
Zendesk
Although Zendesk's user interface is appealing, there are limited options to customize the dashboard. Additionally, the chat widget needs to be updated. However, Zendesk provides an interactive platform where agents can access the customer's profile and interaction history to arm themselves with relevant context. This enables them to offer their prospects a tailored experience. Rich media features like GIFs, emojis, and other graphical elements become more effective and engaging.
LiveChat
It offers multiple features for a more engaging customer experience. From the sneak peek to canned responses, LiveChat extends a variety of features to let their clients engage efficiently with their customers. Before your consumers send anything over, you can see anything they are typing. You can find an answer more quickly and respond in a flash. Canned responses help businesses save time by not needing to frame solutions for repetitive queries, ultimately enabling them to record higher productivity. Tags can be added to track specific customers' contexts and problems. Thus, it offers a wholesome platform for overwhelming customer engagement.
2. Knowledge Base and Self-Service
Zendesk
Like its competitor, Zendesk provides a simple knowledge base solution to configure. As the services or products develop, users can construct a knowledge base to add new articles or amend existing ones.
Zendesk offers multilingual language functionality. You can choose from over 40 languages to create your knowledge base. It also offers thorough analyses of how each self-help item performs in your knowledge base and lets you plan content improvement effectively…
LiveChat
LiveChat knowledge base offers faster customer responses and effortless self-service. It gives your support teams a tool to significantly decrease the total case-handling time. It gives you the best of both worlds.
Customers who want to avoid reaching out to a support agent for their query can quickly get solutions to their answers using a knowledge base that enables self-service. The businesses benefit because they don't need to waste energy training their support agents for the same repetitive questions. Instead, the support agents can use canned responses based on the knowledge base to answer customer queries.
3. Reports and Data Analysis
Zendesk
Zendesk provides thorough reports that can be distributed to others and allows concurrent team collaboration. Either use a pre-built dashboard to monitor your performance or create one. You can see metrics on your personalized dashboard for required high-priority content.
LiveChat
It offers a series of reports and analytics to give businesses a wholesome idea of how their customer support agents perform. LiveChat provides complete insight into customer satisfaction and engagement data from missed chats to chat surveys. It even lets you drive data about staffing details, allowing businesses to know how many agents are needed for further customer engagement.
4. Customization and Branding
Zendesk
With its customizable themes, Zendesk gives businesses flexibility over how their support centers appear. It offers to create more than one help center for easy personalization to different audiences, brands, or regions. Moreover, businesses can also localize content in over 40 languages to cater to the diverse customer base. Zendesk gives businesses the tools to personalize the live chat experience for their brand.
Companies can use third-party software to alter their chat window's appearance, add a logo, or modify how it functions. The customizable Web SDK lets enterprises create a distinctive chat experience for their customers, which can help them grow their brand.
LiveChat
The easy-customization feature offered by LiveChat lets you adjust the look and feel of your chat widget, which provides a tailored customer experience on mobile and desktop devices. Customizing the agent profile allows businesses to add a human touch to the chat widgets, thus enabling a better customer experience.
Additionally, the multilingual chat support feature lets you interact with your customers in more than 45 languages, expanding the scope of accessibility.
5. Automations and Integrations
Zendesk
Regarding integrations, Zendesk and LiveChat are direct competitors. The user base of this live chat service provider has access to more than 200 integrations. You can build an omnichannel suite using a combination of productivity, collaboration, CRM, social media, analytics, eCommerce, email marketing, and other technologies.
LiveChat
From welcome chats to after-hour messages, LiveChat lets you engage with your customer even when your customer support agents are not online. Thus, round-the-clock accessibility is generated using chatbots offered by LiveChat. The lead generation chatbot lets you automatically collect, segment, and qualify leads for better sales and leads growth. Tickets can be seamlessly transferred to the concerned agents for issues that need the agent's assistance. This routing feature synthesizes the chatbot-human combination to offer an integrated chat support experience.
Zendesk vs LiveChat: Customer Support
Zendesk
Customer support from Zendesk is very lacking. The fact that they do contact clients is the sole solace, but by the time they contact, it is already too late. Zendesk falls short of providing an excellent customer service experience. For many, this can be disappointing because problems can always arise.
LiveChat
One of LiveChat's significant downsides comes from the ticketing system. Existing customers complain about inadvertent ticket drops and delayed responses for ongoing tickets. The ticketing procedure, too, is confusing to the customers.
Zendesk vs LiveChat: User Reviews
Zendesk: On Getapp, Zendesk stood at a rating of 4.3/5 given by 3,300 reviewers. While some unique features appreciated by the reviewers included Active Directory Integration, Group Management, Progressive Dialer, and Health Score.
LiveChat: LiveChat stood at a rating of 4.5/5, given by 1,400 reviewers. The reviewers appreciated features like Agent Interface, Video Chat, Employee Activity Monitoring, and Project Time Tracking.
Zendesk: On Capterra, Zendesk stood at a rating of 4.4/5, given by 3,331 reviewers. The likelihood of getting recommended by the users stood at 73.4%.
LiveChat: LiveChat stood at a rating of 4.7/5, given by 1,400 reviewers. The likelihood of getting recommended by the users stood at 79.9%, which is better than Zendesk if we neglect the number of reviewers.
Zendesk vs LiveChat: Pricing
Zendesk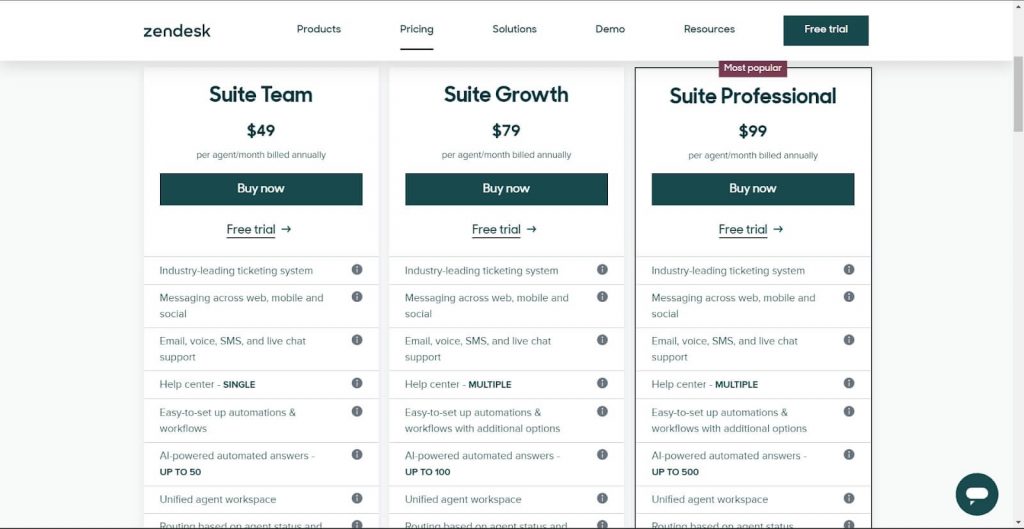 Suite Team: $49/agent/month
Suite Growth: $79/agent/month
Suite Professional: $99/agent/month
Suite Enterprise: $150/agent/month
Zendesk's pricing starts at $49/agent/month compared to LiveChat. The add-ons and access to all integrations are not included in these subscriptions. They can make their plans rather pricey after you have them all. Zendesk serves a broader range of features within their plans, but the higher pricing can be a limiting factor for some businesses.
LiveChat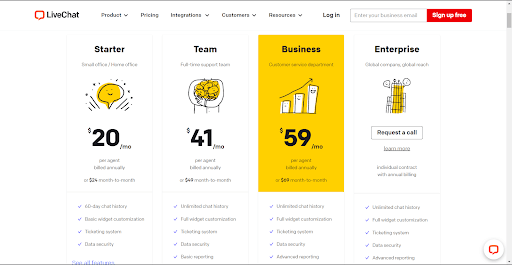 Starter: $20/agent/month
Team: $41/agent/month
Business: $59/agent/month
Enterprise: Individual contract
LiveChat's pricing starts at $20/month, which is on the cheaper side compared to Zendesk. Thus, it can be a good alternative for small businesses looking for an affordable chatbot system. Although its pricing is reasonable, businesses looking for a fully integrated, highly packed chatbot system might find Zendesk a better option because of its more comprehensive range of features.
Which One Should You Go With?
Enriched customer support is key to a delightful customer experience. Zendesk and LiveChat both offer interactive customer support that businesses can rely upon. From generic features like instant support and round-the-clock availability to advanced features like knowledge base integration and canned responses for enhancing productivity, both focus on a visually enhanced user interface.
While a clear verdict for which one is the best won't be a practical decision, an overall analysis of comprehensive features provides an answer to which one can be more reliable. It must also be clear that both have pros and cons depending upon the size and niche of the business using it. Thus, we have tried providing an answer to the question as given below:
When Should You Choose Zendesk?
Businesses looking for a well-integrated support solution might consider Zendesk. It provides a suite to its user base that combines a knowledge base, live chat feature, and support desk. As a result, they can streamline the customer care process and provide engaging experiences.
When Should You Choose LiveChat?
Businesses looking for feature-packed, affordable chatbot support can go with LiveChat, as it offers a well-assembled package to enhance customer support. From startups to enterprises, businesses can rely upon LiveChat for their daily customer support requirements, which can help them improve interaction and augment engagement with their prospects.
ProProfs Chat as an Alternative to Zendesk vs LiveChat
Now, since we have already covered Zendesk VS. LiveChat in detail, it's time to walk you through the functionality of a better alternative in case you are still confused about choosing one.
ProProfs Chat offers a robust customer support chatbot that can help you overcome the need to choose between Zendesk and LiveChat. Here's how it can replace both of them:
Interface
ProProfs provides an easy-to-navigate user interface for a faster solution delivery to the customer. It offers an advanced feature of accessing all the sources a visitor has come across after landing on the website. If that's not enough, it even lets you get insights into how much time the user has spent on each resource.
ProProfs Chatbot covers all your business needs when it comes to offering a delightful customer experience, from a visually appealing interface to a drag-and-drop customizable dashboard.
Features & Integrations
With ProProfs Chat, a personalized experience is just a tap away. With over 100 features and 50 integrations, ProProfs Chat helps businesses deliver an ultra-swift personalized website experience that can turn your website visitors into high-paying customers. ProProfs chatbot API lets businesses customize individual conversations for their customers by accessing pertinent information from CRMs and product databases.
Pricing
ProProfs Chat is one of the most cost-effective solutions on the market because of its affordable pricing. Its standard subscription is available for $19.99/month, which in itself is a compelling reason for startups or medium-sized businesses to adopt and integrate it within their systems. You can also opt for the 15-day free trial to get a first-hand experience of the tool's features.
Knowledge Base & Help Desk
Among many other reasons, integrated Help Desk and Knowledge Base apps stand apart when considering ProProfs Chat as an alternative to Zendesk and LiveChat. The best thing is that you can use their support package, which includes integrated live chat, a knowledge base, and a help desk, to help you give your consumers a well-rounded experience.
Chatbots
ProProfs is all about being savvy and avoiding hustles. With features as advanced as intelligent routing and operator analytics, ProProfs offer a feature-packed chatbot system that helps businesses upturn the leads and boost sales. From sentiment analysis to keeping track of visitor chats, enterprises are offered a fully-covered chatbot software that relieves them of all the doubts when providing the best customer experience.
While we have taken you through a detailed comparison of Zendesk Vs. LiveChat, you don't have to restrict yourself to choosing between the two of these support systems. You can instead opt for highly advanced solutions like ProProfs Live Chat, offering a comprehensive set of features. Such an intuitive, customizable, and user-friendly chatbot software will help you scale your business sustainably.
Do you want a free Live Chat software?
We have the #1 Online Live Chat Software for instant customer support 24x7