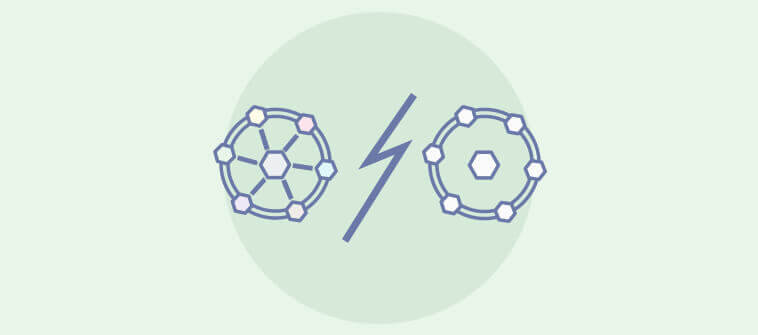 Remember when your business had limited platforms, mostly email, mail, and phone support, to help customers reach your brand?
We've obviously come a long way from those times.
No wonder customers today are more concerned about how their customer support experience might turn out with a brand. They know you have more platforms in place to help them reach your brand faster in times of need.
"More than 60% of modern consumers care less
about the price if they are getting the
best customer experience."
Tweet this
But what about you? And your support operators?
You have multiple channels to monitor and track at the same time to make sure no issue or question goes unanswered. That's why most of you resort to customer support tools like live chat for customer service to offer the best possible and instant help to customers.
Still, it would've been a bit more comfortable to not work on all the platforms and manage the data captured separately.
That's why we see a constant debate on the difference between multichannel and omnichannel support online. So, let's make this decision a little simpler for you.
In this blog post, we will explore:
What is Multichannel Customer Support?
Multichannel customer service defines the use of multiple support channels such as knowledge base, live chat software, help desk, different social media platforms, email, call, and others to create a good experience for customers.
That means your business adds more means of communication to help customers reach your brand faster.
A very good example of multichannel customer support and service is Apple.
As a click-and-mortar retailer, Apple is seen to operate in both physical and online stores successfully, thus answering your 'what is multichannel customer support?' question.
In short, Apple offers best-in-class services to its customers as they have kept different platforms open for their customers to reach them out. This multichannel customer service example sounds good, but we've lately seen a shift from this strategy to that of omnichannel customer support.
Let's understand why this customer support strategy is such a rage in the market in the next section.
What is Omnichannel Customer Support?
Omnichannel customer support is known for creating a unified experience for customers where they don't have to repeat themselves again. Companies can use services like the one used in multichannel support, but they will all be tied together, therefore creating a holistic experience for all.
In omnichannel customer service, you can integrate multiple tools together to make sure that all the data collected gets stored in one place.
ProProfs Chat can be integrated with multiple platforms at the same time while allowing you to store all the data in one place.
In short, your support operators don't have to open multiple windows to confirm various details from different sources.
You can find multiple integrations with platforms like:
Customer Relationship Management Tools (Of your choice)

eCommerce Platforms

Content Management Systems

Help Desk Tools

Social Media Integration
One of the best brand examples that I can think of is Disney.
It is known to offer one of the best omnichannel customer service experiences to its customers.
You'll find the best:
Mobile responsive website that keeps people entertained during travel

Trip-planning website that helps their customers plan their next visit to the Disney land and get a complete knowledge of different activities one can enjoy with the entire family during visit

Mobile app that allows its customers to locate all the attractions once they reach DisneyLand
This totally answers 'what is omnichannel customer support' and 'how it works' questions. And, the Disney example might be making you tilt more towards building your own omnichannel customer support and service strategy.
But the mere difference from their definitions won't help you understand the actual difference between omnichannel and multichannel customer support.
So, let's understand the omnichannel vs multichannel debate in detail:
Pros & Cons of Multichannel Customer Support
In this section, I would like to focus on different advantages and disadvantages of using multichannel customer support and service. It will help you decide whether this is the right service strategy for your business or not.
Pros of Multichannel Customer Support
Here's a list of benefits that you can't miss out when considering a multichannel customer support strategy.
✔️ Efficient Service Experience for Individual Customers
In case you own a business that requires you to offer focused service to individual customers, then multichannel customer service is the right strategy for you! This is seen to be one of the top benefits of multichannel customer service as brands get the opportunity to provide service to individuals more efficiently.
✔️ More Channel Options for Customers
There is a reason why multichannel customer service and support strategy is seen to be one of the best options in the market by business owners. That's because you get the option to provide customer service via multiple options including your brick-and-mortar store.
This way your customers get more options and select one platform that they find more convenient to reach out to the brand.
In a nutshell, you enable customers to get instant and professional support through their channel-of-choice.
✔️ Improved Proactive Customer Engagement
Another benefit that multichannel customer service has in store for its users is to become more proactive while engaging with customers.
For example: You get a comment on your social media page from one of your customers with a question or an issue. You or your employees looking after social media marketing and brand management get notified. This way, your business gets time to prepare a solution and reply back to the customer instantly.
In short, you are making your brand proactive while engaging with customers online and ensuring that no one leaves with a solution.
Cons of Multichannel Customer Support
Now that we know the benefits of multichannel customer support, let's take a look at some of the cons or disadvantages of using this strategy for your business below. This will help you get clarity in the omnichannel vs. multichannel debate.
❌ Lack of Integration Amidst All Channels
Apparently, the multichannel customer service concept does not talk about integrating all the solutions and using them as one platform.
That means, if you've provided support to your customers at your retail store, then that data isn't shared on other platforms used by the business.
Next time a customer visits any of your support channels, they'll have to start fresh as your customer support operators won't have access to the previous customer interaction.
❌ Impacts Response Time
The previous point brings us to this one. On a customer's next visit to the brand, they may find the support process a little slow in comparison to their past experience.
That's because if your data isn't synced with all the platforms, it will lead your support operators to provide late responses. After all, they'd like to know the customer's history as well.
This, in turn, leads to the next disadvantage of the multichannel customer support process.
❌ Bad Experience at Switching Between Different Channels
Let's just say that you not only ruin the customer's experience with the brand but also of your support operators and agents.
The thing is you do not get the option to switch between multiple channels once you adopt this customer service strategy. That means your customer support operators have to open different apps to separately:
Manually add data to other platforms

Refer to previous data captured during customer's last visit
❌ Making Your Customers Repeat
"72% of consumers consider it poor customer service
if they have to explain their problem to
multiple people."
Tweet this
One of the biggest disadvantages of multichannel customer support strategy is making your customers repeat themselves. Since operators can't access the previous experience of a returning customer, they at times end up asking the customer for common details.
For example, if your customer initiates a chat and has to fill out a pre-chat form every time they visit the website for support, then they'd likely leave soon. If anything, this is one way you can end up having frustrated customers.
Pros & Cons of Omnichannel Customer Support
In the previous section, we've successfully covered various reasons for why you should and shouldn't adopt a multichannel customer service approach. But now, let's explore the same for omnichannel customer service strategy too.
Let's get started!
Pros of Omnichannel Customer Support
In this section, let's take a look at some of the advantages of omnichannel customer service and how it is better than multichannel customer service strategy.
✔️ Creates Seamless Customer Journey
One of the biggest highlights of omnichannel service experience is the fact that your business gets the opportunity to build a seamless journey for every customer. Since you get the option to integrate all your support channels in this strategy, it becomes a lot simpler for your operators to provide information on time and store a new one across all channels.
✔️ Reach Active Customers Anytime, Anywhere
Another ability that this strategy enables you with is to reach your customers wherever they want your services and wherever they are active. Once you actively integrate all the support platforms, it becomes simpler for you to access every customer detail no matter where you or the customer is.
But one thing is sure you get to reduce a lot of unproductive activities as operators no more have to search details from different platforms. They can see it all, thanks to the integrated support systems.
✔️ Reduces Customer Effort
"Customers like it when they don't have to make
extra efforts during a support session."
Tweet this
And that's exactly what an omnichannel customer support strategy does for you. It helps your business reduce customer's efforts hassle-free. This way, you end up improving every customer's experience with your brand.
That means you can expect to see your customers staying with your brand for a long time.
After all, 70% of consumers say they have already made a choice to support a company that delivers great customer service.
✔️ Creates Personalized Experiences
Did you know that 68% of customers said that a pleasant representative was key to their recent positive service experiences, while 62% said that a knowledgeable rep or resourcefulness was the key to great service?
There is only one reason for such amazing outcomes – integrated systems. When you have an omnichannel support system, it becomes a lot simpler for you and the operators to know your customers better. This helps them personalize individual customer journeys as they have immediate access to communication history across all channels.
✔️ Builds Trust & Creates Credible Brand Image
It is said that a memorable experience encourages 73% of customers to stick with a brand.
No doubt, creating a good experience requires you to have your systems integrated as one and creating an omnipresent brand experience. But other than that, it also requires your brand to hire the best reps who create a memorable experience for all customers.
They help your brand connect well with customers on time and go the extra mile to offer instant solutions to their troubles. This action creates a sense of loyalty and trust that helps your brand create a credible image in the market.
Cons of Omnichannel Customer Support
In this section, we aim to look at some of the disadvantages your business can face if omnichannel customer support becomes the primary strategy to take care of customer questions and troubles.
❌ Increases Multitasking Roles for Operators
For your operators to offer the best service, you need to make sure that you do not burden them with multiple tasks at the same time. This will hamper their productivity and your customer's experience with the brand. In short, you can see a drop in customer satisfaction rate as they'll be witnessing a lack of existing customer service quality.
❌ Inconsistent Integration Leads to Frustrated Customers
If your different platforms aren't integrated properly, then there are chances that your operators won't be able to provide awesome support experience to your customers. This can result in frustrated customers who ultimately might end up going after another service provider.
To avoid this, make sure you have tools and platforms that are compatible with one another. Like ProProfs Chat is compatible with various tools and that's why it offers its customers the option to integrate seamlessly with 50+ platforms.
What's Best for Your Business: Omnichannel vs. Multichannel Customer Support
Let's take a look at some of the points that we've collected so far from the multichannel vs. omnichannel debate above.
| Omnichannel Customer Support | Multichannel Customer Support |
| --- | --- |
| Provides a wide scope | Provides a centralized view |
| Allows transactions to be performed on multiple channels | The transaction is usually redirected to one source |
| Allows businesses to identify what your customer needs (through analytics) | Allows businesses to identify what your customers might like and want (through analytics) |
| Not all channels are visible to the customer | Customer is aware of all channels |
As you glance through these pointers, you need to think of which approach works best for your business. Also, take into account the fact that whether your support operators are able to work along with either of them to create an awesome support experience for your customers.
I hope this has helped you pick up the right customer support strategy for your business.
Happy reading!
Do you want a free Live Chat software?
We have the #1 Online Live Chat Software for instant customer support 24x7