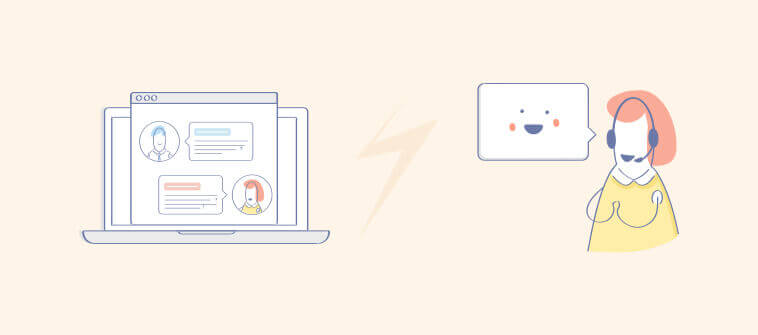 In one of its studies, American Express discovered that for more complicated interactions, such as payment disputes, 40% of customers prefer talking to a real person over the phone.
However, the tables turned when Econsultancy discussed how 79% of businesses prefer to use live chat at their website instead of email (61%), phone (44%), and social media (48%) platforms to communicate with customers for instant support.
It's clear how customers are moving from phone to chat support. It's not a statement derived from the two studies above. Forrester acknowledges this fact too.
Voice increasingly evolves as an escalation — not a primary service — channel. Phone use for customer service has steadily decreased over the past six years, and Forrester predicts that it will dip even further as customers increasingly adopt digital channels like web chat.
And while the results are crystal clear, we still get to read articles on live chat vs phone support. To help you get a clear picture of how the live chat and phone support debate has shaped so far, we've curated an article that will help you arrive at a final conclusion.
Here's what we aim to cover!
So, let's kick-off the article by understanding the evolution of live chat and phone support.
Evolution of Live Chat Support
The Digital Transformation of the 1990s enabled brands across industries to flourish worldwide. Business owners eagerly wanted to enter the WorldWideWeb to boost presence in the international market.
And while brands pursued their dream to build a strong presence in the market through online exposure, they noticed a sharp hike in questions.
Customers wanted answers, and they wanted them fast. They were yet to become familiar with a lot of things like company offerings, pricing, purchasing process, and more.
According to 

Rita McGrath's

 latest contribution to Harvard Business Review, 
various factors made the customer mind inquisitive and reach out to brands 
for support.





"Under certain conditions, market transactions often are not satisfactory 
for individuals: when it is difficult or expensive to get information about 
what you want to buy, when bargains are hard to strike because information 
is asymmetrical, and when it's costly or challenging to enforce agreements."
Customers were encouraged to ask for support from brands as there was a dearth of information on company websites. While this is a great marketing and lead magnet strategy for the business, they had to work a lot harder than expected if seen from the customer service perspective.
However, it was at the turn of the millennium that people started to become familiar with the concept of instant web-based chat. Business owners finally understood that one way to answer questions online is through the use of live chat software.
And that's when ProProfs Chat (formerly known as Live2Support) entered the market.
With a promise to deliver state-of-the-art chat capabilities to its customers, ProProfs Chat enabled companies to finally be available for their customers 24X7. And that's not all. As it developed over the years, it even allowed businesses to attend to customer questions no matter where their operators were.
In a nutshell, live support chat software turned out to be a great solution for business owners who wanted to offer instant, delightful support to their customers.
---
Also Read: Live Chat Software: Evolution, Success & Future
---
Benefits of Using Real-time Live Chat Support
I read it somewhere that "real-time" is an overpowering word. If you combine it with other concepts such as support, collaboration, or communication, their meaning changes completely.
That's exactly what live chat does to support.
Its ability to help your business offer real-time support to customers adds a new meaning to the support process in general. Besides this, there are various other benefits that clearly indicate the difference between live chat and phone support.
Let's explore them below!
Benefit #1: Reduces Support Cost
While this isn't the case for phone support, live chat users have found this to be one of the rewarding benefits.
Support cost reduction is an outcome of the ability to manage multiple customers at the same time in live chat software. All you have to do is set a chat limit for all your operators.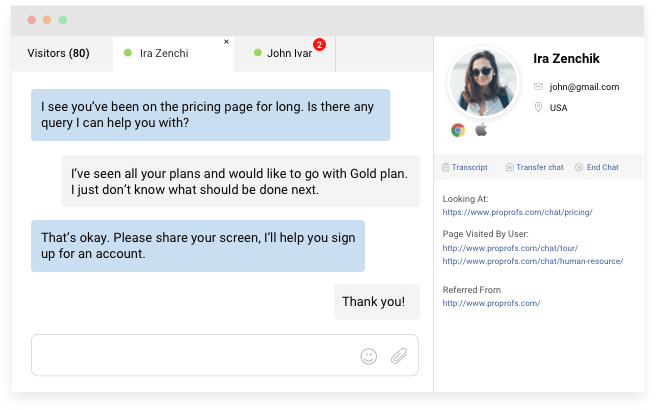 * Chat Limit: It is the number of chat invites an operator can automatically accept. The feature accessibility is available only to admins.
To set the operator chat limit you need to assess their:
Performance,

Rating,

Feedback,

Answer quality
---
Learn: How to Limit Incoming Chat Request for an Operator
---
Benefit #2: Proactive Support
Do you know that 68% of consumers say that a brand's perception becomes positive when companies send proactive customer service notifications to them?
Proactive customer service notifications such as:
Help your operators to initiate a chat with customers and try to resolve a problem before it surfaces. Such features help you offer proactive support as you reach customers before they do and indeed change their perception of your brand effectively.
---
Read More: What is Proactive Customer Service and How to Implement It
---
Benefit #3: Create Support Bundle With Third-Party Integrations
Various live chat tools in the market support powerful third-party integrations to help users create their support bundle.
We'll be using ProProfs Chat as an example in this case.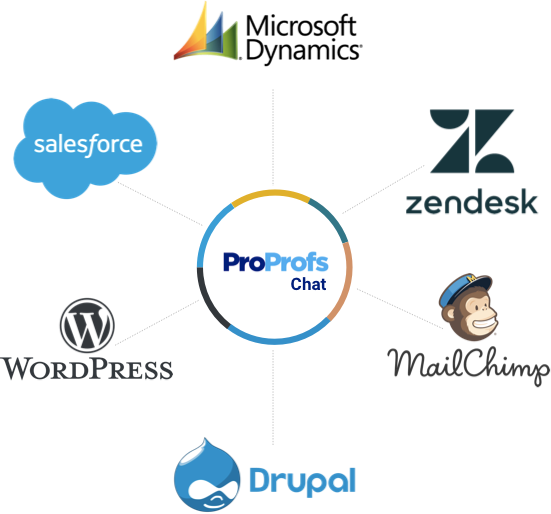 The live chat software supports 50+ integrations that help you create an awesome support bundle for your business. And that's not all.
They've made integrations with native apps such as ProProfs Knowledge Base, ProProfs Help Desk, & ProProfs Survey Maker possible for their forever free plan users too.
Check out our pricing plans here! 🙂
With these three in the mix, you can:
Create a self-help repository for your customers and help them find instant answers

Convert missed chats and offline messages into support tickets

Create detailed pre-chat and post-chat forms for your customers to gather more data for improvement
Besides these, you can add customer feedback software such as Qualaroo and integrate with a third-party CRM platform such as Microsoft Dynamics 365 to store collected data and assess upsell opportunities.
Watch Now: How to Integrate Microsoft Dynamics CRM with ProProfs Live Chat 🙂
Benefit #4: Less Frustrated Customers
According to ICMI, 79% of customers prefer live chat because they get their questions answered quickly, while 46% agreed that it is the most efficient communication method.
Customers have the power to take their business to one of your competitors if you fail to meet their expectations.
However, the use of live chat software helps you avoid frustrated customers. That's because:
They do not have to wait in a long queue unlike live phone support

They get to connect with a brand instantly and express their concerns

They get instant resolution and avoid being connected to different departments while still being on hold
Understand this; your customers would be less frustrated when they don't have to wait to get a solution to their problem.
---
Read More: How to Reduce Customer Service Response Time
---
Benefit #5: Improves Data Collection
There is no doubt that phone support helps you capture a lot of details on your customers. But there are limitations to it.
Unlike live chat software, capturing customer feedback in real-time can be a challenge via live phone conversation.
Live chat tools like ProProfs Chat allow you to capture customer feedback in real-time. Once a chat comes to an end, customers get a feedback form within the chat widget that looks something like this: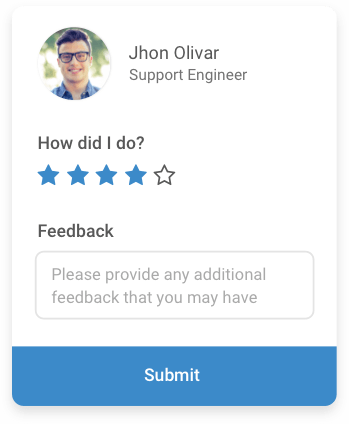 But there is another factor of data collection that deepens the difference between phone support and live chat – lead generation.
Features like pre-chat form and offline messages help you capture potential leads for your business. They help you capture visitor details with their consent. Tools like ProProfs Chat and others are GDPR compliant. In a nutshell, the cloud-based service provider ensures to collect data once the visitor gives the consent to do the same.
---
Expert Advice: The Great Data Debate: Personalization vs Privacy What Really Matters
---
Besides such features, your support operators also get to monitor real-time customer behavior with the use of live chat tools. This helps operators initiate a chat with visitors who have been on a page for a long time in strategic moments and increase their chances of having a sale.
Benefit #6: 10X Your Revenue
Apart from improving lead generation, another benefit that solidifies the comparison of live chat and phone support is the ability to boost revenue for your brand.
Watch Now: How to 10x Your Revenue using Sales Chat Software 🙂
Factors like:
Providing instant answers to sales questions

Allowing your sales team members to connect with prospects instantly

Integrating your live chat tool with a CRM platform to identify upsell opportunities
Help you boost your revenues and improve brand loyalty too.
---
Read More: Live Chat Benefits & Features
---
Benefits of Using Real-time Phone Support
Investing in new technologies to create seamless support experience for customers is a great initiative. But understand this, you aren't catering to a single customer base category.
Integrating real-time phone support to the mix can help you achieve great benefits for your business. Some of these benefits are listed below.
Let's explore!
Benefit #1: Instant Resolution
Just like live chat, phone support guarantees instant resolution of customer problems. If anything, some of the technical questions escalate to a phone call (even if the conversation started with a live chat).
When the nature of the customer issue is so complex that live chat operators fail to provide instant solutions, phone support turns out to be the saving grace for the business. If anything, some of the businesses use first call resolution as an indicator to judge how satisfied their customers were on the first visit.
And that's not all. As the agents try to manage a support call, they have to be prepared for more on-the-spot questions that require high-order-thinking skills and the ability to come up with a solution fast.
Benefit #2: Enables Direct Contact With Brands
Another benefit that strengthens the phone support vs. live chat debate is the ability to connect with brands directly. Customers get the opportunity to connect with the brand and understand the underlying reasons for not getting a solution faster. What's more, customers get to express themselves better on-call and raise their concerns faster as the conversation between them and the brand proceeds.
Opting for phone systems such as VoIP also provides additional features that can enhance the experience for customers. These include call routing options that allow the call to be transferred immediately to the relevant team member for the issue, call recording as well and even video-conferencing when needed!
Benefit #3: Allows Agents to Gauge Customer Reactions Better
Unlike live chat, agents managing customer questions on call cannot anticipate what the customer may say next. But it can certainly help them gauge the customer reactions faster. This is also one of the main differences between live chat and phone support.
Customer support agents get to gauge customer behavior during a call and consequently come up with a strategy to create a personalized journey for them.
This way, they get to ensure:
That customers are encouraged enough to return to their brand

That customers feel comfortable to share details

That customers get the solution they came looking for
These are just some of the benefits that phone support can bring to the table.
But here's some advice. The key to making the most out of your support agents on call is to keep them happy, engaged, and satisfied. Only then can you reap the best benefits out of phone support.
---
Tips: 5 Ways to Keep Your Call Centre Workforce Happy
---
When is Live Chat Right for Your Business
There are various scenarios where the use of live chat software seems right for your business. Let's discuss some of them in brief below.
Online businesses that deal with sales can benefit from the use of live chat. Brands like Amazon and IKEA

have made the most out of the live chat option on their website. If anything, they are excelling at providing support wherever customers already are.

Running a subscription-based online business can leave you with a lot of inquisitive customers who'd need answers fast. That's why adding live chat software to your business website can turn out to be fruitful. We at ProProfs have managed to retain and acquire customers in real-time with the use of live chat.
You have a business that runs solely on a mobile app? Worry not, embedding a live chat to your mobile app can help you convert more and answer questions right away.
Is your business facing difficulties to generate more leads? Well, in that case the use of live chat software on your website seems appropriate. Features like pre-chat form and offline messages help you capture qualified leads for your business, thus helping your sales team to focus on those that will actually convert.
Businesses can also reduce support cost by enabling live chat on their website. This is a perfect solution for startup business owners who wouldn't like to invest heavily in the support process at the beginning of their operation.
When is Phone Support Right for Your Business
Just like live chat, we need to explore various scenarios where the use of phone support turns out to be right for your business. So, let's scroll them below.
For businesses who like to create emotional connections with their customers will find the use of phone support useful. While live chat is fast and helps you respond to customers faster, phone support helps your agents to understand the tone and emotions of the customers faster.
You can still offer other support channels to your customer but only add the phone support into the mix when creating a customized deal for your VIP clients. This not only leaves an impact on them about how you are going the extra mile but also helps you create a strong bond with them. It can be a part of the premium services that serve their needs for high-end support too.
If you run a brick and mortar shop, then having phone support is much better than live chat service. Live chat is a 'called for service' in case the brand wishes to improve brand presence online, but a business without an online presence won't find it useful.
Live Chat vs. Phone Support: Final Conclusion
In the end, it may seem like live chat is the winner of this phone vs. chat support debate, but we need a different perspective to gauge this situation. No doubt that live chat and phone support differences have been huge and that business owners who run their sales operations online find the use of live chat way more conducive.
However, I feel that businesses need to learn how to harness the power of two and use them in unison. Using either as a standalone support solution won't help a business cover all platforms to offer the best-in-class support services to their customers. That's why it is important to see how you can integrate the phone support along with other customer service channels to create a centralized support system.
I hope you had a great time reading this post as I had writing it for you!
---
Now let's dive into some of the frequently asked questions that are likely to occur once you are through with the post.
What are considered to be a digital alternative to live voice conversations?
Live voice conversations help a brand to build emotional connections with a customer. However, there is no harm in learning about the digital alternatives for this too. Some of the top alternatives that we'd recommend you are:
Live Chat

Help Desk

Discuss Community

Knowledge Base (to help customer find instant answers)
How to improve your support system using various support channels?
With the use of different support channels, you can improve your support process effectively.
The use of live chat can help you provide instant answers, monitor visitor behavior in real-time, initiate a conversation in strategic times, and track operator performance.

The use of knowledge base software can help you create a self-help repository for your customers to help them find answers faster.

The use of a help desk can help you escalate issues better to technical teams and get their inputs along with solutions efficiently.

The use of a survey maker tool can help you capture customer feedback that can allow your business to improve as per their expectations.
Is web chat cheaper than a voice call?
Yes, web chat is cheaper than a voice call. Well, this happens because live chat operators can manage more than 4 visitors at the same time. However, a voice call agent can manage only one customer at a time. This is why you are more likely to see a spike in the budget for voice call agents compared to chat operators.
Do you want a free Live Chat software?
We have the #1 Online Live Chat Software for instant customer support 24x7