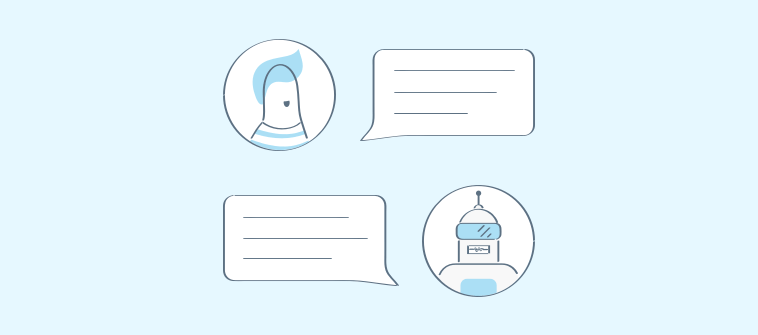 Customer service and customer support may seem like semantics; even Google does not make a difference in them.
And you have probably come across tons of instances online where these terms are often used interchangeably. So, you think that they basically mean the same thing, right?
What if we told you that you are not right!
Each of these terms is customer-facing disciplines, but they cannot be used in place of the other. However, both customer service and support are inter-connected whilst representing a different way of working with customers.
When both these disciplines work in combination, they have the potential to create a remarkable customer experience. This can help to achieve the objective of generating higher customer loyalty resulting in increased customer lifetime value.
For any business, ensuring that their customers remain happy is an integral part of their overall plans for growth and success. With high satisfaction rates, it can minimize customer churn rates and also spike organic lead generation in the process.
Remember that customers who are satisfied will be more inclined to recommend the brand to their family, friends, and acquaintances.
So, what can you do to get these Customer Satisfaction Score (CSAT) up?
You can kickstart the process by clearly defining customer support vs. customer service to improve your customer experience.
The Differences Between Customer Support & Customer Service
To comprehensively understand the difference between customer service and customer support, you need to dive deep right to the origin of both these terms.
Customer service as a term in the modern context is slightly outdated. You tend to relate it with long queues and sales clerks waiting to get some information. On the other hand, customer support sounds more modern, although it is being applied for similar support categories. This is probably why so many businesses are opting to use the term customer support as opposed to using customer service.
So, why does the term customer support has such an inclination from everyone?
Maybe because it finds its origins in IT technologies. And this relation to technology evokes the impression of progress.
But if your company has nothing to do with software, it does not need to offer support for its use either. So, why would you tag your customer service department as customer support?
Therefore, in hindsight, the term customer service is not outdated in any way.
This is because an agent in the customer service department does not have to acquire any advanced technical skills necessarily since they will not deal with offering support related to technology or software products to customers in any way.
Their roles are absolutely different. They need to focus their energies on customer interactions with the business. Moreover, it is their responsibility to ensure that the organization gives its customers the value they deserve for their money.
Businesses offer intensive training to their customer service agents so that they are able to maintain a positive attitude. It is their job to communicate the brand message in the best possible way. A customer support representative, on the other hand, does not necessarily care about the larger view of the organization's goals.
With differential functions, you should not mix them up. Although they often cross over, you should have a different strategy for each department.
What is Customer Service?
The Harvard Business Review is of the opinion that customer service matters on all platforms. And good customer service is the 'make or break' of every business.
If you are still not confident about what is customer service, then start by breaking down the concept further.
Simply put, customer service is the assistance that is provided by a business to its customers before and after a product purchasing process.
But that's not where it ends.
According to a report, 54% of consumers have higher customer service expectations than they did just one year ago. Therefore, it is fair to assume that expectations by customers regarding the level of service have grown in the last few years.
Customer service in its entirety is a complex department that also contributes heavily towards achieving the strategic goals of the business.
Customer support as a service, on the other hand, can form a part of the overall customer service department and take up relevant responsibilities to cater to the needs of the customers who need support guidance in relation to the products or services that the business is selling.
The primary role of the customer service department is to go far and beyond just solving specific customer issues. They deal with a much broader spectrum where they exchange thoughts and ideas to enable the user to extract more value of the service or product that they have purchased.
You can say that this is a more customer-centric approach as opposed to a business-centric strategy. That is possibly the biggest difference between customer service and customer support. Where the support team is mostly concerned with the proper functioning of the product, the service department cares if the customer is satisfied with the product or not.
The customer service department functions as a combination of various teams and their coherent effort to cohesively work in tandem.
From the moment the customer makes a transaction, the relationship between the service department and the customer is sealed for life. If the customer needs advice regarding product usage or perhaps encounters an issue, the customer service department will go the extra mile to ensure that the user has the best experience.
What is Customer Support?
Not sure what is customer support?
Technopedia defines the term customer support as,
Service efforts from technology vendors and providers that focus on helping customers to use the products and services correctly, efficiently, and effectively. Many see this specific type of support as part of a larger category of customer service.
Ongoing support becomes a mandate when a business offers a complex and IT related products and services. Customer agents take on the role of a consultant who can help them install and use the system.
For instance, if you have just bought Adobe Photoshop, you will certainly appreciate the existence of their Learn & Support department. That is your go-to point for all troubleshooting related issues and product tutorials.
As you land up in this section, you instantly see the message, "Get help from one of our awesome support people." And the term support is properly used here.
But is customer support limited to SaaS companies only? Not really.
You may still need to offer ongoing customer support depending on the type of product or service you are selling.
Take the example of a live chat plugin from the list of best live chat plugins. While you may need the assistance of the customer service teams to maybe test out the application over a free trial period, but the customer support team are your heroes because they offer you the guidance to integrate the application with your website.
Here are quick things to remember regarding customer support:
Conflict resolution and troubleshooting are the main responsibilities of a customer support agent
The customer support agent is trained to focus on a particular problem
The customer support agent places the accent on the business rather than the customer
In spite of the short-sighted focus of a customer support team, their involvement is critical to the customer experience too. They employ the same skills such as listening and showing empathy to offer customers the best possible experience with the brand.
Ways to Deliver Customer Service or Support
So, how can your customers get in touch with your business if they are in need of your service?
Today, there are a large number of communication channels available to your customers through which they can get customer support services from a business. The same avenues can be used to deliver customer support too.
Common methods include customer support software solutions like help desk, text messaging, live chat, chatbots, and social media. Technology enables the usage of video calls and visitor monitoring that can help customer agents to offer their assistance in whichever capacity required, either in a face-to-face situation or via digital channels.
Websites also have integrated live chat functions to provide easy assistance to staff. And there is little doubt that live chat is getting huge with customers depending on it more than ever.
Your daily communication is governed through live chat best practices that enable you to offer a consistent level of assistance to your customers across multiple touch-points and organizational hierarchy.
At the end of the day, customer service or support is not just conversation. It's an essential part of the experience that your business offers to its consumers.
Providing Good Customer Service or Support
Like any other business, your goal is to get an A+ for your customer service and support initiatives from the people who matter the most to the business who are your customers, of course.
Here are some guidelines that you can follow:
1. Prioritize Convenience: Regardless of the type of assistance that your business offers, ensure that it is available round the clock. With technological advances, it is not like you need human agents to be available 24/7.
Instead, integrate auto-response feature to your website which can respond to customer queries or transfer them for email notifications instantly. This way, your customers will be able to reach out to whenever required.
2. Create A Delivery Flowchart: Use diagrams and figures to map out the entire process of how you intend to offer customer service or support. This also allows you to have a more comprehensive understanding of your service or support delivery touch-points.
The process also allows you to identify gaps and errors in the system and take corrective measures.
3. Follow Up Regularly: Follow-ups and reviews are crucial to the successful resolution of your customer issues. It also highlights the fact that your business is credible and reliable and truly cares about the concerns that they have.
4. Personalize: Even though you can opt to provide assistance through channels like live chat, social media, and chatbots, remember that you also need to offer a touch of personalization. Using customer insights and data, you can develop a series of tailor-made recommendations.
A simple 'Hello' in conjunction with your customer's name can go a long way. And don't forget to channelize the power of social media. It can build your brand voice that in turn can be integrated with your omnichannel marketing strategies.
5. Listen: Your customer service and support will only see the ray of success if you make a proactive effort to listen to your customer's problems. To ensure that you are on the same page with them, all you need to do is to ask questions and seek clarifications.
Being empathetic is important. Phrases like "I know exactly what it feels to have this experience" or "It's unfortunate that this happened" can certainly work to your advantage.
Your customers will be the sole decision-makers when it comes to you succeeding in your customer assistance strategies. A lot will depend on how comfortable they feel doing business with you. By engaging them in conversations, your understanding of their persona improves too.
Once you know what your customers expect from you, you get the opportunity to take appropriate actions to deliver the same.
Customer Support or Customer Service – Which One Does Your Organization Need?
The difference in the concepts is nuanced but it is one that most businesses overlook to their detriment. Even though experts like Google have a hard time distinguishing between the two but grasping the difference allows businesses to offer the type of service that your customers expect from you. That too, in a convenient and efficient fashion.
So, customer service vs. customer support – which one is best suited for your organizational needs. By exploring both these concepts deeper, you will be able to arrive at a conclusive decision.
The final decision is yours. But the key thing to remember is that the name that you end up using matters. Don't go for it just because it's trendy if the actions of the department are not reflected, rather go with a name that conveys what your agents actually do.
Now that we've understood the long-standing customer support vs customer service, let's answer a few frequently answered questions.
What is the relationship between customer service and customer support?
Both customer service and support are focused on building a strong relationship between two entities. But customer service helps to build a customer-centric relationship and customer support gravitates towards a business-oriented relationship.
What is the difference between customer support vs customer success?
Just like the customer support vs customer service debate, customer support vs customer success is yet another debate that needs attention. Customer support is a more reactive approach that's because your support team provides help to customers most of the time when it is asked for. Plus, customer support is a transactional process. Whereas customer success is proactive in nature. And unlike customer support, customer success has no endpoint. But remember that they always need to clubbed together to build a successful organization.
What is the difference between Customer Experience vs Customer Engagement?
Another debate besides customer service vs customer support is identifying the difference between customer experience vs customer engagement. Understand this customer experience is when a customer builds an emotional connection and perception about a company after getting a service regularly. Whereas customer engagement is like referring to all the touchpoints that take place between a company and a customer. These touchpoints can also include the actions that the customer might take like asking for support, purchasing a product, informing people about their experience via social media platforms, and so on.
Do you want a free Live Chat software?
We have the #1 Online Live Chat Software for instant customer support 24x7